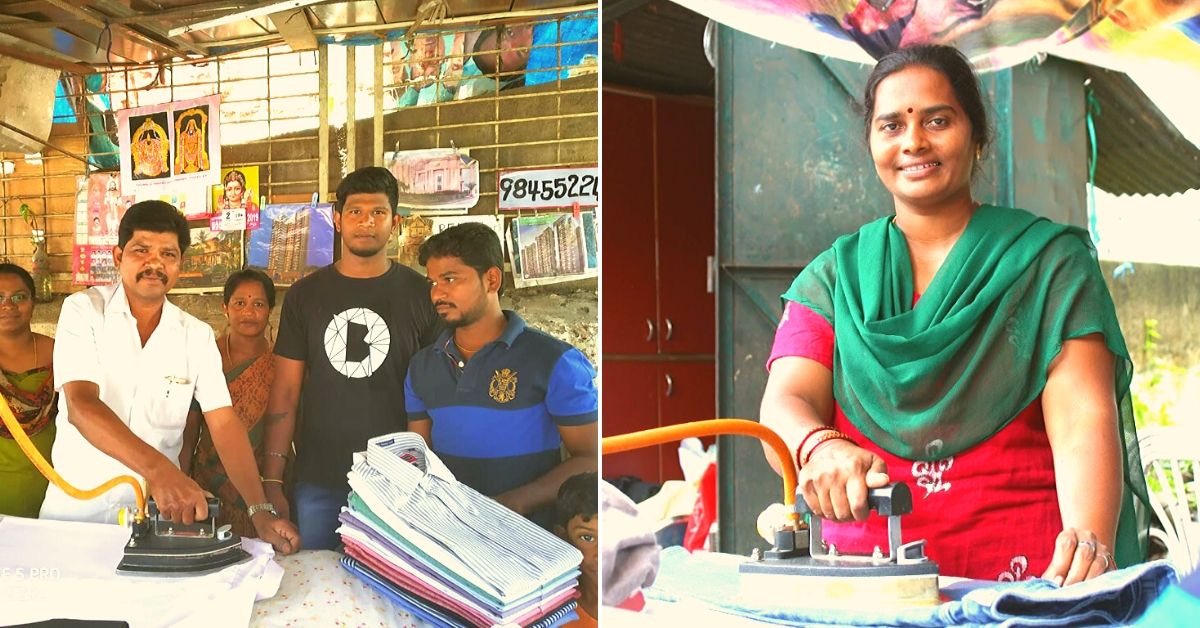 "Thanks to Udhyam Learning Foundation, my work has become a lot more productive. From 100 clothes a day, today I press 150," says Sathya, a press wala who works out of Indiranagar.
How much do you know about the person in the neighbourhood who irons your clothes? Living on the margins of the formal financial system, these 'ironwalas' or 'press walas' or 'ironing vyapaaris' are self-employed business operators working out of different towns and cities.
---
Right from spinning the yarn to dyeing and weaving the final fabric, this Khadi shirt is a completely handmade product. It is soft and can be comfortably worn for long hours. Click her to buy.
---
"A sizable population of ironwalas (over 40,000) live in Bengaluru city limits. Working with polluting coal-based iron boxes, this business has seen no positive intervention for the past 50 years in the city. They have been long ignored by the industry," says Badal Satapathy, an Early Team Member of Udhyam Learning Foundation (ULF), a non-profit founded by ex-Flipkart Chief People Officer, Mekin Maheswari.
Wanting to remedy the situation, ULF not only studied the problems that this small-time industry is beset with, but also came up with solutions. Working with 200+ ironwalas in Bengaluru, ULF has helped them make the shift from coal-based ironing boxes to more eco-friendly LPG ones. Finally getting the attention that unregulated service sector needs, these press walas have seen better revenues, less cost and greater productivity.
Founded in 2017, ULF comprises of two verticals—helping public school students develop entrepreneurial mindsets (Shiksha) and small business owners enhance their income (Vyapaar) under which they today run the initiative of aiding Iron Vyapaaris.
"Studying a cross-section of small businesses in Bengaluru, what we found was a high volume of tea stall operators, food stall owners and press walas. Our goal was to help these small businesses find one solution that could help make their businesses more efficient, attract more customers and address other concerns," says Rahul Jayaprakash, an Early Team Member at ULF.
The Neglected Sector
"Ironing business owners in India typically enter into this profession at an early age by virtue of their caste or lack of any other opportunity for livelihood. They operate out in the open areas under a tree preferably in thick residential areas or inside apartment complexes usually assisted by their families. In Bengaluru, a majority of them are migrants from Tiruvannamalai, Krishnagiri and other districts in Tamil Nadu and have inherited this occupation as a consequence of their caste identity," informs Rahul.
When ULF first approached the Ironing Vyapaaris in June 2019, they were apprehensive and quite suspicious of ULF's motives.
"They thought we were from an online laundry platform looking to prey on their business. In the first month, they just avoided us. But as we started spending more time with them, their confidence in us grew," says Badal.
The team spent two months (June-July) with them to understand their concerns, interact with them, observe their business from close quarters, particularly from the customer's perspective.
Their observations brought to light the three major problems that the Iron Vyapaaris faced:
1) Time lost from using coal-based iron boxes:
"Usage of coal-based iron box reduces the operational hours on average by two-three hours per day due to the time taken for coal to heat up. One cycle of heating takes 20-30 mins and this cycle needs to be repeated 4-5 times a day. On an average, wait time is about 2.5 hours. In a day, this process is repeated two or three times depending on the number of clothes they have to press," writes Rahul.
2) Unregulated coal market: These coal blocks are not easily available, and the price for it is higher than other conventional fuels.
3) Damage to clothes: Coal-based iron boxes damage a lot of clothes either due to high temperature (inability to control temperature) or residual ash. They end up paying for damages even though it's by accident, resulting in a loss for the business. This also results in customers unwilling to give their expensive clothes for ironing (resulting in lesser revenue).
"So, we wanted to find better solutions for these problems. In our hunt for solutions, we came across a video of an Ironing Vyapaar in Delhi using an LPG-based iron box. We then found a manufacturer in Meerut and bought a couple of boxes, to test them out in Bengaluru. We first started with two Vyapaaris in Indiranagar for two weeks," informs Rahul.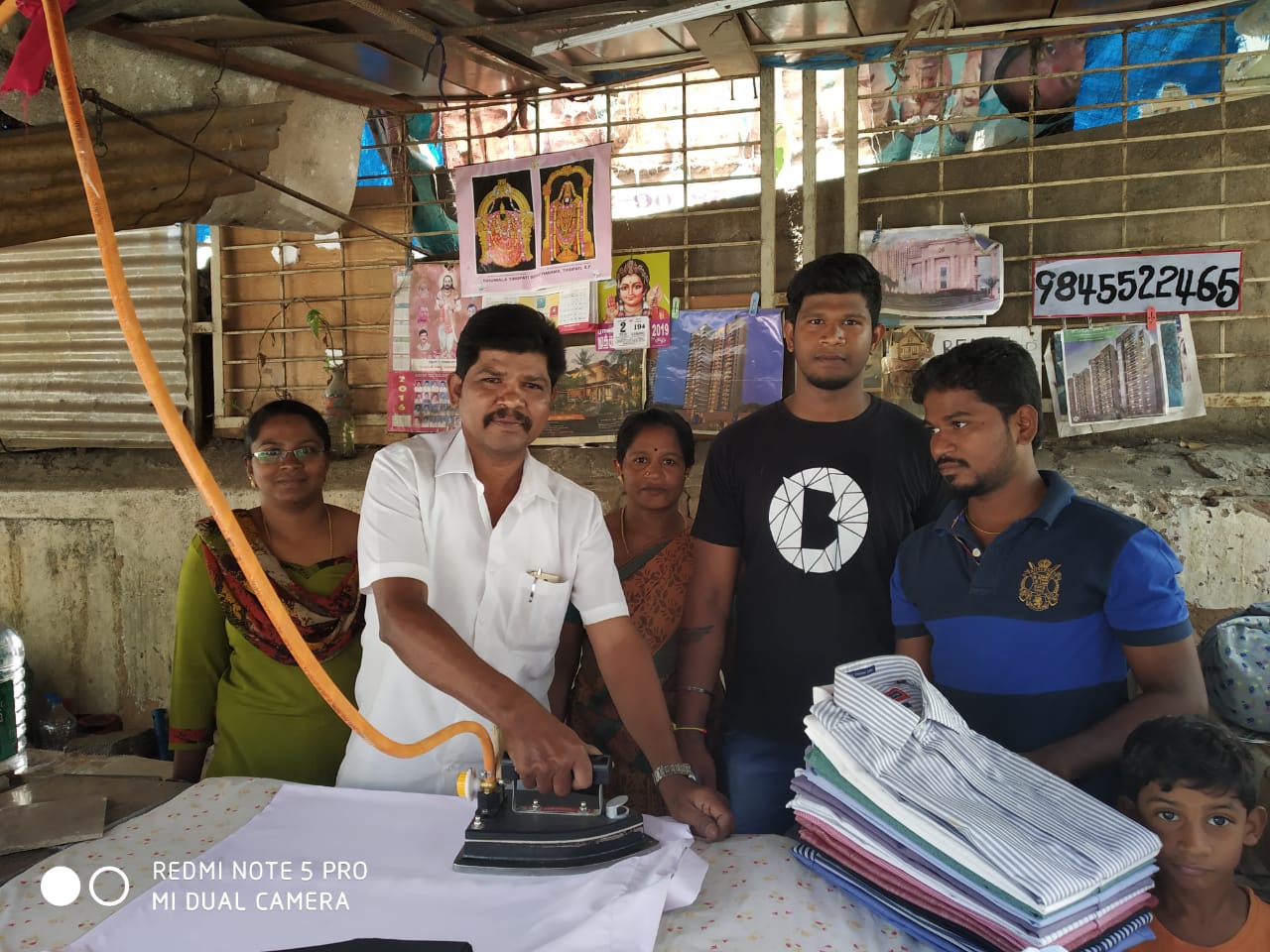 These Vyapaaris liked what they saw despite some design-related issues. As the LPG iron boxes from Meerut were a lot heavier, ULF asked the manufacturers to reduce its weight. Also, the LPG box came with a plastic handle, which Vyapaaris found difficult to use as they were used to wooden handles. This too ULF helped take care of. The service kit that came along with the box made box maintenance easy for the ironwalas. These design changes were introduced by the end of August 2019, and in the following months the programme took off.
Today, ULF is working with manufacturers and distributors across India to acquire these customised LPG-based ironing boxes.
Benefits are real
With those 2.5 hours no longer wasted, the ironwalas are now ironing an additional 40-50 clothes more than their average quota of 100-150 and making an additional Rs 6,000 in income per month based on a recent ULF study.
The study was done with a sample size of 30 out of the 200+ they are currently working with today. Also, LPG is more environment-friendly and there is a drastic reduction in damage to clothes.
"Besides a 27 per cent increase in income over the average per day earnings of Rs 800-1200, even costs are down. The 5kg gas cylinder costs around Rs 350 and can press around 1,100 garments on an average with the number rising to 1500 at its highest and 950 at its lowest. The cost of ironing using LPG-fuelled iron box would work out to a maximum of 50 paise per cloth as against Re 1 using a charcoal iron box and Rs 3 for an electric iron," states Badal.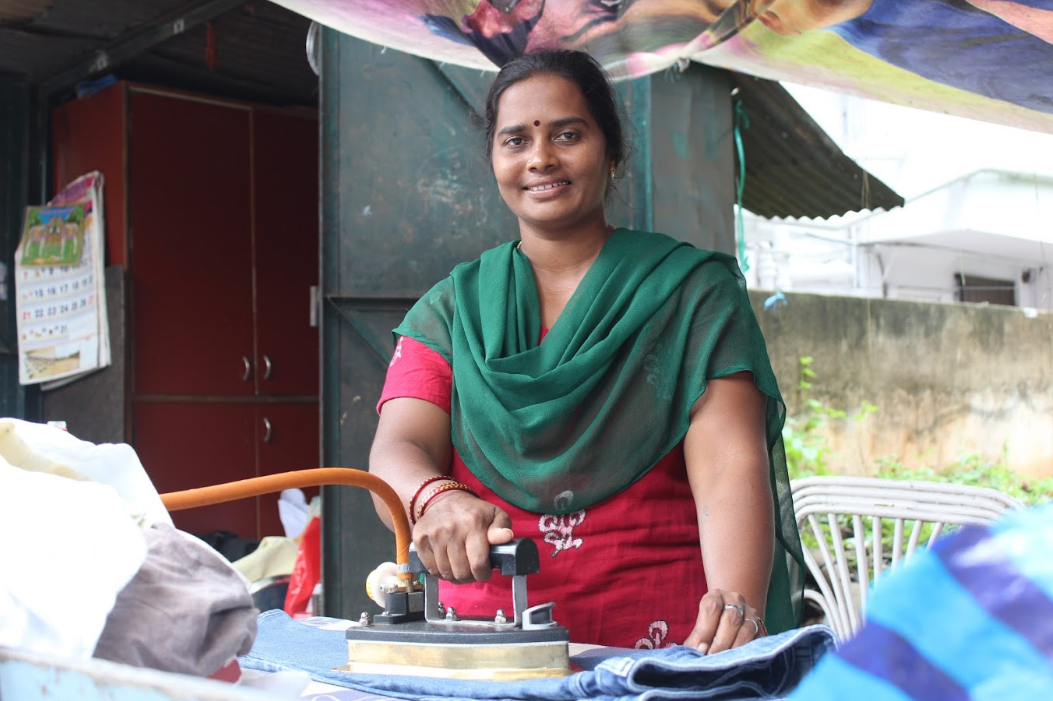 We got in touch with Sathya, a woman Ironing Vyapaari from Tiruvannamalai in Tamil Nadu, who works in Indiranagar.
"For the past 25 years, I have been using a coal-based iron. Thanks to Udhyam, my work has become a lot more productive. Earlier my charcoal iron would take an hour to heat up. This box heats up within 5 minutes, and so my work gets done fast. Using a charcoal iron box, I could iron 100 clothes per day. However, using the LPG one, I am able to iron 150 clothes," she shares.
How does this LPG-based iron box work? "The cylinder is connected to the iron box using an insulated gas tube, just like in-home gas stoves. It also provides an additional feature of a regulator giving the Vyapaari the convenience of changing the temperature instantly based on the cloth material that needs to be ironed," informs Rahul.
Financial inclusion
Making the transition to LPG did entail a significant rise in capital investment for the ironwalas. With each LPG-based iron box (including gas cylinder and equipment) costing Rs 8,300 compared to coal boxes which cost anywhere between Rs 2,000 and 4,000, what these Vyapaaris needed was access to credit.
In the event of a financial emergency, they often borrow money from local lenders who charge exorbitant interest rates. Add complex banking procedures, longer duration for loan approval, fear of hidden charges and banking documents in non familiar language, they are often apprehensive about approaching banks.
In the search for financial partners, Udhyam suffered rejection from multiple institutions until a non-banking financial company (NBFC) called Gromor Finance decided to step in offering small loans of approximately Rs 9,000 at low interest rates to these Vyapaaris.
"Gromor's mandate was that we educate the vyapaaris on basic concepts of financial literacy, digital payments and inculcate the behaviour of repayment. They have already collected two installments of these loans. Gromo and Udhyam will also introduce financial inclusion programmes starting from January 2020. We will teach them the mechanics of digital payments, why they should avoid moneylenders, how to open a bank account, qualify for a loan, raise savings, acquire insurance and investment possibilities," says Badal.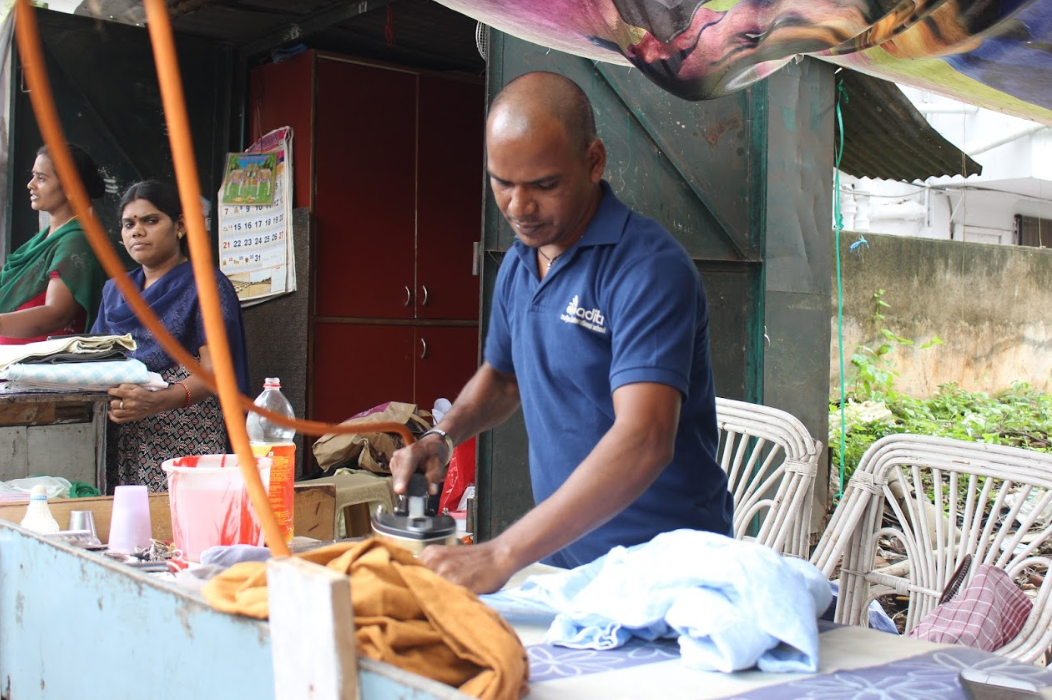 Meanwhile, to address the day-to-day concerns of the Vyapaaris and spread the word on their solutions, ULF has a team of employees on the ground called 'Saathis', spread across different areas from Jaynagar, Basveshanagar, Indiranagar, Kalyan Nagar to HSR and Bellandur, etc.
These Saathis are hired fresh out of college from tier-2 or tier-3 colleges who have done their degree in social work and are comfortable conversing in Kannada and Tamil.
In the midst of all these concerns, however, a question many have asked is why not transition to electric kits instead of utilising LPG-based iron boxes?
"Electric kits have failed to fill the gap in this business segment due to high operating costs (electricity cost) and frequent power outages. Moreover, most of these ironing business owners don't have access to electricity since most of them run push carts. Finally, working on electric kits is simply less cost-intensive," informs Badal.
---
Also Read: Shocked by Stench of Toilets in Govt Schools, 80-Year-Olds Restore Them Themselves!
---
Lessons learnt
"How did our intervention work? We showed them the value in it. Instead of losing three hours on drying coal, why not use the LPG-one. Plus, we did a lot of handholding on the field. We never left them with just the product. We worked with them, gave them training in how to use it, conducted free trials and shed their fear of using gas cylinder," says Rahul.
Unlike other lines of work, the ULF team faced the same set of problems or issues.
"They live in tight-knit communities and their businesses are tightly coupled with each other. Therefore, there is barely any competition between them. Territories for conducting business are distributed evenly with a promise of non-interference. Thus, if they see an upgrade in one territory, they want it to spread. They essentially saw the benefit of this intervention," argues Badal.
"For example, one person told us that the extra two-three hours he has at his disposal is now going into working as a Zomato deliver-boy, and earning extra money. Another one told us about how he's now getting to iron an additional 50-60 clothes, while an elderly lady told us how she now has more leisure time to spend with her children," he adds.
"Earlier I was ironing using a coal box for 15 years. For the past month, I have used this LPG-based ironing box. It's simple to use, and I'm saving two-three hours a day thanks to it. In that extra time I can now iron an extra 30-40 clothes. Naturally, this new box has become very useful for us. Moreover, there are no pollution problems, dust allergy and the finishing is good. People in my line of work can buy this box and it will help them take a step forward into the future," says Sakthi Murugan, an Iron Vyapaari working out of Cooke Town.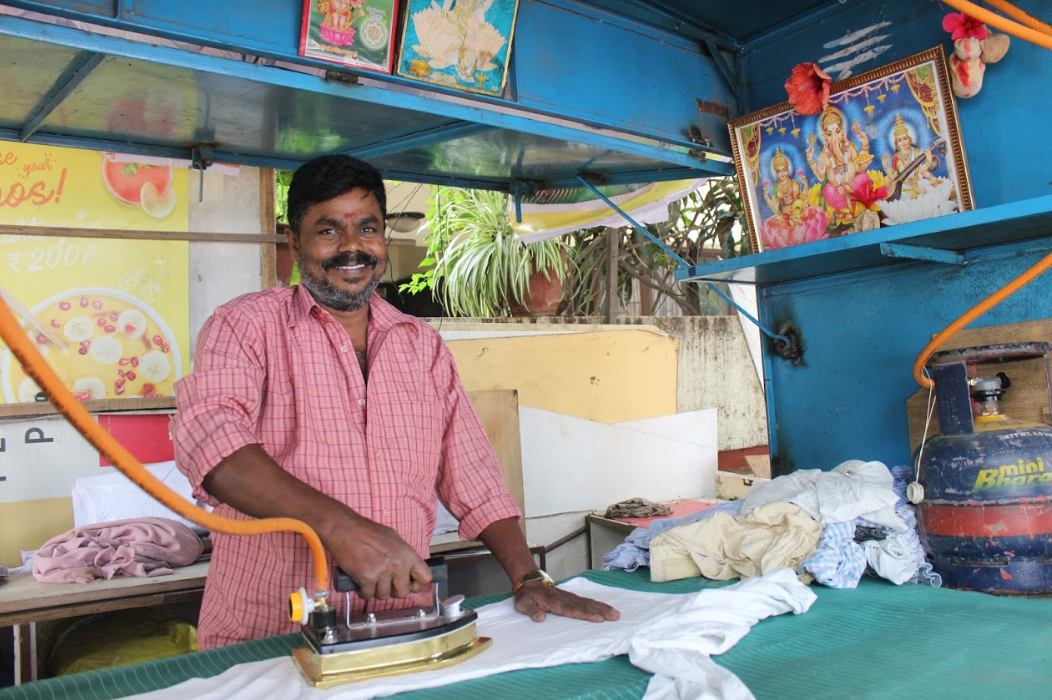 More than greater productivity or income, ULF's intervention has given an opportunity to the iron vyapaaris lead a life of greater dignity by improving working conditions. At a macro level, it's also about addressing the massive employment crunch in India.
The number of jobs being generated is way less than the number of people entering the workforce. How do we fix that gap? Where will they get jobs and live a dignified life?
"One solution is self-employment. If self-employment is going to be the future, let's make it aspirational. Small business owners (local tea seller, Ironing Vyapaaris/street food vendors) don't lead a very dignified life. Many of them end up starting these businesses because they don't necessarily have that choice. Our objective is to ensure that starting these small businesses becomes aspirational and help those starting them lead a dignified life," says Rahul.
(Edited by Saiqua Sultan)
Like this story? Or have something to share? Write to us: contact@thebetterindia.com, or connect with us on Facebook and Twitter.
We bring stories straight from the heart of India, to inspire millions and create a wave of impact. Our positive movement is growing bigger everyday, and we would love for you to join it.
Please contribute whatever you can, every little penny helps our team in bringing you more stories that support dreams and spread hope.
Tell Us More