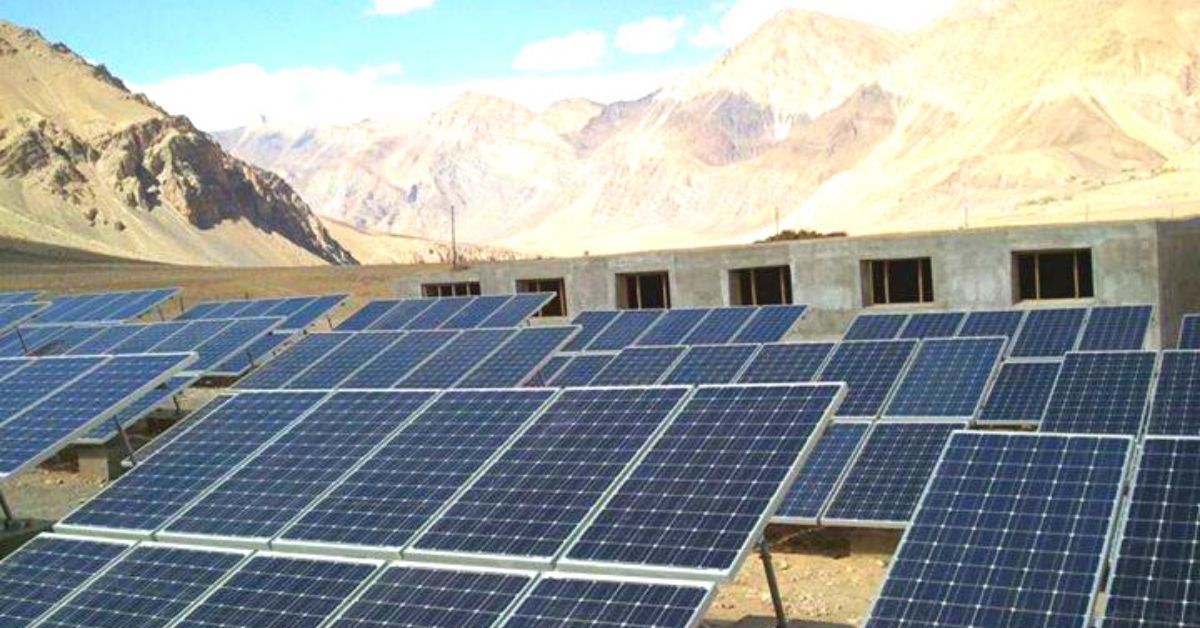 "The proposed 7.5 GW mega solar energy project in Ladakh will be the region's greatest contribution to the world in reversing the climate change."
Ever since Ladakh was declared a Union Territory, there has been a lot of chatter about its potential benefits.
While the administrative modalities are still being finalised, the region has received exciting news of a Rs 50,000 crore mega solar power project under a public-private partnership, being cleared by the Government.
---
This cool water-saving device can easily be retrofitted onto most standard taps, and saves up to 60% of the water that would have otherwise been used with a normal tap!
---
Promoted by the Solar Energy Corporation of India (SECI), a public-sector entity under the Ministry of New and Renewable Energy, the project aims to install facilities that will generate 7,500 MW of solar energy by 2023.
Does Ladakh have the potential to become India's solar energy hub?
Well, the local conditions are nearly perfect for its development.
"Ladakh has the highest intensity of solar radiation in India. Leh gets more than 320 clear sunny days in a year and the low climatic temperatures, meanwhile, enable solar panels to work better," says Dr Tsewang Thinlas, Project Director at the Ladakh Renewable Energy Development Agency (LREDA), speaking to The Better India.
"The arid and semi-arid parts of the country receive much more radiation as compared to the rest of the country. The average irradiance on a horizontal surface in India is 5.6 kWh m-2 day- 1 and at Jodhpur 6.11 kWh m-2 day-1…The cold arid region of the country located at Leh and Ladakh receives the highest amount of radiation, which is about 7-7.5 kWh m-2 day-1," writes Priyabrata Santra of the Central Arid Zone Research Institute in Jodhpur, in an academic paper.
Meanwhile, in its feasibility analysis of setting up a solar project in Ladakh, the Gensol Solar Group, an Ahmedabad-based advisory and engineering firm, found some encouraging news.
"They found a capacity utilisation factor of 25.44% at a test site in Ladakh showed a 'clear edge' of 1-2% in performance gain over and above other test sites in Neemuch in Madhya Pradesh and Rajasthan, which are both known to have some of the best irradiation in India," writes Tom Kenning, Deputy Editor of PV Tech, an international publication covering solar energy.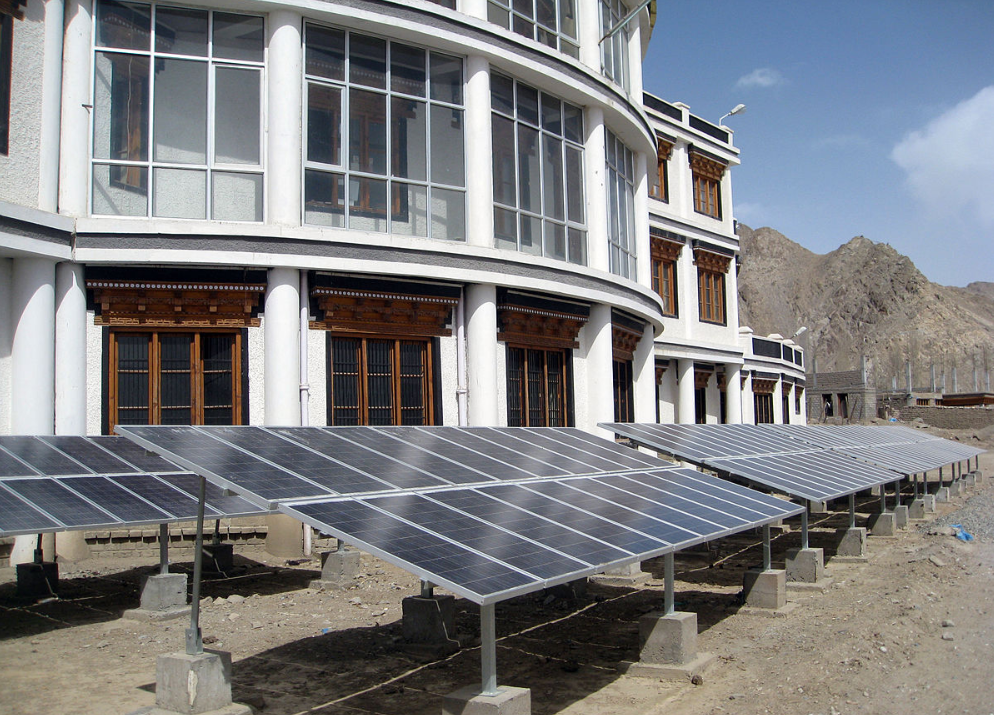 Another factor is the abundance of surplus land that the government itself owns. Nonetheless, reports indicate that local communities will receive "Rs 1,200 per hectare of grazing land acquired with an annual cost escalation of 3%." This is a major advantage because land acquisition is the Achilles heel for mega solar power projects in India.
Interestingly, Ladakh MP, Jamyang Tsering Namgyal, has made it clear that the project can go ahead only on a land lease model.
"Investments are essential to come from outside, and I welcome those. But there are a few conditions⁠—we can't give the land in your name, you will have to take it on lease, and a portion of the jobs will have to be reserved for the local youth. And whatever you earn from here, a part of it will have to be given to the council (Ladakh Autonomous Hill Development Council) fund as royalty for ground development," he told the media.
Key Project Details
There are two major modules of the project.
This first module is a 2500 MW facility in the Suru area of Zanskar in Kargil district that will have transmission lines delivering electricity into the Kashmir Valley.
The second module of 5,000 MW in the Pang area of Leh district will have transmission lines routed via Manali in Himachal Pradesh towards Kaithal in Haryana. That electricity would be further transmitted to the Delhi-NCR region.
However, to ensure local nomadic communities have enough land for their livestock to graze, they split the 5000 MW project across two sites (2500+2500)⁠—one in Pang, and the other in Hanle.
An issue, however, emerged at the site in Hanle from space observatory there, which requested that the plant be constructed at least 25-40 km away from the centre.
"That request was considered, and we relocated. Meanwhile, local representatives had sought some CSR projects to benefit locals. Once the final bidder is selected for the project, they must conduct an environmental impact assessment (EIA)," adds Dr Thinlas.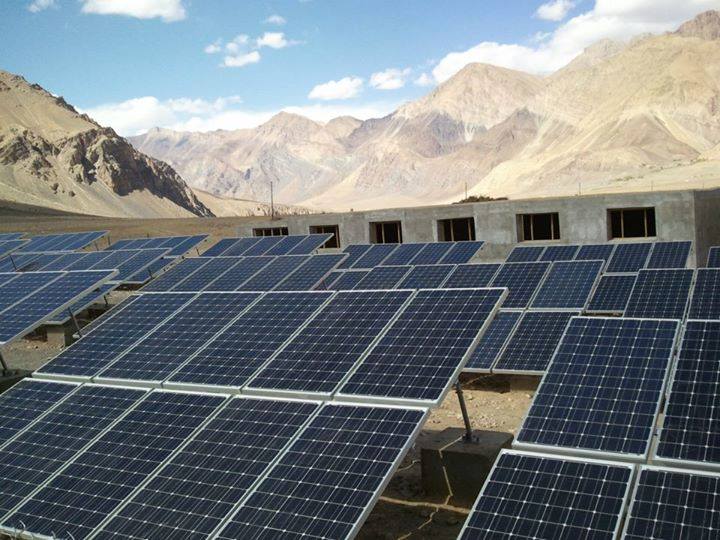 Challenges
1) Construction of transmission lines
Project sites are in very remote locations, and massive lengths of transmission lines, particularly into North India, are needed.
In fact, according to Dr Thinlas, when potential bidders for the project visited the project sites in March-April 2019, they had raised serious concerns with regards to constructing transmission lines through various states and the cost that will entail.
"They said that the government should take up the project for constructing transmission lines, and after some deliberation, the GOI agreed to separate the solar project and construction of transmission lines," he adds.
Setting up transmission lines, some of which will go through the new all-weather tunnel being built under the Rohtang Pass, in sub-zero temperatures and harsh winds will be a real challenge. But transmission shouldn't be a major problem with vast swathes of open land across the Leh-Manali highway unlike through the Zoji-La pass into Kashmir, where it could clash with other power projects.
"Transmission is an issue. (So), we are segregating the transmission from Pang to… Manali, and from Manali onwards to Kaithal. We're thinking of doing this as a part of our network expansion. Once we (do it), that'll become viable, otherwise the transmission costs were making it unviable," said Union Power Minister RK Singh to The Indian Express.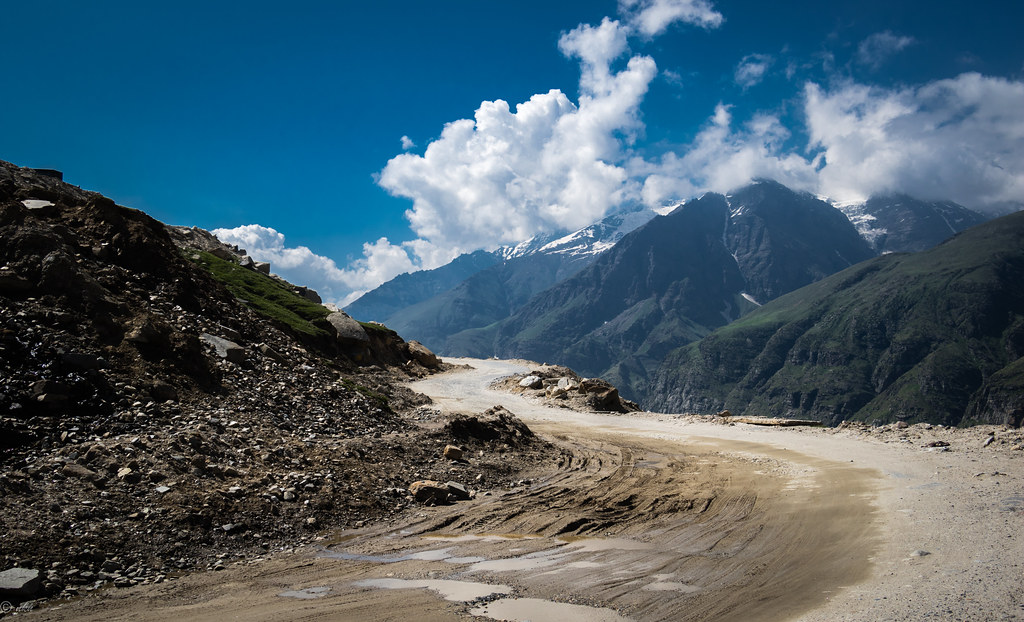 2) Inaccessibility, particularly with regards to transporting heavy equipment
"Roads are already being widened everywhere, besides the construction of multiple weather-resistant tunnels in Himachal Pradesh. This could address transportation concerns, but we have requested potential developers to construct a small airfield at the site so that heavy equipment can be transported if all land routes are down," mentions Dr Thinlas.
3) Jobs for locals
There are demands by elected representatives from the region to ensure that locals benefit from this project by providing jobs.
But various commentators have questioned whether a skilled workforce is available locally, particularly in the construction and maintenance of these power plants.
Thus, they believe, this will entail ferrying workers from outside the region over long distances from the heartland, not to mention that they will have to work under challenging conditions at altitudes above 10,000 feet under sub-zero temperatures and high winds.
4) There are concerns surrounding the installation of solar panels as well with loose mountain soil that will require compacting. Of course, there is the question of snow blocking the roads for months, and equipment to remove it will be mandatory.
5) "During winters, we will face maintenance issues, particularly in remote parts both with regards to transportation and transmission, particularly if there is a breakdown. It would be difficult to conduct inspections in peak winter," says Dr Thinlas.
Gensol also listed some other key concerns:
Undulated land pattern poses aligning and construction challenges.
Disturbed soil pattern poses a design challenge.
Higher wind speeds as areas identified are generally vast and deserted.
Water supply is a crucial aspect for both survival and maintenance perspectives.
Power during construction will prove out to be expensive and scarce.
Serious Potential
Despite these challenges, the scope for tapping into Ladakh's vast potential for solar energy is massive. The government says that the solar potential of Ladakh is as high as 23,000 MW (23 GW). For some perspective, the country's solar installed capacity reached 31.124 GW as of September 30, 2019, according to various reports.
Of course, there are incredible indirect benefits for the local population as well. While the electricity generated by these plants will go straight to the National Power Grid, the advantages for the local populace could emerge from the solar ecosystem it establishes in the region, once it becomes a leading player in the sector.
"Solar PV pumping system can easily be used for irrigation purposes and even to lift water against gravity at undulating terrains of Leh-Ladakh. A solar farming option can be utilised where both crop production and PV based electricity generation can be done on a single land-use system. Solar air heating for buildings may provide a congenial inside environment, especially during the winter months. A solar greenhouse can be an effective way to produce vegetables even during harsh climatic conditions outside. A rooftop PV system can share the electric energy consumption in office buildings, hospitals, guest houses, hotels, etc." writes Priyabrata.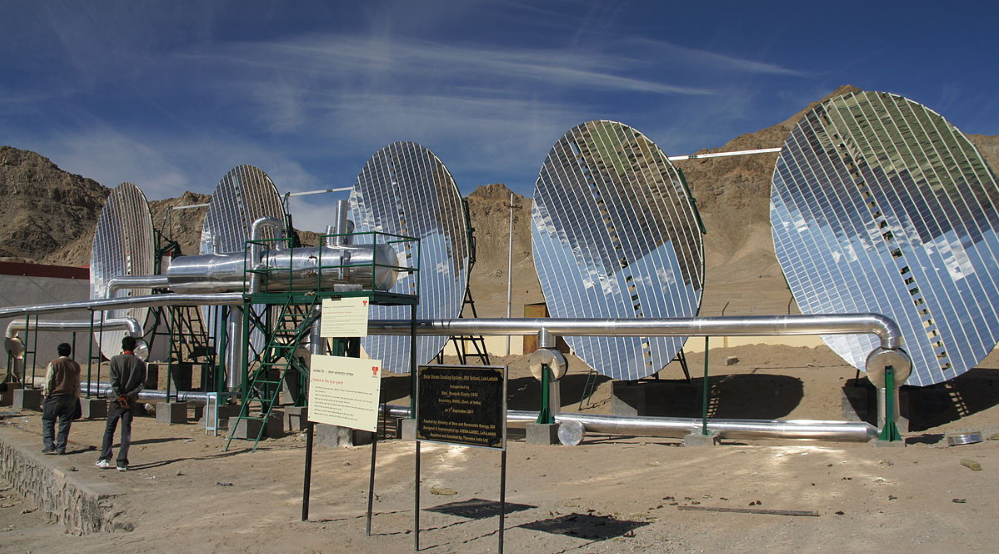 The project can also push India's bid to make the transition away from fossil fuels.
"There is no denying the fact that Ladakh has three major untapped resources to contribute to the nation's growth, and those are Solar energy, geothermal energy and agro-based industry. Every major development comes with pros and cons, and so does this project. But keeping in mind the contribution of such mega projects in reducing greenhouse gas emissions, everything else becomes secondary. It would be the biggest contribution from Ladakh to the world in reversing climate change," says Dr Nordan Otzer, former executive director of the Ladakh Ecological Development Group (LEDEG), speaking to The Better India.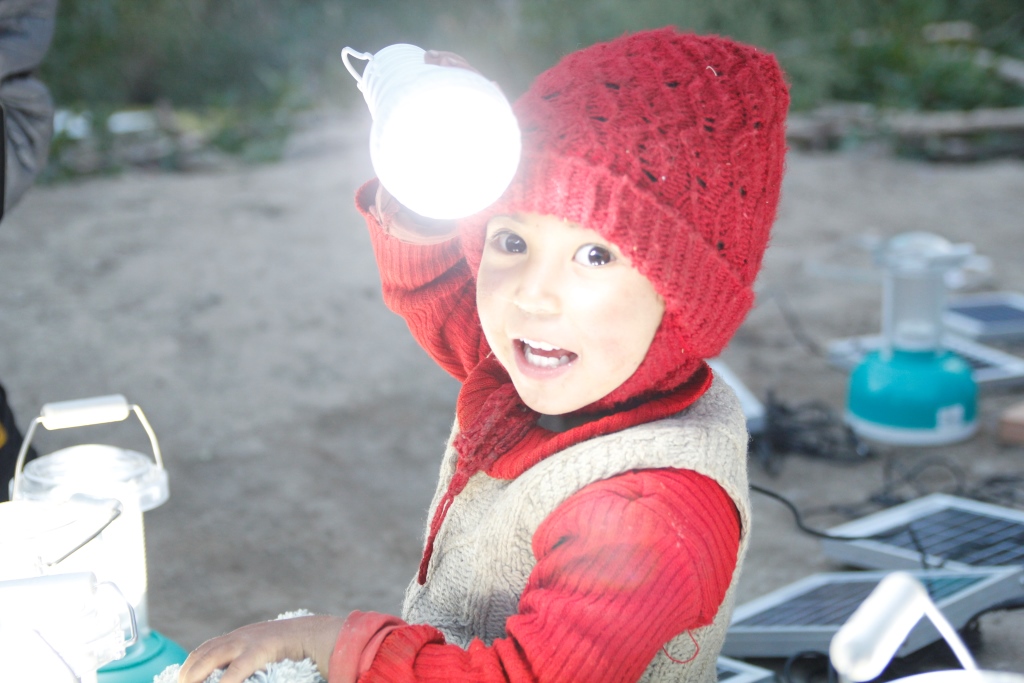 There is no question Ladakh can become the hub for solar energy in India. With real strides being made in the solar energy space, both the GoI and private players can make this happen.
---
Also Read: Sun-Powered ATMs to India's 1st Floating Solar Plant: Meet Kolkata's 'Solar Man'
---
(Edited by Gayatri Mishra)
Like this story? Or have something to share? Write to us: contact@thebetterindia.com, or connect with us on Facebook and Twitter.