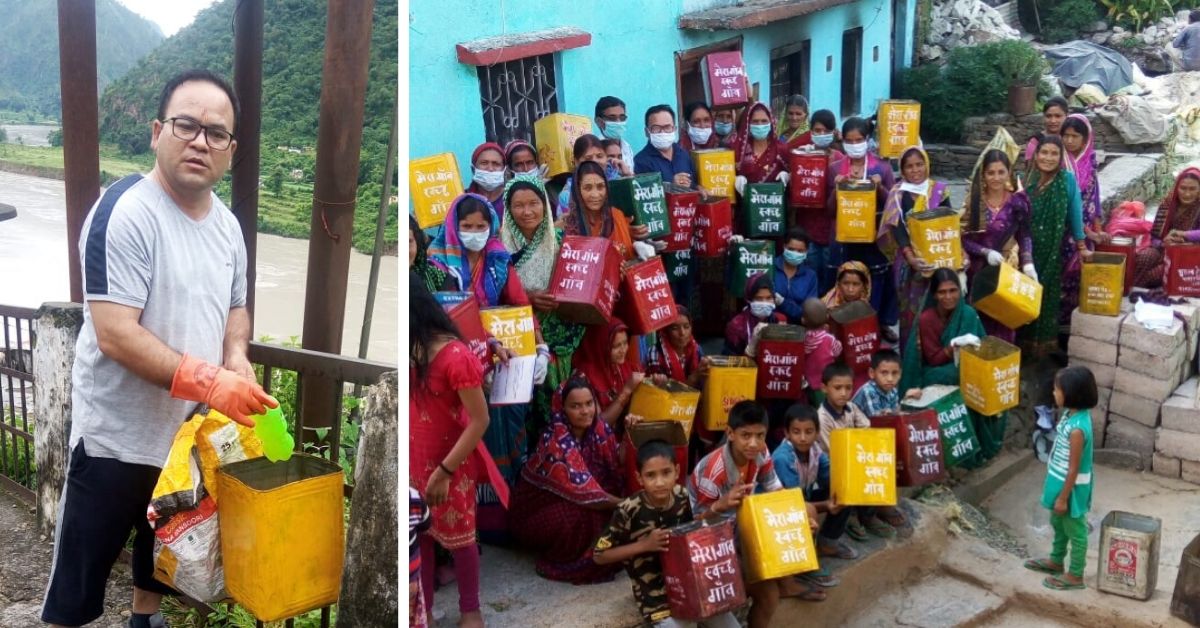 "While the senior citizens entertain everyone with songs, stories and even 'jhumelo' dancing at times, the younger men, women and children sweep the streets, pick up plastic waste and discard them in designated dustbins."
The Dhari Devi temple stands tall on a chassis of pillars, in the middle of the sprightly Alakananda river, and hundreds of devotees walk on the stone bridge which connects the mainland to the shrine, every day. Bhuwan Rawat, a 32-year-old engineer, was one such devotee, and beginning 2017, would visit the temple every Sunday.
---
Where did all those old newspapers go? Find out by using this waste paper bin made of upcycled newspaper!
---
After a few weeks, he made an alarming observation.
"The sole path to the entrance was narrow and would remain quite crowded on weekends. But the pilgrims would not think twice before littering the entire road with dry flowers, plastic packets, bottles and whatnot," recounts Bhuwan.
When he approached one such visitor and requested him to refrain from doing so, the man asked where he should discard rubbish instead.
"That's when I realised the root problem. There was not a single garbage bin in the vicinity, no visible restrictions on littering, and as a consequence, people were least bothered about cleanliness."
Bhuwan decided to take it upon himself to restore the sanctity and cleanliness of the place. Over the next week, he collected empty tin barrels from shops near his home. The shopkeepers, though quite perplexed by his strange demand, simply gave away their empty oil barrels since those were of no use.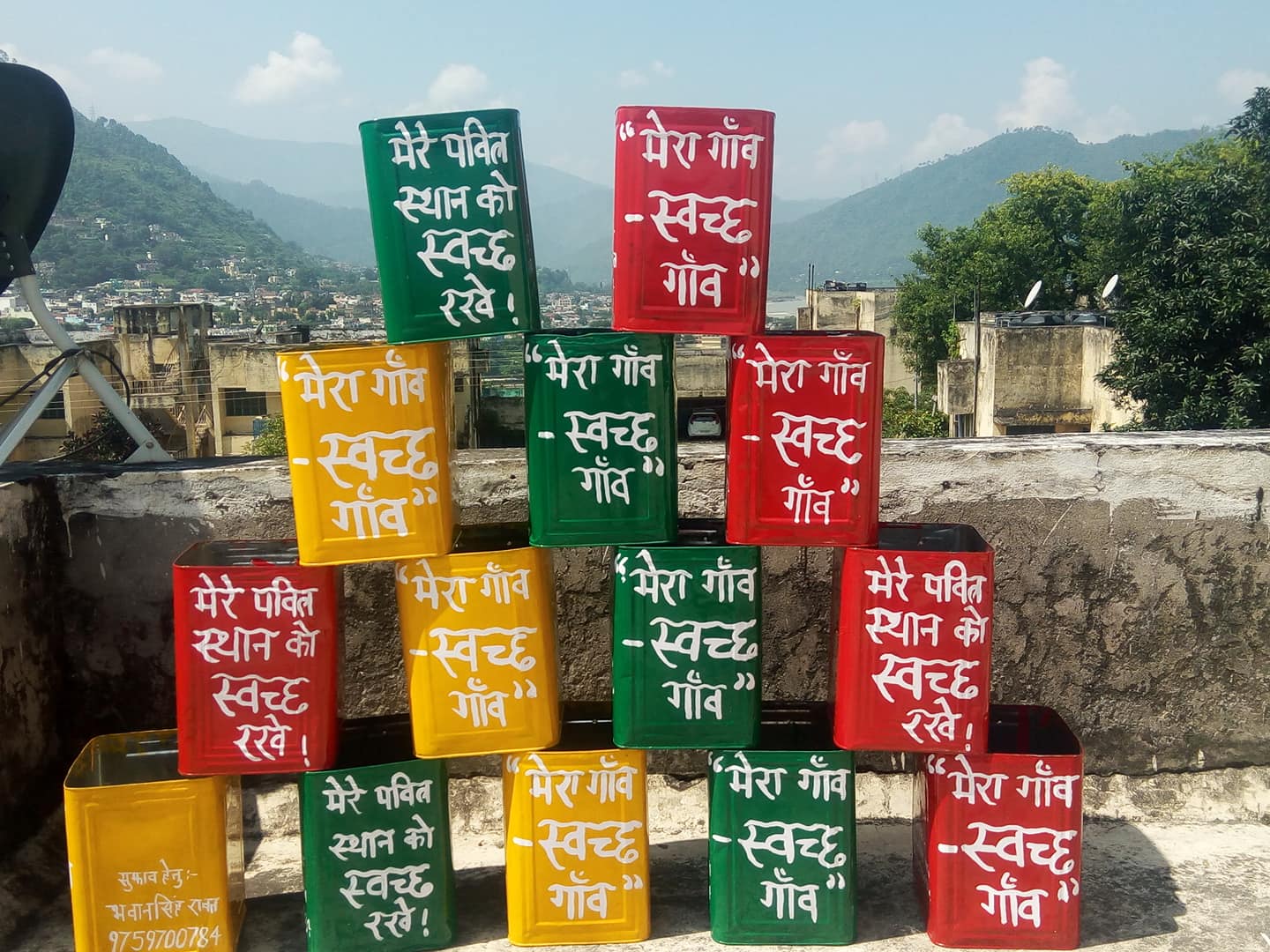 After collecting the barrels, he painted them in vibrant colours and inscribed phrases about cleanliness in bold Hindi letters. During his visit on the following Sunday, he placed a series of these cans along the winding road leading to the temple, keeping one at every ten steps.
"People automatically started throwing the trash in these bins. They did not have to be prompted every time. They saw the bins and signs, and they followed the norm. The temple path is now spick and span," asserts Birendra Singh, the newly elected Gram Pradhan at Kandara (Kot) village, reiterating his deep fondness for Bhuwan and his incredible initiatives.
"Without him, our village would have been a mess. Now the neighbouring villages are being inspired by our cleanliness campaigns," shares Aarti Pundari, the head teacher at a school in Khalu village.
The man did not earn everyone's respect in a day⁠—he had to overcome a lot of resistance and other hurdles, to convince people about cleanliness and raise environmental awareness among the villagers.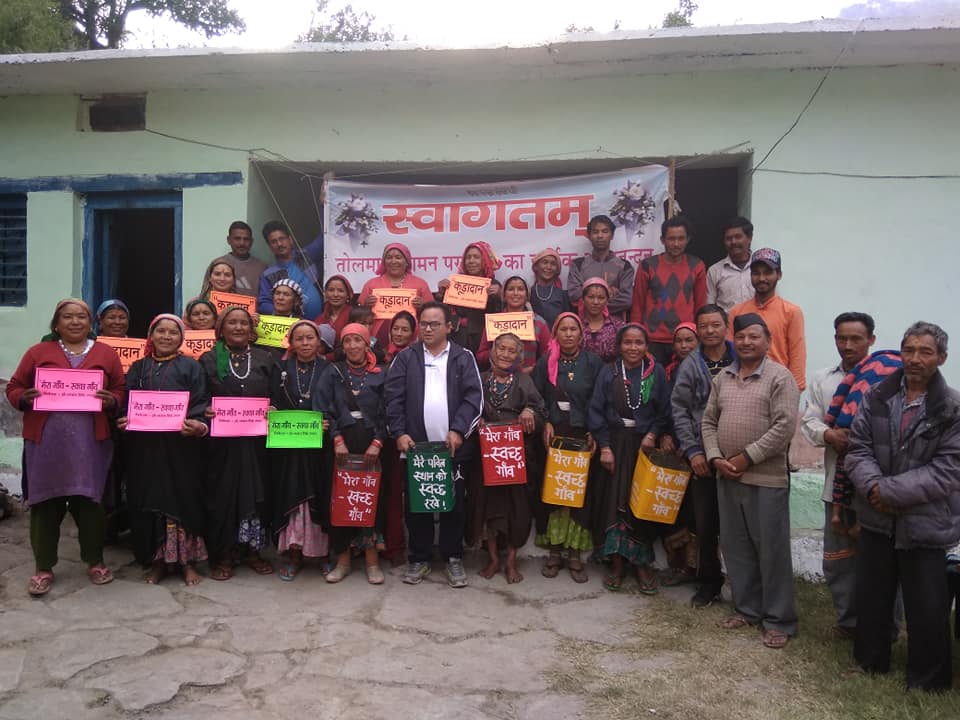 How Bhuwan Rawat started Swachh Uttarakhand

Bhuwan hails from a nondescript village near Badrinath, close to Nepal border. Although born and brought up in Uttarakhand, he started his career as an engineer in Delhi after completing his studies there.
In 2008, he was appointed as the Deputy Manager of the Srinagar Hydroelectric Project in Pauri Garhwal and returned to the state.
The Himalayas are a testament to the beauty of nature in, in its most pristine form. However, the percolation of urban consumerism into the nooks and crevices of the mountain hamlets were slowly poisoning the environment.
Plastic menace was on the rise, and the people were unaware of its adverse effects. Trash would be thrown anywhere and everywhere. The once-serene mountain air was now reeking of garbage.
Bhuwan started his 'Swachh Uttarakhand' mission with the work at Dhari Devi in 2017. After installing the dustbins, he would make sure to collect all the trash every weekend and take it to dumping zones designated by the government. A sizeable portion of the trash was segregated and taken up for recycling by local kabadiwalas (scrap traders).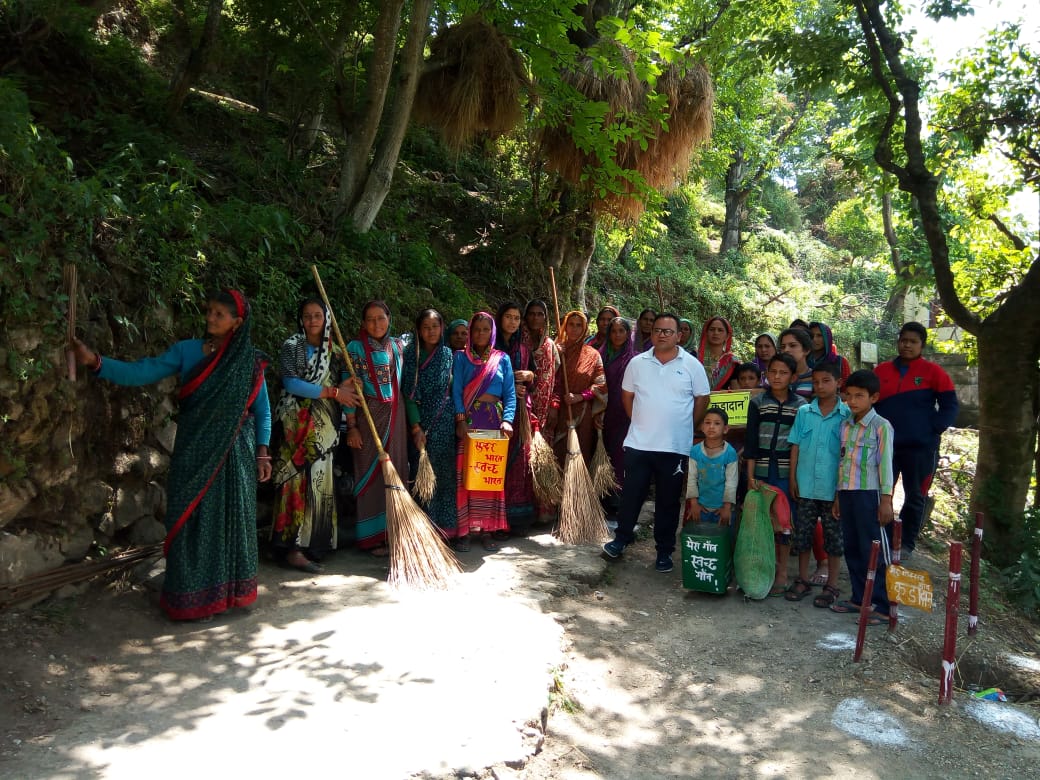 Next on his agenda was to spread awareness among local villagers.
"When I visited Kot Kandara village and talked about cleanliness, the first response was unexpected," reveals Bhuwan. Unanimously voicing their apathy, the villagers said 'Hum gareeb hai, sab. Hum safai ke liye utna kharach nahi kar sakte.' (We are poor people, sir. We cannot afford to spend so much on cleaning the village).
Taken aback, he had a detailed conversation with them, following which, the reason became apparent to him.
"You see, the only cleanliness missions they have seen till date were the drives organised by government agencies or NGOs, where people would sort through trash or wheel large dustbins wearing silicone gloves, face masks and hairnets. Inevitably, it got etched in their mind that cleaning is an expensive affair. One old lady even complained that the government people gave them plastic dustbins while preaching against plastic use."
That's when Bhuwan revealed to them that a 'swachhata' drive could be conducted entirely free of cost. He broke it down and shared his unique ideas and strategies.
"They were astonished to know that the empty tin cans or cardboard cartons at their homes can be re-purposed into makeshift dustbins; or that the old plastic bottles can be cut and hung up on tree branches to provide water for the birds."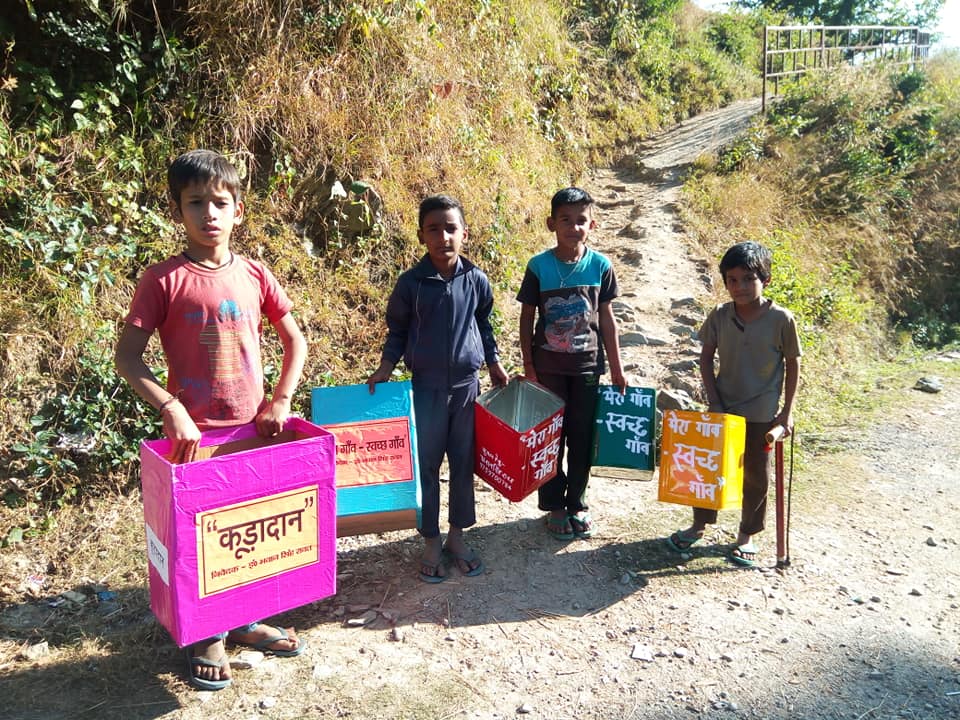 To inspire the villagers, Rawat narrated the inspiring story of Gaura Devi⁠— the woman who led the Chipko Movement and made the impossible happen.
Needless to say, after that, it did not take long for the villagers to get on board.
"Rawat saab made us realise that cleaning our village is also serving the nation. What can be a greater tribute to our nation than to preserve the hygiene, health and safety of her people?" says Aarti.
The cleaning festival

Villages like Kot Kandar, Khalu, Devli Bagad etc. which are now an integral part of Rawat's mission, celebrate the bimonthly cleanliness drives almost like a festival.
On the first and third Sundays every month, the entire village comes out in the open, armed with brooms and dustbins made from scratch.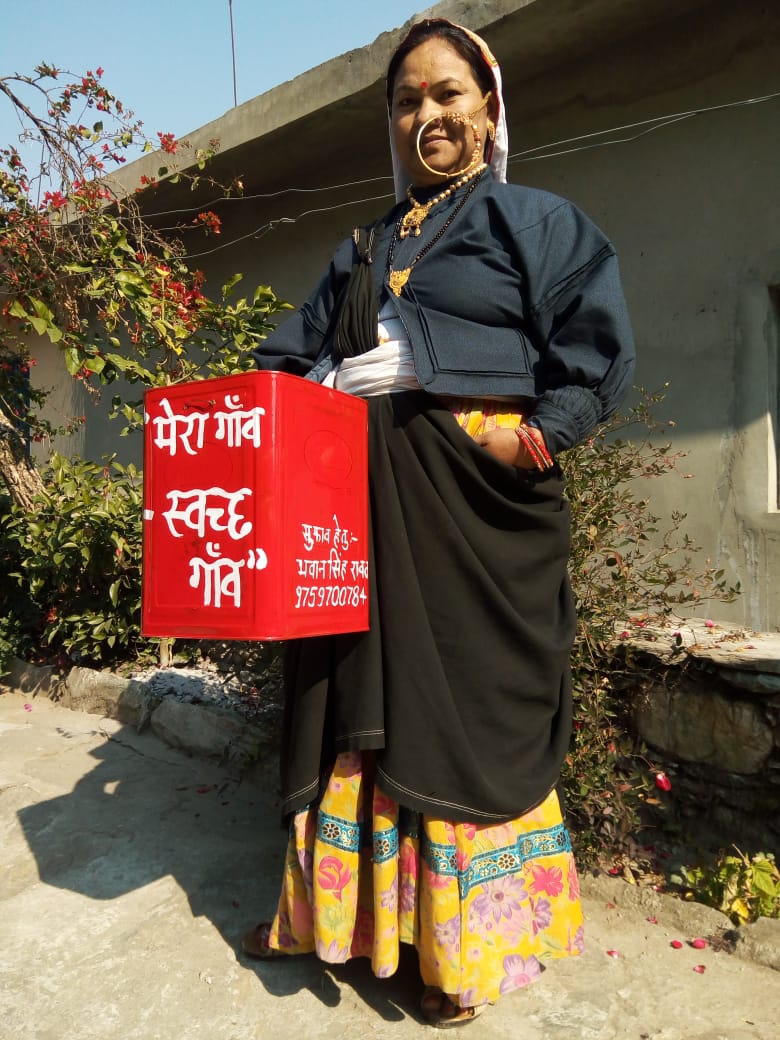 "While the senior citizens entertain everyone with songs, stories and even 'jhumelo' dancing at times, the younger men, women and children sweep the streets, pick up plastic waste and discard them in designated dustbins. Later, they demarcate the clean zones with choona (lime dust), making sure that the grounds are littered the least," mentions Balbir Singh, a retired army official.
"Ab toh safai ka kaam tyohar jaisa manaya jata hai (Now the cleaning drive is celebrated as a festival)," heartily shares Birendra Singh, who adds that his active involvement in the cleanliness campaign has led to his momentous win in the Panchayat elections.
"I made it very clear to the people that neither would they have to spend a penny for the cleaning, nor would they earn anything," quips Bhuwan.
Another tradition he has introduced in the region is gifting dustbins at weddings, birthdays or parties.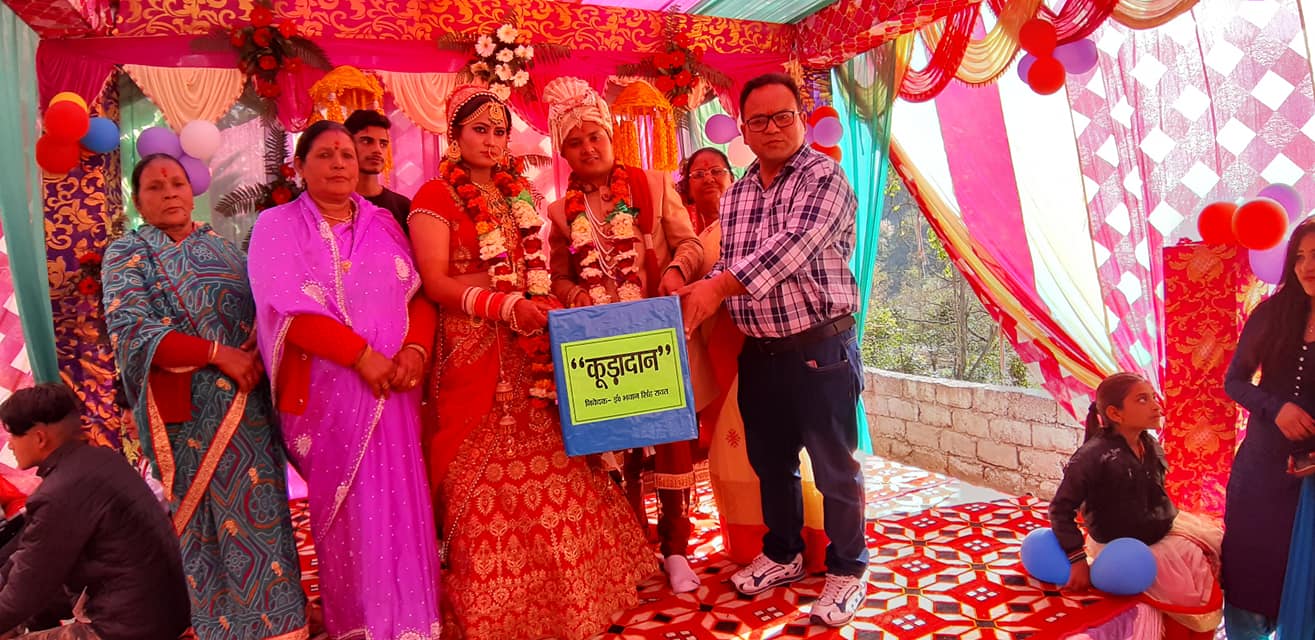 "These are supposed to auspicious and happy occasions, but sadly, most of the waste is generated at these gatherings. Everyone opts for expensive gifts, but I drop in with cardboard dustbins that come to use immediately." Singh reaffirms how Rawat's dustbins ensure to leave a wedding or a party venue spotless the day after.
Bhuwan has also started cleanliness workshops at local schools. He believes the concept should be taught from childhood so that the children grow up to be responsible and aware citizens.
He earns the attention of the students through engaging videos and interactive lessons, that mostly end with the kids joining him in pasting coloured paper around cardboard boxes and turn those into dustbins for their classrooms.
"They enjoy the activity so much that they never again throw a single piece of paper outside," he chuckles.
Bhuwan has come to be revered by the villagers Chamoli and Pauri Garhwal, but the modest young man wears this praise lightly. "I am not a rich person. I cannot offer any compensation to the people for the hard work they are putting in. But, I can inspire them to do this bit for their motherland."
---
---

(Edited by Gayatri Mishra)
Like this story? Or have something to share?
Write to us: contact@thebetterindia.com
Connect with us on Facebook and Twitter.
We bring stories straight from the heart of India, to inspire millions and create a wave of impact. Our positive movement is growing bigger everyday, and we would love for you to join it.
Please contribute whatever you can, every little penny helps our team in bringing you more stories that support dreams and spread hope.