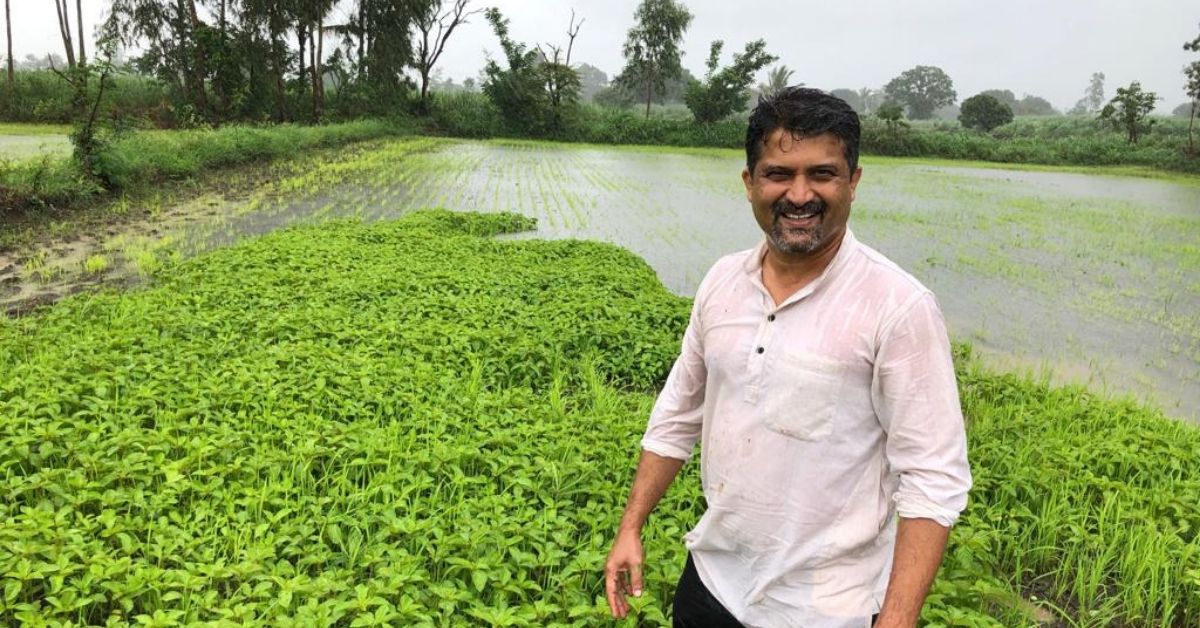 Desai runs 'Krishiyog' - an online portal for connecting marginalised natural farmers to conscious urban consumers, thus increasing their average income by 30%-40%
Chetan Desai, a Mechanical R&D Engineer is an accidental farmer. An accident, a fractured knee and a strong will to follow holistic lifestyle turned this engineer into a natural farmer.
A resident of Bengaluru for the past 25 years, he visits his hometown Belgaum every other weekend, travelling around 500 km. The overnight bus journey is taxing, but nothing can deter the engineer-turned-farmer from tending to his 6.5-acre family farm full of paddy, legumes and the fragrant Kasuri methi, grown by practising natural farming. What's more, due to increased yield and lesser investment cost, his farming income easily surpasses Rs 3-4 lakhs annually.
---
Skip the morning caffeine. Grab a cup of Moringa juice instead to cleanse your body of all toxins. Click here to know more.
---
Over the last five years, Desai has silently spearheaded a Natural Farming revolution in and around Belgaum, suburban Bengaluru and in some villages of Maharashtra as well! His endeavours have resulted in the transformation of 200 acres of chemically-bleached farmlands into hotspots of natural farming with enhanced yield.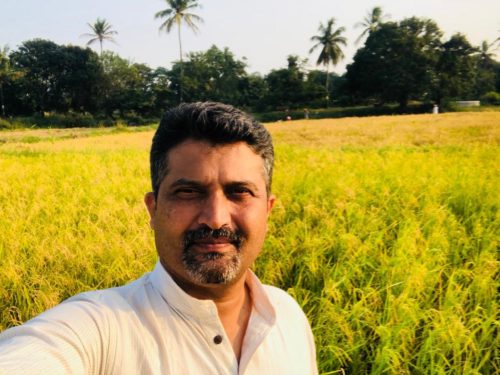 Furthermore, Desai's online marketing portal—Krishiyog—connects marginalised farmers who have adopted natural farming, directly to customers across India.
"This way, they are fetching a higher profit margin as the middlemen and wholesalers are eliminated," informs Desai, in a conversation with The Better India.
The Accidental Farmer
Though Desai hails from a farming family, he had never taken an active interest in the family vocation until five years ago, when he had an accident.
"In 2014, I fractured my knee while playing sports. Though I had been into regular sports and fitness activities, this injury caught me off-guard. The doctors were advising one surgery after another," shares Desai.
During the recuperation period, Desai resorted to an alternate lifestyle with yoga, meditation and organic diet, to quicken the process.
"I have been a vegetarian all my life. I knew that vegetarians often suffer from Vitamin B-12 deficiency that might affect bone density. But, while searching for a substitute, I stumbled upon a far more shocking reality."
Desai discovered how the excessive chemical content in our vegetables ruins bone density and invites other lifestyle ailments.
"Everything in our kitchen is either adulterated or toxic due to the excessive use of chemical pesticides and fertilisers. How will we stay healthy?" he questioned himself.
That's when he had an epiphany.
"I have a family farm. Why don't I start natural farming myself?"
Journey to Natural Farming
Desai set out to practise natural farming in his native village. Initially, he started with different varieties of paddy and gradually expanded to pulses, oilseeds, legumes and even exotic crops like asparagus, wheatgrass or spirulina. From the very beginning, Desai was determined not to follow organic farming, in favour of natural farming, or Zero Budget Natural Farming (ZBNF). Unknown to many, there is a slight difference between the two apparently similar farming techniques.
Desai clarifies, "Organic farming allows the use of up to 25 semi-synthetic insecticides while natural farming ideally involves zero chemicals and zero initial investment. Since the latter is quite difficult to achieve in reality, we practise the improvised Subhash Palekar Natural Farming (SPNF) methods outlined by the famous cultivator."
The journey of natural farming was no cakewalk for Desai. But, his foresight and extensive research helped overcome his initial lack of experience as a farmer. When he started farming, he dedicated his six and a half acres of land entirely to paddy – one variety of Kharif and two varieties of Rabi crops.
However, over time, Desai figured that growing the same crop repeatedly is denuding the land of its nutrition, which then necessitated chemical additives – evidently a strict no-no in natural farming. In addition, there was the problem of weeds which couldn't be eliminated without weedicides.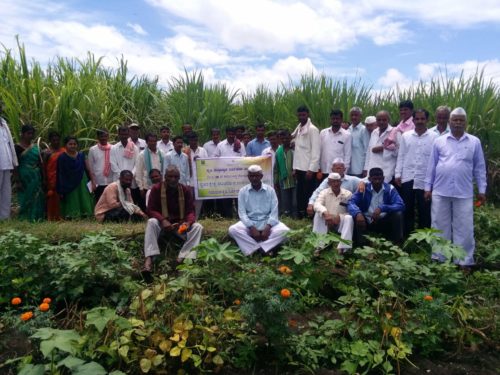 That's when Desai started intercropping where he grew legumes, pulses and other grains in the small streaks of land between the paddy plants. This not only prevented the growth of weeds, but also increased the nutritional content of the soil.
"The result was phenomenal. In the first year, I had got only 12 bags of rice, which increased to 75 bags in the following year, along with a good production of other grains."
Desai ensured to market his products in their purest and most nutritious form, which is why he chose to mill the rice himself, leaving the bran on the rice grains. At the same time, he reserved a part of this rice to serve as seed grains for the next season.
Thus, his farm was slowly growing self-sufficient—one of the ultimate goals of SPNF. He bought six cows and engaged in cattle rearing too.
"The benefits of natural farming are four-pronged and manifest in a rippling effect. The absence of chemicals protects plant health and nourishes the soil health. At the same time, working without chemicals prevents the adverse effects on the farmer's health while the organic products safeguard the consumer's health," he explains.
Spreading the Word
Once he started noticing the exponential yield and benefits of the method, Desai started prompting his friends, family members and other local farmers to take up natural farming.
Initially, almost everyone was sceptical. Being accustomed to heavy use of chemicals, they failed to understand how a drastically different technique would boost their yield.
To convince them, Desai gave them a tour of his farms and pointed out the positives. When some of them were convinced, he took them to Subhas Palekar's workshops for hands-on training.
"People who started SPNF as an experiment in a small plot, replicated the same in their whole farm the immediate next season."
One of the beneficiaries, Prashant Hanmannavar, who is Desai's childhood friend, tells how SPNF has increased his profit margin by around 30 to 40 per cent. "I was not convinced outright. But once I saw Desai's success from close quarters, I knew I had to start the same. Now I grow sugarcane, cotton, paddy, food grains, vegetables, and curry leaves, among others. The yield is beyond great!" shares Prashant, who has converted his entire farm of 80 acres into a natural farm.
Desai has inspired scores of other farmers, including small-scale cultivators, who are now earning decently through SPNF. In total, he has managed to induct over 200 acres of land into natural farming in Belgaum, Kanakpura as well as some villages in Maharashtra.
Adoption of natural farming also changed the surrounding ecology as bees and birds started swarming Desai's fields. While he himself was on a mission to raise awareness about SPNF among his farming peers, the transformed ecology served as an eye-opener to many.
Krishiyog-Online Portal for Farmers
Where once Desai visited natural farms to learn, today, the tables have turned as he does the same to pass on his knowledge and advice on natural farming to others. In fact, he also gives elementary lessons on traditional farming methods to school students. "The idea is to dispel the notion that farming cannot be a respectable and profitable vocation. Students need to understand that natural farming can also have excellent future prospects for them if integrated with modern technological aspects."
Desai's online marketing portal-Krishiyog came up when he saw a marginalised farmer discarding acres worth of decayed cabbage due to sudden drop in cabbage prices. The fluctuating market prices, coupled with the involvement of dishonest middlemen, makes it inherently difficult for the marginal farmers and small landholders to thrive. This strengthened Desai's determination to foster a farming community to connect farmers directly to the urban consumer base through technology.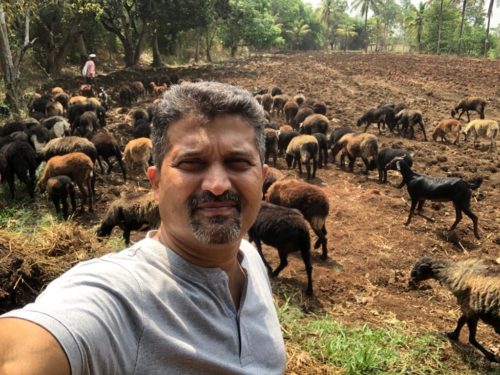 The engineer-cum-farmer started Krishiyog – an website-cum-online forum which lists all his fresh farm products and accepts online orders from anywhere in the country.
Yash Shah, a final year student and innovator at KLS Gogte Institute of Technology, Belgaum, created the web portal and application for Krishiyog.
He shares, "It was an enlightening experience to work on the Krishiyog project. I was amazed by this wonderful aspect of natural farming, so I didn't hesitate to agree when Chetan sir approached me."
Yash believes that such integration of technology with farming will revolutionise the agricultural sector in the long run. Working with Krishiyog has only inspired him to develop more future endeavours for the farmers of the nation.
"Over the years, I have developed a dedicated and conscious consumer base who trust us with their monthly kitchen needs. Apart from Bengaluru, we deliver our products to Delhi, Mumbai, Pune, Chennai and a few Tier 2 cities as well. We also make sure all the packaging is in reusable cotton bags. Not a shred of plastic is allowed with our products," Desai informs.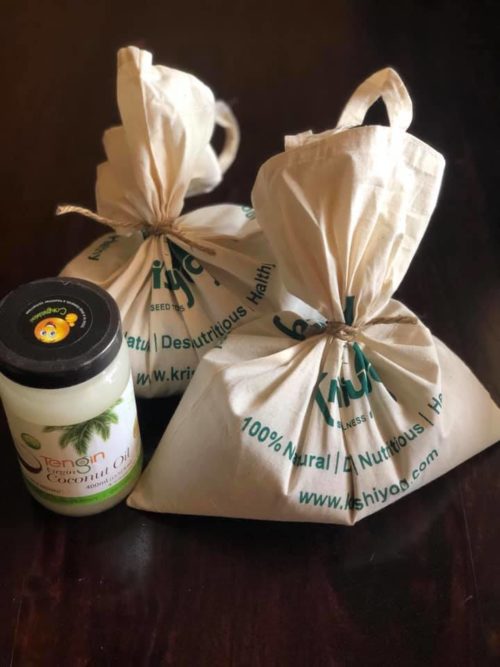 From freshly ground turmeric, unadulterated jaggery, aromatic long-grained rice to dried curry leaf powder – Krishiyog is a treasure trove for all your organic kitchen essentials.
It deserves a special mention here that Desai, though an engineer by profession, turned to farming and has emerged as a pioneer of natural farming in Karnataka simply by devoting his weekends to the vocation. That, in itself, affirms how natural farming can yield considerable profits with the minimum efforts. He sincerely believes that natural farming becomes the future of farming in India.
---
Also Read: Kerala Homemaker Grows Organic Food in Discarded Pipes, Old Washing Machine!
---
(Edited by Saiqua Sultan)
We bring stories straight from the heart of India, to inspire millions and create a wave of impact. Our positive movement is growing bigger everyday, and we would love for you to join it.
Please contribute whatever you can, every little penny helps our team in bringing you more stories that support dreams and spread hope.