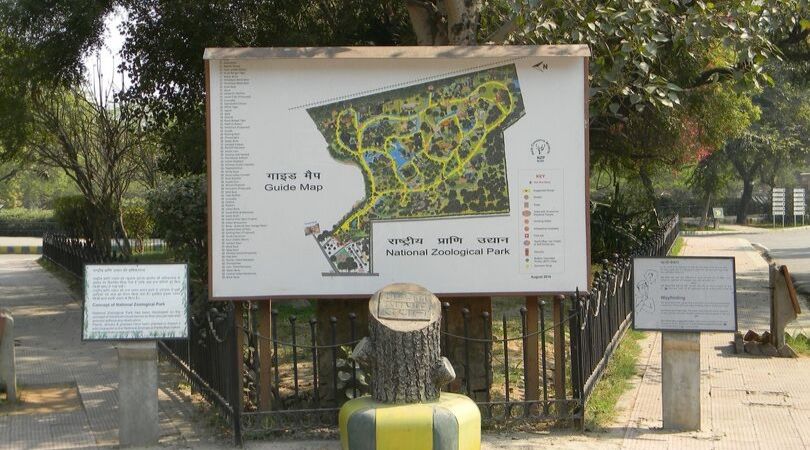 The park was officially opened on 1 November 1959, but sometime in the same year, possibly in September, a small group of wild Painted Storks happened to fly around the zoo. They might have been scouting for a safe place to nest.
The Painted Stork is a large, eye-catching, colonially nesting bird that belongs to the stork family, listed as near-threatened by international conservation agencies. It is found across large parts of India, Sri Lanka, and in patches of South-East Asia.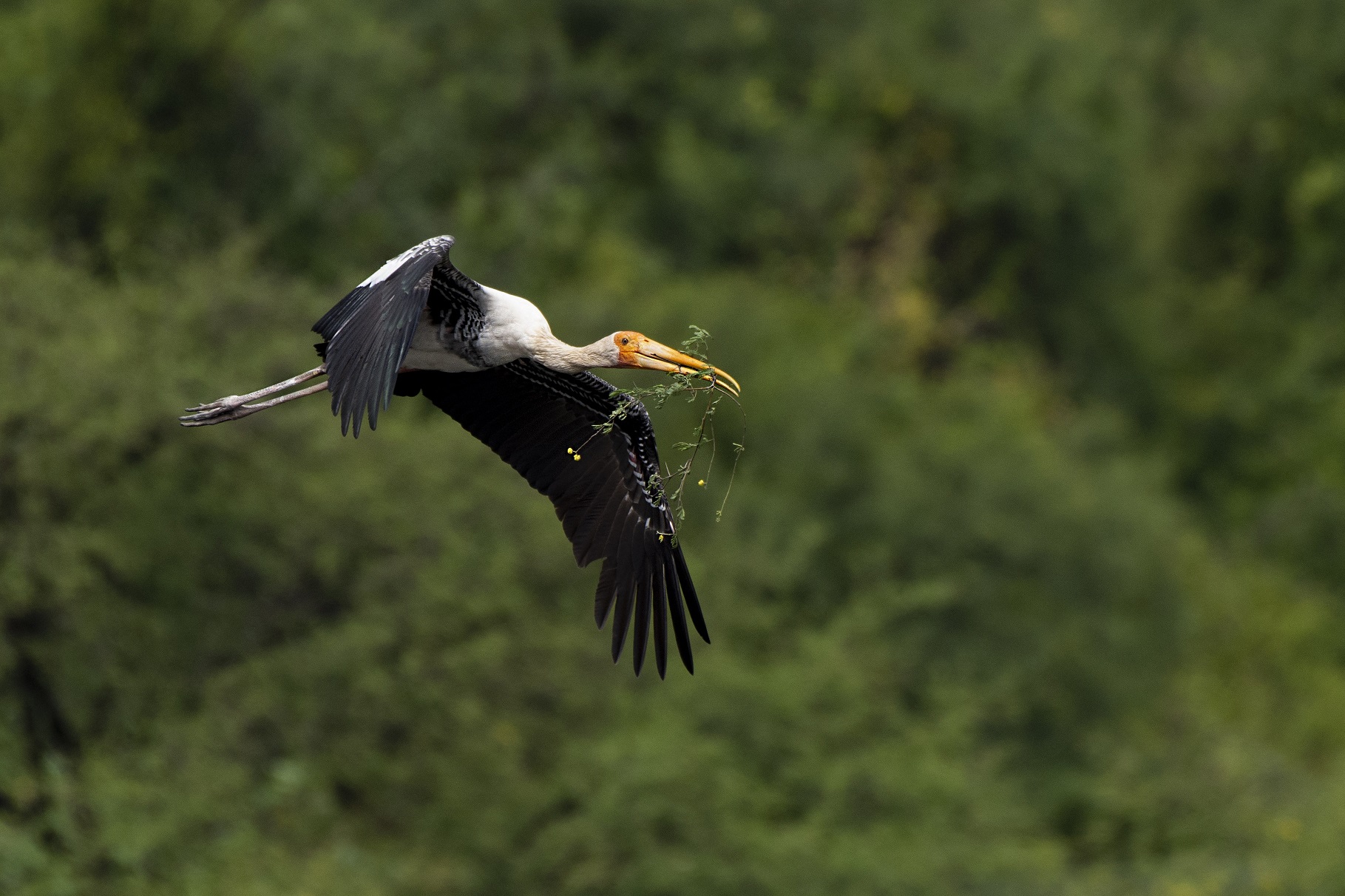 However, in the middle of India's capital city, these birds can be found nesting in a secluded spot on the western bank of river Yamuna. In fact, Painted Storks have been nesting here on clumps of trees in ponds within the premises, more or less continuously since 1960!
Come September, these tall, elegant birds start congregating in the zoo where they build their nests on mesquite trees planted on islands in the middle of ponds. During their residence, they raise their young, oversee preliminary rites of passage, but as soon as summer approaches, they are all gone, widely dispersed in the surrounding countryside, where they will live singly or in loosely scattered parties, seeking food and shelter for the rest of the year.
---
Love travelling? Check out these special and memorable eco-tourism packages that do not add to your carbon footprints.
---
And the following year, they will come again.
Year after year, the pattern continues.
Since I have been interested in studying waterbirds for a long time, the zoo is a great place to see different species such as free-ranging water birds like egrets, herons, cormorants. But how the Delhi Zoo became a bird sanctuary is a fascinating story, one which can be traced to the initial years of India's independence.
Immediately after Independence, there were efforts to launch satellites, harness atomic energy, and explore the frontiers of space. Modern cities and hydro-electric projects, the 'temples of modern India', were being created. As a new country strove to throw the shackles of the past and develop as a modern nation-state, new institutions were being formed.
And amidst all this, there was also a need felt for constructing a new, modern zoo.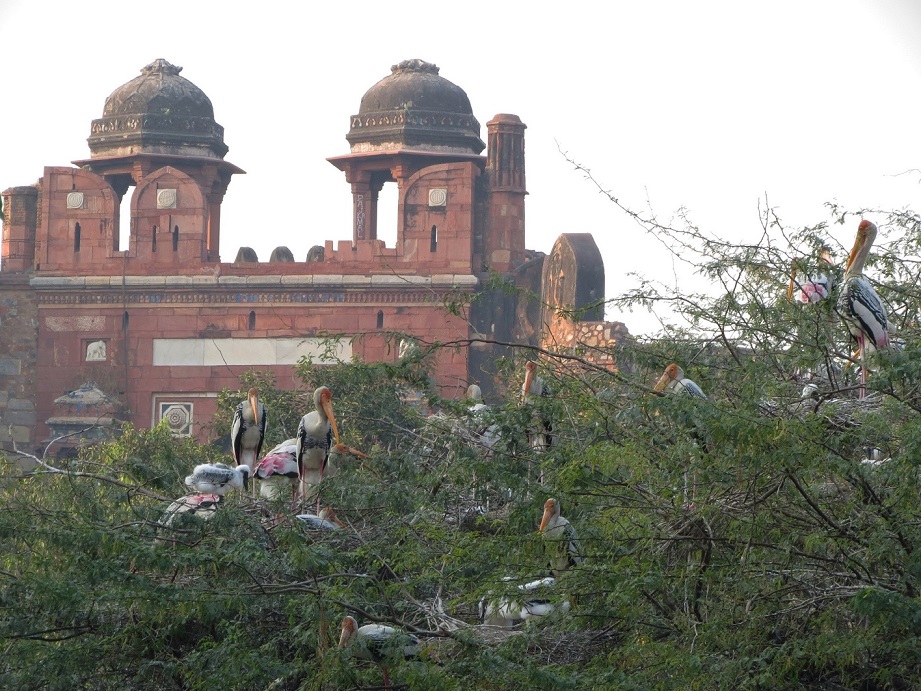 Zoological parks in some form or other have existed through the ages, though their objectives and purposes have varied. Perhaps some of the earlier zoos were not meant for public display of animals in the same manner as today's zoos are.
In earlier times, when kings and monarchs ruled over kingdoms, animal exhibits served as an advertisement of the expanse of the ruler's kingdom and the wild animals found therein.
Later, the Maharajas and rulers of princely states built royal menageries in which they displayed birds and animals in ornate, though wholly inappropriate, and most certainly, terribly uncomfortable enclosures.
Although these zoos have changed considerably over the last 20-30 years, I remember seeing them in their unmodified states when they retained their decorated menageries and small cages; where animals were displayed behind bars and mesh wires.
On a visit to Sayaji Baug Zoo in Vadodara, Gujarat, several years ago, I marvelled at clay models strewn across the campus, illustrating tales from the Panchatantra.
Worldwide, zoos were evolving, and it may be worthwhile to see this in the broader context of the age of exploration and discovery. From the 15th to the 19th century, as European sailors and explorers travelled to hitherto unknown lands in Asia, Africa, the Americas, and Australia, they brought back specimens of flora and fauna; from lands they had conquered or visited. These specimens were often displayed in their home countries, leading to the creation of the first public zoos.
Before that, the general public in European countries had little idea about the biodiversity wealth across the globe, and when confronted with exotic and strange looking creatures exhibited in zoos, they were fascinated and thrilled.
But things were changing, and colonial settings began to be replaced by thematic settings as far as the exhibition of animals in zoos was concerned. For instance, keeping the tiger or lion in one enclosure and their food, deer, in a neighbouring cage, were innovative ways of educating the public about ecological interactions such as 'predator-prey' relationships.
With time, a new type of thinking came about—exhibition for the enjoyment of the visitor as well as comfort of the live animal exhibit. While the zoos of yore displayed animals cooped up inside small cages, in times to come, they began to be housed in larger, open enclosures where they could move around and exercise their muscles. With this approach, the cages, rods, mesh and other obstructions between the exhibit and the visitor were reduced, and moated enclosures became the norm. In these, the animals did not look like they were held in captivity, as they were seen to be roaming about freely.
The leaders of newly independent India wanted to be modern in every respect. In 1952, the Indian Board for Wildlife created a committee for a zoo in New Delhi, which would be the country's national zoo. Hence the formal name, National Zoological Park.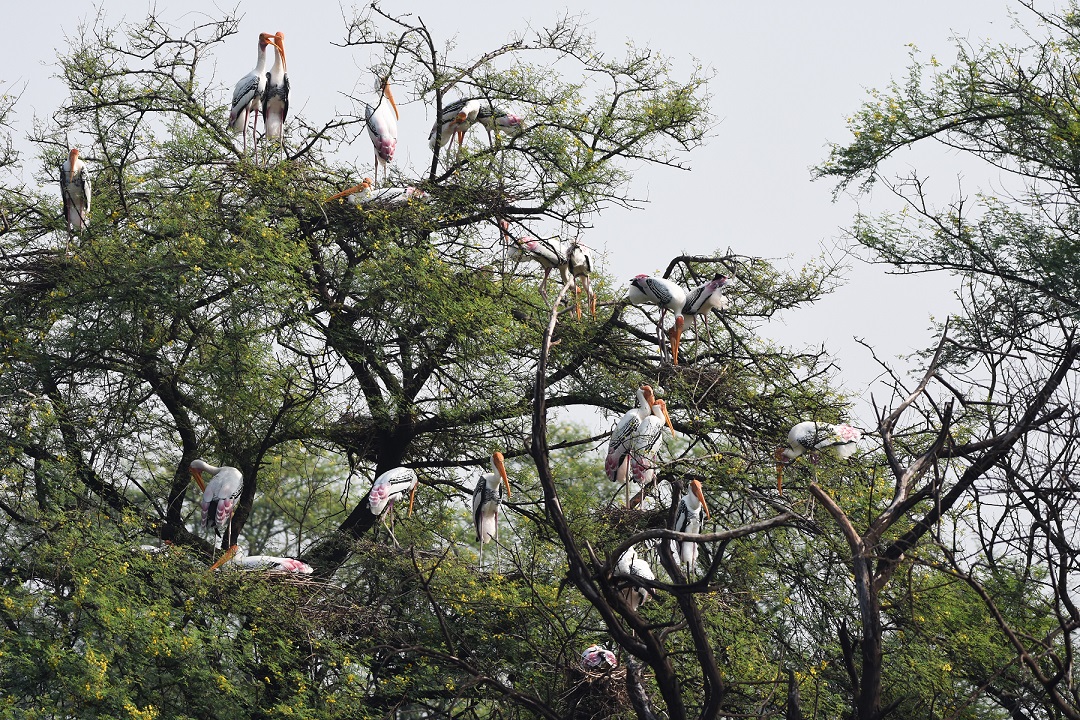 The facility would be built along modern lines with open moated enclosures, free spaces, and gardens. A nice spot between the two historical monuments—the Old Fort and Humayun's Tomb—was chosen as the location. Carl Hagenbeck of the Zoological Garden of Hamburg, who created the globally accepted concept of the open moated enclosures, was hired to design it.
The Delhi Zoo Project progressed under the leadership of prominent and well-qualified officers of the Indian Forest Service. One of the unique features of the layout was that its exhibition areas or enclosures were to be located around interconnected ponds and canals, which would be constricted and dilated to accommodate various outdoor exhibits. Here's a map of the zoo.
On a couple of such ponds, especially the ones facing the Old Fort ruins, an outdoor exhibit to showcase the waterbirds of India, was planned. Here, some mesquite trees were planted on islands, where a few pinioned storks, cranes, and some birds were released.
The park was officially opened on 1 November 1959, but sometime in the same year, possibly in September, a small group of wild Painted Storks happened to fly around the zoo. They might have been scouting for a safe place to nest.
According to old records in the zoo office, about 50-60 birds descended upon the trees on an island in the pond facing the Old Fort.
Although the birds did not build any nests that year, a large contingent of about 400 Painted Storks landed in the zoo premises after the monsoons the following year. They also built their nests and have been doing so every year since.
It has now been sixty years that the Painted Stork has been regularly visiting the Delhi zoo premises for nesting.
While this is remarkable, one cannot be sure if the storks will continue to nest in the zoo premises as they have been doing in the past. One feels apprehensive because serious environmental problems may be looming on the horizon with respect to the river Yamuna, which is a favourite foraging ground for these birds. The river is severely polluted with its extensive areas encroached upon. Large areas were lost during the construction work for the 2010 Commonwealth Games and the creation of bridges and flyways across the river. Much of the city's greenery and wildlife has not fully recovered from that.
---
Also Read: B'luru Man Rescues Animals From All Over the State, Builds Habitat Classrooms For Kids!
---
By reducing pollution as well as encroachments on the Yamuna, we could make sure that the Painted Stork continues to nest in the Delhi Zoo.
Featured Image:Delhi Zoo/Facebook
Images Courtesy: Nawin Tiwary

(Written by Abdul Jamil Urfi and Edited by Shruti Singhal)
Urfi is Associate Professor at Department of Environmental Studies, University of Delhi. He has studied the Painted Stork of Delhi Zoo for well over 20 years and written a species monograph on these birds. In an earlier article, he wrote about how he got interested in the zoo's Painted Stork population from which this piece is extracted.
Like this story? Or have something to share?
Write to us: contact@thebetterindia.com
Connect with us on Facebook and Twitter.
We bring stories straight from the heart of India, to inspire millions and create a wave of impact. Our positive movement is growing bigger everyday, and we would love for you to join it.
Please contribute whatever you can, every little penny helps our team in bringing you more stories that support dreams and spread hope.