"They would cut down tree after tree for houses or farming. Nobody cared to plant a single tree. The soil was eroding and lands were turning sterile. I realised if I don't step up and save my land, it was in great peril."
Even at the age of 76, Prabha Devi's tremendous energy is a matter of mystery for the entire village. Her son, Manish, 44, is left spellbound every time he visits his parents' hill cottage in the remote Palasat village of Rudraprayag. Prabha Devi Semwal's picture-perfect home is a scene set in tranquility, nestling in the midst of a dense forest.
The most astonishing part?
The entire forest is the result of Prabha Devi's lifelong pursuit of protecting the ecosystem around her village.
---
Bomb the earth with seeds! Literally! Buy this pack of seed bombs and see magic happen with a boom.
---
Home to rare fruit trees, alpine flowers and evergreen conifers, the forest she has planted is home to singing birds and sprightly mountain squirrels, among other animals. "They would cut down tree after tree for houses, offices or other projects. Nobody cared to plant a single tree. The soil was eroding and lands were turning sterile. I realised if I don't step up and save my land, it was in great peril. I just kept on planting, wherever I found a little barren land," the septuagenarian grandmother shares with a hearty chuckle, in a conversation with The Better India (TBI).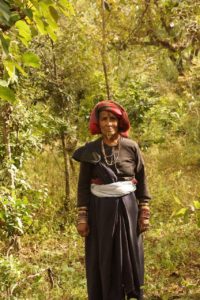 She unabashedly speaks of her inability to read or write or remember her birth year, but she recognises every tree in her forest.
Over decades, Prabha Devi has planted more than 500 trees which stand as tall guardians of the village of Palasat. And her efforts are still continuing with indomitable zeal. She has even raised a small shrine next to her house, surrounded by rose shrubs.
"We have never seen mother rest for a single moment during the daytime. As children, we used to crib and complain why Ma is always planting trees? What is the need? But now when I stay in the city, I realise how significant her endeavour is," admits Manish, adding that not a single one of his mother's trees has failed to grow. "There is some magic in her 'green' hands."
Prabha Devi and her journey to the Village of Palasat
Married to the family's eldest son, Prabha Devi arrived at Palasat as a child bride of 16 or 17 years. As the rural societal norms in those days mandated, young Prabha was assigned the daunting task of taking care of the entire household, which she did with elan.
Life in the mountains is no cakewalk. Something as simple as bringing water from the nearest stream or river often involves a strenuous trek for hours. Needless to mention, as a young woman, Prabha Devi's day would be preoccupied with scores of such arduous chores.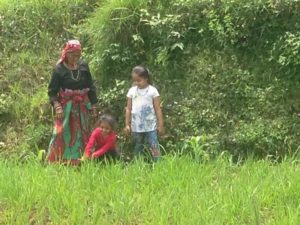 Since her husband's family were farmers and cattle-herders, Prabha had to often scour through the wilderness gathering grass for the cows, sheep and goats. When the wild grass started running out, she decided to grow fodder grass in the streaks of fallow land between farming plots.
Planting trees became a hobby, and each day she managed to find time to plant grass, floral shrubs and many saplings of fruit trees. Her spontaneous plantation drive that started with a fruit orchard around her house, ended up afforesting the whole of Palasat village.
"This is my father-in-law's house and land. If I don't save these lands then who will?" she reiterates throughout the conversation, while inviting us to visit her quaint, little forest and enjoy the fresh fruits of autumn.
The gritty Garhwali woman's love for trees is supplemented with a firm resolution to make everything possible. Once her son had casually mentioned about Kaphal (bayberry) and Burans (rhododendron), which are delicious and healthy, but unavailable in their area.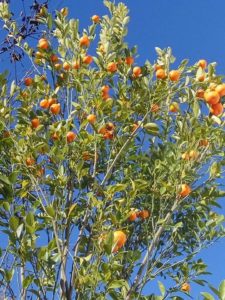 The next time he visited home, he found the outdoor garden filled with bayberry and rhododendron trees, bearing vibrant red Burans and plump Kaphal in their branches. She has also planted the sole Rudraksha tree in the area which is quite rare to find and equally difficult to grow.
"My mother has never cut a single tree in her life," son Manish shares with pride. "I have never uprooted even a small plant," Prabha Devi cuts in.
Manish often takes his children to visit their grandparents and join in Prabha Devi's amazing initiative. For the children born and bred in the confines of concrete jungle, their grandmother's forest is a wonderland.
"It still fails my wife how my mother manages to do so much even at this age without a single shred of exhaustion," Manish heartily mentions.
Like Manish, all of Prabha Devi's children stay in other cities of the country. But Prabha Devi refuses to set foot outside the serene paradise she has raised all by herself. Her trees, her forest, are her life. At present, she resides with her octogenarian husband, who used to be a local reporter in his youth.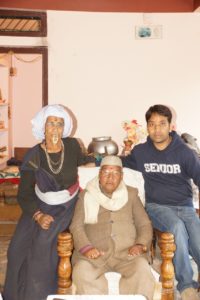 "Visit my forest next time you come to Rudraprayag. The fruits are delicious. It's just me and your uncle (her husband) in the house. You will like it a lot," she extends her heartfelt invitation to a stranger on the other side of the phone.
Today, Prabha Devi's forest enables the local community to procure firewood for their daily needs as well as fodder for their cattle. But the staunch eco-warrior makes sure to keep her forest safe from the hands of corporate greed. She understands little about global warming or climate change; all she understands is that the forests need to be saved, and the responsibility lies with each one of us.
---
Also Read: Accidental Environmentalist: Ladakhi Farmer Escaped Poverty by Planting 4000 Trees!
---
(Edited by Saiqua Sultan)
Like this story? Or have something to share?
Write to us: contact@thebetterindia.com
Connect with us on Facebook and Twitter.