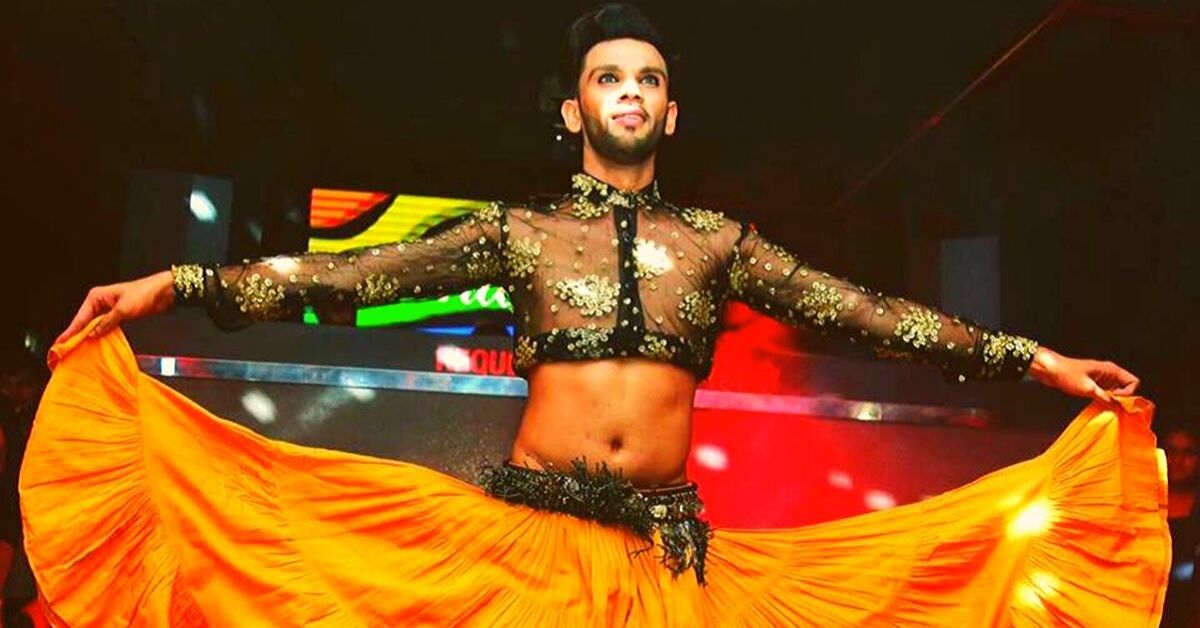 Questions like 'why are you acting like a girl', 'why do you want to commit sin', 'why are you insistent on bringing shame to the family' were bombarded. But Eshan decided to become an inspiration instead!
As soon as 5-year-old Eshan Hilal heard a yesteryear hindi song, he would run to the sofa in front of the television and sit in his favourite spot.
Eyes glued to the screen, his mind would step into a magical world, mesmerised by Meena Kumari's facial expressions in Chalte Chalte in Kamal Amrohi's 1972 classic Pakeezah. A little while later, the little one would imitate her and try the intricate steps of Kathak.
Though Eshan's dance moves garnered cheers from his family when he was young, things changed once his father noticed that his eldest son stayed indoors, instead of going out to play cricket like the other boys of the society in Delhi.
---
Soon, coercion turned into physical harassment and shaming became an everyday ritual. "I would be beaten up because of the way I walked, sat and the soft gestures I made. The unceasing mockery and taunts from friends and family made me believe that something was wrong with me," Eshan tells The Better India.
However, braving all odds, and staying true to his passion for dancing, Eshan now performs on stages. And standing ovations have replaced abuses.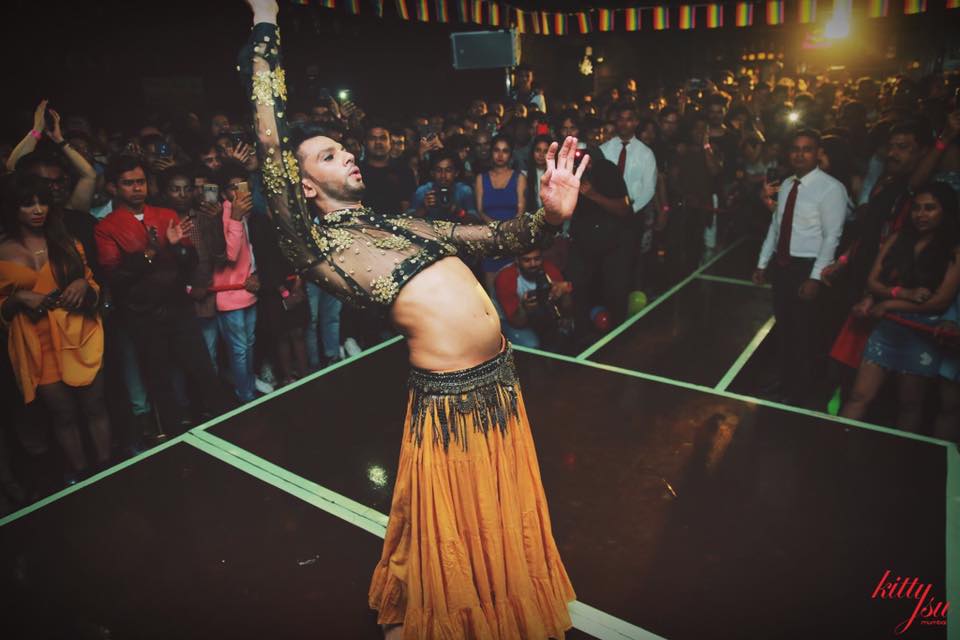 Now 25, Eshan is considered to be the first known professional male belly-dancer in India. He created waves in 2017 when he performed belly dancing wearing a long flowing skirt in a dance reality show.
Eshan's art grabbed the attention of the nation. Audiences and judges on the show had never seen a man perform with such aplomb and grace, a dance usually performed by women.
Eshan had nailed the torso-driven dance with precise articulations of the hips. It was probably the first time when Eshan's art was respected and appreciated.
Formative Years and Taking The Unconventional Route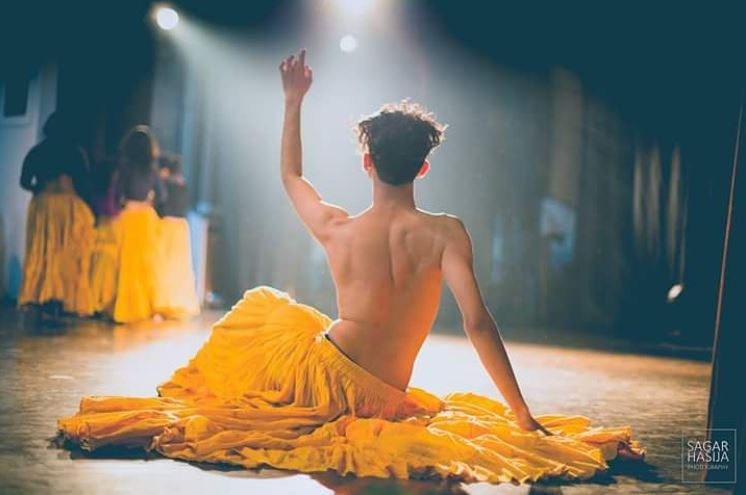 Growing up in the 90s, Eshan loved to watch songs of graceful actresses of the early years like Waheeda Rehman, Vyjayanthimala and Rekha; unlike his friends who only liked old hindi songs if they were remixes.
Everytime he would see these actresses dancing on the screen, he tried and matched their rhythm; pirouetting and making his face expressive. Emoting the lyrics of the song came naturally to Eshan. And it was during one of these moments that the Delhi boy realised he had found his calling.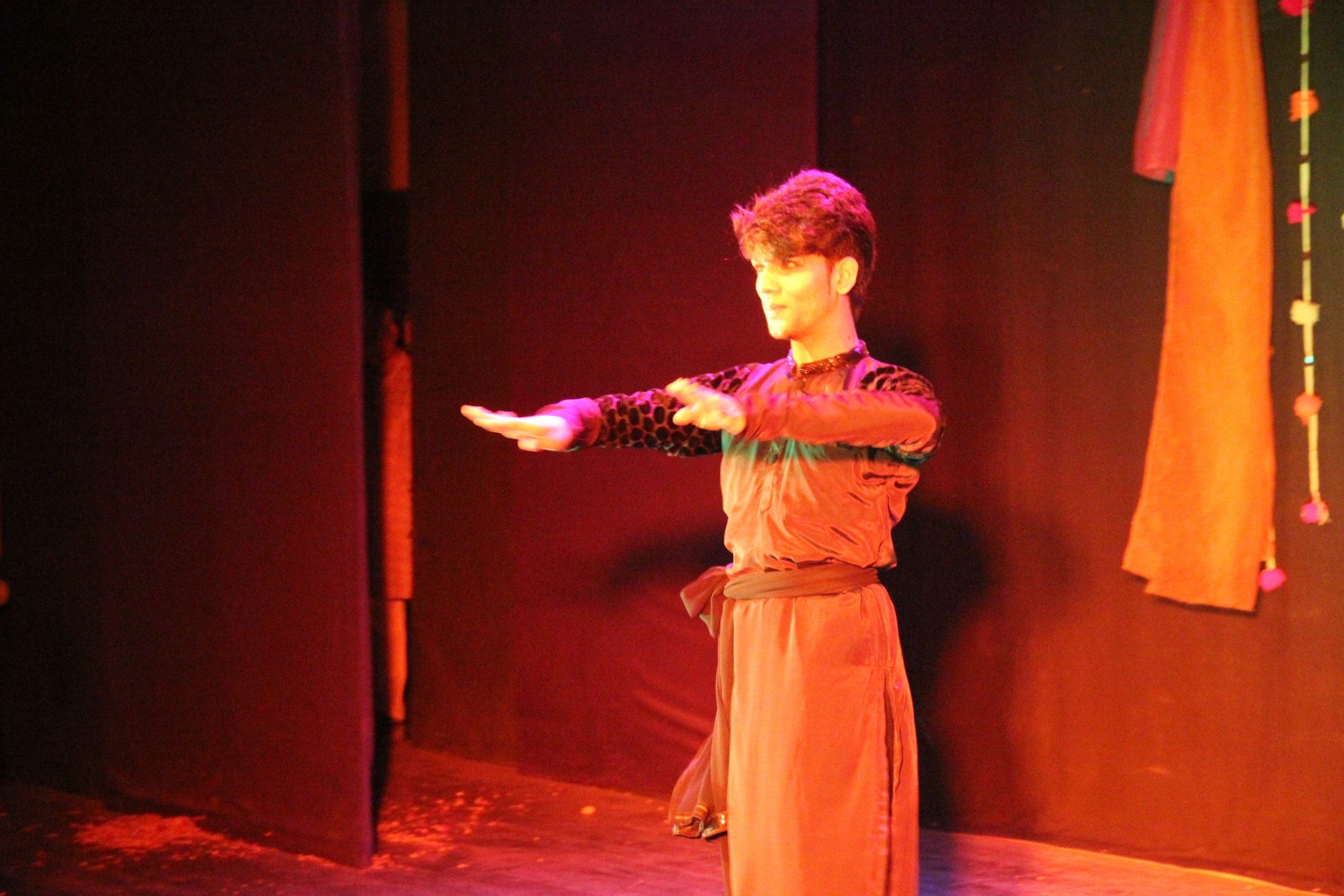 But, with his need to pursue his heart's desire came the barrage of humiliating and abusive words from his family. In fact, during one of the family gatherings, his grandmother even went to the extent of calling him a prostitute for dancing while playing antakshari, a game of singing.
"I did not know the meaning but I knew that it meant trouble. I was once again beaten up by my father. Words like hijra and tawaif (courtesan) became common for me during my teenage years", he reminisces.
Despite the backlash, Eshan's fascination for classical dances continued. He even saved his pocket money and decided to enroll himself in Kathak class. When he finally managed to arrange enough money, he told his mother about the same.
And once again he was beaten up and called names, "My father threw out my ghungroos and thrashed me for hours until I got a hairline fracture on my ankle." Eshan felt suffocated in his house.
One day, upon learning about dance auditions for a popular reality show back in 2008, Eshan ran away from the house.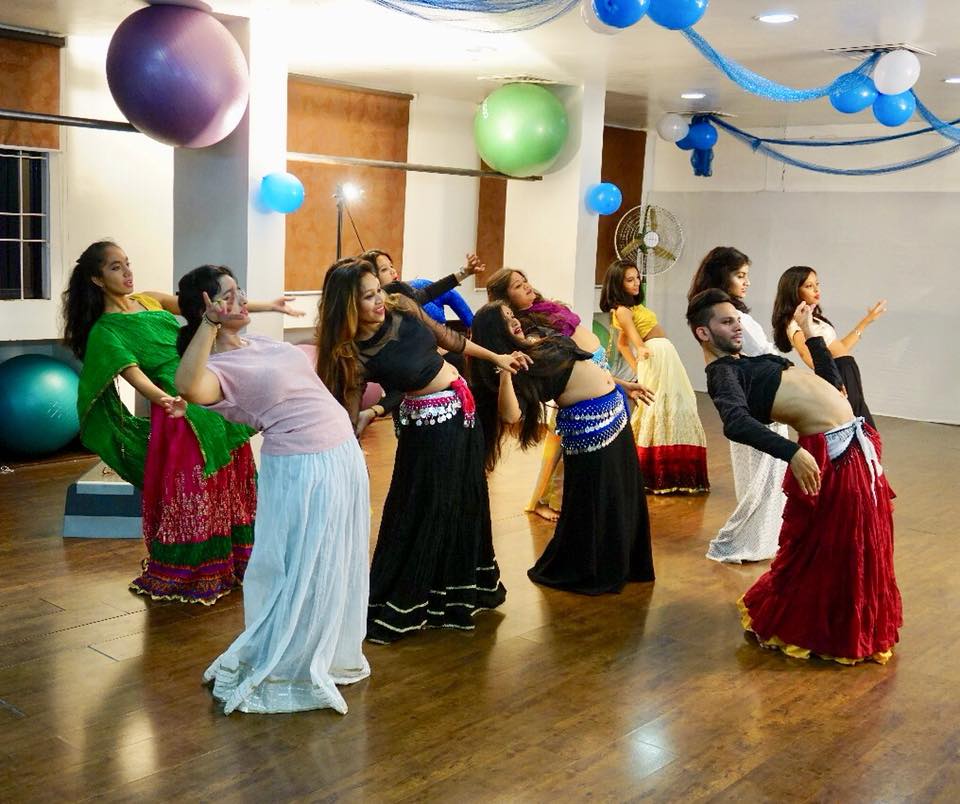 "I was very naive to leave the house without any money. I reached Nainital and worked there in a hotel as a cleaner for a couple of months until my parents found me through police. The next few days after I returned to Delhi were very traumatic for me," shares Eshan.
To keep his family's honour and save himself from the drama, Eshan quit dancing when he was in 12th standard. He changed his way of living and forced himself to be a person he was not. Just when he felt he was losing his identity, a conversation with his mother came as a ray of hope.
"My mother said I was only accountable to God and I should be scared of Him. That piece of advice removed all my fears. I decided to get back to dancing."
Breaking into the Female Bastion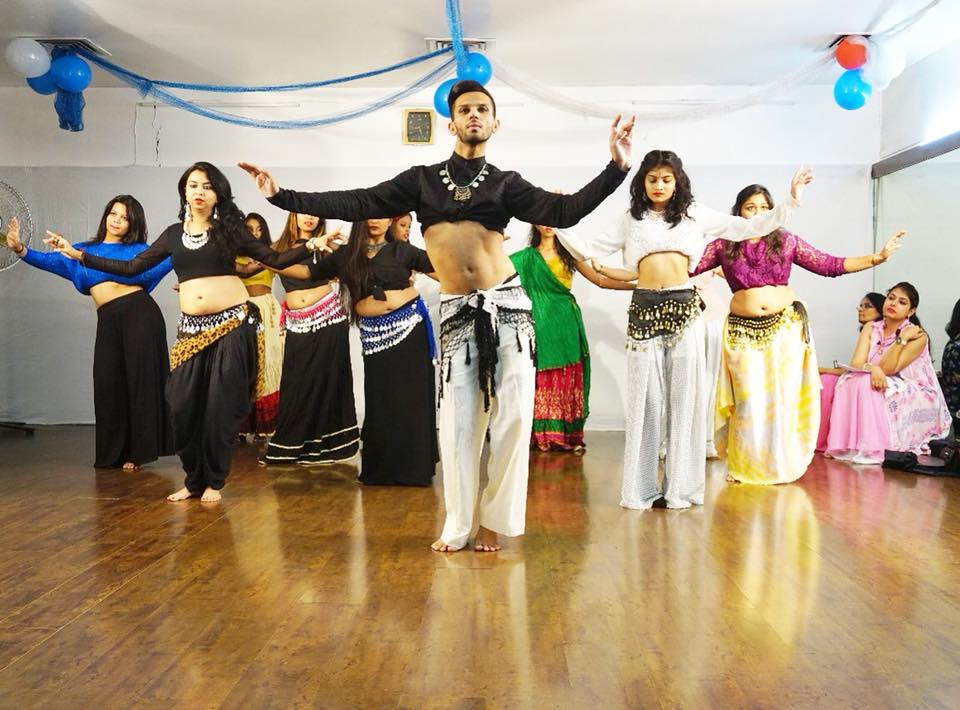 It was while learning Kathak that Eshan came across belly dancing. He saw Mehr Malik, a well-known belly dancer and was bowled over by her moves and dancing style.
Wanting to pursue the same, Eshan contacted a class teaching the artform. But little did he realise that a gender stereotype awaited him as the instructors turned down his request. Not one to give up, he did the next best thing. He followed YouTube tutorials to follow his quest to learn the dance.
His father was further angered at Eshan's choice of belly dancing. Questions like 'why are you acting like a girl', 'why are you insistent on bringing shame to the family' were thrown at him again.
But this time he neither quit nor ran away from the questions. He made multiple attempts at convincing his father; sadly all of them unsuccessful.
In 2013, he moved to Mumbai for his studies and completed a course in Fashion and continued with his YouTube lessons.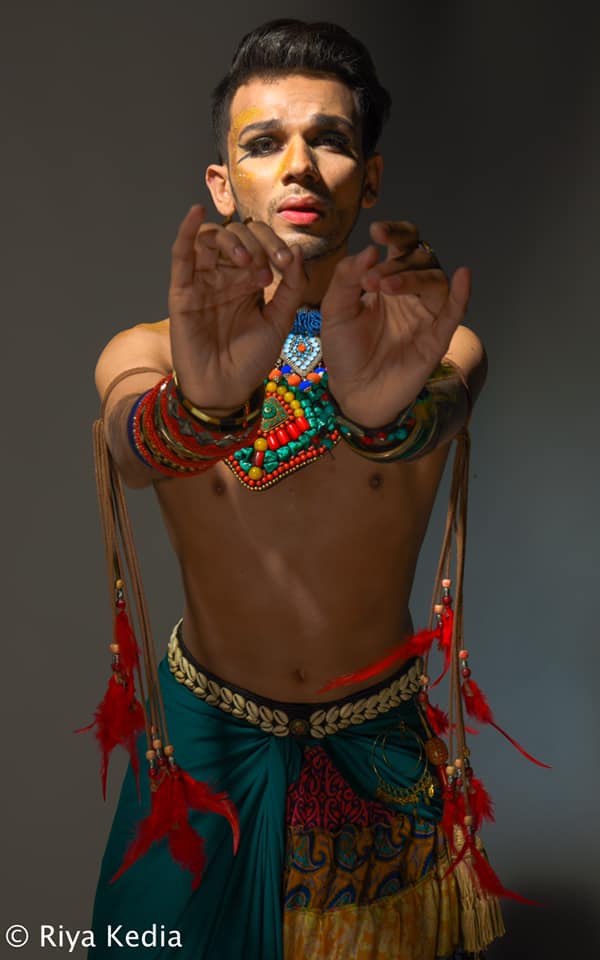 The breakthrough finally came when he was accepted at a belly dancing class in Delhi after he had completed his college studies. "The moment I stepped in the studio, I found myself again."
However, the rigorous practice sessions made his life more difficult but fortunately he enjoyed the pressure.
"It was like a slap across my face. There were several reality checks. Belly dancing is more than just moving hips. It has a rhythm that not everyone can match. I had to shed my fears, inferiority complex, reservations. Basically, I had to get over my past and start fresh," he says.
While the world of belly dancing gave him a new identity, it also taught him life-changing lessons. There have been praises, nasty comments on social media and some bad experiences.
Sharing one of the positive experiences, Eshan says:
After one of my performances in Bengaluru, a 70-year-old gentleman came up to me and told me how he regretted coming to a fusion of classical and belly dance in the beginning. But seeing a male belly dancing so gracefully it changed his perspective. Through my art I was able to shatter a stereotype that too of a person from the older generation. Now, people have stopped looking at my gender, they look at my art.
Today, Eshan is an accomplished performer, choreographer and teaches belly dancing in Delhi.
As for his family, they have still not accepted Eshan and his art whole-heartedly despite all the praise and fame he has accumulated.
But Eshan hopes they will come around.
He just has one piece of advice to anyone out there who fears rejection from the society or is scared to be themselves and pursue their dreams.
"It is important to accept yourself the way you are. Do not get succumbed to pressures, you know yourself. In a world where every person is living with a facade, be yourself," says Eshan.
Growing up in an environment that constantly looked down upon him, a family that never supported his decisions and the bizarre conceptions of the society is no mean feat. Today, the little boy with stars in his eyes has come a long way in a journey that epitomises courage.
Check out Eshan's brilliant performance:
You can follow Eshan's epic journey of belly dancing here.
---
Also Read: Bullied, Bodyshamed as a Teen: Meet Plus-Size Model & Belly Dancer, Anjana Bapat
---
Featured Image Source: Eshan Hilal/Facebook 
(Edited by Saiqua Sultan)
Like this story? Or have something to share?
Write to us: contact@thebetterindia.com
Connect with us on Facebook and Twitter.