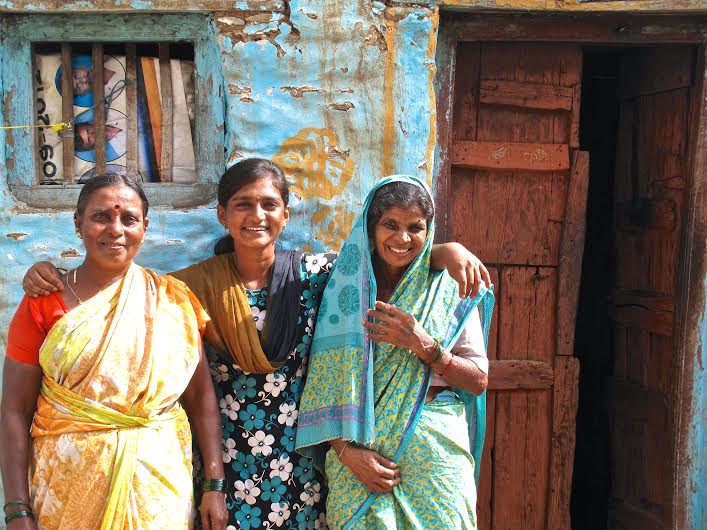 Priya Pillai met Roja, a girl from rural Karnataka who fought against all odds to pursue her education. Not one to quit in the face of adversity, Roja was determined to follow her passion. Here is how this dedicated girl inspired Pillai.
---
In the MY STORY section, we present some of the most compelling and pertinent stories and experiences shared with us by our readers. Do you have something to share? Write to us: contact@thebetterindia.com with "MY STORY" in the subject line.
---
Priya Pillai met Roja, a girl from rural Karnataka who fought against all odds to pursue her education. Not one to quit in the face of adversity, Roja was determined to follow her passion. Here is how this dedicated girl inspired Pillai.
I met Roja almost a year ago, on 19th August 2013, while working on an initiative to keep adolescent girls in school. She was 14 years old and one of the 21 girls from rural north Karnataka we met to talk about the barriers that prevent them from remaining in school.
Wearing a shimmery white kurta with a black salwar and a lilac dupatta across her shoulders, she was one of the taller girls and hard to miss. Gold leaves dangled from her ears, and a little red smudge marked her forehead. Her small, bright eyes shone with the intensity of one who longs to reach out and spill her secrets.
Quiet at the start, Roja spoke up when I asked questions. She was passionate about school:"I don't want to be called a hebbattu (illiterate) when I go outside. I have taught everyone in my family how to sign their names." There was more to her ambition. She told the group, "I want to be a policewoman like the one in my village. That's what I want to be when I grow up."
So, I asked, why didn't girls stay in school? "Parents think girls will marry and go away to another house," she told me. "All the money they spent in sending girls to school will only benefit an outside family. So they send their sons to school."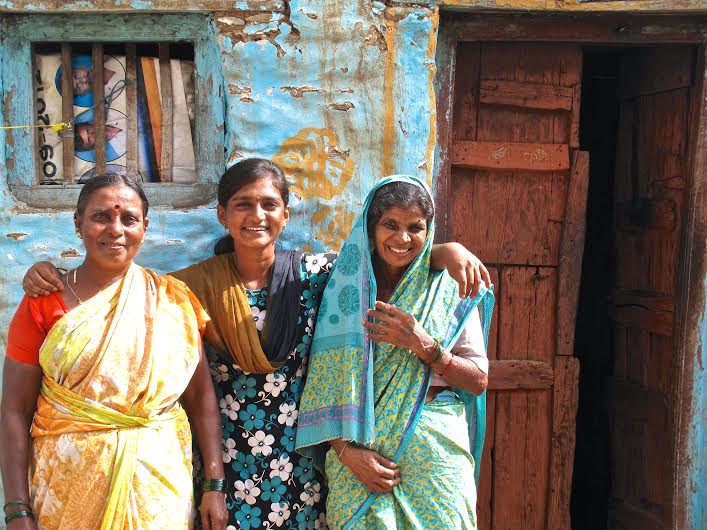 Roja saw no sense in this logic. To her, it was clear that girls had to be allowed to study for families to survive. "Boys don't care. It's the girls who will take care of their family. If I study, my family will not be poor anymore."
Some of the group were already married and a couple of others were going to marry their uncles in a few months' time. The small white stone stud on Roja's left nostril told us that she was not among them.
Has your family not asked you to get married? my colleague asked Roja. "They have brought it up many times. I told them that I would never agree to it. They stopped telling me because my reaction was always the same."
On the third day, the girls were asked to draw picture stories to show what a changed society would look like. Roja drew well-defined figures coloured in green, orange and shades of blue – always a family of three, with a girl riding a bicycle.
On our last evening together, the girls hugged me. "Come to my home," they said. But Roja stood still, not wanting to leave. "I don't want to go back to my village," she said, with tears in her voice.
The following day, I went to meet individual girls in their homes, to record their accounts of the government programmes that had supported them to continue their education.
I met Roja at her friend Shobha's home at the beginning of the village. I was sitting on the floor, resting my back against the wall, near the main door, because that's where most light came in to the house. My colleagues, a translator and Shobha's mother and grandmother were also there. The plan was to meet girls at their home, as I wanted to speak to their family too. But Roja came to meet me at Shobha's house.
"When I was in the 5th standard," she told me, "my family was so poor that they could not buy any books for me. Then the government started giving us textbooks and it helped me a lot."
Because she was a good student and got consistently good marks for her academic work, she qualified for scholarships, "close to Rs. 3400." She had also got her own bicycle to ride to school and received milk to drink and a meal to eat every day.
I noticed that Roja did not invite me home. It was unusual. In the communities that I work in, the girls and their families like you to go to their houses, have tea, eat poha (beaten rice) and share a bit of your time and lives with them. Although Roja did not ask me home that day, I did not forget her face and her ardent desire to learn.
One year later, I drove into village Kaladagi to meet her again. Roja had telephoned my colleague, a field worker in the project, desperate for help. "I want to study further. My family says they cannot support me any longer and I need money to pay the fees for my college admission."
In Kaladagi village, bound by the seasonal Ghataprabha River to the north, the fields are irrigated and the farmers grow pomegranates and sapota for export. To the visitor, it looks less poor than other villages in the area, where the visible poverty is most times gutting and unforgettable.
I did not know Roja's house. But I found her friend Amrutha watching over her father's shoe shop in the village market, pen in hand, focused on finishing her homework. My heart leapt at the sight. In my line of work, I am grateful if the girls I meet are still at school and still living in their home village when I go looking for them after a year.
Too often, they have married very young or are selling their bodies to feed their families.
Photo source: www.w4.org (Picture for representation purpose only)
Amrutha offered to help me find Roja. We drove a short way and then turned onto a wide, stone paved lane. Low roofed, multi-coloured houses clustered together, without any discernible plan, on either side of the street. We parked the car in the shade of a large canopy tree, unusual in this arid place. We walked down a narrow alley and crossed a stinking sewer filled with thick black sludge and floating plastic bags. Amrutha knocked on the door of the house beside the drain. There was no answer.
She looked around for two minutes and called out to people across the street. "Is this not Roja's uncle's house?" Amrutha waited and then pushed open the door into a room, with a tiny window, stacked plastic chairs, and a bed against the wall with a television set placed on a corner stand above it. The loud Kannada film songs from the television had drowned the sound of Amrutha's gentle knock. We stood looking at the room and at the man sleeping on the bed.
As we stood there, unsure about where to go next, Roja called us from behind, "I have been waiting. I was told that you will come to meet me today."
She looked the same as I had remembered, with her glittering eyes, the sparkle on her nose, and her sure gait. She went in and shook her uncle out of his deep afternoon slumber.
"Come in. Sit here." She pointed to the now empty bed. She pulled out a chair from the stack and sat down to my left, facing me. Suddenly, the room filled up with too many people – family, neighbours and curious passers-by who heard there were visitors. We couldn't talk there, so we crossed the street to an aunt's house next to a mud lane. Roja pointed to a woman squatting at the corner of the house and said, "That is my mother. She cannot see."
I looked closer. The woman with a blue green nylon saree covering her head was frail with a wrinkled face. Her left eye was closed. Roja's aunt, the woman whom she called her mother, was partially blind and widowed.
From inside the house, we could see a young adolescent boy, sitting on a bike parked outside, curiously peeping into the room.
"He is my cousin. He dropped out of school after class VIII." she said. So, what does he do now? "Nothing. Just roams around."
Her great aunt intervened to clarify, "There was no money in the house. So he had to leave school."
Finally, I had a chance to talk with Roja in a quiet place about her urgent phone call. "So, what made you phone?" I asked her.
"My mother left me when I was five months old." It didn't seem to be an answer to my question but in a way it was. She was still a child. Her every first memory and reference was to her mother's act of desertion when she was a baby. The hurt from that rejection was fresh at all times.
Her eyes welled up. She could not speak. She cried too soon and too easily.
After sometime, she started speaking again. "Once I got my class 10 marks, I asked everyone in my house to give me money for the college admission fees. I went to my father, mother and my uncle. All of them said no. They did not have enough to pay the fees."
What was your score?
"I had 75%."
She had done well. How much was the fee?
"I had to pay the annual fee of Rs. 380 to get admission. But no one could give me that. They stopped listening to me after a point and went off to work, whenever I went near them."
Photo source: childrenscultureconnection.blogspot.com (Picture for representation purpose only)
But was she so poor? Did the family not have Rs.380 saved?
"My father used to go around the village, playing the flute. He has been very ill in the past few months and constantly in the hospital. So he does not earn anymore."
Her mother came in just then and sat next to the door. I looked at the tired woman and felt my heart sink.
So who supports the family?
"My mother washes dishes at a nearby house. They pay her Rs.1200 per month. She also gets a widow pension of Rs.500. She brings the left over food from the home where she works for us to eat."
I looked around the house again. The amount was too little.
"Because I did not pay on time, the fees went up to Rs.2400."
For Roja's family, that was a princely amount. "I lost all hope. I did not want to bother my family any more. Instead, I decided to work and earn."
Roja told her mother about her plan to work in the fields. Her mother discouraged her and said, "You must not give up hope. No one in our family has studied beyond class 2. You have done well in school. You must study further."
Roja had expected her mother to agree to her working in the fields but instead she wanted her adopted daughter to study, "I was very encouraged by what my mother said. She urged me to keep trying."
Her conviction strengthened by her mother's support, Roja had remembered that she had taken the mobile number of the programme coordinator, my colleague. She borrowed a mobile and called her up and said, "I am the one who spoke about the importance of girls education. And now I am unable to go to college because my family cannot afford the fee. I want to be in college. I should not have to stop studying."
This girl is remarkable, I thought. She has nothing going in her favour: her father does not work; her partially blind, widowed aunt is the only earning family member bringing in a pittance of Rs. 1,700 a month; her house is ready to fall down any time and look at her tenacity, her burning dream. It's remarkable that she scored a distinction in class 10; remarkable that she never let go of her desire to study; remarkable that she pursued it and found a way.
Photo source: http://www.educationworld.in/ (Picture for representation purpose only)'
And she did find a way. The programme sought help from the local chapter of the Rotary Club to pay her fee. The Club agreed to give her the money at a function to be held a week later at 7 pm in the evening. But the classes had started. Roja was already late for the admission. So the outreach worker paid the fee so as to not delay the admission process any further.
Just money was not enough. A lot of paperwork was needed. For two weeks, almost every day, Roja travelled with the outreach workers to the Government Girls College in Bagalkot and back to sort out the admission formalities.
On that day in the village, Roja finally invited us to her own home. "That's new," I thought.
The single room, pitch-dark house stood slanting at the curve of the lane. Except for three glass bangles hanging from a nail, the walls were bare, black and uneven. She pointed to a raised platform on the corner and said, "That's where we bathe. For everything else, we go outside."
Roja threw up her hands and said, "My house … very famous in the village." It embarrassed her to be so poor. But there was no shame in her desire to study and reach out for help. "I will become a policewoman and then my family will not be poor anymore."
And I looked at the little girl who chose to rise above the deep deprivation in her life, driven by the singular desire to study. It was a definitive call to action.
Not to be ignored.
Not to be silenced.
Rather, we need to heed that isolated voice. The young woman deserves to be heard. And her individual success celebrated for it's potential to trigger change against seemingly insurmountable odds.
– By Priya Pillai
Like this story? Or have something to share? Write to us: contact@thebetterindia.com, or connect with us on Facebook and Twitter (@thebetterindia).
We bring stories straight from the heart of India, to inspire millions and create a wave of impact. Our positive movement is growing bigger everyday, and we would love for you to join it.
Please contribute whatever you can, every little penny helps our team in bringing you more stories that support dreams and spread hope.