Since 1973, Dr Rao has been treating up to 1200 underprivileged patients at his village clinic every Sunday. And that's not all, he has also built 700+ toilets and planted 35000 trees! #Respect #RealLifeHero
Growing up in the forested lands of Bhadravati where his father was posted as a Chief Engineer, young Ramana Rao would witness the endless struggles of daily wage labourers at the Bhadra dam project.
Healthcare was a luxury for these people, as they lived far away from the nearby town where hardly a few doctors could be found. Basic ailments were common, and they often worsened into serious diseases due to lack of treatment.
---
Whether you are diabetic, have numerous allergies, or heart disease, this key chain will give medical personnel access to your medical profile and allow them to provide immediate care.
---
"I wanted to reduce their suffering, and my parents told me the only way to do that was to become a doctor. So, I became one," says 68-year-old Padmashri Dr B Ramana Rao, who has offered free treatment and medicines to over 2 million rural patients in the past 46 years.
His clinic in the in T.Begur village near the Bengaluru-Tumakuru highway is seemingly the oldest and longest-running free clinic in the world.
Aside from basic treatment, Dr Rao's clinic offers free blood pressure and blood sugar check-up, basic blood tests, Electrocardiography (ECG), nebulisation etc. He has the support of a dedicated team of 35 comprising nurses, compounders, lab technicians and assistants.
"Once a month, doctors from Rotary Eye Hospital conduct an eye camp at my clinic, where they offer free cataract surgeries, besides basic check-up and optical tests," he says.
Besides, the clinic also has a dedicated dental unit with ten experienced dentists and dental surgeons.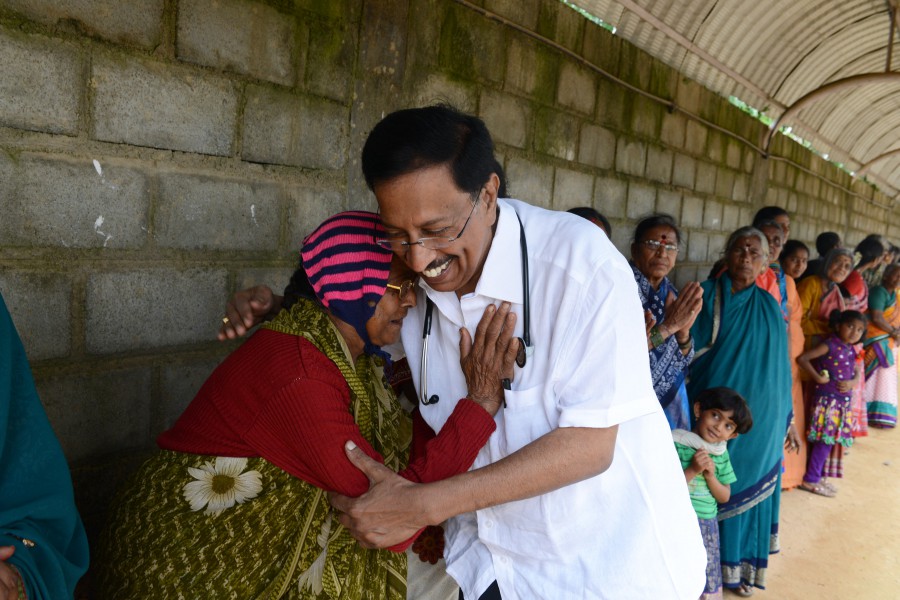 How the journey started

Dr Rao's unparalleled initiative officially started on August 15, 1973, a day after he graduated with the MBBS degree. His sole aim for becoming a doctor was to serve the underprivileged. As his family owned some land in T.Begur, that is where he decided to build his clinic.
Throughout the week, Dr Rao would practise as a leading medico in top Bengaluru hospitals, and on Sunday mornings, he would head out towards T.Begur, spending a substantial portion of his income on buying medicines for the helpless villagers.
Slowly, his activities at the clinic proliferated beyond simple treatment and medicine distribution. Disturbed by the sight of people waiting for hours in the rain and sun, he built a shed that stretches for more than a kilometre from his clinic.
Later, in an effort to inculcate a healthy habit among these individuals through yoga, he boarded a few trainers who conduct classes for the waiting patients.
Finally, he ensured that every patient got to eat a nourishing plate of rice and sambar, and sometimes, even snacks.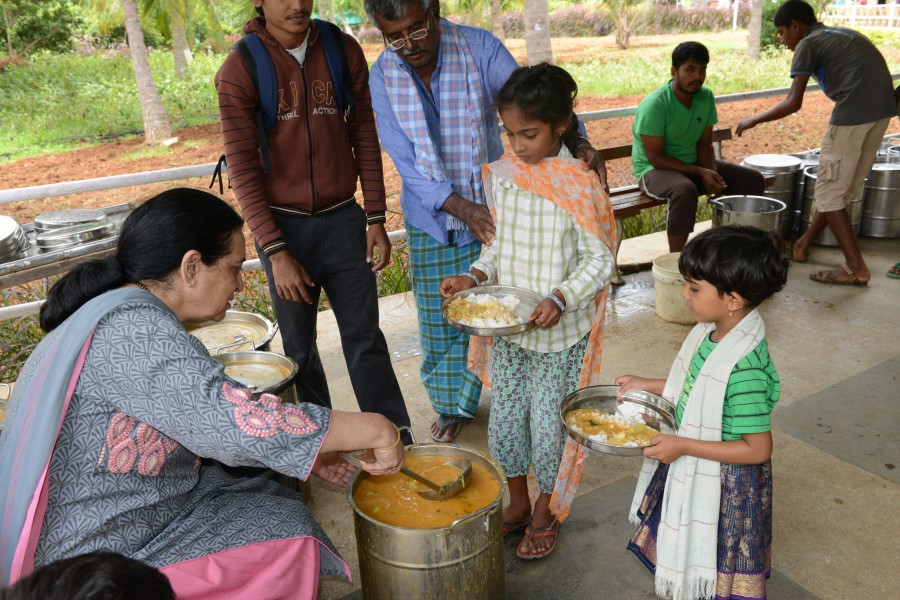 "Nobody leaves the clinic with an empty stomach," he asserts.
Social work beyond free treatment
It would be an impertinence to speak about Dr Rao without mentioning his mass-scale social endeavours beyond the boundary walls of his clinic. After almost a decade of running the clinic, he started to realise that a lot of the patients' problems were rooted way beyond their medical woes. Their appalling living conditions played a significant part in their recurring ailments.
"There were zero toilets in these villages. Around 1991, we started our work on building toilets. The number just recently crossed 700," says Dr Rao.
He also taken over 50 schools in the area under his supervision. While he chooses to avoid the word 'adopted' as he feels it might mar the spirit of service. Nevertheless, he caters to all the infrastructural and academic needs of these village schools.
Many pockets of Karnataka are seasonally affected by water scarcity and drought. In sixteen such villages, Dr Rao has addressed the water issues by digging interlinked deep borewells.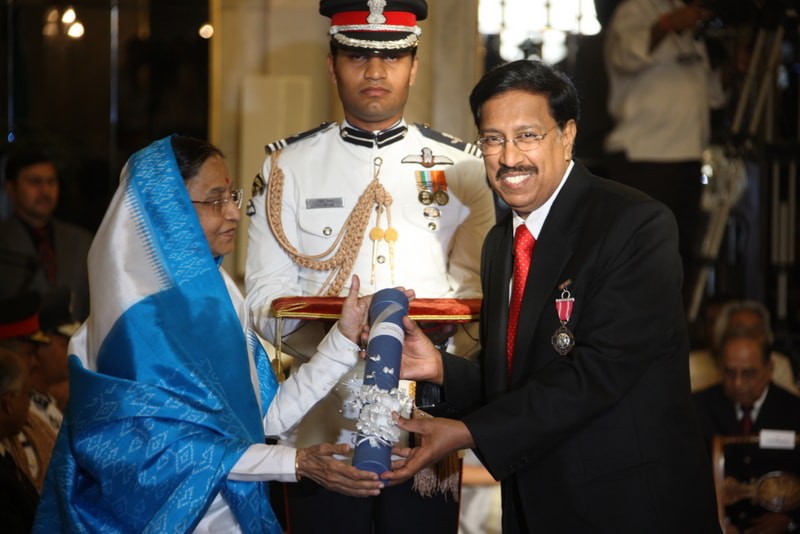 Dr Rao is also an avid supporter of environmental awareness. He believes his work would speak and inspire more significantly than if he preaches the same messages.
"I keep on planting trees wherever I am," he shares heartily, revealing that he has planted more than 35,000 trees till date.
Support, and moral solidarity
Dr Rao's family members are an integral part of his noble endeavour. His sons, Dr Charit Bhograj and Dr Abhijeet Bhograj, a cardiologist and an endocrinologist respectively, assist Dr Rao in the Sunday clinic, along with his two daughters-in-law⁠—a dermatologist and a nutritionist. "Sometimes, even my grand-kids come to the clinic to hand over free medicines to the patients or serve them lunches," shares the doctor.
Dr Rao's wife, Hema, has been his unfailing companion through all the ups and downs.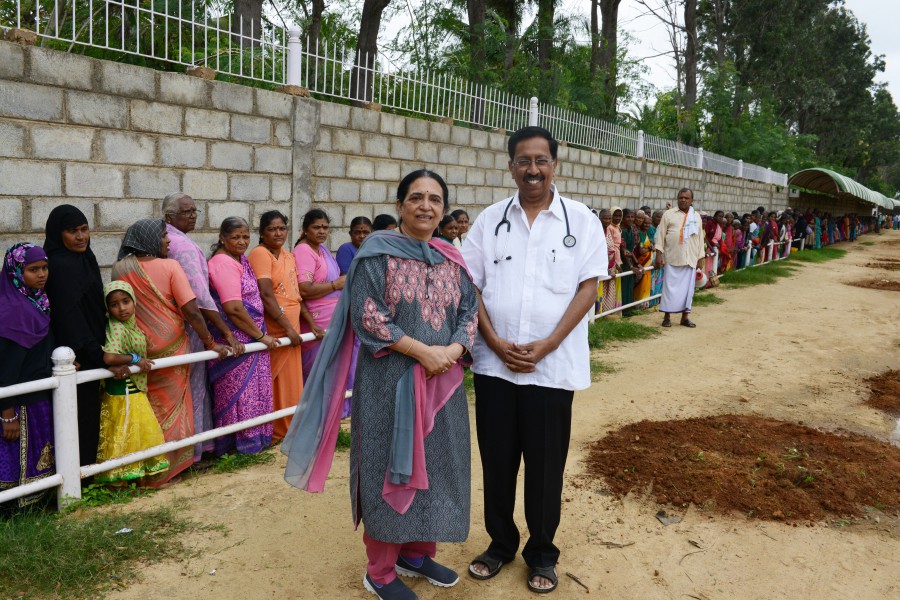 "Without her, none of this would have been possible. While I would be busy with diagnosing diseases and prescribing medicines, she would supervise everything else."
From sterilising his medical equipment to ensuring free meals for all patients⁠—Hema has been at the helm of Dr Rao's success. Speaking to The Better India, she reiterates his principles of social service and dedication.
"Initially, only 40-50 people used to come to the clinic. Soon, his popularity spread across villages through word of mouth and people started pouring."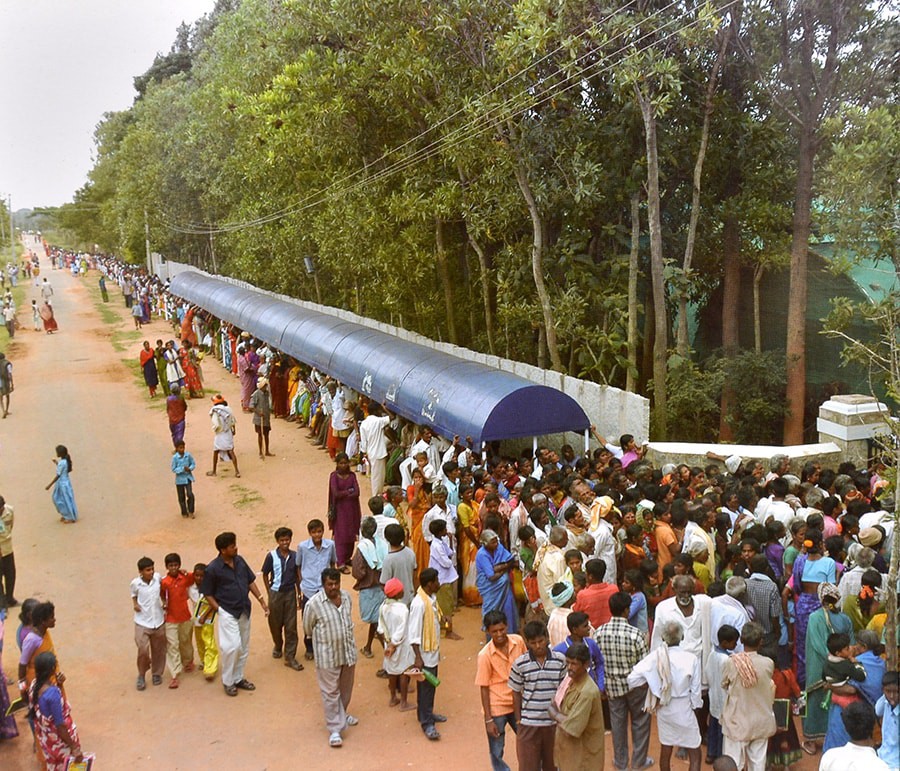 A legacy of integrity and sincerity
Little known to many, Dr Rao happens to be the personal physician of a long list of illustrious dignitaries including all the chief ministers of Karnataka in the last four decades. He was also the family physician of the actor Rajkumar as well as the royal family of Karnataka. Presently, Dr Rao is associated with almost all the major hospitals of Bengaluru as a consultant doctor of cardiology and internal medicine.
However, it is at his Sunday clinic where he finds his peace and solace, away from all the limelight.
In fact, every Sunday morning, before they settle down to attend to the woes of the patients, Dr Rao, along with his family, partake in a heartwarming ritual.
Walking from the start to the end of the entire queue outside the clinic with folded hands, they exchange pleasantries with every patient. Many of them, whether old or young, do not hesitate to fall at Dr's Rao's feet out of sheer gratitude and respect.
"Nobody can ever match the service he has done. He has treated generations of the same family. Each one of his patients reveres him from the bottom of their heart," asserts Tripurendra, Dr Rao's manager for the past 25 years.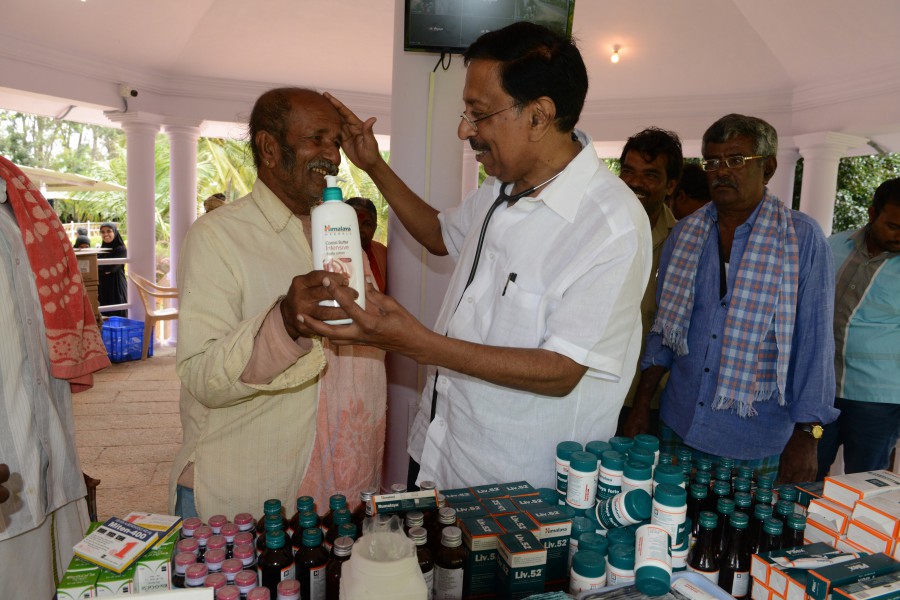 Whether it be 1 or 1000, Dr Rao attends to the last of his patients with utmost patience and empathy. An epitome of humility, his warm smile and kind words alleviate half the problems of the patients, and the rest are resolved through his careful concoction of the most accurate medications.
His life and legacy will continue to resonate in people's hearts for centuries to come.
---
(Edited by Gayatri Mishra)
Like this story? Or have something to share?
Write to us: contact@thebetterindia.com
Connect with us on Facebook and Twitter.