A close-knit community, they have an incredible sense of pride in their tradition and culture.
It was sometime in the second half of 2018 that I read about a community-run library called Garung Thuk in the tiny village of Shergaon in Arunachal Pradesh. While I usually spend many months of research on solo travel, I was immediately intrigued by this library.
---
Inculcate the love of reading in your kids. Check out the books, here.
---
After scouring the internet for some contact number, I found one on a Facebook group. It belonged to Lobsang Tashi, one of its founding members. Soon, I planned my itinerary, booked my flight, and found myself in the picturesque village nestled in a valley.
Dorjee Khandu Thungon, another founding member of Garung Thuk, remarked, "Bollywood goes abroad for scenic locations, and the North-east movie makers come to Shergaon."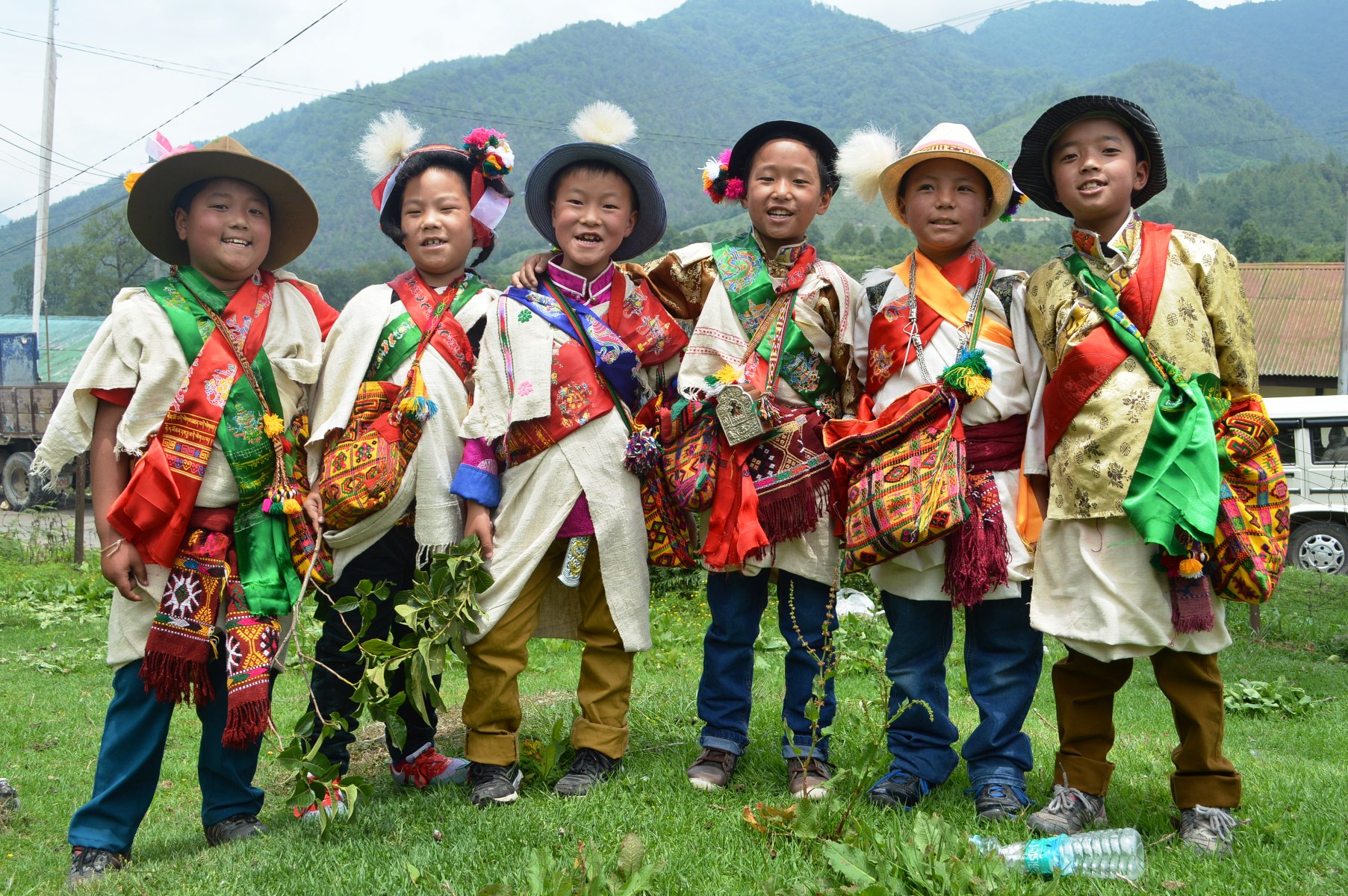 And I could understand why.
Being in the temperate region, Shergaon experiences four distinct seasons. As I had visited in Spring, everywhere I looked was a picture-perfect shot, with oak trees sprouting tender red and green leaves, birds chirping and serenading their mates, bees and butterflies buzzing about pollinating flowers, the mountains standing guard in the background and a river gurgling across.
Shergaon is home to the Sherdukpen tribe, who are also spread in the villages of Rupa and Jigaon, 23 and 13 km from Shergaon, respectively. Around 1,000 members of the tribe reside in Shergaon, and everyone knows everybody else.
Originally from Tibet, they migrated here hundreds of years ago. Respect for Nature is deeply ingrained in them and drives their conservation efforts.
The Sherdukpens were primarily hunters and gatherers who also practiced agriculture. With the former being banned by the government, their main sources of income became agriculture and horticulture.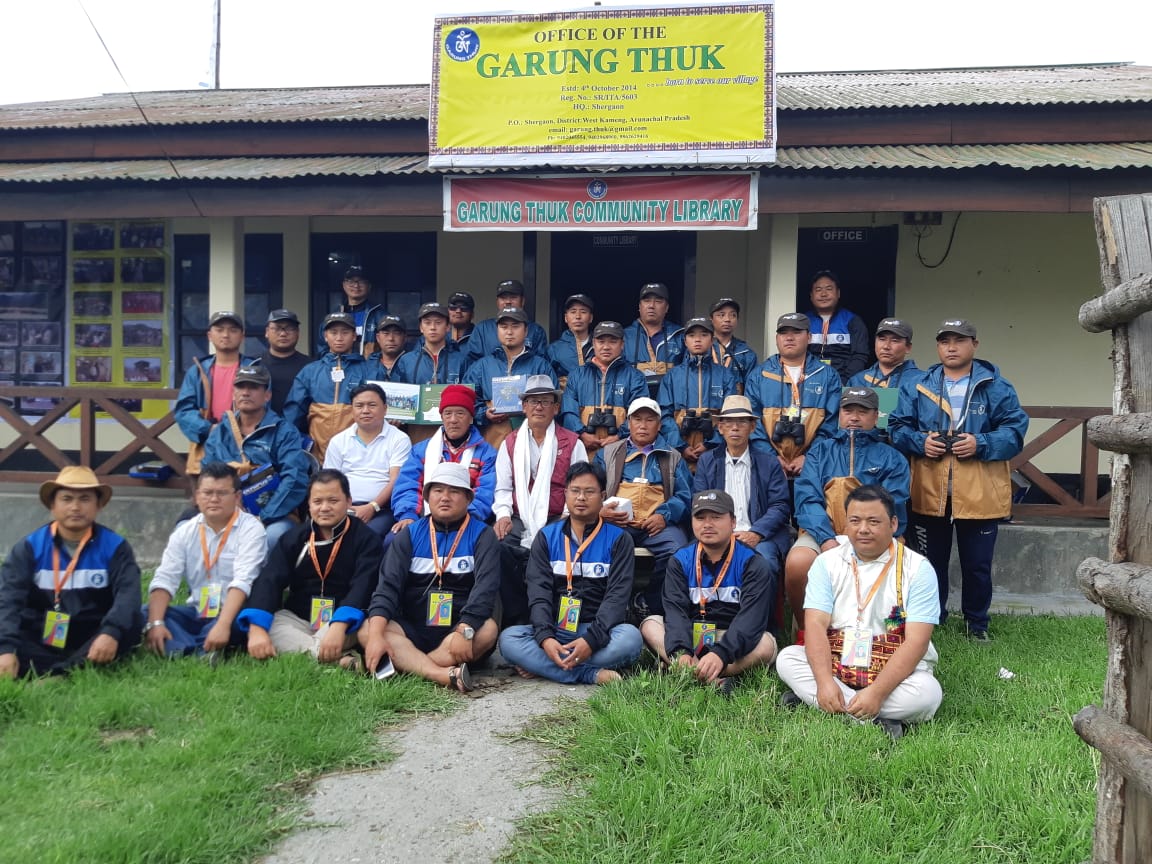 A close-knit community, they have an incredible sense of pride in their tradition and culture. With the passing away of the elderly who were the repositories of knowledge and ancient wisdom, a group of like-minded people like Lobsang and Dorjee, along with the village council, decided to create a platform for the younger generation. It would help them learn about their culture and take pride in it, while also contribute to society.
With this vision, Garung Thuk, a non-profit organisation, was established in October 2014. Garung Thuk means 'our village', and that speaks volumes about the sense of belonging and ownership by its people.
Lobsang and Dorjee have been the helm of many of the initiatives at Garung Thunk. After a PhD in Ethno-Botany, Lobsang is working towards preserving the biodiversity of the region. He has been documenting traditional wisdom about the medicinal properties of plants and trees, knowledge which was common in the previous generations but is now endangered.
Dorjee Thungon, an IIT-Guwahati alumnus, returned to his native Itanagar after having worked in other cities in the country.
In 2015, with Pratham Books, they crowd sourced Rs 45,000, buying a multitude of books of various genres for children. Thus, Garung Thuk also became a community-run library.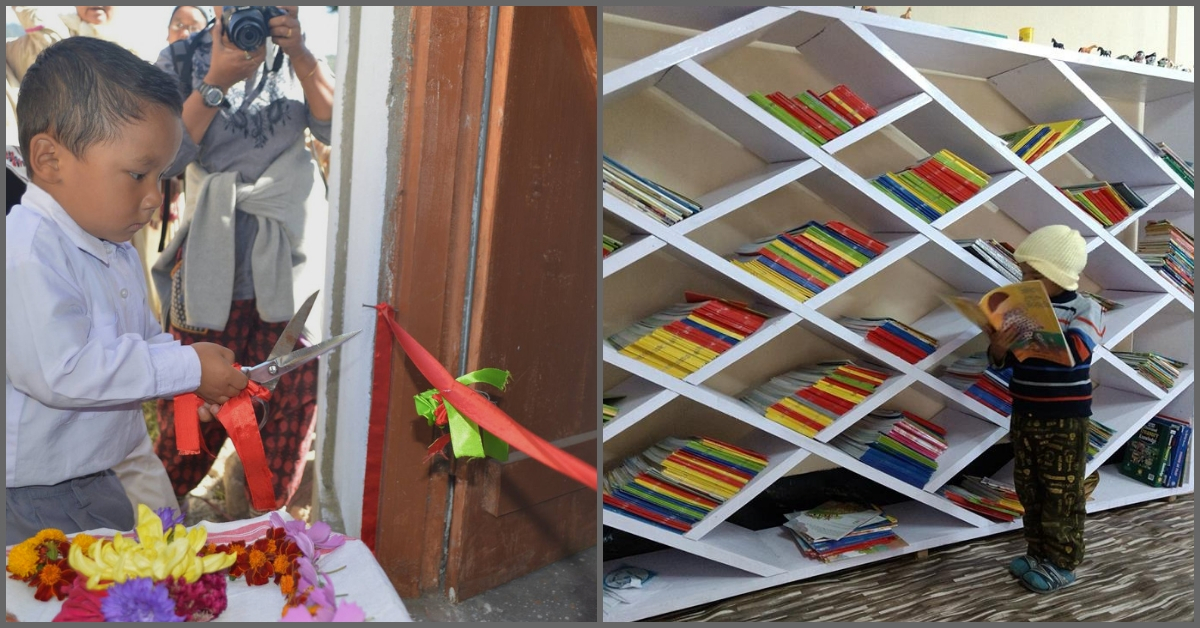 Instead of inviting prominent personalities or politicians as chief guests, they asked the students, the direct beneficiaries, to inaugurate the library.
Garung Thuk is also at the lead for creating awareness about the rich biodiversity of Shergaon. One such initiative was adopting a stretch of the Choskorong Kho river for five years starting December 2014. They did a fish riverine ranching programme where they released 500 fish fingerlings with the help of the fisheries department.
Felling of trees and fishing was banned along the riverside and in the river, thus allowing them to regenerate with fish, birds and butterflies.
Other environmental activities of this organisation are: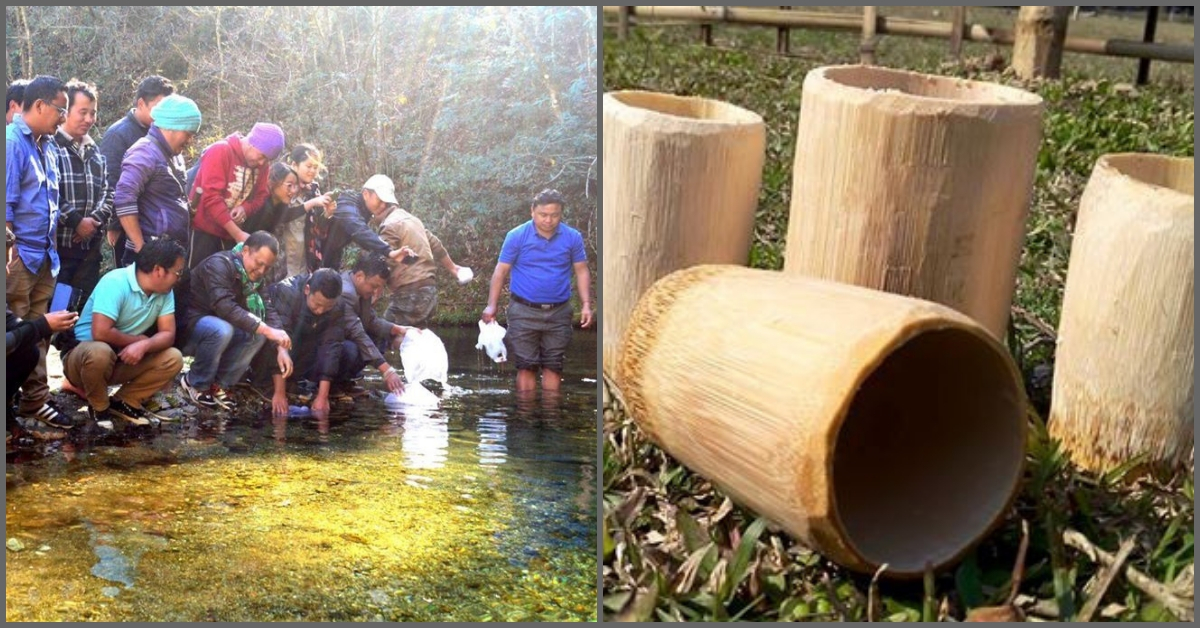 1. Workshops on mushroom cultivation- Shergaon has a wealth of mushrooms. While ambling around the village with Lobsang, we spotted a few women collecting the very rare mushroom Marcella, which sells for approx Rs 2,000 per kg. And because it's so scarce, people prefer to consume it rather than sell it. On a trek to a mud fort another day, we chanced upon the dork eared fungus. We gathered it, took it home, and just nibbled on it after washing it. Apparently it tastes delicious when cooked with fish.
2. Extensive tree plantation drives are conducted where around 2,000 fruiting trees such as peach, plum, as well as oak have been planted.
3. There are workshops on how to make bamboo cups and mugs so that plastic can be eliminated. In fact, before the infestation of plastic, bamboo was extensively used for crafting cups and mugs; the community is now reverting to its roots.
4. Garung Thuk also periodically invites experts on birds and butterflies to organise workshops to create awareness and pride in the local fauna and flora. An extension of this is photography workshops to facilitate the documentation of the region's biodiversity.
5. With cheap power loom fabric and ready-made garments flooding the market, as everywhere else in India, the centre is doing a commendable job of reviving handloom. As part of this initiative, expert weavers are called from other states to give inputs on the improvisation of the loom, and they brainstorm on how traditional wear can be made contemporary. I saw some excellently handwoven bags, stoles, and skirts.
6. Community-run homestays are a recent initiative where guests can experience traditional Sherdukpen cuisine, culture, and pristine beauty.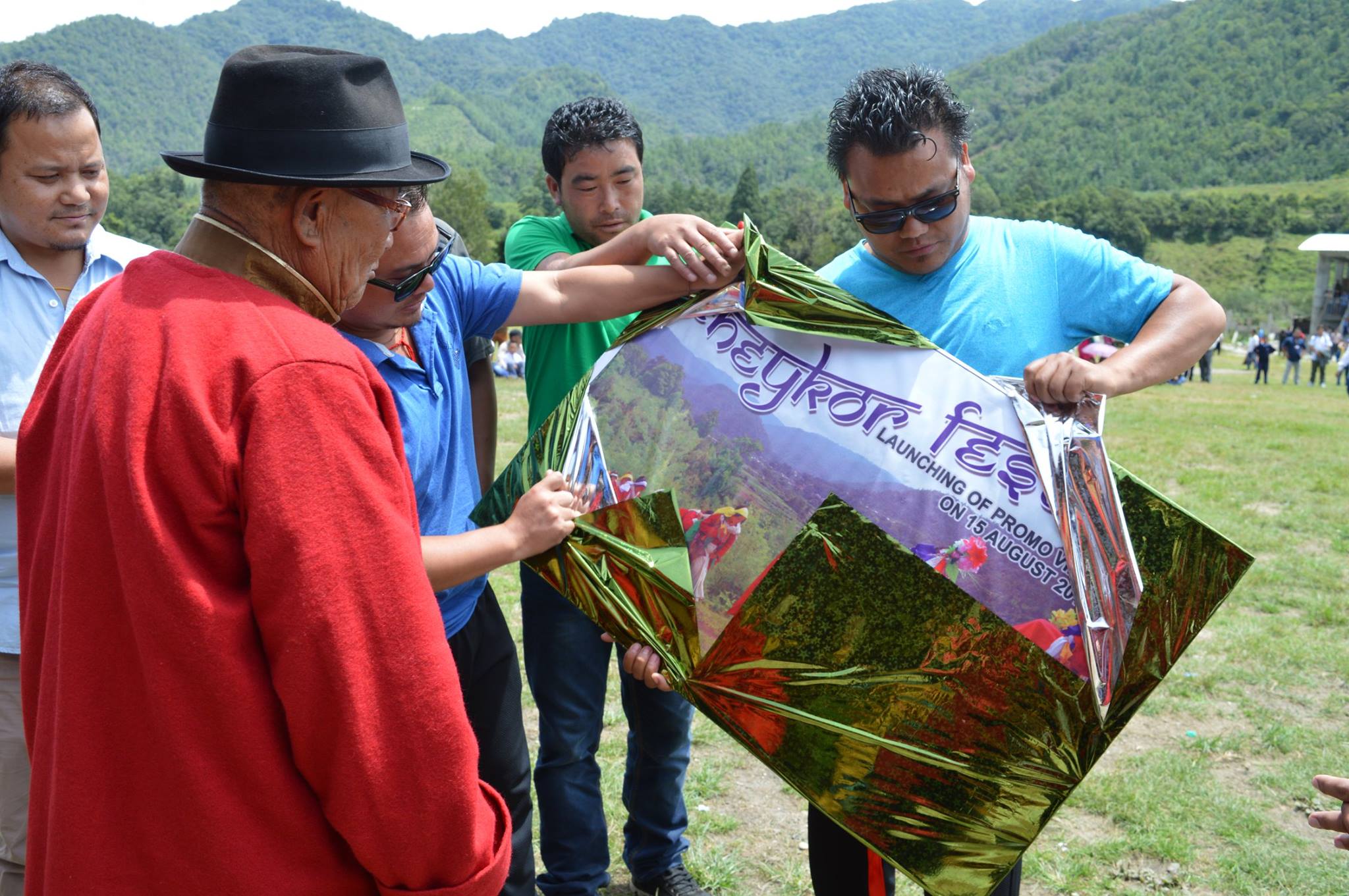 An important aspect of the Sherdukpen tribe is ownership of the forests, which are considered sacred. The community takes turns to use the fallen and decaying oak leaves from different areas of the grove to use for mulching in agriculture. Since it's a sacred grove, it follows naturally that trees are not felled.
To promote and preserve their culture, the 22 members of Garung Thuk have converted an old traditional wooden house into a museum where traditional home utensils and agricultural equipment of yore are displayed. A slice of life from the past is thus preserved so that the younger generation can relate to it and visitors be awed by it.
Garung Thuk also preserves its culture through the annual festival of Kro-Cheykor, which typically falls in May-June every year, where the entire Sherdukpen clan participates with full enthusiasm. The younger generation receives training on the dance moves and songs which have been in practice for hundreds of years.
Traditional food, including wild berries, roots, and fruit foraged from the forest, are served with copious quantities of the locally brewed beer. This is the time when each member of the clan dresses up in traditional attire, complete with the handwoven bag and necks bejewelled with big coral and turquoise beads.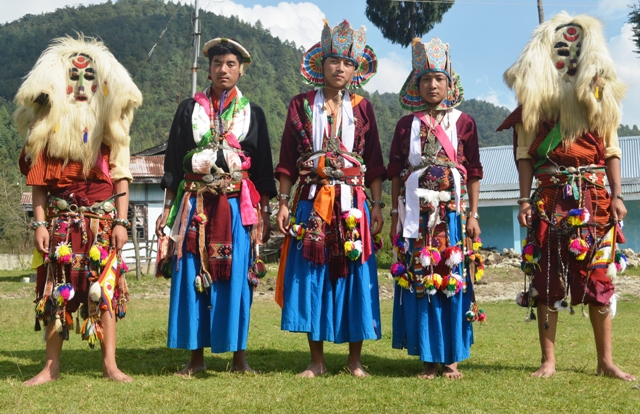 The centre also conducts workshops on Bhoti script to acquaint the younger generation with it. Other commendable initiatives include medical camps, eye checkups for elders and cataract removal, water tank cleanups, and so forth.
---
Also Read: Residents of 11 Villages Join Forces, Help IAF Repair Damaged Airstrip in Arunachal Pradesh
---
There is no external funding for Garung Thuk and the initiatives are conducted with the help of various organisations and people such as the Divisional Forest Officer Mr Millo Tasser and Itanagar's Department of Karmik and Adhyatmik Affairs.
Garung Thuk is a shining example of how a community can live on ancient principles, in harmony with nature, of how tradition and culture can still survive and be embraced by the younger generations in a world becoming homogeneous by a wave of 'modernisation'. It provides a proverbial bridge connecting the old with the new, the ancient with the modern. The Sherdukpens are incredibly warm people and excellent hosts. I was happy that I trusted my instincts and travelled to this quaint village, the memories of which will remain with me forever.
(Written by Priya Krishnan Das and Edited by Shruti Singhal)
Like this story? Or have something to share?
Write to us: contact@thebetterindia.com
Connect with us on Facebook and Twitter.
We bring stories straight from the heart of India, to inspire millions and create a wave of impact. Our positive movement is growing bigger everyday, and we would love for you to join it.
Please contribute whatever you can, every little penny helps our team in bringing you more stories that support dreams and spread hope.