Have you ever eaten an ice cream in a coconut shell? Or chakna in pattal (leaf) bowls? To try it, check out these 5 Mumbai restaurants making the switch to sustainable serving ideas!
The storied history of India's Maximum City is represented in its confluence of cultures and nowhere is this more apparent than its food.
From vada pav to kosha mangsho, butter chicken to momos, and even the humble dosa⁠—there are thousands of street stalls, food joints, restaurants and pubs in the city that serve all these dishes, and more, to its hungry population.
While it is wonderful to have so many options to choose from, the flipside is that, behind every successful home delivery is a carry bag, cutlery and container⁠—all made of plastic⁠—which eventually reaches the landfills.
---
Tea, coffee, instant breakfast millet, wholegrain cookies, groundnut oil⁠—there's a range of organic food waiting to be discovered, here.
---
The good news is many restaurants in Mumbai are gradually switching to sustainable alternatives, and proving that it is not a challenging process to bring changes and make eating a responsible activity.
1. The Bombay Canteen, Lower Parel
Every guest at The Bombay Canteen is served with chintus or a tiny proportion of a chakna (snack), in pattals (bowls) made from the leaves of plants like jackfruit and sal.
The drink accompanying your chakna will have bamboo or steel straws, and stirrers made of sugarcane waste.
The restaurant has also taken other green steps like reusing the water used for soaking chickpeas (aquafaba) and converting leftover potato peels into liqueur.
If you opt for a takeaway, your food will be safely packed in a biodegradable container, along with eco-friendly spoons and forks. Also, instead of using plastic bags, the restaurant uses cotton potlis, which is designed to be spread out like a tablecloth.
Check out their instagram page here
2. The Pantry, Fort
Long before the single-use plastic ban was put in place, The Pantry committed itself towards environment-friendly practices. The cozy cafe in Fort with French windows and rustic white and wood furniture offers paper and steel straws to the customers. They have also shifted to eco-friendly packaging options.
3. 29- Twenty Nine, Kemps Corner
If you want to get an experience of the traditional style of consuming food in a kulhad, head straight to 29- Twenty Nine in Kemps corner. The restaurant serves sweet dishes like rabadi and jalebi in kulhads (clay pots) or banana leaves.
The restaurant, which has 29 outlets across India, is famous for offering 29 regional dishes native to different states. Every 16 weeks they offer a different thali and when it is time to serve a south indian meal, banana leaves make an entry.
Takeaways are packaged in a biodegradable containers made from paper and cornstarch.
Check out the restaurant here.
4. The New York Burrito Company
This restaurant serves Mexican food, has several outlets across Mumbai (Ghatkopar, Chowpatty, Lower Parel, Bandra), and all their packaging is completely environment-friendly, meaning it does take years like plastic to decompose.
The outlets use recyclable bagasse trays and recycled kraft bags as packaging material and the cutlery is made from bamboo.
Check out the restaurant here.
5. Fruit Frenzy, Dombivali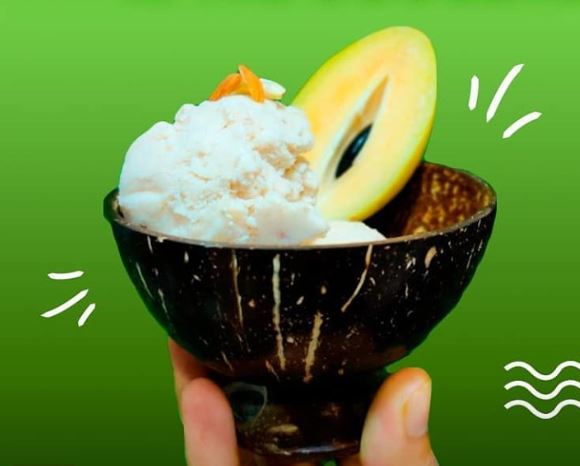 This dessert parlour, is an incredibly nature-friendly space. Upcycled car tyres make up the seating arrangement, while artificial nests made of coconut husk line the walls.
However, its USP lies in the coconut shells used to serve its delicious ice creams!
"We have tried to incorporate the environment-friendly aspect wherever we could. For instance we have replaced paper tissues with cotton handkerchiefs. All our takeaways are given in earthen pots," said the owner, Neera Pandey, to The Better India.
You can visit them here.
Featured Image Source: Pixabay
---
Also Read: Saying no to plastic: 6 Bengaluru eateries that ask customers to BYOC!
---
(Edited by Gayatri Mishra)