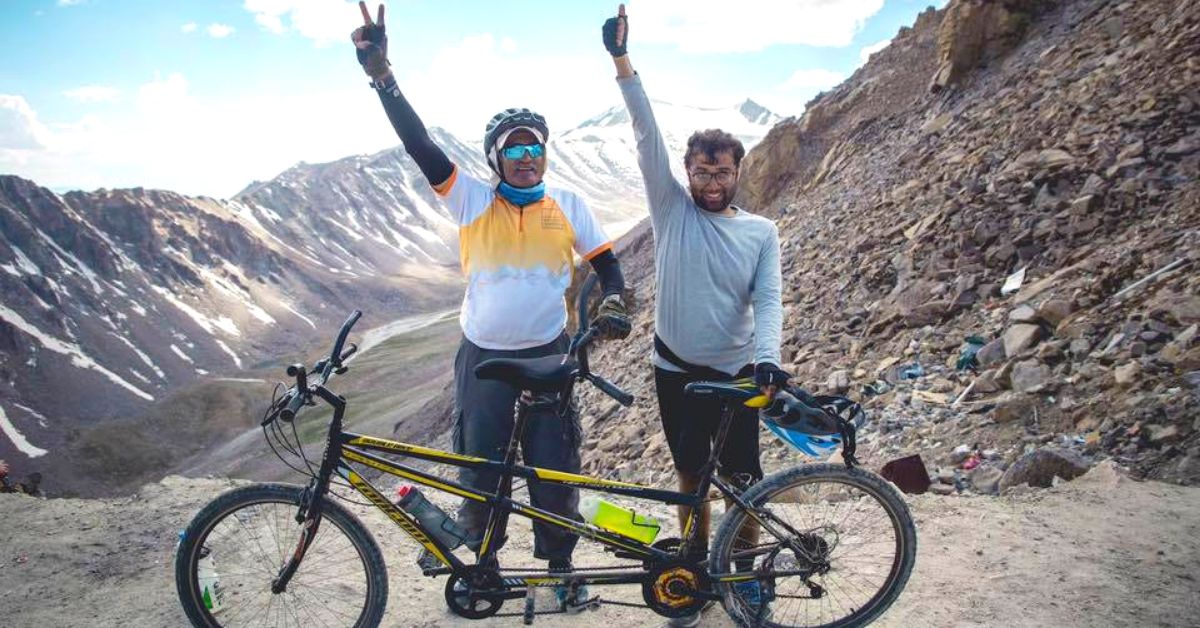 At 16, he was diagnosed with a rare genetic disorder. But that hasn't stopped him from challenging his limitations!
At 16, Vineet Saraiwala was diagnosed with Retinitis Pigmentosa (RP), a rare genetic disorder that causes loss of vision due to a breakdown or loss of retina cells. What makes this condition worse is an absence of a cure.
But that did not stop the boy from Jamshedpur from pursuing his professional or personal goals, "My eyesight is weak, not my vision for myself," Vineet tells The Better India (TBI).
---
Click here to check out a Multi-Sensory book for children with learning disabilities and/ or vision impairment.
---
From running marathons, cycling, trekking to leading projects in the retail chain-Big Bazaar, Vineet has challenged his limitations at every stage to conquer goals that he did not imagine in his wildest dreams.
Accepting the Harsh Reality
Born to Meena and Kailash Saraiwala in 1990, Vineet had a regular childhood – a brother to fight and friends to play cricket with, superhero dreams to save the world and a keen interest in academics.
He started experiencing problems with his eyesight from his school days. The world came crumbling down for the Saraiwalas in 2007 after learning about Vineet's condition. Things got worse, when their younger son, Anuj, too was diagnosed with RP.
The parents took extraordinary measures to find a cure to their sons' condition going the extra mile to monitor their diet and daily activities. They clung onto every suggestion or advice that gave hope.
While his parents were doing everything they could, Vineet had a very hard time in accepting the reality.
There was no certainty of what I might be able to see or not see. I remember losing out on two marks in one of my exam papers because for me the options did not exist. I would have black outs without any prior warning. In the initial stages, I would trick my mind and lie to myself about being able to see a thing which I clearly couldn't, says the 29-year-old.
For Vineet, his home became his hideout. He stopped going to social gatherings with the fear he would not be able to address his relatives with their names due to his failing eyesight. Asking others for help soon became a source of shame for him.
"My friends and family were never once embarrassed or even had problems in guiding or taking care of me. I was my own problem," he adds.
On Starting His Second Innings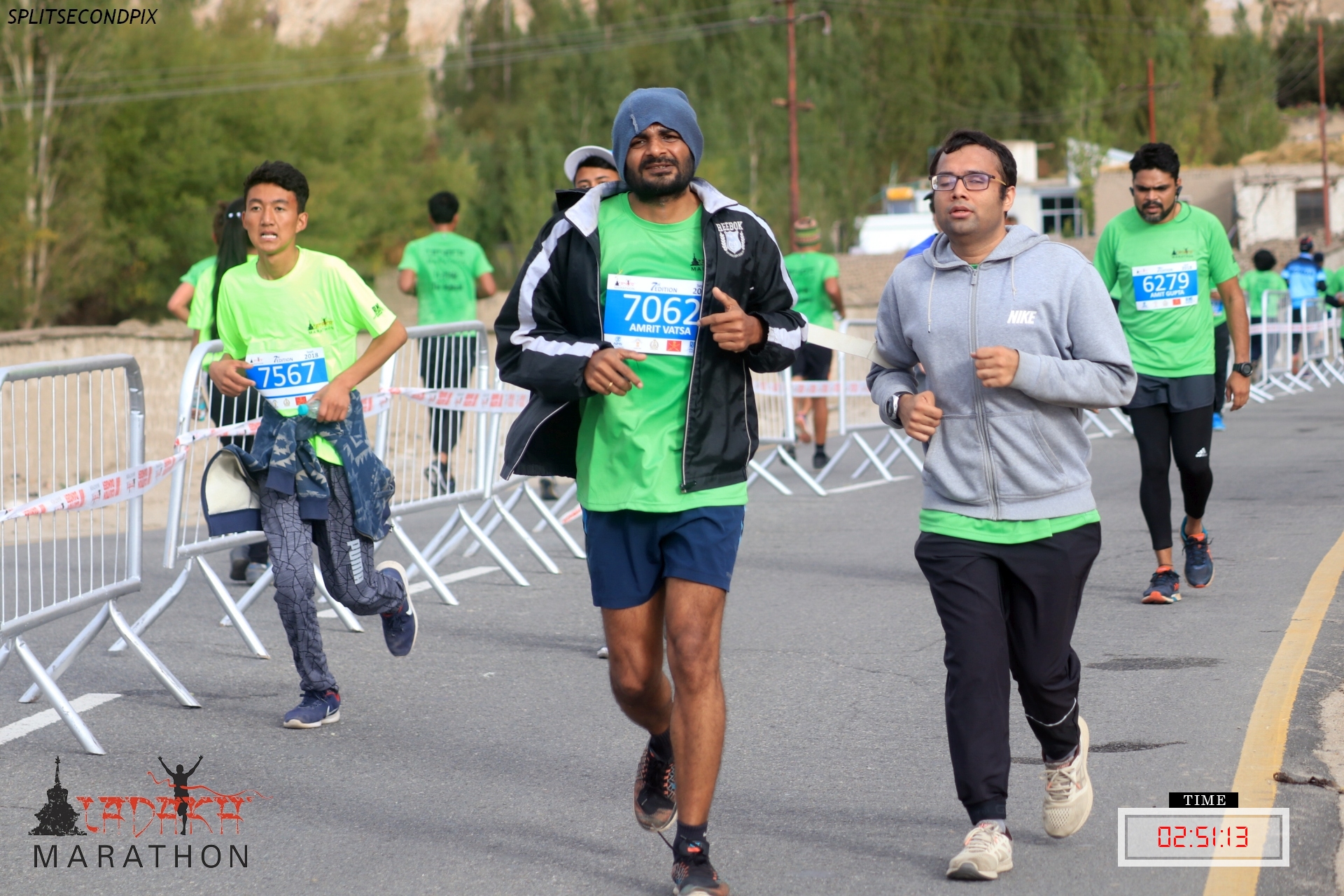 As the days turned into weeks, months and years, Vineet's reservations and fears subsided, as he settled down to this new way of life. His commitment toward his studies bore fruit when he got an admission in the prestigious Indian Institute of Management (IIM), Bengaluru for a postgraduate course.
Life became easy as soon as I accepted my weakness and that is the biggest lesson I have learnt. I didn't have any reservations about asking for assistance. I smashed my fears of leading projects at IIM. There is a misconception that people with a disability might be less intellectual and I was glad I could bust it at IIM, says Vineet.
Vineet graduated in 2015 and moved to Mumbai with his brother Anuj. While he joined Future Group, Anuj joined an investment banking firm. This was the first time they were living on their own. Unlike at the IIM campus, they knew no one in the city.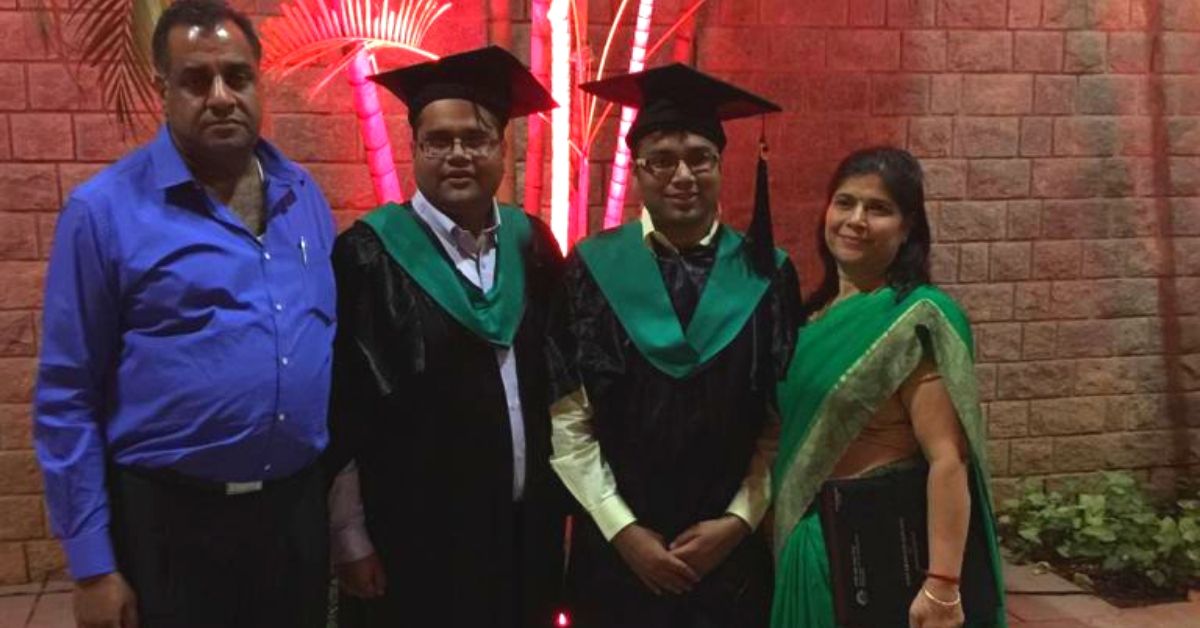 Getting lost in a crowded city that never stops is a common phenomenon for any outsider.
Everything, from travelling, eating to finding an apartment can be overwhelming. "There so many uneven roads, potholes coupled with lack of disable friendly infrastructure including something as basic a public toilet. I was like a lost child in massive mela."
But all was not doomed in this gigantic city. Vineet says, "People here are much more aware and sensitive to people with disabilities. I was seen from an equal lens and I was given the same opportunities as my peers."
One of his favourite moments in his career graph was converting his workplace into a disable-friendly place. He introduced and executed the concepts of accessibility and inclusivity in shopping.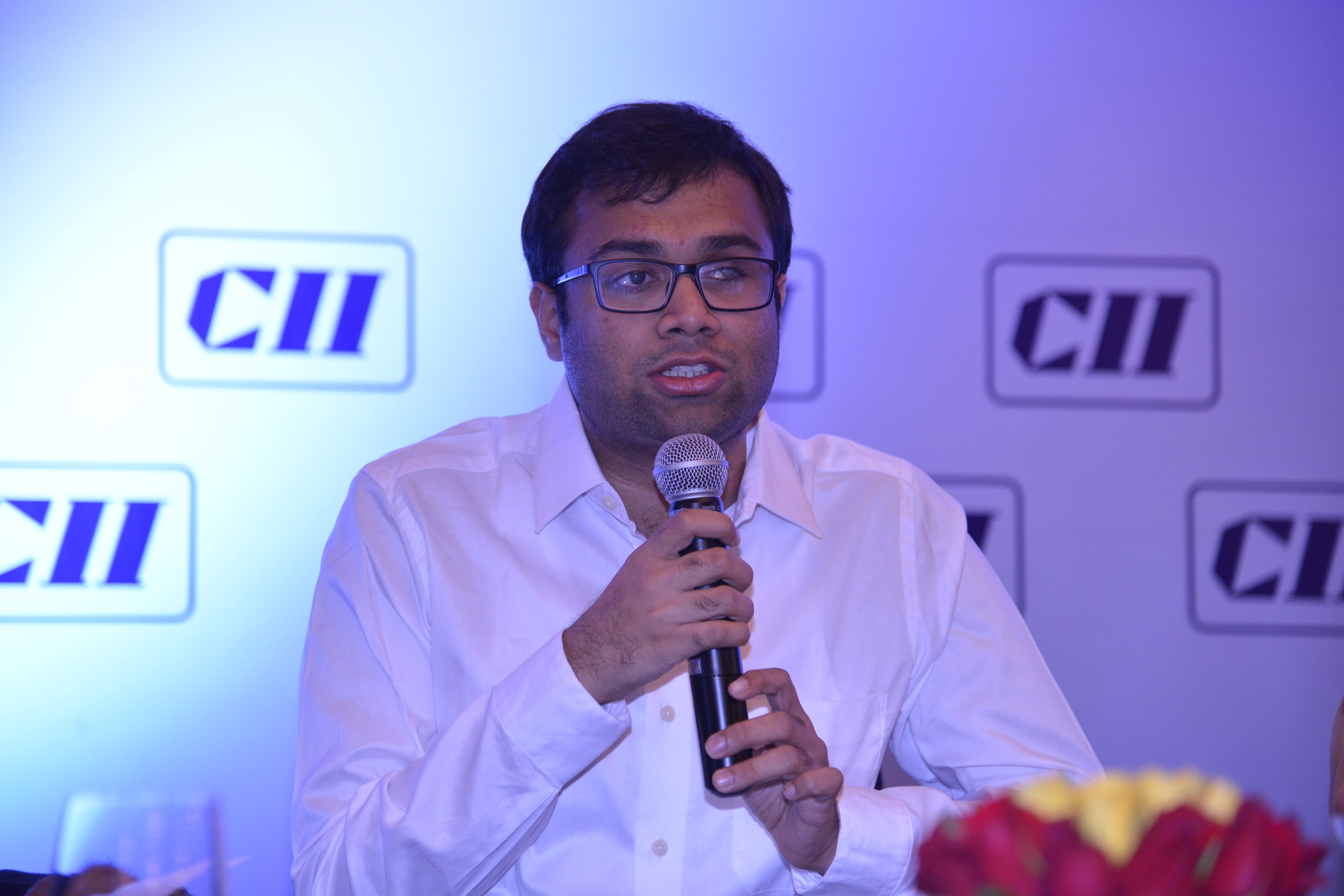 We opened our doors to people living with autism for shopping by reducing the store light and slowing the trolley movement. Thousands of people turned up in a single day and for me that was a huge achievement. And now, this practice happens every Tuesday in selected stores across the country. I felt I had brought some change, he says.
Climbing to Great Heights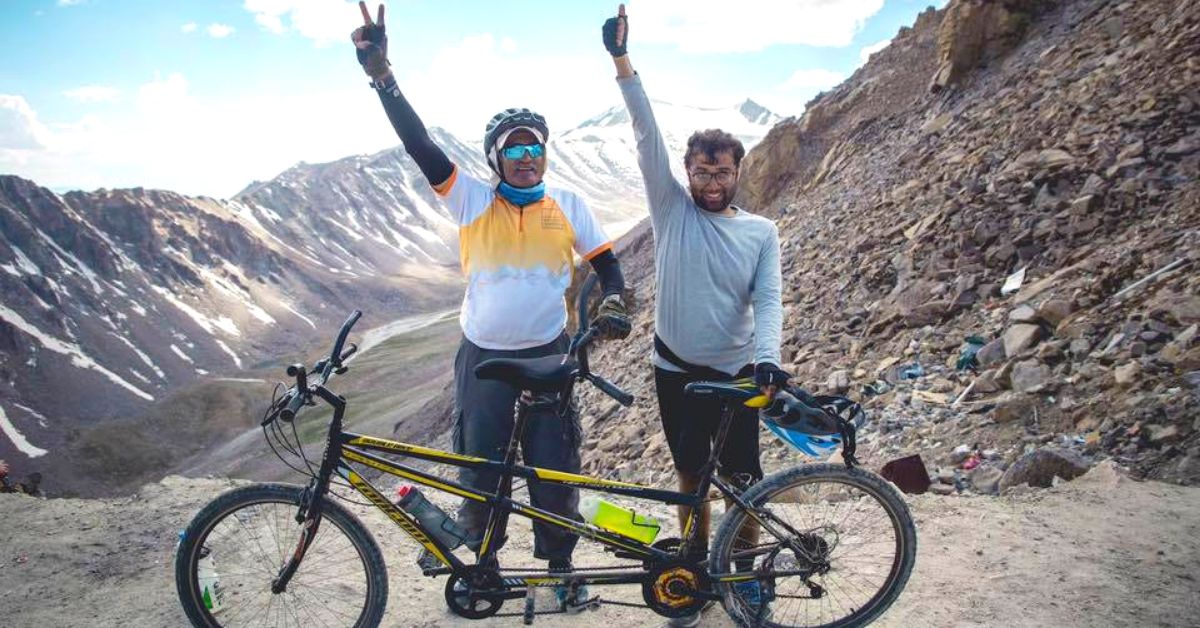 Vineet's love for sports is the same even now, except that running in Jamshedpur's Jubilee Park is replaced by marathons and tandem cycles have replaced motorcycles.
Due to a loss in vision, Vineet had disassociated himself with outdoor activities. His new job and independent life gradually gave him the confidence to reconnect with his forgotten passions, "If things are going well people prefer not venturing outside their comfort zone. But it was time I took risks and challenged my limitations."
He started with mountain treks on the outskirts of Mumbai and followed it by running and cycling.
The RP condition has compromised my peripheral vision, meaning I cannot see objects outside of the direct line of vision. In this background trekking is a risky business, but thanks to my friends who have always been a strength.
Even while running, Vineet has to be extra vigilant about the obstacles, people and potholes that come in his way.
When running, Vineet prefers to use to a tether, an elastic band that he ties on his arm and the other end is tied to the partner. This way, the need to hold hands is eliminated and Vineet retains his freedom.
His uncle (mother's brother) was his biggest cheerleader when he began running.
Being a marathon runner himself, he would accompany me during runs. Keeping the challenges aside, I realised I was overestimating my weakness. Seeing is only one part of running and so I worked on improving my other senses and factors like timing and breathing, he says.
Vineet has participated in ten treks and five half marathons with one failed attempt. "Last year I had attempted Deccan Cliffhanger, which is a premium ultra cycling race. I had to complete 643 kilometres from Pune to Goa in 32 hours. But I gave up halfway despite all the practice," he shares.
His favourite marathon was in Ladakh. Running at 11,000 feet above sea level and freezing temperatures was not easy.
I was struggling to breathe during the practice sessions between me and my partner. Getting acclimated to the climate took some time. But once I crossed the line, there was a sense of accomplishment that I cannot put it into words. I felt liberated and alive, says Vineet.
The zen-like experience of Ladakh pushed Vineet to participate in a cycling event from Manali to Khardungla (550 kilometres).
This time his partner was Ex-Chief of Staff of Southern Command of the Indian Army, Lt. General Surendra Nath. "The terrain was so difficult that participants were walking with their cycles in certain areas. But Surendra sir did not allow me to even touch the ground once. I learnt so much from him."
On An Inclusive World
Vineet is trying to bring about a change at his workplace but there is a lot that needs to be done to establish an inclusive world. He says awareness plays a crucial role.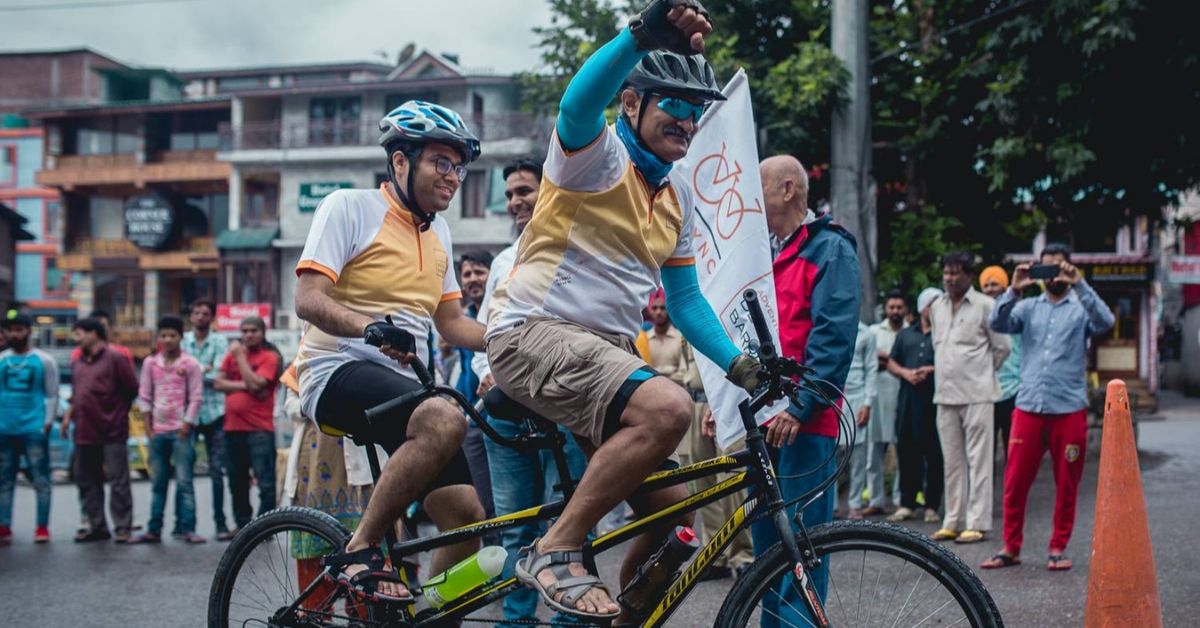 People do not have much exposure to the kind of diversity we have in India. They form their stereotypes based on movies and their surroundings. Thus, all schools should introduce experiential learning and teach about inclusivity at a young age, says Vineet.
Another suggestion that Vineet gives is of having a skill-based curriculum, "If someone has a particular weakness, there should be a system that improves their other skills."
Parents also form an important link in the kind of life their child with a disability will have. Had Vineet's parents been overprotective about him, he never would have learnt to live independently in Mumbai or cycle in the hilly terrain of Manali.
Not being embarrassed is the first step followed by acceptance. Instead of stopping them from doing what they like, figure out a way for them. Help them achieve what they want to. Do not let their skill or talent get wasted because of a disability. Push them to eliminate the boundaries they have in their minds. I am very proud that both my sons have accomplished everything on their own, Meena, a doting mother, tells TBI.
Vineet has 10 per cent of his eyesight left and even after his loses it completely, he plans to continue his adventures. Vineet's journey is truly an example of how no limit or obstacle is big enough to stop anyone from achieving their dreams.
---
Also Read: Robbed of Eyesight by a Wrong Injection, Farmer's Iron-Willed Son Cracks UPSC
---
Image Source: Vineet Saraiwala
(Edited by Saiqua Sultan)
Like this story? Or have something to share?
Write to us: contact@thebetterindia.com
Connect with us on Facebook and Twitter.
Tell Us More
We bring stories straight from the heart of India, to inspire millions and create a wave of impact. Our positive movement is growing bigger everyday, and we would love for you to join it.
Please contribute whatever you can, every little penny helps our team in bringing you more stories that support dreams and spread hope.