Reduce, Reuse, and Recycle – these are the fundamentals of waste management. If we all practise this in earnestness, then the scope is endless. 37-year-old Range Officer Papan Mohanta from Midnapore in West Bengal has been encouraging people to upcycle waste plastic bottles by practicing it himself since 2016.
---
Since we are talking about recycling, why not get this eco-friendly women's and keep all your travel accessories and makeup together in the most compact way possible. Click here
---
"The first time I was posted here I saw that all the items people discarded were strewn around and I did not like what I saw. I wanted to create a space where I would like to come to and also attract others to," he says. Mohanta says that wherever he has been posted in the past, he has tried to change the area around him just so that it would look beautiful.
So what does he do?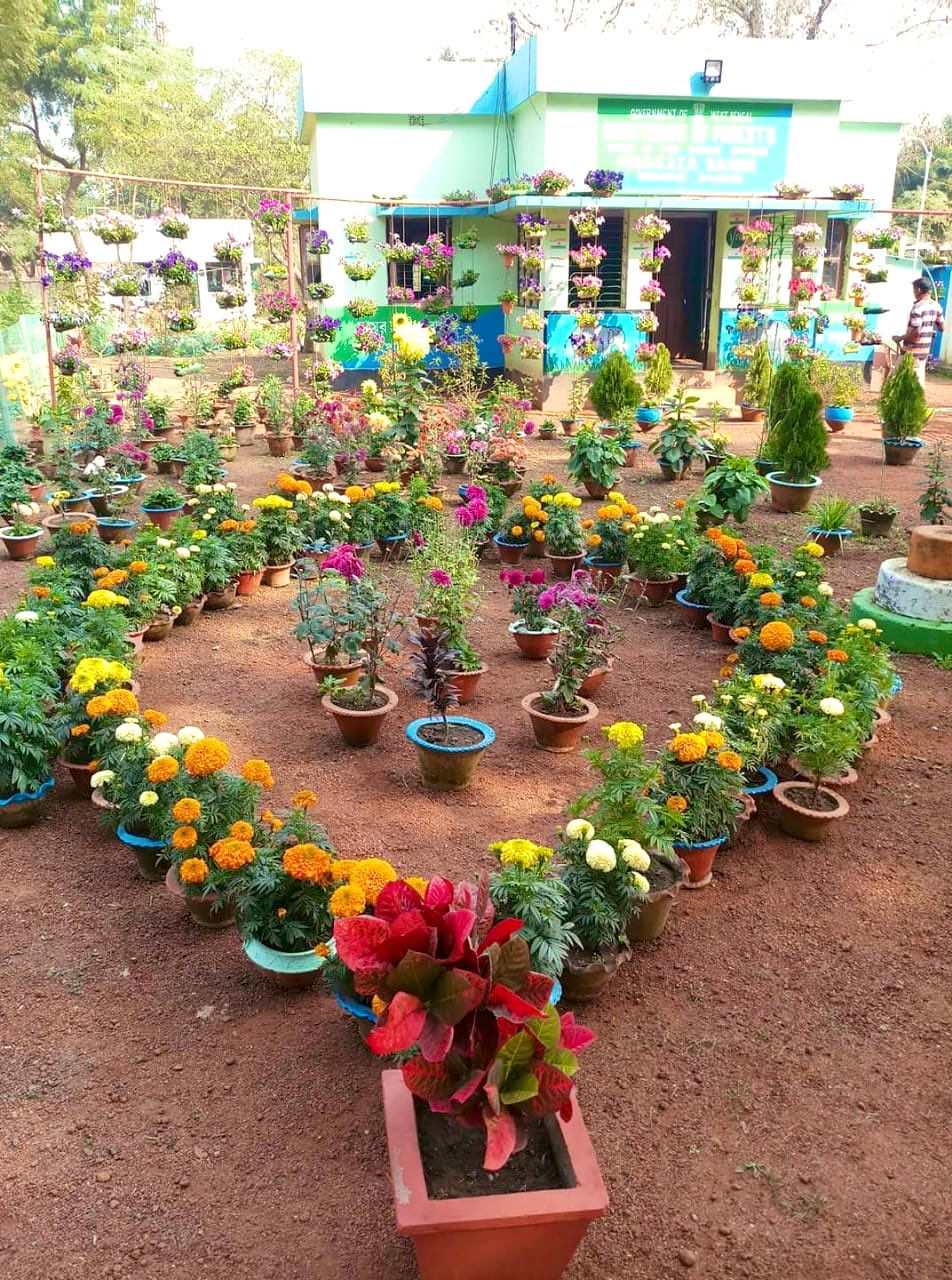 Mohanta started collecting all the waste plastic bottles from his friends and neighbours and turning them into planters. What started on a small scale has today filled the entire front yard of the quarters where he resides with his family. "I have more than 1500 plastic bottles which I have converted into planters and other decorative items. It is amazing because now people bring waste plastic bottles to me and ask me to use them. It has also inspired a few schools in the locality to follow suit," he tells me with pride.
Mohanta says that he also often goes to schools to talk to the students about reusing plastic bottles. He says, "I tell them that plastic takes forever to decompose and dumping it is of no use, so we should reuse them."
Mohanta also actively encourages local school students to visit and see for themselves what he has created. "Seeing it will inspire them to do the same in their homes and schools," feels Mohanta. He also shares how his 5-year-old son helps him.
He is growing up here amidst nature and whenever I am tending to the plants he comes to help. He loves filling the bottles with mud and never shies away from getting his hands dirty.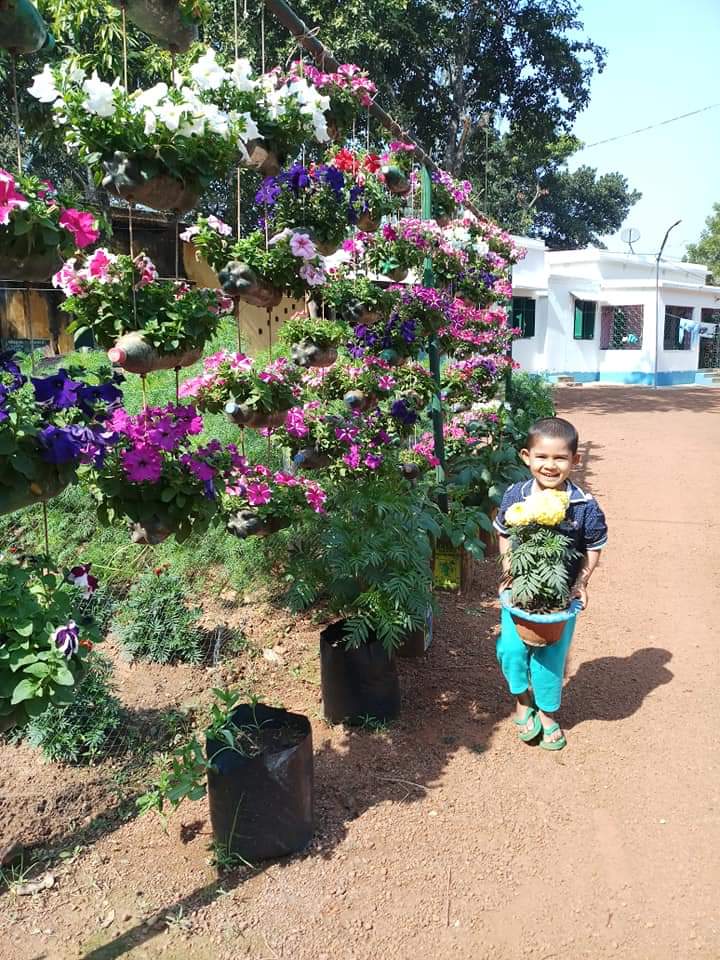 Speaking about the flowers that he has been growing in these bottles, he says, "Winter is the best time for the flowering plants. Petunia is one flower that is best grown in containers or hanging baskets, and I have a variety of colours as well."
Other than that something we refer to as Sada Bahar (Periwinkle) also grows very well in these bottles, he says.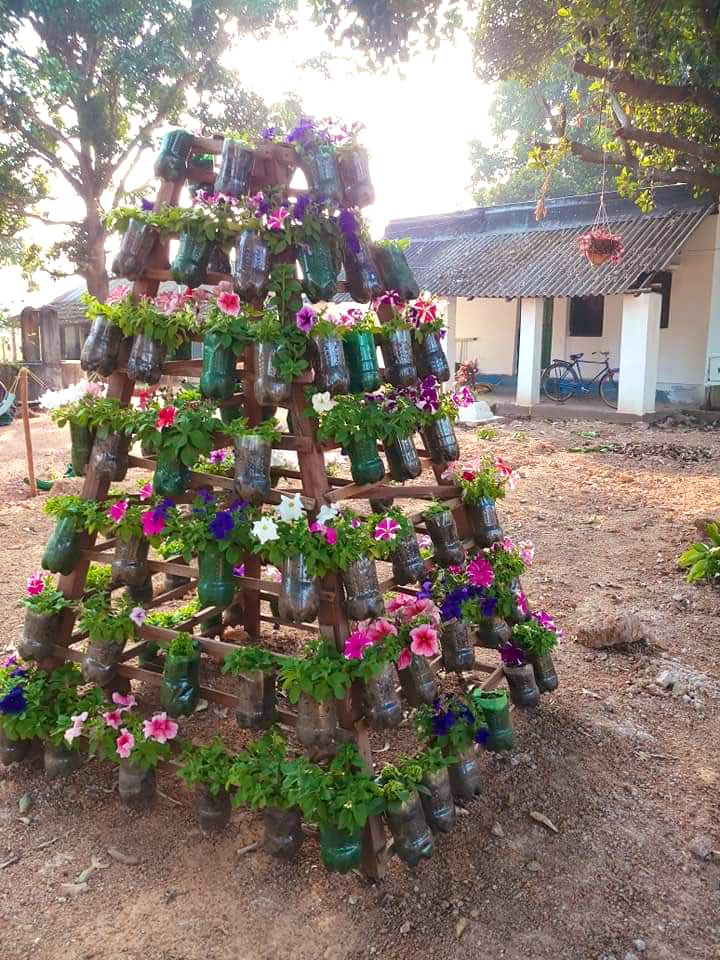 Mohanta also works with various other discarded materials; discarded tyres, for example, also make for great planters. "There is a workshop here from where I get all the discarded tyres and I have grown some petunia in them." When asked how he manages to find time to do this, he says, "If there is a will, one can always find a way. The time we spend in gossiping with each other can be used for all this," he says with a smile.
"Seeing the appreciation that my work is getting makes me want to work harder at it and also inspire many others from different parts," he says to me as we end our conversation.
---
Also Read: 75 Bengaluru Kids come Together to Make Environment-Friendly 'Tree Ganesha'!
---
(Edited by Saiqua Sultan)
Like this story? Or have something to share?
Write to us: contact@thebetterindia.com
Connect with us on Facebook and Twitter.