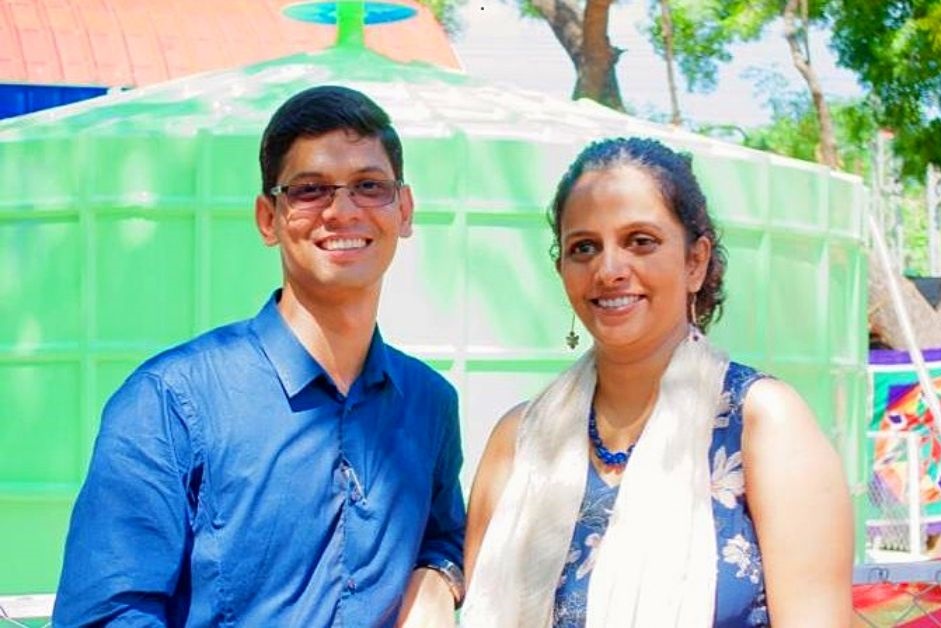 Handling waste generated by over 65000 people everyday, Carbon Loops has helped farmers get their hands on more than 2400 tonnes of organic compost. A win-win in every way! #LiveGreen #FarmersFirst
When Kern Agarwal quit his banking job to pursue MBA, little did he know that a rural visit would effect a massive change in his life. On a two-day rural visit to Salavakam village in Kanchipuram District of Tamil Nadu in 2013, Kern came face to face with something he had only read about — the challenges that leach the life out of the farmers.
---
Want to compost your organic waste at home? Check out these items from our shop that you can use!
---
The almost barren fields due to heavy usage of easily available chemical fertilisers and pesticides, the stories of rampant hunger while they faced nature's wrath of floods and droughts and the rotting piles of unsold fruits and vegetables that could not yield any money to the tiller.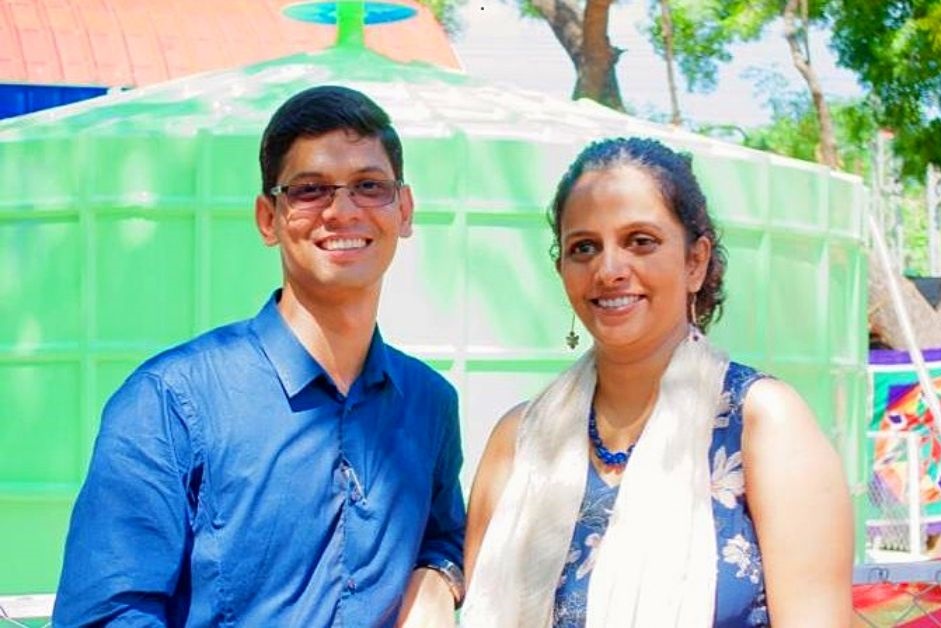 "With every harvest, farmers remove considerable amount of nutrition from their soils but none of it is recycled back to the soil. When food waste is dumped in the open, it starts decomposing and releases methane, a greenhouse gas 20 times worse than carbon dioxide for the atmosphere," points out Kern.
When the 31-year-old went back to his home in Chennai, he could not help but discuss the vicious circle of poverty with his wife Ranjini Prabhakaran. The urge to help hapless farmers led the couple to zero in on the organic produce which was going to waste.
The duo spent an entire year researching and developing solutions which could not only solve issues related to solid waste disposal, but also help farmers in the process.
And Carbon Loops was thus founded in March 2017 by Ranjini and Kern with a vision of 'Clean Cities, Fertile Fields'.
Carbon Loops has two models for solid waste treatment. The first model involves setting up of Biogas Plants within the premises of establishments like hotels, manufacturing units and educational institutions. In the other model, the start up collects waste at Rs 6 per kg from clients who want to get rid of their organic waste in an eco-friendly manner. The waste is later processed in the compost facility of Carbon Loops.
Since they started, Carbon Loops has prevented 5,437 tons of organic waste from ending up in landfills and handle waste generated by 65,000+ people daily across seven projects. They have produced more than 2,400 tons of compost and given it to farmers in addition to teaching several people about the importance of waste segregation.
How it began
The couple realised that they could come up with a solution where organic waste could be converted into compost. Also, the methane gas which is released could be used as a cooking fuel and as a substitute to LPG.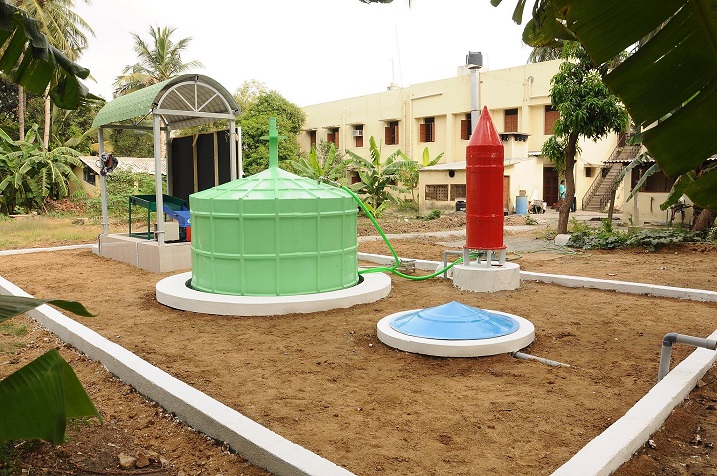 Their first model is most feasible in case of clients that generate more than 500 kgs of organic waste in a day. Under this model, they install the bio-gas plant for Rs. 25 lakhs, in addition to looking after the operation and maintenance of biogas plants at the client location. They also provide operational services for up to five years.
In terms of coming up with the right kind of biogas plant, they studied several existing models and then developed their own version. "Biogas has been around for more than 100 years in India. With the Khadi & Village Industries Commission (KVIC) model as a basis, we developed small improvements and installed our currently operational design," says Kern.
So, how is their model different from the KVIC model? Kern says that they have redesigned the shredder which helps to reduce the particle size to about 5mm and has the capacity to shred about one ton waste in an hour. The hydraulic agitator has also been revamped to prevent settling of solids in the digestor and preventing the formation of a scum layer at the top, a regular problem in biogas plants. Lastly, a booster pump was also installed to increase the output pressure of the biogas flame in the kitchen.
Since the startup began its operations, its list of clients include Loyola College, Stella Maris College, Mahindra World City, and the government of Tamil Nadu among others.
As for their second model, some of the clients include Savera Hotel, ITC Hotels, Sahaas Zero Waste (Accenture, RMZ, etc).
The Utility of their models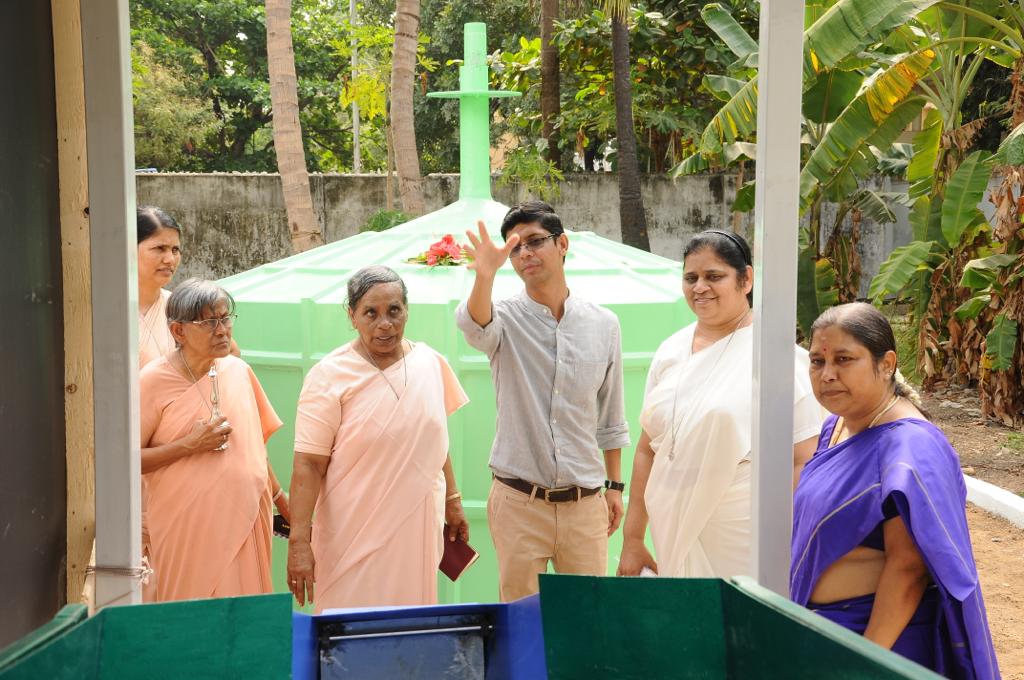 Kern explains that a tractor of compost (with a capacity of 2 ton organic compost) can cost upto Rs. 1000 for the farmer. However, Carbon Loops provide quality compost at Rs.100 per tractor. This way, they not not only find a sustainable way to deal with the ever growing pile of garbage but also help farmers.
One of the biggest challenges that they face in their operations is explaining to people the importance of segregating waste at source, says Ranjini. "This can take upto almost six to nine months for us to explain to the people when we first start working with them," explains Ranjini.
Kern mentions that although their list of clientele has been increasing since they began operating, Loyola College was their only client they reached out to. Kern was initially working in the Standard Chartered bank between 2007-10 after which he quit to pursue an MBA degree from Loyola. This is why, it was easier for him and his team to reach out to them first when they started their services.
Impact
Dr. Thomas Pothakamuri, 59, Public Relations Officer from the Loyola college, says that it was becoming extremely difficult for them to manage their waste in the campus. With over 14,000 students living in the campus, the waste generated was enormous, almost 500 to 600 kg in a day, explains Dr. Thomas.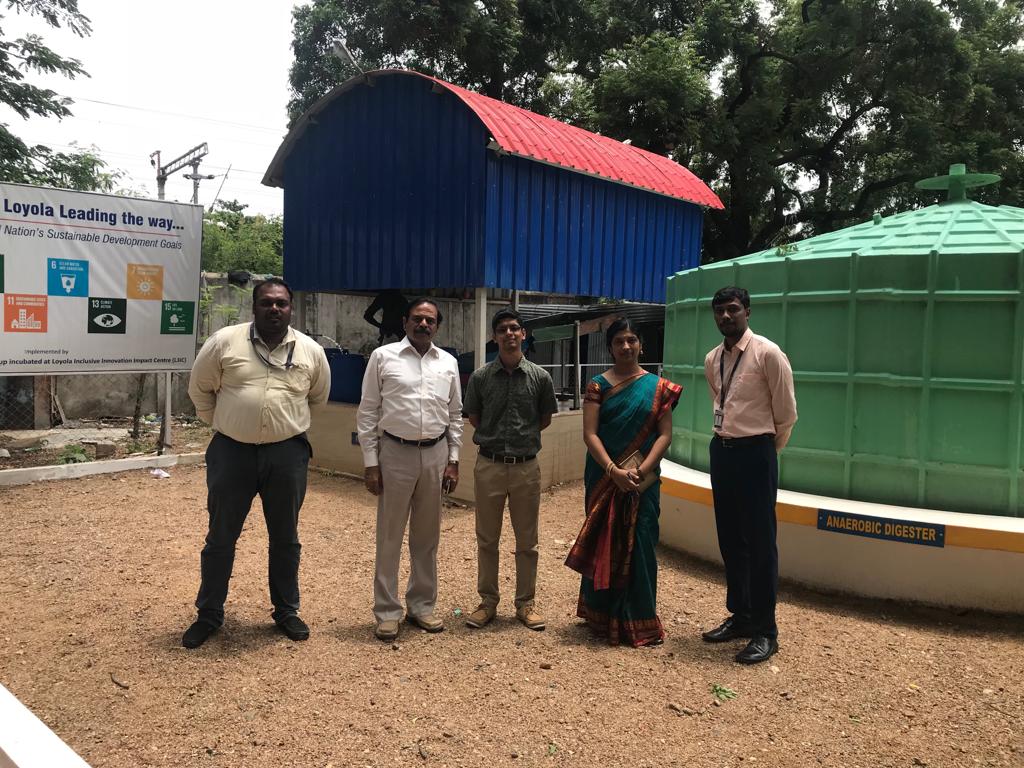 Dr. Thomas is also responsible for handling 'Green projects' in the campus and since they knew Kern and the work he was doing, they decided to give Carbon Loops a chance. It took about 45 days of work to install the biogas plant in the college premises.
The plant was finally inaugurated on 2 October 2017 and has a capacity to process one ton of organic waste.
Before, we were not even segregating our waste but that is not the case now. The compost is going to be used now in the tree plantation drive that we are conducting on 5 September as a part of Teacher's Day celebration. We are going to be planting almost 7,000 plant saplings belonging to 28 different species and we are using seven to 10 tons of organic manure, points our Dr, Thomas.
Kern says that in this project alone, they have diverted over 129 tons of organic waste from ending up in landfills and resourcefully converting them into biogas and compost. Dr. Thomas further explains that almost 50 kgs of methane is generated in the biogas plant and is being used as cooking fuel in their canteens that cater to almost 6,000 students in a day.
In addition to this, Carbon Loops also employs landless labourers who work with them in their own facility and in the independent plants of its clients.
S Moorthy, 37, a former farmer, has been working with the Carbon Loops since the past three years. Kern had kept in touch with a few farmers he had met during his rural visit and Moorthy is one of them.
Since Moorthy had to sell his land due to water scarcity, he had been working on his uncle's paddy land. Since he was a landless labourer, he got only 25 per cent of the total income that was generated from the four acres of land, despite putting in all the manual labour.
Luckily, he joined Carbon Loops full time, working as a driver and a supervisor in the different biogas plants they help operate. Although he travels almost three hours to reach work from Salavakkam, he doesn't mind because this job ensures security for his family of five. Carbon Loops has created employment for 23 such landless farmers.
It seems that Kern and Ranjini are on the right track to realising their vision of Clean Cities, Fertile Fields' especially by helping farmers access organic compost at subsidised rates and offering employment to landless farmers with the expansion of Carbon Loops reach. "We want to harness methane as a renewable source of energy and scale this process. Ultimately, we want to run a successful business that cleans the planet!" signs off Kern.
---
Also Read: Compost From Bengaluru's Wet Waste Bring Relief to Farmers, Over 4000 Tons Sold
---
(Edited by Saiqua Sultan)
Like this story? Or have something to share?
Write to us: contact@thebetterindia.com
Connect with us on Facebook and Twitter.
We bring stories straight from the heart of India, to inspire millions and create a wave of impact. Our positive movement is growing bigger everyday, and we would love for you to join it.
Please contribute whatever you can, every little penny helps our team in bringing you more stories that support dreams and spread hope.
Tell Us More