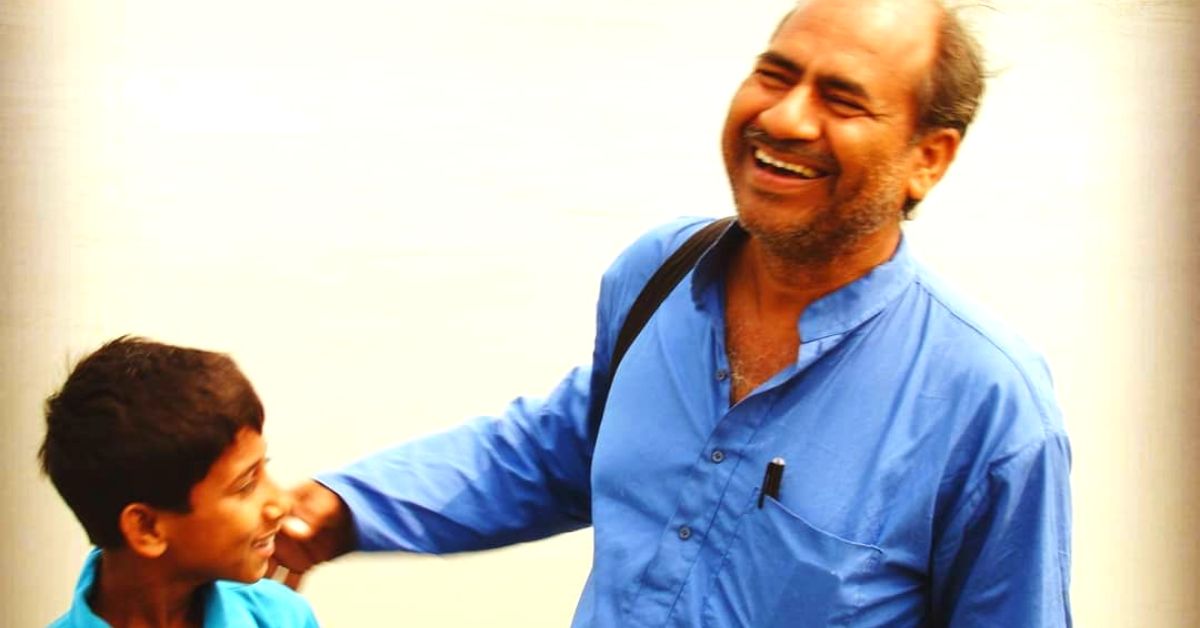 In 1977, 17-year-old Laxman Singh was mocked by his fellow villagers who advised him to help his farmer father instead of wasting his time on the 'frivolous idea' of reviving ponds. Today, the village is probably the only one in Rajasthan that is self-sufficient in water!
The year was 1977. Laporiya, a remote village in Rajasthan, was experiencing its worst drought, leaving its farmers unemployed.
Eventually, the situation worsened to the extent that it started to affect the social structure of the agrarian community as well. Children were pulled out of schools and colleges, brothers fought over land, and many migrated to cities in search of jobs.
---
---
Fast forward to 2019, and Laporiya's water problems have ceased to exist. It is probably the only arid village in the state that has abundant water reservoirs, and even when the ponds and wells in the neighbouring villages dry up during the summers, Laporiya faces no such issue.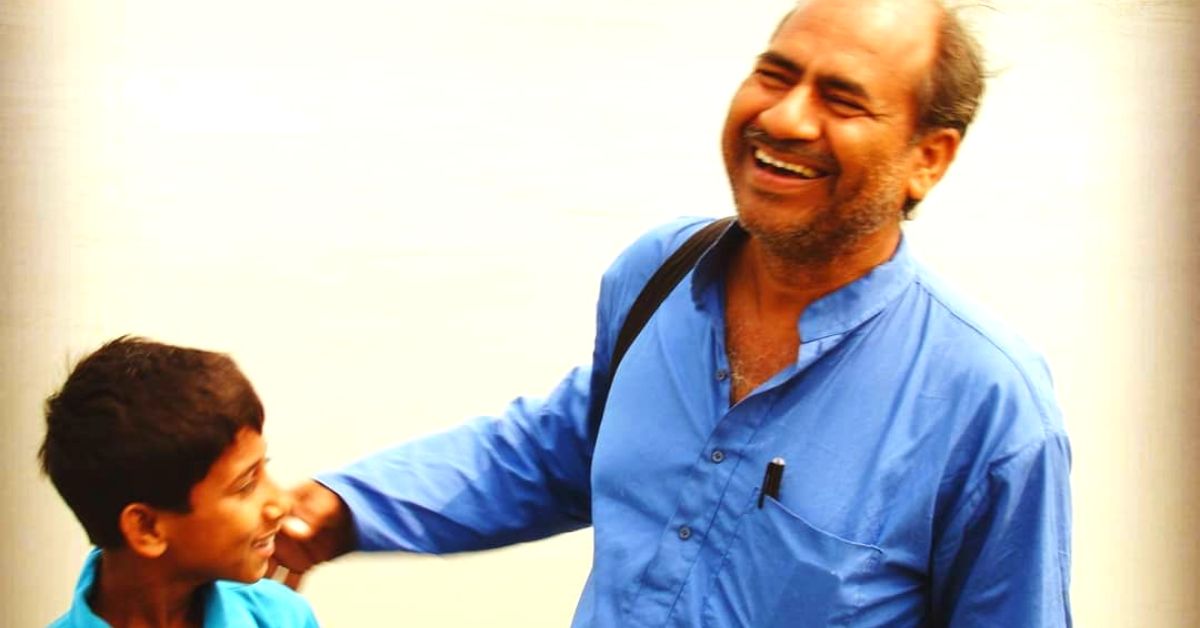 The dramatic transformation of the village was driven by its residents and spearheaded by Laxman Singh, a man who had to drop out of high school four decades ago due to water scarcity.
"I was a teenager and very angry about the situation. I kept on blaming my father without realising the loses he faced in food production that year," Singh tells The Better India.
Looking to do something, Singh identified a broken bund (a small stone dam) that had been dry for almost thirty years and decided to repair it.
After the government introduced centralised water providing systems, people stopped paying any heed to the natural water bodies like bunds, which help to conserve soil and water from where the farmer usually take water for their farming activities, he adds.
People mocked him, ridiculed his plan, and some even advised him to help his father instead of wasting his time on this 'frivolous idea.'
There were a few villagers who agreed to help, but only if they would get paid.
But a determined Singh did not budge and managed to convince his friend and a village priest to help him.
One fine morning, the trio walked up to the bund with spade and bricks. On their way, they spoke to every person about the initiative, and by the time they reached the place, the team grew to six people.
Seeing the small team work tirelessly for hours to repair the 1.5 kilometre and 15-foot-high bund, around 20 people, joined a week later. It was only a matter of time before the entire village joined Singh.
Soon, he formed an NGO named Gram Vikas Navyuvak Mandal Laporiya to organise such activities in a more structured way.
Two months later, the bund was filled with rainwater, and by 1984 it was providing water for 1,800 acres of farmland. The pond is named 'anna sagar' (anna is food in English), and the water is used only for irrigation purposes by the farmers.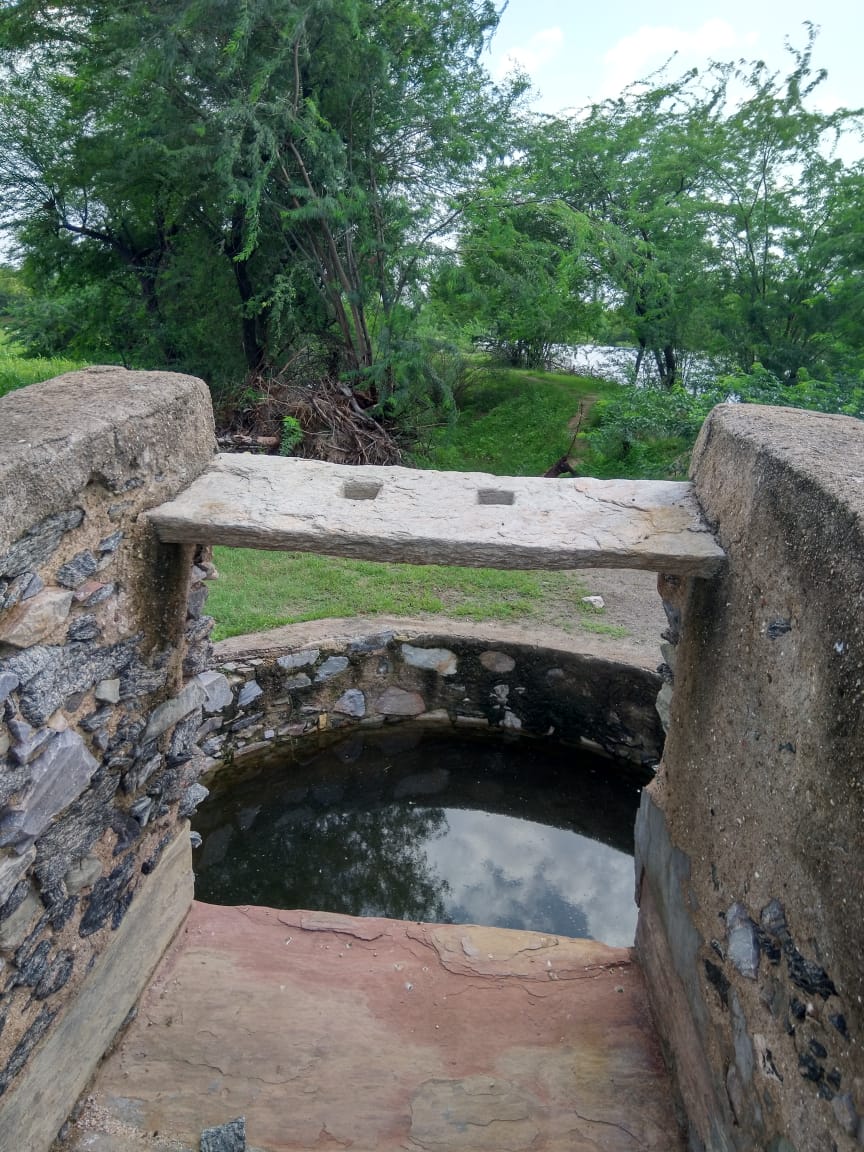 Encouraged by its success, Singh, along with the local community, decided to work towards reviving several ponds and lakes in Laporiya.
While recharging the water bodies, Singh realised his lifelong dream and dedicated himself to this work alongside helping his father.
A school dropout, Singh likes to call himself an 'accidental water expert.'
"While I haven't received formal schooling, I have learnt a lot on the field over the past forty-odd years. As for my village, it was resilient by force and not by choice. It was everyone's responsibility to step up and work in unison. I was only a pushing factor," he says.
He also invented his own water-saving method named 'chauka' to conserve rainwater and recharge the groundwater levels. The simple yet effective approach has helped close to 58 villages in Rajasthan become self-sufficient in terms of water.
Changing the Fate of Laporiya
'Chauka' is the Hindi word for square, and this structure derives its name from the shape of the water pit. Not only does this system store rainwater, but it also recharges the groundwater in pasture lands and fields.
Nine-inch-deep channels are constructed in a series of square pits and are bordered with two-feet high bunds. Trees are planted on the borders for cattle to graze. The chauka collects the rainwater, and once they are full, the water flows in adjacent chauka, thus avoiding an overflow.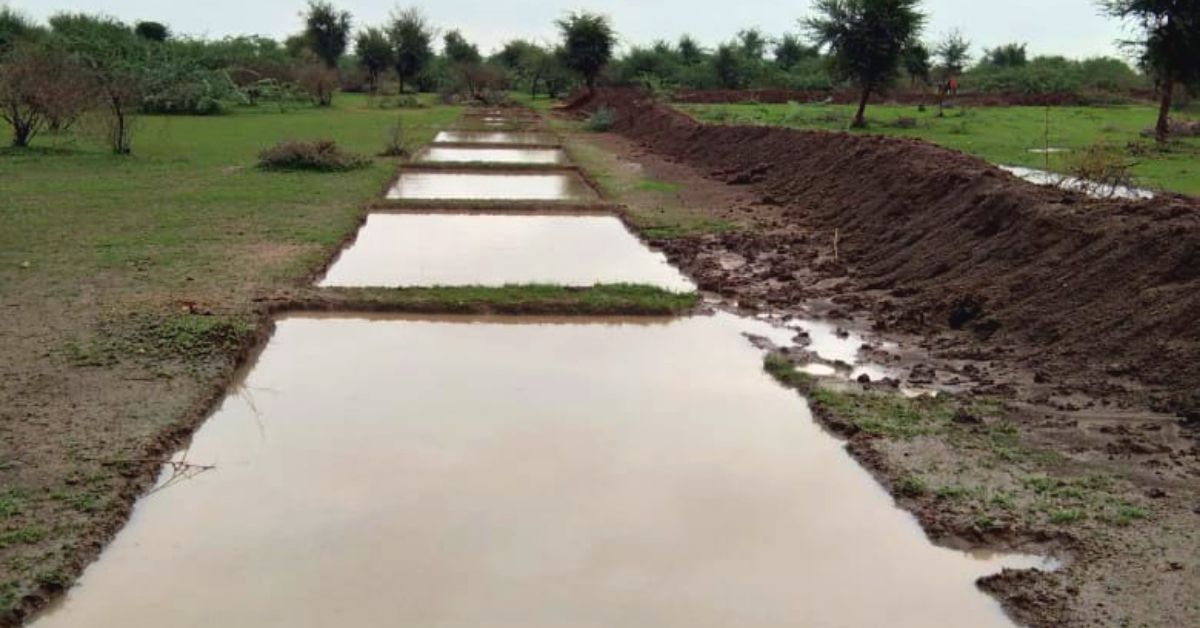 These small mud walls work as water-harvesting structures by slowing down the flow of rainwater and giving it enough time to seep into the ground, thus recharging underground water tables. After the final chauka is filled, the excess water is diverted to the nearby ponds.
"When we started, the water level had sunk to 500 feet. Today, the levels are stable at 15-40 feet," Singh claims.
This chauka system has been applied to 400 bighas (one bigha is approximately one acre) of land in the village, and the pasture alongside is a vital link that connects the entire ecosystem says Singh.
"The pasture is known as 'gochar' and provides extremely healthy fodder for the animals. The more they feed on the natural vegetation, the better is their dung. This dung acts as a natural fertiliser to grow food organically. The natural food consumed by humans will enhance their overall health. We must not disrupt this natural cycle that helps the nature, man and animals coexist in harmony."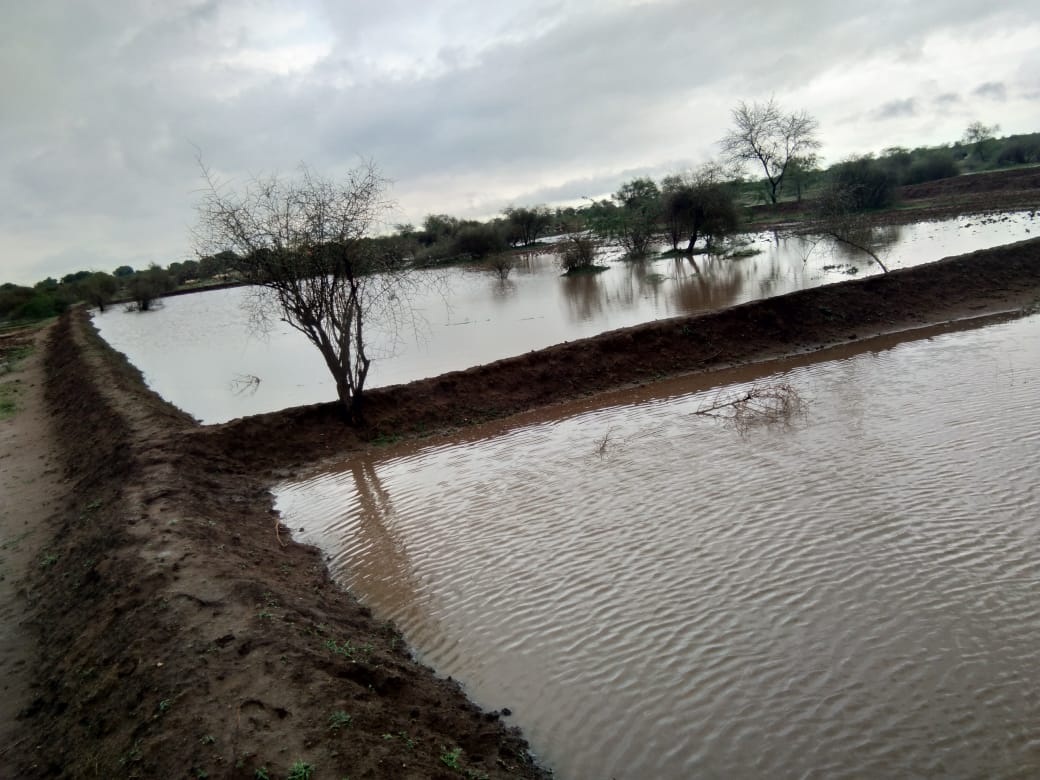 The chauka system has undoubtedly revived the groundwater.
Along with the anna sagar, two other ponds—phool sagar and dev sagar—were rejuvenated by Singh and the villagers. The water in the former is used to water plants, while the latter has been turned into a tourist spot.
The chaukas and ponds provide sufficient water in the village, and the farmers now harvest crops twice in a year. During the kharif season, the farmers grow crops like moong, maize, jowar and wheat and seasonal vegetables, while during the rabi season, lentils are grown without the need for excess irrigation as the groundwater tables keep the moisture level of the soil intact says Singh.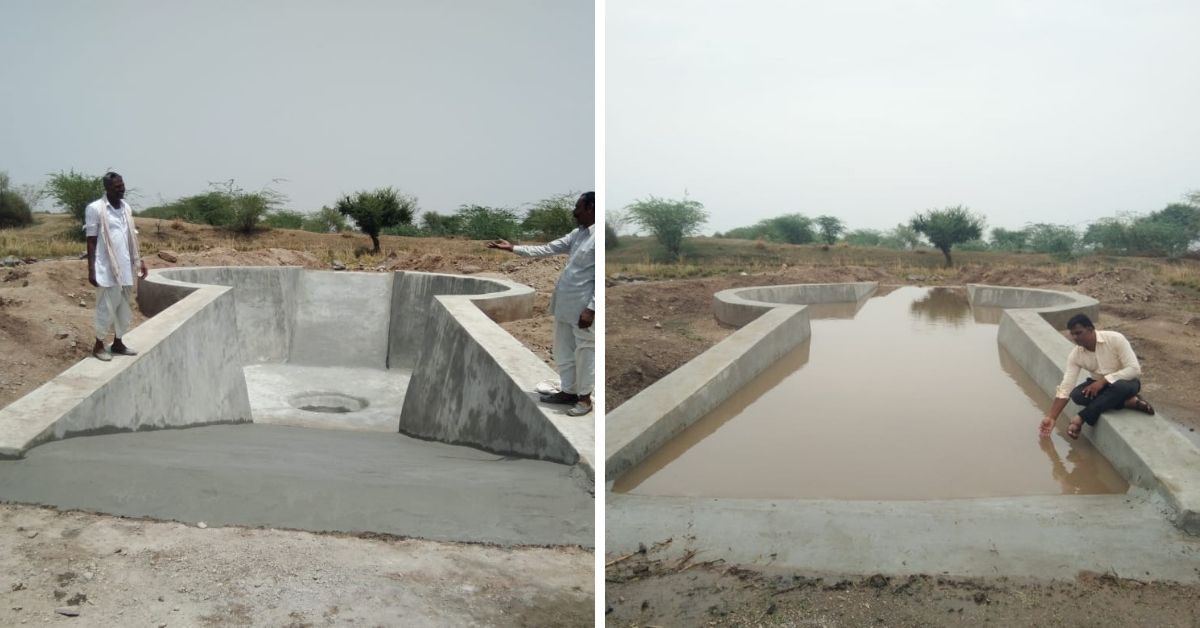 Singh's son has now taken over the activities from him and grows vegetables and lentils organically earning up to 25 lakhs per year. Like Singh's family income of every family in the village has increased.
"Back in the 80s, I had taken a loan of Rs 200, and with no pumping motors or tractors, farming was a strenuous process. I used to grow chillies, and all the profits would go to my lender. I was able to pay off the debt this way in the next couple of months, and this was possible only because there was water available," says Singh.
Acquiring Gir bulls was another community-led step that increased the per capita income of the village. The villagers contributed financially, and 80 bulls were sourced from Gujarat to improve the breeds of cows.
The Gwal Committee appointed by the villagers through election looks after the community-owned bulls. As per Singh, the village churns out 2,400 litres of milk per day, and every cow-owning household earns anything between Rs 10,000 to Rs 60,000 per month.
An 80-hectare area is also demarcated in the village to increase the green cover and accommodate 130 birds. The area is prohibited from all kinds of human activities and is fenced from all sides.
To spread awareness about water conservation, Singh now organises padayatras (rallies) to other villages.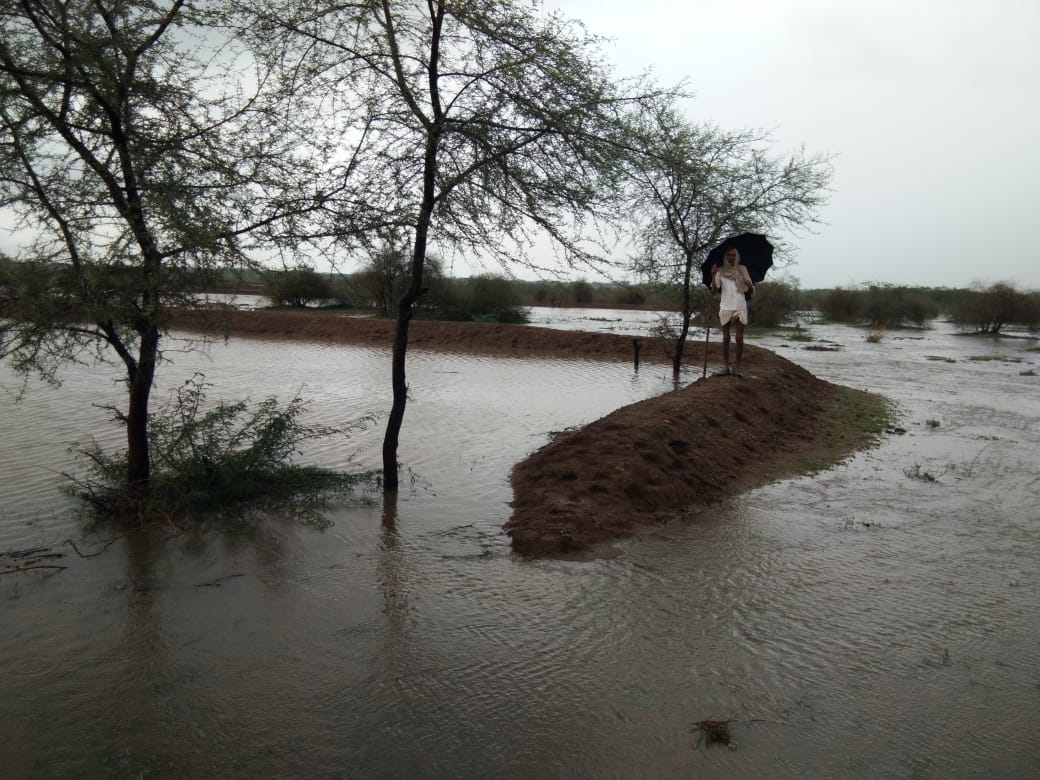 Singh has come a long way since 1977, from being an enthusiastic teenager determined to revolutionise his village to a wise man in his sixties who is bringing a gradual change in Rajasthan.
"Today, when I look back at those days of struggle it is hard to believe that I pulled of such huge stints. At the same time it also proves that nothing is impossible. If a school dropout like me was able to transform an entire village, then with the latest technologies and brilliant minds we can solve all kinds of problems," he signs off.
---
Also Read: Can a Tree Grow with Just 1 Litre of Water? This 68-YO Farmer Has Grown 50,000!
---
(Edited by Gayatri Mishra)
Like this story? Or have something to share?
Write to us: contact@thebetterindia.com
Connect with us on Facebook and Twitter.
We bring stories straight from the heart of India, to inspire millions and create a wave of impact. Our positive movement is growing bigger everyday, and we would love for you to join it.
Please contribute whatever you can, every little penny helps our team in bringing you more stories that support dreams and spread hope.