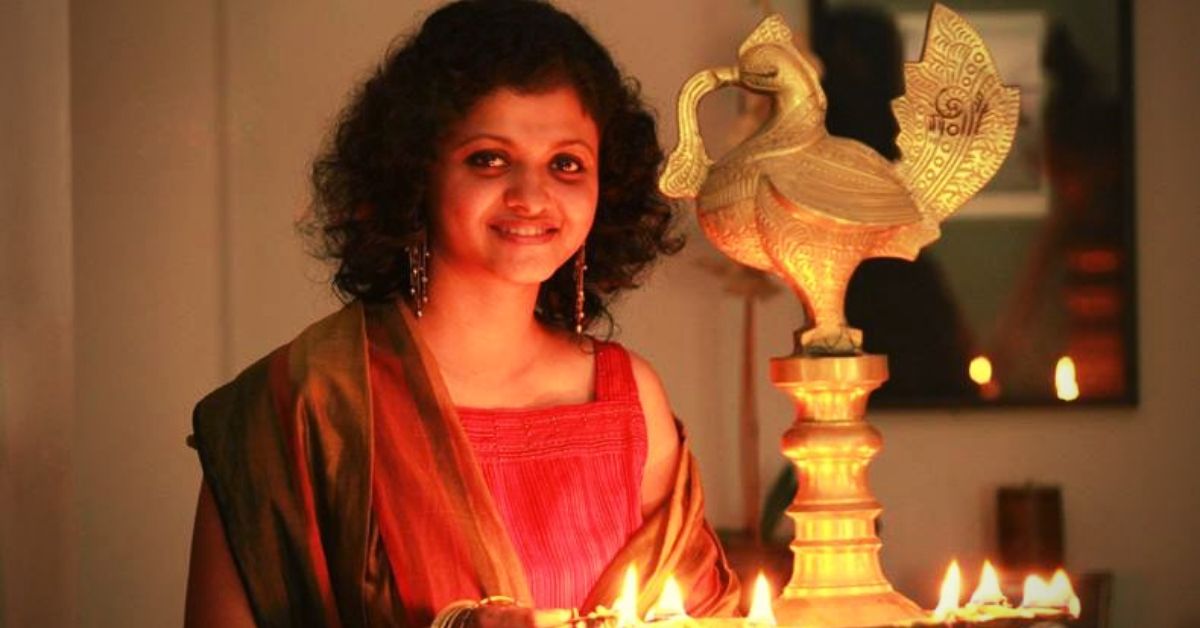 "After floods as the state got back to its feet, the fisherfolk went back to their hardships. They risked their lives for us and I wanted to do something to show gratitude."
The 2018 deluge and the devastation it left in its wake took a lot away from the people of Kerala. With more than 400 deaths, 140 missing and lakhs displaced, it wreaked havoc all across the state. Since the 1924 Great Flood of 99, so called as it happened in the year 1099 according to the Malayalam Calendar, this is said to be the worst in the state.
---
With the state still rebuilding itself, especially the rural communities, you can do your bit by extending support to them. You can find a few products sourced from local artists and communities, here. 
---
The floods affected everyone, including the fisherfolk community, scarred but selfless and self-sacrificing. Putting their lives on the line, they rowed, dived and swam to pull hundreds out of the water and brought them to safety. These heroes, almost 4,000 in number, were the fisherfolk who left their homes with kindness, unbridled courage and their boats and rescued more than 65,000 people.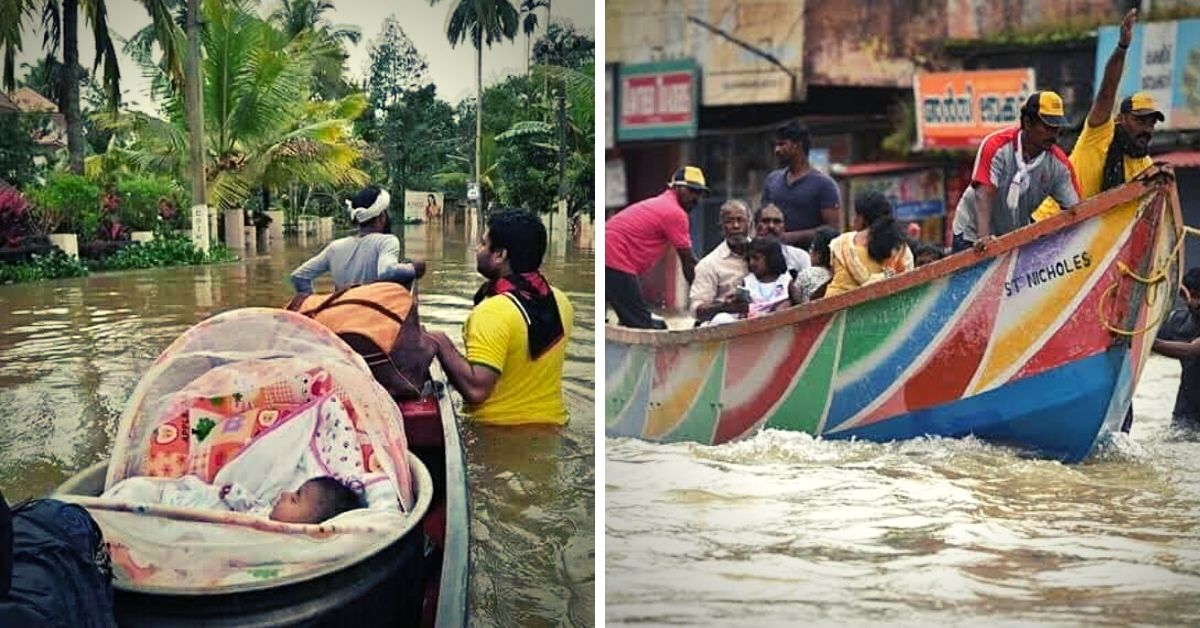 But, as the floodwaters finally receded, and the state slowly rebuilt itself, the memory of the unparalleled contribution of the fisherfolk also took a backseat.
As the state got back on its feet after the floods, the fisherfolk went back to their hardships. They had risked their lives for us, and I wanted to do something to show gratitude but didn't know-how. Most of us are so ignorant of their needs. They even refused to take money from the government, and instead collected as much as they could and contributed to the CM's fund. So instead of money, we decided to extend our support to help the community be self-sufficient, says Lakshmi Menon, artist, designer and social entrepreneur.
Hence, Lakshmi started a social campaign called FriendShip, along with Neenu Rathin, to show gratitude to Kerala's saviours. From symbolic gestures of appreciation to insurance schemes for accidents at sea and land and entrepreneurship opportunities, this campaign has been working to improve the lives of the fishing communities holistically.
It all began with paper, with students from 137 schools making 65,000 paper boats as a symbolic tribute to the fisherfolk's sacrifice. Exceeding Lakshmi's expectation, students created and sent more than 2 lakh boats in just two months. These will now adorn the campus of CSIR-National Institute of Oceanography, Ernakulam, reminding the tale of bravery of the fisherfolk.
"This art installation will be unveiled in December," informs Lakshmi.
But this was just the beginning of the journey of change.
"Kerala has more than 2.3 lakh fishermen, and 95 per cent of the state's population consumes fish. And still, we are not aware of the abject poverty the community struggles with. Our crowdsourced insurance campaign is helping these heroes. Those interested pay a premium of Rs 24 for a policy cover of Rs 1 lakh, and almost 2,000 families have already been insured!" she says.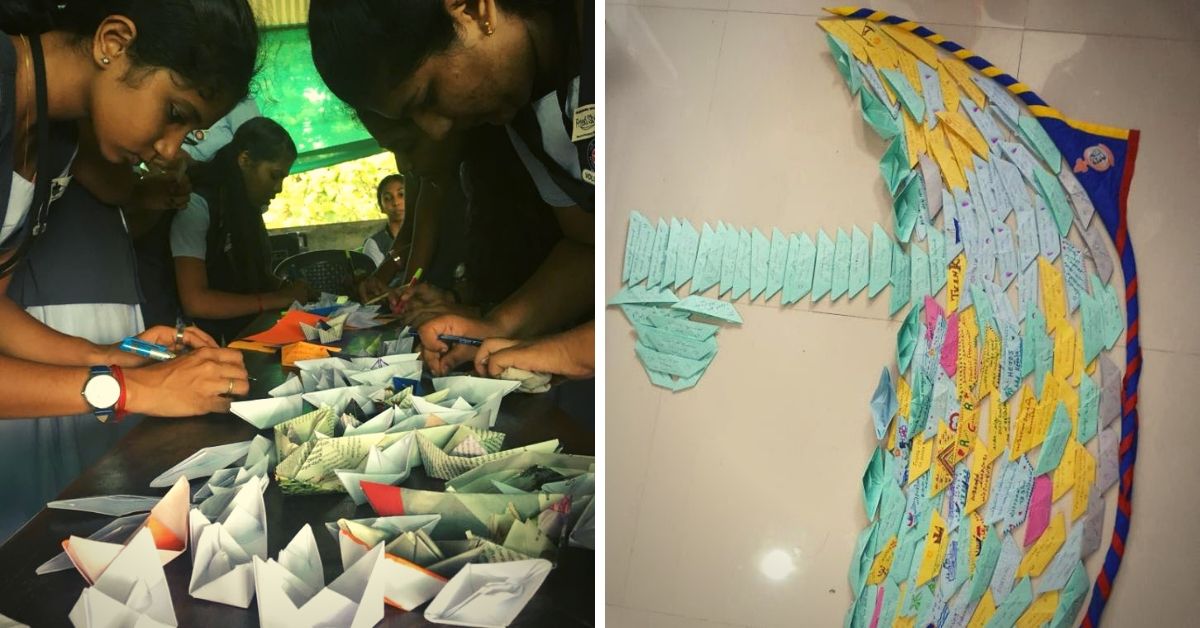 More than 20,000 individuals have already expressed their interest in contributing to the scheme implemented in partnership with New India Life Insurance Company.
"Gratitude is the attitude of the campaign, so it does not stop at paper boats or life insurance. We are building a community network that can enable all kinds of support for the fisherfolk. So, if anyone is interested, they can get in touch with a fisherman's family through us and do their bit to help, in any way possible," she adds.
Talking about the impact, Robin Francis Puthiyathura, a member of the fishing community from a coastal village in Thiruvananthapuram, tells TBI, "In my locality alone more than 1,400 fishermen are covered by insurance under the Make Friendship initiative. That was in the first phase. More people will be covered in the second phase. This insurance will cover accidents at sea or on land. Two weeks ago, a fisherman died in an accident. His family will get the insurance benefits."
Additionally, another venture which will kickstart in the next few months is an entrepreneurial opportunity for the community.
Besides the insurance scheme, several projects are being discussed as part of the Make Friendship initiative. These include a project to sell fresh catch directly to homes and a project for better education for our children. We already have a direct selling system in place, and it is doing good. By teaming up with Make Friendship, we hope we can widen the network and earn well for the local fishers.
According to Lakshmi, the idea to start the project stems from many reasons, one being the fading interest in the trade. "It is sad to see how the younger generation is moving away from the trade. One major factor is poverty and the lack of opportunity there. But, just like the farmers, fishing is an essential profession that ensures food to a majority of the state population."
The team decided to start motivating the youth to pursue their family trade by increasing the scope of opportunity there. One way of doing so was by giving them the reigns to run their business.
"It means that instead of having to travel great distances to sell the day's catch, which compromises the quality, fishermen can now sell from a centre located at each panchayat," says Lakshmi.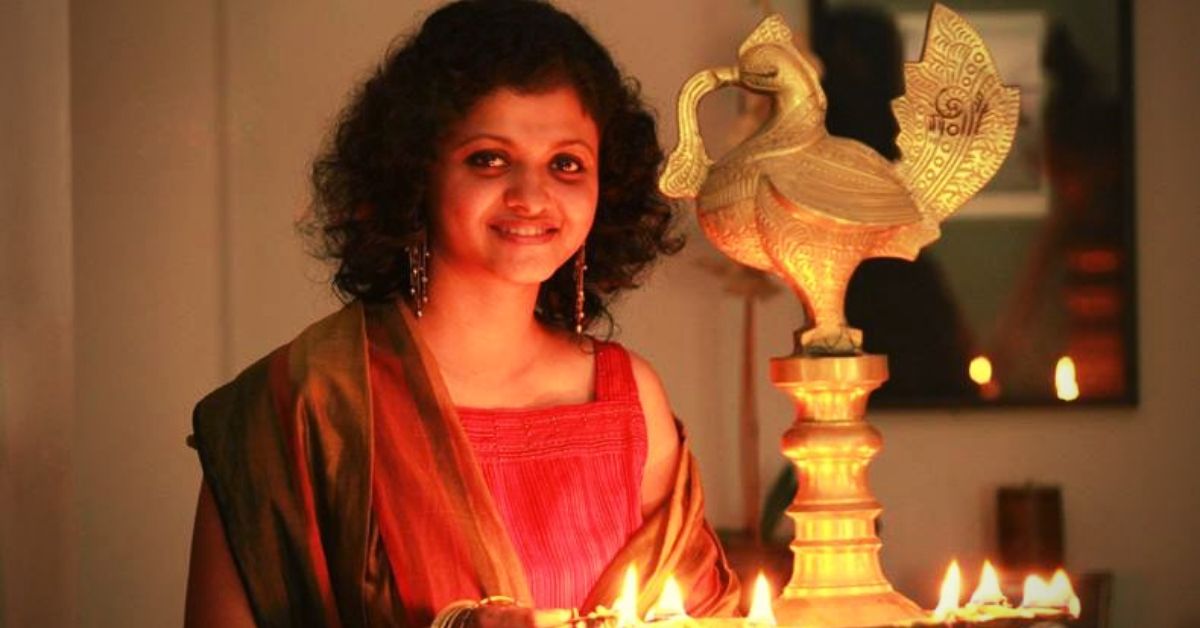 An example of self-reliance, this initiative aims to empower every single member of the family. Explaining the process, she says, "It starts with the fishermen who get the fresh catch to the centre. After a thorough quality check, the women of the family will clean, cut and pack the fish, which will then be delivered to various housing societies and localities on a two-wheeler. It's a fine earning even for the delivery person who might be a college-going boy or girl who can drop the packages during their free time. This business model has received much appreciation and can be replicated all across the state."
She adds that the process will be further bolstered by an app-based order system, to ensure delivery of fresh fish within hours!
Weaves and Waves
The tragedy of 2018 had also inspired the fashion designer within Lakshmi to launch her new collection — 'Weaves & Waves of Friendship' — as a tribute to the two communities. According to her, it is the coming together of weaving and fishing communities that are essential parts of Kerala's social fabric.
And her previous campaign with Chekutty dolls was to help the former.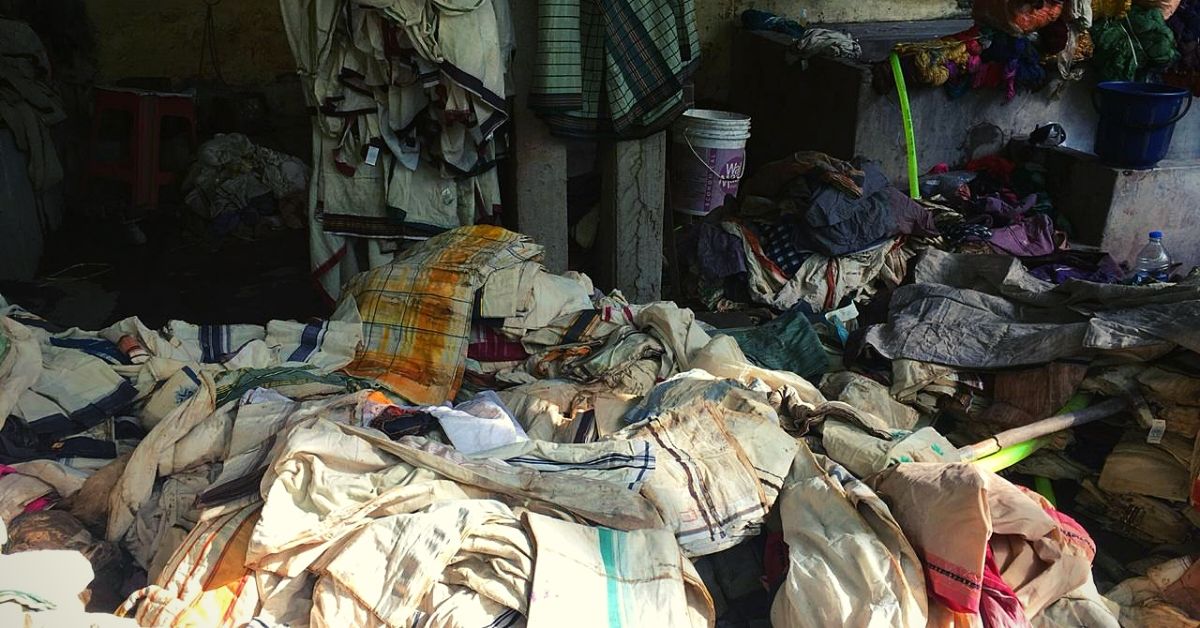 "In the face of the fiery floods, she emerged, soiled, scarred but smiling. A simple rag doll grew to be a symbol of their courage and resilience. A reflection of every Malayali who fought against the waves of destruction," says Lakshmi who created the doll, Chekutty to save a textile village, Chendamangalam.
"The floods had impacted all, but weavers communities had especially incurred great losses. Fabric material worth Rs 21 lakhs was going to waste. I realised that I could not call myself a designer if I can't find a way to save them. And, that was when I had the idea to make dolls out of the soiled fabric from a textile village called Chendamangalam. At the time, everyone suggested burning the waste sarees, but I brought a few homes, washed them and created the dolls called Chekutty."
She explains that in Malayalam, the name could mean, cherinna athujeevacha kutty, i.e. a little child that survived the mud, or even Chendamangalam's kutty or child.
In a few days, with the help of Gopinath Parayil, co-founder of a travel company Blue Yonder, she was able to transform the doll into a mass emotion shared by Malayalees all across the country, and beyond.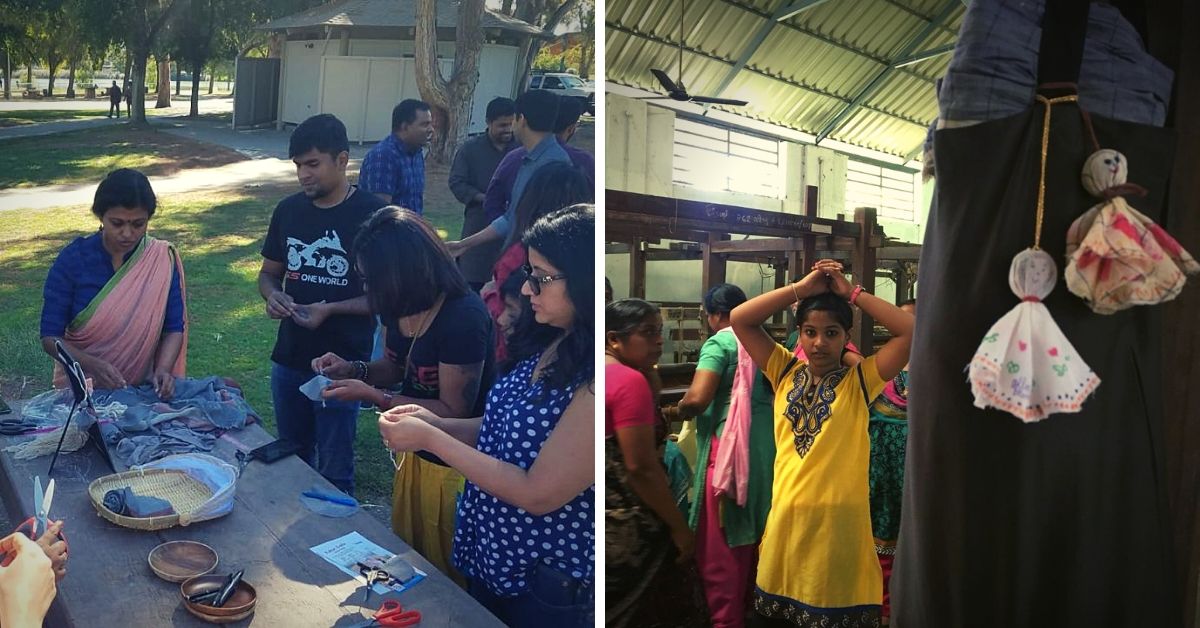 Out of a single saree, almost 360 dolls could be made, and more than 50,000 volunteers and 260 schools contributed by making Chekutty dolls worth Rs 70 lakhs, all of which when to restore regular life in the weaving communities.
Her efforts to help the weavers has yielded outstanding results, taking the awareness to various corners of the globe.
We hope that MakeFriendship, similarly, touches many more lives, bringing the much-deserved respite to the adversity-ridden region.
---
Also Read: Kerala Floods: This Duo's Cloth Dolls Are Rescuing an Entire Community!
---
(Edited By Saiqua Sultan)
We bring stories straight from the heart of India, to inspire millions and create a wave of impact. Our positive movement is growing bigger everyday, and we would love for you to join it.
Please contribute whatever you can, every little penny helps our team in bringing you more stories that support dreams and spread hope.