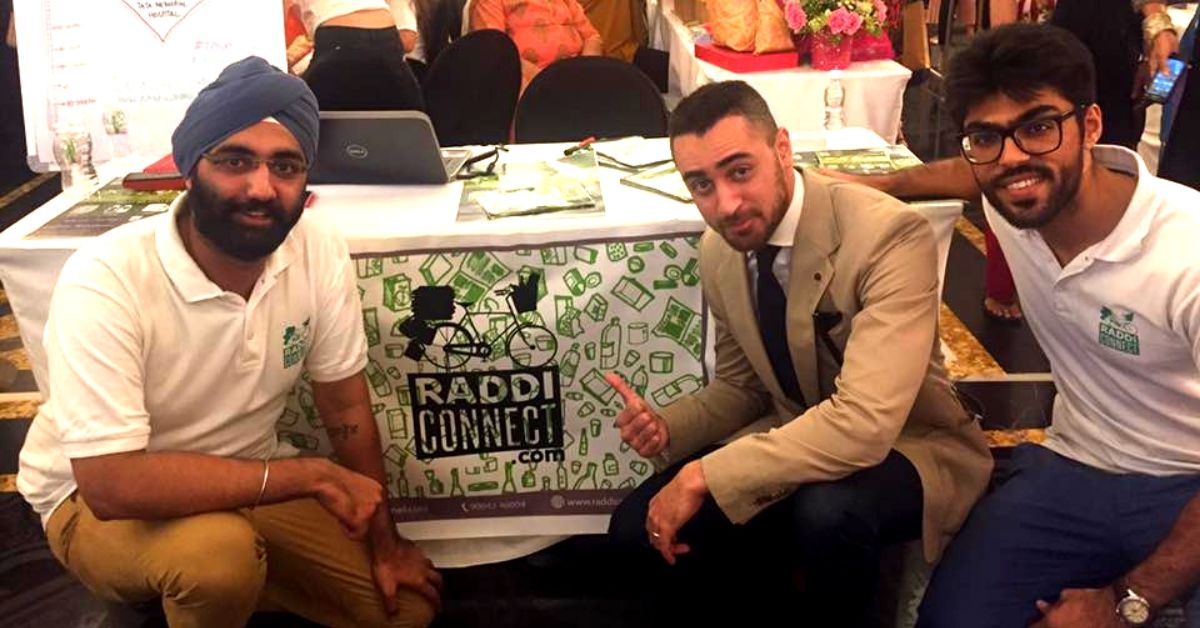 RaddiConnect not only picks up clean recyclable trash from your doorstep free of cost but ensures it is sent to the right recyclers. The biggest impact is that the money you get in exchange for this recyclable waste can be donated to four diverse city-based NGOs.
Growing up, collecting newspapers at home and stacking them neatly was one of my favourite things to do.
My vested interests lay not as much in the content, but the little change (literal) the pile could generate when Dadda and I would secure them with jute ropes and take them to the raddiwala.
---
Just like donating, do you want to shop for a cause? Click here!
---
I always insisted on keeping the small incentive we got and added it to the mutual piggy bank my sister, and I shared.
As I speak to Mumbai-based Rahul Nainani, I cannot restrain myself from thinking that if something like Raddiconnect existed at the time, these smaller incentives could have contributed to a larger impact!
Haven't heard of RaddiConnect? Well, it is Mumbai's first recycling based fundraising platform for NGOs.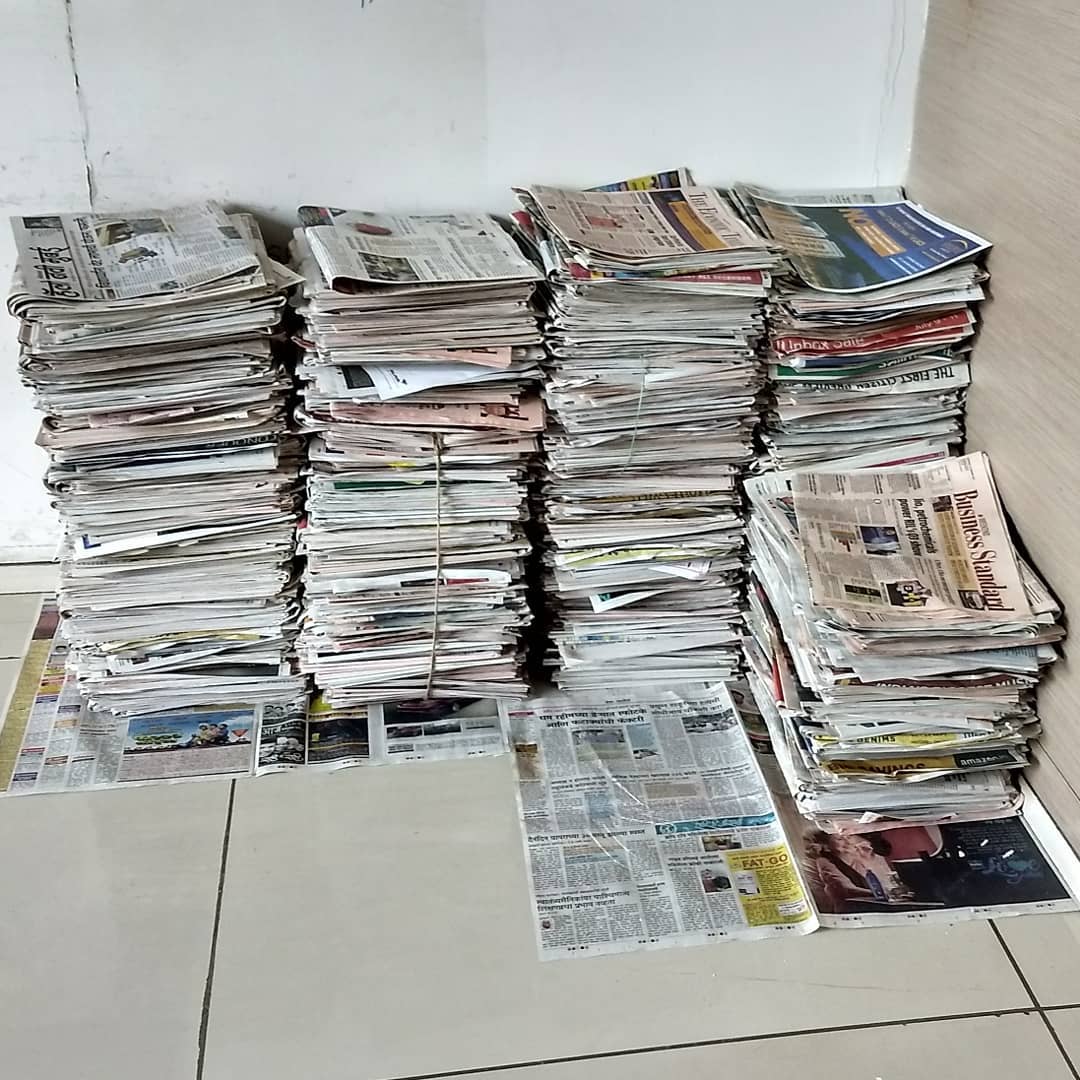 RaddiConnect not only picks up clean recyclable trash from your doorstep free of cost but ensures it is sent to the right recyclers. The biggest impact is that the money you get in exchange for this recyclable waste can be donated to four diverse city-based NGOs.
So, not only are you saving the environment by recycling your waste, but also empowering the bottom of the chain unsung heroes, the raddiwalas and contributing to a social cause!
Speaking to The Better India, co-founder, Rahul Nainani narrates the humble beginnings of this startup that he founded with his friend, Gurashish Sahni.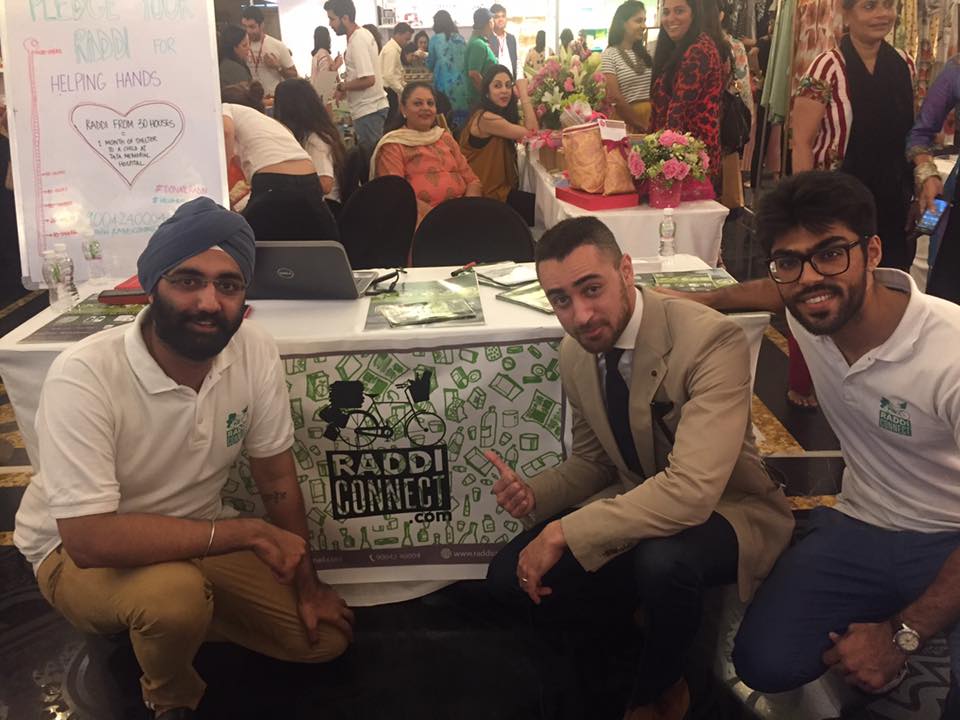 Gurashish and Rahul have known each other since we were in Class 7. They did not go to the same school but had a lot of common friends. While Rahul is a graduate in accounting and financing, Gurashish graduated with a degree in management.
"I remember looking for job opportunities in the market, but nothing was exciting enough. But we carried on working in our respective fields anyway. Gurashish and I first discussed the idea of RaddiConnect over a few drinks. But nothing materialised."
It wasn't until the duo attended the Google startup weekend, that the idea gained momentum. At the seminar, the pair was amidst a crowd of aspiring entrepreneurs who were asked to pitch path-breaking startup ideas.
When they decided to go back in time and pitch the RaddiConnect idea, they were not only shortlisted among the top 10 ideas but beat close to 100 competitors to stand first!
"We researched hard for those days, to check existing models in the market and how we could stand out, made a presentation and won the first prize. The win and positive feedback from the panellists was validation enough to start thinking seriously about this being a sustainable business model."
For nine months, they worked late nights and spent time working on the ground and meeting people within the ecosystem right from the raddiwalas, ragpickers, scrap dealers, recyclers and customers, to understand where they could fit in.
And in August 2015, they officially launched their startup, RaddiConnect.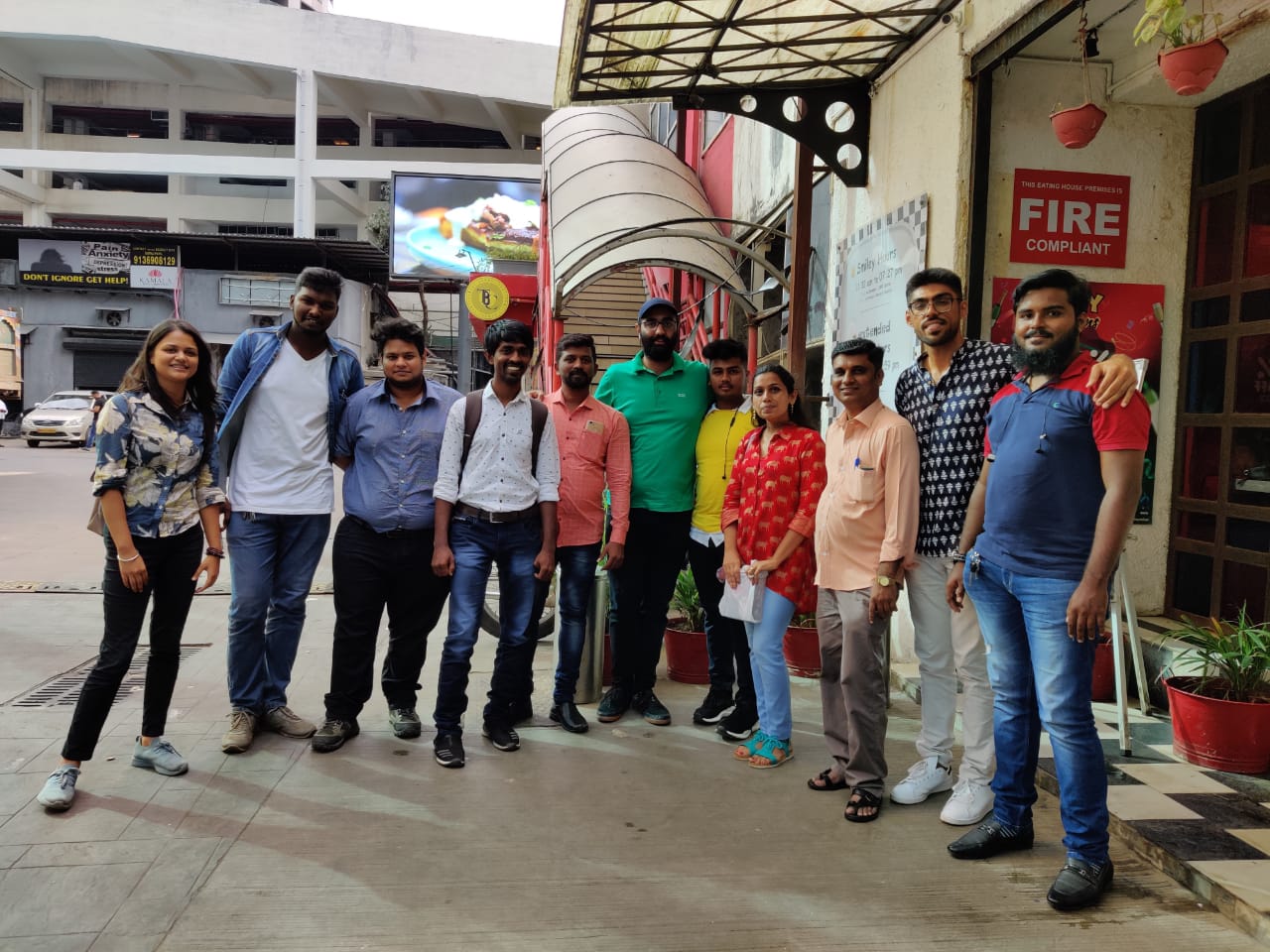 Though their business model has evolved over the years, the initial idea, Nainani says, was to create something like Uber-a platform to act as an aggregator for raddiwalas. This was also to bring organisation in the unorganised waste management structure by standardising their rates and services.
"And so we provided them with electronic scales, identity and rate cards."
How does it work?
RaddiConnect works with an extensive network of about 150 raddiwalas in the area between Churchgate in South Bombay to Borivali in the suburbs.
The process is simple. If you are a household or an institution or a corporate and want to get rid of your recyclable waste, go to the RaddiConnect website here or call on 91-9004240004 to book a pickup.
If you are fixing the pickup online, you have to fill out details including your mobile number, pickup date and time. You will also have to choose between the option to donate or get coupons—if you select the donate option, you can select the NGO you want the proceeds to go to.
Once you fill these details out and click Collect My Raddi, the team will connect you to the closest raddiwalas near your area.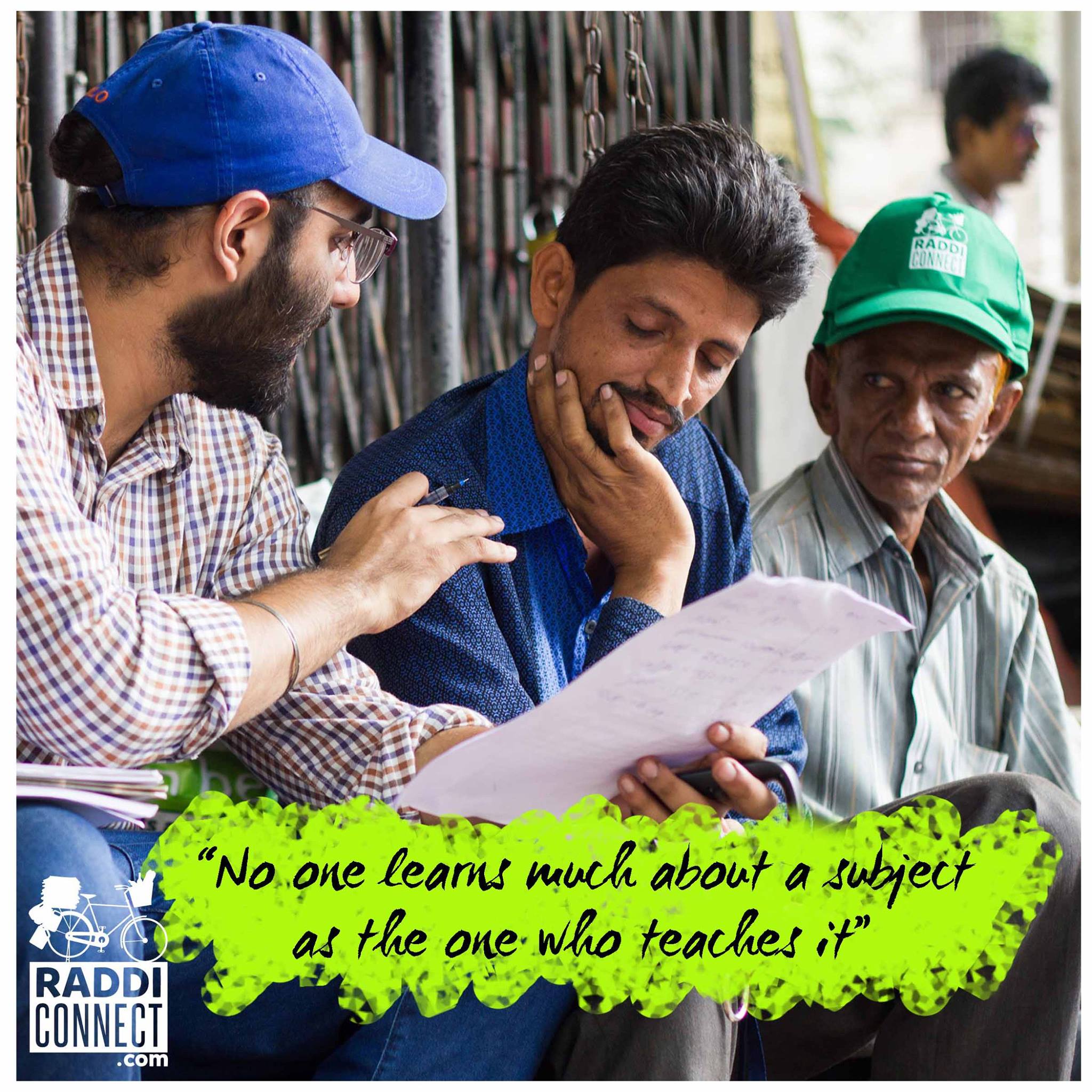 As per the details mentioned, the raddiwala will be at your doorstep at the appointed time and collect it completely free of cost. In case of a donation, the team has tied up with city-based NGOs that have an 80G certificate, so once the raddiwala gives you the receipt of the donation, you can use it for tax rebate!
Some of the NGOs that RaddiConnect is working with include the Helping Hands Foundation, St Catherine orphanage, World For All Animal Care And Adoption and Make a Difference.
"Over the last four years, we have raised 20 lakh for our affiliated NGOs just through trash."
The rates for the scrap are decided based on prevailing market rates. They will be communicated to you via SMS or e-mail on the day of your pickup. Ensure once you give away your scrap, you are provided with a collection slip for your trash by the vendor.
You can even schedule a raddi pickup on a fixed date each month for your household. If an entire society plans to do it, they can organise a pick up for your society on a fixed date each month.
Household customers are provided two options in exchange for their raddi.
While Recycling for a Cause is the popular option most people select to contribute to a larger social impact, the second option is to Recycle for Coupons.
You can exchange your recyclable waste in return for coupons. You will be notified about available coupons on their website.
While they request households to schedule the pickup at the end of one month with eight kgs of raddi, corporate office pickups are scheduled when the minimum weight is 150 kg. For smaller quantities, the service is charged. The brownie point here though is that the corporates get a recycling certificate too.
Since corporates generate large quantities of paper waste, they have been given the third option of "Recycle for 'Goods' where they can exchange their recyclable waste in return for eco-friendly goods made of recycled paper from a catalogue of products such as writing pads, printing paper, envelopes etc.
Once picked, the raddi/shredded paper and other recyclable scrap is sent to government authorised recyclers.
In the last two years, RaddiConnect has also started working with the Brihanmumbai Municipal Corporation.
Nainani also adds how the amendment of Solid Waste Management Rules in 2016 was a boost to their business, because it got the conversation around waste segregation in societies in Mumbai going.
After being allocated space and resources by the BMC, Raddiconnect has set up a dry waste collection centre at a ward level in Dahisar.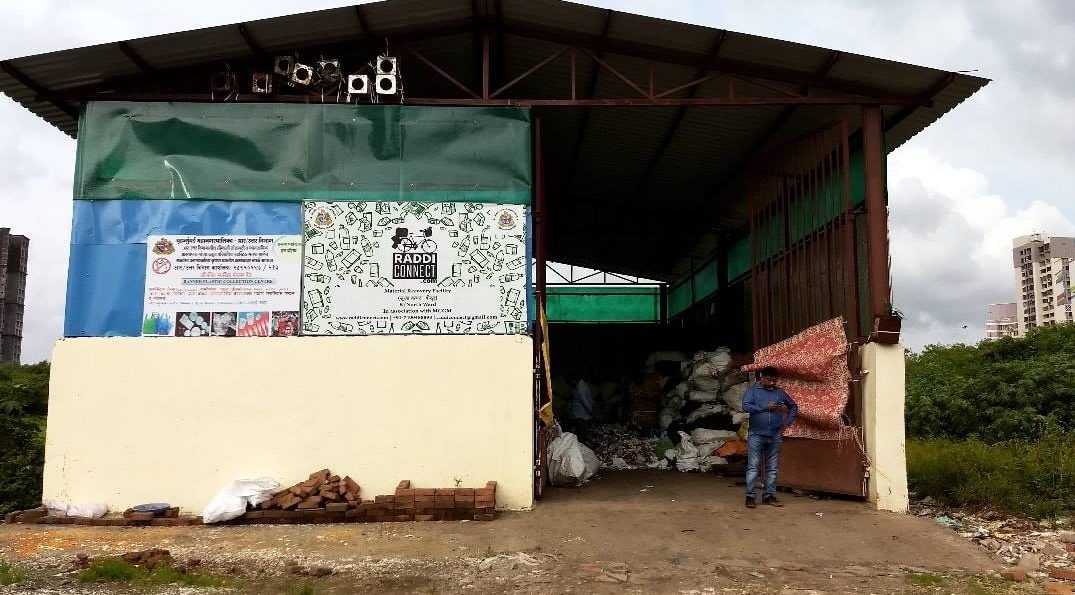 Apart from creating awareness about waste segregation, it collects all kinds of dry waste from societies and corporate offices from paper, chip packet, bottles, cardboard, shampoo packets, glass metal etc everything and segregates it even further, into subcategories such as seven types of plastic, four kinds of paper, type of glass waste etc. All with the help of 15 ragpickers!
"The process is not only helping manage waste at source but helping us uplift ragpickers and raddiwalas who are a blessing in disguise for our country because if it weren't for them, even the little waste that has been recycled over the years 'wouldn't happen. We give them dignified jobs, good wages and safety gears (gloves masks). We are now working to provide them with social security, like helping them start bank accounts, medical camps, etc. We aim to set up such decentralised dry waste centres across the city in every ward."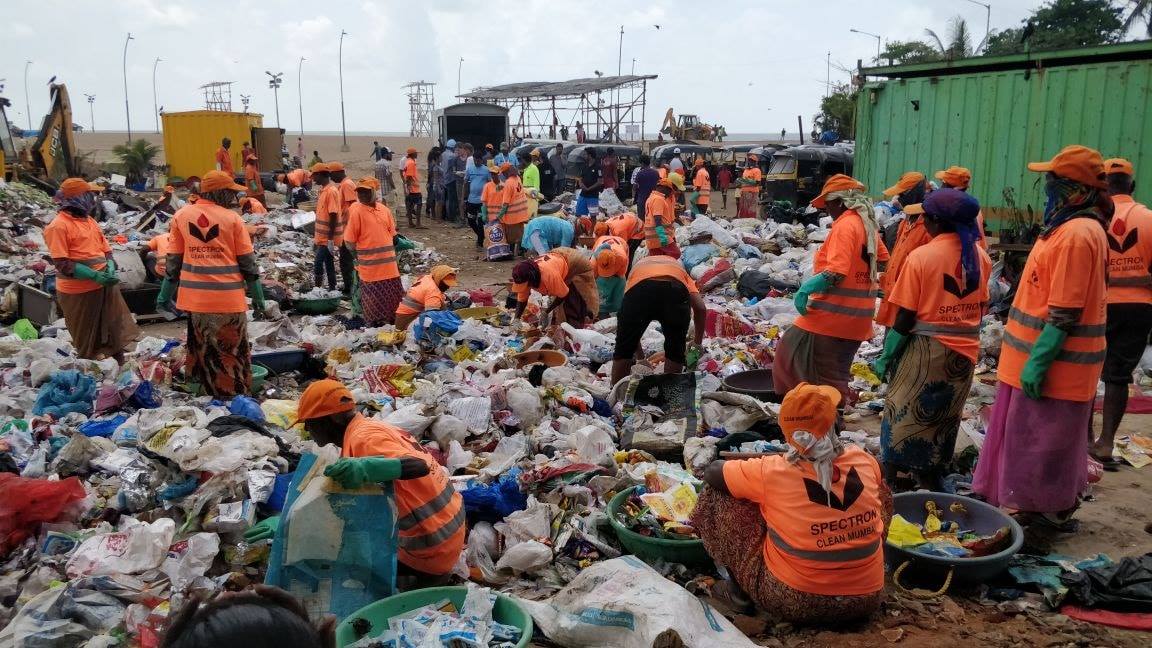 Kapil Vaishnav, who owns a raddi shop in Bandra west, has been associated with the company for almost three and a half years.
"They came to us and spoke at length about their model, and we were impressed. We found merit in their model, and the fact that the proceeds go to a good cause is what makes it meaningful. So I am glad to be working with them," he says.
The innovative startup is also helping industry biggies like Unilever, and Bhagyalakshmi Dairy Farm become plastic neutral by working with them to collect the plastic they put out in the environment under the Extended Producer Responsibility policy where it has been made mandatory for plastic producers to recycle the amount of plastic they put into the environment.
"Since we already have a network of rag pickers, we aggregate this plastic waste on behalf of these companies and send it to the right recycling facilities and give the credits back to the brand. Thereby helping them go plastic-neutral."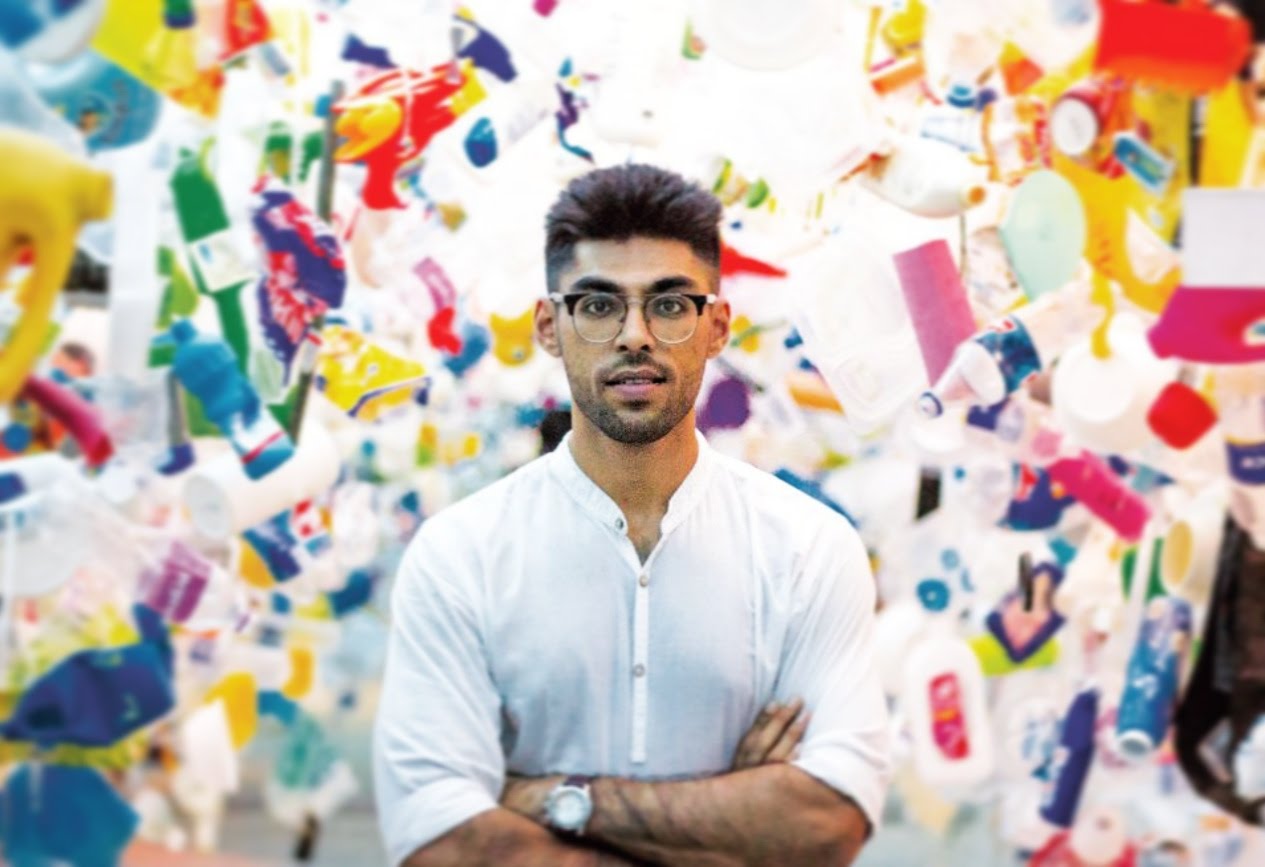 In the last quarter itself, the company has managed to collect 400 tonnes of plastic waste, and the number is only rising.
Madhvi Goenka, the co-founder of Helping Hands Foundation, which has tied up with RaddiConnect, says, "The very concept of RaddiConnect is fascinating. We involve a lot of our students to start recycling under it. And when a child becomes a part of a sustainable initiative like this, by default the change amplifies when they involve their parents, families and communities in it. Recycling is not a concept new to India, nor is it tough. And the very option of donating Rs. 10, 15 or 100 you get from it to a cause of your choice is amazing. It is helping us donate via our trash! The amount may seem low, but we truly believe, "boondh boondh se banta hai sagar," and your small contribution can help change lives in the long run."
If this story inspired you to donate your recyclable waste, get in touch with RaddiConnect here.
Check out their Facebook page and Instagram too!
All photo credits: RaddiConnect
(Edited by Gayatri Mishra)
Like this story? Or have something to share?
Write to us: contact@thebetterindia.com
Connect with us on Facebook and Twitter.
We bring stories straight from the heart of India, to inspire millions and create a wave of impact. Our positive movement is growing bigger everyday, and we would love for you to join it.
Please contribute whatever you can, every little penny helps our team in bringing you more stories that support dreams and spread hope.