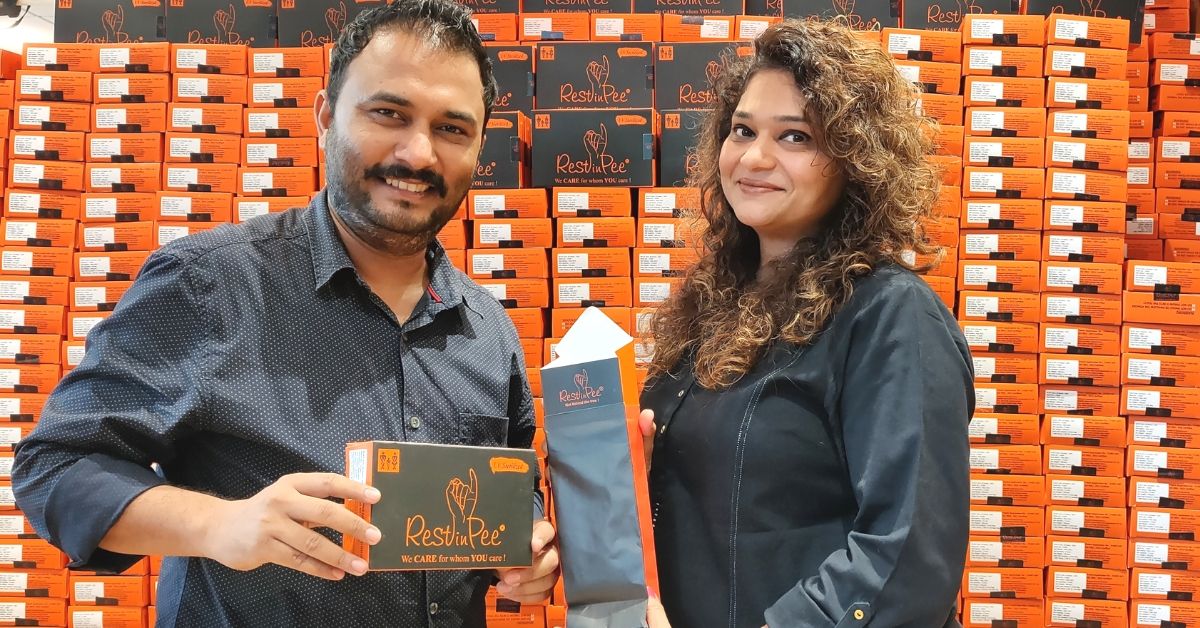 "Being a detective, I have to wait for long hours. I suffered a lot with the extreme urge to urinate," says 39-year-old who co-created the innovative solution!
Whoever said necessity is the mother of invention was not far off the mark. In most cases, the need arises before the supply. And in those times, enterprising souls do not wait for others to offer them solutions for their problems but find a way themselves.
---
Never worry about a bathroom break again! Grab your 'Rest in Pee' bags from Karvinal now!
---
Just like journalist-turned-private-detective-turned-inventor and entrepreneur, Prakash Prajapati. Unable to answer nature's call while on assignments as a detective, he realised that he had to come up with a solution to avoid health complications.
So he did. He came up with the idea of Rest in Pee — a pocket urinal which can be used in cases of emergencies by travellers and people who do not have access to bathrooms for an extended period of time. It is also useful for people with medical conditions like diabetes, urinary incontinence, paralysis, joint pain, back pain and many more.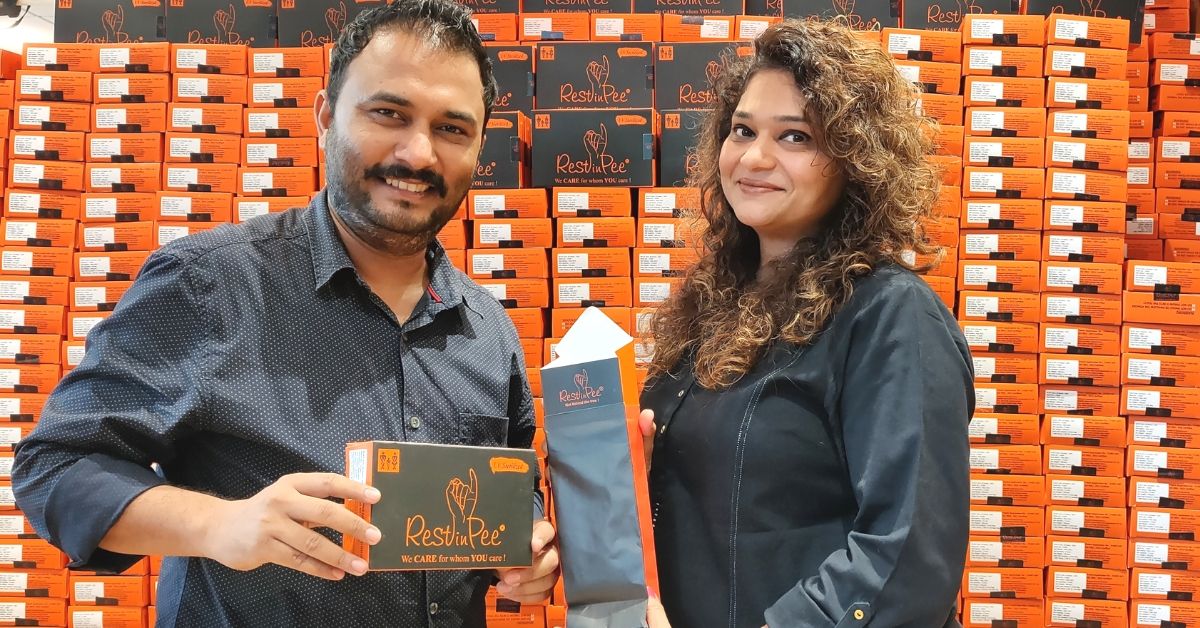 The Unique Need:
After a 12-year stint as a journalist, Prakash decided to quit journalism and pursue a career as a private detective. He launched his private detective agency called, "Seventh Sense Group" in Surat, in 2010.
Being a private detective, I had to wait for long hours at one place in my car. I couldn't leave the subject out of sight during surveillance and had to suffer while holding my pee, throughout. So I started peeing in empty water bottles, says the 39-year-old describing such situations as extremely embarrassing.
Prakash was disheartened after searching for products that could help him. There was an absolute lack of feasible and convenient options. "I looked for portable toilets on the internet but couldn't find a proper solution. The ones available were expensive and oddly designed," he shares.
Prakash's friend, Sushma Patel knew of his predicament and had similar problems to share. A Zumba instructor by profession, Sushma lived with her father who was unwell and needed her help when going to the bathroom every time. Because of this, she also started developing a backache having to manage his weight.
Prakash decided to create something that could not only solve their problems but also help others suffering from similar situations. "I started working on the design and formula. I shared the idea with Sushma and she was excited to join the research," he says.
The duo came up with their product, Rest in Pee, which got sold out even before its formal launch!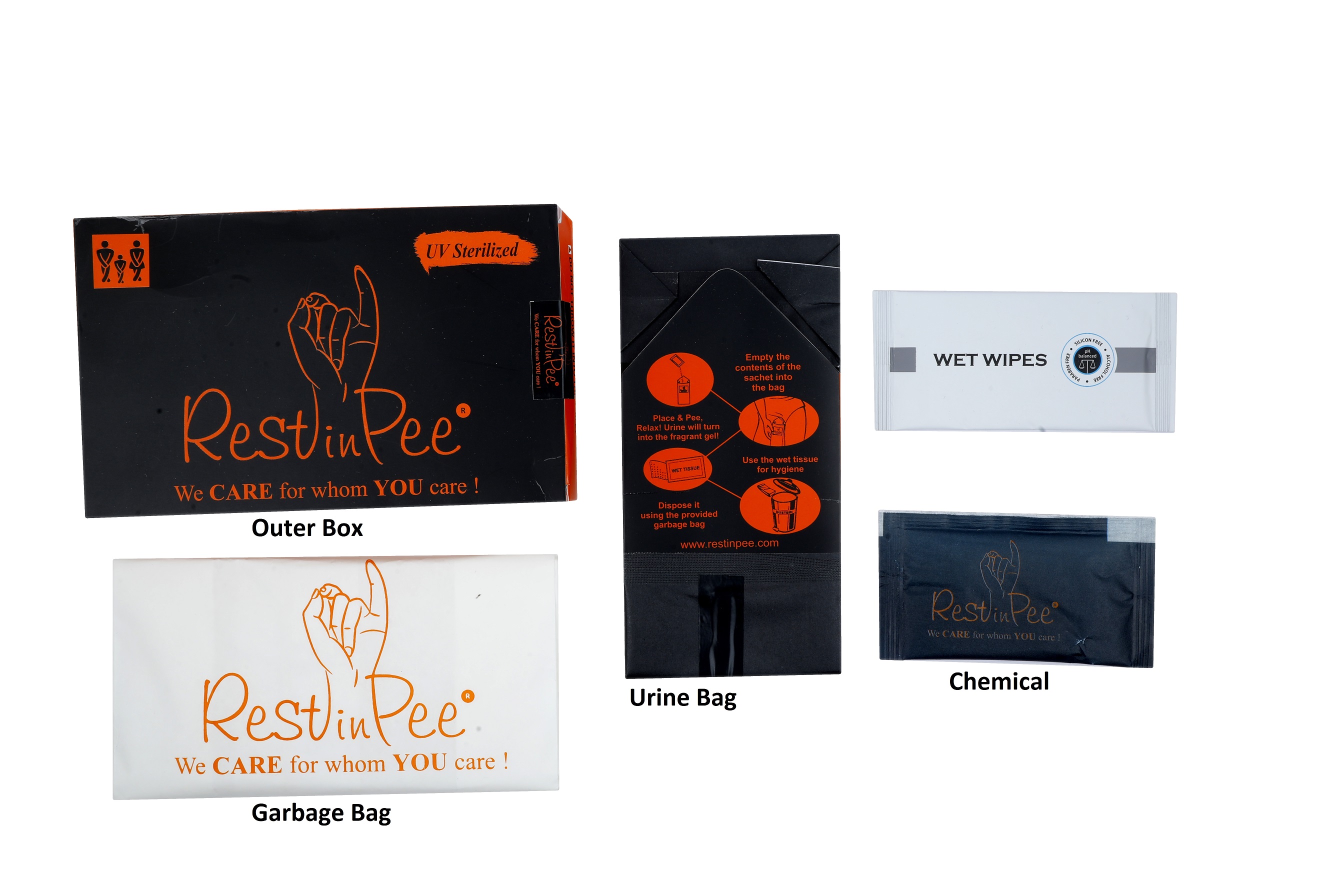 Rest in Pee is a UV-sterilised pocket urinal made from paper. It is non-toxic, leak-proof, odour-free, compact, and easy to use. Rest in Pee comes with a powder which has to be put into the pee bag before you pee into it. The powder converts the pee into gel, thereby preventing leakage.
"It is a urine bag in which one can pee directly. Once in the bag, the urine gets instantly converted into a gel. One can use it in the car, tents, in public toilets, sleeper coach buses, small offices and any other place," says Prakash.
Prakash explains that they had to research a lot before coming up with the product. At first, they experimented with the material. "During our initial research, we had thought of using plastic. But soon the government announced a ban on plastic and we decided to go with a paper bag. The first design was not successful. Next, we added a gusset, which made the bag more compact. Later we added a funnel with the gusset," says Sushma.
After they had devised the design, they had to ensure that there was no way that the urine would leak out of the bag. "We wanted to add something that would absorb urine or turn it into a gel, like a diaper does. We conducted several experiments with different chemicals. Finally, we found the perfect combination of chemicals which could convert urine into gel instantly," informs Prakash.
It took Prakash and Sushma more than a year to develop the product which went on sale in June this year.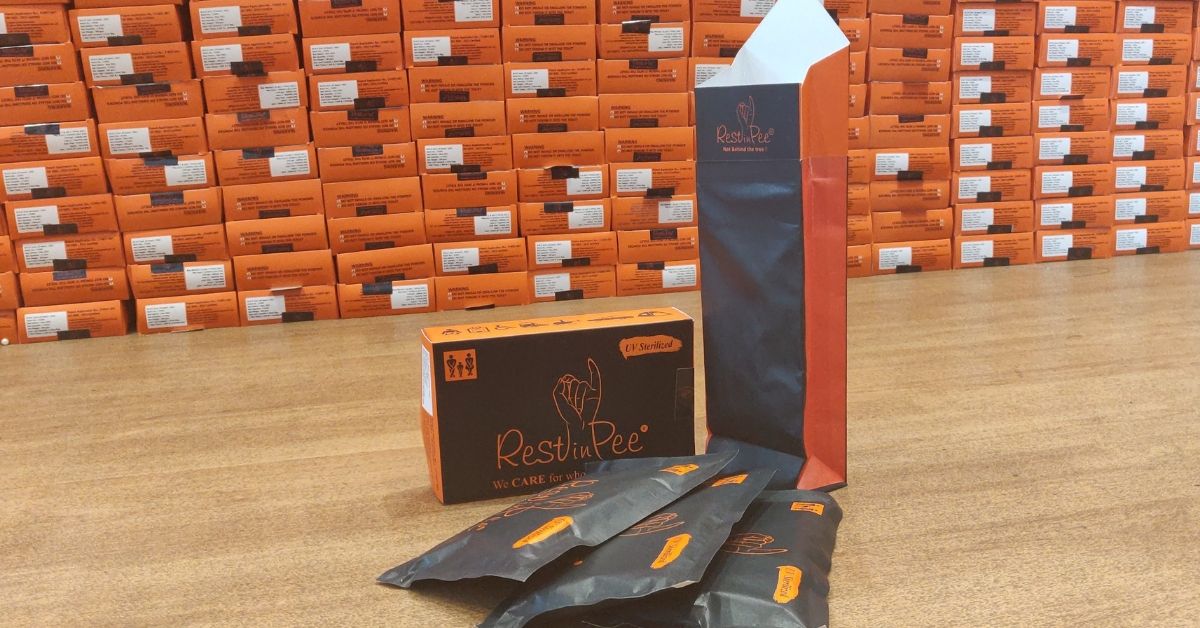 We offered a booking option 15 days before the launch of the product. To our surprise, we started getting hundreds of calls and people started ordering the product. In 15 days we sold 6,000 units!! We were happy, but we were scared because we had no ready stock, says Sushma.
Their message became viral not only in India but in other countries like the US, Canada, Britain, Australia, Malaysia, Singapore, and UAE, among others. Since they launched Rest in Pee in June, they have already sold the product to 1,500 people.
The price of the product is Rs.169 for a pack of three urination kits. One urination kit contains a use and throw urine bag, one sachet of a combination of substances that convert the urine into a gel, one wet wipe and one garbage bag.
So, what is the story behind the unusual name?
We named it "Rest in Pee" after a lengthy discussion where several names were up for consideration. We realised that we feel a measure of relief when we finally find a place to pee after a long wait. That's why we named it 'Rest in Pee' which is a play on the phrase 'Rest in Peace', smiles Prakash.
---
Never worry about a bathroom break again! Grab your 'Rest in Pee' bags from Karvinal now!
---
(Edited by Saiqua Sultan)
Like this story? Or have something to share?
Write to us: contact@thebetterindia.com
Connect with us on Facebook and Twitter.