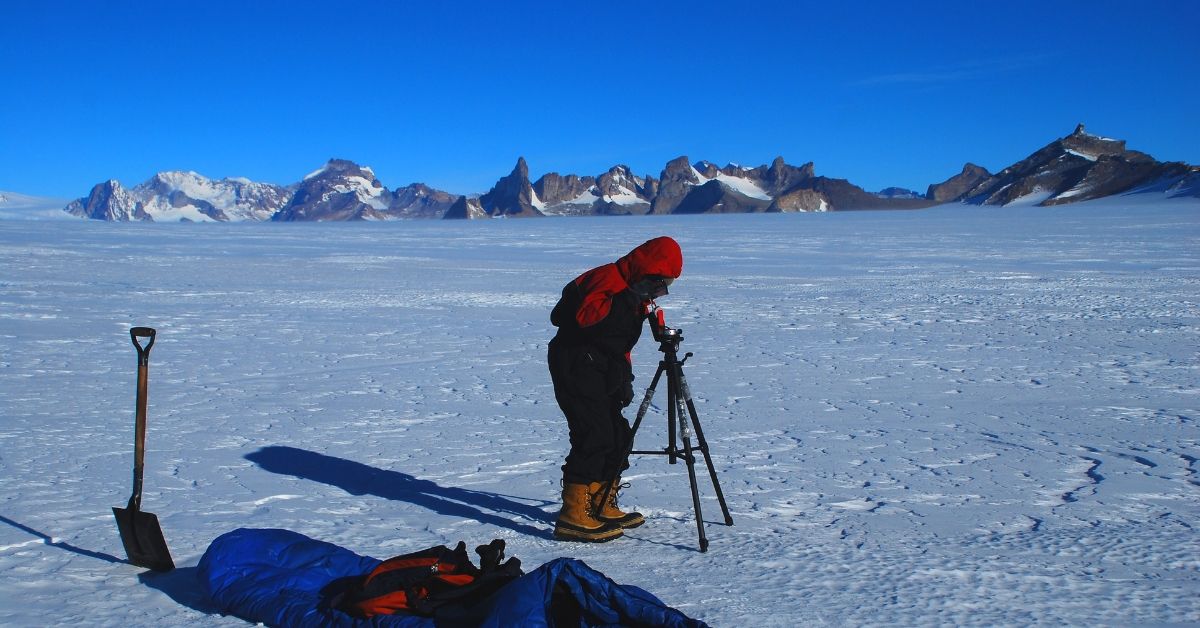 Cut off from civilization, these scientists spend months studying everything from the history of super-continents to bacteria in glaciers, and have fun while at it!
Bracing herself against the chilly katabatic winds, Dr Mayuri Pandey pulled out her polar gloves to jot down notes about the rock samples she had just collected. The cold bit into her fingers, sending a shiver down her spine, but she didn't mind. She was loving every moment out in the icy coast of East Antarctica. It was her dream come true.
Dr Mayuri, a geologist at Banaras Hindu University, was fascinated with Antarctica right from when she was a teenager. As a first step towards realising her ambitions of visiting the polar continent, she took up a PhD in Antarctic geology at Delhi University.
But it wasn't until towards the end of her doctoral research that she stumbled upon an opportunity to be part of the 36th Indian Scientific Expedition to Antarctica.
---
Handmade paper notepads, recycled printing paper, bamboo pens and office accessories.  Check them all out in this eclectic collection, here. 
---
The First Women
Indian Scientific Expeditions to Antarctica (ISEA) began in 1981 when India signed the Antarctic Treaty. Scientists of all persuasions flocked to the white continent to study ice sheets and glaciers, penguins and seals, the atmosphere, the magnetic poles, extremophiles and much more that make this land a unique laboratory on earth.
Among these first scientists were oceanographer Dr Aditi Pant and geologist Dr Sudipta Sengupta, who were also the first women from India to set foot on the Continent of Science, way back in 1983.
In those days, India only had one base station— Dakshin Gangotri, now defunct and fully submerged in ice. The Maitri station was already up and running by then in Schirmacher Oasis in East Antarctica and is still an active research base.
In 2012, an ultramodern station called Bharati was set up on an island about twelve hours by flight from Maitri. Unlike the old boilers used for heating in Maitri, Bharati has an advanced generator-based heating system, in which even the dissipated heat from the engines is reutilised for maintaining temperature.
Drinking water is obtained from the sea through reverse osmosis, and water and waste are treated, recycled, and managed as efficiently as possible.
Gondwana
Since the time of Dr Aditi and Dr Sudipta, approximately fifty women have taken on the highly risky and arduous expedition for the sake of science.
One of the broader questions many of them focus on is the connection between India and Gondwana.
Gondwana is a supercontinent that is supposed to have existed 550 million years ago. As the earth's tectonic plates drift and collide, supercontinents keep forming and breaking apart. Eleven such supercontinents have formed during the course of our planet's history. Gondwana, named after a region in central India, is one of the most recent to have formed and split again.
Research suggests that the coast of East Antarctica where Bharati is located, also known as Princess Elizabeth Land, was attached to India's eastern coast while it was a part of Gondwana.
If that were true, the geochemistry of the rocks of the two regions would match. This was precisely what Dr Mayuri Pandey was hoping to verify as she collected samples along the shore.
Princess Elizabeth Land is always under ice, but glaciers erode the soil and deposit sediments along the coast. These are exposed when the ice melts in the summer. By analysing the sediments, Dr Mayuri reconstructs the geochemical profiles of the East Antarctic earth and compares them to that of its Indian counterpart.
She is also interested in orogens—mountain ranges that form when a continental plate crumples and pushes the crust upwards. Studying these, one can infer the directions and events of ancient tectonic movements. "The Gamburstev Mountain Range is one such orogen, but the amazing thing is that it is completely underneath the Antarctic ice," says Mayuri.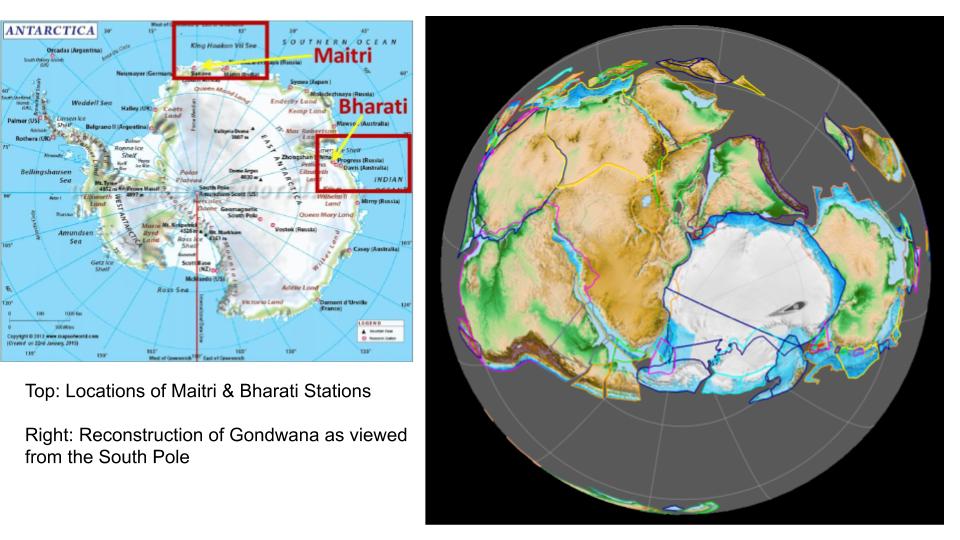 Dr Rupali Pal studies the geohistory of Gondwana as well but through natural radioactivity in soil. She is a physicist from BARC who was on the 35th ISEA, also a summer expedition. She collected soil and rock samples to generate a baseline soil radioactivity dataset around Bharati station.
Soils rich in Thorium, such as the monazite sands along the coast of India, display a certain amount of natural radioactivity. If the radiation signatures in soils around Bharati are comparable to that of the Coromandel coast, that would further strengthen the Gondwana hypothesis.
Both Dr Mayuri's and Dr Rupali's work suggests an affinity between the East coasts of Antarctica and India.
Dr Rupali's fondest memories from her Antarctic trip are the Indian festivals that were celebrated. The biggest functions were on Republic Day and Independence Day, which the current team of the 38th expedition would be celebrating.
Climate Science
Another pertinent field of study that brings a large fraction of scientists to Antarctica is climate science.
Megha Maheshwari is a scientist from ISRO who studies land ice. Ice, being highly sensitive to temperature variations, is the best natural thermometer we have and is critical in understanding climate systems and climate change. The main objective of her mission was to verify satellite images of land ice with on-ground data.
There are two types of land ice—blue ice which forms under high pressure and is densely packed, and ice sheet, a thick and large expanse of solid ice covering the terrain. The surface of blue ice is typically rougher than that of ice sheets.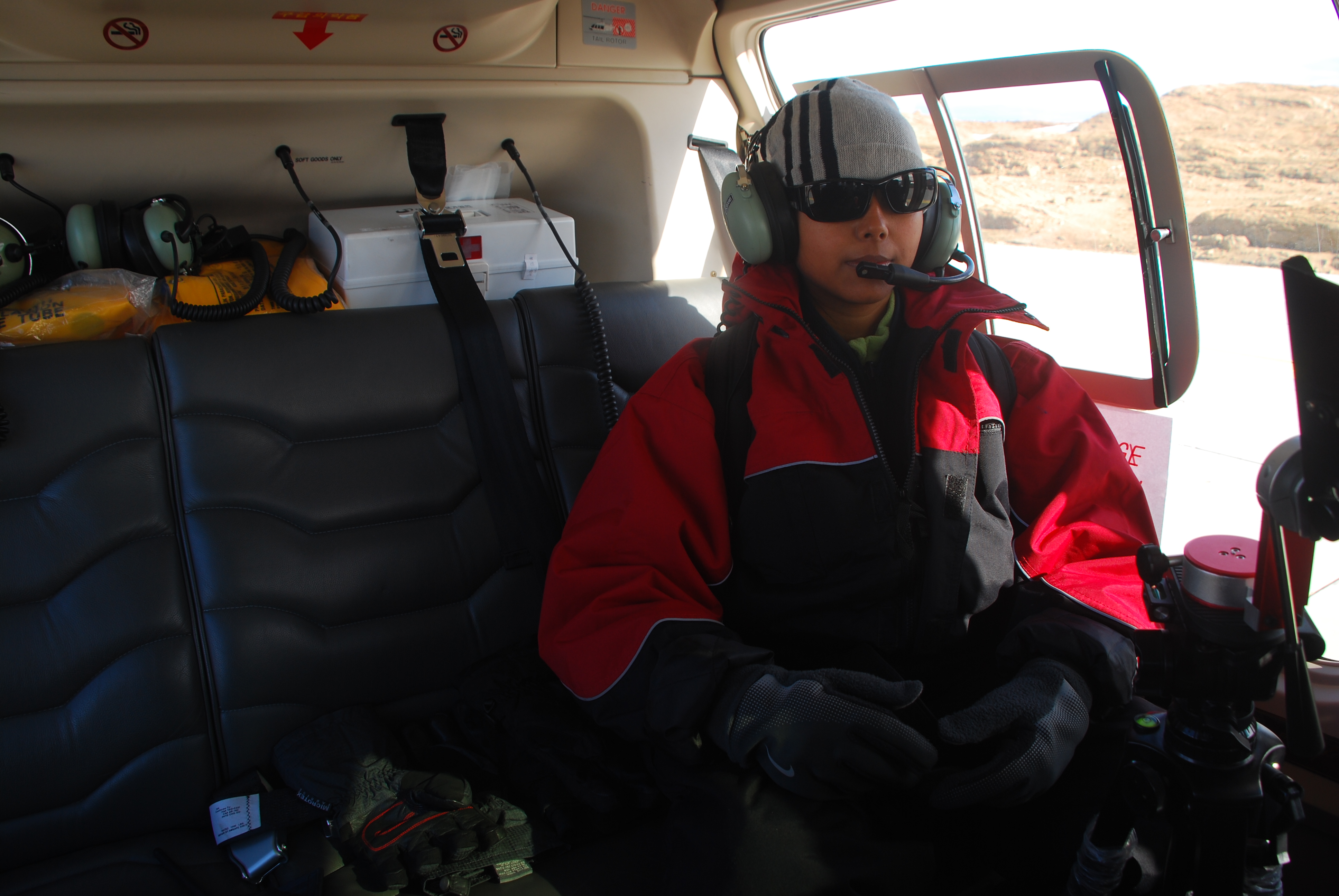 Over the summer of 2013, Megha measured the surface roughness of blue ice and ice sheets in a 100-kilometre radius around Bharati and Maitri stations.
This is done using a profilometer, a device which effectively shines a red laser at the ice and analyses how the surface scatters the light. She compared her findings to satellite images of blue ice and ice sheets in the same locations, to quantify how ice roughness translates to features in satellite imagery.
Once the correlation between satellite data and on-ground data is established, the surface roughness of land ice seen in large-scale satellite surveys can be interpreted correctly, which helps to understand climate patterns.
Dr Gautami Samui, a researcher from NCPOR, tries to understand climate through its relationship with glacial ecosystems. She has been on three Antarctic expeditions and studies various aspects of the biogeochemistry of the topmost layer of glaciers—the supraglacial layer.
Supraglacial ecosystems, such as cryoconite holes and glacial meltwater, are huge reservoirs of nutrients and host a variety of microbes, interacting with their chemical and physical environment, which in turn impacts glacial nutrient availability, melt rates, overlying atmospheric chemistry and albedo (the fraction of light that is reflected by a surface without being absorbed)— all of which are essential components of the climate system.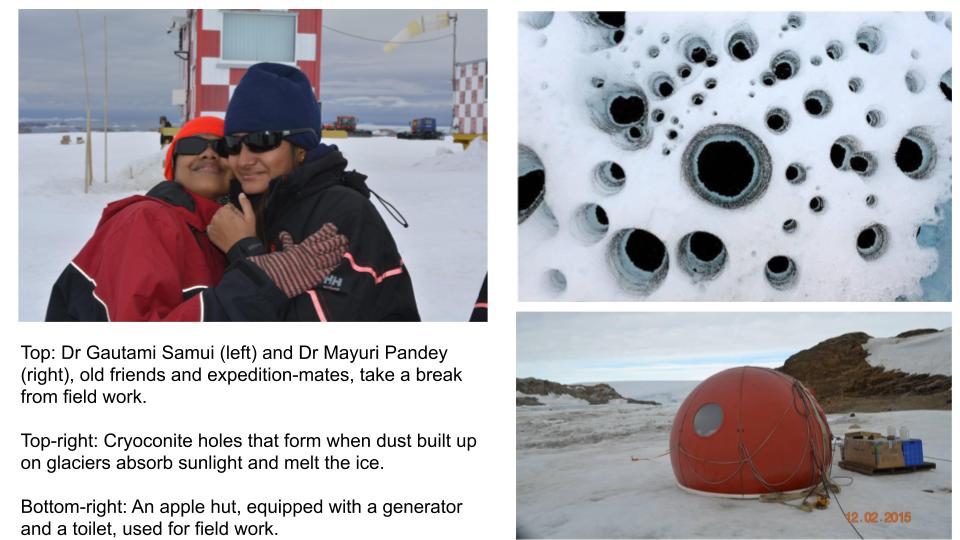 The 37th expedition
There were only two women in the most recently concluded Antarctic expedition, which was also a winter mission. Ankitha Eravelli, a space scientist from ISRO, wintered over thirteen months, while Dr Sejal Tambat, the general physician for the expedition, spent 500 days in Antarctica, through one winter and two summers.
Ankitha was in Antarctica on behalf of ISRO to carry out ground station operations for low-earth satellites and launch vehicles. It is much easier to track the polar-orbiting satellites near the poles. In India, you can spot them about four times a day, out of the fourteen times they orbit. At Bharati, they are visible up to ten to twelve times daily.
Polar-orbiting satellites, which usually follow a sun-synchronous orbit always pass over a region at the same local time, making it possible to measure changes in quantities such as atmospheric temperature.
Our polar satellites primarily survey India, and their longitudes don't vary much. This makes Bharati a great vantage point for monitoring them as it lies on the same longitude as Western India, and its clock is only thirty minutes behind Indian Standard Time.
Dr Sejal and her husband, Dr Nidhin Joseph, were working in rural Meghalaya when they were offered a seat on the expedition. It was a perfect fit for the couple, but
Dr Joseph had to cut his trip short and return to India to take care of a family emergency.
As the only doctor on the team, Dr Sejal's primary work was to regularly monitor health, provide first-aid, and even surgeries when needed. She says that while Bharati has a well-equipped medical facility, the most pervasive health concerns were mood swings and weight gain, especially during the polar nights. She encouraged the team to be active and go out and counselled them when necessary.
"We had a really nice gym, but it's hard to motivate yourself when you're already low," she says, empathising with her colleagues.
To break the monotony, mid-winter festivals are celebrated, and base stations of different countries invite each other for feasts, festivities, and fun.
Contrary to what one may expect, the general atmosphere in Antarctica is very friendly and co-operative, with minimum security and zero military personnel. Dr Sejal recalls a time when an Indian scientist had an injury during field-work and was taken to the nearby Chinese base for treatment.
Dr Sejal and Ankitha became close friends during the long winter stay. Watching auroras together was their favourite thing to do together. Auroras are produced when the particles of the solar wind interact with the earth's geomagnetic field and are pulled to the poles, where they collide. The ionisation and excitation of these particles create bright greens, blues, and pinks.
"Sometimes the haze is so green, you can see it reflecting off the ice," says Ankitha enthusiastically, the memory of it still fresh in her mind.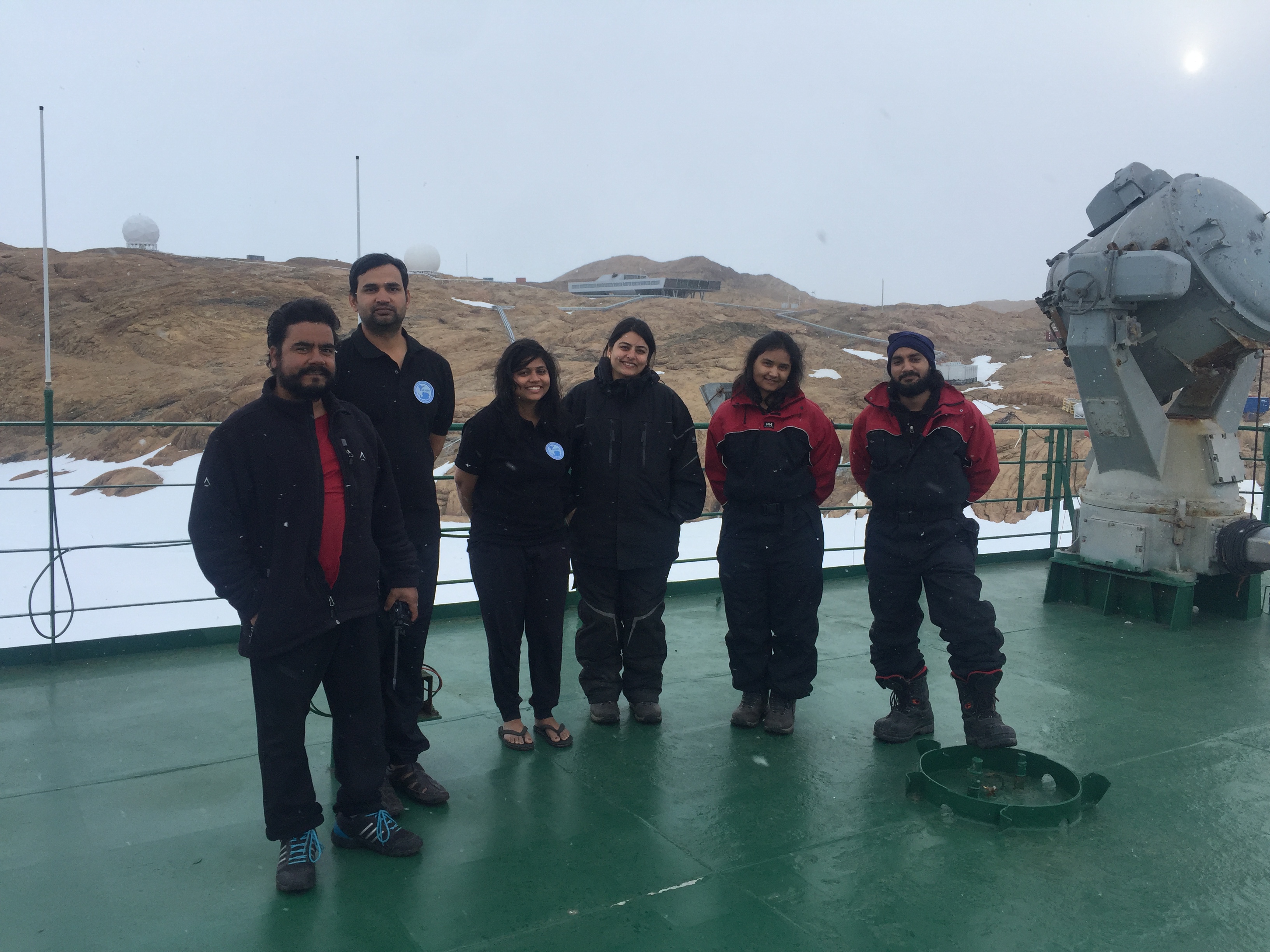 Besides watching auroras, Ankitha and Sejal used to do a lot of photography and star-gazing. They used to hike to the icebergs frozen in the sea, even as far as 20 kilometres from base. They observed penguins, seals, and skua.
"When Ankitha left," Sejal says, "I realised what a difference it makes to have other women on the expedition. We cope with stress similarly, talking and sharing our thoughts. I hope more women head to Antarctica."
Ankitha is back at ISRO in Hyderabad. She started a blog where she writes about her Antarctic stories. Sejal and Nidhin are in Mumbai and have joined Doctors Without Borders.
Sejal and Ankitha still talk regularly, and when they long for the feel of snow under their feet, they content themselves by looking at the beautiful pictures and timelapse videos they shot together.
---
---
(Edited by Gayatri Mishra)
Like this story? Or have something to share?
Write to us: contact@thebetterindia.com
Connect with us on Facebook and Twitter.
We bring stories straight from the heart of India, to inspire millions and create a wave of impact. Our positive movement is growing bigger everyday, and we would love for you to join it.
Please contribute whatever you can, every little penny helps our team in bringing you more stories that support dreams and spread hope.