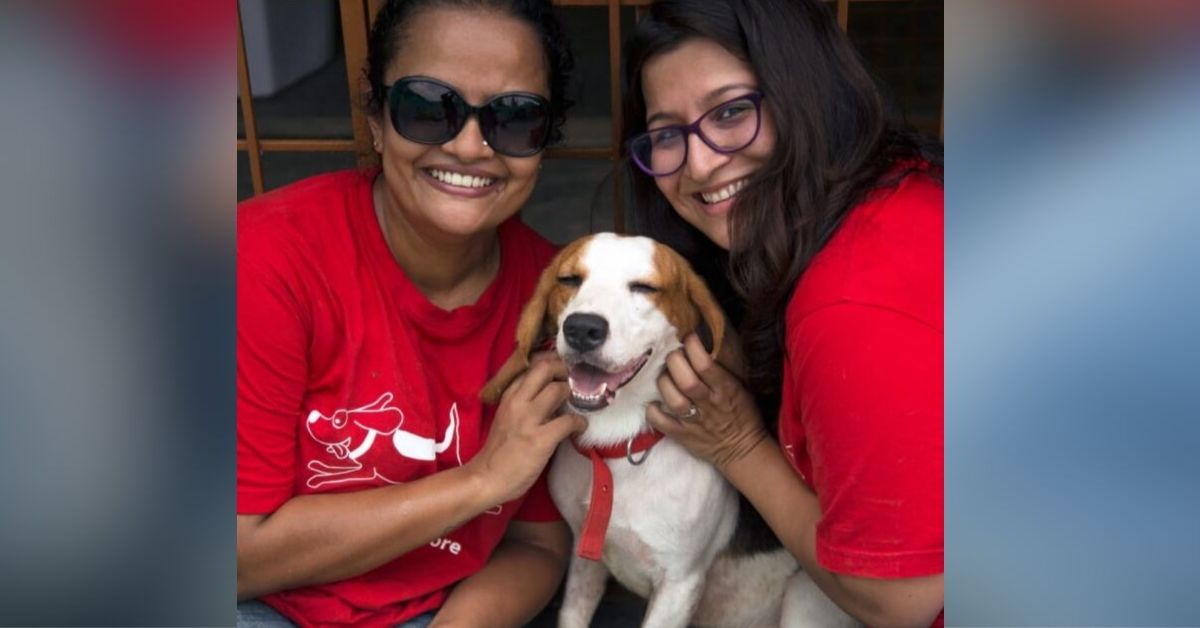 Not long ago, these 'freagles' were terrified creatures living in solitary cages in labs, with little company or stimuli — even sunlight was alien to them. #HeroesOfHumanity
Sharing the couch with the bride and the groom, Sparky was the cynosure of all eyes during the wedding and effectively stole the newlyweds' thunder.
While the guests couldn't stop marvelling at the adorable and affectionate pup, only the couple knew what a scared fellow young Sparky was when they first met him. And for a good reason too.
---
If you like to experiment with food every once in a while, why should your pupper eat the same boring food every day? Try something new, both delicious and healthy! Check out our range of dog food, here!
---
Sparky had grown up in isolated, strictly controlled and pitiful conditions in Bengaluru. He was one of the hundreds of beagles used by pharmaceutical and pesticide companies for research.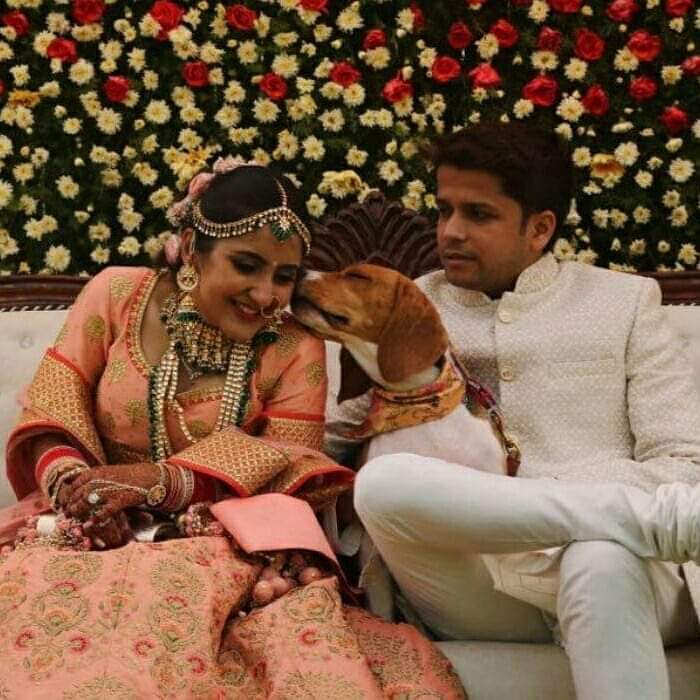 Let me describe what an animal testing lab looks like. Dimly lit rooms with tiny cages for the dogs to eat, urinate, defecate and sleep in, and zero contact with other canines or a loving, caring human.
A common misconception is that animals are caged for testing by labs. However, the reality is that this is not an arbitrary process; the law mandates it.
Chinthana Gopinath, who works for the rehabilitation of lab-test beagles, explains to The Better India what this procedure is like.
"Pesticides have to be tested on small animals like rabbits and hamsters. If the results are positive, they advance to a bigger, more complex mammal species: dogs. Only after this step can labs go further to tests on humans. Now, beagles are bred to be docile, and since they weigh only up to 10-12 kg, they are the most popular species in lab testing. This means that hundreds of these highly intelligent and curious dogs are raised in a confined environment every year."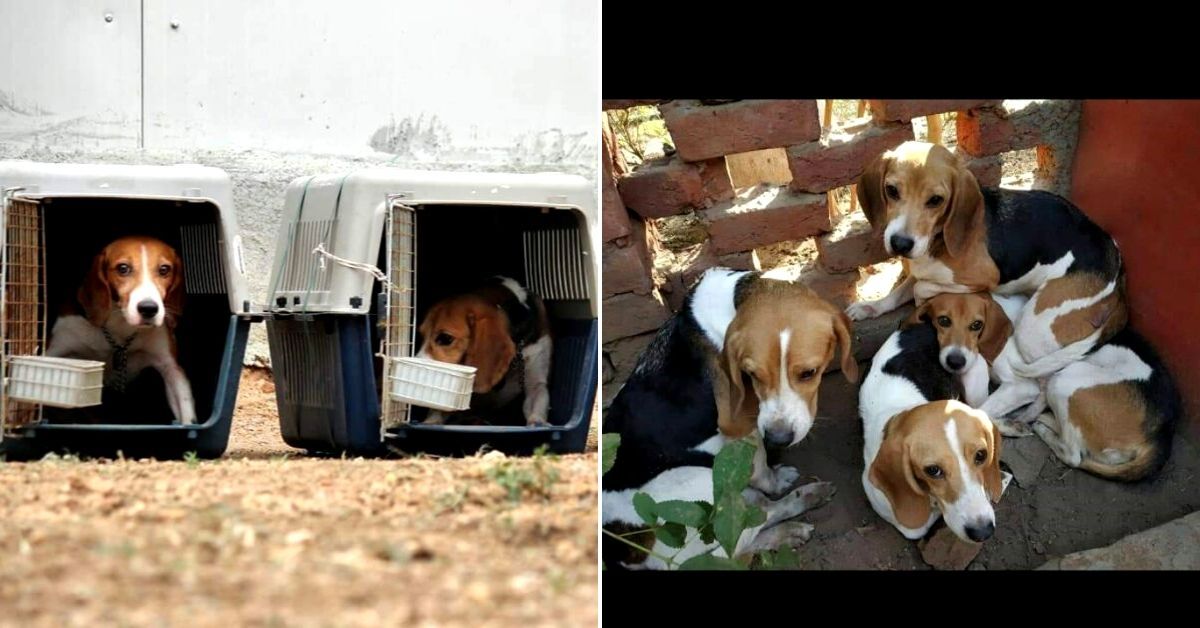 These dogs live a terrible life, even after the projects conclude, life does not get better for them. In most cases, they are euthanised.
In 2015, India passed a law saying that after the completion of one project or after the test-dogs are three years of age (whichever is the earliest), they need to be rehabilitated.
"This is where it gets tricky. Generally, people think of dogs as highly energetic beings who shower their love on humans and like to be cared for. But one must understand that the beagles have grown up in captivity. Sunlight, human touch, outdoor smells are all alien stimuli to them. When we say "free" we generally imagine the dogs to be suddenly happy and playful. That is never the case," Chinthana explains.
In 2012, she adopted a rescued Beagle through Compassion Unlimited Plus Action (CUPA) in Bengaluru.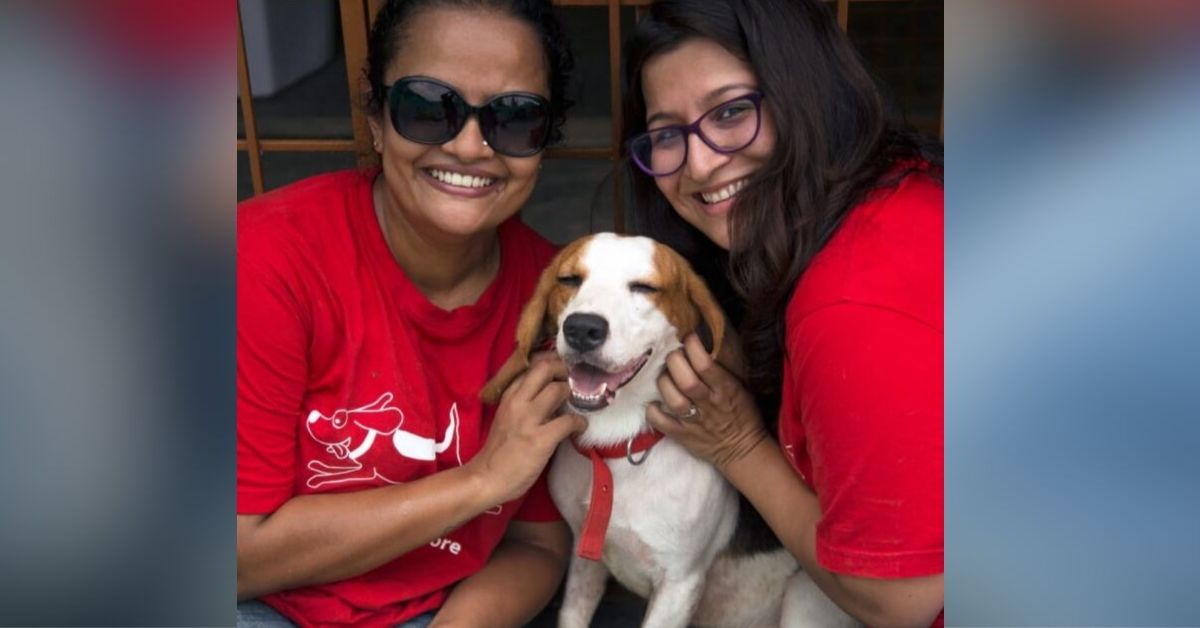 Then, in 2016, when a Bengaluru laboratory shut shop, about 250 beagles were suddenly free. Since Chinthana already had experience with the breed, CUPA approached her to help the 250 dogs find a haven.
So, the 39-year-old, started Freagles of India (FoI), not just to rehabilitate the animals but also train prospective pet parents to create a safe space for them. Awanti Agarwala, who Chinthana had come to know through CUPA also joined the initiative.
Together, they became the founding trustees of FoI.
When the not-for-profit organisation is put in charge of the dogs to be rehabilitated, they go step by step to gain their trust.
For instance, the dogs are never touched or played with unless they approach humans.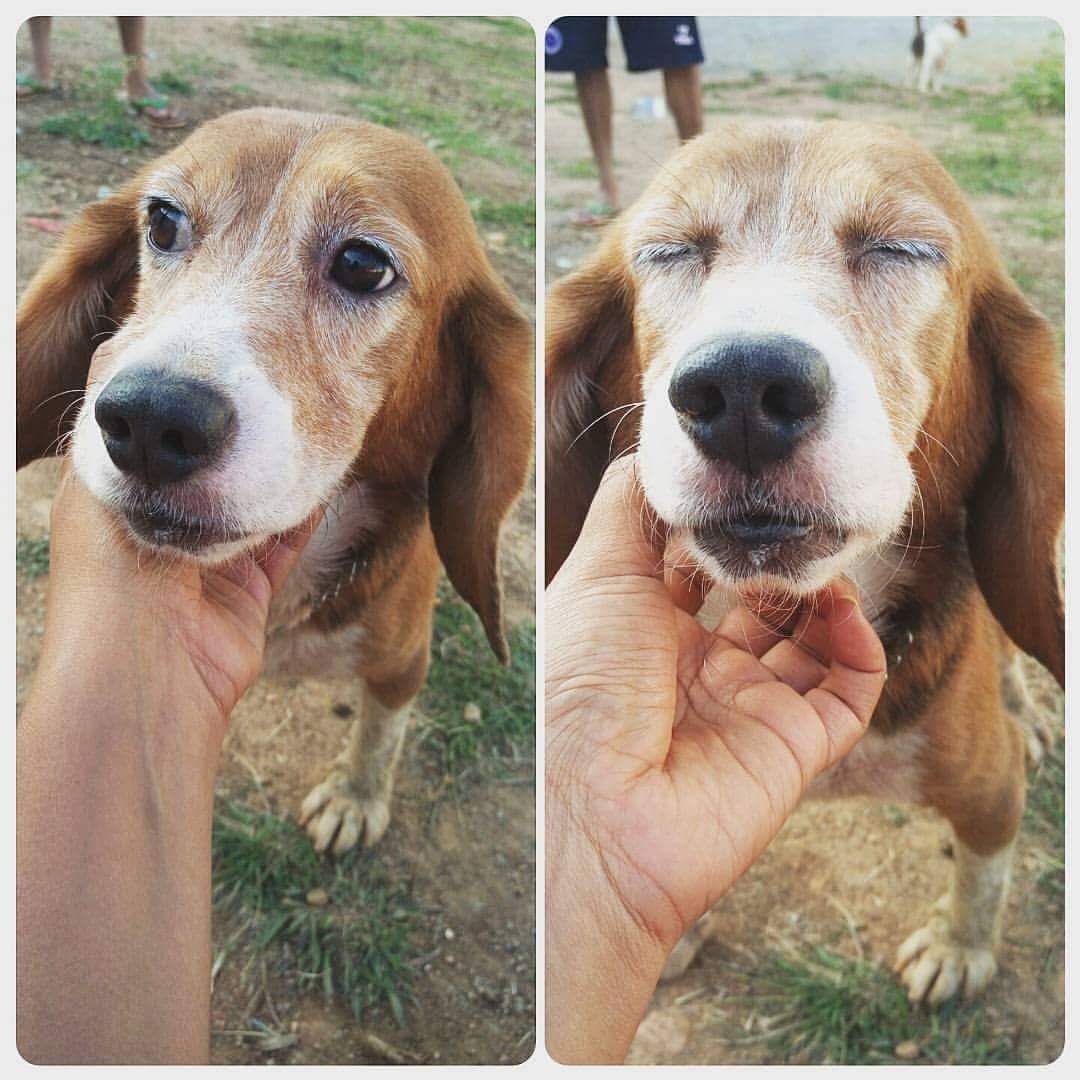 "We hang around them but never actively seek a playtime with them. There's always some curious fellow who starts sniffing around us and gathers the courage to approach us. Even then, we don't immediately play with them. Earning trust takes time. When we understand that they are comfortable, we start by scratching their chins. This way, our hand is within their vision, and they don't feel attacked," Chinthana explains.
Apart from this, the dogs are introduced to new varieties of food and also provided with toys so that they start developing their teeth, muscles and health.
Some dogs are quick to embrace this change and within days, start playing with humans. Others take months. But FoI is always open to giving them as much time as they need.
"Also, some older dogs have been with us for several months now. We introduce them to the new foster ones. After all, who better to teach a dog to be a dog than a dog?" says Chinthana.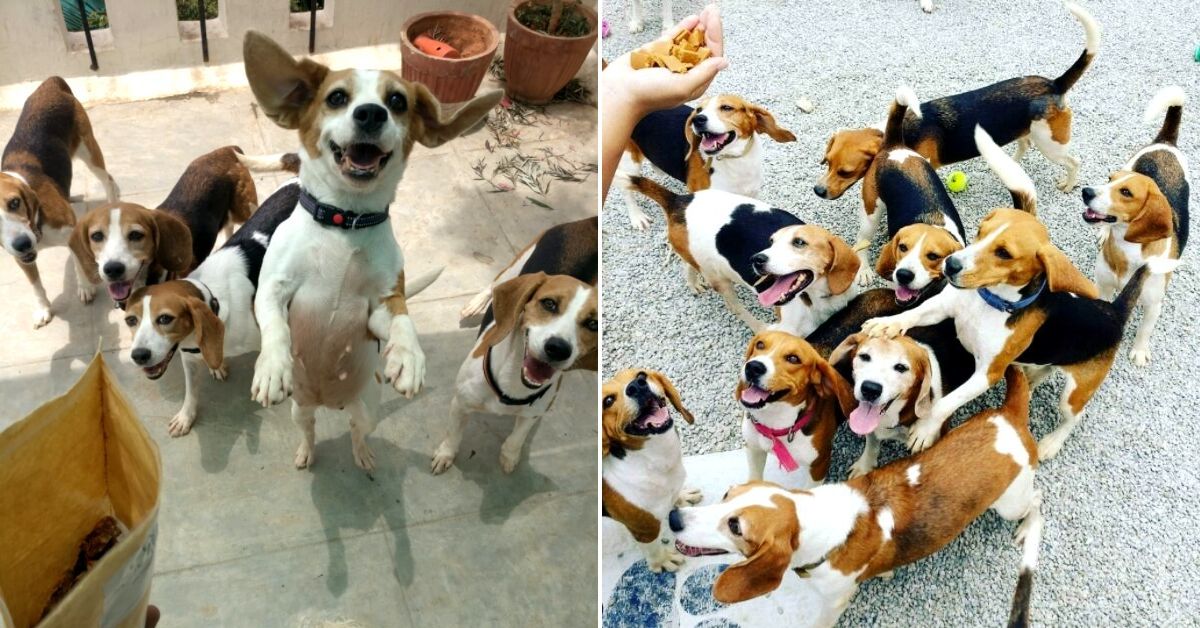 Simultaneously, the dogs are also put up for adoption. But FoI is careful not to send any dog to any family. Each prospective pet parent is screened, in terms of their house, their expectations from the dog and their will to be completely patient with them.
This is a tender adoption process, especially since the Beagles have lived a life of cruelty for several years.
The pet parents also undergo thorough training, so the organisation knows that they are ready for adoption. The process is only complete when the volunteers are fully sure about a home being the right fit for the dog.
"The personalities of a dog and the home environment of humans have to be compatible. It is a tedious process, but FoI wants to ensure that the dogs are adopted in families that will ensure their happiness," she mentions.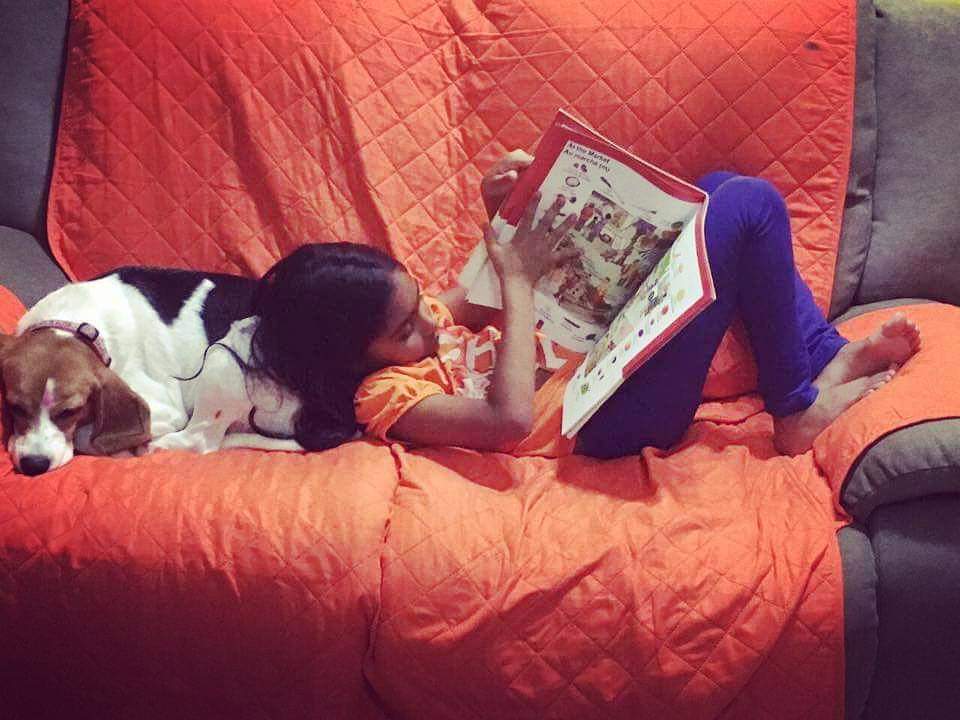 In cases that the parents can't take care of the pet anymore or have to shift elsewhere, the beagle returns to the facility. They are, under no circumstances, allowed to pass the animal on to their relatives or friends.
So far, the organisation has rehabilitated 465 dogs. After the Bengaluru lab shut, they have extended their branches to Pune, Hyderabad, Ahmedabad and Vadodara.
If their story touched you as much as it moved me, and if you feel you can be a parent to a beagle, write to Freagles of India at freaglesofindia@gmail.com.
Who knows, maybe in the months to come, you will be a parent to another Sparky!
---
You may also like: What Should Your Dog Eat? How Healthy Is Dog Food? An Expert Answers Your Doubts
---
(Edited by Gayatri Mishra)
All images courtesy of Chinthana Gopinath/ Freagles of India.
Like this story? Or have something to share? Write to us: contact@thebetterindia.com, or connect with us on Facebook and Twitter.