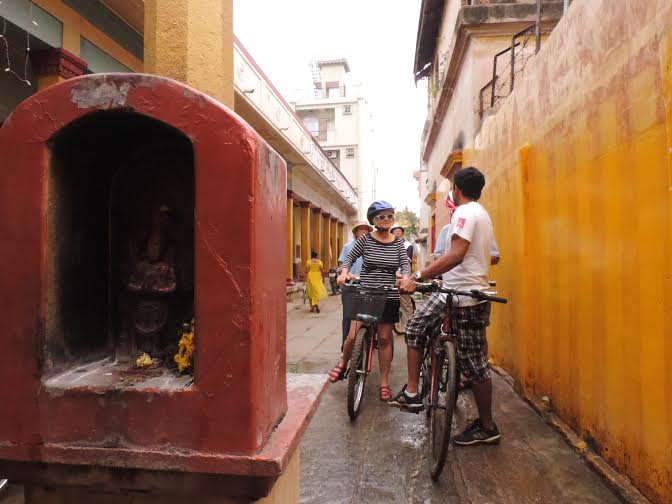 This team of Mysuru lovers can show you the beautiful city in a never-seen-before way. Its history, traditions and people - the Royal Mysore Walks knows the essence of the city. Take this heritage walk to 'live' the city and not just 'visit' it!
This team of Mysuru lovers can show you the beautiful city in a never-seen-before way. Its history, traditions and people – the Royal Mysore Walks knows the essence of the city. Take this heritage walk to 'live' the city and not just 'visit' it!
"I joined work as an engineer. After a while, I got bored. To quote the cliché, "I felt like a cog in the wheel." The monotony of the job was unbearable. My energy was sapped and spirit scuttled. The inability to make sense of my work in the larger context was growing intense in me. Coupled with this was the inarticulate desire to create something of value."
"It was then that I heard of Vinay Parameshwarapp's The Royal Mysore Walks (RMW) through a common friend who had taken part in one of his tours. I liked the concept of heritage walks and there began my journey with it. My love for Mysuru, the city I grew up in, fondness for interaction and desire to experience the richness of life made me be a part of the RMW."
I am Vinay Nagaraju, a partner at the Royal Mysore Walks.
The founder of the Royal Mysore Walks, Vinay Parameshwarappa, partner Vinay Nagaraju and team call themselves a bunch of folks passionate about the city. They love showing people around while realizing how hard it is not to fall in love with Mysuru.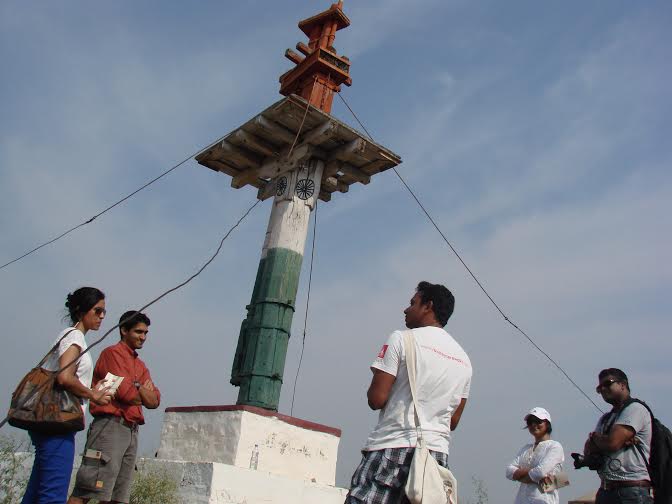 "At the Royal Mysore Walks, we conduct heritage walks across the city. We take travellers who want to experience and cherish a memory on tours to explore the city through its stories. In India, though the concept of heritage walks is nascent, it is becoming popular now," he said.
"I am a typical Mysurean," quipped Vinay Nagaraju.
It is, however, hard to define who a typical Mysurean is, he said.
"Largely, if I may say so, Mysureans are not rushed for life. Mysuru is alive. There is music, dance and other art forms. Life happens and marches to its own beat here. I am a laid back person and not ashamed of it. I feel it is okay not to be hurried. I respect life and hence I feel connected to the city," he added.
In Mysuru, one greets the other with a smile and asks coffee aitha? (Did you have your coffee?) A zone of comfort is established, conversation flows and connections are forged. For me this is being a typical Mysurean, said Vinay Nagaraju.
"It is this respect for life which I call a luxury that sets Mysuru apart," he added.
"To this day there are several pockets in the city where women draw threshold designs (Rangoli) in the morning, men read the day's newspaper and the Suprabhata is played in the background while the others in the family wait for the milk man to milch the cow in front of their homes. It is a slice of life of an age that no longer exists which is preserved here," he noted.
"We let participants experience this during our walks," he said.
"Also, we try to go beyond the obvious. We conduct theme tours, cycle tours, customised and walking tours. A city has a lot more to it than is portrayed. It has several layers that need to be peeled before we get its spirit," he said.

Vinay Nagaraju with a group of travel enthusiasts in front of the Amba Vilas Palace in the city.
Vinay noted: "A few historical monuments do not embody a country's heritage and culture. Similarly, Mysuru is more than a few prominent buildings of historical value. The city is not all about Amba Vilas Palace and Jaganmohan Palace, though they form an indispensable part of the cityscape."
"Mysuru is a city inhabited by people and has a life of its own. And it is this city that needs to be sensed. We help people make that journey at our walks," said Vinay.
Unlike before, people do not want to travel to document places. People's notion of travelling has been tweaked, he added.
"They want to experience the place, its people and the life it signifies as a whole. During the walks we help people open up and be alive to the workings of the city and its nuances," he said.
"The smile on the face of participants when they connect to the city keeps us going. That is what enlivens us. Interaction with a variety of people during walks – the way they perceive the city and interpret it – is a learning for us and them alike," noted Vinay.
To the question, why have the Royal Mysore Walks? Vinay explained:
"Let us say a person visits Mysuru on some work. And she/he doesn't know what to do in the city. Also, they may never visit the city again. It is then the Royal Mysore Walks fills in the space."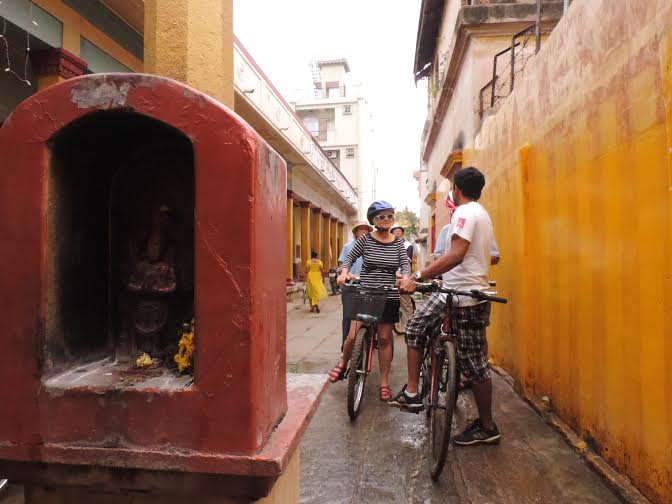 "For people who have never been to Mysuru and know not what to see or expect of the city, we have general tours. And for those who want to know a specific aspect of the city, we have special tours (on requests) such as the silk tour, food tour," he added.
"Having grown up in the city, we view and know the city at several levels. And this serves as a strong base to us. As we have a common background, a wide and well-connected network, it is easier for us to plan our tours," he said.
"In our tours we let people/participants encounter narrow communities in the city – the sights, smell and sound of it," added Vinay. If someone wants to know about artists and their lives, for example: the inlay artists, we design our tours around it, he said.
On preparing for the tours, he said: "Once we know our audience and their expectations, it is easier for us. We research, prepare and, as we have a wide network, we walk our participants through the tours and unravel the city's many layers."
To how conducting heritage walks help in the conservation of historical monuments, Vinay Nagaraju said: "By holding heritage walks, history and its numerous vignettes are brought alive to the audience in a narrative form. Participants are sensitised towards the value, beauty and importance of historical monuments and places during the walks. The moment people are made to appreciate its beauty, a sense of association develops. And once the connection is established, people recognise its value and protect it."
So, Vinay Nagaraju said that by conducting heritage walks, they were not only bringing the heritage city i.e. Mysuru alive to its participants, but also helping them recognise the value of what has been created. This recognition will go a long way in protecting the monuments, places of heritage value, culture and life in general as we know.
"But still there is a need to create greater awareness among the people about valuing historical monuments," said Vinay.
To why heritage walks are important, Vinay Nagaraju said that there has been a drastic change in the way people travel.
"People want to make sense of the place they visit. They want to experience the city at a deeper level. They want to know the place and its people – the city in its elements. People want to feel. They no longer aspire for a picture postcard kind of travel. People are tired of superficial encounters with the city. They want to know the 'why' of many things, events and processes."

Vinay with tourists at Amba Vilas Palace.
"They want to experience the life in the place as it unfolds, in its natural and unhindered pace," he said. Agreeing that the way history was taught in schools impacted the way children looked at the past, culture, cities, heritage and historical monuments, Vinay Nagaraju said teaching of history in schools had to be revamped.
"Stories have power. So, history can be brought alive, in the four walls of a classroom, by recounting it in the form of stories," he said.
Once the students are hooked to the narrative they enjoy history. And once they appreciate the subject they not only recognise the beauty of the past but also its relevance to the present. When that happens they do not disfigure or damage, be it an idol, a place of worship or a monument. And this goes in the protection and conservation not only of places but a way of life, he added.
Quoting the example of the cafe where we were having the interview, Vinay Nagaraju pointed out how the old villa had been renovated and turned into a boutique.
"This is one small step towards the conservation of an old structure. The income thus generated from the boutique and cafe in turn would be ploughed into the maintenance of the villa," he said.
May be it is not possible for all who own villas to turn it into a cafe or a boutique. But that is beside the point, he added.
"One can always think and create opportunities for income generation and make conservation sustainable. Similarly, the state government too can hold silk tours, for example, take participants on a guided tour of how silk is produced and woven into sarees. And in the process, turn a silk saree manufacturing unit into a site of interest. Weaving traditional Mysore silk sarees too is heritage, isn't it?" he said.
"All that is needed is imagination, the desire to do something and the urge to take that one step towards the realisation of one's idea," said Vinay Nagaraju.
Like this story? Or have something to share? Write to us: contact@thebetterindia.com, or connect with us on Facebook and Twitter (@thebetterindia).
About the author: The labour and beauty of writing continues to fascinate R S Ranjeetha Urs in all its forms. She believes in the power of ideation irrespective of its outcome. To witness and know the daily struggles of people to live and make sense of their lives against great odds is one of her life-long fascinations.
We bring stories straight from the heart of India, to inspire millions and create a wave of impact. Our positive movement is growing bigger everyday, and we would love for you to join it.
Please contribute whatever you can, every little penny helps our team in bringing you more stories that support dreams and spread hope.
Tell Us More