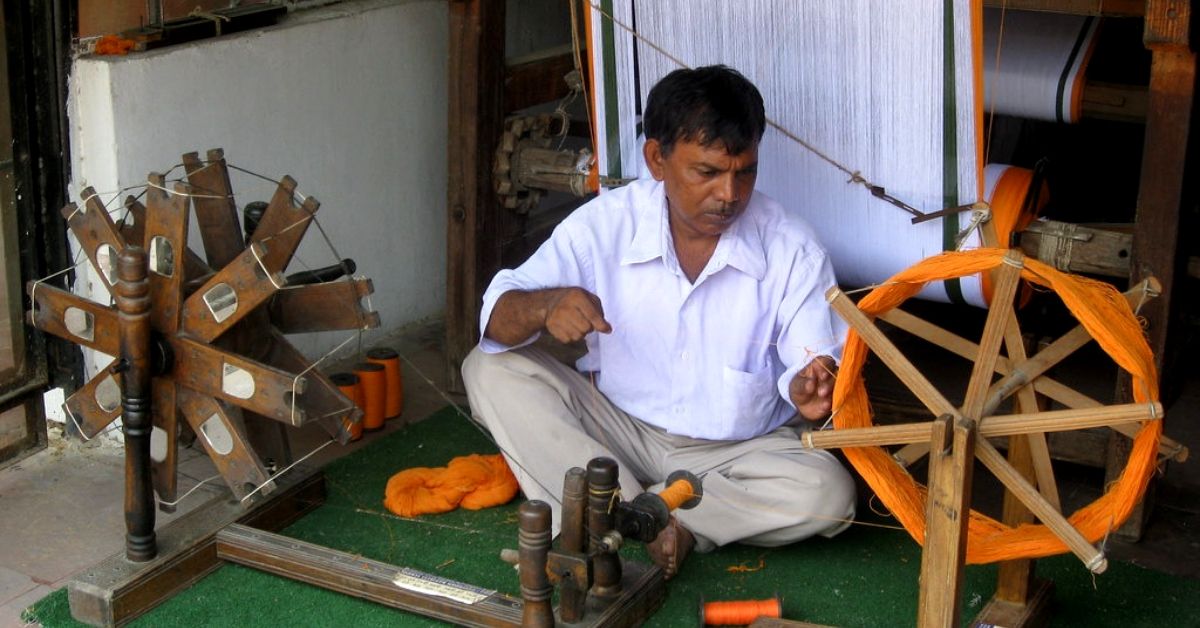 Last year, a well-reputed apparel brand's claim of selling khadi clothing was challenged in the court. This #NationalHandloomDay, understand the different types of cotton better and avoid being cheated about the clothes you buy!
A two-hour cotton spinning session by Madhav Sahasrabudhe was enough to show me how little I knew about fabric. The terms khadi, cotton, and handloom were used interchangeably in my home and while shopping for clothes, we would trust the seller with the expertise on the topic. However, Sahasrabudhe clarified how differences in fabrics are not just because of material but also how they are spun and woven.
This handloom day, we are bringing to you a cheat-sheet on how you can distinguish between khadi, handloom cloth, and mill-powered cloth. A highly reputed apparel brand was challenged in the court about their claim that their dresses were khadi. The Khadi and Village Industries Commission (KVIC) had alleged that this retailer brand was "illegally" selling clothes with a "khadi" tag hough their products were factory-made.
---
Light to wear and breathable, khadi provides absolute comfort in all seasons! Have a look at our khadi collection here and pick your favourite!
---
So, let us begin with what is the distinction between khadi, handloom and mill cloth.
"Traditionally, khadi cloth is that fabric which makes use of no external power for the machinery. Right from the harvest of the cotton cloth to the removal of seeds, separating the fibers to spinning, dyeing, and weaving, everything is done manually. Of course, with time, government agencies have altered the definition of the fabric but broadly, it means the cloth that is hand-spun and hand-woven," Sahasrabudhe informs The Better India (TBI).
For the last ten years, the 62-year-old has been making khadi clothes for himself at home and also teaches the art of spinning to others. To know more about him, read our story here.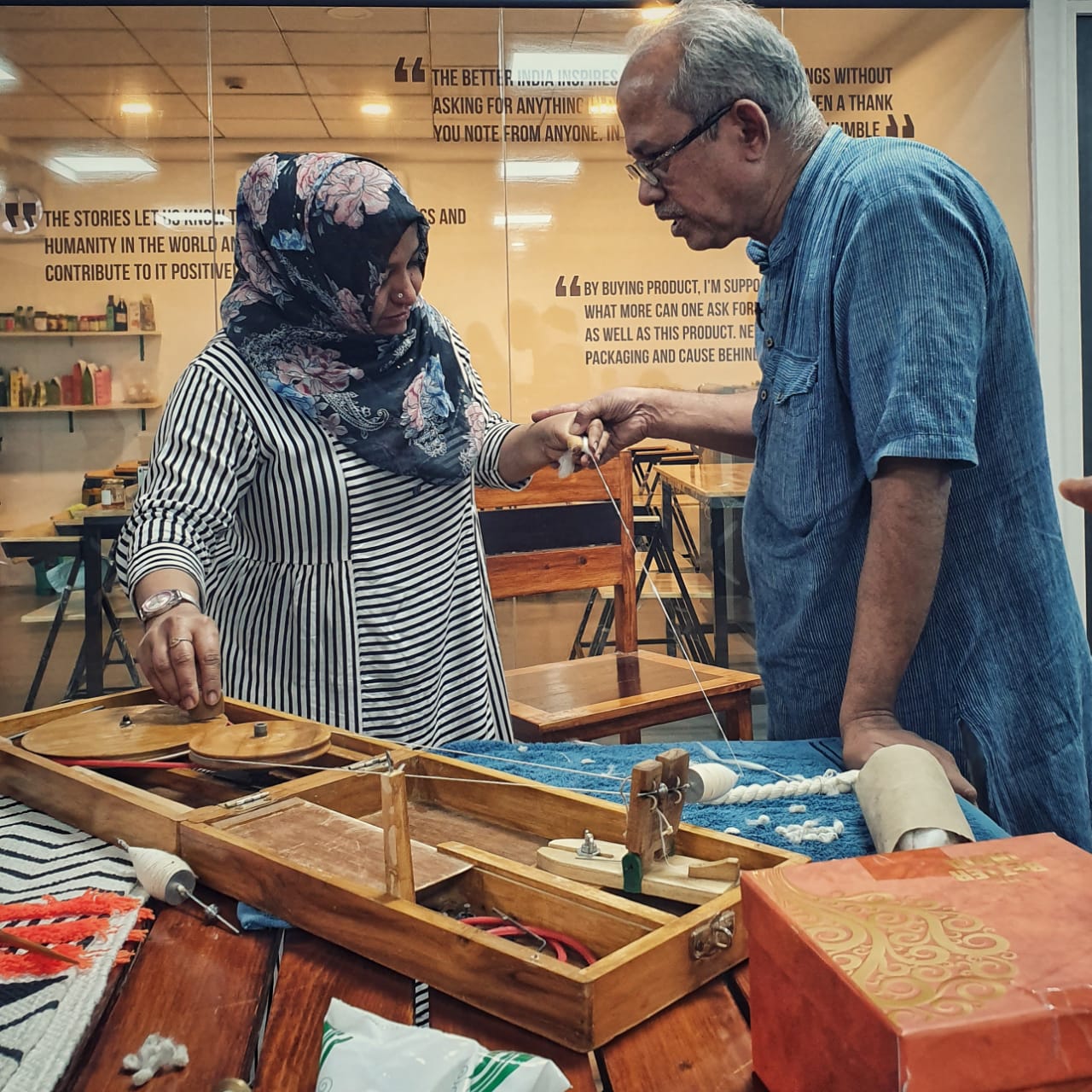 While Khadi is both handspun and handwoven, a handloom cloth is a fabric created using two steps, one manually and the other with a machine with the use of either electricity, battery or fuel. It can be handspun and mill-woven or mill-spun and handwoven. Generally, it is the latter because spinning cotton is labour intensive and time-consuming. When both the steps are powered by machines, the result is a mill cloth which is both easy to manufacture and uniform in its texture. This makes its price considerably low.
---
Unlike synthetic clothes, khadi is a body-friendly fabric that does not cause any allergies or irritation. Do check out these classy khadi shirts here
---
These fabrics are made of either cotton, silk or wool or a combination of any two or all three. The above definitions for the fabrics remain true with all three raw materials.
With a "Farm to Fabric" approach, the Magan Khadi centre in Wardha, Maharashtra is not just empowering spinners and weavers, but also cotton farmers. Through their NGO, they sell authentic khadi across India. "After we obtain the cotton from the farmers, it goes through various processes. Just refining the raw cotton takes one month. Spinning it into threads takes another two. It takes a total of five months to weave it into cloth," Mukesh Lutade tells us.
After these five months comes the process of dyeing and stitching.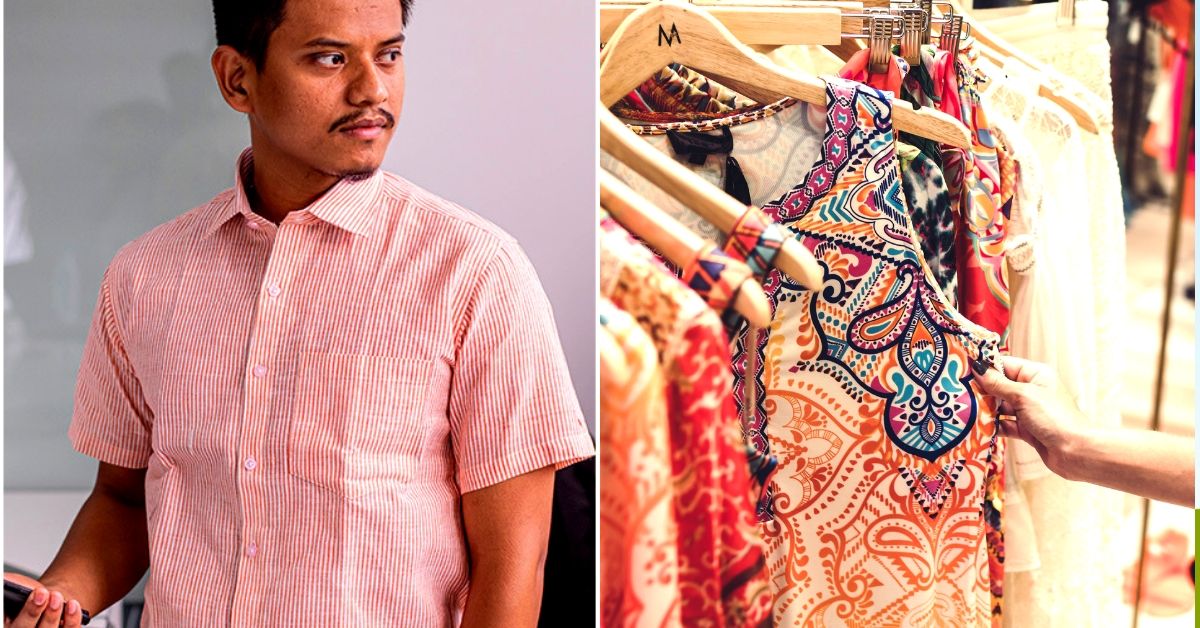 This example is for about 500 kg of refined cotton. Of the total raw cotton obtained, only about 33 per cent can be used for spinning. And with 60 spinners and 30 weavers, it still takes them five months which proves how labour intensive the process of making khadi is.
This is primarily the reason why many people and brands have switched to handloom instead. Since spinning machines accelerate the process, it makes matters easier.
Sharada Ganesh, a manager at the handloom brand Desi shares that hiring spinners is a very difficult task since they have diminished in numbers. Weavers too are losing out on their income and art which Desi is trying to revive. Explaining the nature of the brand, Sharada says, "Handloom weavers were in urgent need of getting a stable income from their art. So, we wanted to start our organisation by empowering them in a sustainable way. The plan was to start with handloom and then eventually go into khadi too. One reason we did not dive into khadi directly is that it is nearly impossible to find people who hand-spin fabric and secondly, their time-consuming art does not pay them well. So, we started with handloom."
What started with a small initiative of two women working on sewing machines has now resulted in 800 weavers, workers and tailors across eight districts getting a substantial income through handloom cotton. You can check out the authentic handloom clothes here.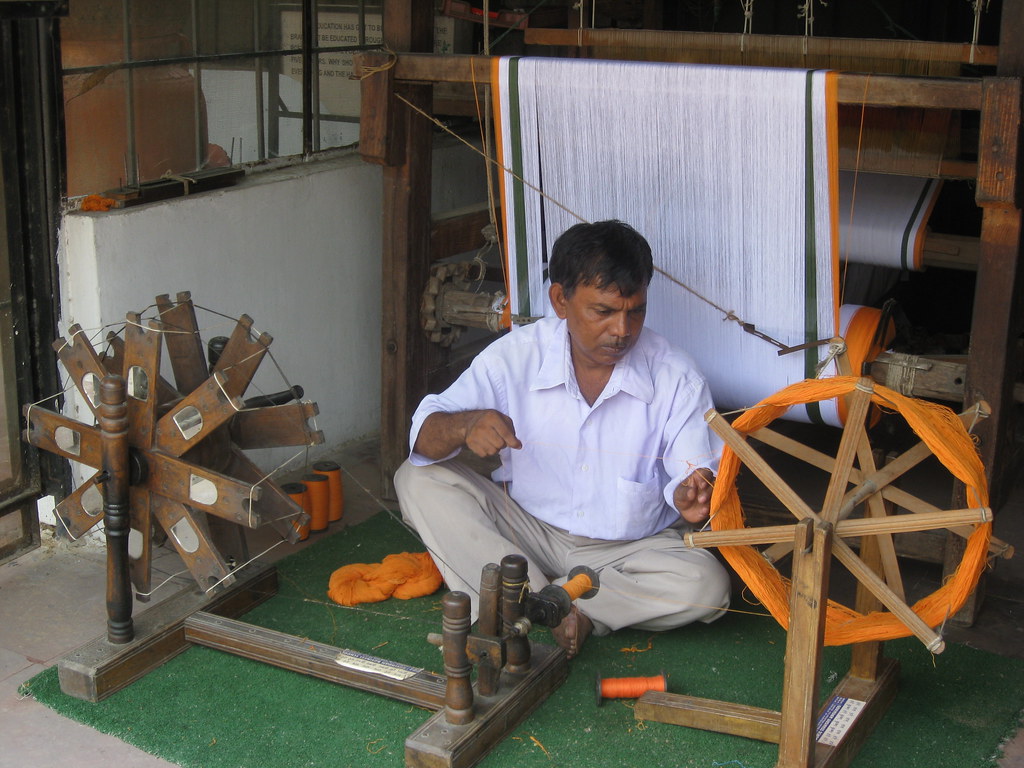 With the definitions out of the way, let us talk of how you check for the authenticity of the fabric in a shop?
Sahasrabudhe gives five simple tests to carry out:
"The ends of a khadi cloth are usually soft and loose as compared to a machine-woven cloth. So you can take a part of it and twist it in the direction of the yarn. It the threads tighten, the cloth is khadi. If it comes loose, it is handloom or mill-spun," he explains.
If you have all three fabrics at your disposal, try this. Take each of them and look through them against a light source. If you spot a slight difference in density and considerable transparency, the cloth is most likely khadi. If the density is not uniform but the cloth is not very transparent, it is most likely handloom. If the spinning is completely uniform and the weaving opaque, the cloth is machine spun.
Once you get familiar with these differences, you will understand that khadi is very light and soft. This touch-test will be a good measure to understand the fabric then.
"If you have just started these exercises then it might be difficult for you to distinguish one material from the other. In such cases, you can simply ask the shopkeeper where they get their cotton threads from. If they have employed spinners and weavers, it will tell you that the fabric is definitely khadi. Or even if they can point out to the exact centre and region where they procure the raw materials from, that is a good indication of authenticity," says Sahasrabudhe.
Lastly, authentic khadi will have the KVIC logo. It will also have batch numbers and information that points towards a khadi material.
Our purpose is not to discriminate between the three types of materials. However, as a consumer you must be aware of what you are buying. Khadi is expensive because it demands time, labour and years of expertise of spinners, weavers and tailors. As more and more powered machines come into play, the process becomes faster and less cumbersome leading to mass production. Hence, the prices drop.
---
You may also like: Thanks to This Bihar Man, Flowers From Mahabodhi Temple Are Infusing Colours Into Khadi!
---
(Edited by Saiqua Sultan)
Like this story? Or have something to share? Write to us: contact@thebetterindia.com, or connect with us on Facebook and Twitter.
We bring stories straight from the heart of India, to inspire millions and create a wave of impact. Our positive movement is growing bigger everyday, and we would love for you to join it.
Please contribute whatever you can, every little penny helps our team in bringing you more stories that support dreams and spread hope.