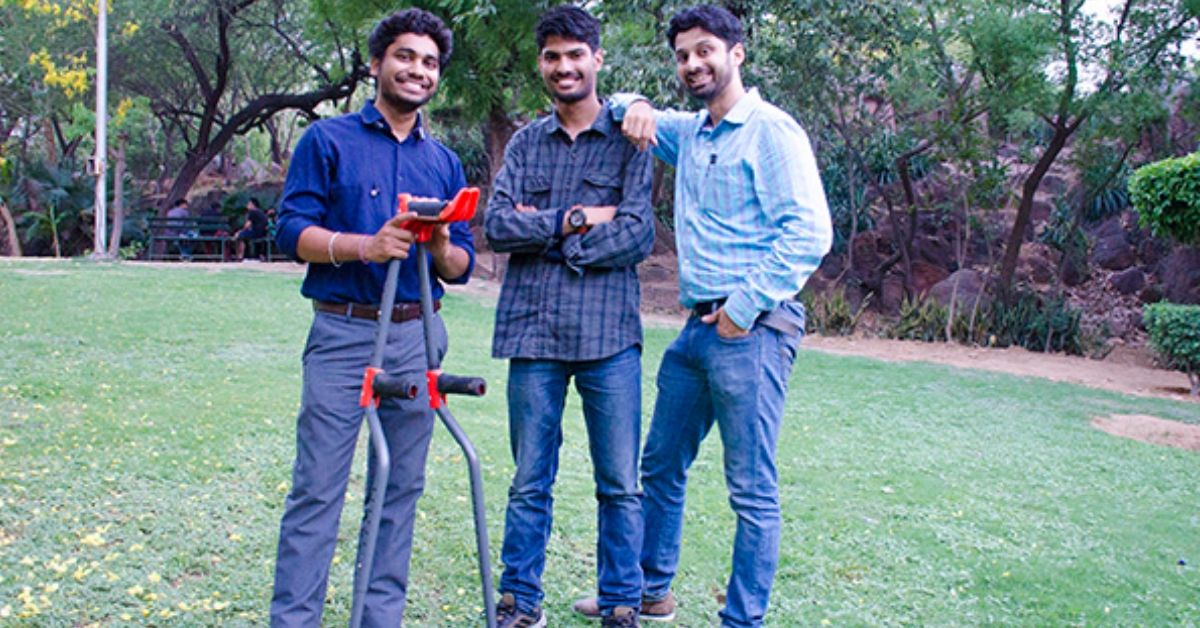 In 2015, Srinivas Adepu's friend Tarun injured his leg while playing volleyball in their college campus at Indian Institute of Technology-Delhi. Here's how a friend's injury pushed a former IITian and his friends to design crutches that can be used on all terrains, including snow and wet surfaces.
In 2015, Srinivas Adepu's friend Tarun injured his leg while playing volleyball in their college campus, the Indian Institute of Technology-Delhi (IIT-D). Of course till Tarun's injuries healed, Srinivas helped him whenever possible. The concerned friend could not help but notice Tarun struggle every day while walking with crutches.
---
Tired of those sleepless nights trying to get your tiny tot to sleep? Check out The NapNap mat here and help your baby sleep soundly.
---
While playing volleyball, I jumped to smash the ball and at the same time my opponent jumped to block the ball. When landing, the player landed on my right ankle with all his weight and the next thing I know is I had two hairline fractures on my right foot, near the ankle. Since it was hard to find a wheelchair, I had to use crutches that were extremely uncomfortable, Tarun recalls in a conversation with The Better India (TBI).
Cut to 2019, a team of friends – Srinivas, Arvind Suresh Ambalapuzha and Girish Yadavhas – has designed the world's first self-standing crutches that have a strong grip on all terrain and provide the necessary comfort to the user.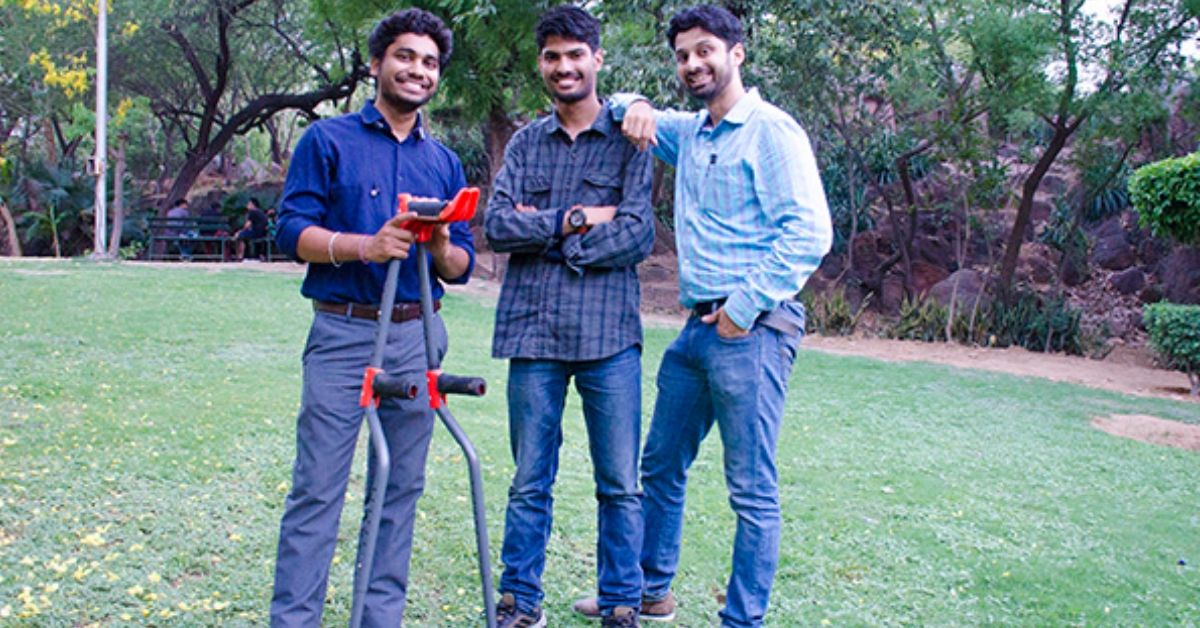 Tarun had serious trouble climbing stairs and was even struggling to walk with crutches. It made me wonder about the people who are bound to crutches for life and the discomfort they feel on a daily basis. I realised that crutches are the most untouched sector in mobile accessible devices, Srinivas tells TBI.
Such concerns pushed the IITian to look for feasible alternatives to the conventional crutches.
In his final year of engineering, Srinivas and his friends started working on the design of a prototype and with combined grants from IIT Delhi, Biotechnology Industry Research Assistance Council (BIRAC) and Oasis—a startup, the team of innovators developed 'Flexmo'.
'Flexmo' is a one-of-a-kind crutch that can be used on all terrains, including snowy and wet surfaces. The trio claims that people afflicted with polio, amputees and post-surgery patients can use the device easily.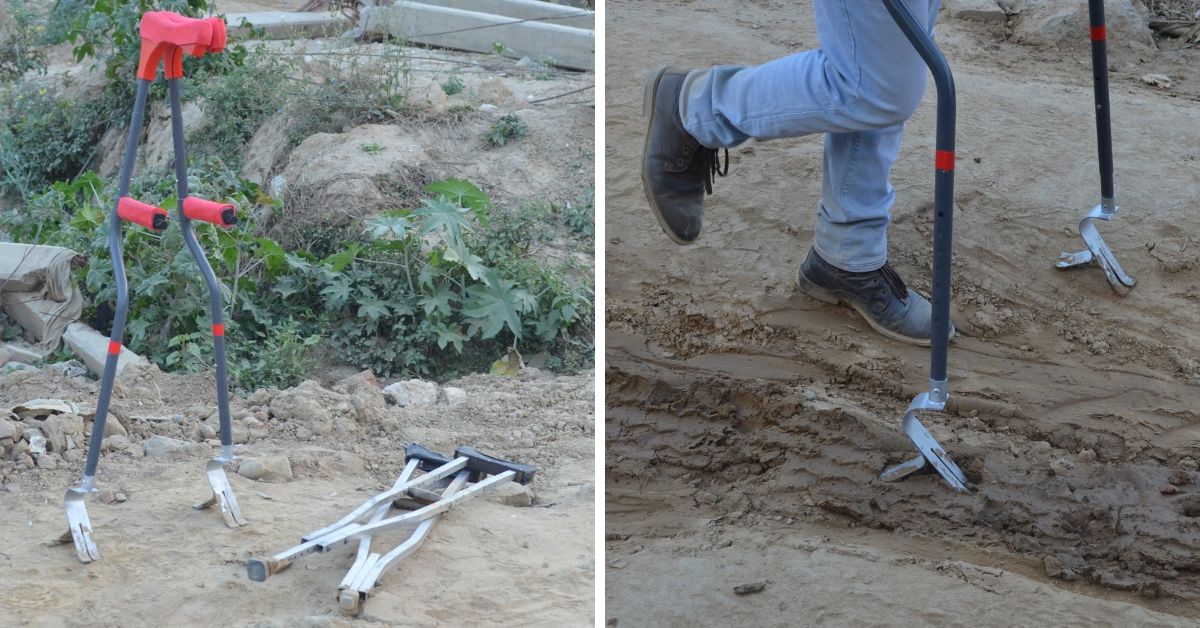 Flexmo draws inspiration from the human foot. When taking a step, the heel part grips the surface and absorbs the shock. The toe part provides you extra grip while you are in the air and gives you a soft landing. This heel-toe combination gives rise to ultra-stability and zero-slippage for a user. The crutches are equipped with shock absorbers to prevent pain due to bumps. We have developed crutches according to anthropometric data of people with disabilities because their bodies have different anthropometric measurements, says Girish.
The weight of the crutches is 1.2 kilos and it comes in two sizes, medium and long. The upper part of the crutch called 'underarm support' has a durability of more than three to four years and the lower part called flex tip can last for a year.
So far they have tested the crutches on more than 100 volunteers. The team also had the product tested at All India Institute of Medical Sciences, New Delhi where doctors gave Flexmo to the patients for use.
Priced at Rs 2999, the product will be formally launched on August nine in IIT-Delhi campus after which it will be available on all e-commerce websites. Their start-up called 'Flexmotiv' is accepting pre-orders and so far they have received pre-orders for 640 crutches.
A friend's problem made Srinivas develop a product that provides comfort and ease to people who use crutches.
"Though I never used crutches that Srinivas made, I am glad I was of some help to him and his friends. I am sure these crutches will be a game-changer in the domestic and international market," says a proud Tarun.
On this Friendship's Day, will you be that pal who goes out of his way to help a friend and by extension, the world?
Get in touch with Flexmotiv here.
You can check out the user feedback here.
All the image are source from Felxmotiv.
---
Also Read: How 4 Delhi Friends Are Taking Donated Books to 4 Lakh Young Readers!
---
(Edited by Saiqua Sultan)
Like this story? Or have something to share?
Write to us: contact@thebetterindia.com
Connect with us on Facebook and Twitter.