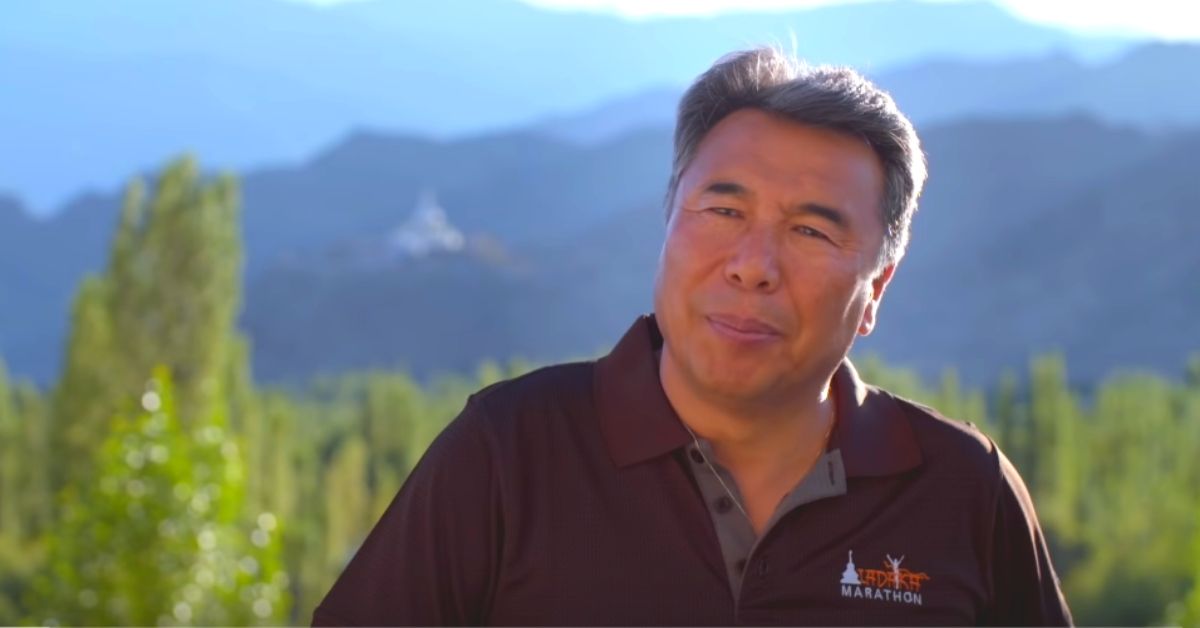 Take the example of 72 km Khardung La Challenge. It is the ultimate test of human endurance. For nearly 60km of the total race, athletes are running above 4,000 metres (13,000 feet) above sea level not to mention freezing conditions and low oxygen.
Chewang Motup Goba, a native of Kyagar village in Nubra Valley, was only 13 when he climbed his first mountain in the Kashmir Valley.
In fact, as a child, he would cross the famed Khardung La pass during the summer to visit his mother in Nubra on a yak or horseback. After spending time with his family, he would trek three days across this pass and return to Leh.
---
Check out The Great Banyan Organic Multigrain Energy Malt, a traditional health drink to keep you naturally energised through the day. Find it on The Better India Shop.
---
Today, the passionate mountaineer and entrepreneur conducts the 72 km Khardung La Challenge, the highest ultra marathon in the world, along the same path. This race has become a benchmark for elite athletes from all around the globe.
Started in 2012, alongside the Ladakh Marathon, the Khardung La Challenge is the ultimate test of human endurance.
For nearly 60km of the total race, athletes run approximately 4,000 metres (13,000 feet) above sea level. Starting in the wee hours of the morning, runners have to combat the lack of oxygen (at 17,388 feet asl), steep inclinations, rough terrain and freezing conditions touching -15 degrees celsius at the finishing line.
It is no surprise then, that only 60% of the athletes who start the race complete it.
With the race scheduled for 6 September, this year 200 athletes have registered for the event from 11 in 2012. It is a race which has put the Ladakh Marathon on the global map.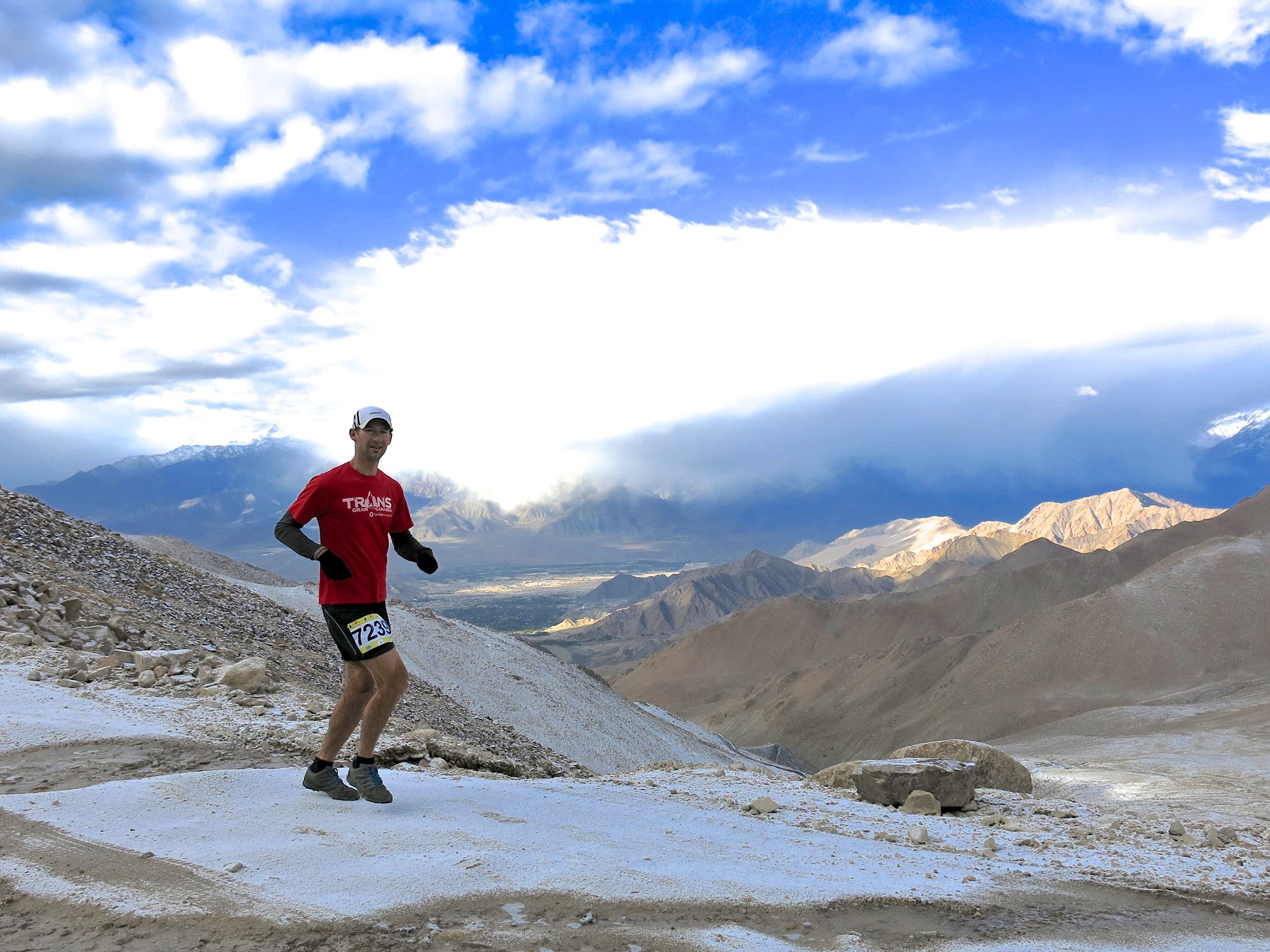 However, the main attractions are the Marathon, Half-Marathon and the 7 km Run for Fun, which was created to scout young Ladakhi school children with talent and encourage them to run, alongside other tourists who want to participate.
All these events from start to finish are organised by Rimo Expeditions, an eco-friendly mountaineering company which Motup started alongside his wife, Yangdu Gombu.
Speaking to The Better India, Motup talks about his motivations behind starting the Ladakh Marathon in 2012 and the incredible challenges of conducting these events.
"In August 2010, Ladakh suffered devastating flash floods. Although for a long time I had this idea of a marathon, it was in 2012 when we finally decided to organise it. This event was a signal to the world that the people of Ladakh were back up and running," says Motup.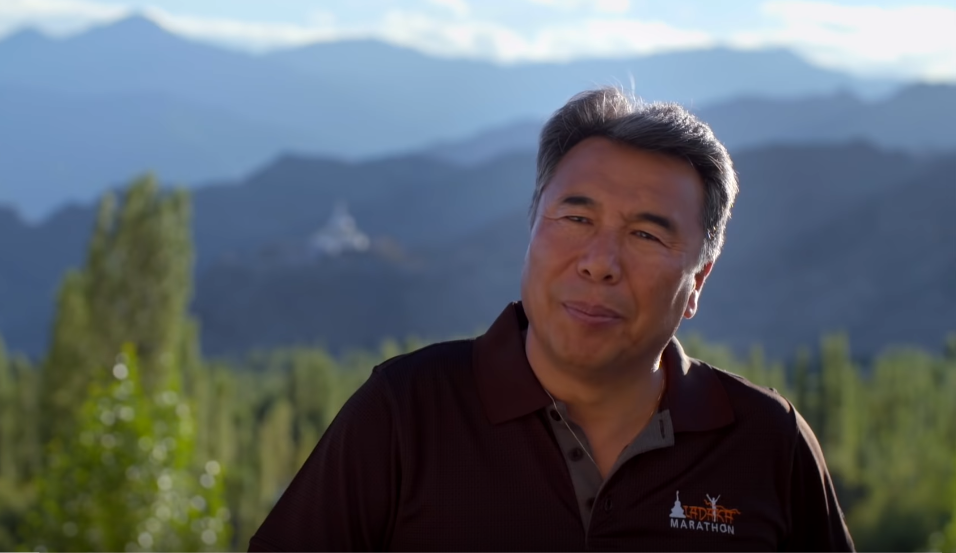 However, his main objective was to create a real platform for the boys and girls of Ladakh to show their potential in long-distance running.
"Any Ladakhi who takes up long-distance running, whether they are in the army, paramilitary or colleges, does well. Looking back into the past, we had Rigzin Angmo, who performed really well at the national and international level. In November 1995, she had won the Bangkok Marathon, among other races at various levels. We knew that if we create the right platform, bring in good coaches and facilities, our athletes will perform at the highest levels, beating long-distance runners from all over the world," he says.
Nurturing home-grown talent
Since its inception, the Ladakh Marathon has done a remarkable job of creating opportunities for talented young athletes, who often come from low-income households, and ensuring that they earn a secure livelihood. The winners from Ladakh are taken to other parts of the country to compete in different marathons.
In this year's prestigious IDBI Federal Life Insurance New Delhi Marathon, Jigmet Dolma finished second in the women's full marathon with a time of 03:01:30s, while Tsetan Dolkar finished third just two seconds behind.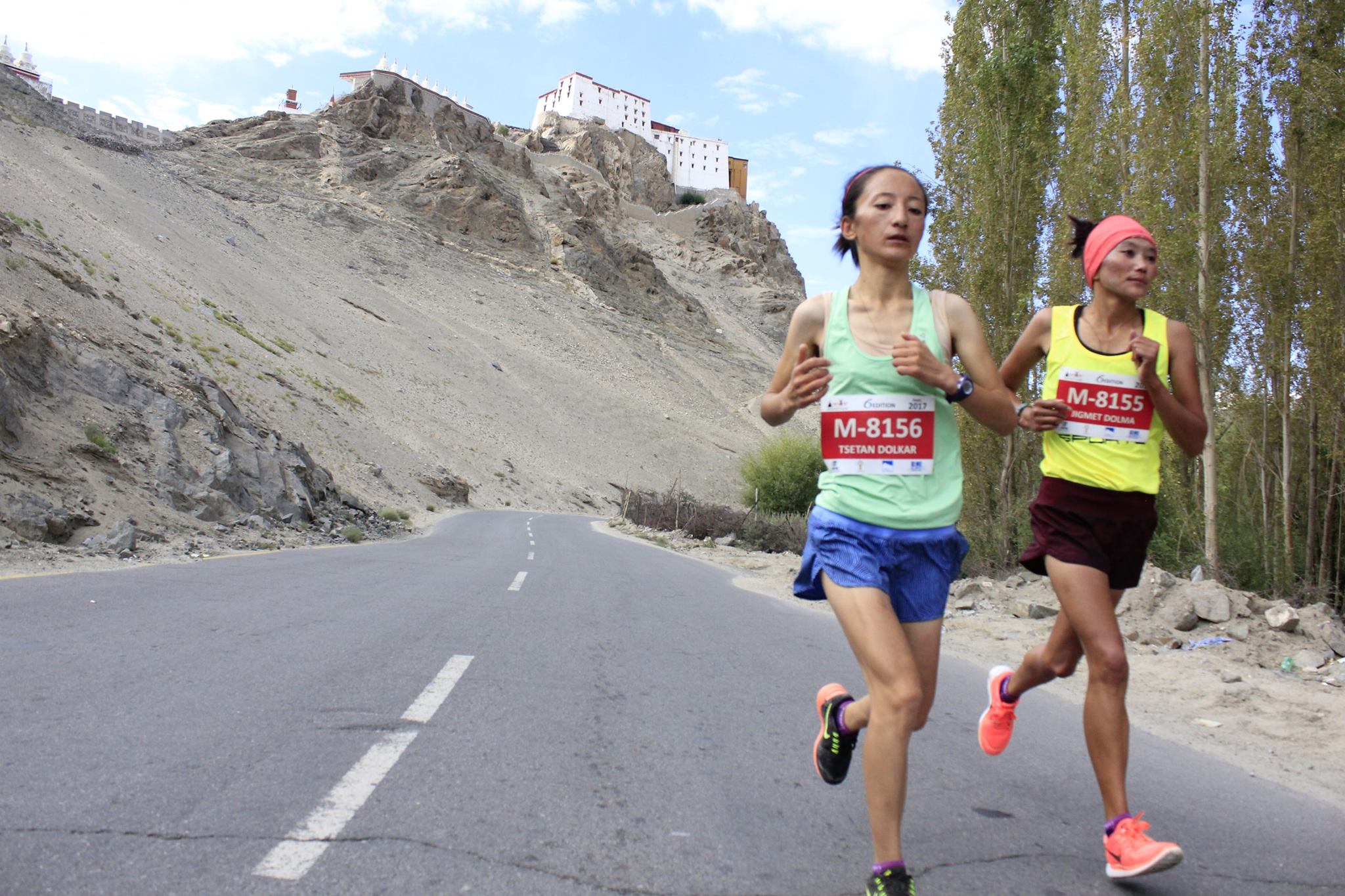 In the prestigious Mumbai Marathon, both women from Ladakh finished third and fifth respectively among top Indian women finishers.
"Long-distance marathon runners from Ladakh have a lot of potential. They are hardworking and sincere. The only thing they need is more exposure and more races because, for them, the only way out of poverty is through running. The Indian Army is recruiting many of the boys who had trained with me and won the Ladakh Marathon and Khardung La Challenge into the Ladakh Scouts regiment," says Savio D'Souza, a national marathon champion in the 1980s, who is now training these promising athletes from Ladakh, speaking to The Better India.
However, the major drawback is that until the Ladakh Marathon, many of them had no organised formal structure to train under, gradually transitioning them from 800m, 1500m, 5000m and 10,000 m races to eventually the full marathon.
Forget formal athletic coaching, several have barely competed in inter-school sports tournaments and other regular organised athletic competitions.
Their competition in the mainland does have this glaring advantage of the structure.
"However, in such a short period, these runners, particularly Jigmet and Tsetan, have caught up with the competition. Their timing in the Mumbai Marathon last year was around the 03:10-hour mark. When they came to me for training four years ago, they were hitting the 4.5-hour mark. That's a phenomenal improvement. Every marathon they run, they constantly improve their timing," adds Savio.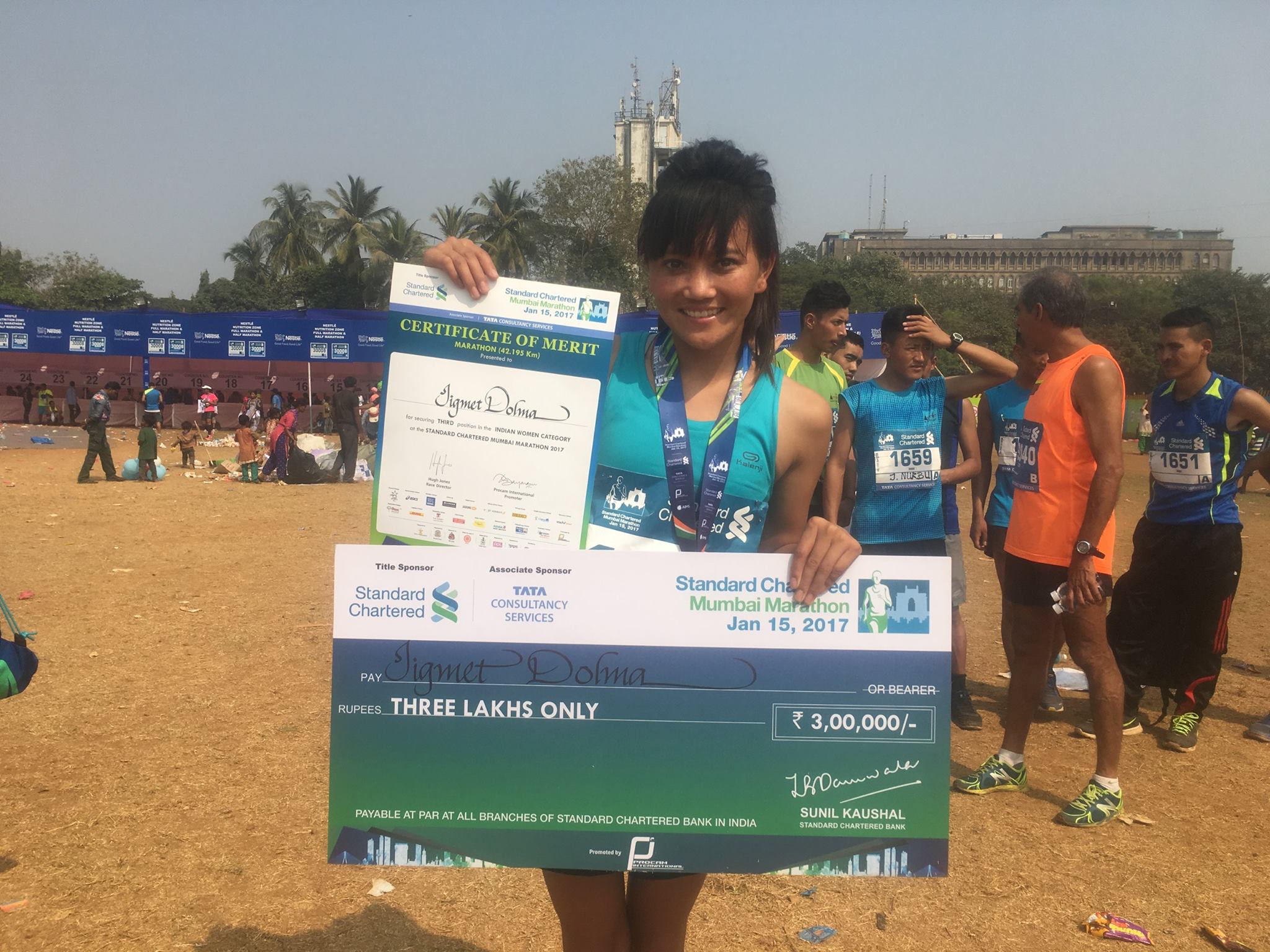 Without the platform offered by Ladakh Marathon, the likes of Jigmet Dolma and Tsetan Dolkar would have never even considered professional long-distance running.
The marathon has brought the region onto the world marathon calendar, attracting money for talented Ladakhi athletes and the local economy as well.
Since the event takes place in the first week of September, which is towards the fag end of the tourist season, the Marathon keeps the tourism industry in and around Leh and Nubra in full swing. Runners stay in local guesthouses and homestays, bringing in additional income for the population.
Having said that, conducting these events is a logistical nightmare.
Logistical challenges
"The biggest challenge is the altitude and elevation. We don't know how these runners' bodies will react to the altitude. For the main marathon, we advise runners to arrive a week to 10 days before, whereas, for the Khardung La Challenge, we recommend that they arrive at least two weeks before the race for acclimatisation. But not all of them listen," says Mutup.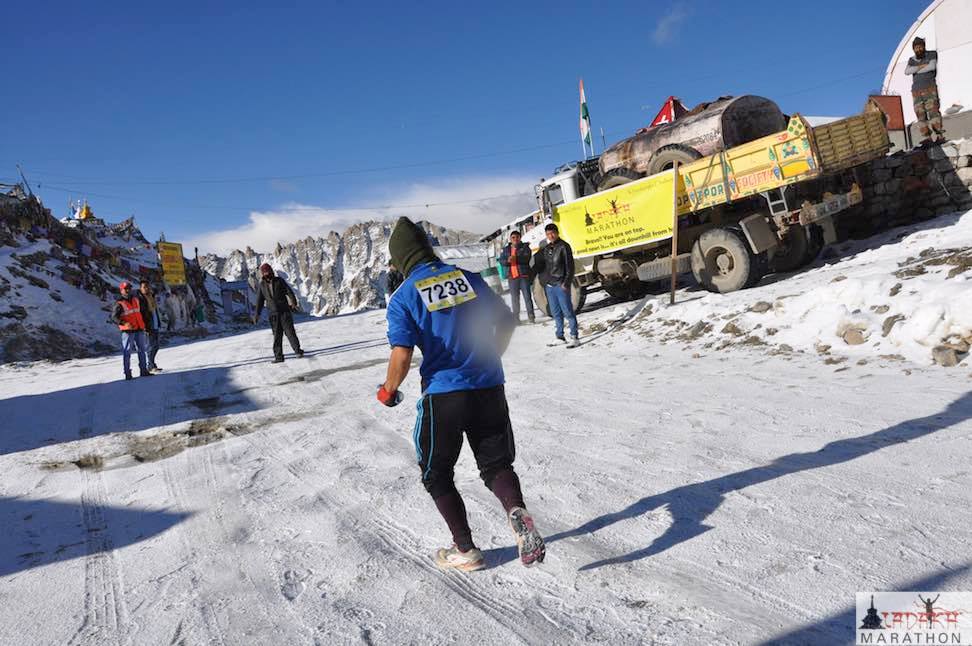 Organisers regularly monitor the vital stats of the athletes, and everyone has to undergo a medical checkup on the day they arrive, and before race day. Doctors gauge how these athletes are reacting to the altitude. Every aid station on the route is manned by people who know how to treat runners suffering from altitude sickness. There are oxygen cylinders at nearly every aid station and mobile vehicles.
Although Rimo Expeditions conducts the event, assistance also comes from the district administration, the army, air force, police, Border Roads Organisation and various government departments.
However, without assistance from local communities, particularly village bodies, student bodies, sports clubs, monastery associations and various volunteer groups who look after segments of the routes, it's impossible to run these events.
"Thanks to the combined cooperation from every nook and corner of Ladakhi society, the event gets better every year," acknowledges Motup.
Before the race itself, organisers spend nearly two months acquiring T-shirts, medals and hydration packets, that come from Delhi and Mumbai.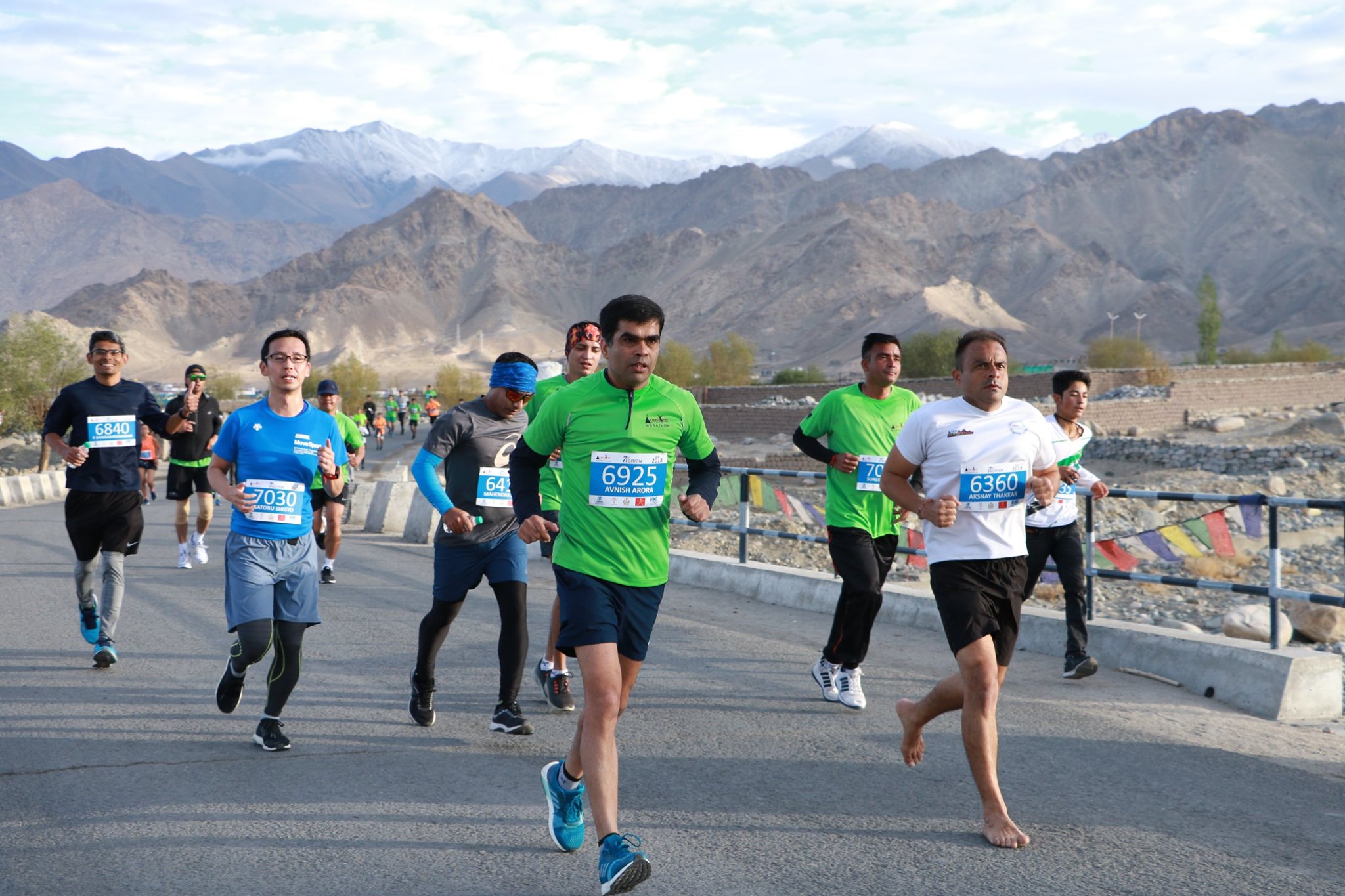 Besides the runners, it's tough for volunteers to stay and operate at 3,000-5,000 metres for 8-10 hours waiting for runners to pass, making sure they are given proper hydration, energy bars, various snacks and power bars, amongst other amenities. There are also doctors and photographers, whose task at these altitudes isn't easy.
"We also have issues with bad weather. Last year, at the top of Khardung La, we suffered a massive landslide before the runners had arrived. But the Border Roads Organisation were very supportive, and they cleared the debris in an hour," recalls Motup.
There is also the question of determining how many resources are allocated to each aid station and to keep runners safe, there are four cut-off stages. From Khardung village in Nubra Valley runners have to cross Khardung La top before 11 am. If they don't make it, they are disqualified and withdrawn from the race.
"It's a nightmare for us to take care of the logistics," adds Motup.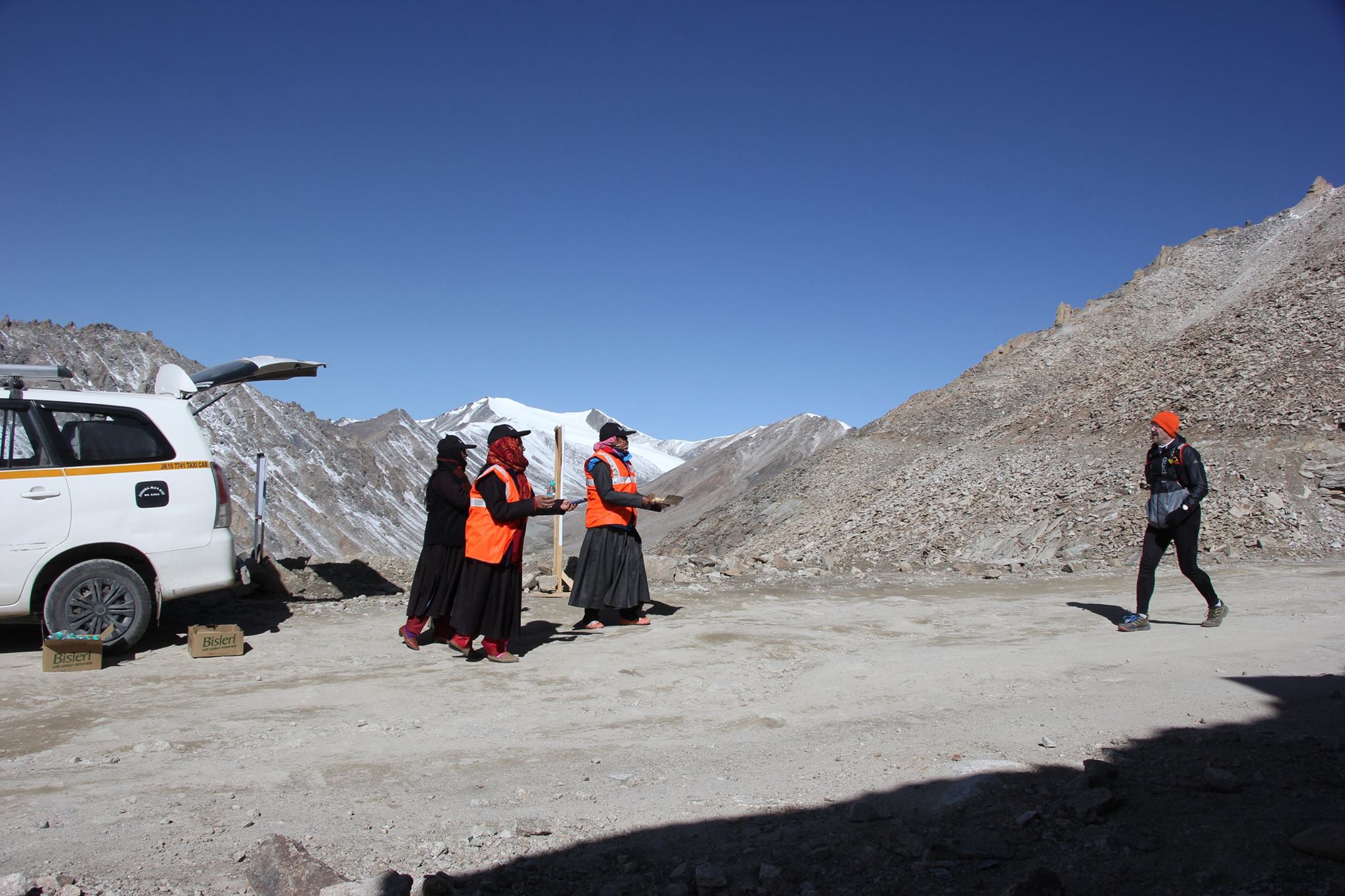 Eco-friendly marathon
Moreover, this year, the organisers have decided to not use any single-use plastic bottles, and instead, proceed with biodegradable glasses. Of course, this has significantly increased their expenditure, but that's the only way out because Ladakh has such a fragile ecosystem.
There will be refill facilities (20-litre jars) with glasses at the aid stations instead of bottled/packaged water bottles, and these jars will be sent back to the plains where they came from once the event is done.
"We will ensure that refilling is as efficient as possible. We request all runners, particularly for the Khardung La Challenge, to bring in their bottles/hydration pack. To avoid litter, athletes will be given freshly cooked meals and fruits at the finishing point. In the next few years, we will also look to make medals using eco-friendly materials. However, all this costs more money," says Motup, although he doesn't seem to mind.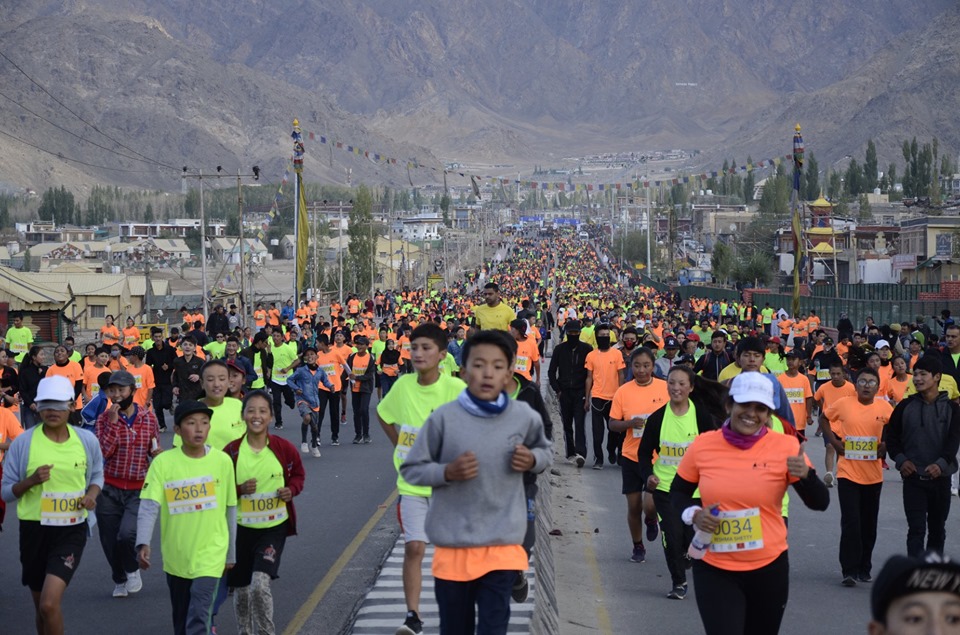 Progress on the international stage
From 1,500 participants in the 1st edition to close to 5,500 from more than 55 nationalities in the 7th edition, the Ladakh Marathon has grown significantly over the years.
One of the reasons why the number of registrations for these races are growing every year is because they know organisers are taking care of their safety.
For the full marathon, they have 700 people registered. For the half marathon, they are expecting over 2,500, while it's 200 for the Khardung La challenge.
"With registrations increasing, the spending from our pocket is decreasing every year. This year half of our total expenses are taken care of by registrations. Earlier, nearly 80% of the money would come out of our pockets and 20% from registrations. For us, the experience for the runners is the most important factor," claims Motup.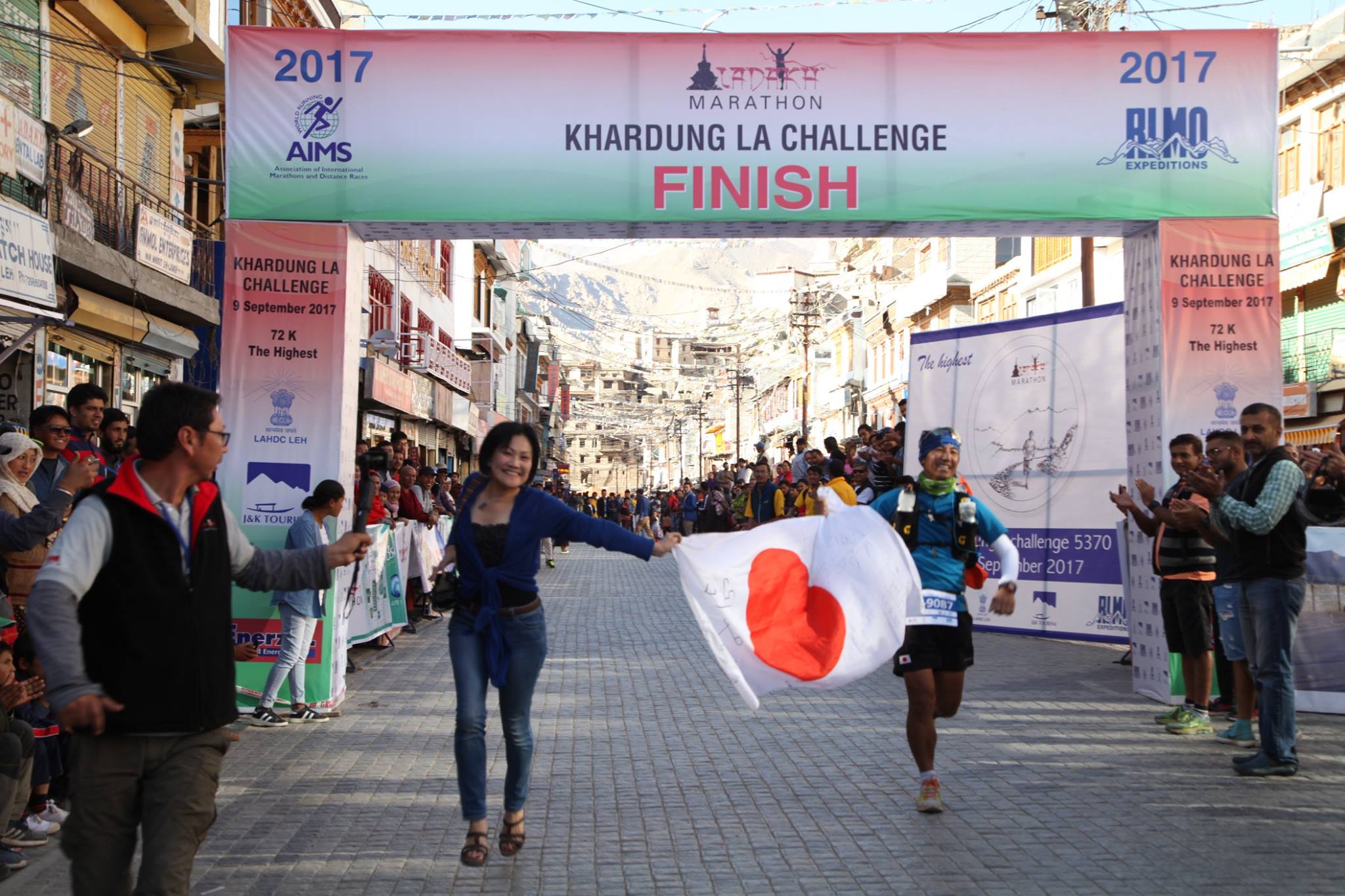 Meanwhile, the 9th edition of the Marathon scheduled for 13 September 2020, is now a qualifying race of Series XIII of the Abbott World Marathon Majors Wanda Age Group World Rankings which begins in October 2019 with the Bank of America Chicago Marathon and will finish with the same event in 2021.
This means that anyone who would like to participate in any one of the six most prestigious marathon races in the world across Boston, London, New York, Chicago, Berlin and Tokyo can use the Ladakh Marathon as a qualifying race.
Thanks to Motup's efforts, the Ladakh Marathon has truly arrived on the international stage.
---
Also Read: Fresh, Organic & Scrumptious: Why Ladakh is Home to The World's Sweetest Apricots!
---
(Edited by Gayatri Mishra)
Like this story? Or have something to share? Write to us: contact@thebetterindia.com, or connect with us on Facebook and Twitter.
We bring stories straight from the heart of India, to inspire millions and create a wave of impact. Our positive movement is growing bigger everyday, and we would love for you to join it.
Please contribute whatever you can, every little penny helps our team in bringing you more stories that support dreams and spread hope.