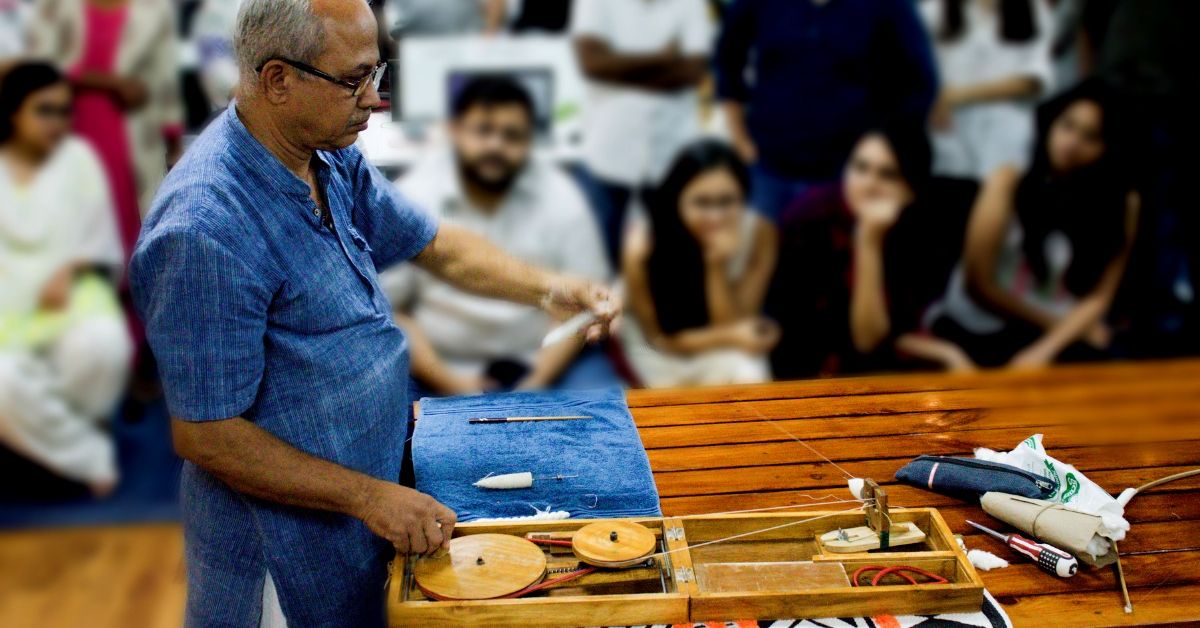 "I know of 200 people who have taken up spinning as a result of my workshops. This number is wonderful in itself. It means we have kept the art of spinning alive for yet another generation," says the man whose entire wardrobe is homespun and home-stitched! #Respect #LiveGreen
There was a hush at The Better India office as 30-odd employees observed Madhav Sahasrabudhe, a mechanical engineer from Pune, separating fibres from a ball of cotton, and plucking out the seeds.
For the past five years, Sahasrabudhe has been travelling to various parts of India—from Gurugram to Coimbatore—and visiting schools, NGOs and corporate offices, to teach people the art of spinning a thread.
---
"Khadi threads are never non-usable, and as long as they are given strength, you can make them into anything—from a light kurta to a towel," says Sahasrabudhe. Choose airy, sustainable and durable khadi items in our TBI Shop catalogue, here.
---
"Our primary objective is not to remove the seeds, although it is crucial to spin a yarn. Rather, it is to loosen these cotton fibres. This quality helps make this fluffy cotton into fine threads which are woven into khadi," the spinner tells us while simultaneously setting up a bow.
For the uninitiated, like most of us in the gathering that day, a bow, a chopstick and a spindle, unattached to the charkha, were unlikely prerequisites to spinning thread.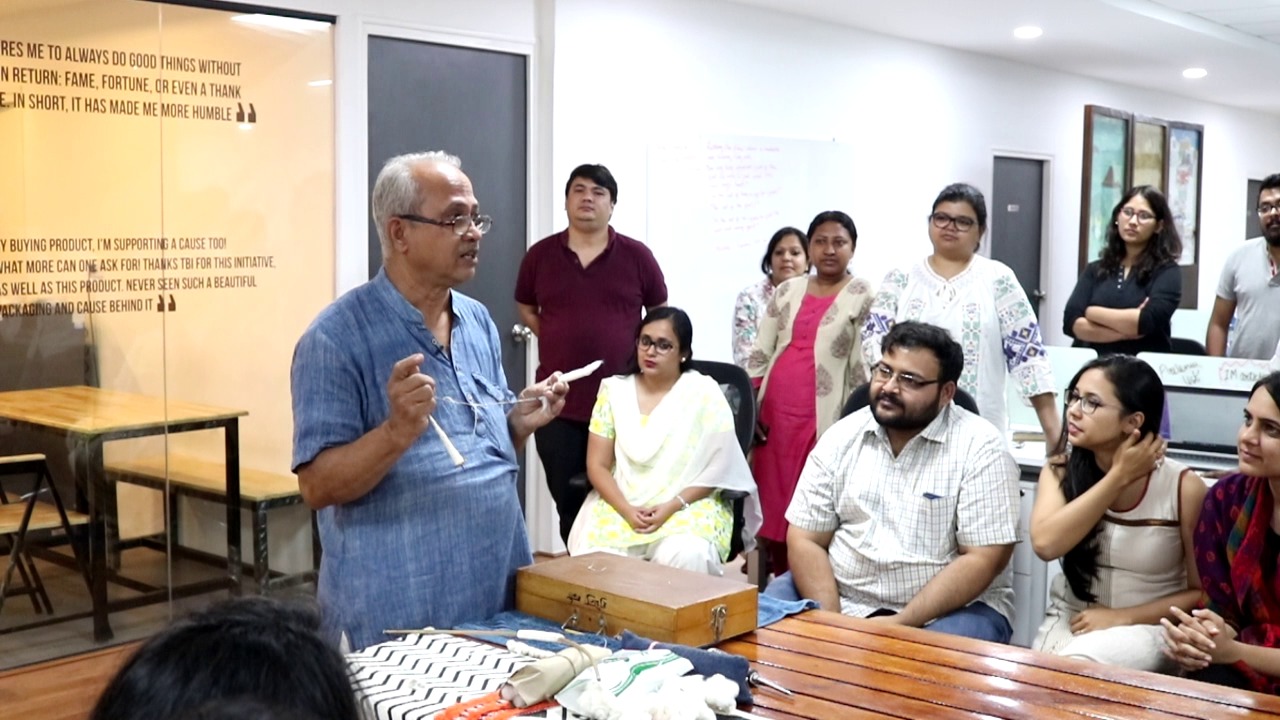 And yet, Sahasrabudhe had them in his bag. Satisfied that all the seeds and impurities were separated from the cotton, he started refining it further, plucking the string of the bow and guiding it through the cotton bundle.
"It looks magical!" someone exclaimed even as the mechanical engineer transformed a heavy and stiff bundle of cotton into what can be best described as cirrus clouds on a bowstring.
Spreading this fine cotton on the closed peti charkha, Sahasrabudhe placed a chopstick on one end and rolled the cotton tightly around it. There it was, the perfect pooni to be spun into cotton.
When I tried my hand at it, it took me about 10 minutes to separate seeds from one bundle of cotton. Even then, I had overlooked a few tiny impurities.
While this was my first time working on raw cotton and Sahasrabudhe has been doing this for ten years now, right after he left his job as a General Manager in an MNC.
"I worked for a good 25 years or so in the corporate industry. While I started out in Pune, within a few years, I began yearning for a life away from the hustle of an urban setup.
In 2005, I accepted a transfer to Belgaum in Karnataka. Usually, people working in my sector go from town to city to metros. I decided to go against the tide," he chuckles.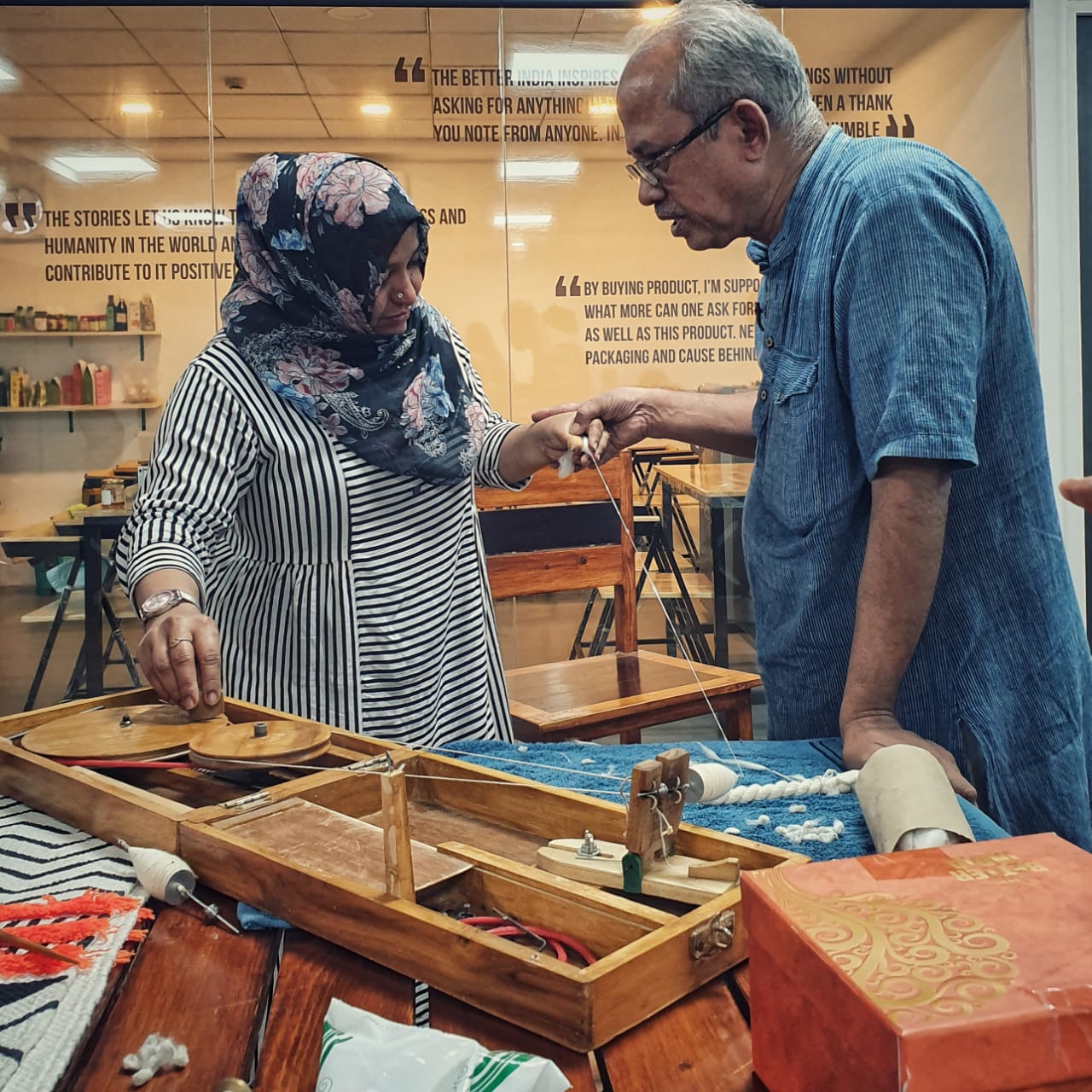 It was in Belgaum that Sahasrabuddhe was introduced to the art of spinning.
He was visiting a village where he saw Sadashivrao Bhosale making beautiful yarn in an assembly of villagers learning the art from him.
Bhosale, popularly known as Dada, is a hundred years old as of today. An active politician during British rule, he was elected as a Member of the Parliament soon after independence.
But soon, Dada got tired of the political work. He retired and gradually began to adopt a more sustainable and self-sufficient lifestyle. Until just two years ago, the then nonagenarian would work on his farm for two hours, spin his own khadi and consume only what he grew.
"The simplicity with which he worked had a deep impact on me. Without wasting any time, I told him that I want to follow in his footsteps. Initially, Dada wasn't convinced and handed me a spindle. I was to fill it with hand-spun yarn and bring it back to him. It took me a month, but the complete spindle showed him that I was earnest in my request. So, I would go to his place every weekend or so, and spin yarn along with him. Can you believe that even at a hundred, he still spins every day, without fail," says Sahasrabudhe.
I am also shown a video where Dada is sitting on a cot and spinning a yarn of perfect consistency.
In 2008, Sahasrabudhe had to return to Pune due to personal reasons, and although he had planned to retire from his job as soon as he turned 50, it took him extra two years to put everything in place.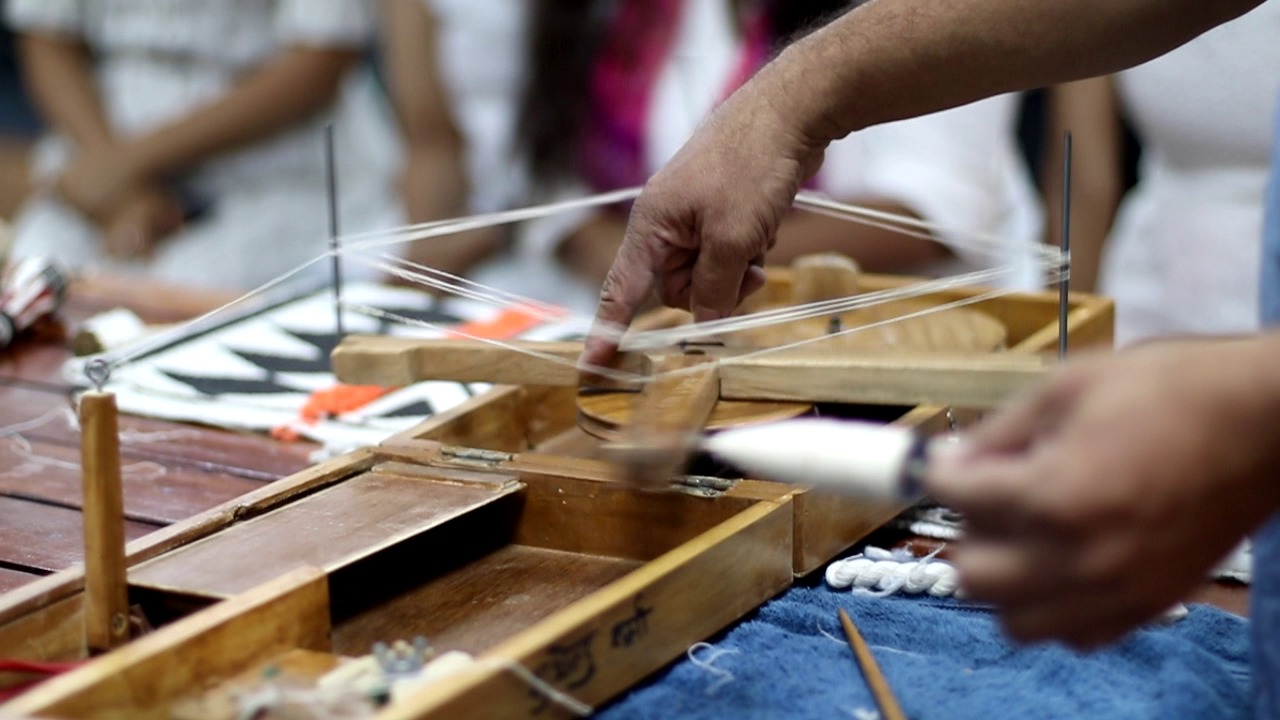 Back in his hometown, the then 52-year-old searched for a job that fulfilled two conditions—first, it had to be related to sustainability and second, his employers would have to allow him to take a week off every month so that he could teach the art of spinning to other people.
"I would travel across the country in this one week, visiting schools and NGOs to check if they needed a volunteer like me to teach spinning. The art is not just fun, but for school children, it is a practical lesson in math and physics. Of course, you can connect history and geography with it too. But even without stretching the lessons so far, you can teach the young ones vital lessons in science. And once they do this with their own hands, the lesson is learned for life," Sahasrabudhe explains.
He found employment in a company that worked in the field of sustainable energy but eventually left it to fully concentrate on conducting spinning workshops.
Today, he travels to various villages, towns, and cities in India, fascinating people with his dedication and ease.
"I urge people not to insist or even suggest a workshop to anyone. You can, of course, set up a demo and I will be happy to lead it. But I leave the enthusiasm of a workshop to the people. If they are interested, they ask me to conduct a workshop without any prompting. I have conducted workshops for about 2,000 people so far. And I know of 200 who have taken up spinning as a result.
This number is wonderful in itself. It means we have kept the art of spinning alive for yet another generation," the 62-year-old says.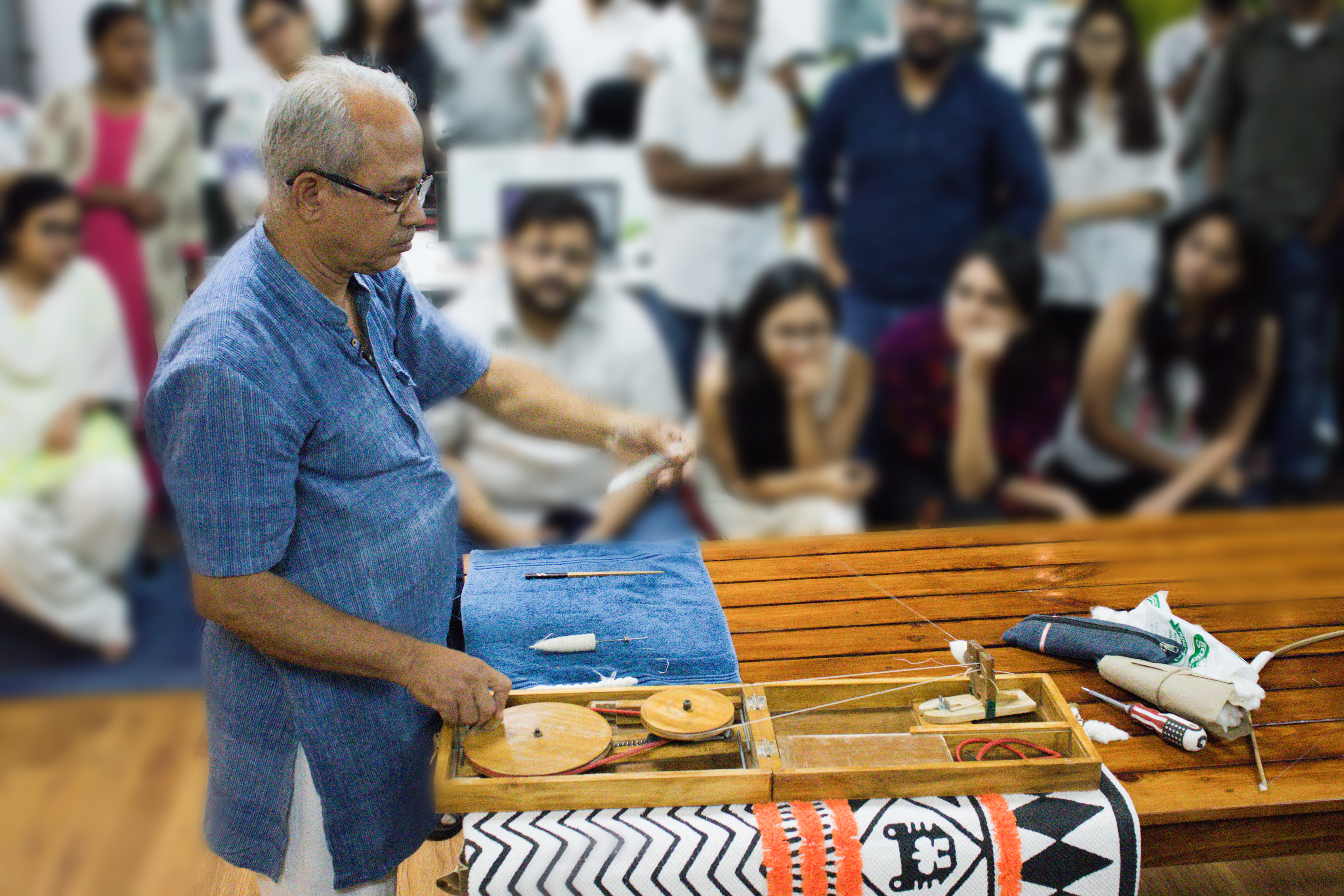 For Sahasrabudhe, spinning cotton into yarn is simply an art, which should be enjoyed thoroughly and he knows that the same technique can mean different things to different people.
For Mahatma Gandhi, it was about his labour in proportion to his consumption, and for Bhosale, it was a way to be self-sufficient.
For him, it is a dying art that needs to be revived before it goes extinct. But, he mentions, it is also a great way of understanding that everything we buy and consume involves hours of labour, by unknown and unseen people.
---
You may also like: Story of Shops: Pune Friends Paint Stunning 'Legacies' on Dull Store Shutters!
---
"We need to respect every cog in the wheel. Without any of these cogs, what we get, ready-made in the shops is impossible. Spinning, for me, is that realisation. I might make thread from cotton with my own hands. But there is a farmer in Gujarat growing that cotton, there is a weaver in Nagpur who weaves it into the fabric, there's another person in say, Karnataka, dying it in beautiful colours before I can stitch it into the kurta I desire."
He says he currently has four pair of clothes, all made of the khadi yarn he spun himself. His family members also have a few garments made in a similar manner. "I spin for at least one hour every day, which results in about 30-50 metres of yarn annually, and every piece of cloth lasts about three years which, I believe, is a good enough time as I wear these clothes regularly," he says.
Although closely associated with Gandhi, Sahasrabudhe believes that the chakra is neither limited nor a direct connection to him. It is possible to spin even if you dissociate the act from the political figure.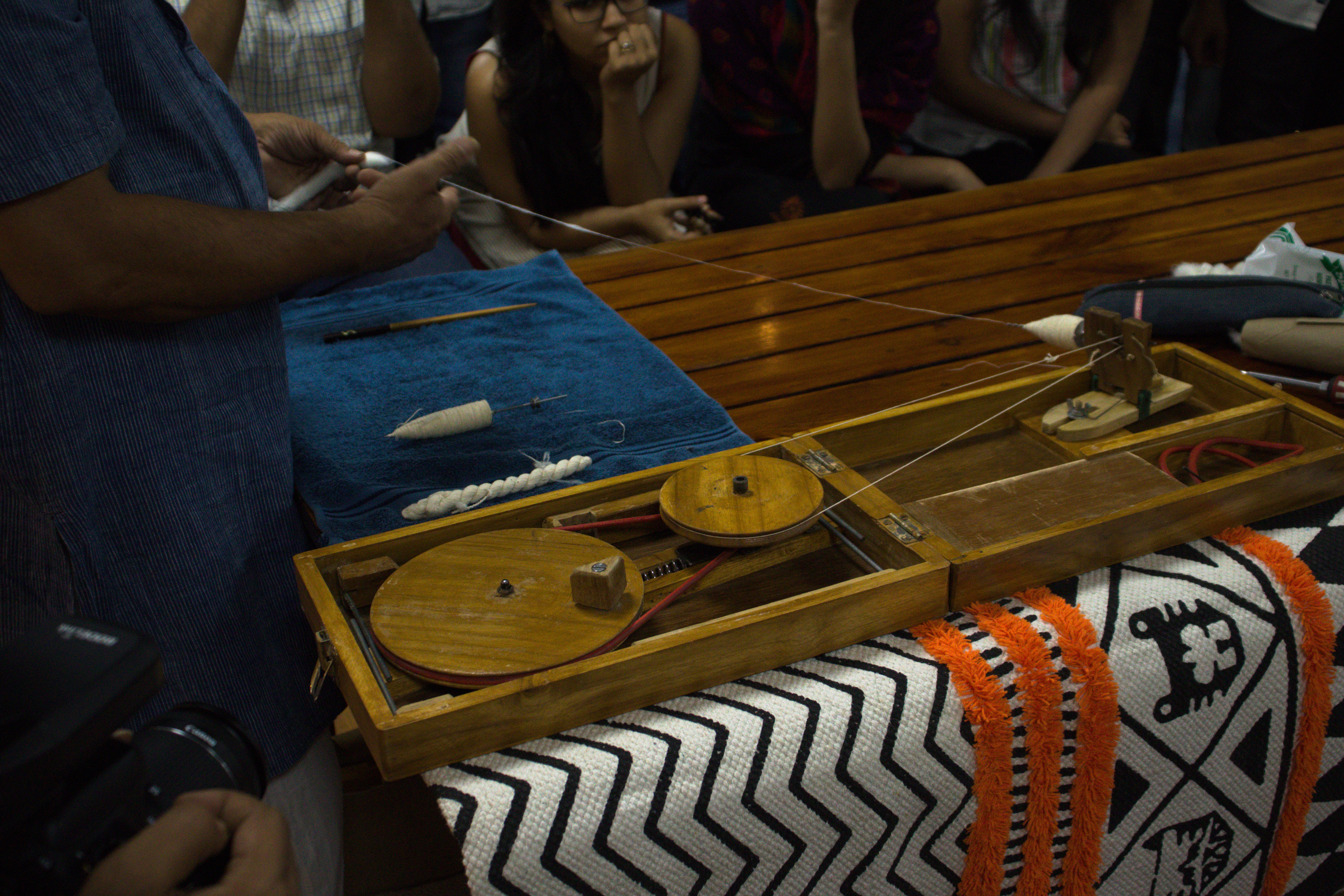 "This art is not symbolic of any philosophy; you can spin because you're a Gandhian and you can spin if you are not," he tells us as he weaves his ready yarn onto a wheel.
It has been about 45 minutes of rapt attention, and the occasional laughter as the immense knowledge about spinning and clever anecdotes flow in the 62-year-old's session.
Right in front of us, he has made thin thread from cotton bundles.
Effortless in his craft, curt and witty in his session and humble about his work, Sahasrabudhe has certainly inspired hundreds throughout his journey as a charkha teacher over the past five years.
He is always eager to meet new people and help them understand the foundation of their wardrobe, encouraging them to grow their own clothes.
You can learn all about where our cotton comes from, the difference between khadi, handloom, and power loom fabric, why reviving this art is necessary and of course, know how to spin from Sahasrabudhe.
Drop him an email on madhavsahasrabudhe@gmail.com for inquiries.
(Edited by Gayatri Mishra)
Like this story? Or have something to share? Write to us: contact@thebetterindia.com, or connect with us on Facebook and Twitter.
We bring stories straight from the heart of India, to inspire millions and create a wave of impact. Our positive movement is growing bigger everyday, and we would love for you to join it.
Please contribute whatever you can, every little penny helps our team in bringing you more stories that support dreams and spread hope.