Married at 16 and widowed at 24 with two children, meet the lady who became India's first woman pilot! From the extra ordinary support from her family to her unflinching passion to achieve her dreams, know 11 such interesting facts that make Sarla Thakral's story truly amazing and inspirational.
Now, when woman empowerment is the talk of the town, with the government launching campaigns like Beti Bachao Beti Padhao and with all the efforts that India is putting in to bring women to the limelight, being a woman pilot does not seem like big news.
With popular names like Prem Mathur, who became the first Indian woman commercial pilot to fly a domestic airline in 1947, Durba Banerjee, who became the first woman pilot of Indian Airlines in 1956 and Padmavathy Bandopadhyay, who was the first woman officer of the IAF to be promoted to the rank of Air Vice Marshal in 2002, we can't feel proud enough and salute these ladies for choosing a career which would not be considered by most.
And when we mention all these successful ladies, the one lady who pioneered a career in aviation cannot be forgotten. We are talking about Sarla Thakral, the first Indian woman to get an aviation pilot licence and fly an aircraft.
Photo: Vivchavan / Wikipedia
Here are some amazing facts about the wonderful lady you probably didn't know.
1. Born in 1914 in Delhi, this fiercely ambitious lady got an aviation pilot licence in 1936 when she was just 21.
At that time, when flying itself was like a miracle, Thakral created history.
2. When Thakral first flew an aircraft, she was not only married but also had a four year daughter.
She was married to her husband P D Sharma at the age of 16.
3. Her first step into the world of flying was in the cockpit of a Gypsy Moth. In a saree.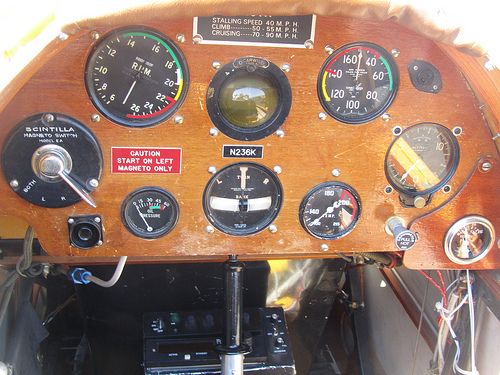 At a time when there were only male faces to be seen in the cockpit, Thakral was the face of new and confident India, a fresh breeze of courage and determination.
4. It is said that behind every successful man, there is a woman. But for Sarla Thakral, it was the other way around.
In Thakral's case it was support of two men – her husband and her father-in-law – which gave her the strength to reach the blue sky.
5. Thakral's husband P D Sharma had 9 pilots in the family!
This gave Thakral the much needed support and push to pursue her dreams.
6. Sharma was a successful pilot too. He was the first Indian to get an airmail pilot's licence and flew between Karachi and Lahore.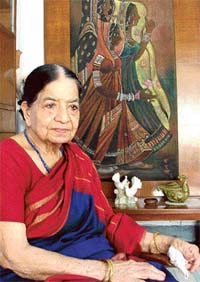 Photo: vivchavan.wordpress.com
7. But as every successful story has its own challenges, Thakral's life too took an ugly turn when she lost her husband in a plane crash in 1939.
She became a widow at a young age of 24.
8. She got 'A' license after successful 1,000 hours of flying and was all set to obtain the 'B' license which would have given the opportunity to fly a commercial plane.
But this dream had to wait to be fulfilled. While working to get this license, World War II broke out and civil training was suspended.
9. After the war broke out, she returned to Lahore to join the Mayo School of Arts and got a diploma in fine arts.
http://pakistan360degrees.com/
After the partition, she moved to Delhi with her two daughters.
10. She was an ardent Arya Samaj follower.
Being an Arya Samaji made it easier for her to remarry her second husband P.P.Thakral as widow remarriage was encouraged.
11. She successfully took up costume jewellery making, saree designing, painting and designing for the National School of Drama in her later years.
One of her clients was Vijayalaxmi Pandit!
If we see, Thakral's life was divided into two parts, and she lived both of them perfectly. She did not let anything come in the way of a good life and was an inspiration to all women till she took her last breath in March, 2009.
We salute the amazing lady, who took woman empowerment to a new height. We also salute her family who stood by her through thick and thin and always supported her at a time when women were not even given a chance to educate themselves.
Women like Thakral are true gems and an inspiration to all of us.
Like this story? Or have something to share? Write to us: contact@thebetterindia.com, or connect with us on Facebook and Twitter (@thebetterindia).