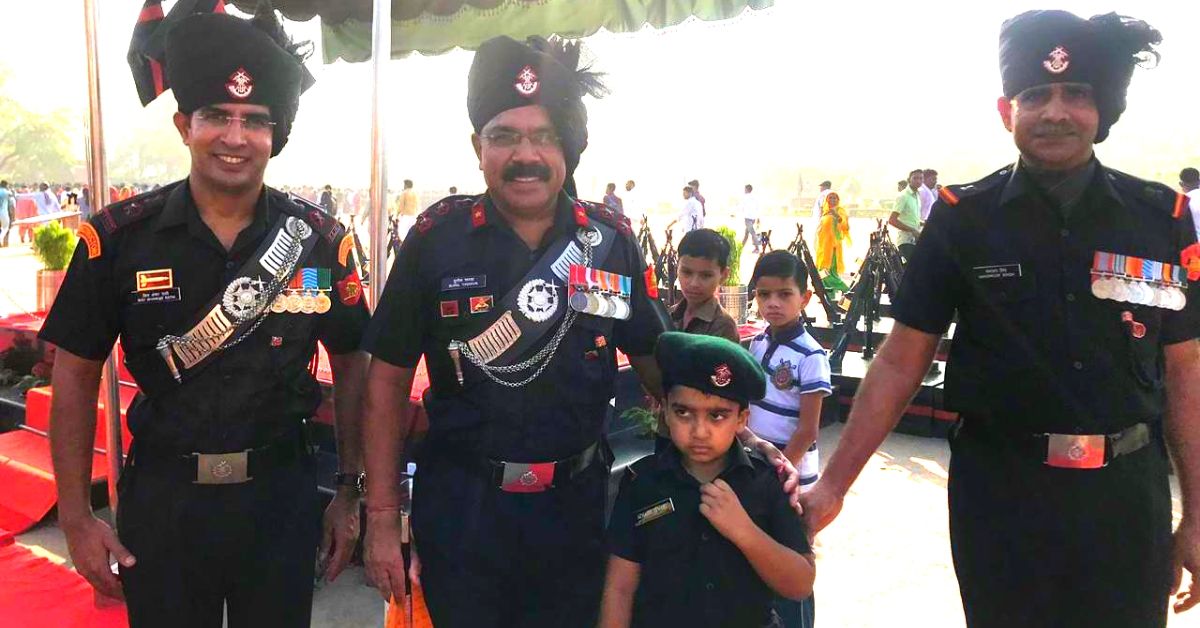 At 6, a rare amputation snatched his leg, but couldn't steal his incredible spirit!
"I wish it was a fictional story and not our real life," says Dr Nisha Tiwari, and I am struck by the pain in her voice, even though this is a phone call, and she is miles away in Delhi.
15th September 2017. Nisha, a Delhi-based clinical psychologist, was eight-and-a-half months pregnant with her second child, (a daughter), when her five-year-old son, Atharv, complained of a stabbing pain in his left leg.
Sensing the severity, the second-time mother-to-be called her husband, also a medical professional, and Atharv was rushed to the hospital.
The scans were normal and the painkillers subsided the pain. Until another episode made a recurrence, a week later.
At the time, Atharv was one of the youngest students at the Taekwondo batch almost on the verge of winning his first belt. His parents thought the recurring pain could be due to a muscle or ligament tear during training.
But they were wrong. The pain did not subside it got worse.
"My daughter was born on 2nd October, and I remember the day well because ever since that night, he has never slept a single night without pain. And yet, my boy is the strongest warrior I know."
Braving the mind-numbing pain, Atharv would get up every morning, take painkillers and go to school. In the next two months, when the pain had spread to other areas, the doctors conducted an MRI.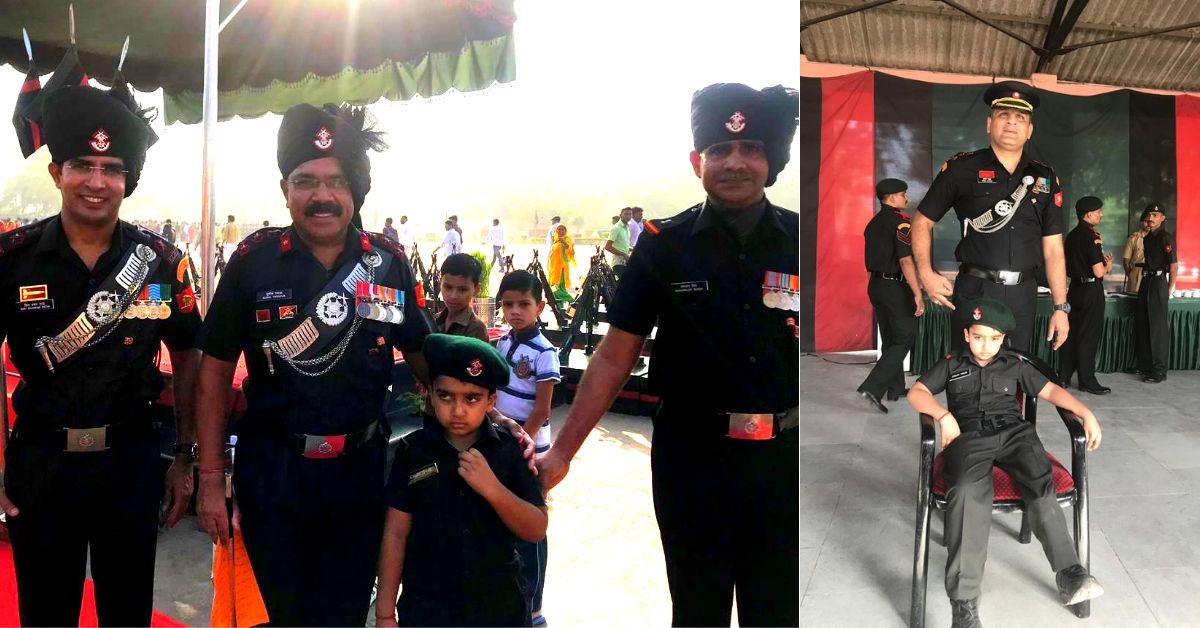 Atharva also underwent two major surgeries for the purpose of biopsy, and the results revealed the worst nightmare for a parent.
It was osteosarcoma, an aggressive and malignant type of bone cancer. While his parents were devastated, the doctors too were dumbfounded to see a five-year-old suffering from the rare condition.
Atharva underwent eight months of aggressive chemotherapy.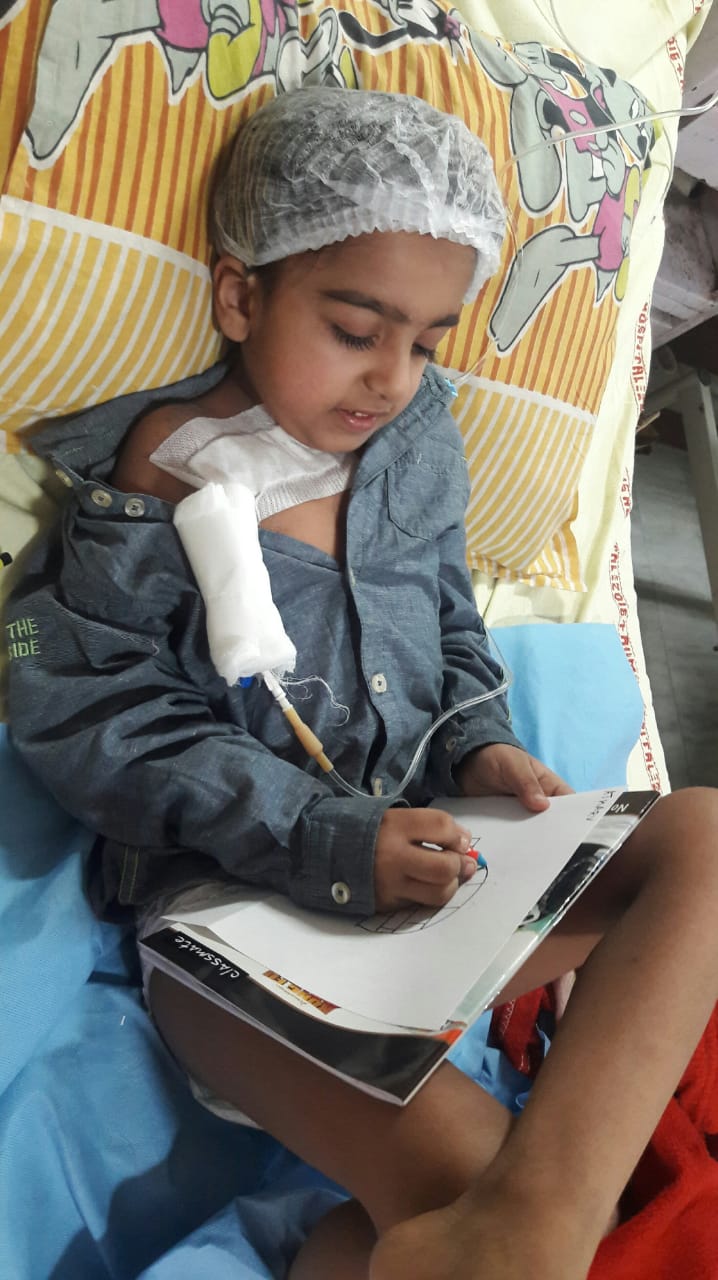 "He escaped death more than once at the time. In February 2018, during his birthday month, he underwent a Rotationplasty type B2, one of the rarest types of amputation surgeries. He has been put as 95 per cent ortho disability."
During those long eight months of his treatment and recovery, Atharv had the central line inserted to administer fluids and drugs.
Every 15 days, when the suture would break, he underwent the painful process of having them redone. Despite not being able to move freely, being administered epidural anaesthesia for nine days continuously and morphine on 1.5 months, he did not lose hope.
The little boy perhaps has more strength and optimism that adults like us do.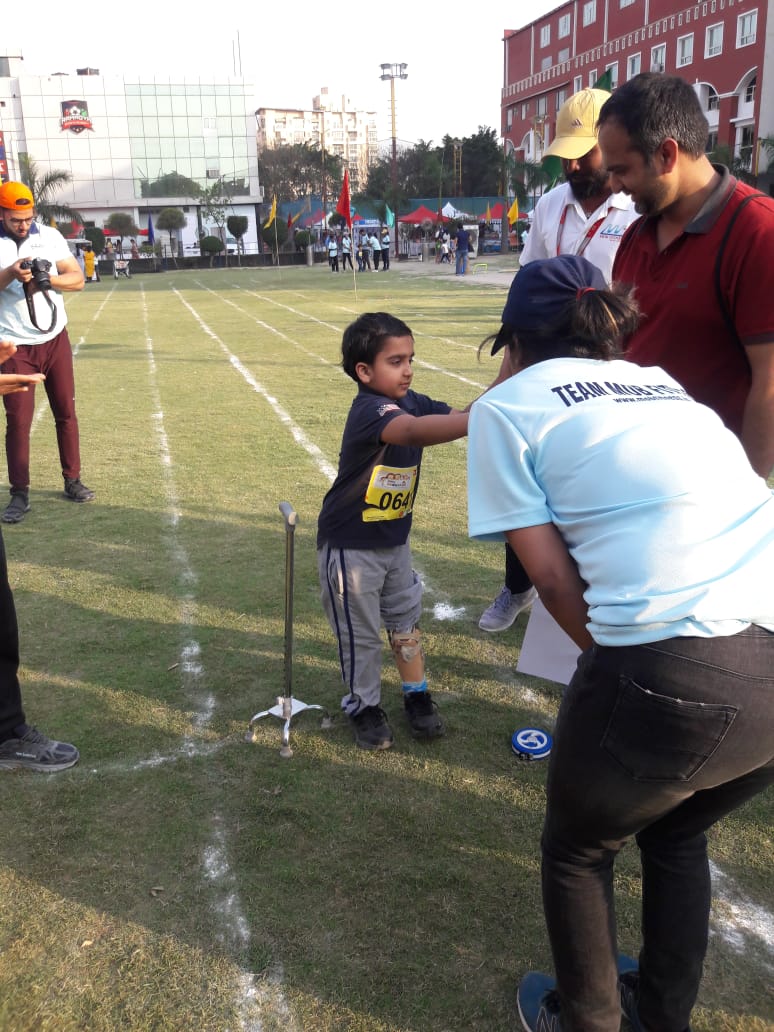 It's been a year and four months since the surgery. Despite having his lower body in a cast for a long time, he would lie down in the same position or tilt the bed and paint.
Four months after the surgery, a scan revealed that the cancer had spread to both his lungs, and more chemo and surgery were advised. He has had more than 500 blood transfusions, till date.
His surgeon was clear; Atharv's heart isn't strong enough to take more rounds of surgeries or chemo. So his parents made the difficult decision to not go with chemotherapy or surgeries any further.
"It is only his fighting spirit that has helped him survive. At a time when medical professionals lost hope, he has recovered drastically, with cancer now affecting only his left femur. Yes, he is under rigorous physiotherapy, and a lot of complications still do exist. He has terrible headaches and vomiting, but he is battling against all the odds to find joy in the smallest of things."
Why is Atharv's story so remarkable? Because this little warrior, who turned seven this February is an inspiration for everyone.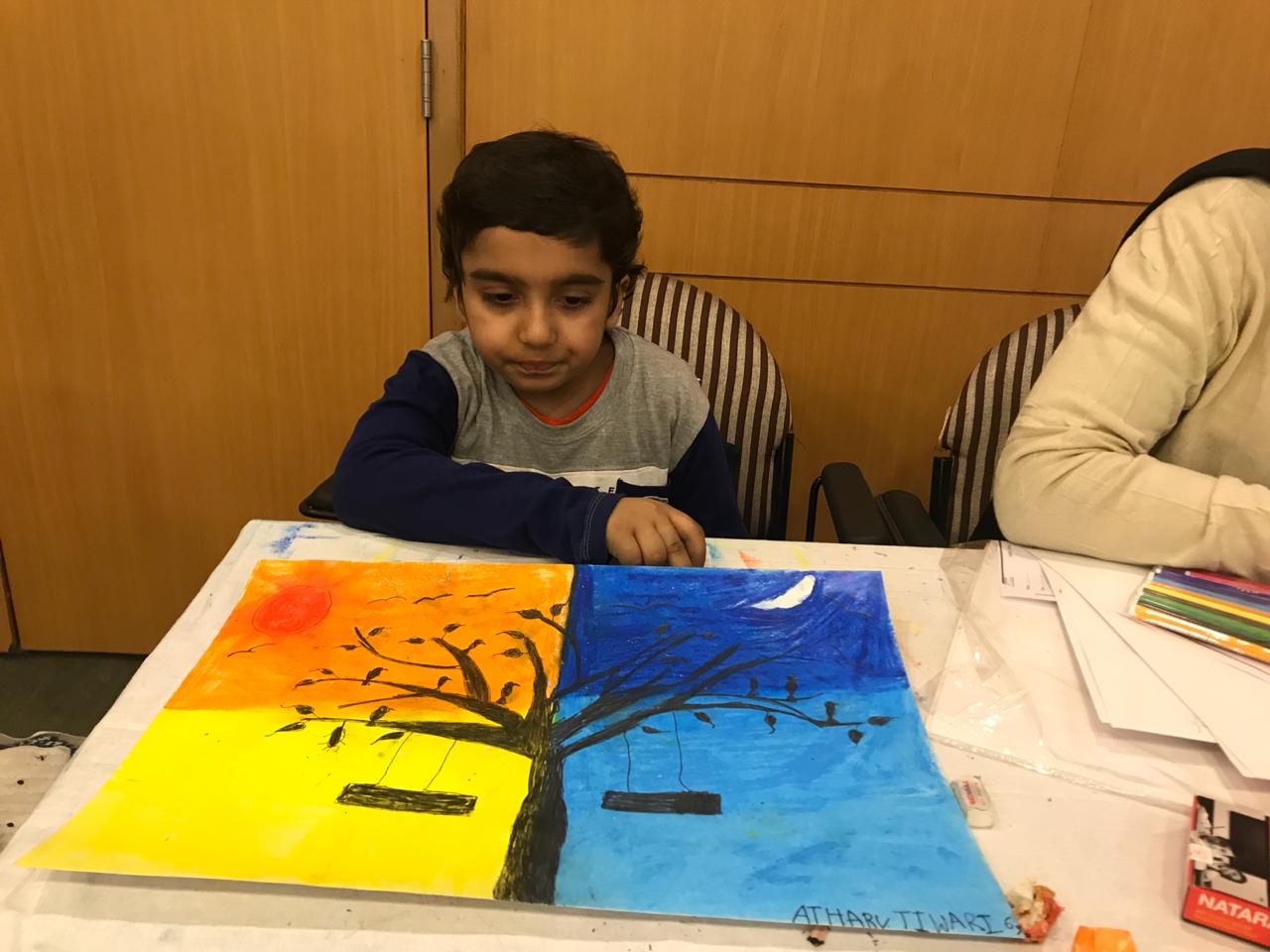 Atharv, who was in isolation for more than 11 months, taught himself to move around. First, with the help of a wheelchair and later a walker. He also wears his customised prosthesis for two hours a day. He is not only moving around but also plays cricket using the assistive equipment.
On the day he was released, in a programme held by the society the Tiwaris live on rent in, he walked up to the stage and narrated his story bravely for everyone to hear. He even sang a song for his little sister.
Atharv goes to school once a week for two hours, as his father sits in the waiting area of the campus. He cannot sit for long durations, but he still travels to the school for his exams. After having scored almost full marks in the last academic year, he is now studying in class three.
The Tiwaris have faced several financial crises in the last two years owing to the piling medical bills and have almost lost their own home to builder issues. Even so, the couple is pushing on. Their major pillars of support have been Nisha's parents, her brother and her in-laws who have not only extended emotional support but financial support too.
---
You May Also Like: Exclusive: 25 Years On, Army Man Meets 'Miracle Baby' He Saved During Latur Earthquake!
---
"Name any organisation helping cancer patients. And I have approached them. None of them got back or helped. We couldn't waste hours sitting in their offices when our son was suffering in a hospital bed. Even when we needed assistance with his prosthesis, no NGO wanted to help us. They were scared to touch him because of the complications of the surgery."
Nisha hasn't been to her clinic in almost two years as her time has been divided between taking care of her daughter, who is 1.5 years old, and Atharv.
But in the last two years, she and her husband have given it their all to keep the young boy motivated.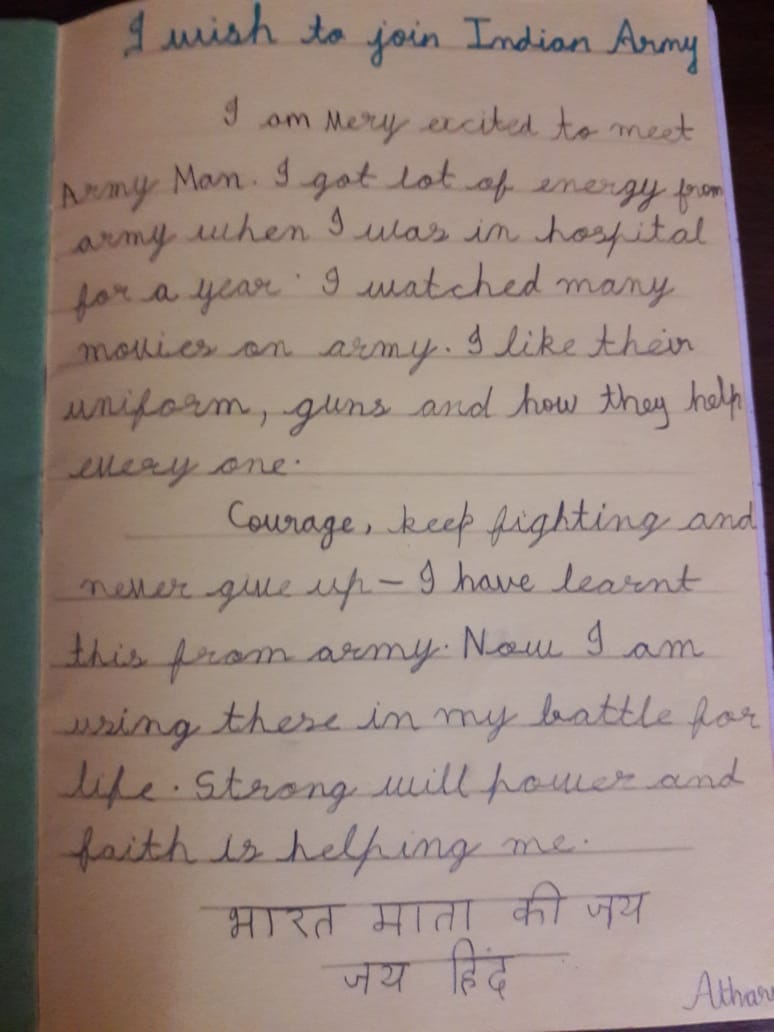 Nisha adds how some of Atharv's heroes and role models have played a major role in keeping him going. Indian Cricket Team Captain, Virat Kohli, who was travelling for the World Cup, was gracious enough to have sent Atharv a video message as soon as Nisha approached him.
Similarly, Atharv's favourite hero, Akshay Kumar, took time off his busy shooting schedule to meet the little fan personally four months ago.
"He gave him a lot of motivation. Atharv couldn't stop beaming and was smiling from ear to ear."
Today, Atharv wants to help other kids like him.
"As a critical child with a 105-degree fever and a central line, he had blood transfusions on a wheelchair at AIIMS because no bed was available. He has seen the ground reality and even as young as he is, he wants to do things that can help other kids like him who do not get adequate treatment or even a bed in critical stages. He tells me, 'Just like how you and pappa would give me my favourite food and toys when I was in pain, can't we do that for other kids?' How can a kid his age who has been through so much be so giving in nature? It amazes me every time."
Atharv who watched war dramas during his recovery period in the hospital also nurtures the dream of joining the Indian Army.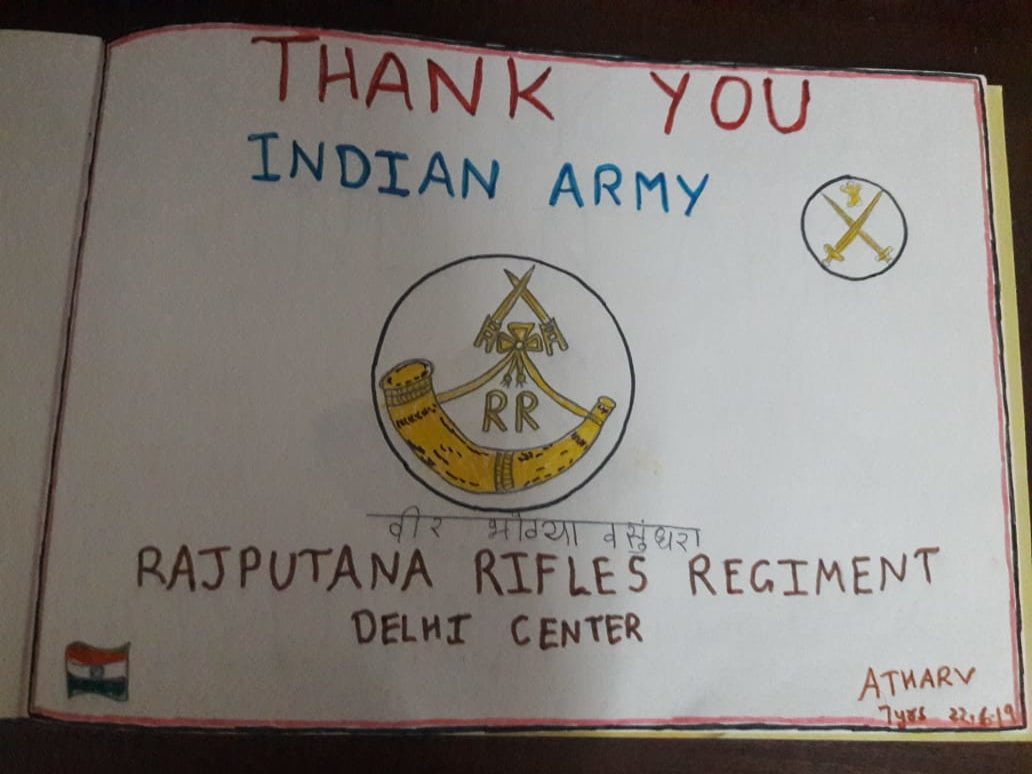 When his parents arranged for a trip for him to meet a few officers in the Indian Army, they were moved at the heartwarming response of the uniformed men.
"Atharv wrote a letter to them about why he wanted to join the Indian Army. The officers of the Rajputana Rifles regiment in a moving gesture applauded him for his bravery, invited him for a small programme and gave him a uniform. They also told us, if Atharv's health permits, they would give him free training with the regiment. So, yes, at seven he has already joined the AArmy," she smiles.
When asked who he wants to meet next, the little boy with the sparkling eyes mentions MS, Dhoni, the former skipper of the Indian cricket team because it was Dhoni's story that motivated him to start playing cricket.
Well, we hope his small wish reaches the right ears.
Till then, when life bogs you down, don't forget to gain strength and inspiration from the story of this little warrior! Show him some love and share positive messages for him in the comments!
If this story inspired you, send positive vibes Atharv's way. Write to Nisha at drnishadubey@gmail.com.
(Edited by Gayatri Mishra)
Like this story? Or have something to share?
Write to us: contact@thebetterindia.com
Connect with us on Facebook and Twitter.
We bring stories straight from the heart of India, to inspire millions and create a wave of impact. Our positive movement is growing bigger everyday, and we would love for you to join it.
Please contribute whatever you can, every little penny helps our team in bringing you more stories that support dreams and spread hope.
Tell Us More