"We have been using our seas and oceans like dump yards, throwing all our chemicals and garbage in it, and polluting it with gigantic amounts of plastic. At this rate, things are not going to end well for us." #Respect #RealLifeHero
Pugalarasan TA had just completed his shift in the oceans when a group of people summoned him.
The fisherman was well-known in the Neelankarai area of Chennai as an excellent swimmer, and when a young turtle was stranded in the currents, the then 20-year was the perfect choice to rescue it.
---
Conservationists like Pugalarasan are concerned about the amount of plastic we dump into the oceans since it is a potential wildlife killer. Do your bit to save our turtles. You can start your plastic-free, sustainable lifestyle right here.
---
"I asked them why they wanted me to help the turtle, and the group explained its endangered status to me. I am only a fisherman by profession, but even then, I could sympathise with the threatened existence of the marine creatures. So, without knowing much about animal rescue, I dived into the sea. That was my first rescue," Pugalarasan says in conversation with The Better India.
This incident took place 17 years ago. Today, he is a 37-year-old and has been working for the conservation of turtles for nearly two decades now.
Pugalarasan had still not finished school when he had to take up the financial responsibility of his family. Brought up on the coasts of Chennai, he took up fishing.
Every day, early in the morning, he would sit on his boat, brave the strong winds and the challenging waves to reach his regular location.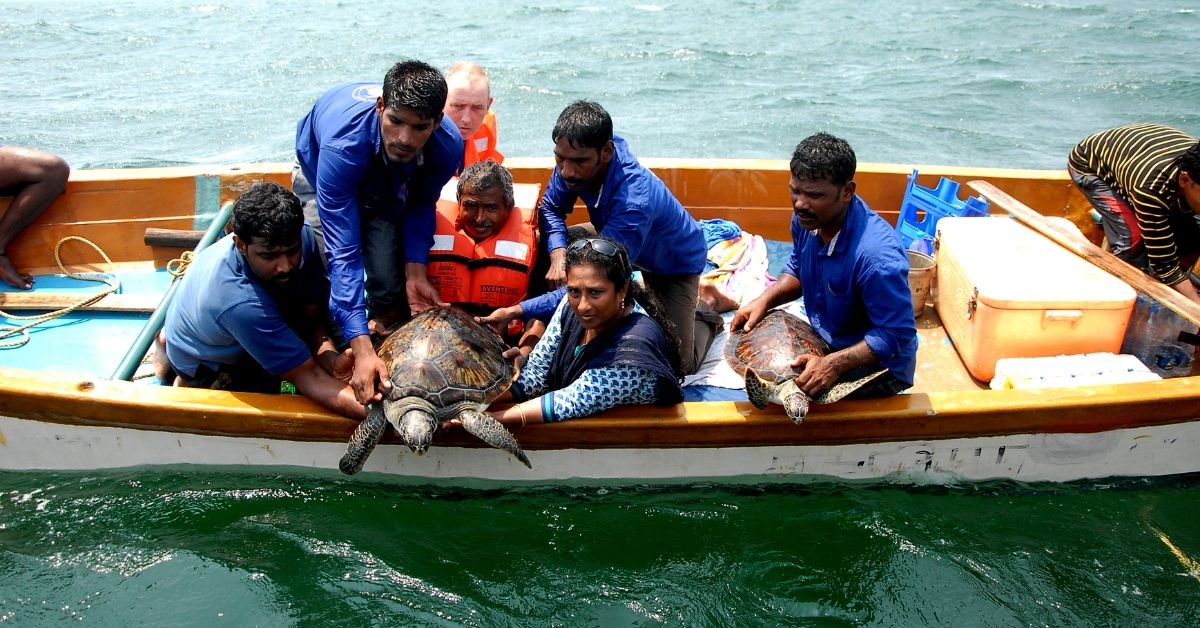 Spreading his net in the deep sea, he would wait till the net was heavy enough to pull it back up. The species, the number of fish he caught and the time he reached the market were three of the many factors determining how well or little the fisherman earned that day.
It was a difficult life, but Pugalarasan's empathetic nature never wavered. After his first rescue in 2002, he decided to stick with the group who had approached him and join them in other rescue missions.
The group, incidentally, was a not-for-profit called Tree Foundation India (TFI) which works towards sea turtle conservation, human rehabilitation (after the devastating tsunami in 2004) community development and environmental education among the masses.
He tells us that joining TFI gave him a better insight into how human activities are affecting our oceans.
"We have been using our seas and oceans like dump yards, throwing all our chemicals and garbage in it and polluting it with gigantic amounts of plastic. Such activities upset the balance of nature and at this rate; things won't end well for us."
TFI was conducting awareness programmes in various villages about this powerful message and Pugalarasan decided to volunteer with them.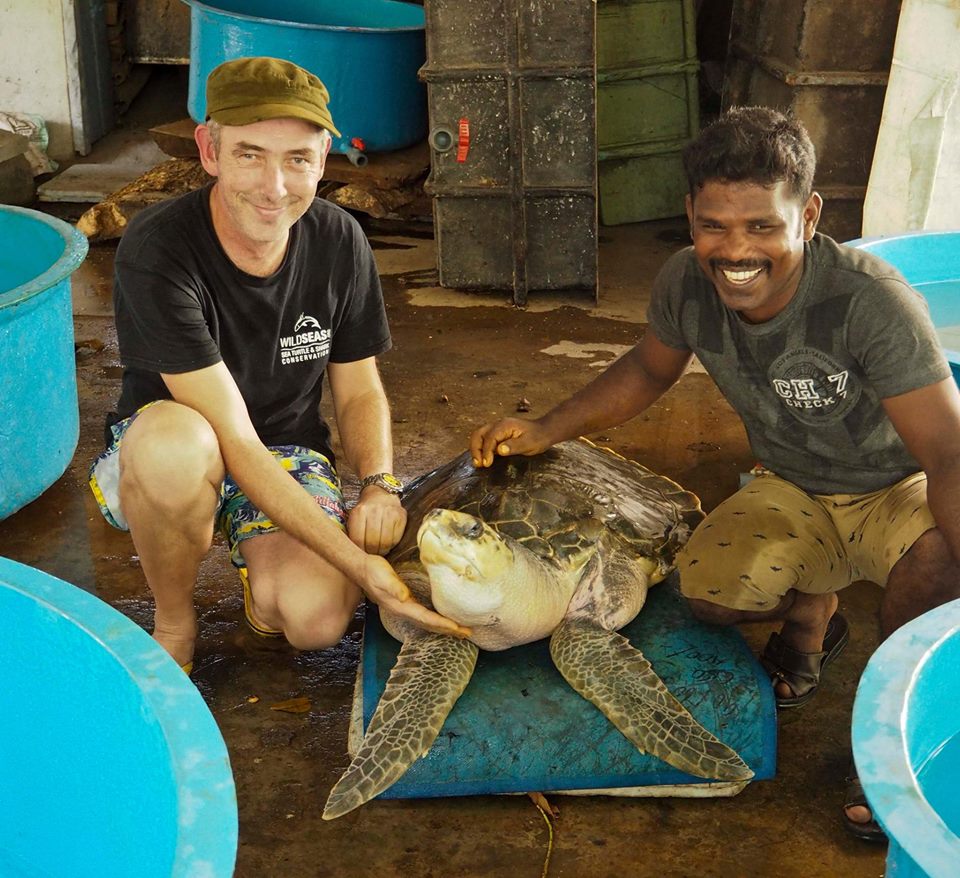 "One day, I attended a session with Dr Supraja [Dharini] who gave me a better understanding of marine wildlife. I was captivated by this work and decided to visit village after village to spread awareness about wildlife conservation. Places like Thoothukudi were especially hard to convince because they relish turtle meat. When it comes to asking people disconnected from marine wildlife, they are proactive in joining the cause. However, when it comes to those who hunt the animals for meat, it gets supremely difficult to convince them otherwise. I know that I am a fisherman myself, but I now understand which species is endangered and which one is bred for consumption," he explains.
Dr Dharini is the founder of TFI, and you can read in detail about the foundation here.
TFI's work is far from limited to spreading awareness about sea turtle conservation. It also includes researching about turtles, their population, the routes they travel, and their diets.
This knowledge that they acquire with turtle tagging is spread to schools and colleges so young students understand the urgent need of marine conservation. TFI also protects the nests of young turtles, allowing them safe passage from the beach to the sea without the threat of predators.
Telling us about his conservation efforts with TFI, Pugalarasan says, "Until today, I have rescued 55 turtles on my own. These are the reptiles that I see on my own or catch in my net.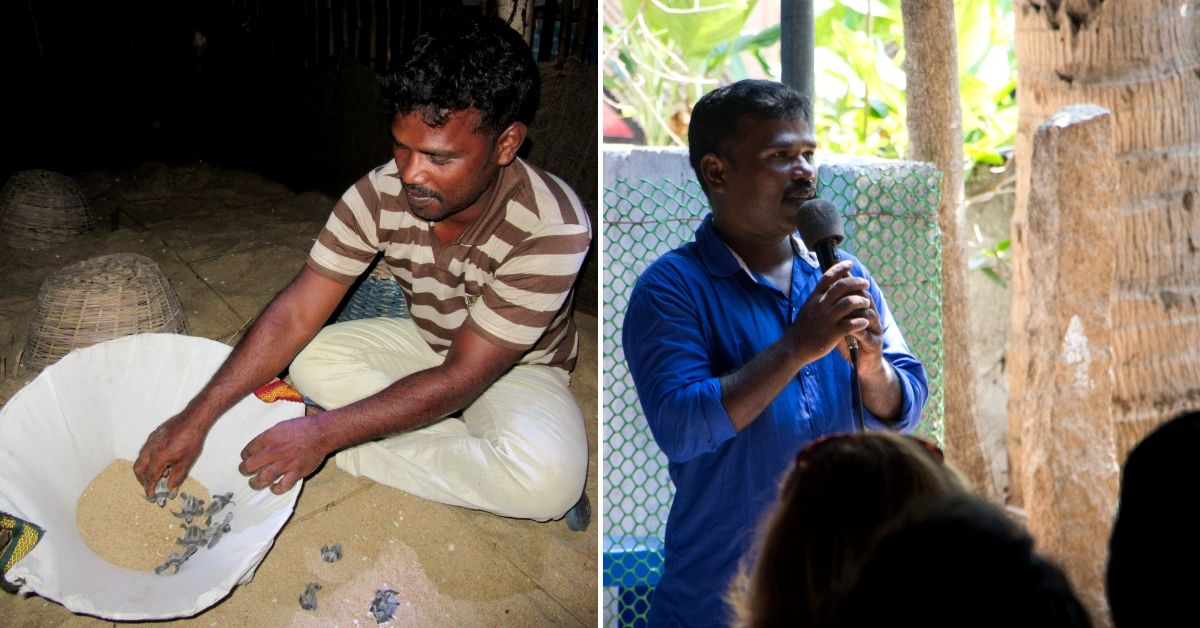 But apart from these, several people call me every week and inform me about a turtle that is stranded on the beach, stuck in plastic or needs veterinary attention because it was injured in a fishing net. I try to answer all these calls of distress."
Pugalarasan believes that this last detail, about turtles getting injured in fishing nets is a great problem. It is second only to trawling, which keeps the caught turtles underwater for a couple of hours, drowning them even though the fishermen didn't intend to catch them in the first place.
"Turtles dive into the sea for food but have to come up to the surface to breathe every 45 minutes or so. Trawling keeps them submerged underwater for a good three to six hours. We are trying to raise awareness about this too, requesting the fishermen to check their nets every hour or so and allowing the caught turtles to escape. It is a slow process, convincing people who are used to fishing for years, but we hope to have a better impact with our determination," he says.
---
You may also like: Chennai Man Develops Rs 250 Water Harvesting System That Collects 225 Litres in 10 Mins!
---
While Pugalarasan's financial responsibilities have not allowed him to stop fishing, he ensures that the fish he catches are not endangered and that his nets are not injuring any turtles.
Our nets are getting bigger and stronger, but with every huge net we let into the ocean, we are risking a part of our wildlife.
Responsible fishing and responsible consumption are crucial, and conservationists like Pugalarasan are leading the path.
(Edited by Gayatri Mishra)
Special thanks to Ahmed Sherrif and Judie for the interview. Pugalarasan is most comfortable in Tamil and the interview wouldn't be possible without Judie's or Ahmed's help.
Like this story? Or have something to share? Write to us: contact@thebetterindia.com, or connect with us on Facebook and Twitter.