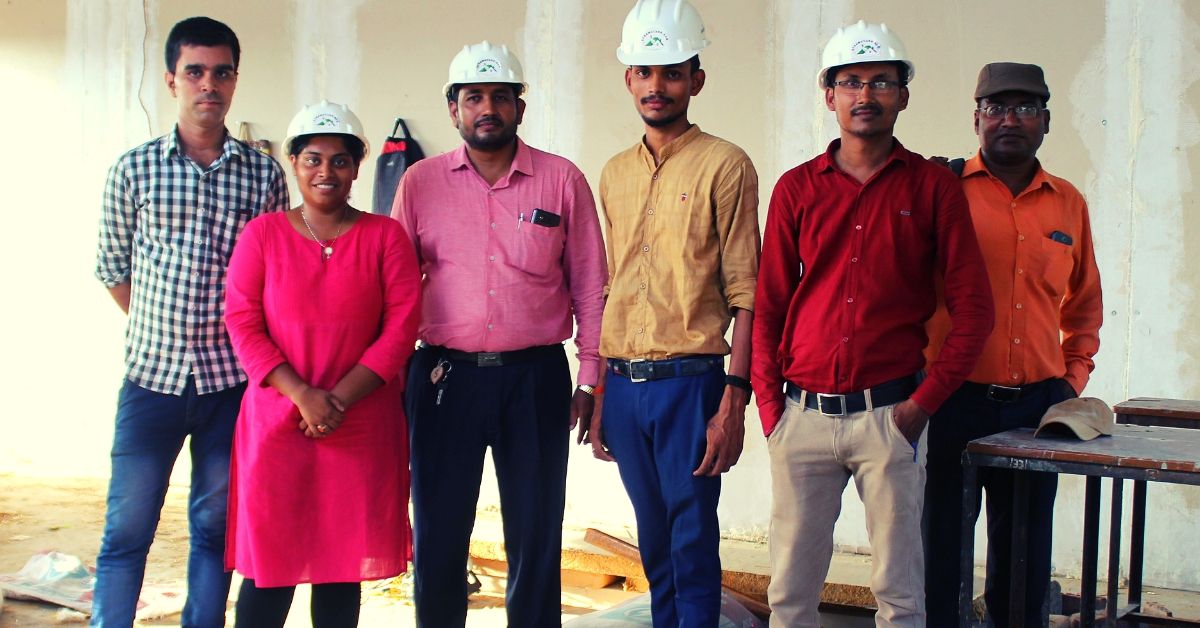 A sustainable alternative to concrete walls and ceilings, these fibre panels made from agricultural waste can not just be a long term solution for stubble burning, but also fetch up to Rs 25000 for the farmers. #Innovation #GreenIndia
What will take it for you to take a small step for the sake of environment?
In an era where infrastructural development in rural and urban areas is moving rapidly, and that too, at the cost of exploiting the natural resources, a simple step of giving up plastic straws or even carry bags seems to be a daunting task for many. 
---
Improve your home decor with 100% natural and eco-friendly products. Check them out at TBI Shop here. 
---
However, there exists a niche of citizens who have read the signs of worsening climatic conditions and the catastrophe bound to happen in the future due to our current consumption habits. 
Shriti Pandey from Uttar Pradesh belongs to that environment-conscious group who has not only mended her lifestyle in line with nature but is also making others follow suit. 
Born and raised in Gorakhpur, Shriti completed her Civil Engineering from Ghaziabad post which she moved to New York to pursue Masters in Construction Management. She landed a well-paying job in a New York construction company and for a year, lived the American dream with her parents proud of her achievements. 
Shriti's life, that many dream of living, took a turn when she decided to quit. 
Since childhood I have been fascinated by buildings and I always imagined constructing affordable houses for people. A few months into the new job, I realised I was not learning or growing professionally. I quit my job and came back to my hometown, she tells The Better India. 
After returning to India in 2016, Shriti learnt about the The SBI Youth for India Fellowship that primarily aims to bring a socio-economic change in backward areas by empowering the underprivileged strata of the society. 
While her parents were happy about her socially-driven decision, they thought their daughter would ultimately go back to her job in the United States. However, Shriti gave up her H-1B visa to explore opportunities in India.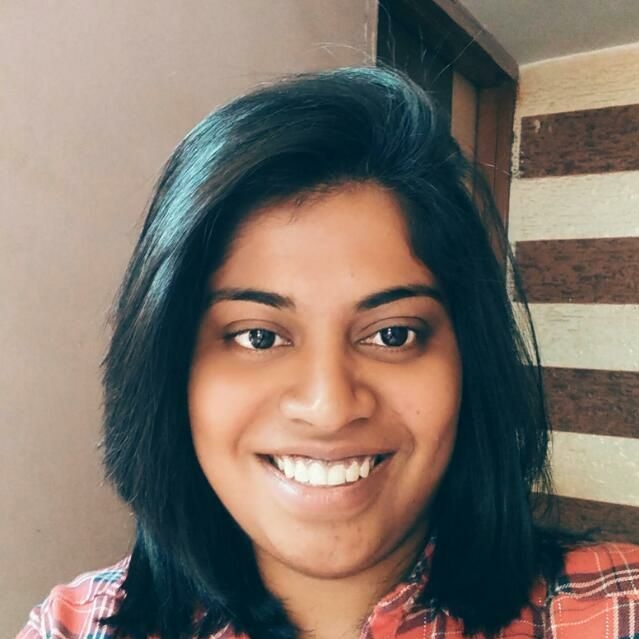 For a year she lived with some families in Pandhana, a tribal region of Madhya Pradesh where she provided ways to uplift the animal husbandry occupation. 
However, being an expert in building designs and construction, Shriti could not help but notice the type of houses the villagers resided in.
The construction material (bricks and concrete) used to make the houses had thermal discomfort. In summer the houses would be boiling and during rains leakage problems would be prominent. That is when it struck me how designs and building materials played an integral role in tackling extreme weather conditions and at the same time could be nature-friendly, says the 27-year-old. 
Right before the fellowship ended, she came across a European company 'Ekopanely' that builds low energy and affordable houses. Impressed by their technology of using ecological, recyclable and vapour permeable construction panels as building material, she approached them.  
The company uses compressed strawboard panels that were used a century ago. I studied their product and concluded that agro-waste can be used to make the boards. This is not only beneficial for the environment but also for the Indian farmers. Most of the farmers are forced to burn agriculture residue that further causes air pollution, says Shriti. 
When asked why she prefers constructing the homes in rural areas instead of urban where the profits are higher, Shriti says, "India lives in its villages, and while the cities have grown immensely over the last 20 years, rural areas have not seen that kind of development. For India's economy to be strong, the rural economy needs to grow. If rural India is poor, India is poor."
Launching Green Construction Firm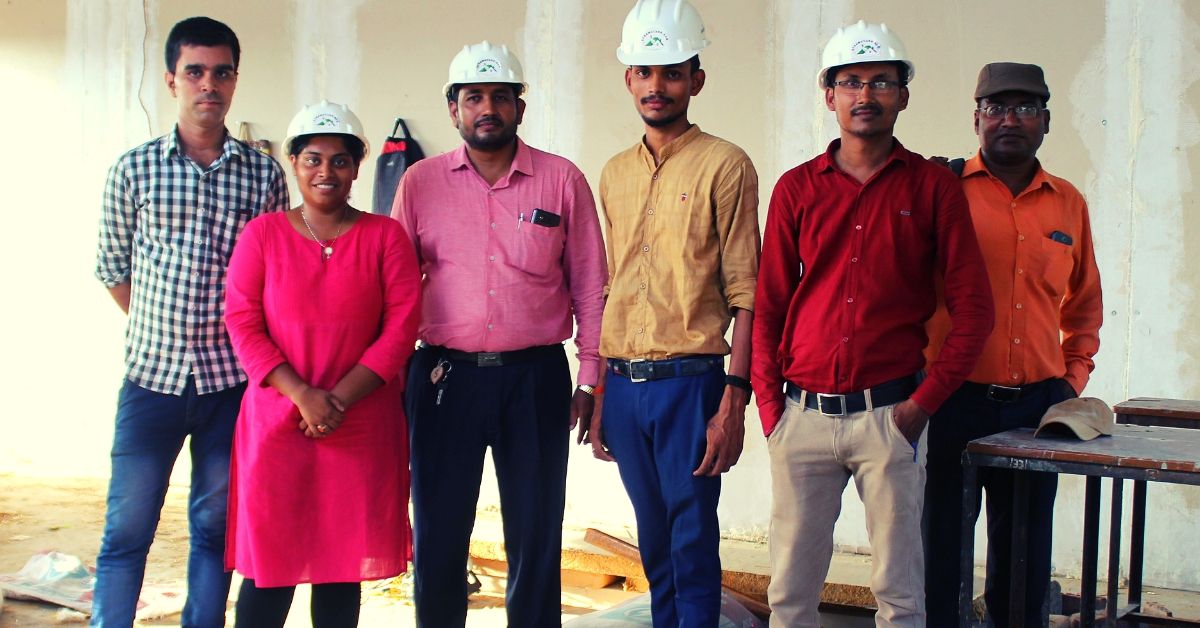 When Shriti expressed the idea of starting a firm to build eco-friendly houses, her friends and family thought it was a huge mistake.
My parents worried if this concept which is fairly new India would work out. It was challenging to make people understand the objective of the firm. But I took the risk and registered  'Strawcture Eco' company in June 2018. Once it was registered, I knew that there was no turning back, says Shriti. 
"I was confident about the potential of such houses and its long term environmental and economical benefits. All I needed was patience and time to establish a market in rural areas," she adds. 
Shriti was clear on the funding aspect. She did not want investors in her business and risk giving up her power and ideas for the sake of money. So she did the next best thing. She approached all the women relatives in her family and made them shareholders. 
With two lakhs of share capital I started the company and from my grandmother, mother, cousins to aunties, it's an all-women team, she says. 
On Constructing Eco-Friendly Homes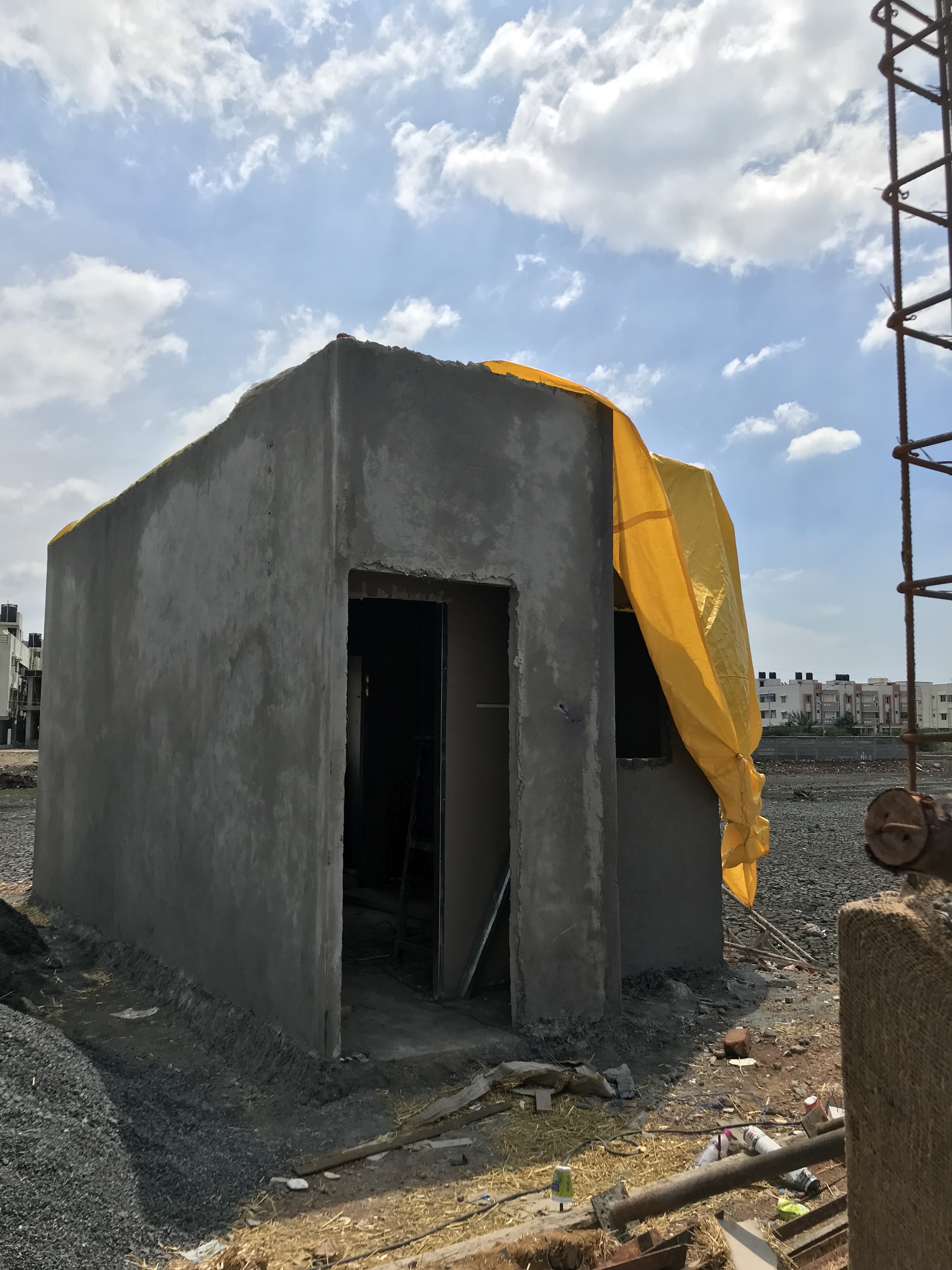 A sustainable alternative to concrete walls and ceilings, the fibre panels are made from agricultural waste. The panels are combined with steel, to provide wall and ceiling systems for both permanent and temporary housing. 
One acre worth of residue can fetch the farmers upto Rs 25,000 and simultaneously reduce air pollution by preventing stubble burning. Every 10×4 feet panel uses around 100 kilos of straw and in a 100 square feet house, around 15,000 kilos of waste is repurposed. 
The straw core of the Strawcture board is encased in three layers of recycled paper. After a Strawcture board is installed into a structure, the surface is penetrated and a final finish is applied that prevents rodents from entering the house. 
The straw panels can last for up to 100 years. The micro-pores created on the panel absorb and retain humidity until the temperature conditions change for the better. The Strawcture board then releases the humidity, moistening the air inside the room.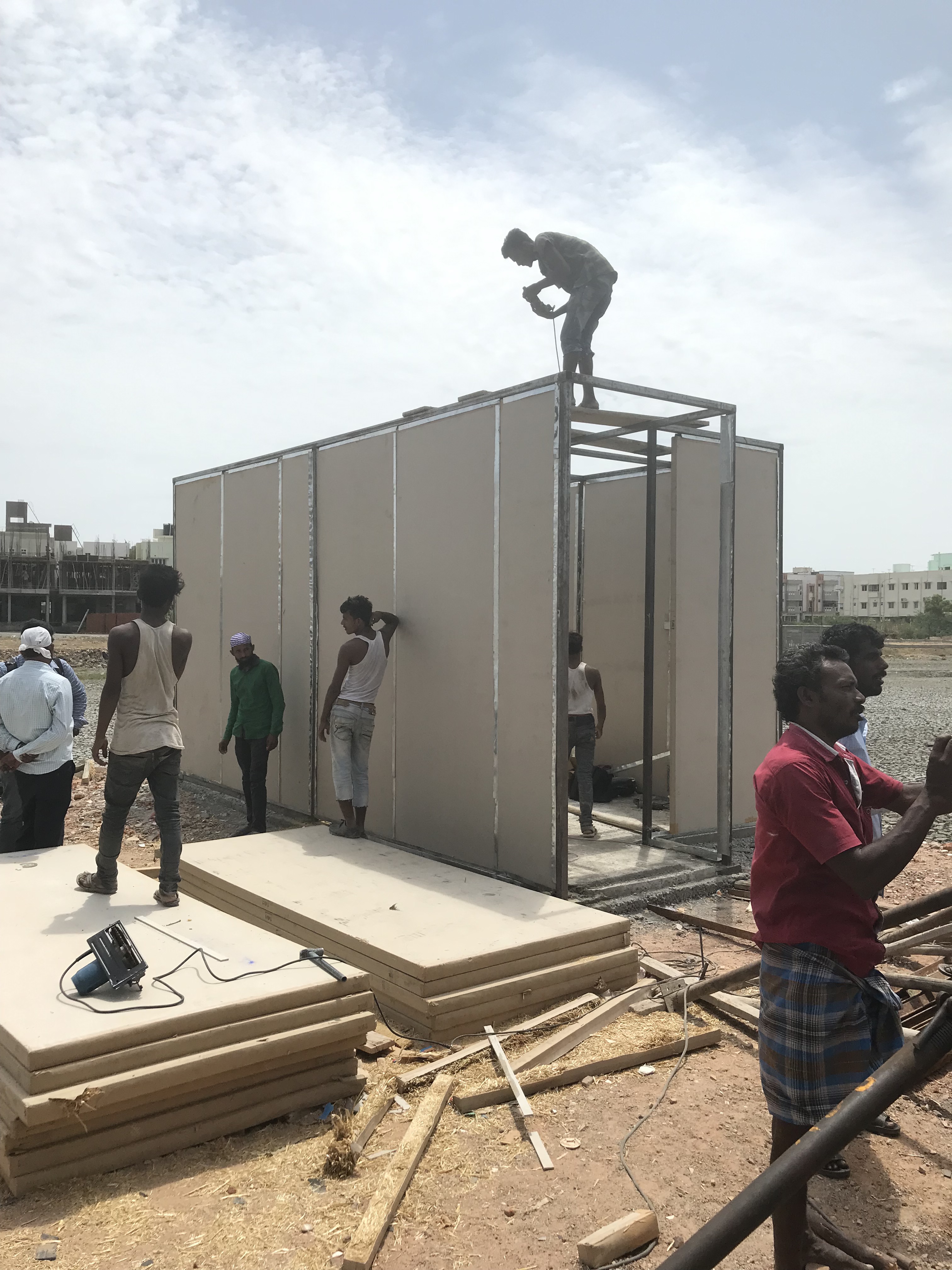 The best, says Shriti, is that local renewable resources can be used as construction materials for the panels, "The steel used in the frame can be replaced by materials like bamboo and wood. We plan to expand our project across India so that we can use bamboo in North East, teakwood in Uttarakhand and so on. This will reduce carbon footprints as transporting concrete materials like cement, sand and water won't be necessary." 
Shriti's first project was in her hometown where she constructed a house. She invited several industrial and environmental experts to study the house. Shriti and her team now occupy the house to test if it can survive all climatic conditions.
Among them was a school principal who requested Shriti to build a floor in their school. 
We made a 1600 square feet extension and built four classrooms from straw board in a 70-year-old school. This project made us realise that vertical expansion is possible and thus space is not needed to build shelters, says Shriti. 
In terms of cost and time taken, it is less than conventional route of making house. She was invited by  a company in Chennai to build a pilot house along with other construction companies. Narrating one incident she says: 
I remember I had booked my return flight ticket five days from the booking date. I was sure of finishing my work in Chennai. By the time I finished my work, the others were working on sheltering process. 
The bootstrapped organisation has also constructed a government community kitchen and canteen in 25,000 square feet area.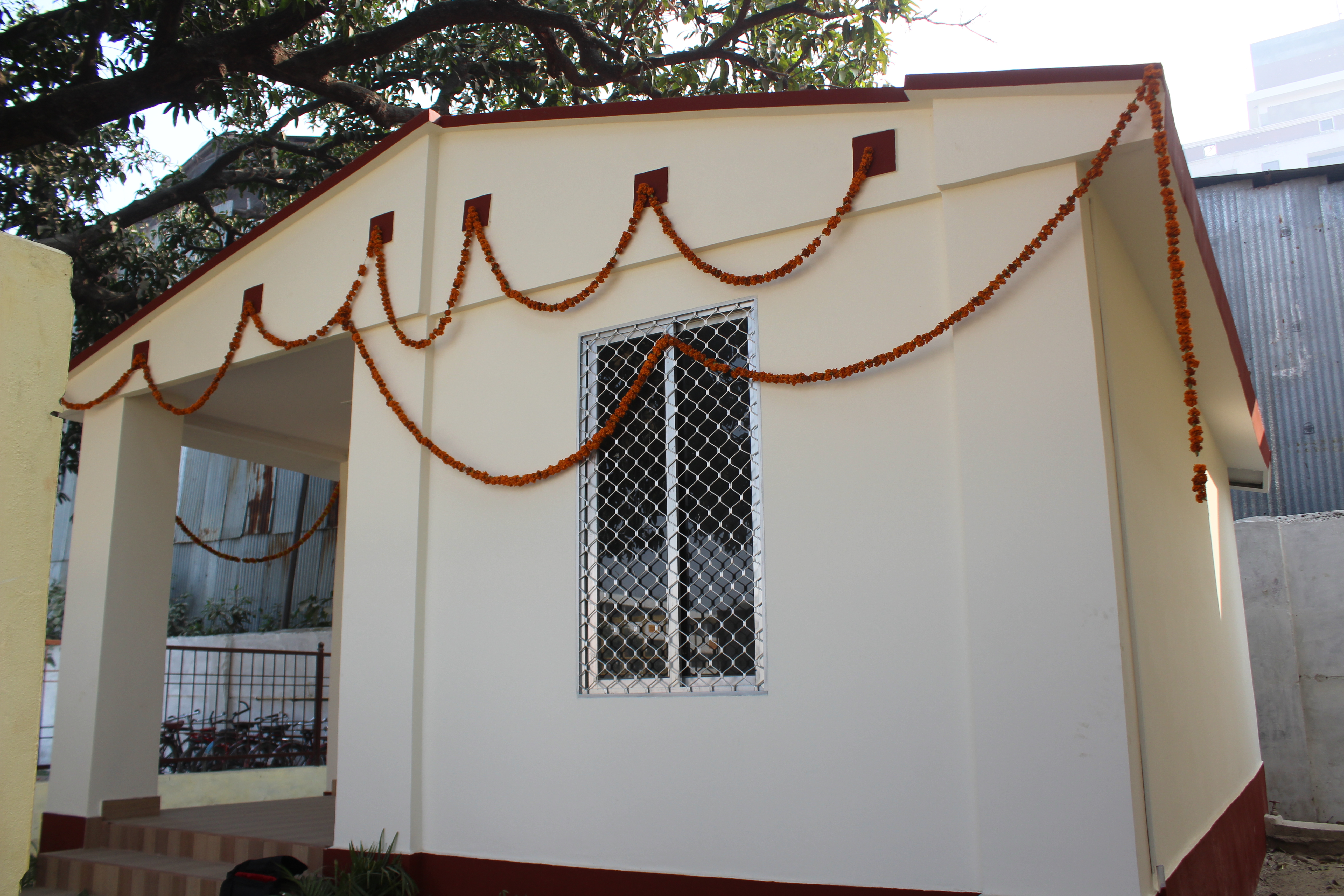 Shriti and her team of 10 are currently working on building a colony for labourers in Bhuj.
In Bhuj, the labourers working for Suzlon Energy company move every six months. Taking care of their needs the company has asked us to make temporary houses for them that can be dismantled and moved from one area to another. We are preparing two clusters of 1600 square feet and each cluster can house 25 people, she says. 
In the next five years, the company will build 15 such community clusters.  
The eco-friendly company hopes to build homes all around India so that it can use locally available resources, "The idea is to build and design permanent homes and living spaces that are affordable, sustainable and accessible for all." 
Among the different challenges that the company has faced, the biggest challenge is price from a business point of view, "We have to quote less price so that people opt for an unconventional route. Paying more for a house that does not use natural resources does not make sense for many people." 
Despite all the criticisms, discouragements and financial problems, Shriti did not give up on her vision, thanks to the immense support from her parents and her determination to provide affordable housing options while saving nature. 
You get in touch with Strawcture Eco here. 
---
Also Read: Mumbai Family Reuses Shipping Containers To Build Low-Cost Sustainable Home!
---
(Edited by Saiqua Sultan)
Like this story? Or have something to share?
Write to us: contact@thebetterindia.com
Connect with us on Facebook and Twitter.
Tell Us More
We bring stories straight from the heart of India, to inspire millions and create a wave of impact. Our positive movement is growing bigger everyday, and we would love for you to join it.
Please contribute whatever you can, every little penny helps our team in bringing you more stories that support dreams and spread hope.