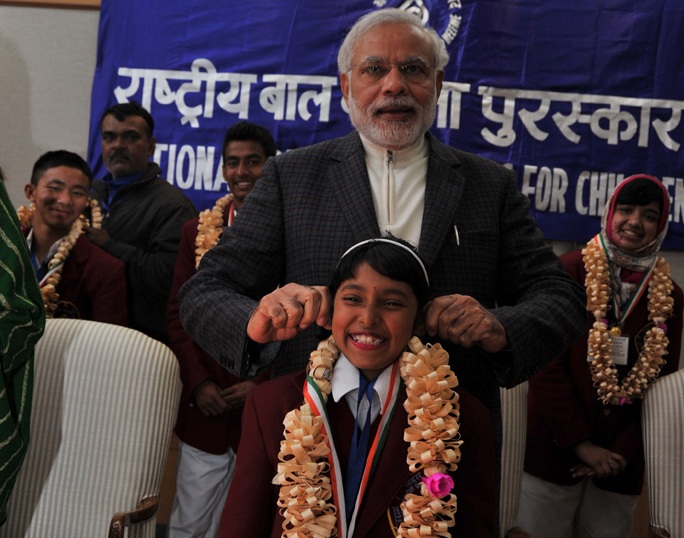 Meet the 24 bravehearts who showed immense courage and saved many lives by their presence of mind and bravery. From jumping into deep waters to jumping into deadly fires, from throwing mangoes at a leopard to offering themselves as hostage, their stories will give you goosebumps and inspire you to the core.
Meet the 24 bravehearts who showed immense courage and saved many lives by their presence of mind and bravery. From jumping into deep waters to jumping into deadly fires, from throwing mangoes at a leopard to offering themselves as hostage, their stories will give you goosebumps and inspire you to the core.
"Bravery is the capacity to perform properly even when scared half to death," said Omar N. Bradley, the great soldier. And we could not agree more as we hear the amazing acts of bravery when people, even children, have risked their own lives to help others.
Every year, 24 children are acknowledged for their extra ordinary courage and presented the National Bravery Award on Republic Day. This year too, Prime Minister Modi awarded 24 amazing bravehearts who showed incredible courage in the face of adversity or danger, some of whom even losing their own lives while helping others.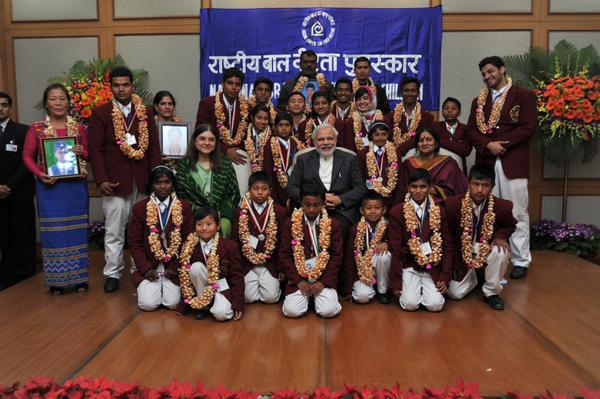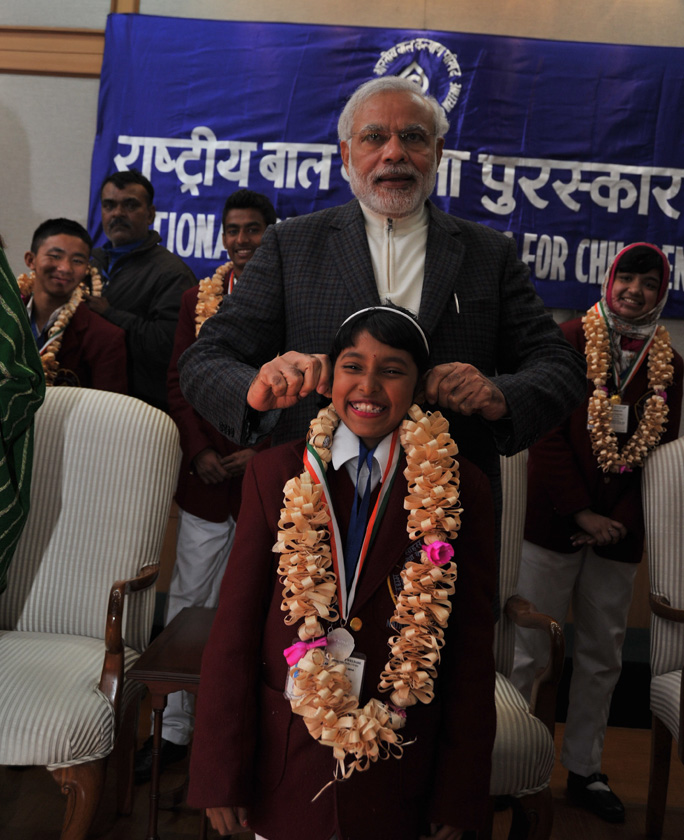 Photo: narendramodi.in
Their stories will give you goosebumps and you cannot help but get inspired from these young souls. Here is the list of 24 bravery award winners of 2014 who were awarded on January 24th and were also part of the Republic Day Parade on 26th January, 2015
1. Zeal Jitendra Marathe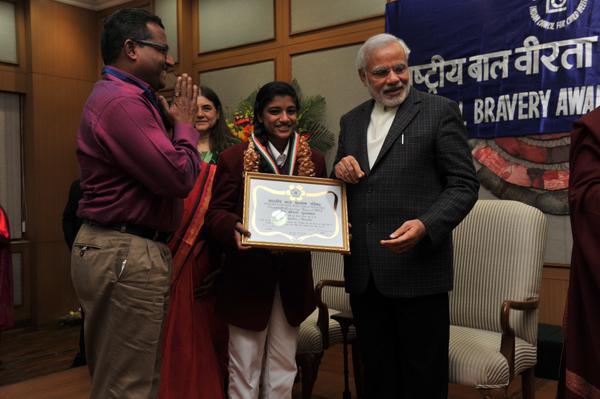 This 13-year old girl from Vadodara, Gujarat showed exemplary courage and presence of mind when her school bus lost control and kids started falling out. She managed to come out of the bus safely through a window, saved a few kids and also called the ambulance and the police using her teacher's phone. With her prompt actions, she managed to keep many kids conscious and even called their parents.
2. Anjith P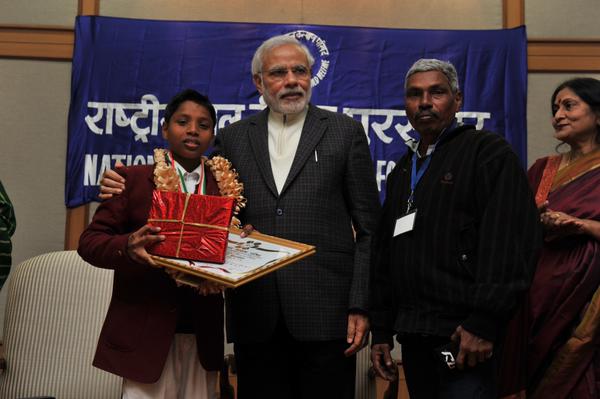 Kerala-based Anjith's excellent swimming skills came in handy when he heard a cry for help from the nearby river. The 12-year old saw two older boys drowning in the 20 feet deep river and without any hesitation, he jumped into the deep water and pulled both the boys to safety.
3. Late Gaurav Kumar Bharti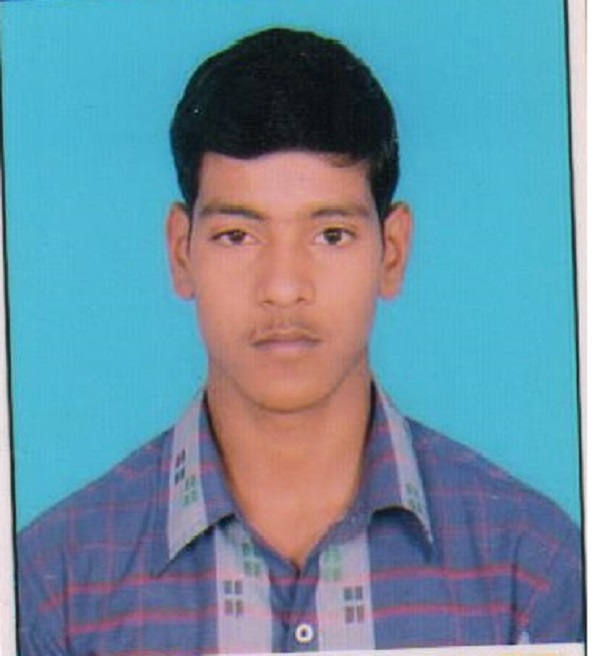 15-year old Gaurav from Uttar Pradesh showed great courage when he saved his friend's life who was drowning in the Ganges. While Gaurav managed to save his friend, he could not save his own life and succumbed to the whirlpool.
4. Sahanesh R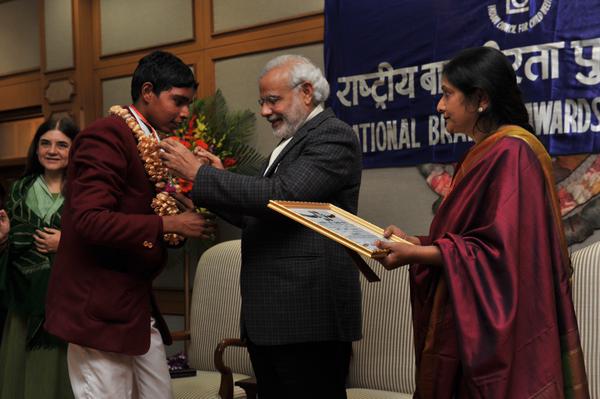 When Karnataka's 13-year old Sahanesh's school bus fell into the paddy field, he showed great presence of mind and did not panic like the others around him. He broke the front glass of the bus and pulled the stuck students and driver out, saving many lives.
5. Ashwini Bandu Ughade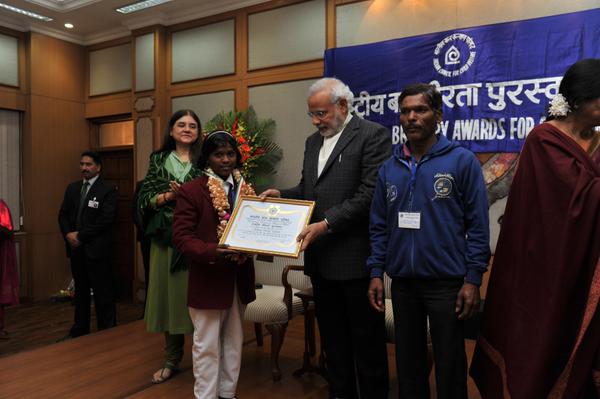 Ashwini, a 13-year old girl from Maharashtra, literally freed her sister from a death trap when a leopard attacked them while returning from a neighbouring farm after collecting mangoes. The leopard had Rohini's (Ashwini's younger sister) head in its jaws. When Ashwini saw this, she started throwing mangoes at the leopard. This act drove the leopard away and she managed to pull her sister out from the horrific incident.
6. L Brainson Singh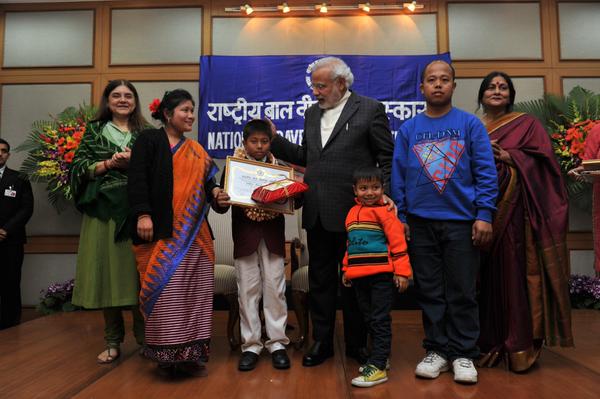 This 10-year old boy from Manipur saved the life of his younger brother when he got electrocuted in the house. There was no one in the house when the incident happened and Brainson showed great bravery, even suffering pain and injury, to save his 6-year old brother's life.
7. G Tooldev Sharma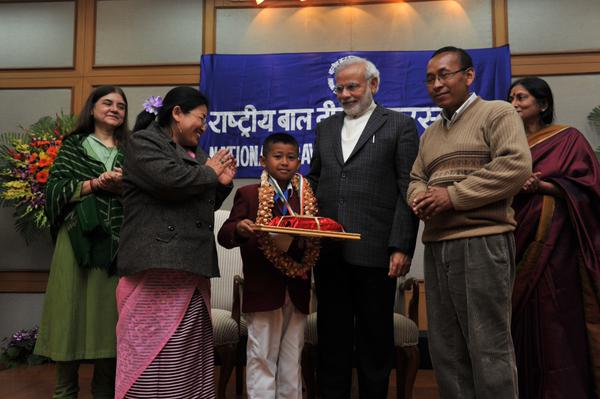 This 9-year old boy from Manipur, who did not know swimming, jumped into a six feet deep pond without thinking twice to save the life of a 3-year old kid. When he reached the drowning kid, he held his collar with one hand and took support of a bamboo stick with another, while calling for help.
8. Ripa Das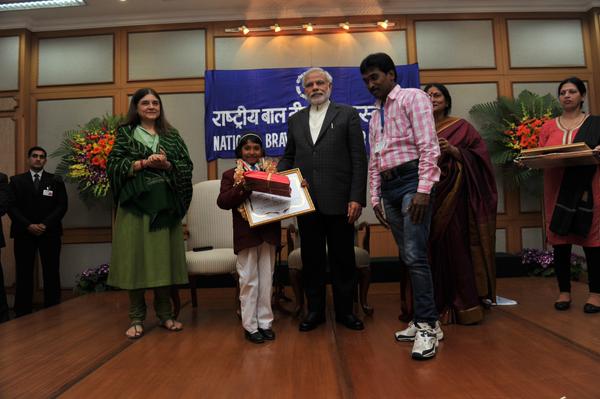 When a fire broke out in her neighbourhood, 7-year old Ripa from Tripura showed great courage and saved the life of her one year old brother. While her mother and grandmother panicked and left the house, she did not lose her cool and with immense presence of mind, managed to save her life along with her brother's. She is also the youngest recipient of the award this year.
9. Balram Dansena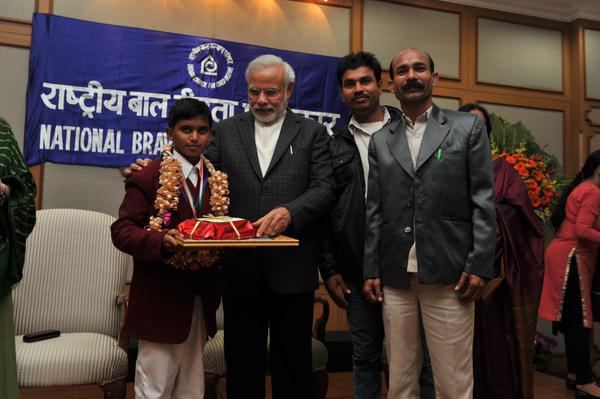 Yet another braveheart is 11-year old Balram from Chhattisgarh, who quickly jumped into a 15 feet deep pond and saved the life of an eight year old boy who was drowning in the deep water.
10. Rajdeep Das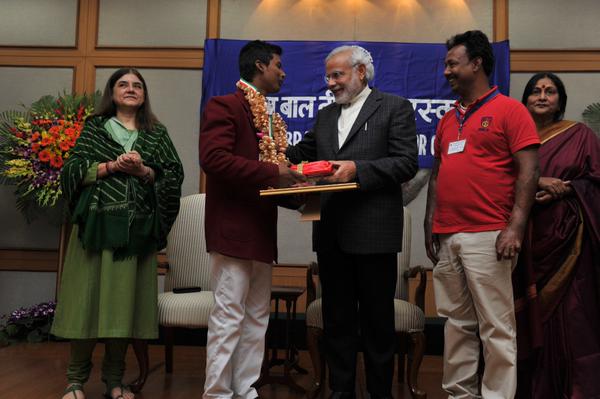 This 16-year old boy from Jharkhand saved not just one but three lives! During Laxmi Visarjan in his village, he got the news that some girls were drowning in a nearby pond. He jumped into the eight feet deep pond and searched rigorously for the girls. Even though he started getting tired, he did not give up for a long time. He managed to pull them out of the water and also gave them first aid.
11. Hiral Jitubhai Halpati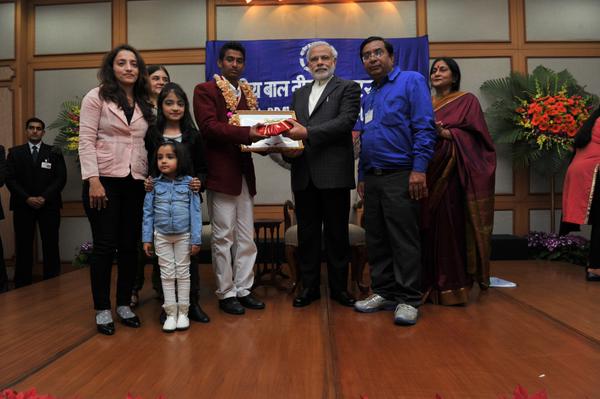 A four-month old infant fell into the river from a 30 feet high bridge. When 17-year old Hiral from Gujarat saw this while returning from school, he jumped into the river without giving a second thought and saved the baby's life.
12. Aqil Mohammad NK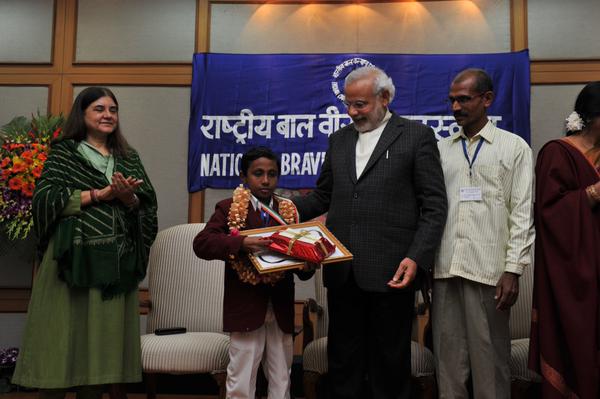 9-year old Aqil heard a mother's cry for help. When he reached the spot, he saw 3.5 year old Ashmil drowning in the deep Chaliyar river in Kerala. The boy's mother did not know how to swim so she was left with no choice but to wait for someone to lend a helping hand. Aqil came at the right moment. He immediately jumped into the wild water and managed to save the kid's life.
13. Midhun P.P.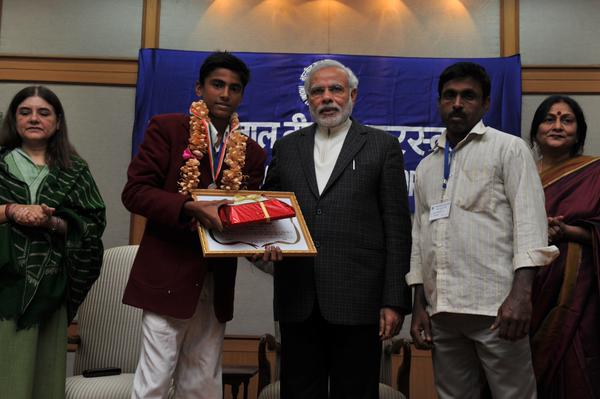 When this 14-year old Kerala boy heard a few children crying, he reached the spot and saw an 8 year old boy drowning in an eight meter deep well. He wasted no time in jumping into the well and saving the kid's life.
14. Stevenson Lawriniang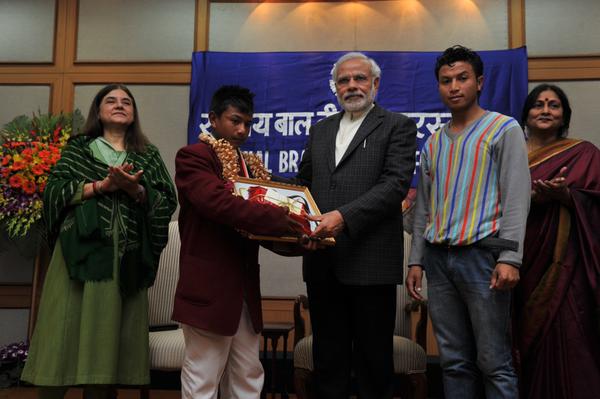 This 14-year old boy from Meghalaya is yet another amazing example of true bravery and courage. He jumped into the six to eight feet deep pond to save life of a drowning boy.
15. Late Mesak K Remnalalnghaka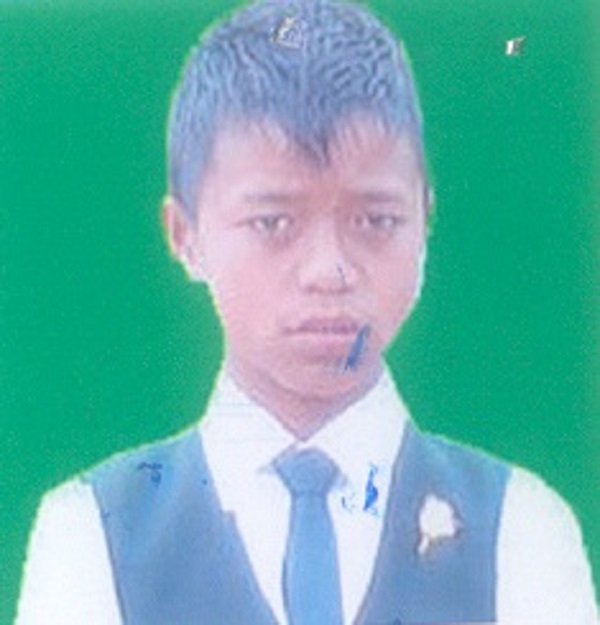 Mesak, a 14 year old boy from Mizoram, wasn't lucky enough and sacrificed his life in an effort to save a drowning young boy. Mesak did not know swimming, but he still jumped into the flowing river to save a life. However, the current was too strong for him, he did not succeed in his efforts and both the lives could not be saved.
16. Mhonbeni Ezung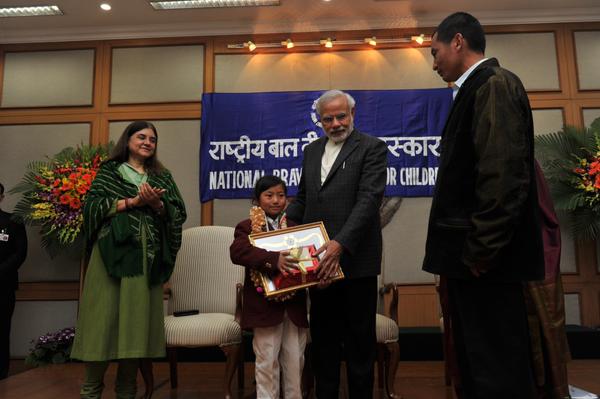 When Ezung's grandmother fell unconscious while fishing and started drowning, 8 year old Ezung from Nagaland tried hard to pull the old lady out of the river, in spite of her heavy weight. Ezung gave her some food and ran for several kilometres to get some help from villagers, who then rushed her grandmother to the hospital.
17. Labhanshu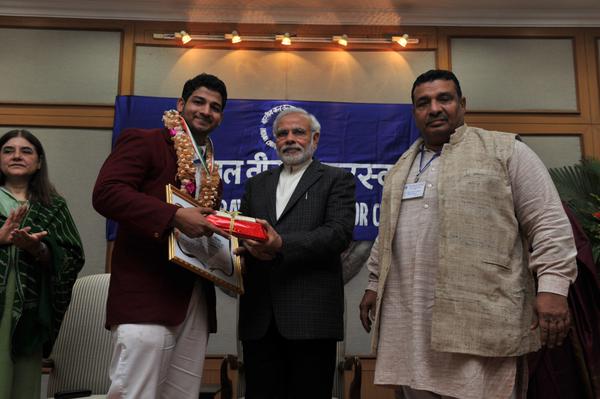 The 15-year old boy from Uttarakhand saved not one but two lives from drowning in the Ganges at Rishikesh. When his friend saw someone drowning, he jumped in to save him. But his efforts weren't enough. Seeing this, Labhanshu also followed him in and saved both the boys.
18. Devesh Kumar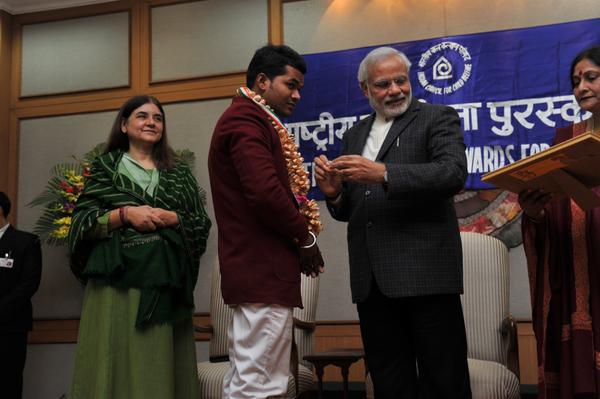 This 16 year old youth from Uttar Pradesh showed extra ordinary courage while confronting two chain snatchers who took away a school principal's chain. Kumar, who wants to join the army or police force and fight criminals, also had to take a bullet on his waist while dealing with the snatchers.
19. Late Riya Chaudhary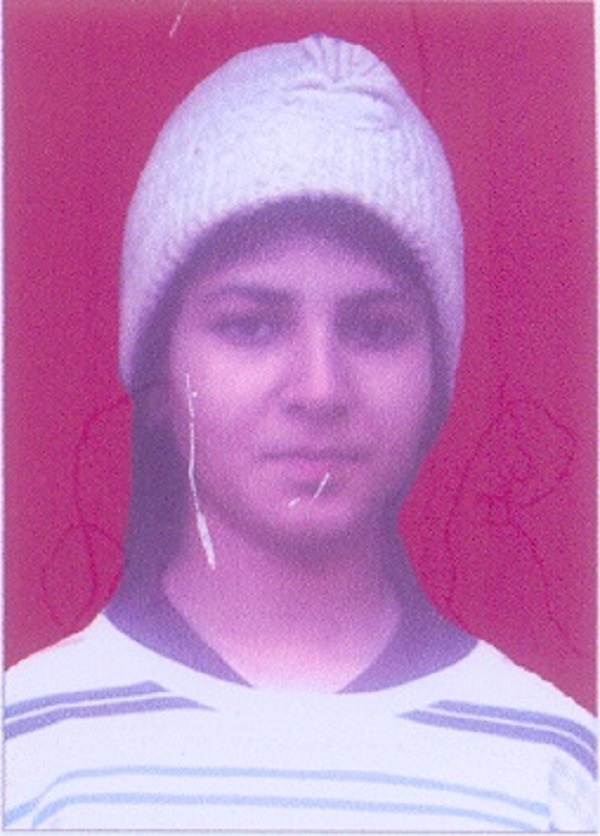 Riya, a 15-year old girl from Lucknow, sacrificed her life to save her father last year. When some miscreants forcefully entered her house and started assaulting her family, one of the gunmen shot a bullet aimed at her father. She came in the way, taking the bullet on herself. She managed to save her father's life but died on the spot.
20. Rumoh Meto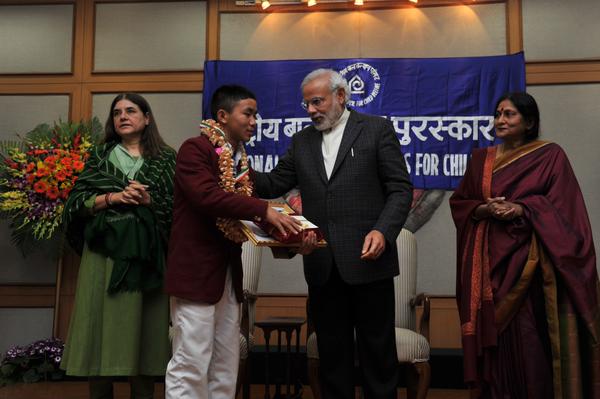 Rumoh risked his own life while saving a 32-year old man who was stuck to a 33 KV high voltage line. Rumoh sustained serious injuries and burns in his first attempt to free the man from the live wire, but he did not give up and pushed him again with greater strength to get rid of the wire. The brave act saved a life.
21. Vishal Becharbhai Katosna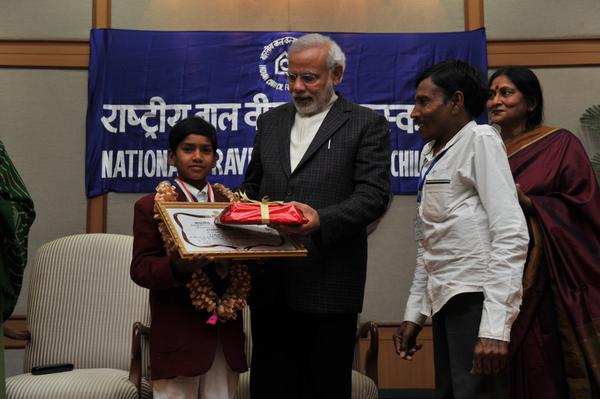 Just 10 years old, Vishal from Gujarat carried two 7 year old boys on his shoulders when he saw them drowning and pulled them out on to the banks, saving the precious lives. Such extra ordinary courage indeed.
22. Late Monika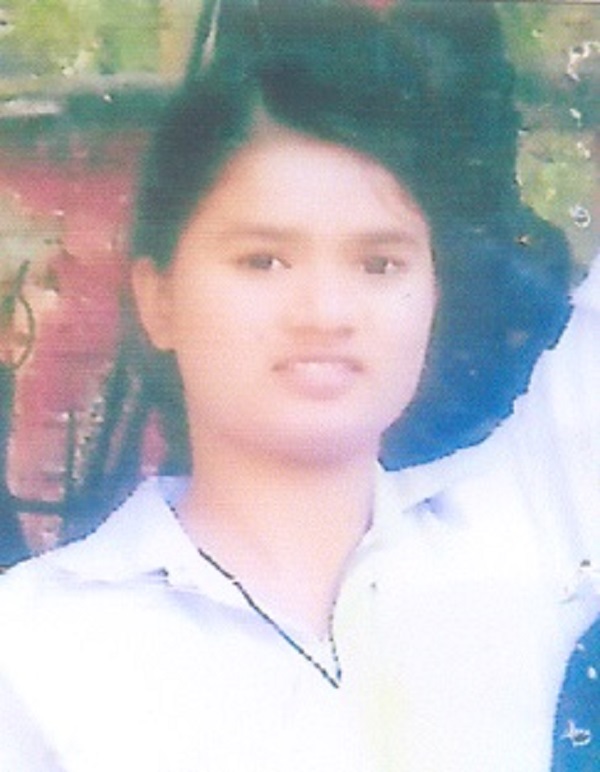 Monika sets an example of true bravery. The 16 year old girl from Uttarakhand was washing clothes at the bank of the Alaknanda river in Chamoli district when she saw her 10 year old neighbour falling into the water. She jumped in after him and pulled him out by his hair. But she could not save herself from the strength of the current and sadly drowned.
23. Resham Fatma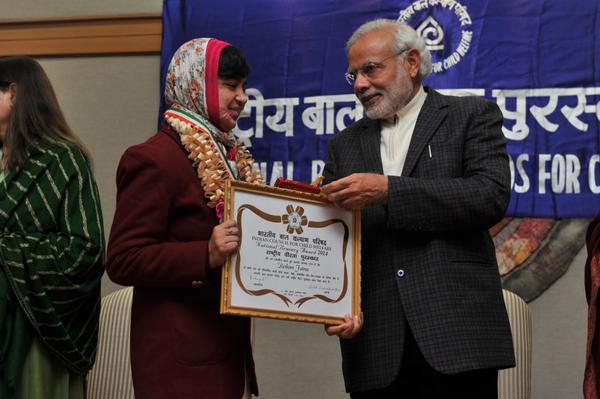 17-year old Resham Fatma's 38-year old uncle poured acid on her head when she refused to marry him. He further wanted to kill her, but Fatma showed great courage and pushed him off the car. She then managed to escape and went directly to the police station. The culprit was arrested within a week and committed suicide in jail.
24. Gunjan Sharma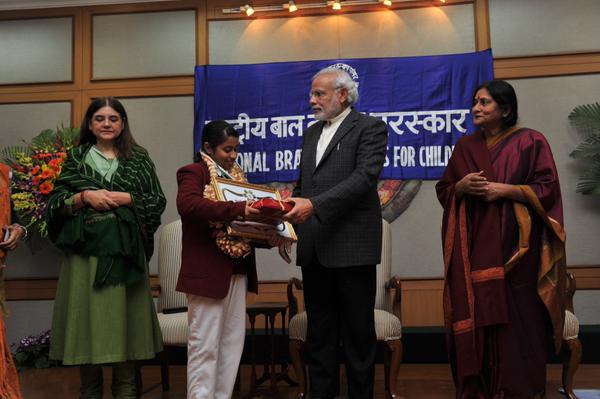 Gunjan is an epitome of courage and selflessness. This young girl offered herself to be taken as hostage to save her friends. She, along with her classmates, were abducted in a school van in Assam. The miscreants took her to the jungle and even put a pistol in her mouth to prevent her from shouting when security personnel came looking for her. She was eventually freed by the gunmen and we salute her for immense courage and for standing up for her friends.
We salute each and every recipient of this award. They are the true heroes.
All pics otherwise mentioned: Narendra Modi Twitter Account
Like this story? Or have something to share? Write to us: contact@thebetterindia.com, or connect with us on Facebook and Twitter (@thebetterindia)
We bring stories straight from the heart of India, to inspire millions and create a wave of impact. Our positive movement is growing bigger everyday, and we would love for you to join it.
Please contribute whatever you can, every little penny helps our team in bringing you more stories that support dreams and spread hope.