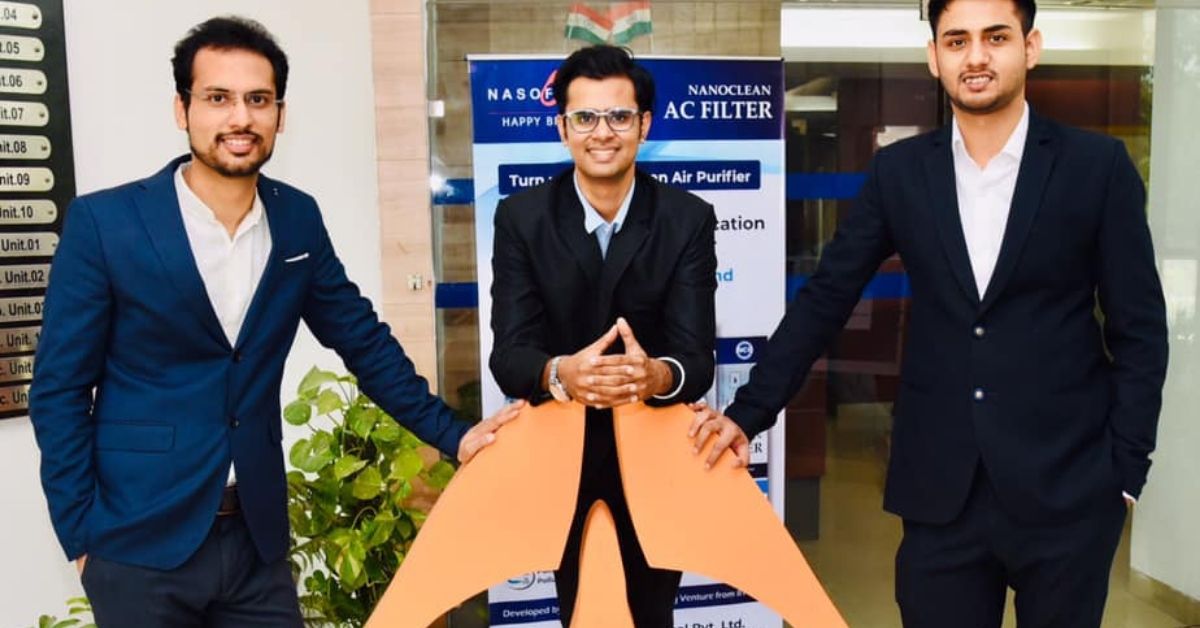 Nanoclean was awarded the National Startups Award by former President Pranab Mukherjee in 2017, recognised among the top 25 technical startups from over 118 countries by the Republic of Korea and selected among Top 100 Startups in the World by the Hong Kong government, making it the only Indian startup to achieve this feat.
Did you know air pollution kills an estimated seven million people worldwide every year? According to the World Health Organisation (WHO) data, nine out of 10 people breathe air containing high levels of pollutants.
---
Protect yourself from air pollution. You can buy Nasofilters on The Better India Shop, here. 
---
Closer home, in June 2019, a report by an environmental organisation, Centre for Science and Environment (CSE), stipulated that life expectancy in India has gone down by 2.6 years due to the deadly diseases caused by air pollution. The third highest cause of death, ranking just above smoking in India, is the combined effect of outdoor particulate matter (PM) 2.5, ozone and household air pollution.
But what if we told you that a low-cost invisible nasal filter that sticks on your nasal orifice could prevent dust and air pollutants, especially PM 2.5 from entering your system?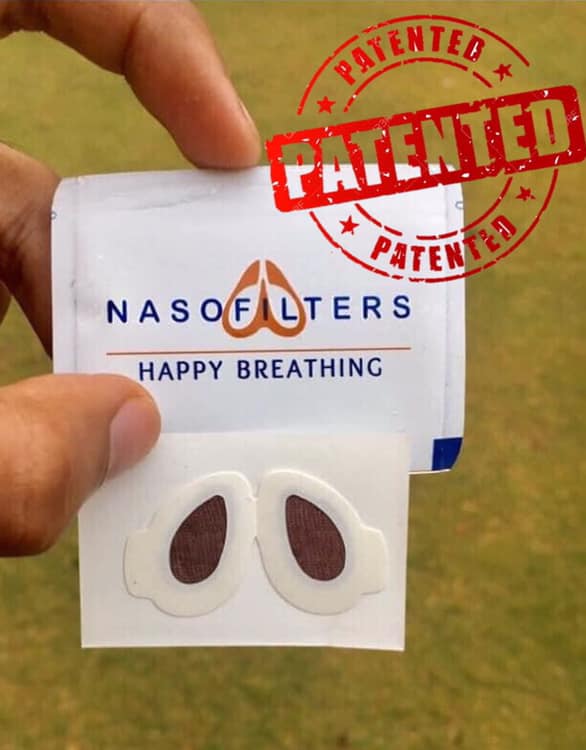 Or that a Rs 400 filter could turn your AC into an air purifier?
Or that a pollution net fixed on your doors and windows could not only stop dust and pollutants but also protect your home from harmful UV rays?
Shocked?
Meet Prateek Sharma, an IIT-Delhi alumnus who with a dream team consisting of fellow IIITians, Tushar Vyas and Jatin Kewlani, supported by faculty members, Prof Ashwini Agrawal and Prof Manjeet Jassal, established award-winning startup, Nanoclean Global Private Limited. A startup that has been developing low-cost preventive measures for polluted air and innovations for air filtration.
Nanoclean was awarded the National Startups Award by former President Pranab Mukherjee in 2017, recognised among the top 25 technical startups from over 118 countries by the Republic of Korea and selected among Top 100 Startups in the World by the Hong Kong government, making it the only Indian startup to achieve this feat.
Who is Prateek Sharma?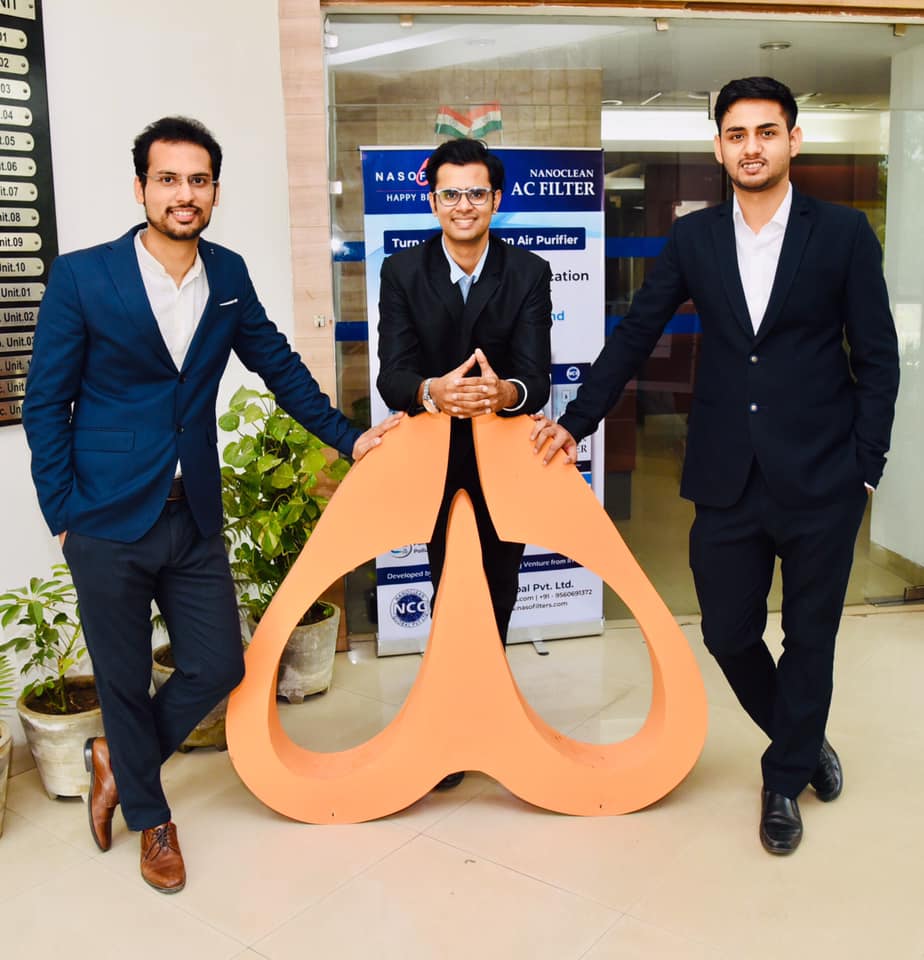 Born in Jaipur and raised in Bikaner, Rajasthan, Prateek Sharma had grown up watching his own mother, an asthmatic, struggle with both indoor and outdoor pollution and sand storms, a common phenomenon in the desert state.
"It ached me to always see her cover her mouth with a dupatta when she walked outside. Growing up, I would either alter existing masks in the markets or gift her different types of equipment like nose-insertion buds. But nothing seemed to work. She refused to wear a mask stating that people would think she is sick if she stepped out with it and the nose-insertion buds created a lot of discomfort."
Today, the innovative nasal filter that his team has developed, christened 'Nasofilter', costing close to Rs 10 a piece, is protecting people in 30 countries against air pollutants.
Launched as one of the first commercial products by the startup which was incubated at IIT-Delhi, it is a respiratory filter that restricts the entry of dust and tiny suspended particulate matter from entering your system while breathing.
Particulate matter refers to the microscopic solid particles and liquid droplets floating in the atmosphere. Fine (PM2.5) and coarse (PM10) particles are considered to be the most hazardous pollutants.
Nasofilter uses nanotechnology to create nanofibres by reducing the thread diameter of a normal fabric by 100 times, creating millions of pores in a tiny area to filter out pollutants.
The resulting device can combat 90 per cent PM2.5 and 95 per cent PM10 particles.
What is its USP?
It is small and easy to wear biodegradable polymer. In stark contrast to large traditional face masks, it is a transparent filter that covers your nostrils, is invisible from a distance and can be worn for up to 24 hours.
It filters out PM2.5 and other air pollutants
Does not restrict breathing or speaking
It is also one of the cheapest options available in the market.
The team was able to successfully patent the technology behind the innovation two months ago.
Another product that the founders worked on is aimed to combat indoor air pollution. This refers to the Nanoclean AC filters.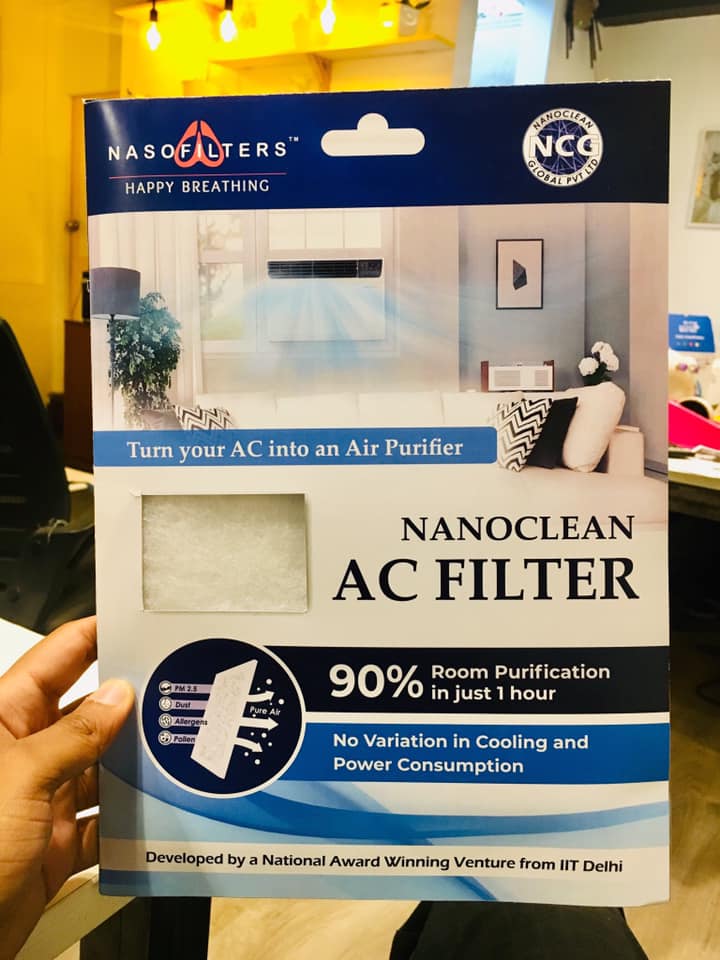 Costing as low as Rs 400, this device has been designed to complement existing filtering screens of wall-mounted air conditioners. Simply put, it converts your AC into an air purifier at no recurring electricity cost, using nanotechnology.
It removes PM2.5 and other Micro-Particle pollutants from the air inside homes while cooling it at an affordable cost.
Features:
It can purify the air from various pollutants such as PM 2.5, dust, allergens, etc inside a room by 90 per cent within the short span of one hour
It is compatible with both window & split ACs
It has no recurrent electricity costs
It does not affect cooling or increase power consumption.
It is easy to install and you change its filter by yourself.
Even though one filter can last for two months, for best results, it is recommended to change it every month.
Indoor air pollution is considered 10 times worse than outdoor air pollution due to the potential of contained spaces to allow pollutants to build up more in our system than open spaces. And while major cases are often seen in rural areas owing to use of chulhas and firewood, indoor pollution is also witnessing a steady rise in leading cities.
A decent air purifier may cost anywhere around Rs 20,000, add to your electricity bill and be difficult to change filters yourself. Our innovation aims to tackle these issues with an affordable innovation which has an excellent dust holding capacity, is durable and avoids pollutants from entering a home."
And so for those who do not have ACs at home but want to combat indoor pollution, the innovators have also developed the 'Nasofilters Pollution Net.'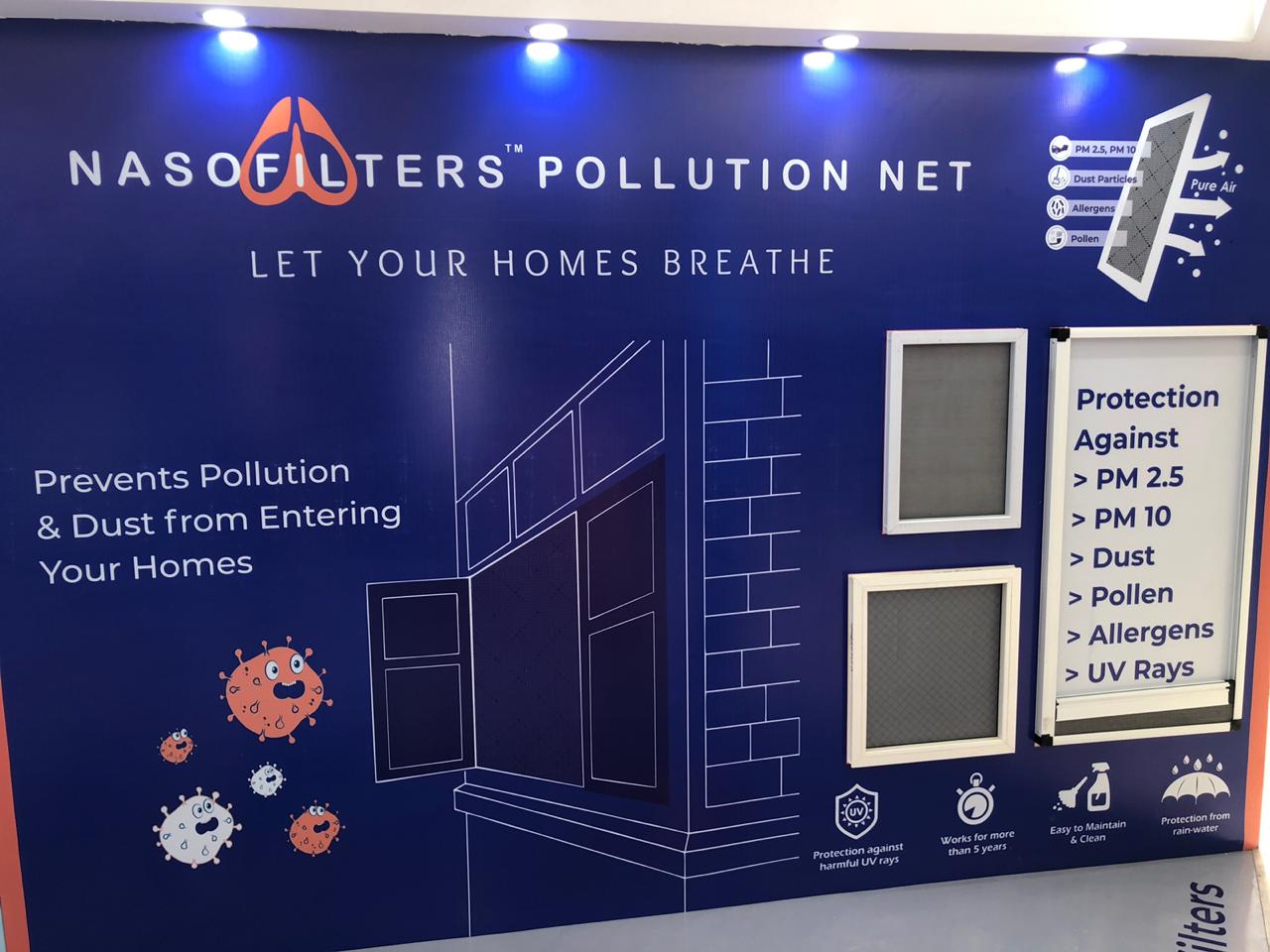 Designed to replace your mosquito net on existing doors and windows, it allows your home to be free of PM 2.5 & 10 particles, dust, UV rays, and allergens.
The outer layer of the net is a hydrophobic mesh, which repels water and makes it water-resistant.
It is a three-structured net, while the first layer is designed to fit the net in existing moulds of your doors and windows, another white layer ensures water resistance and provides protection from harmful UV rays. Sandwiched between the two layers is the nanofiber layer which filters PM 2.5 PM matter
With durability of up to five years, unlike the AC filter which needs to be replaced every month, the pollution net can be easily cleaned with a damp cloth.
Currently selling in the Indian market at Rs 200 per sq feet, the cost of installing the pollution net on all doors and windows of a 2BHK home may come up to 7,000-8,000, says Prateek. The product which is currently being sold in the B2B market has received positive feedback and testimonials from builders and architects, adds the co-founder.
---
Where are these products available? You can buy Nasofilters and Pollution Nets on The Better India Shop, here. 
---
Placing India in the elite club of nanotechnology in the world
Apart from the National Startups Award and multiple grants from the government of India including the Department of Science and technology, Biotechnology, and a recent joint-grant with IIT Delhi from the Ministry of Human Resource Development, the startup has been recognised by the Government of South Korea which has extended financial support for operations in Seoul.
Today, their products and distributors are spread across 30 countries.
Today only a handful of countries have the required expertise and industries to mass-manufacture nanofibres like the US, Japan, Czech Republic, and South Korea. With our technology, we want to add India to this club. We are now working on developing a nanofibers production and development unit for India and our target for it would be the world market.
In his final message, Prateek says, "In India, we have brains and talent that can build technologies but they lack the entrepreneurial mindset. They love what they create inside a lab, but need guidance and support to help it reach a wider audience. So we need to support our innovators."
One of his recent endeavours alongside the IIT-Delhi Alumni Association is to create innovation centres in India, one of which was recently launched in IIT Delhi. The focus of these centres is helping student innovators turn entrepreneurs, bring more value to our nation and bring more employment to our people.
We wish him and his team the very best!
If this story inspired you or you have any queries, contact Prateek's team at care@nasofilters.com.
(Edited by Saiqua Sultan)
Like this story? Or have something to share?
Write to us: contact@thebetterindia.com
Connect with us on Facebook and Twitter.
We bring stories straight from the heart of India, to inspire millions and create a wave of impact. Our positive movement is growing bigger everyday, and we would love for you to join it.
Please contribute whatever you can, every little penny helps our team in bringing you more stories that support dreams and spread hope.