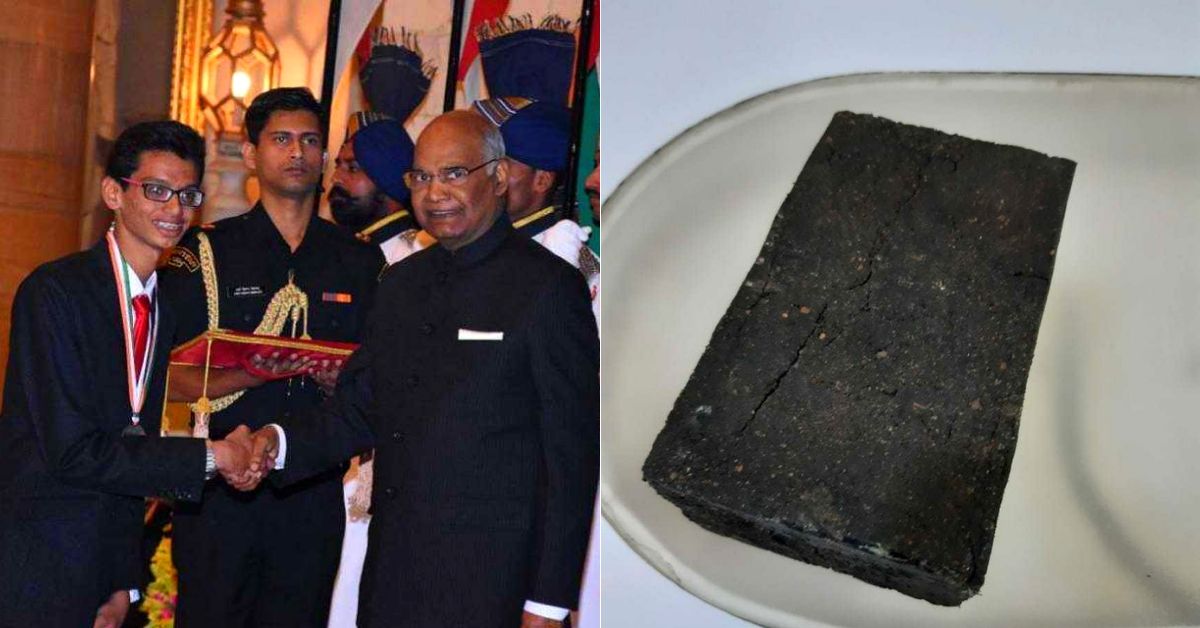 He received the award for developing an eco-friendly and low-cost material from LDPE waste plastics and blast furnace slag.
For as long as he can remember, Mangaluru-based Swasthik Padma has been inclined to science and innovation. The 17-year-old likes to describe himself as an 'innovator by heart and an entrepreneur by mind.'
He recalls that as a child when his parents or relatives gifted him toys, he did not find as much joy in playing with them.
Instead, his curiosity lay in breaking them open, looking at how nuts, bolts and metallic elements worked in perfect synchronisation, modify them and try to fix them back together.
The youngster who completed his class 12 from Vivekananda Pre-University College was conferred the prestigious National Award for Exceptional Achievement, for his excellence in the field of innovation by President Ram Nath Kovind, on the occasion of Children's Day 2017 in New Delhi.
He received the award for developing an eco-friendly and low-cost material from LDPE waste plastics and blast furnace slag.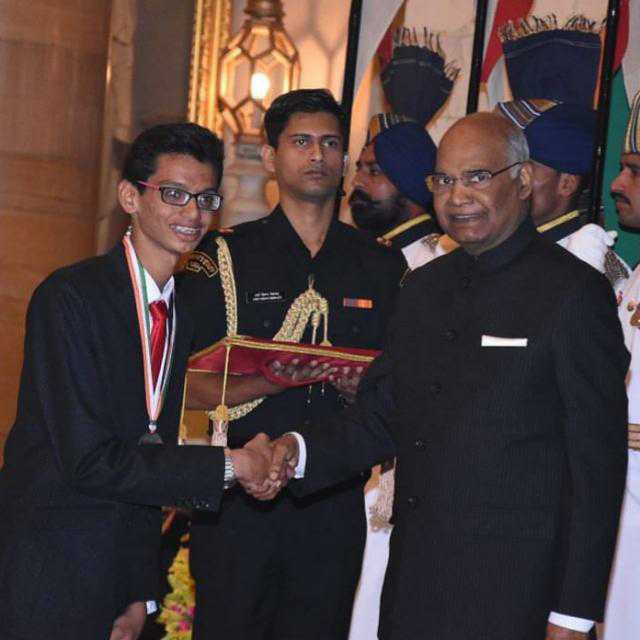 A material that is 24 times stronger, 12 times cheaper and eight times lighter than concrete, claims Swasthik.
The Better India got in touch with the award-winning innovator to know more.
Swasthik hails from an agricultural family from Kedila village in Bantwal taluk. While his father Sriram Bhat is a pharmacology lecturer at Alvas Education Foundation, his mother, Mallika Bhat, runs a pharmacy.
The young boy started making full-fledged projects in Class 4. In Class 7, one of his first big projects was sourcing water from a stream near their farm to the farm pump without using electricity.
For this, he designed a pump that consisted of a turbine which rotated with the force of the water.
He also designed a handheld machine to lift areca nuts from the ground and fill it in a bag and created the prototype of a model which converted the sea wave energy into mechanical energy and propelled a boat forward, thus eliminating the use of fuel.
In Class 9, perturbed by the alarming waste management problem in metros, particularly Bengaluru, Swasthik decided to work on an innovative solution in the sector.
While his initial idea was to convert recyclable plastic waste into pavement blocks, an accidental experiment completely changed the course of this quest.
"I remember heating a metal sheet and adding a PET plastic bottle on it, watching it melt. At another time, what if I tried the process with plastic bags?"
This referred to plastic bags below 40 microns that fall in the LDPE waste plastics category and are non-recyclable.
"When I heated the pan and added the plastic bag to it, the temperature was so high that the bag caught fire, so I quickly threw in some sand. The mixture of sand and liquified plastic resulted in a hot black mass. I waited for it to cool down. When I started hitting the mass with the hammer in an attempt to break it, it did not. It was very sturdy."
To validate his findings, the youngster got in touch with a professor in Puttur. But to his disappointment, the man disregarded his work.
"He told me it is impossible to create a strong material combining plastic and sand, stating both materials lacked good mechanical properties. He even accused me of mixing rubber to make the material. I had experimented, so I knew what the composition was. I was preparing for a district-level science exhibition at the time, and I planned to present the model. But when the professor said it wouldn't work, I was disheartened," he remembers.
This could have been the end. But Swasthik decided to follow his heart, and continue with the project anyway.
To seek guidance, Swasthik contacted Ravishankar KS, a professor at National Institute of Technology, Karnataka (NITK), Suratkal.
He travelled to NIT with his material and got it tested using the universal testing machine. He adds how Ravishankar and the entire faculty from the Department of Metallurgy and Material Science were immensely helpful and encouraging.
"Even after hours of rigorous stress testing, the material did not break. The professor was impressed and encouraged me to continue the research project."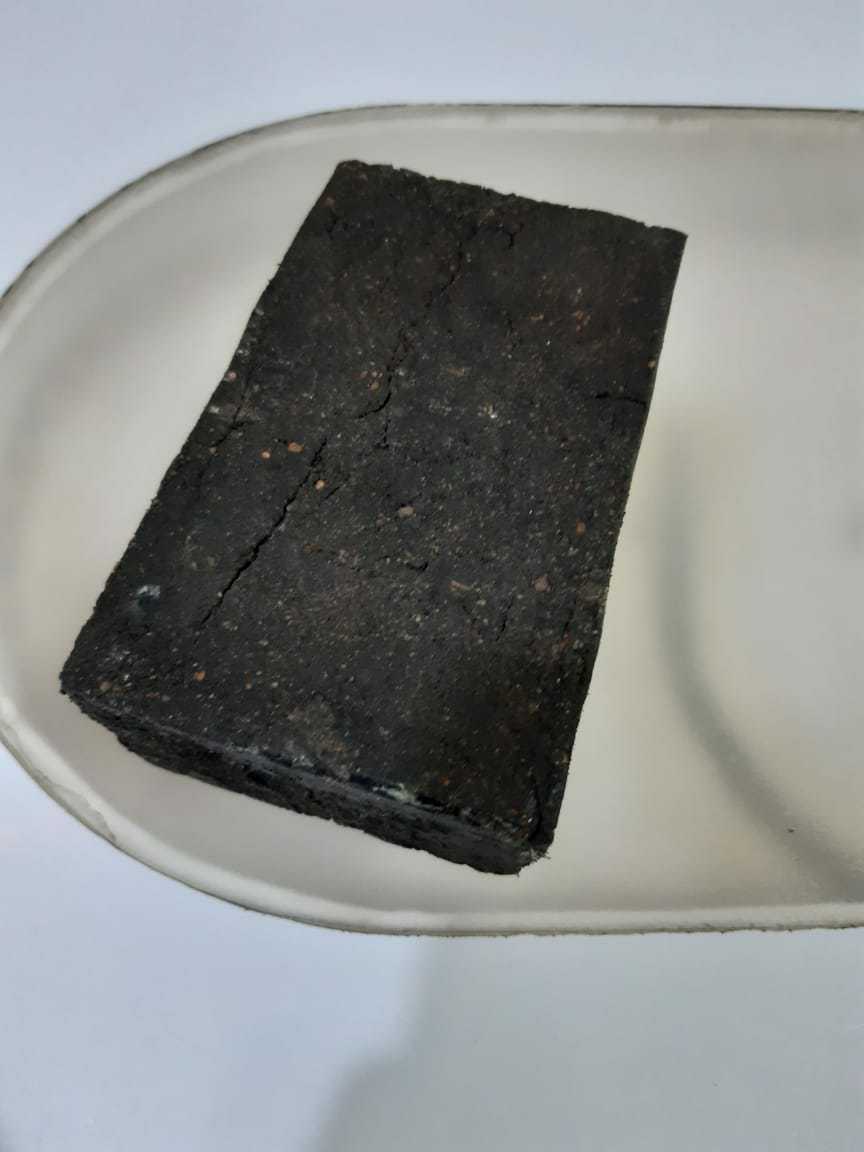 It was at the time, the student returned to Mangaluru and started experimenting by mixing different compositions and proportions of plastic and sand, and heating them together at varying temperatures.
"During the process of the research, one of the leading challenges was thermal capacity. Plastic bags have a very low melting point, so they were not stable with the temperatures I was heating them at. If the temperature was as high as 150, the material would soften. So my challenge was to make it thermal-stable by finding an adhesive."
He was in Class 10 when he realised blast-furnace slag, which is a waste material from the iron and steel industry, would be the perfect adhesive. If he used it, he would be combining two waste materials to create a building material.
The resultant material which combined the granulated LDPE (Low-Density Polyethylene) waste plastic with GGBFS (Ground Granulated Blast Furnace Slag)in the proportion of 60:40 was successful.
It even withstood 1000 hours of corrosion testing, adds Swasthik.
---
Also Read: Time To Replace LPG? This Gujarat Man's Solar Stove Lowers Cooking Costs by 80%
---
Where can this material be used?
In Mangaluru, coastal erosion is a major issue. Currently, concrete slabs are used as barriers along seashores. But since concrete is a corrosive material, it degrades over a period of time due to the force of the sea-waves. Plastic, on the other hand, is a non-corrosive material. This means when you throw a plastic bag in the ocean, it won't degrade. So Swasthik's material can be used to construct barriers along the seashore to prevent coastal erosion.
From manufacturing furniture to constructing entire buildings, the material could have a variety of applications.
"Manufacturing concrete is environmentally threatening—even manufacturing one cube of concrete releases more than 20 kg of CO2 into the atmosphere. The material that I have built can decrease can not only cut down these emissions in the cement industry but help make homes by reusing non-recyclable plastic."
The material is fully-developed, but the youngster is now working on the process of scaling the process up for mass production. One of the significant challenges is sourcing segregated waste plastic.
"Because segregation isn't followed, plastic often turns in as part of mixed waste, so it has to be cleaned before use. The existence of contaminants reduces its strength. So, if I can source segregated plastic directly and regularly, it would be easier to manufacture the material. I am also working on different methods like setting up kiosks that could source this plastic and recycle it."
He is currently working independently but is looking forward to building a team of passionate professionals who could help him develop the right machinery to upscale the production.
"While the material can be manufactured using existing machines, a customised machine will help maximise efficiency," he adds.
Swasthik is also looking forward to government funding for the project.
Awards and recognition
When Swasthik participated at the national level science fair, IRIS (Initiative for research and innovation in science) in Pune, he won a grand award for the innovation.
His win presented him with the opportunity of representing India at the International Science and Engineering Fair, twice.
He also won the Gold Grand Award at Indian Science, and Engineering Fair held at Puttur.
In 2017, when the youngster participated at ISEF for the first time and presented his project, he did not win an award. Naturally, he was disappointed.
But it was at the time he met scientist and Professor of Bioengineering at Stanford University, Manu Prakash.
Prakash is famous for low-cost innovations using paper, especially the Foldscope, a tiny microscope made from paper.
"He told me that paper is the next generation diagnostic device.'"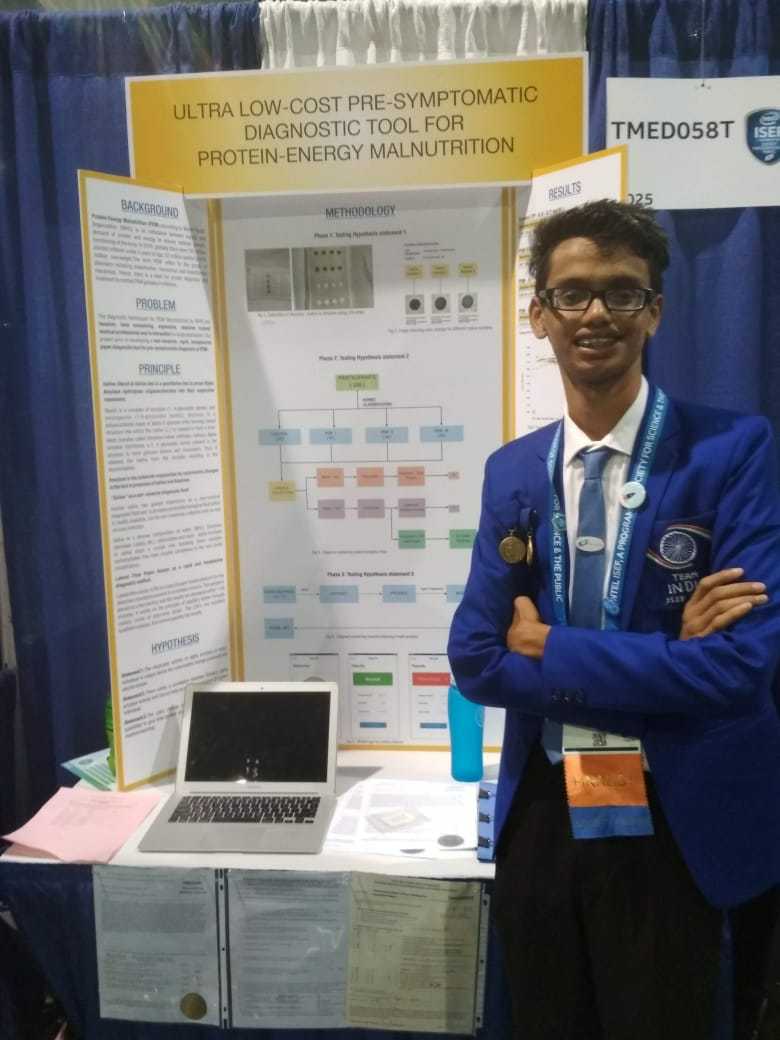 So the second time around when he participated at ISEF, he started another project with Mohammed Suhail Chinya Salimpasha, another young innovator and recipient of the Rashtriya Bal Puraskar.
They developed a method of diagnosing pre-symptomatic Protein-Energy Malnutrition (PEM), which is a form of malnutrition arising from lack of dietary protein, all with a piece of paper. Read more about it here.
The duo won a grand award at ISEF for the project.
The Massachusetts Institute of Technology, Lincoln Laboratory and International Astronomical Union took into account the distinction he had achieved at ISEF-2018 and named a minor planet after him.
Just when he thought he should abandon, the low-cost material project entirely and focus on the paper diagnostic tool, he realised the innovation had caught the eyes of dignitaries in India. He was notified about his selection for the prestigious National Award for Exceptional Achievement by the President. And yes it for developing the low-cost and eco-friendly material. There has been no looking back ever since. He has also won the NCSC young scientist award, as well as international plast icon award at the plastic exhibition held at Ahmedabad.
"Even if I can recycle 10 tonnes of plastic a day, it will be my greatest reward," says Swasthik.
The youngster who extends his gratitude to his family, Vivekananda English Medium School and his college, ends with a final message to aspiring innovators.
He says, "When people demotivate you, don't give up. Turn it into motivation. Remember, innovation is the key to the future. So we need to use it to protect our environment and present better solutions to the issues that plague it. Many people complain about the lack of resources, but both my innovations were made using cheap and locally-available materials like paper and plastic with no complex methods. I did not have a lab or funding. All I had was an induction stove, pan, plastic and sand. So, don't let a lack of resources be a roadblock on your path to making your innovative idea into a reality."
Did this story inspire you? Do you want to join Swasthik's team, get in touch with him on padmaswasthik@gmail.com.
All photo credits: Swasthik Padma
(Edited by Gayatri Mishra)
Like this story? Or have something to share?
Write to us: contact@thebetterindia.com
Connect with us on Facebook and Twitter.
We bring stories straight from the heart of India, to inspire millions and create a wave of impact. Our positive movement is growing bigger everyday, and we would love for you to join it.
Please contribute whatever you can, every little penny helps our team in bringing you more stories that support dreams and spread hope.