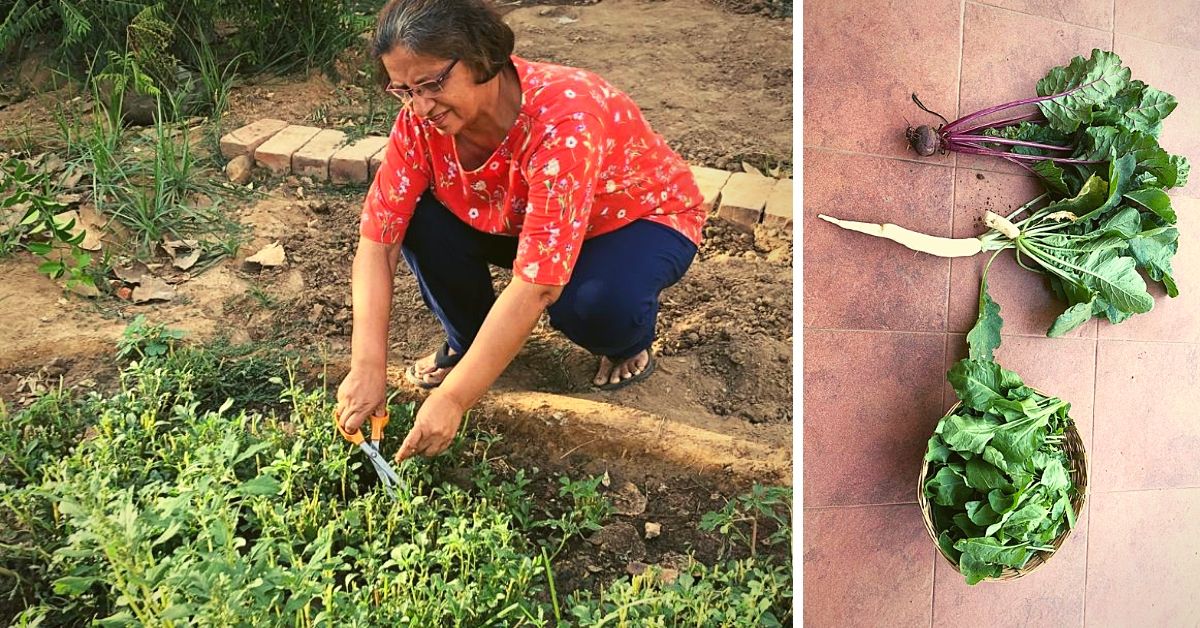 "For me, home is where heart and health is. And so, I wanted to get rid of all toxins inside the house. Be it the food you eat or the power you use on a daily basis, all of it should contribute to make you and your environment healthier." #sustainablehomes
For many, home is where the heart is. But, for this 62-year-old woman, home is where just not the heart but also health resides.
Meet Bhavna Shah, who is setting a positive example for generations to follow.
Her home, situated in the quiet of Thaltej-Shilaj road in Ahmedabad, is a world of its own, where she strives to create an ideal sustainable lifestyle, every single day.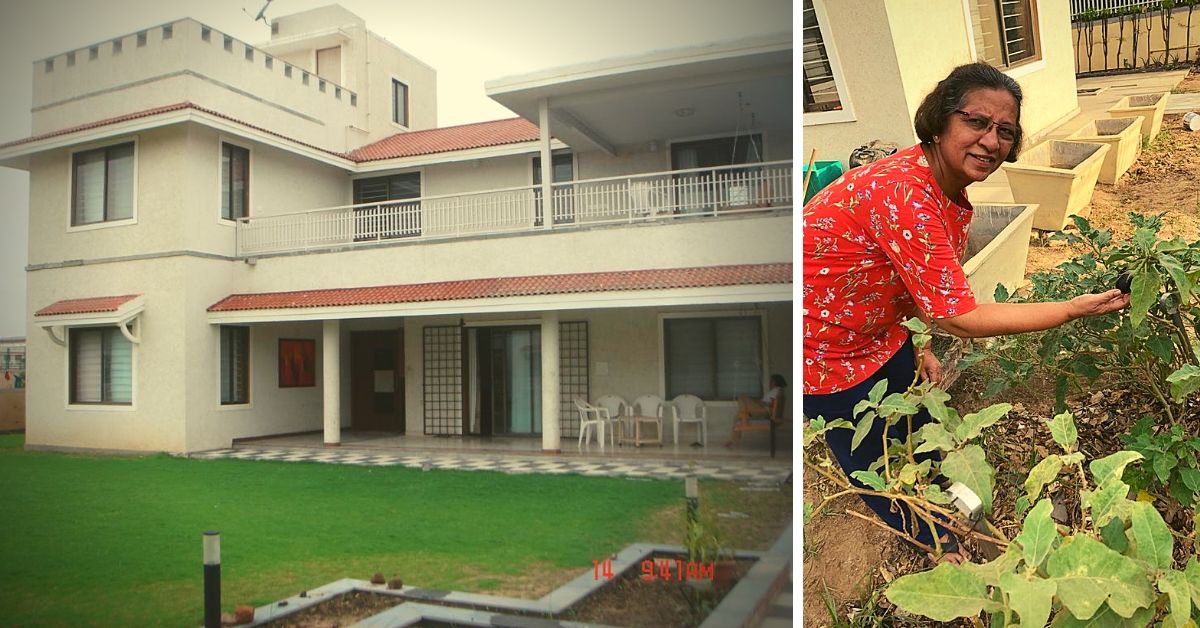 Creating your own paradise
Having spent most of her life battling the overwhelming crowd and pollution of Mumbai, Bhavna and her husband, Nitin, were tired. They wanted a quiet space—where she could escape from the noise and just be.
And, that is what brought them to Ahmedabad, eight years ago.
"We had spent most of our life in Mumbai and wanted to return home. So I retired, and after returning we began to plan our dream home," says Bhavna, who unlike many, carefully planned the house in a way that it could cater to their eco-friendly plans.
From dedicating the south-west side entirely for a kitchen garden to making provisions for rainwater harvesting, their house grew into an example of sustainable living, in and around the area.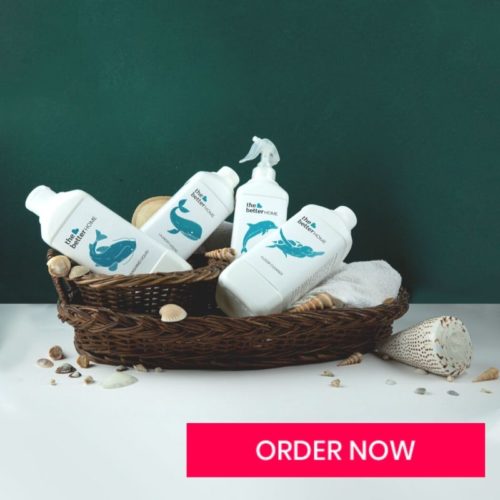 "For a healthy life, the first step is to eat healthy. And so we dedicated almost 2000 sq feet area to build a kitchen garden where I now grow more than 20 varieties of vegetables, greens, herbs and fruits, all organically," she adds.
With zero use of chemical fertilisers and pesticides, she has been growing enough to sustain the two of them.
"The harvest is so good that I always have some veggies growing that I can pick and cook for meals, every single day," says Bhavna.
However, her secret to good harvest is her home-grown nutritious fertiliser and proper planning.
Elaborating upon this, she says, "I make sure to plan my growing cycle according to the seasons. I never grow anything off-season, or any exotic vegetables or fruits, only native varieties. That way, the soil continues to be healthy and give back better growing plants that bear a good harvest. Also, I make my own compost with kitchen waste, which is used to boost the growth organically."
Depending on the time of the year, she also follows a routine of resting the soil.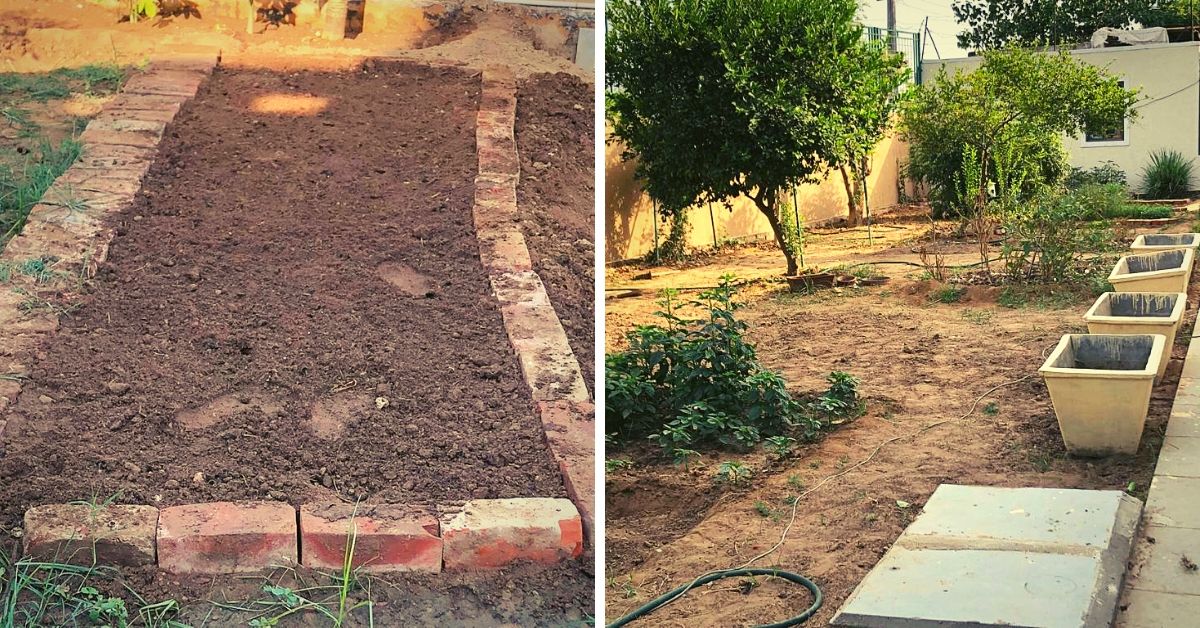 "The soil is a living being and needs its rest. So during a particular time of the year, I till the soil and leave it open under the sun, without planting anything. That not only rests the plant for a period but also makes it germ-free and healthy, so that the next batch of plants are generously rewarded with nutrition," she explains.
Her kitchen garden, which is filled with all types of leafy vegetables, cabbages, brinjals, tomatoes, carrots, beetroot, okra, lemons, papaya and much more, is a sight to behold.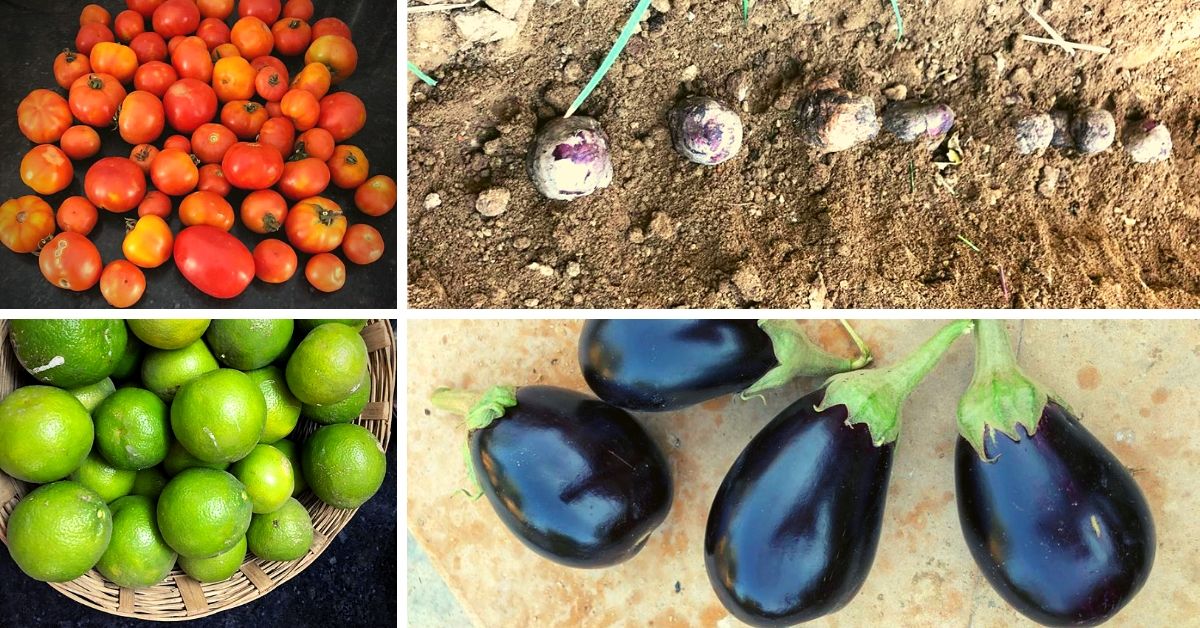 Making the best use of natural resources
A significant chunk of credit behind this paradise goes to her efforts to optimally utilise of household waste, and make both vermicompost and kitchen compost, out of wet waste.
Owing to this, in the last eight years, no wet waste has been thrown out of the house.
In addition to the kitchen garden, the house is also equipped with a rainwater harvesting system, which not only covers the water requirements of household work like gardening, washing and bathing but is also used for drinking.
Yes, that is right. The couple decided to abandon the use of RO water, and instead move to more sustainable ways of purified drinking water.
---
Also Read: 80 School Kids in 2 Maharashtra Villages Turn Organic Farmers, Create Amazing Impact!
---
"Once the water is collected from the terrace, it goes into a filter and then into a tank with a capacity of 10,000 litres. This tank is attached to a hand pump, and whenever water is needed, we pump it out from there. Also, the tank comes with a transparent lid on it, ensuring that the water is left untouched by the sun or other impurities while allowing us to monitor it externally," she explains.
Inside the home as well, the food is cooked in a solar-powered cooker, and the entire house draws its power from 12 solar panels installed on the terrace.
"The entire house is powered with solar energy so much so that we don't feel the need to use electricity at all. The point is to make use of the most without harming your environment. Even the water used for cleaning vegetables is collected and later utilised in the garden," she says.
Although she wanted to grow most of everything they consume, natural limitations stop her from growing a variety of fruits.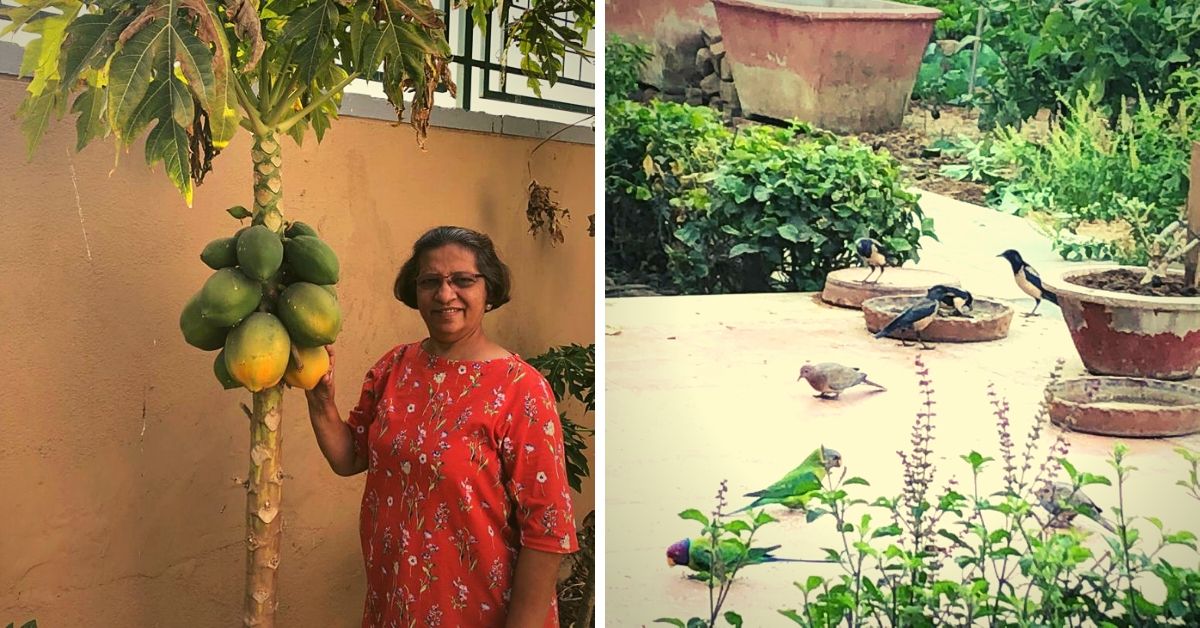 "Sometimes I have to buy vegetables and fruits from outside. And, you can't always be sure about its purity. So that's why I make my own bio-enzyme with peels of lemon or orange mixed with water and jaggery. Fruits and vegetables from outside can be dipped in a mixture of this enzyme and some water for 20 minutes before the final wash and use. This ensures that all the toxins are eliminated. But, if you can't make the enzyme, you can also opt for water mixed with baking powder to cleanse them. 98% of pesticides can be eliminated in this manner," she elaborates.
No shortcut to paradise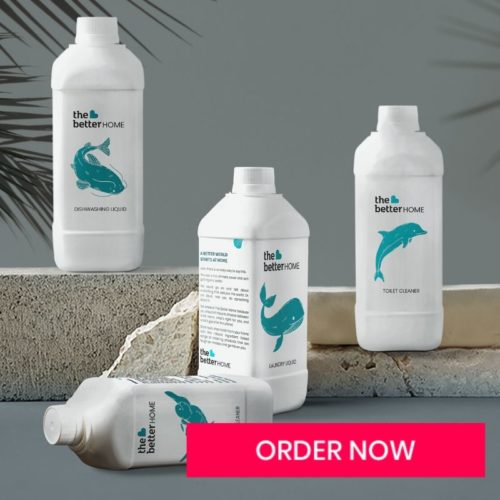 Bhavna does not believe in shortcuts, so before creating her dream home, she went through proper training in several fields.
"I went to workshops on vermicompost, kitchen gardening, waste management, among others, and also met many farmers to understand the complexity of the soil so that the results are truly beneficial. Incomplete knowledge is always harmful," she says.
Bhavna and her home have now become an example for many around the locality. To share her knowledge, she has already associated herself with many civic organisations, holding workshops and lectures on various topics on sustainable living.
Her success has also travelled beyond the borders of India. Following her footsteps, her daughter living in California also practices organic farming at her residence.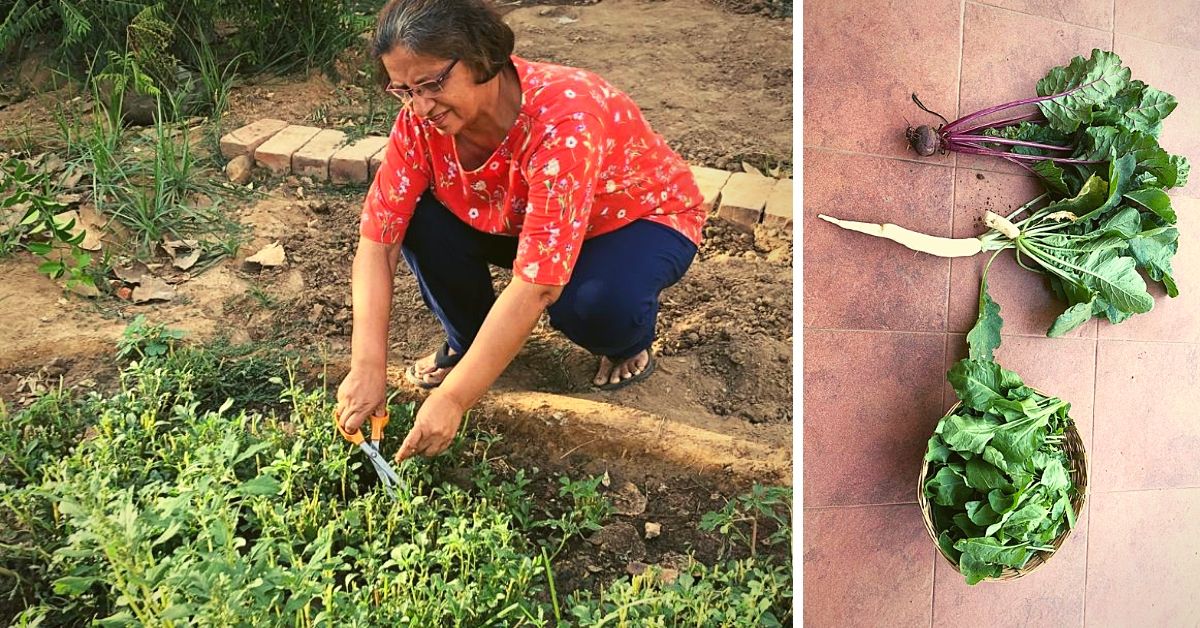 She hopes that this trend will follow through generations, not just in her family, but beyond.
"For me, home is where the heart and health is. And so, I wanted to get rid of all toxins inside the house. Be it the food you eat or the power you use, all of it should contribute to making you and your environment healthier," concludes the inspiring eco-hero.
(Edited by Gayatri Mishra)
We bring stories straight from the heart of India, to inspire millions and create a wave of impact. Our positive movement is growing bigger everyday, and we would love for you to join it.
Please contribute whatever you can, every little penny helps our team in bringing you more stories that support dreams and spread hope.