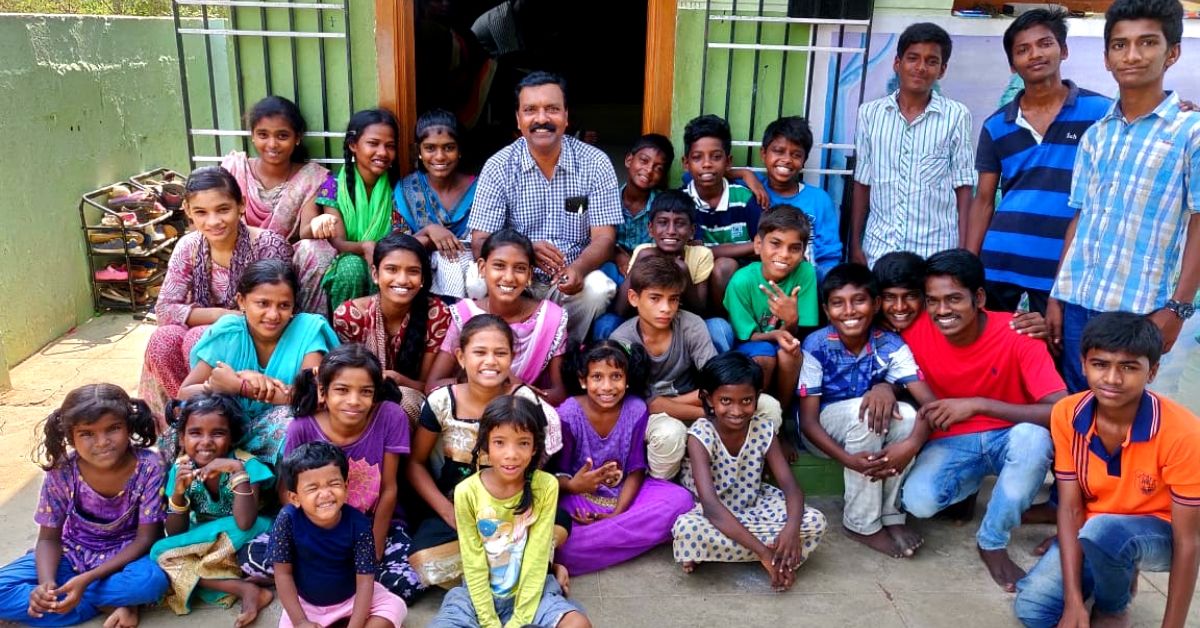 Today he is 'Solomon Appa' to 45 HIV+ kids. Yes, 45. All through the Shelter Trust, a registered non-profit and a safe haven for kids once abandoned and left to fend on their own.
Solomon Raj originally hails from Hyderabad and is now settled in Kolathur, Chennai. For close to eight years after his marriage in 1992, Solomon and his wife, Felvia Shanthi did not have any kids. This gave rise to thoughts of adoption.
Speaking to The Better India (TBI), he recalls, "We were very clear from the beginning. It wouldn't be via 'baby shopping'. Instead, we wanted to give a better life to a child who was deserving and in need of a home."
With that in mind, Solomon felt that if he would adopt, it would a child infected with HIV (human immunodeficiency viruses) – perhaps the most needy among all children.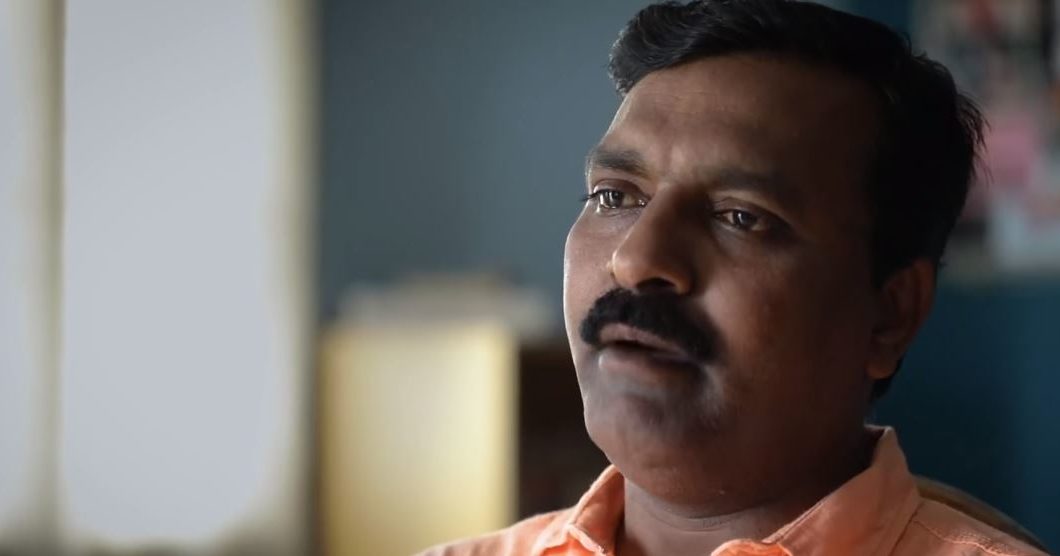 At the time, HIV was far more dreaded than it is now. Several rumours of infections via syringes or any other simple means lead to an ostracisation of anyone detected with the virus.
But it seemed not meant to be. Years passed, and the couple was blessed with biological children, so the idea of adoption took a backseat. But the guilt of not giving a needy child remained within Solomon. He remained active in Chennai's social work space over the years and often shared his desire to adopt such a child.
And then, suddenly, in 2005, a transwoman, Noori, who ran an NGO of her own, SIP, got in touch with Solomon. "I have an abandoned child," she said. He was HIV+.
"I was perplexed. I already had biological children by then. At first, I thought, I could perhaps have the child admitted to an orphanage and finance his education. But when I got in touch with several organisations, they refused the minute they were informed about the child's medical condition. So I visited the kid."
Arputha was only six at the time. Solomon listened to him in stark horror as he narrated how HIV robbed him of his entire family. His parents and siblings had all succumbed to the deadly virus.
Solomon adopted Arputha. And there has been no looking back since then.
Today he is 'Solomon Appa' to 45 HIV+ kids. Yes, 45. All through the Shelter Trust, a registered non-profit and a safe haven for kids once abandoned and left to fend on their own.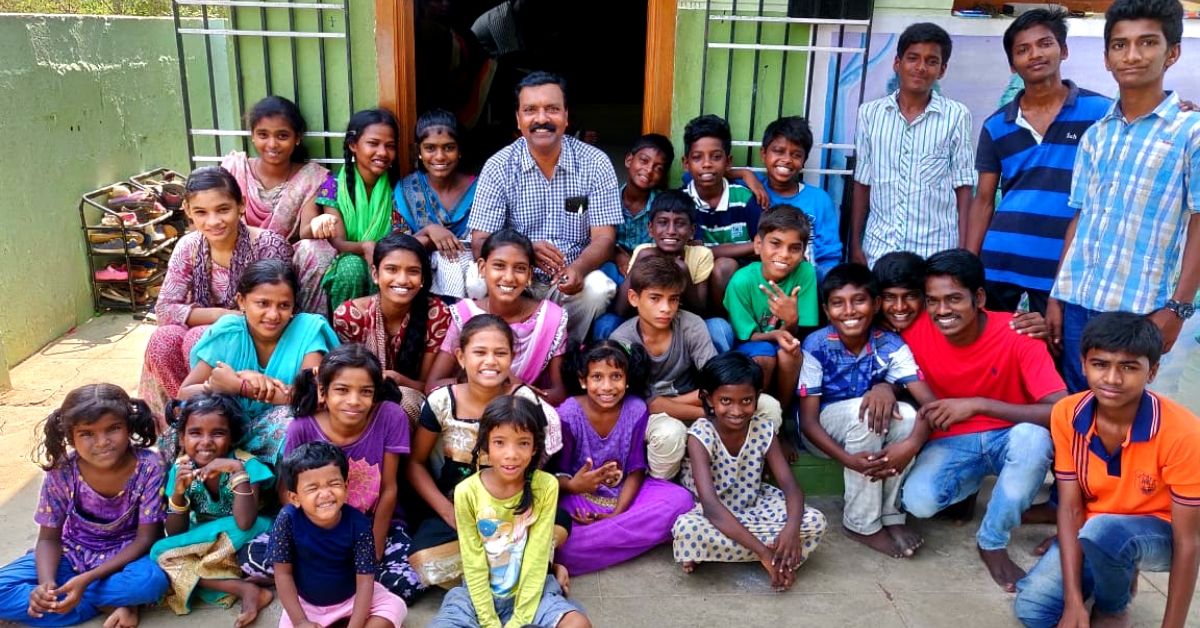 He recalls the initial challenges of adopting an HIV+ child saying, "I often had to lock him (Arputha) at home while going to the office. My wife and I would go to work, Our families were unhappy with our decision of adopting. So while they would take care of our biological kids, they refused to keep our adoptive kid due to HIV. So the boy would stay locked in until the afternoon, till I rushed from office just to feed him."
The young boy felt caged and would often yell to passersby to free him, which created misunderstandings in the neighbourhood about Solomon. Besides, every time Solomon returned home, he would find the boy in a corner almost passed out.
"Even though he was sleeping, every time I returned I lived in constant fear that he was dead. The trauma was too much to bear."
Realising how the approach was affecting the young boy, Solomon decided to start taking him to office. For the first few days, everything was fine. His colleagues even put Solomon on a 'Mother Teresa' like pedestal for helping the kid.
It was only a matter of days until the atmosphere started rapidly changing.
"He was full of energy. So he would run around the office, speak to everyone, use the same toilet, drink water from the same dispenser and glass. All those who used to sit with us for lunch and greet him with open arms suddenly started distancing themselves. He would often look at me upset asking, why a certain uncle or aunty wouldn't want to speak to him. Several women started taking leaves. It was absolutely disturbing for my son too."
Solomon eventually quit his job. He empathised with the loneliness of the kid and decided to adopt another HIV+ kid. Just as he was about to reach out to the trans woman who helped with the first adoption, she called him.
"Daivamme, Daivamme, You are like God. I was just thinking about you. This is surely some twist of fate. I have another HIV+ child who just came in. We just buried her mother, now the six-year-old has nowhere to go."
In less than an hour, Solomon visited the girl and brought her home. And now he had two. But that is where it would end. Soon, the news that Solomon was adopting HIV+ kids spread like wildfire.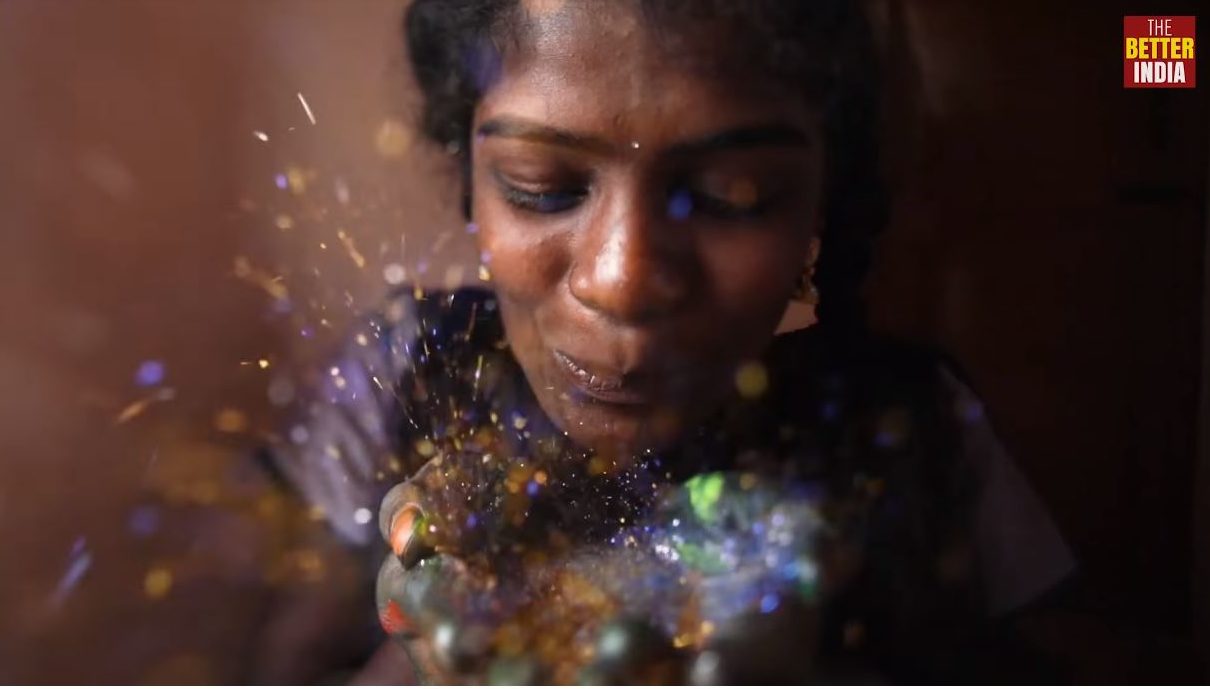 Within days, a 70-year-old man had travelled all the way from Andhra Pradesh and knocked on Solomon's gates. "I cannot afford to take care of these two kids. The doctor wants me to travel weekly for their treatment," he said. Back then, Chennai had among the very few hospitals in the country that specialised in the care for HIV patients.
When Solomon told the man it would be difficult to take the kids in, the man fell at his feet and pleaded. "Please take them or bury them. I cannot take them."
"It was really heartbreaking," Solomon recalls.
After asking for time to think over the decision, Solomon took the kids in.
"After introspecting, I realised these kids were innocent victims of someone else's fault. Also back in school, we learned the pledge of India, where we said – All Indians are my brothers and sisters. Keeping that in mind, I wasn't doing any favour by taking care of the kids. God forbid if something like this were to happen in my own family, would we leave the kids of our relatives to fend for themselves? No, right? So, I made it the mission of my life."
Taking care of 47 HIV+ kids can be very gruelling. Especially, when they face several other health complications thanks to the virus, like infections in the brain, heart and kidneys.
(HIV is a virus that causes AIDS (Acquired Immune Deficiency Syndrome), a condition which leaves the body totally vulnerable to diseases by destroying the body's natural immune system. This means patients can die even from illnesses like the flu or a fever. Even with modern treatment, their health remains fragile.)
Solomon juggles three jobs — at the NGO Right Now Foundation, at a theological college and the Centre for Development and Women's Studies — to take care of his kids.
In the beginning, it was a major challenge to find caretakers for the kids.
"I had to work in order to take care of them, my wife was working too. So when we reached out to people to seek help, they refused and would often pass harsh judgements knowing the kids were HIV+" he said.
Besides, due to some high-risk cases, even the doctor had instructed Solomon to wear gloves while taking care of the kids.
"They called me Appa. How could I wear a glove and refuse to hold my own kids?"
Today, the home is run by 11 HIV+ members and an on-call doctor, counsellor, accountant and psychologist. Much of this is thanks to Solomon's savings, his salaries and of course, donations.
"We like to call it the home for, and run by, positive people," says Solomon.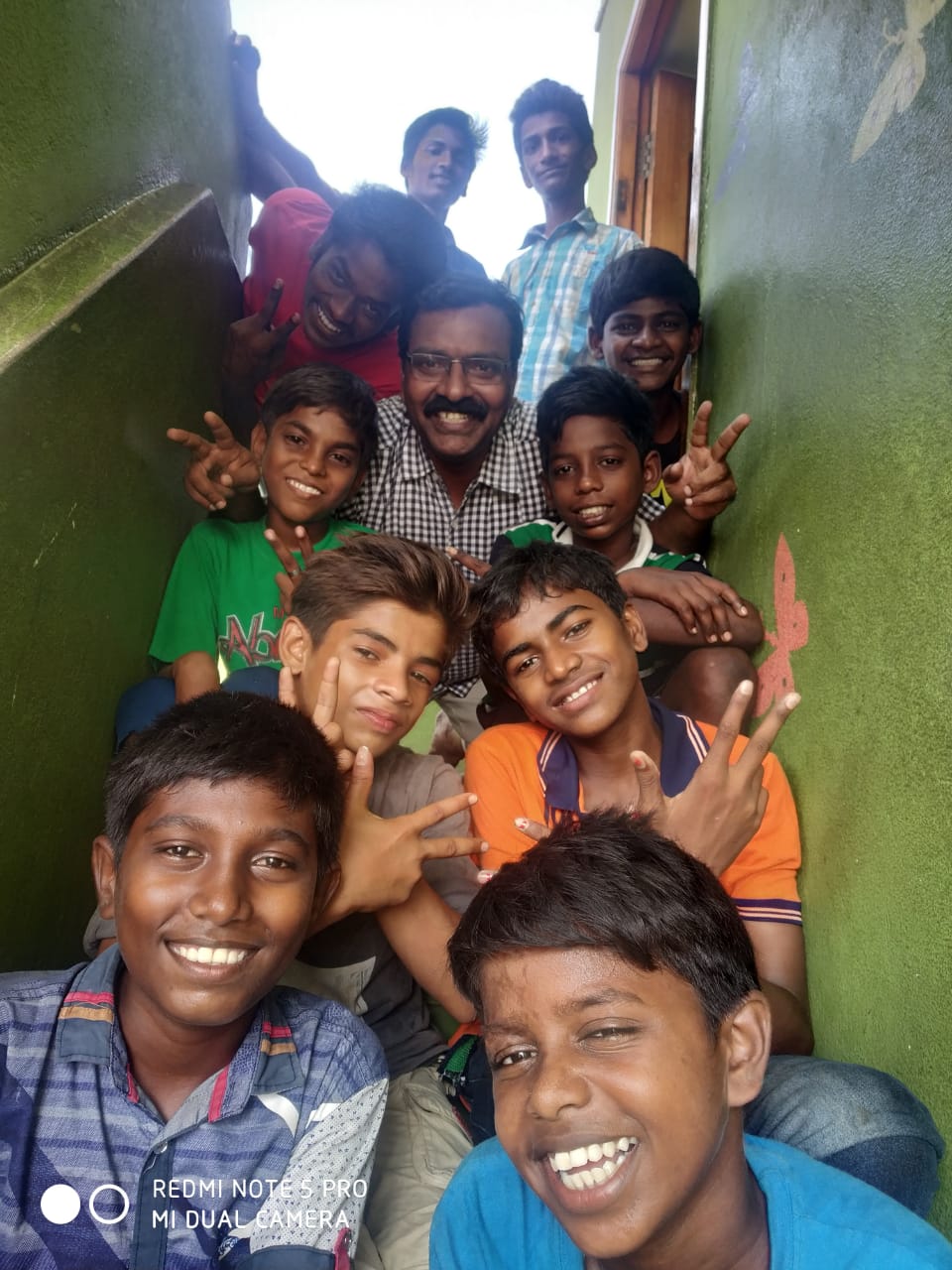 Many of the kids had been abandoned after their parents' deaths and had no documentation. So school admissions were a major task. The kids are between the ages of three to 20. Seven are currently pursuing higher education. Arputha himself is now studying as a second year student of BSc in computer science.
For a long time, he exhausted all his savings and reserves to provide what he could for the kids. Also as the number rose, they no longer fit into their small home and had to move into a bigger space. When Solomon hunted for spaces, many landlords would refuse. He finally found a new spot in Villangadupakkam, Redhills in Chennai.
In line with government laws, Solomon had to register his home as an NGO. That's how the name 'Shelter' came about– a place they called home. From checking their backgrounds, filing documentation to obtaining no objection certificates, he maintains more than 75 records and licenses.
"My family and friends would often tell me, 'Why are you doing this? These kids eat in the same place, play with your biological kids. Aren't you scared for their safety?' I cut off ties with most of them. I told them, 'If you do not have anything good to say, don't say anything bad either. Don't discourage me or discriminate against my children.'"
Thanks to his love and dedication, most of the kids that doctors had given hardly a week's time to live are in the best health they can be – all things considered.
The dietary requirements of the kids keep changing. Since they are prone to infections, their immunity has to be strengthened with high-protein food.
"Besides, there is no proper medication available in India. In the West, there are five to six levels of treatment available for HIV. Many kids die because they become immune to a particular treatment and require stronger medicines at different phases. While Indian medical practitioners are trying different combinations to tackle this, a lot more that needs to be done."
From monthly visits, the children now go for weekly appointments in govt and private hospitals, which can be heavy on the pocket. Solomon hires private vehicles for these trips.
"When they feel the urge to vomit due to the treatment, I cannot expect the public bus to stop at different points. It drains the kids out and also inconveniences passengers. When hiring private vehicles too, only a few children can travel, while the rest get stranded. So multiple vehicles have to be arranged."
Solomon is currently looking for good samaritans who can help ease their transportation woes.
Ever since demonetisation and new rules stating that NGOs cannot take more than 2000 in cash as donations (since it is violative of tax laws), Solomon has to often request people to write cheques and submit documents.
"Some of them refuse and complain saying, 'you can either take it or leave it.' I do not accept cash due to a penalty, so it often causes loss."
---
READ MORE: Couple Began Hospital in a Hut 25 Years Ago, Now Treats Over 1 Lakh Tribals Every Year
---
Dealing with death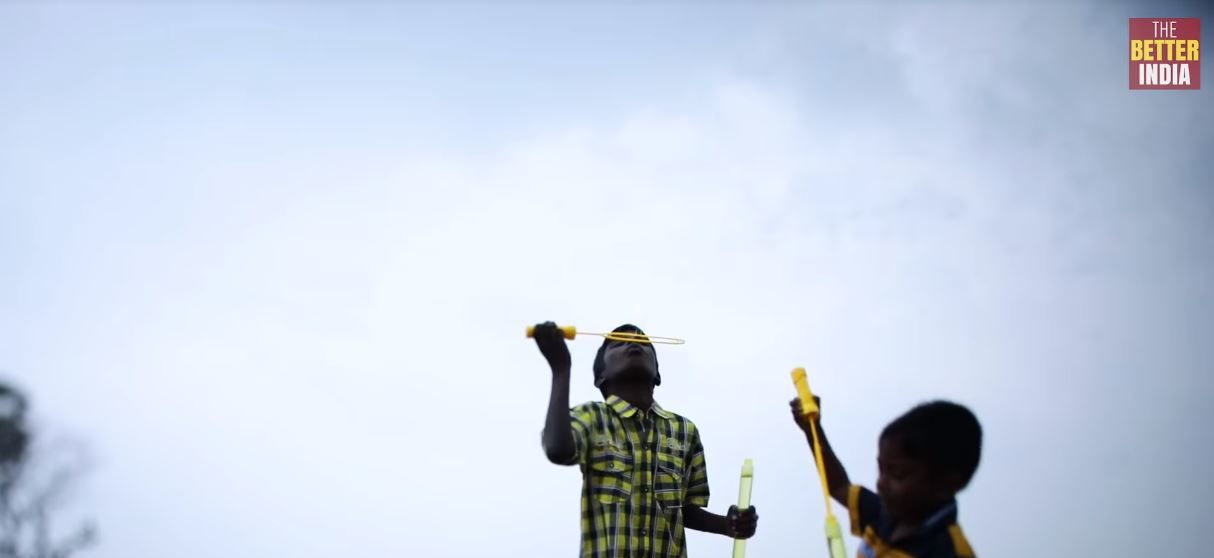 The passing of a loved one can be emotionally gruelling, especially when it is a child who was just running around the room months ago.
"When one of our kids, Tanaki, passed, we decided to not tell the younger girls. There is a tradition in the home, when a child is admitted due to any complications, the kids call the hospital once a day and speak to him/her. It had been ten days and the girls kept insisting they wanted to speak to Tanaki. I told them she had gone back to her village. They seemed gloomy for quite a few days. When I asked them, they burst out crying, saying they knew Tanaka had passed. I held them close and we all cried. They had seen our caretakers return without Tanaki and observed how a few days ago we entered with sad faces from the back door. They picked up that we had finished the final rites."
After two deaths, Solomon sought counselling for him and the kids. Now they are slowly opening up through moral stories about the acceptance of death.
"12 days to three weeks often mean the end for most kids. And the kids know that. They are fully aware that one day they too may go to the hospital and not return. But life has to move on, and we need to live it to the fullest, be kind to others and impact their lives. So they do exactly that," he says, as he signs off.
On each of their birthdays, acknowledging the uncertainty of life and hoping to make the best of it, they sing 'Happy Long Life To You' in the tune of Happy Birthday. No more words needed.
Want to help Solomon? Donations to Shelter are income tax exempted under 80G. Indian donors can contribute to:
Shelter Trust.
Indian Overseas Bank.
Account No. 024501000019335.
Choolai branch.
IFSC code. IOBA0000245.
Call on 09444455275
If you are an NRI or foreign donor, you can get in touch with Solomon on shelterindia05@yahoo.co.in and his team will guide you.
(Edited by Vinayak Hegde)
Like this story? Or have something to share?
Write to us: contact@thebetterindia.com
Connect with us on Facebook and Twitter.
We bring stories straight from the heart of India, to inspire millions and create a wave of impact. Our positive movement is growing bigger everyday, and we would love for you to join it.
Please contribute whatever you can, every little penny helps our team in bringing you more stories that support dreams and spread hope.