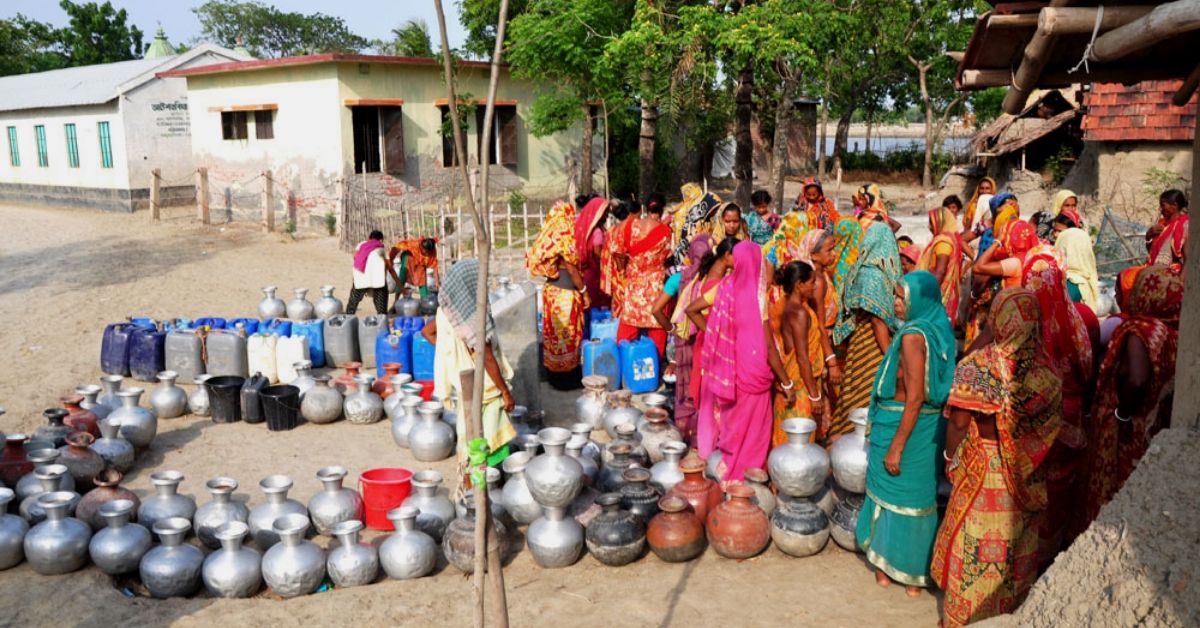 "We had never stepped out of our homes alone and so, when I announced that I am going to be a Jal Saheli, people scoffed that Geeta alone cannot do anything. They were right, I could not do anything alone. So I gathered more women of my village to join in this mission."
Imartibai quickened her pace as the sun started setting in Lalitpur, and the birds gave the last call before dusk.
Balancing a pail on her waist and a mud pot on her head, she just hoped against hope that her husband too was late from his shift. She usually wouldn't be this late but some unforeseen circumstances had delayed her trip to the closest well – a couple of kilometres from her home.
There would be no washing of utensils, no cooking and perhaps no water to drink in her house if Imartibai hadn't made that trip but to her husband, what mattered was that his wife returned late.
That night, the then 32-year-old endured a brutal beating from her husband – all because she hadn't reached home on time.
But Bundelkhand is a water-deprived region. Year after year, the villagers have to walk long distances to reach a well that gets shallower by the day. The 13 districts of Bundelkhand that stretch across Uttar Pradesh and Madhya Pradesh have scorching skies and parched lands in common.
For women like Imartibai, there is no option but to walk to a water body daily so she can get two pails of water.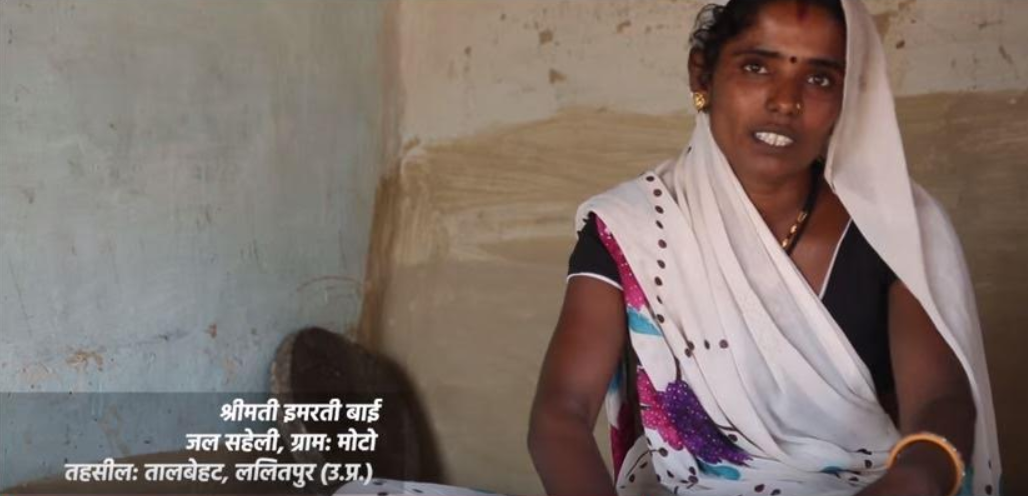 No water pump in her neighbourhood pumps water anymore and there's no well left with adequate water.
The few hand pumps that do function are restricted for Imartibai's use because she belongs to a scheduled caste.
Imartibai narrated the incidents of that night to her friends the next day.
"These men don't understand the meaning of water," she vented. "They think water is used only for irrigation. As if washing their clothes, utensils and cooking require no water. If I don't go to the well every day, who will fetch the water that he drinks? It is us women who are most affected by water. Shouldn't we have the first right to it?"
What Imartibai didn't know was that her pain would go on to empower 735 women and pull 100 villages out of water scarcity.
The friends that she was speaking to were a part of a self-help group associated with Parmarth Samaj Seva Sansthan– an NGO that involves local communities in UP and MP in water conservation efforts.
When the women approached the NGO with their complaints about water scarcity, Parmarth, under the supervision of Sanjay Singh, started organising women to revive water bodies in their village.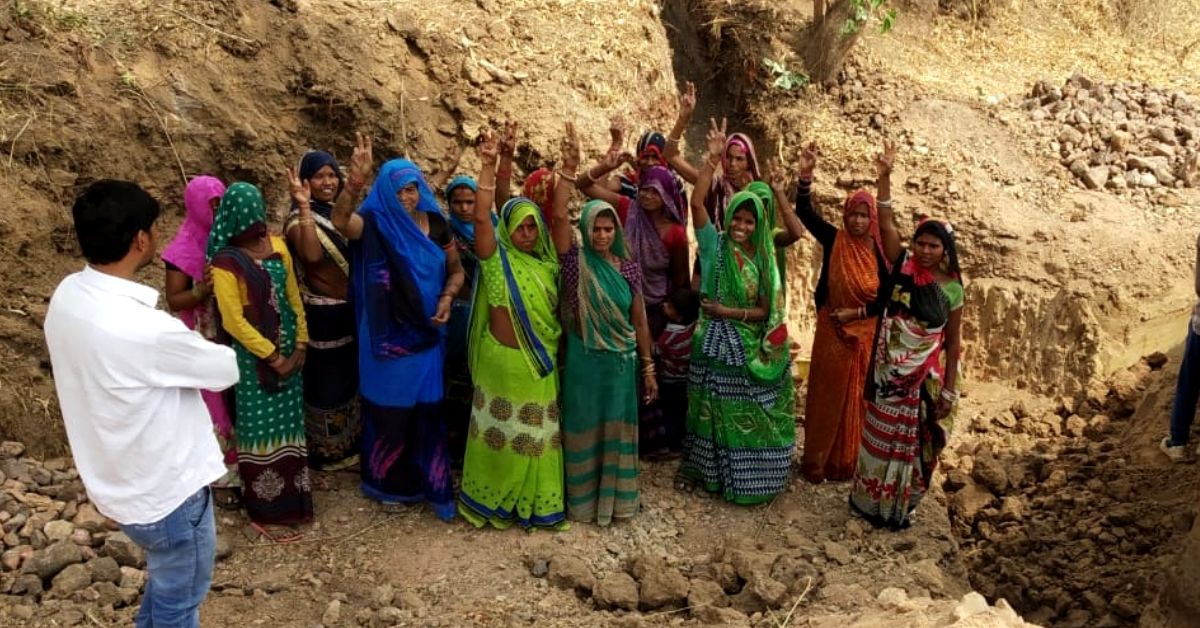 "It wasn't an easy task at all. The men were apprehensive about letting the women participate in a public event. They were suspicious of the volunteers who wanted to speak to the women. But as the SHG women started participating actively, our work became easier. We formed a team of 12 women and began our work. These women were called Jal Sahelis – friends of water," Singh tells The Better India (TBI).
It was important for the initiative to begin with a relatively easy task that would show quick results. The women of Lalitpur woke up at the crack of dawn and began their chores. Sweeping their homes, making breakfast and grazing the cattle was followed by the family's first meal.
When the husbands left for work and the children to school or to play, the unlettered housewives would start their journey to the nearest well.
We say 'nearest', but the one-way commute would still take at least an hour. The maximum load of water they could carry home would barely suffice till the end of the day.
For the Jal Sahelis, this was the first problem to be solved. And so, the 12 of them started repairing the water pumps near their homes.
The first pioneering project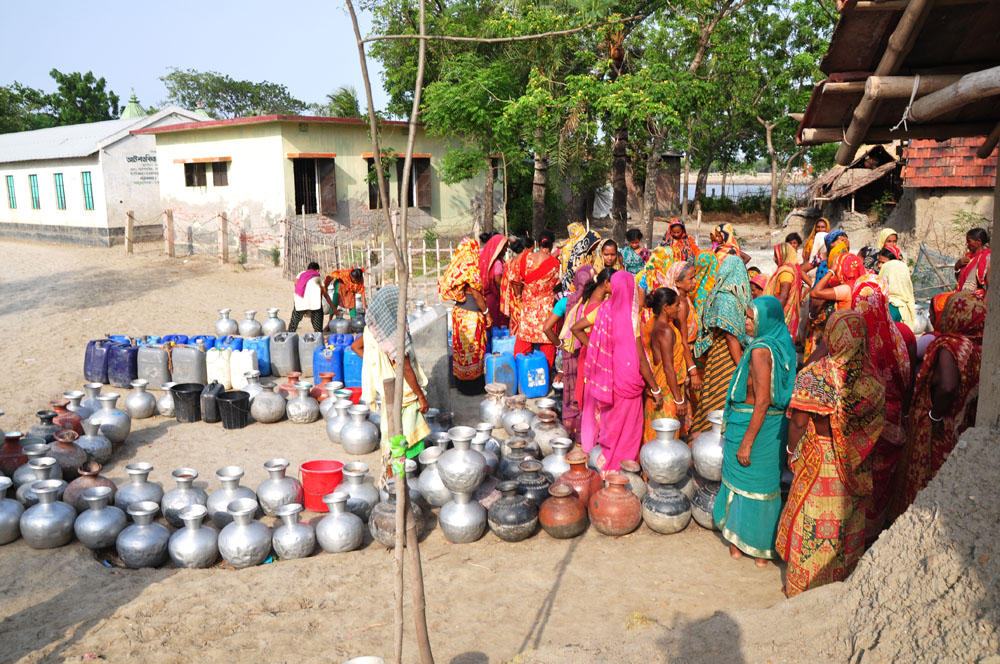 It wasn't as easy as just picking tools and beginning work.
Mind you, almost every woman in this group was uneducated. Neither did they know about groundwater tables nor about repairing work.
So, the first job of Parmarth was to educate. "We designed a training programme to provide water literacy to the ladies. They had already fought with the men in their house to step outside patriarchal society and do work 'outside of their realm'. The water literacy programmes would teach them about water tables, the reason behind scarcity and how they could overcome it. Each of the Jal Saheli was convinced that the women have the first right to water and they were fighting to earn it."
The Jal Sahelis took around a year but they eventually repaired all the handpumps in Lalitpur and also installed new ones.
After their first year of work, the 12 Jal Sahelis had spread their word far and wide. By this time, the men had understood that they were doing a phenomenal job and encouraged the women to carry on with it.
One must understand the ground reality of the villages in districts like Lalitpur, Tikamgarh and  Jhansi, where society is mostly patriarchal. The women have taken up a job that is completely unheard of. Let alone the perception that manual labour is supposed to be a 'man's job', even the building of check dams and reviving wells is a largely unknown project.
But the 12 pioneering women have stepped beyond what society expects them to do and into unexplored territory. And within a few years, their tribe had expanded to a total of 735 women from 150 different villages!
More Projects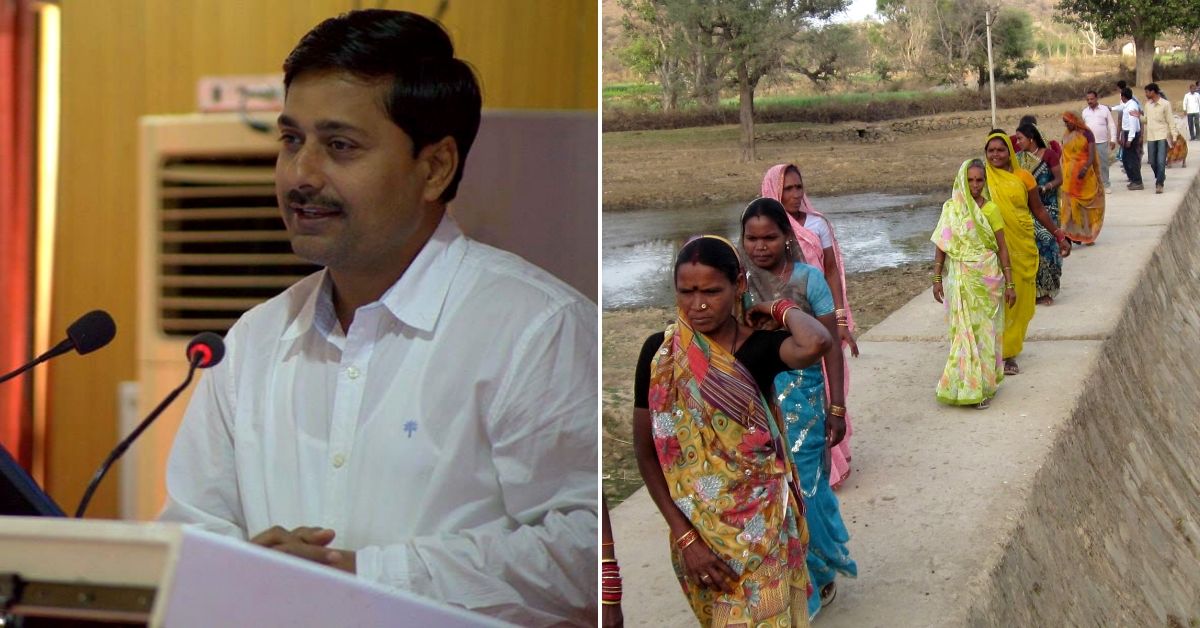 During summer, the temperature in several parts of Bundelkhand hovers around 45°C and lakes and ponds in the villages dry up quickly.
Unlike wells and handpumps, these water bodies are not used for drinking water but as irrigation units. Parched water bodies meant that the local farmers cultivate only a single crop in the months that they get adequate water supply.
Exhausting hunger, land that wouldn't yield sufficient crop and scorching skies that wouldn't rain had resulted in many farmers in Bundelkhand resorting to extreme measures.
---
You may also like: MP Farmer Grows Chemical-Free Food in 5 Layers, Earns Millions From Just 2.5 Acres!
---
Even though a Rs 7266 crore budget was assigned to the region in 2016, the situation hasn't improved for the farmers.
So, the second project for the Jal Sahelis was to revive existing water bodies and building new check dams to ensure that water is available all year round for the farmers.
39-year-old Geeta Devi is one such member of the Jal Saheli army who has brought potable water to her deprived Manpur village in Jhansi.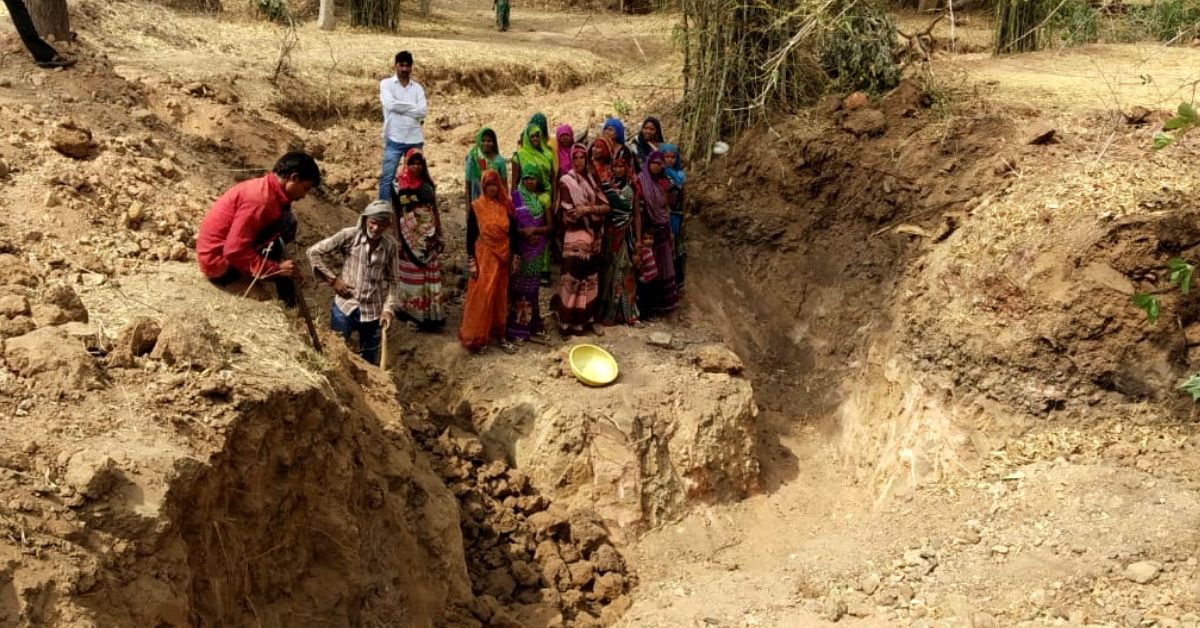 "We had never stepped out of our homes alone and so, when I announced that I am going to be a Jal Saheli, people smirked that Geeta alone cannot do anything. They were right, I could not do anything alone. So I gathered more women in my village to join in this mission," she tells TBI.
"I joined the Jal Saheli programme four years ago and have successfully revived five wells in my village. I was returning home after taking a bath one day when a volunteer from Parmarth approached and asked me about the water crisis here. They assured me that they would solve our problems and that I could contribute to these efforts. Without any hesitation, I joined. And look at the impact we've brought about!" Geeta tells us, sitting in front of a serene blue water body that she has helped revive.
---
You may also like: Kerala Man Innovates Rainwater Syringe by Accident, Restores 300 Cr Litres in 30 Years!
---
Each of these groups underwent training under the water literacy programme. They started digging and building check dams in their respective villages.
In some places, the women worked for 25 consecutive days, digging two-acres of existing lakes and converting them into check dams.
"The check dams restores rainwater and ensures an all-year water supply. I am extremely proud of these women who in their own capacity, are saving the earth. Words fall short when you grasp the situation they come from and the society they belong to," Singh tells TBI, adding that, "Balancing domestic chores, smashing society's expectations and building functional check dams, the women have quenched the thirst of over 150 villages around Bundelkhand."
Phenomenal!
Today, 100 villages in three Bundelkhand districts are free of water scarcity. The others are close to achieving this target. A total of 450 check dams and 56 lakes have been instrumental in restoring life in these villages. Not just for domestic use, agriculture has also benefitted by the efforts of these amazing women. In places where the farmers were reduced to cultivating only one crop, they can now grow three varieties of crops, thanks to the year-round water supply.
Obviously, their income has increased. This has also meant that fewer youths are migrating outside their villages. The change brought about by the women is phenomenally witnessed by thousands of Bundelkhand villagers every day.
(Edited by Vinayak Hegde) 
Like this story? Or have something to share? Write to us: contact@thebetterindia.com, or connect with us on Facebook and Twitter.
We bring stories straight from the heart of India, to inspire millions and create a wave of impact. Our positive movement is growing bigger everyday, and we would love for you to join it.
Please contribute whatever you can, every little penny helps our team in bringing you more stories that support dreams and spread hope.