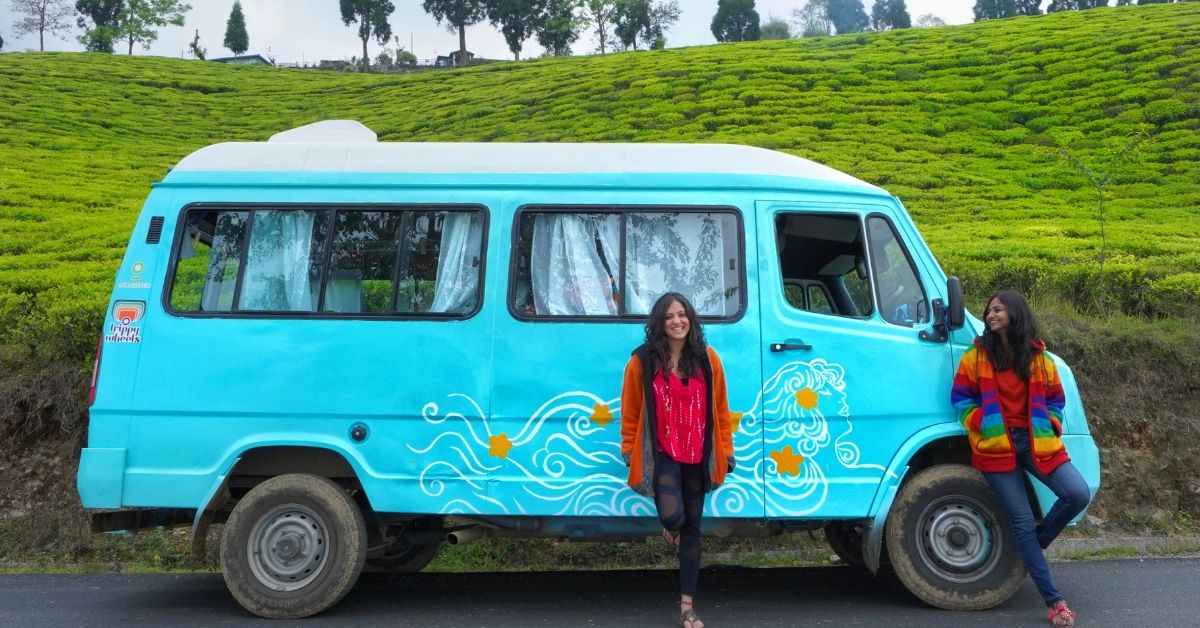 Ankita Kumar and Sharanya Iyer take us through their epic month-long journey through the towns and villages of Sikkim, a much under-explored travel destination in India.
Who doesn't want a vacation? An extended leave from work to travel to a place in your bucket list is the dream, isn't it?
Now, imagine if you travelled for a living?
Meet Ankita Kumar and Sharanya Iyer, who are content creators from Bengaluru and Mumbai, respectively.
Their abiding love for travel took them on a path of bringing these two paradigms together and create content out of their travel exploits! However, it is their latest outing, Caravan Chronicles, that will leave you completely awestruck.
The duo spent an entire month travelling through the towns and villages of Sikkim while living in a tempo traveller-turned-caravan named Luna.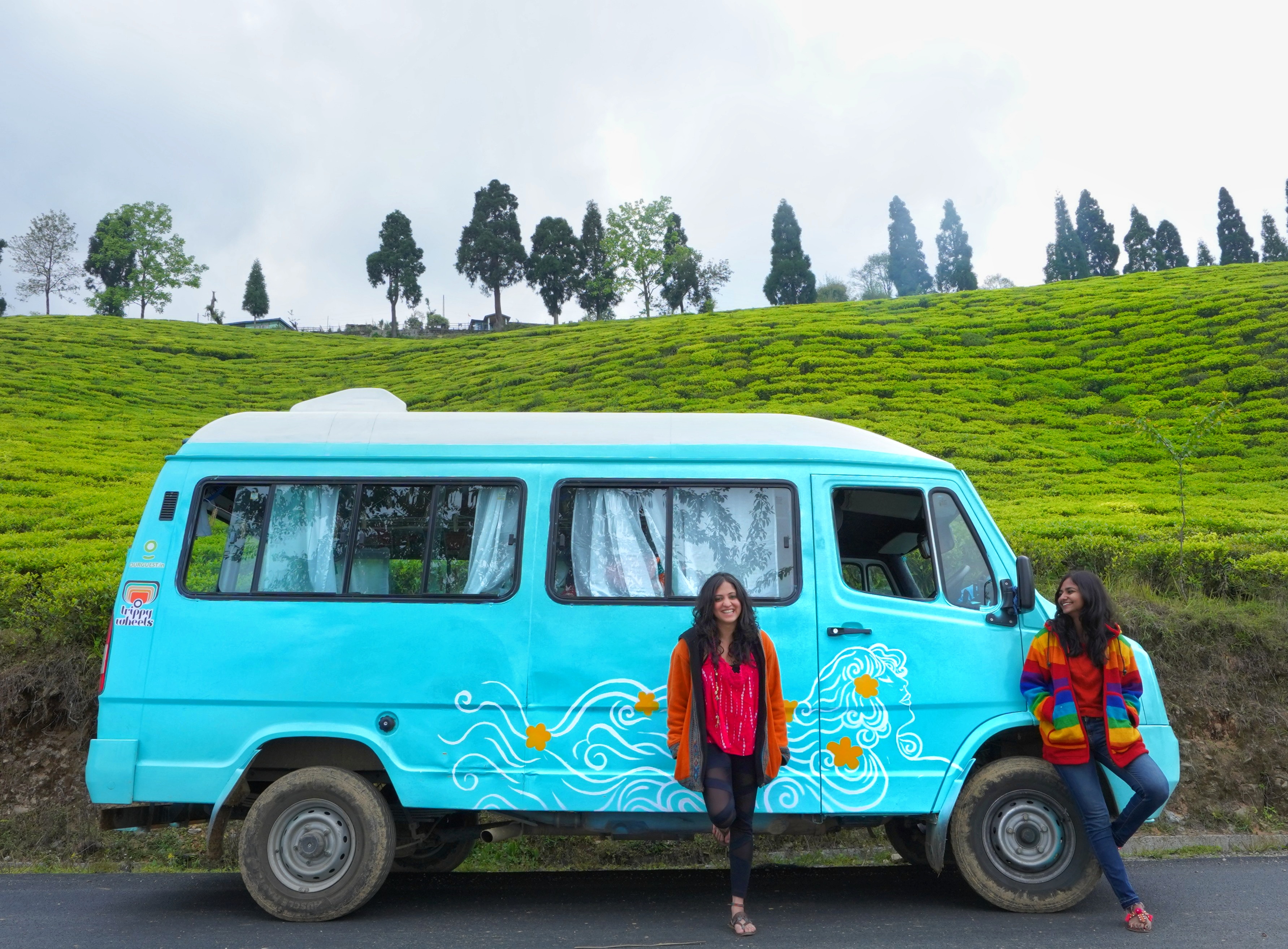 We spoke to both Ankita and Sharanya, who shared with us their fantastic journey with us.
"The idea behind Caravan Chronicles was conceived by our biker friend Rohith Subramaniam, who had observed the concept of caravaning throughout his travels in Europe. When he shared the idea with me, I was totally game, and in 2017, we travelled across the country, from Kerala to Himachal Pradesh for 100 days in a Matador. That was the Season one of Caravan Chronicles," says Ankita.
Sharanya joined these guys while they were in Rann of Kutch, which happened to be one of the most challenging terrains they had travelled to.
"We faced many difficulties during this time, but she stuck on and we still ended up having so much fun. That's when I realised that if she could manage so well in some of the toughest phases of the journey, she would be the first choice if we were to go forward with Season two," she adds.
Sharanya mentions that the first leg of their travels did so well and received such excellent traction that they decided to go ahead with the next leg.
https://www.instagram.com/p/BijlLBInPIT/?utm_source=ig_web_copy_link
"Perhaps, this is because caravaning is still such an unexplored avenue in India. The greater perk with caravaning is the concept of slow-travel. You can stop wherever you want, explore places at your own pace and cook or do everything in the van. As Rohith has set out to South America for a two-year-long bike trip, both of us decided to kickstart Season two of Caravan Chronicles with the greater motivator being why can't two girls go ahead with caravaning?" she says.
The duo still is in awe of how they managed to pull it off.
"From getting a vehicle together to getting it to Sikkim and then traversing through one of the toughest states, when it comes to securing permits as well as challenging landscapes—the trip was filled with crazy moments, but it was also incredible!" Ankita adds.
Why Sikkim?
https://www.instagram.com/p/Bwe_CVKHAnv/?utm_source=ig_web_copy_link
https://www.instagram.com/p/BxomxdDAJyr/?utm_source=ig_web_copy_link
https://www.instagram.com/p/BxCnAtEHAmZ/?utm_source=ig_web_copy_link
https://www.instagram.com/p/BxZ9YxbHVRL/?utm_source=ig_web_copy_link
"Both of us are fascinated with Northeast India. However, since we planned to travel between April and May, which is the peak time for monsoon, we were worried as not all the states there are equipped with good roads and infrastructure. We were seeking a balance, where a state would give us an ample amount of things to do in a month while giving us variety in terrains. That's how we zeroed in on Sikkim," Sharanya explains.
Through their posts, one can observe the myriad changes in Sikkim's landscape. West Sikkim, which is where their journey began, is full of green and verdant panoramas, while the northern parts gave them cultural experiences with the area replete with monasteries and interactions with the local community members from the Bhutia tribe.
And then there was snow in the higher altitudes!
https://www.instagram.com/p/Bx4GImuB-ds/?utm_source=ig_web_copy_link
https://www.instagram.com/p/ByMtdqTBKlj/?utm_source=ig_web_copy_link
https://www.instagram.com/p/Bx1lQ2rhx0d/?utm_source=ig_web_copy_link
While the panoramic views certainly captured their attention, the women also mention that the state has some of the friendliest people they have ever met.
"We were mesmerised by their stories which opened our eyes to the rich history of Sikkim's many communities," they add.
They share that this trip has indeed achieved what they had in mind to disprove most people who wondered about what exactly would they do for so long.
"Our point was that you need to take in a place and live like the locals. Experience the local way of life not as an outsider but as one of them. Even now, we feel that despite spending a month there, we have barely covered anything; there's so much to see!" Ankita says.
The women are quite fond of Luna, their home-on-wheels, which was their constant companion, as it managed to pull through the toughest terrains in Sikkim.
https://www.instagram.com/p/BxwMNYYAs-O/?utm_source=ig_web_copy_link
"There is a story behind the name. As we were two girls on a trip, we wanted to have a name that reflected feminine energy, girl power, and all things lighthearted. And of course, we were inspired by Luna Lovegood (a character in the Harry Potter series)!" they laugh.
Their entire trip, which was financed by a couple of well-known brands, has been documented to be released as a web series, to give an insight to their followers about what went behind the journey.
---
You may also like: Plastic Ban to Women Equality: 5 Times Sikkim Became an Example for All of India
---
I am in awe of their incredible journey and epic experiences, and I am sure that you are too. If you wish to follow Ankita and Sharanya's travel stories as well as Caravan Chronicles, you can follow them on Instagram here.
(Edited by Gayatri Mishra)
We bring stories straight from the heart of India, to inspire millions and create a wave of impact. Our positive movement is growing bigger everyday, and we would love for you to join it.
Please contribute whatever you can, every little penny helps our team in bringing you more stories that support dreams and spread hope.