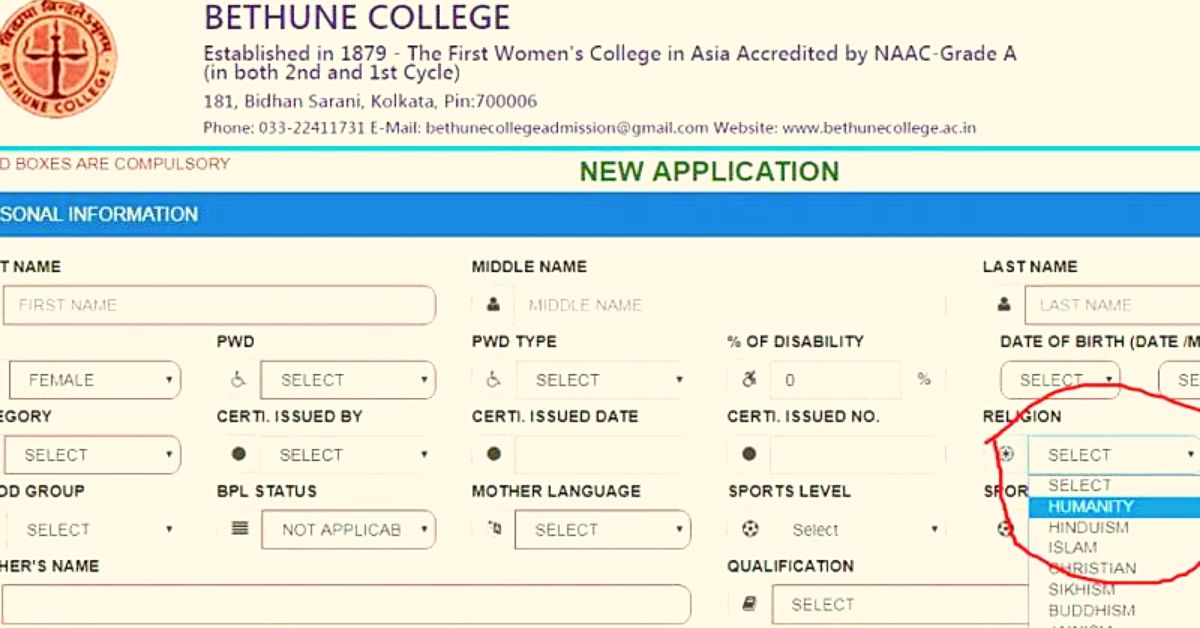 The oldest women's college in Asia, Bethune College has been blazing a trail for nearly 140 years. Among its alumnae are legends like Kadambini Ganguly (India's first female graduate), Asima Chatterjee (one of the first female Doctorate of Science in India) and Sarala Devi Chaudharani (founder of the first women's organisation in India)!
At a book launch earlier this month, Javed Akhtar, the poet and film lyricist said, "No one of us has only one identity. We are a collage of different identities."
In these times of heightened religious sensibilities, while this is a brave thing to say, to act upon these convictions is an entirely different matter.
But this is precisely what Kolkata's Bethune College has done.
In its undergraduate admissions process, under the section titled 'religion,' the oldest women's college in Asia has offered applicants the option to choose 'Humanity' besides Hinduism, Islam, Christian, Sikhism, Buddhism, Jainism and others.
"We have realised that some students are reluctant to mention their religion in the admission form. We appreciate their views as we feel that 'Humanity' is the true religion of mankind. So we have deliberately kept this category in the religion section. It was a unanimous decision on the part of our admission committee," said Mamata Ray, principal of Bethune College, in a conversation with The Millennium Post.
Not only does this give students a way out of declaring their religious affiliations, which are just one facet of a person's identity, but it also allows them to affirm a broader identity—their humanity.
More importantly, according to college authorities, if students do indeed choose 'Humanity' as an option, it will not come in the way of availing scholarships provided, if she meets the other requisite guidelines.
It isn't the first time that this women's college in Kolkata is blazing a trail.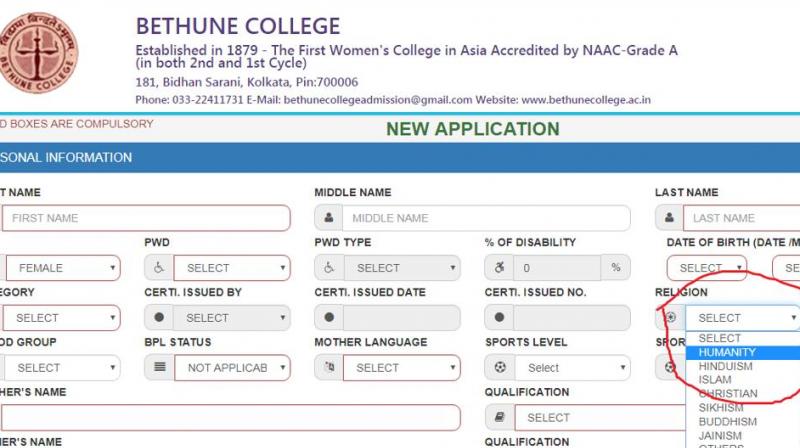 The story of its very origins is closely tied to the Bengal Renaissance and the arrival of a certain John Elliot Drinkwater Bethune, who was sent to India in 1848 Law Member of the Governor General's Council.
Besides his official duties, we worked closely with like-minded Bengali social reformers like Ramgopal Ghosh, Raja Dakshinaranjan Mukherjee and Pandit Madan Mohan Tarkalankar; he initiated the cause of women's education.
Devoted to getting Indian women out of the throes of illiteracy and social oppression, Bethune was instrumental in setting up Kolkata's first school for girls in 1849 called the Hindu Female School, which subsequently came to be known as Bethune School.
Unfortunately, the man passed away just two years later.
In 1856, the colonial administration took over the reins at the school and later renamed in Bethune School. The legendary social reformer Pandit Ishwar Chandra Vidyasagar was appointed Secretary in the school's management committee.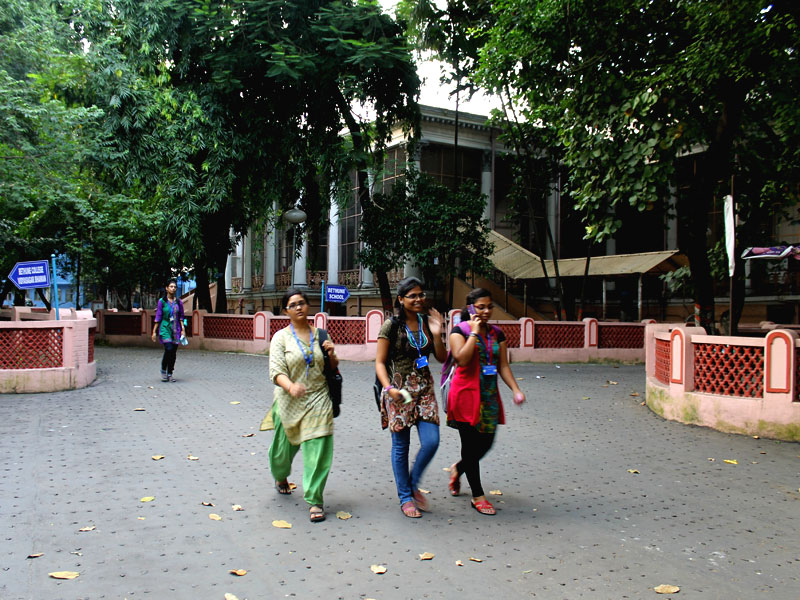 "It was in 1878 that Bethune School had the honour of sending up the first woman candidate for the Entrance Examination of the University of Calcutta. When Kadambini Ganguly (née Basu) cleared the examination, college classes were arranged for her in Bethune school to enable her to pursue her studies for the FA examination. This is how the college started. And for many years to follow, this college remained the only institution offering the scope of higher education for girls in India," says this description on the college website.
Joining Kadambini Ganguly in 1881 was Chandramukhi Basu, and together, both women ended up becoming the first women graduates of the Calcutta University in 1883.
Kadambini would go on to take admission in the Calcutta Medical College and becoming India's first practising female physician, while her contemporary Chandramukhi took up a lecturer's position in Bethune College, and subsequently became its first woman principal.
Also Read: The Phenomenal Story of Kadambini: One of India's First Women Graduates & Doctors
Since its inception, the college has produced a host of luminaries. They include Pritilata Wadder, the first female martyr of India's freedom struggle; Asima Chatterjee, an organic chemist and first woman scientist to be awarded a Doctor of Science from an Indian University; Ila Sen, the first Bengali woman to be selected for participation in Olympic Games, amongst others.
Even 140 years later, the college remains in reasonable shape, and the National Assessment and Accreditation Council (NAAC) granted it a Grade A in 2015.
(Edited by Gayatri Mishra)
Like this story? Or have something to share? Write to us: contact@thebetterindia.com, or connect with us on Facebook and Twitter.