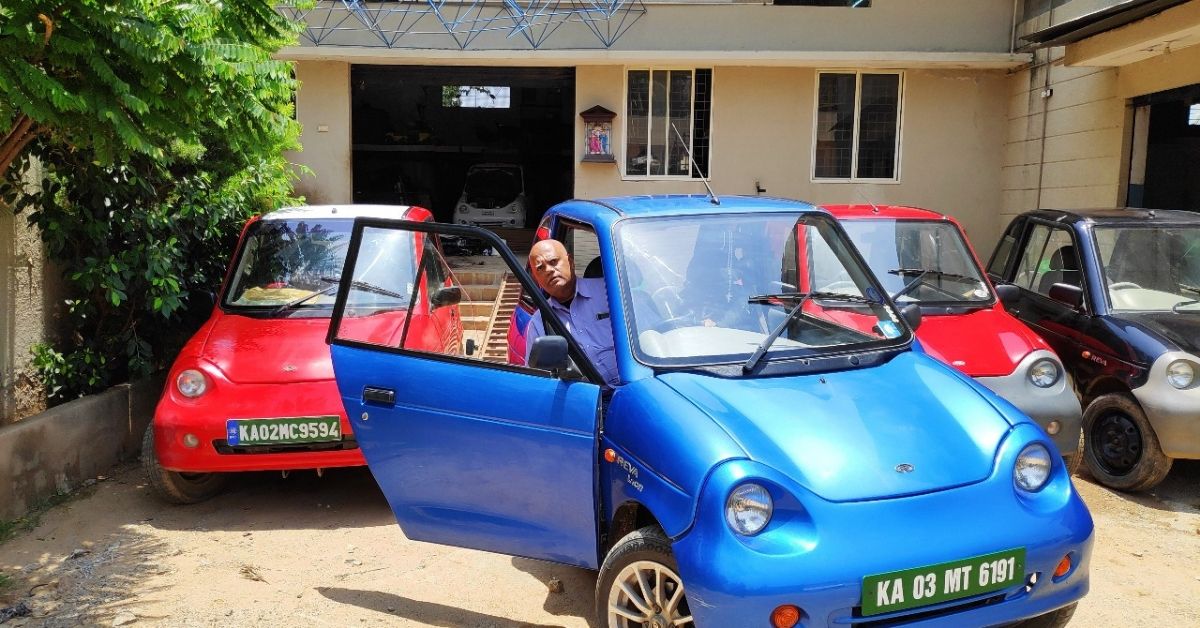 Is it slow? What if it stops in the middle of the road? Kitna deti hai? The owner of nine e-vehicles, 62-year-old Zarryl Lobo has all the answers to your queries!
Unsafe, slow, costly and inefficient—e-cars have come under a lot of unearned bias. The compact models are not everyone's first choice when it comes to choosing a new car for regular use.
And yet, for Zarryl Lobo, no other car in the world can compete with his fleet of e-cars.
For about 18 years now, Lobo has been driving his eco-friendly vehicle in and around Bengaluru, caring not once about the mileage, costs or maintenance, as is usual with owners of conventional cars.
Often, he has been asked about the cons of driving an electric vehicle and not a "real car". He has to think for a few minutes before answering, "if there were any cons, would I be driving my Reva or E2O instead of a Ford?"
Straying away from norms is not always easy. Often, it requires dedicated practice to replace old habits with new ones.
And when it comes to something like driving, not everyone is willing to take the risk. Most of us are so used to our petrol or diesel cars, that in comparison, electric vehicles seem too inconvenient.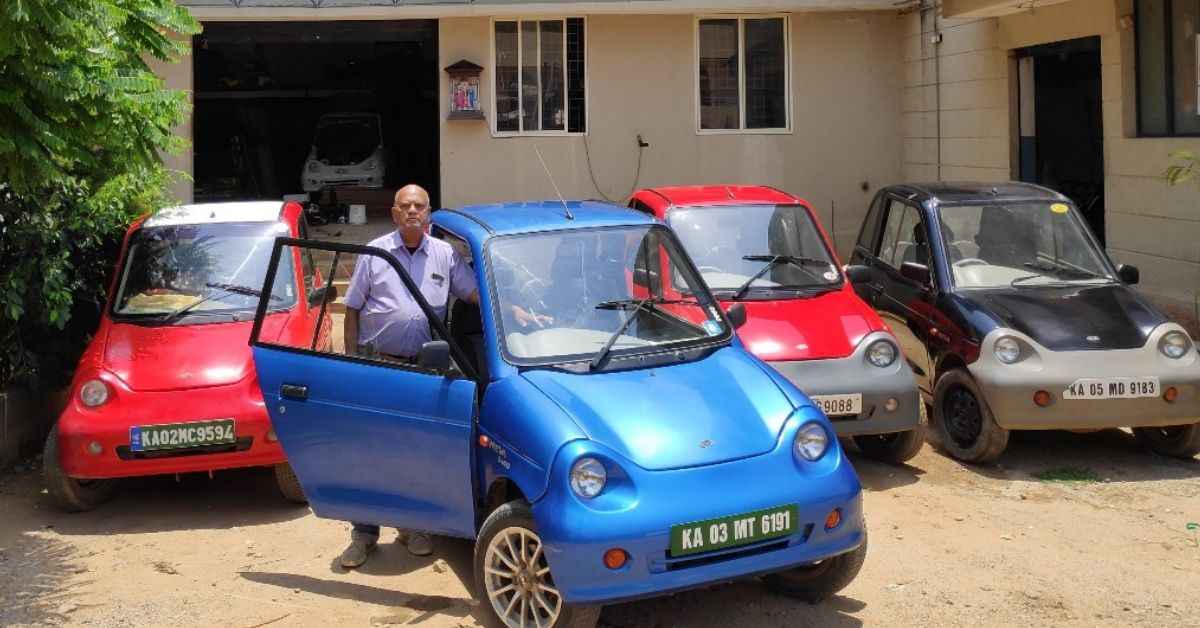 The Better India spoke with Lobo to bust your myths about replacing your old cars with e-cars. His answers, that come after years of experience and research for his venture 'Xtra Reinforced Plastics' were not just positive, but highly encouraging!
Lobo's first e-car experience was in 2001 when Chetan Maini, the Chief Technology Officer of Mahindra Reva Electric Vehicles Pvt Ltd, introduced him to it. "Maini was a visionary who introduced India to a world of non-polluting, compact, and highly-efficient cars at the beginning of the 21st century. My travels have never been better, and even today, in 2019, his [Maini's] models are up-to-date with the technology and speed we expect," Lobo begins.
So whether you are worried about the costs, ease of charging or maintenance here's what Lobo explains.
1. Expenses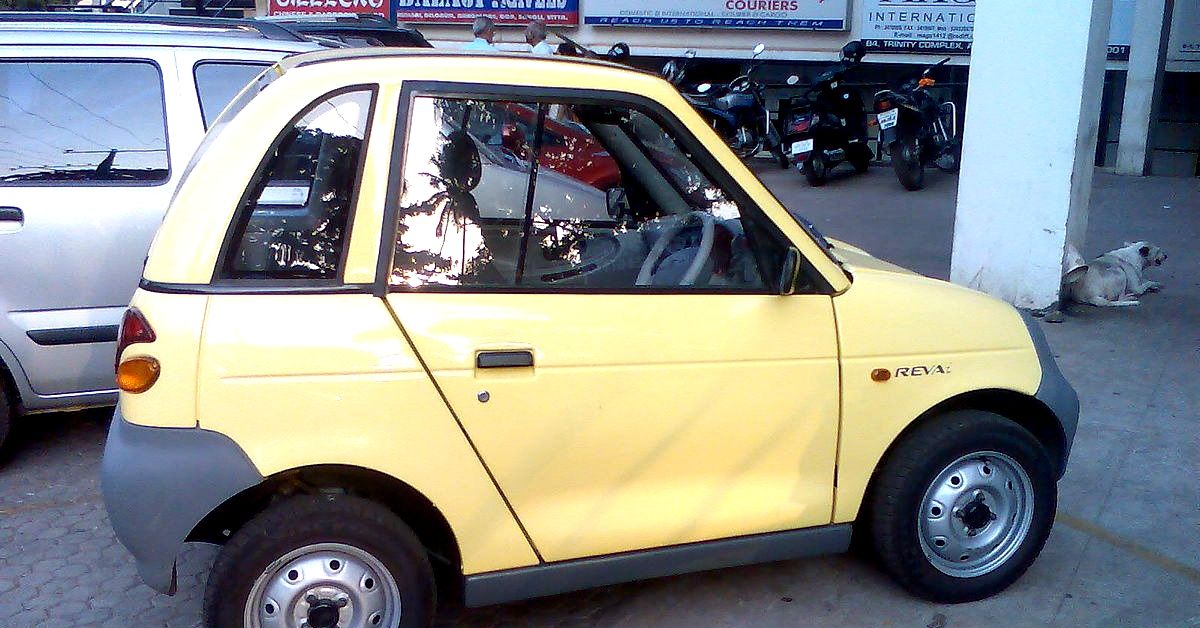 People who are willing to experiment with an electric car are dissuaded when they see the price of the vehicle. Whether an e-bike or an e-car, the vehicle is considerably costlier than your regular family car.
"However, you will get back the extra price in the months that you use your electronic car instead of a gasoline car," Lobo assures, adding, "The State Bank of India (SBI) already offers a loan for the purchase of an e-vehicle, as other banks are slowly following in its footsteps. The interest for the car is only marginally higher than that for a regular one—an amount that shouldn't necessarily be a massive issue."
NITI Aayog has also proposed the Faster Adoption and Manufacturing of Electric Vehicle (FAME II) scheme that has received a go-ahead from the government just recently. According to this scheme, from 1 April 2019, buyers will be given an incentive of Rs 10,000 per kilowatt hour (kWH) directly linked to the battery size.
FAME II, which will be under effect for the next three years, will save you between Rs 20,000-40,000 for bikes that come with a battery size of 2-4 kWh, and between Rs 1.5-2.5 lakh for cars fitted with 15-25 kWh batteries.
While government subsidies are a great financial encouragement for new buyers, switching to an electric car will also reduce your weekly expenditure on fuel. Concerns like rising fuel prices or depleting fossil fuels should not affect you anymore.
2. Where is my charger?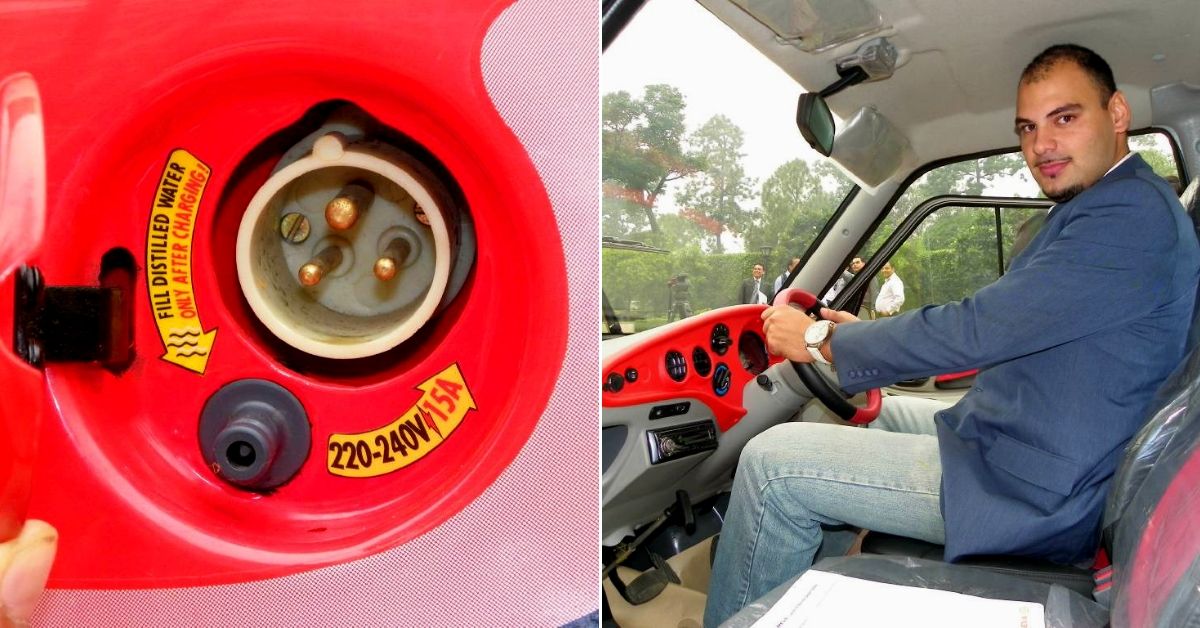 Something as big as a car will certainly require a specially-made charging point, right?
"Not really," Lobo tells The Better India. Ideally, these are available at every corner of the city to encourage more people to take up an e-vehicle.
"In fact, it takes up less energy than your refrigerator that runs 24 hours a day, 365 days a year. You can plug the car into a 15-ampere socket and let it charge for about 5-6 hours. Each charging cycle will take up no more than ten units of electricity. You can compare the car with a geyser that takes up a lot more energy. And just like the geyser, the car will switch off the charging and go into sleep mode when the battery is full. So, you can leave it on charge through the night without any worry," he adds.
The Bengaluru entrepreneur adds that one need not worry too much about the car breaking down in the middle of the road. Much like your conventional car, one needs to check how much battery is left in the car and recharge it accordingly.
But an added advantage of an e-car is that you can charge it at your home, office or a shopping mall closest to you.
"There are theatres and malls in Bengaluru that have special slots for charging e-vehicles. And this is true of cities like Mumbai and Delhi too. Do you have to pay them for charging the car? No, because the cost of setting up a formal payment system will be much higher than the people using the switches, so, in my experience, most malls will not ask you for a paisa."
The 62-year-old continues, "We have also set up a community of e-car owners through a WhatsApp group that addresses our issues. Just 10 minutes before this call, someone had put up a message asking if there's a charging slot anywhere near Lonavala and another replied saying, 'if you can manage to come up to my home, you can charge your vehicle for free here.' We are all quite cooperative and helpful that way."
3. Kitna deti hai?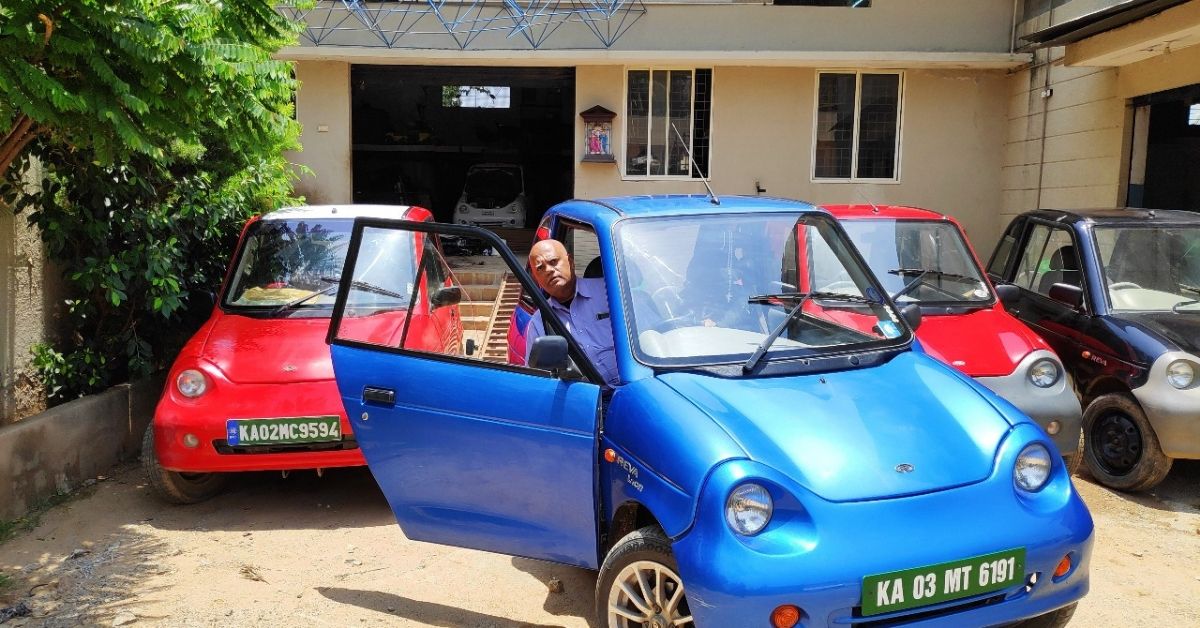 Mileage and maintenance are important considerations before buying a vehicle and rightly so. If the car is demanding that you spend thousands of rupees on its fuel or servicing every month, it might become more of a liability than an asset, and so, we asked Lobo about the recurring costs of his cars.
"Well, your regular cars have to be serviced at least once every few months. But not the e-vehicles. Unlike petrol or diesel vehicles, you need not change the oil periodically, which makes it a nearly zero-cost car. Since it uses about ten units of electricity for the charge, I spend around Re 1 for each kilometre. That's it!" he beams.
A Reva with a new battery will give you a mileage of about 80 km on a full charge, while an E20 will give you nearly 120 km. Designed for intra-city travel, an e-car will be the perfect choice for your daily commute.
It occupies less space, so parking isn't an issue, and it is cheaper than autos or taxis by a huge margin. Moreover, you won't have to worry about contributing to traffic or pollution.
---
Also Read: Mumbai Startup's Low-Cost Idea Can Charge Your E-Vehicle in Less Than 15 Mins!
---
Lobo says, "If and when you need to service the car, you can simply take it to the dealer you purchased it from, and they will do the needful. And while Mahindra has stopped the servicing of Reva [something that irks Lobo], his enterprise provides these services across India—to encourage people to continue using the electric marvels."
He continues, "Most of us count in rupees instead of litres when it comes to refuelling at petrol stations. It's usually 'fill Rs 500 worth of petrol' rather than, '7 litres of petrol'. This doesn't tell you how much fossil fuel you are using with every ride. You can bid this calculation goodbye when you switch to e-cars. The meagre tweak in your electricity bill is all the cost you will bear."
4. Things to note before buying an e-vehicle.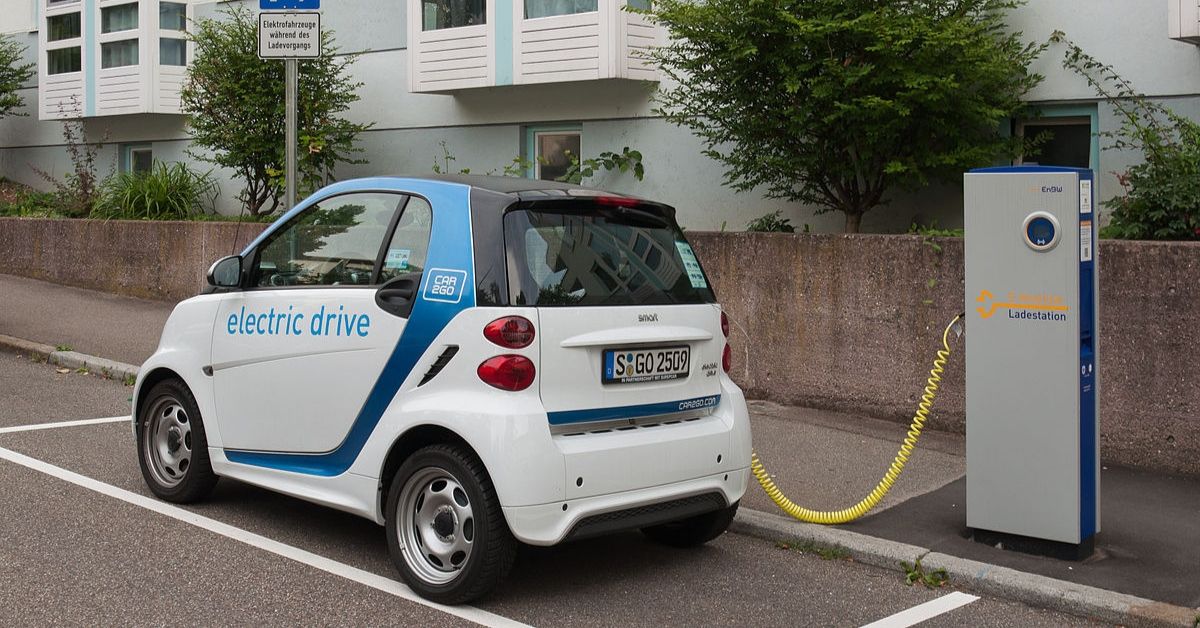 As opposed to the general bias, the e-car can go up to a speed of 60-70 km/hr very easily. It is not a slow car in any sense. Moreover, it is designed for intra-city commutes. It is also quite efficient on highways, and for occasional inter-city travels as well.
National highways like the one connecting Mumbai to Pune have charging stations en route, to ease your e-travel.
"The owner must register the fact that they are using an e-car and plan their day accordingly. Check the battery frequently to understand how long you have until the battery needs a recharge. This precautionary measure is not strange in any way and is much like what you would do for your gasoline car," shares Lobo.
He also adds that once you purchase an e-vehicle, it must be used and not stored in the garage. The battery needs usage and charging for optimum use.
Check with the company if they are still manufacturing the e-vehicle you plan to purchase. If they have stopped production, you may have to buy a model from the manufactured batch. While you check the production status, also look for garages which offer emergency or regular servicing.
---
You May Also Like: 3 Steps Helped This Bengaluru Society Cut Their Rs 16 Lakh Water Bill by 52%!
---
Mr Lobo is happy to speak to anyone who wishes to buy an e-vehicle and persuade them to make the eco-friendly decision. An owner of nine e-cars, he uses most of them to test parts and functions for a new model he is working on.
Lobo can be contacted on zarryl@gmail.com or 98450 12306.
(Edited by Shruti Singhal)
Like this story? Or have something to share? Write to us: contact@thebetterindia.com, or connect with us on Facebook and Twitter.
We bring stories straight from the heart of India, to inspire millions and create a wave of impact. Our positive movement is growing bigger everyday, and we would love for you to join it.
Please contribute whatever you can, every little penny helps our team in bringing you more stories that support dreams and spread hope.