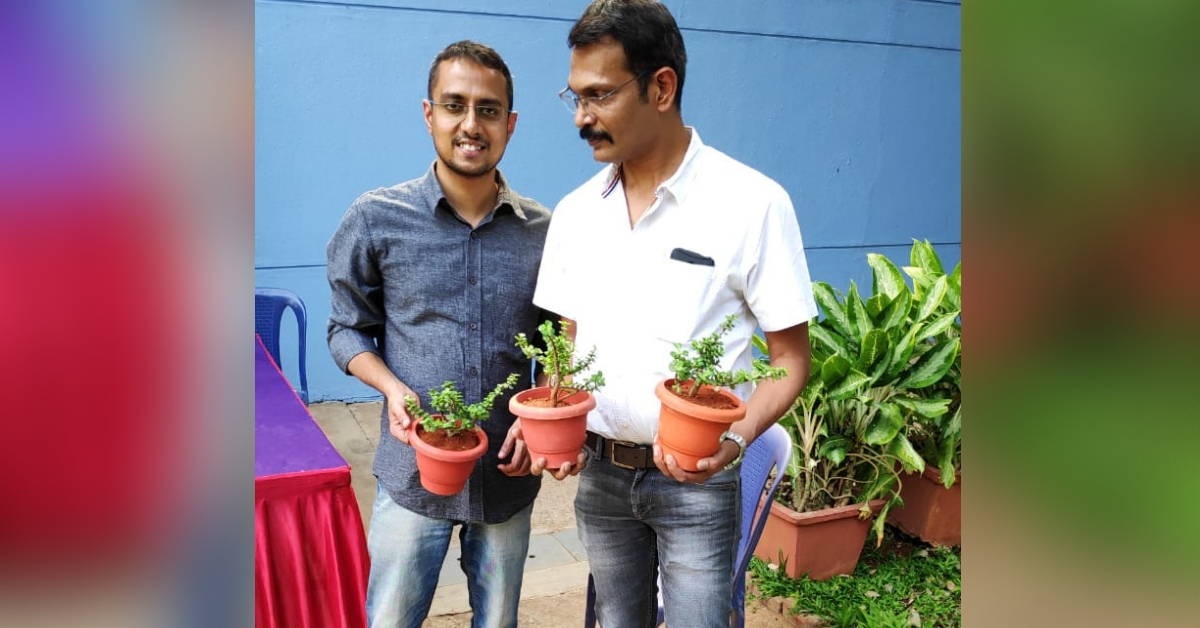 "We are saving about 2-3 tankers worth of water every day. And each of the initiatives has inspired residents to go greener—a total saving of Rs 9 lakh in one year is proof of that."
As summer approaches, the taps in the South Indian city of Bengaluru start running dry. Longer days and warmer weather demand the usage of more water, but you'll see residents getting up early in the morning, calling up tankers and spending a bomb on each delivery.
As we approach the dreaded months of April and May, the situation worsens. Groundwater starts depleting further, and until the rains provide a respite, one has no choice but to spend more and more on every tanker of water.
For some, the increasing expenditure is an issue, while others are worried about the long-term implications of this exploitation of groundwater.
Between 2000 and 2010, India's groundwater depletion increased by 23 per cent. Incidentally, we are the largest users of groundwater in the world, 24 per cent of the global total, surpassing even China.
As fast as the groundwater resources are getting exhausted, heavily populated Tier-1 cities like Bengaluru are paying a hefty price.
The victim is the common man who cannot live without water but cannot afford to buy it every week either.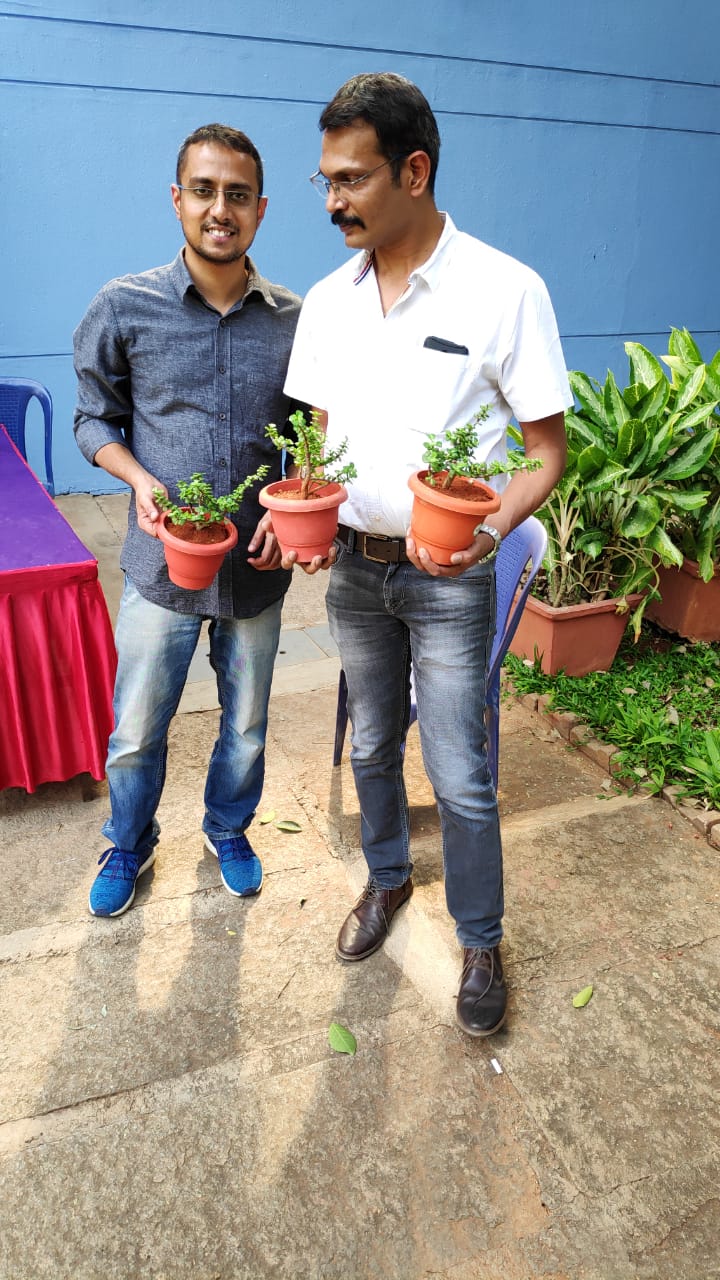 Breaking this shackle, the residents of 'The Greens' society in Bengaluru, have taken charge of the situation. Over the past few years, they have implemented three major solutions and cut down their water consumption by half!
'The Greens' is a 10-year-old apartment complex with 171 flats. Until 2016, they collectively spent an average of Rs 16 lakh every year on the water. Sensing that a one-time investment to curb the water consumption would aid their high expenditures, Amal Padmanabhan and Ajit Padniker suggested that the housing society take active steps to recycle, reduce, and hold flats accountable for their usage.
"We started studying how much water was used by each flat in a two-month pilot project. We found that 40 of the 171 flats used about 70 per cent of the total water. There was a huge divide between these 40 and the other 131 flats. And we were collectively shelling over Rs 16 lakh every year. So, Ajit and I decided to initiate three projects that would lower our expenditure and show the importance of water conservation," Amal tells The Better India.
Accordingly, they came up with a three-point solution of installing flow meters in each house, harvesting rainwater, and installing a sewage treatment plant to plumb water.
1. Accountability with flow meters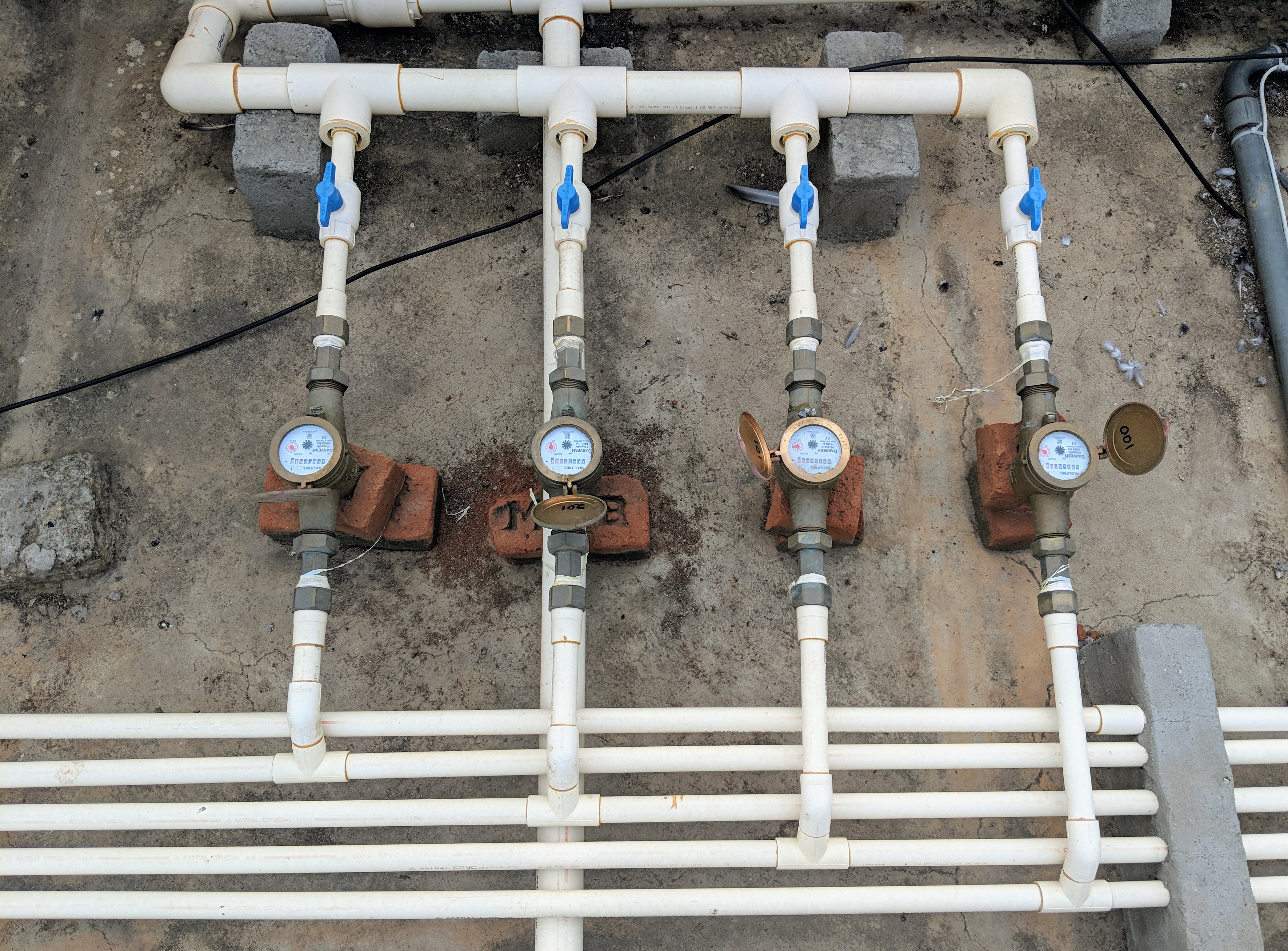 Consumption of water depends from person to person, and the housing society would previously divide the total expenses by the number of flats. Although this was easy, it was not necessarily fair.
Now, the charges for water might be minimal, and a few rupees more or less than your consumption might not make a difference. But making each house accountable for their consumption was a crucial motive.
Firstly, it showed them how much water they consumed, forcing them to wonder if they could somehow reduce it.
Secondly, they had to pay for each litre that they used. For instance, the tap that was open till the bucket overflowed could have saved a few rupees.
The step was not meant to be a punishment, but a report card of how much water they used versus how much they could save. This required a flow meter attached to individual flats.
As with most apartments, individual flats did not come with water flow meters, and in the case of 'The Greens', each house was given multiple inlets of water instead of a single one.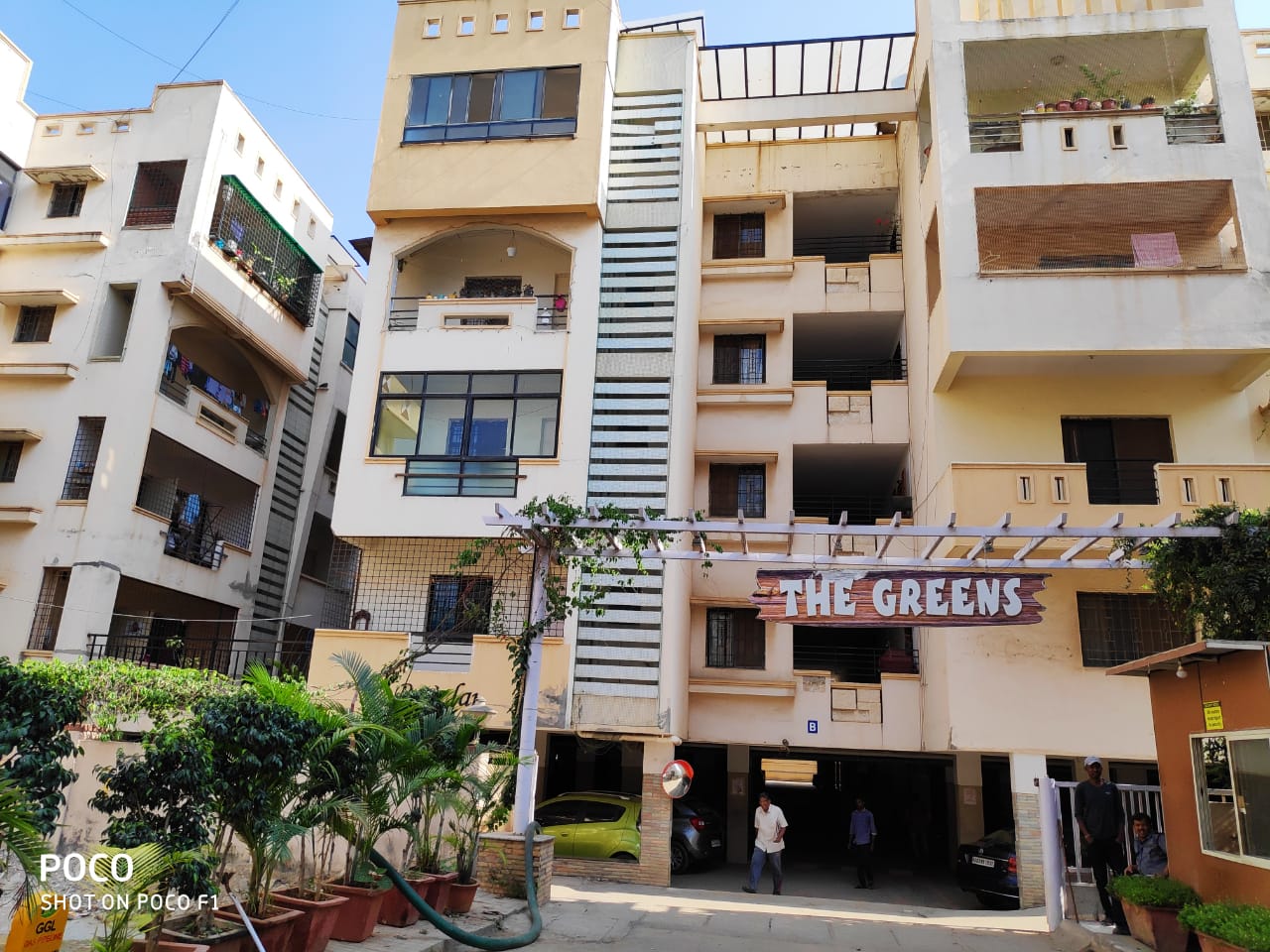 "The two-bedroom flats had three separate water inlets —one for the kitchen, and two for the bathrooms. The builder had got the plumbing done in a way that pipes were drawn from the nearest point in the duct, to cut costs," writes Amal.
So their only viable and sustainable option was to connect all three inlets to a single point on the terraces and install a flow meter on each terrace. This came at a high cost, but there was no option to bypass it.
Investing over Rs 24 lakh (about Rs 14,000 per flat), the society installed a more efficient inlet system as well as a flow meter so they could penalise heavy users and incentivise those who saved water.
This is how they calculated the charges per flat:
Let's say there are two flats in the society.
Flat 1 is 2,000 sq ft, and consumed 13,000 litres of water. Flat 2 is 1,800 sq ft and consumed 2,500 litres. Totally, the society has 3,800 sq ft.
Borewell yield for the month was 8,000 litres.
Flat 1 got a share of (8,000 / 3,800) * 2,000 = 4,210 litres.
Flat 2 got a share of (8,000 / 3,800) * 1,800 = 3,790 litres..
Outside water spending was Rs 2,000
External per litre procurement cost was 2,000 / (13,000+2,500 – 8,000) = Rs 0.266 per litre.
Flat 1 will pay for the litres they consumed, above their borewell share. Their bill will be (13,000 – 4,210) * 0.266 = Rs 2,343
Flat 2 will get a discount for their savings in maintenance. Their bill will be (2,500 – 3,790) * 0.266 = Rs -343
2. Rain water harvesting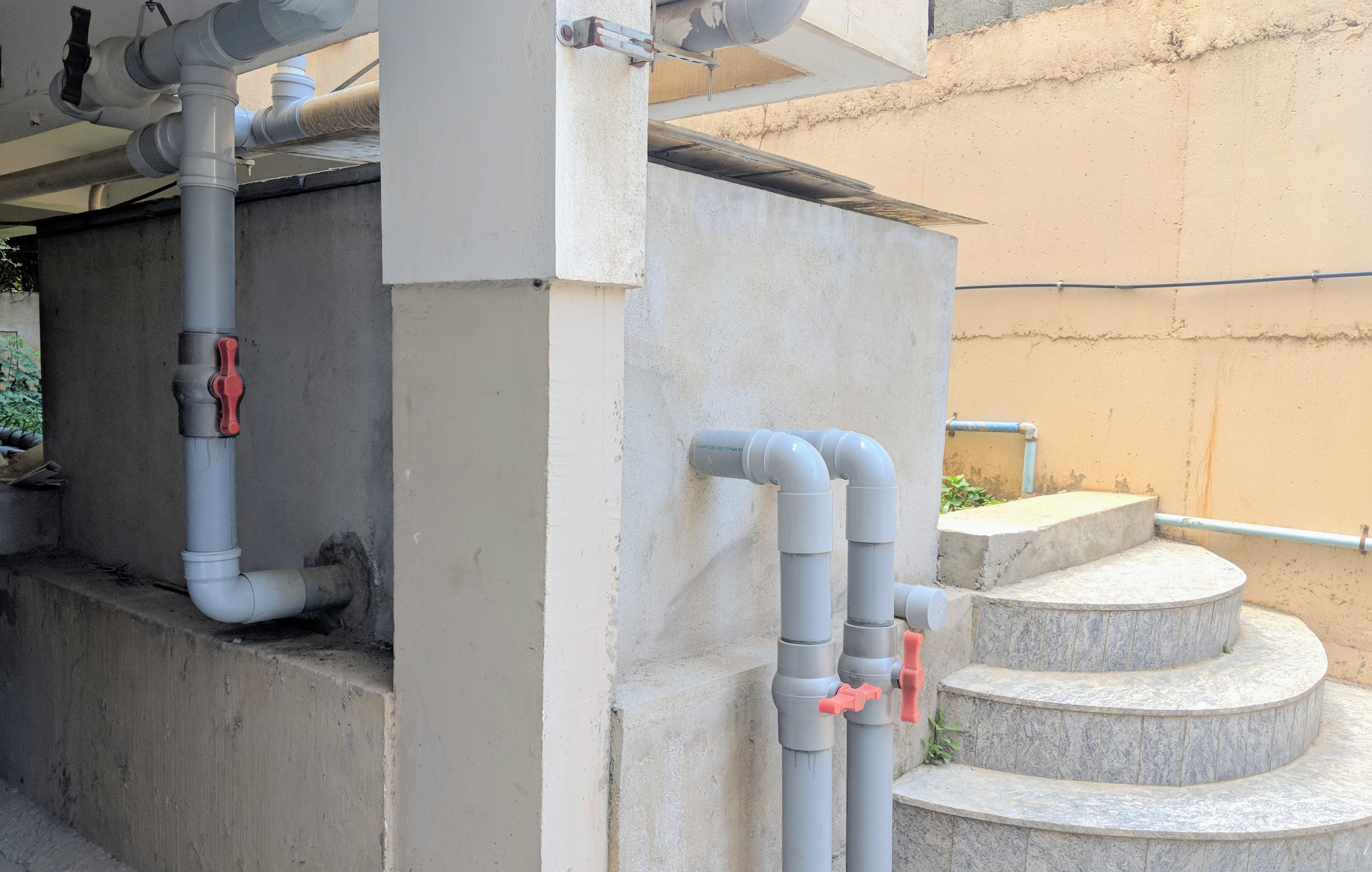 Each year, thousands of litres of fresh water meet an unfortunate end as it flows down roofs, floods streets or the drainage system. Instead, this rain water can be stored by individual houses or even apartment complexes, harvesting the free resource for the benefit of the residents. 'The Greens' decided to do exactly that.
"Bengaluru receives a generous amount of rainfall even in summers, but we rarely use it to our advantage," Amal says.
He adds, "We started working on this initiative in the second half of 2016. The rain water harvesting system could be installed within 15 days as opposed to the flow meters and sewage treatment plant, which took about three months each."
---
Also Read: This Bengaluru Couple Save 1 Lakh Litres of Water Every Year. Here's How
---
This system cost the housing society about Rs 5 lakh, but the results were just as rich as the investment cost. All the terraces of the complex were connected to two separate filters. PVC pipes connected these filters to underground sumps and borewell recharge points. So each time it rains, the housing society recharges its water sumps, reducing their dependence on purchased water.
"On Monday, it rained for nearly two hours, and in that short time, we collected about 1,04,000 litres of water. This water will suffice us for the next two days. You can see how amazing this system has been and the quantity of water we are conserving daily," Amal adds.
3. Sewage Treatment Plant—to reuse water

Greywater is wastewater that has been used in households for purposes like washing clothes or utensils. It can be treated and reused in gardens as well as flushes—places where you need not directly come in contact with it.
For several years, the residents of The Greens were using the Sewage Treatment Plant (STP) and sending the water only to their gardens. The excess water was sent away, but in the latter half of 2016, the residential society decided to redirect it to their flushes.
"We are saving about 2-3 tankers worth of water every day, thanks to the STPs," Amal says, adding, "each of the initiatives has inspired residents to go greener. In 2016, we spent Rs 16,84,746 on water and brought down the price by a small margin in 2017. However, in 2018, we have spent just over Rs 7 lakh for water. I agree that the cost is still high but we are proceeding one step at a time—a total saving of Rs 9 lakh in one year is proof of that."
But the initiative is not merely about saving money. Since the flow meter displays the consumption of each house every month, people have taken active steps to reduce their usage.
For instance, where they would previously use about four tankers each month, they are now using an average of 1-2. Of course, they faced inconveniences while the projects were being built, but today, each of the 600-odd residents is reaping the benefits.
---
You May Also Like: Harvesting Rainwater to Saving Lakes: Meet Hyderabad's One-Woman Water Warrior!
---
Remarking on how the projects have impacted the residential society, Amal concludes, "Before 2016, we didn't even know how much water we were using, so of course, those who were over-consuming were unaware of the fact. Today, all of us are actively seeking ways to reduce wastage. For instance, most of us now have water-saving adaptors on our kitchen sinks. Each flat has invested Rs 30,343 for the projects, and between April-August 2017, they have saved Rs 5,213 on an average. By this calculation, we are sure to recover our expenses entirely within 30 months!"
To know more about these initiatives or how you can replicate them, write to Amal on amal.parambath@gmail.com.
(Edited by Shruti Singhal)
Images courtesy: Amal Padmanabhan
Like this story? Or have something to share? Write to us: contact@thebetterindia.com, or connect with us on Facebook and Twitter.
We bring stories straight from the heart of India, to inspire millions and create a wave of impact. Our positive movement is growing bigger everyday, and we would love for you to join it.
Please contribute whatever you can, every little penny helps our team in bringing you more stories that support dreams and spread hope.