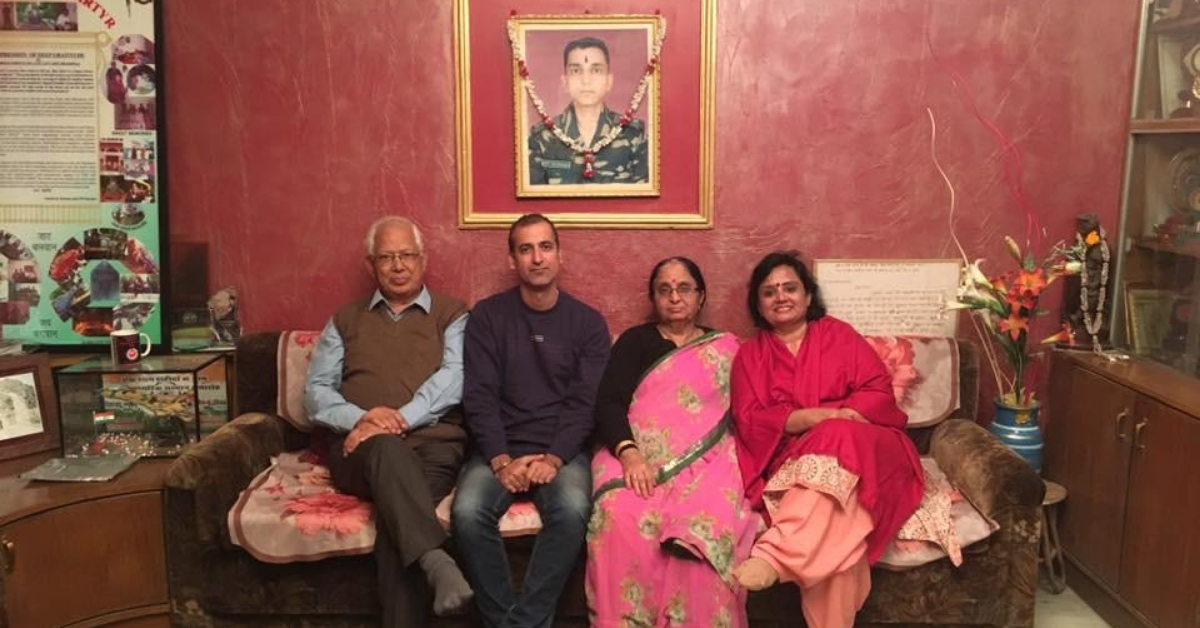 The pursuit began in 1999 after the Kargil War, leading Manhas to visit more than 200 families of martyrs. He remains in touch with most of them!
For the last 20 years, Jammu & Kashmir resident Vikas Manhas has been travelling 11 months a year. These travails range from homes in metros to remote rural villages across the country.
No, these aren't work-related or luxurious trips. The 42-year-old visits families of slain soldiers and martyrs.
The pursuit began in 1999 after the Kargil War, leading Manhas to visit more than 200 families of martyrs. He remains in touch with most of them!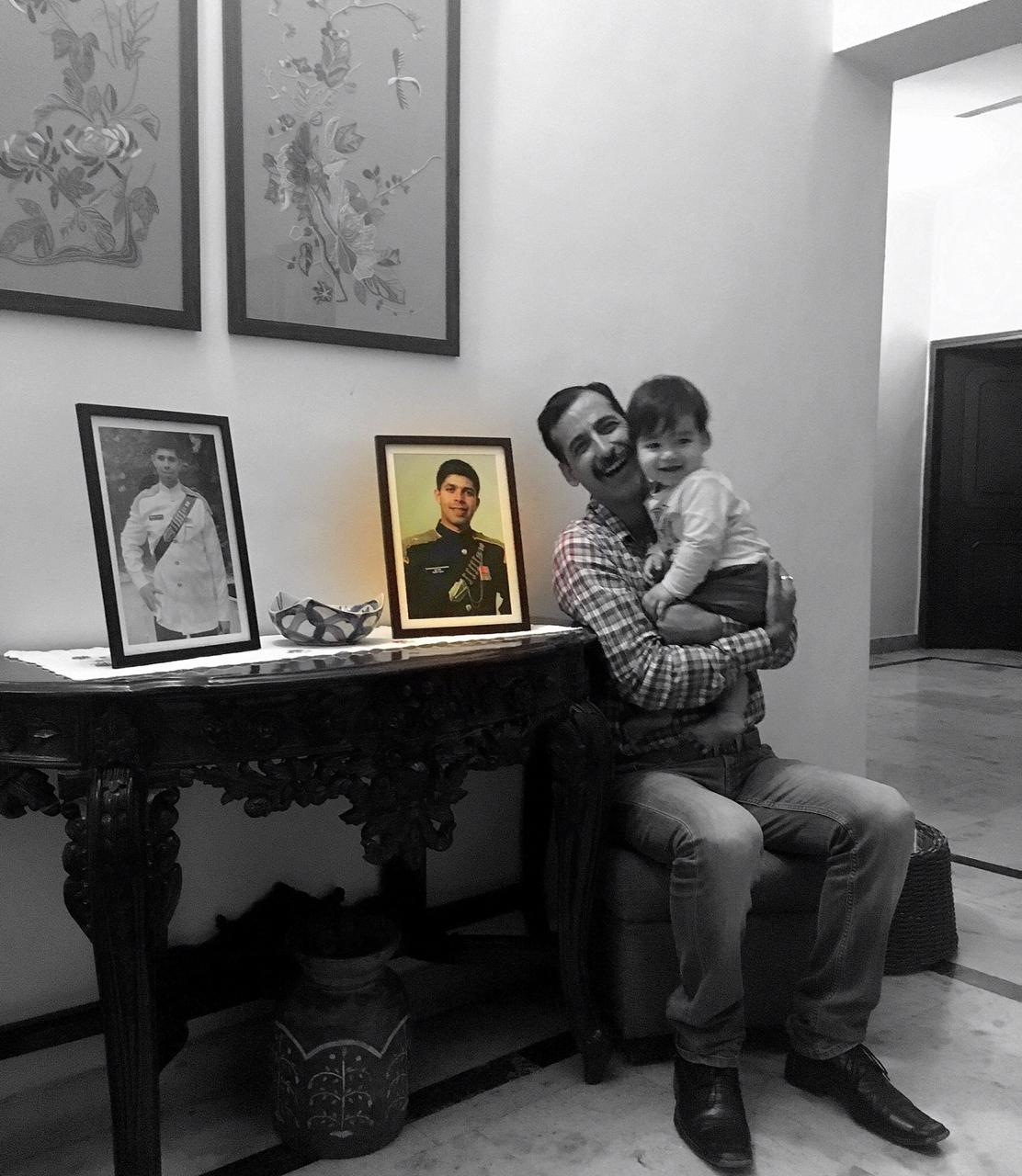 In an exclusive interview with The Better India, Manhas recalls that night in 1994. "It increased my respect for slain soldiers," he begins.
He narrates, "During my summer holidays, I went to my hometown of Bhadarwah, Jammu & Kashmir, to attend a family wedding. One night, before dinner, I decided to go out for a stroll, blissfully unaware of the dusk-to-dawn curfew in the valley. I only walked 30 steps when a searchlight blinded me, and a strong voice yelled 'HALT!' Fear gripped me, and my blood ran cold. I ran towards my home, locked it, and sat down with the rest of the family as though nothing had happened."
Just when he thought that the nightmare had ended, a group of soldiers arrived at the door. "We have seen a terrorist run into this house," they said.
"Shocked, my uncle denied it. With a lot of courage, I told them, it was me, and I was not a terrorist. They told me I was lucky because the soldiers knew they'd catch me. So they did not open fire. It was a close shave with death."
When the wedding ceremony ended, Manhas was the first person to enter the house. It was the same night they heard a volley of gunshots.
"As it turned dark, the sound of the bullets resounding within the valley became louder and clearer. I was scared and tried to block the sound. But it continued until 5 am. When we left home in the morning, we learnt that eight jawans had been attacked by terrorists. Seven of them had died in the ambush, and the only survivor spent the entire night fighting the militants to save the picket from being looted."
This was years before the Kargil War.
As per the protocol then, the mortal remains of martyrs weren't sent home. The soldiers would be cremated on the battlefield, and only their ashes would be wrapped in a handkerchief, which was sent back to their homes, with their bistarband (folded bedding).
"I was deeply disturbed to know that their families wouldn't even get the chance to see them one last time. The soldiers carried out the rituals and took photographs. But my mind was blank. As I watched the bodies being consumed by the flames, I broke down and cried."
Back in the day, information was a luxury. So even when the news of the martyrdom made it to the papers, none of their villages was mentioned. So all of Vikas' efforts to get in touch with their families went to vain.
It wasn't until the Kargil War in 1999 that the media started covering fallen soldiers in detail. With the dawn of technology, there were live broadcasts of their funerals. Their names, units, villages, details of their parents were readily available. Vikas did not let go off the chance this time.
Thus began a journey that would continue for the next two decades.
The first home that he visited was that of 19-year-old Grenadier Udayman Singh of 18 Grenadiers unit. The young soldier succumbed to gunshots on 5 July 1999 in the Kargil War. His home in Shamachak was just 20 km from Vikas' house.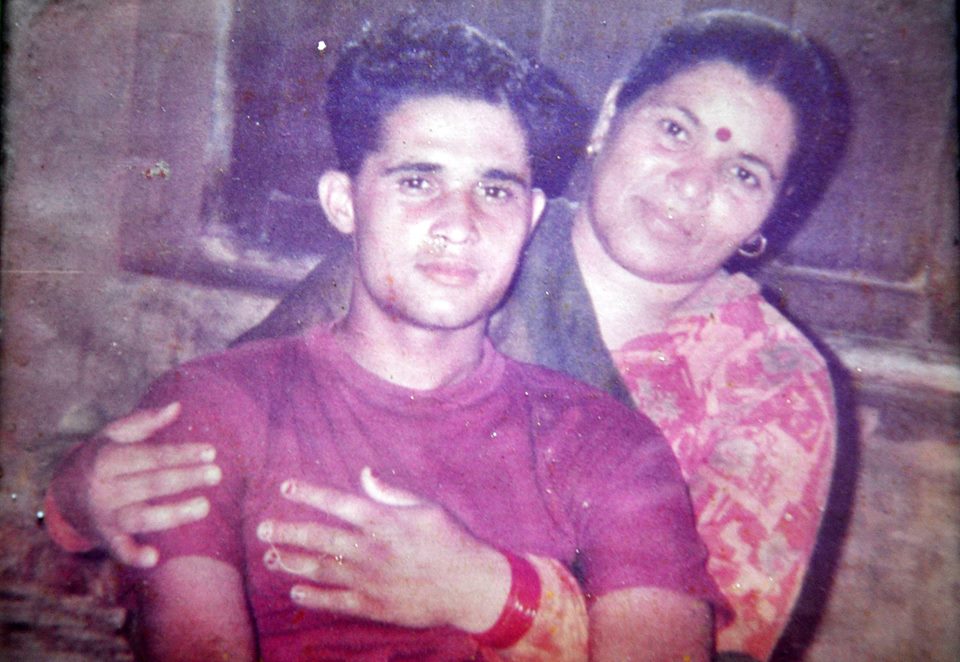 "I travelled on an impulse. But as I was on the way, several questions muddled me–what should I say? How would they react? I tried asking a few friends to tag along, but none of them agreed. So gathering my courage over months, I decided to go alone."
When he reached Singh's home and knocked on the door, a young girl opened it. When asked about the purpose of his visit, he replied, "I am here to meet Udayman Singh's mother."
He was let inside the home, into a room which had a mattress and a few photographs from different eras of Udayman Singh's life.
"When his mother entered, she sat on the mattress with her head bowed down. For close to an hour, no words were exchanged. It was a comfortable silence. She was deeply grieving the death of her teenage son who laid down his life in the battle for Tiger hill. After an hour, she asked me if I wanted tea. She pointed to every picture in the room, narrating incidents from the slain soldier's life. The last picture was of the 19-year-old sitting in his mother's lap on their old cot. 'This was the last picture he clicked with me before he left, never to return,' she said."
She insisted Manhas eat lunch with them, where he got acquainted with the rest of the family, including Singh's sister who had greeted him at the door. When the time came for him to leave, Singh's mother asked him, "Are you on leave from posting? When are returning to serve?"
Manhas told her he wasn't in the army or even in Udayman's unit. She was curious. He told her, "I came to pay my respects."
Before he left, she asked him to visit again. And he did, several times. That was the beginning of a new journey.
How does Manhas manage these visits?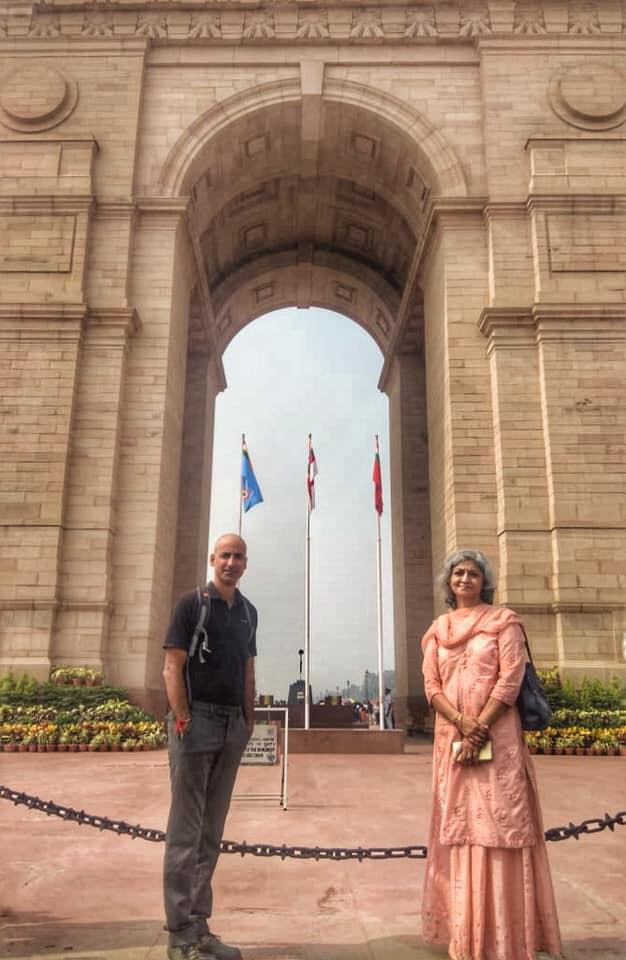 His job at the Crosstream Consulting Pvt Ltd, a Bengaluru-based knowledge resource company, from 2007-11 allowed him to travel to different parts of the country. During work trips, he would visit martyred families. But once he returned to Jammu in 2011, he started his own travel company in Talab Tillo, making his schedule flexible for more such trips.
On his 42nd birthday, he donned a new blue-and-white kurta-pyjama. The outfit held a special meaning. It belonged to slain Major Akshay Girish, who died protecting unarmed fellow soldiers and their families during a terrorist attack on 29 November 2016 in Nagrota, near Jammu.
The kurta was a gift to Vikas from the officer's parents. The officer was to wear the clothes to a wedding in Mumbai in December 2016. The officer's father, Wing Commander Girish Kumar (Retd), mother Meghna and wife Sangeeta gave Manhas the outfit because he hardly wears any new clothes to celebrate his birthday.
"It was quite emotional. I was hesitant at first, but I hope Major Akshay Girish will be happy to see me wearing his clothes," shares Manhas.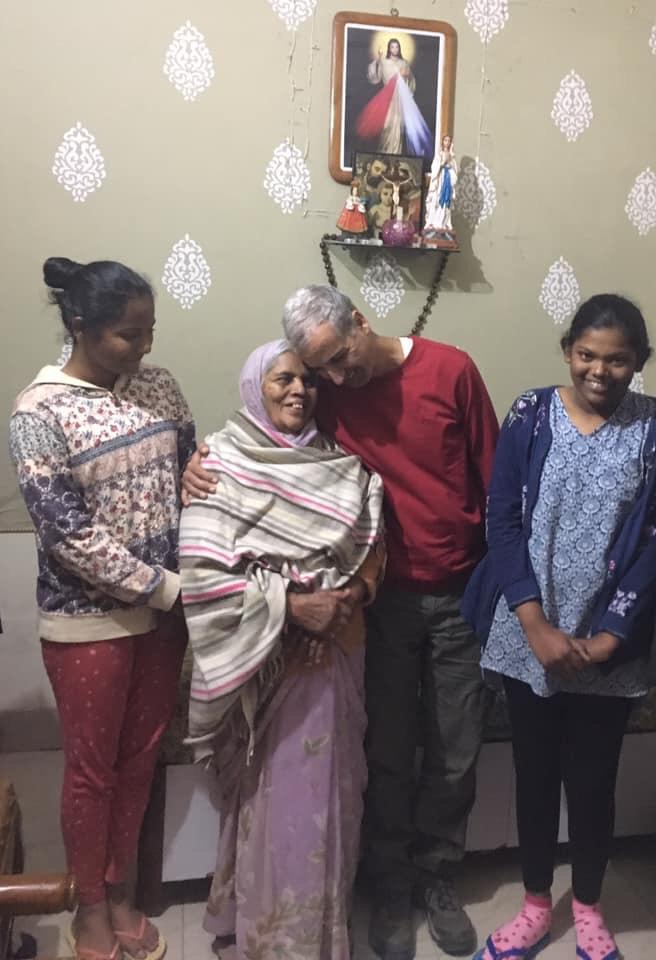 Funding his trips and using public transport, he tries to visit as many families every year as possible. The families, in turn, provide him with lodging and boarding. Their pictures and stories find space on his Facebook page, with special posts on birth and death anniversaries.
When I ask him how he plans these visits, he adds, "I avoid visiting any grieving family in the initial weeks or months. This is a period when everyone visits them. While most offer emotional support, there are also a few who say insensitive things like, 'Whom can you blame when you sent your son to the army? Was the money worth sacrificing your son?' Others say things like, 'But you must have received a lot of money when he died, right? How much did you get? Is your daughter-in-law going to take away the bigger share? Will she continue to stay with you? Will she get remarried?' All kinds of ridiculous questions."
Vikas prefers to see them when regular visitors have returned to their daily routines. Because emotional support is required throughout, not just the initial months, he says.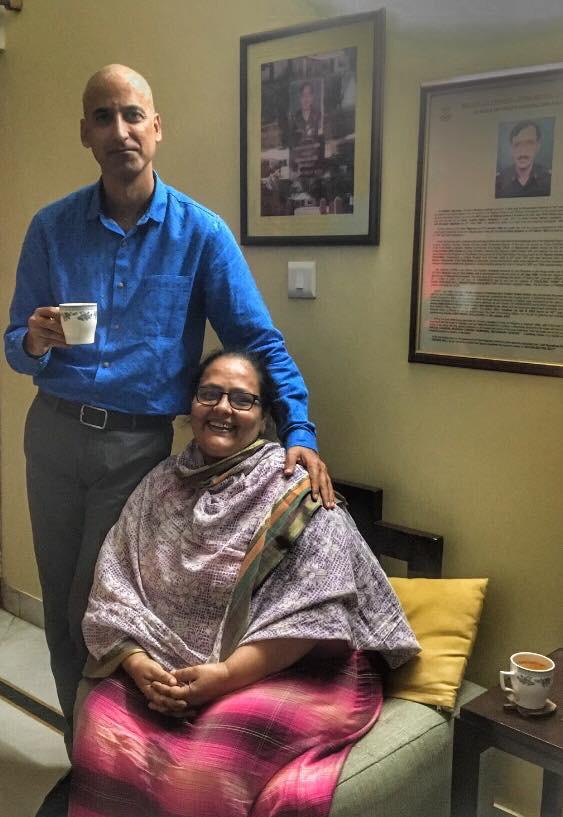 When he meets them, he doesn't begin by talking about the soldier. He speaks about other martyred families with more painful stories. At most times, it helps ease their pain, albeit a little.
"While women often let their guard down, due to their social conditioning, but men hold back their pain and inflict emotional damage on themselves. Sometimes, all they need is a stranger who patiently listens and allows them to vent," he adds.
Manhas plans to share the stories of slain soldiers through a gallery, which also tells the tales of their bravery, regardless of their ranks or the medals they won.
---
You May Also Like: Exclusive: 25 Years On, Army Man Meets 'Miracle Baby' He Saved During Latur Earthquake!
---
As he concludes, he says, "Even as you and I talk within the safety of our homes, we aren't scared that anybody will hunt us down. That is solely because a soldier is guarding us. A youngster who could have opted for a hefty package in a corporate office decided to join the armed forces. These are men gave up their safety so we could have ours. They live in pathetic conditions on the border so we can go on comfortably in our lives. They don't need our financial help because the government takes care of it. But we must extend emotional support to them and their families. This is so that no mother ever wonders if her son's sacrifice was in vain. It adds meaning to the sacrifice their loved one made for the nation, for you and me."
If this story inspired you, get in touch with Vikas Manhas at manhasvikas41@gmail.com.
(Edited by Shruti Singhal)
We bring stories straight from the heart of India, to inspire millions and create a wave of impact. Our positive movement is growing bigger everyday, and we would love for you to join it.
Please contribute whatever you can, every little penny helps our team in bringing you more stories that support dreams and spread hope.
Tell Us More