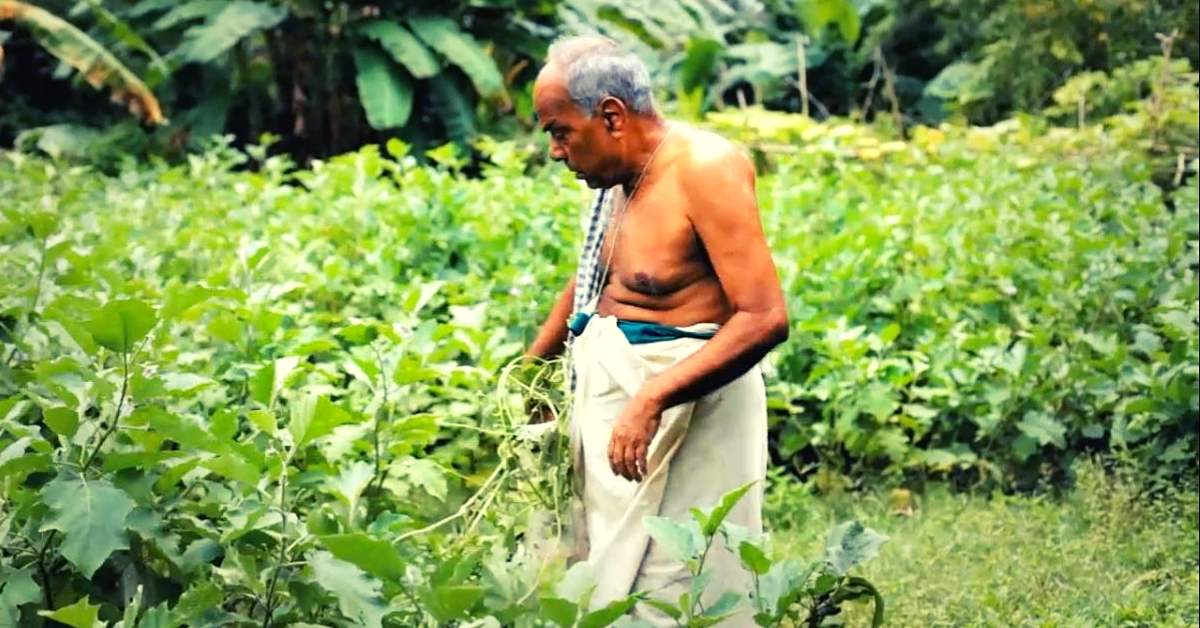 It's been more than two decades and he continues to grow chemical-free paddy. But that's not the only reason the retired teacher-turned-organic farmer is famous.
The incident dates back to the early 90s. But retired teacher and octogenarian paddy farmer Natabar Sarangi remembers it as though it were yesterday. After 32 years of service as a government school teacher, the man had turned to his ancestral profession of farming in a 3.5-acre land. He had inherited 1.5 acres from his family and acquired the remaining two over time.
This was also the time when the Green Revolution was at its peak. With the dawn of mechanisation in agriculture, the use of chemical fertilisers and pesticides was incessant.
So, when the notorious Rice Tungro affected his paddy field, causing leaf discolouration, stunted growth, reduced tiller numbers and sterile or partly-filled grains, authorities suggested he spray carbofuran to tackle the pests.
"10 kg of pesticide per acre," was the measure he was told.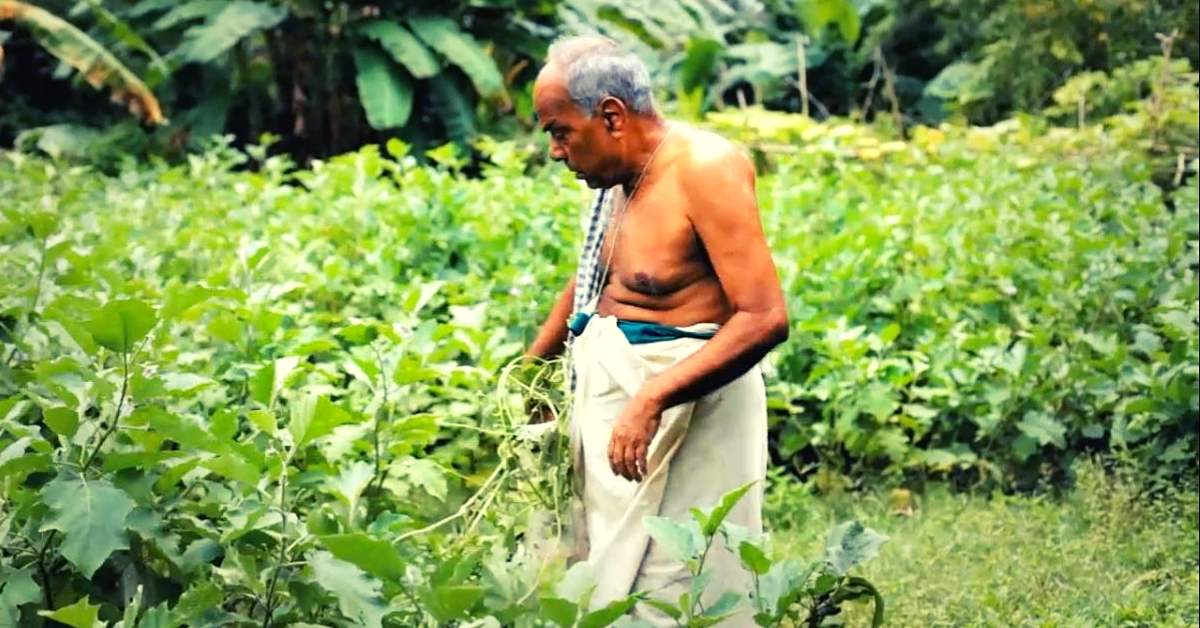 "I bought 35 kg of the pesticides and mixed it with sand. I hired a labourer to spray it across the field. The man had only covered 40 cents of land before he dropped unconscious in my field. I was terrified that he would die of pesticide poisoning and I would be put behind bars. But acting quickly with the help of a few others, we took him away from the field to a safe spot and sprinkled some water on him. He gained consciousness, and I heaved a sigh of relief. I gave him a glass of warm milk to drink."
He continues, "When he insisted he wanted to continue the work, I refused. I had realised the pesticide was poisonous. So I told him to dig a hole and empty bag's contents in it. The next day, when I visited my field, I was aghast! All the crabs, snails, earthworms and snakes that frequented the field were dead. I thought if this is what chemicals could do to the microorganisms that kept my soil healthy, how gravely they would poison the food we grow and eat!"
This marked a turning point in Sarangi's life. The following day, the man stopped using all kinds of chemical pesticides and fertilisers, and set himself on the path of organic farming.
It's been more than two decades and he continues to grow chemical-free paddy. But that's not the only reason the retired teacher-turned-organic farmer is famous.
In the last 24 years, the man has trained more than 2,000 farmers on the use of native seeds, organic manure and pesticides at a knowledge and training centre he set up in collaboration with like-minded farmers. Their group is called the Rajendra Desi Chasa Gabesana Kendra (Rajendra Native Farm Research Centre). It is run by a Trust, Loka Samabaya Pratisthan, chaired by Sarangi.
Through this initiative, he has preserved, multiplied and distributed close to 700 varieties of indigenous paddy!
This is his story.
The First Chapter: Growing up in abject poverty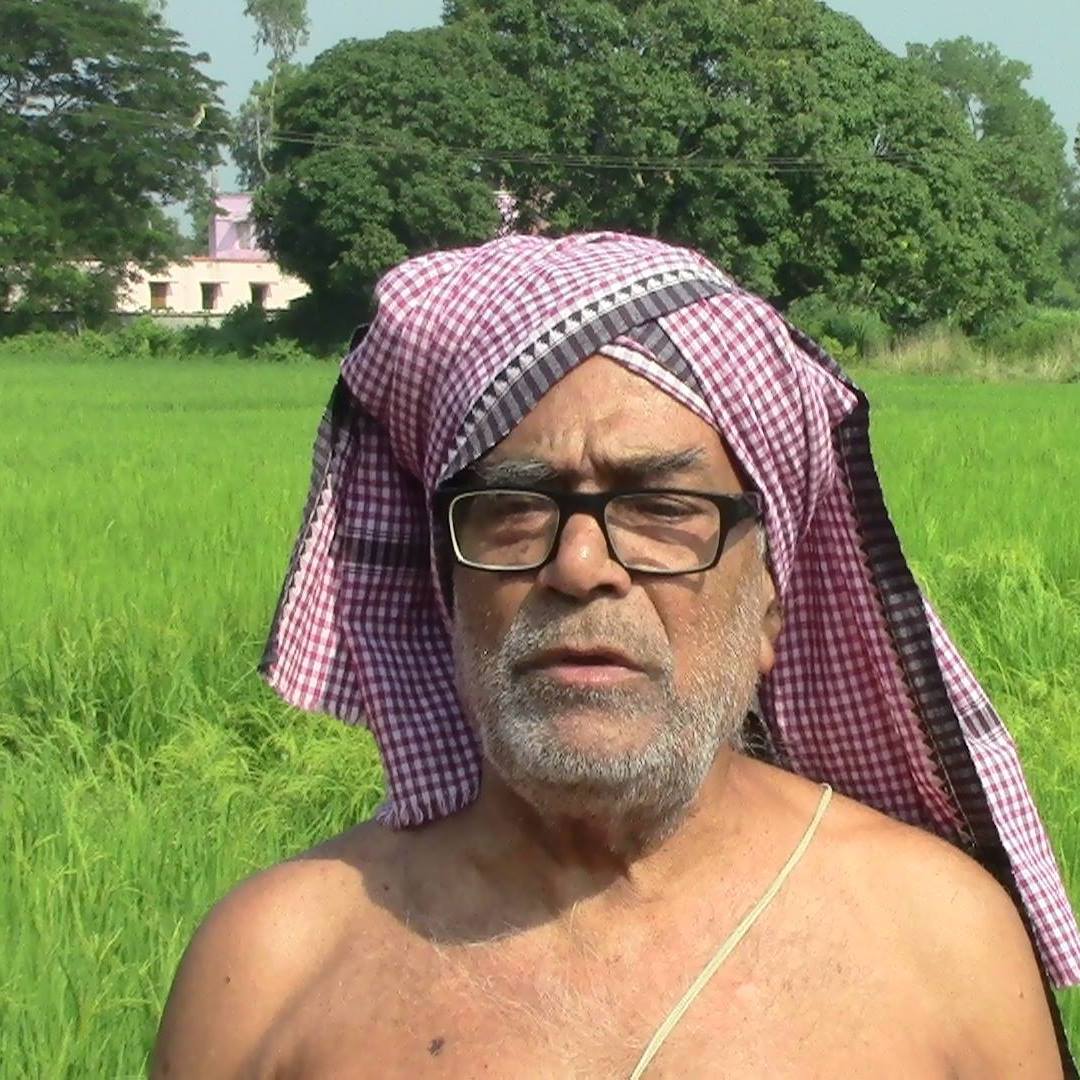 Sarangi was born to marginal farmers in the small village of Niali in Orissa (now Odisha). Despite a small landholding of 1.5 acres, his father ensured that his six children never missed a meal.
"He may have been poor, but my father was a very good farmer," the octogenarian recalls in an exclusive interview with The Better India.
Unlike many farmers who practised monocropping at the time, his father grew more than 30 types of vegetables on the small family land. He also grew paddy. While much of the produce was used for home consumption, the surplus was sold in the local market.
Growing up, Sarangi wanted to pursue higher studies. But abject poverty at home only allowed him to study until intermediate, post which, he started teaching at the government high school in his village.
"I was the first student of this school, and I was glad for the opportunity to teach at the same school. I taught science, math, English and geography," he smiles.
The 86-year-old started teaching in 1960, and had an illustrious career spanning 32 years before he retired in 1992.
His parents passed away a few years before his retirement, and his siblings were all settled with their own families and careers. His brother, Damodar, became an IPS officer of the West Bengal cadre and retired as the Director General of the National Human Rights Commission.
"After retirement, I could not sit idle. I had to do something. I thought of returning to our ancestral profession of farming. With the addition of another two acres, our family's landholding spread across 3.5 acres."
Chapter 2: Post-retirement, a new beginning with farming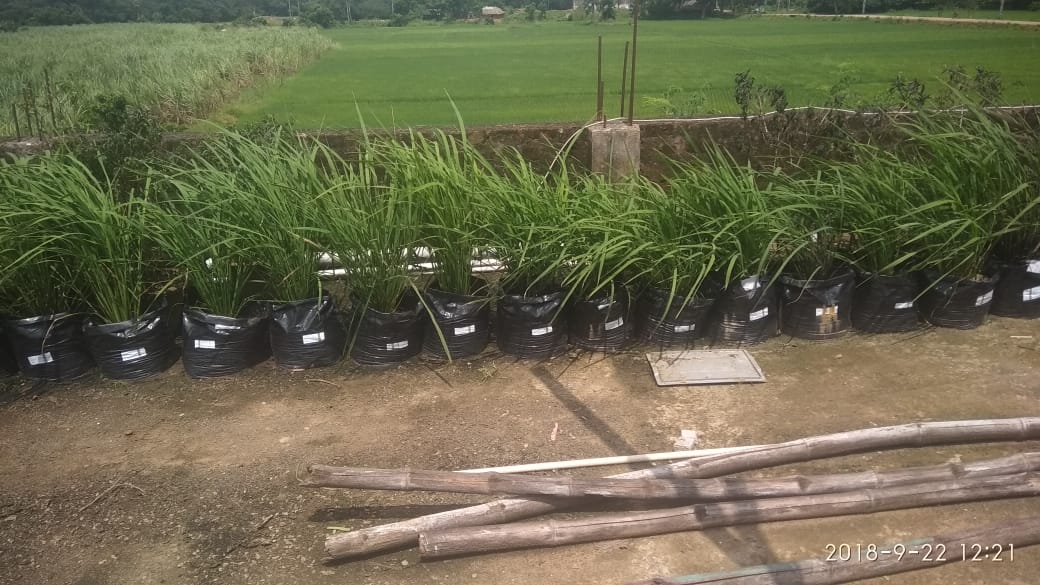 The pesticide poisoning incident pushed Sarangi to switch to organic farming in 1996. In the first phase, he grew high-yielding varieties of paddy with organic inputs. His son insisted that he preserve indigenous paddy varieties. Unfortunately, the young man succumbed to brain malaria a decade ago.
"He used to tell me, 'Nona ('father' in Odia), instead of these high-yielding varieties, why don't you start growing indigenous varieties?' He kept pushing me. So alongside Yuvraj, who I continue to work with, I started travelling across the state in search of desi seeds."
Why desi varieties?
Apart from their high nutrition value, indigenous paddy varieties are known for withstanding even extreme changes in climate. Though India once boasted of 1,10,000 traditional varieties of paddy, after the dawn of the Green Revolution, we lost more than 90 per cent of these varieties.
In the first year, despite long travails in the nooks and corners of Odisha, the duo could only find five varieties. But as the years passed, this number steadily grew, and today, Sarangi has preserved close to 700 varieties!
"We do not preserve these in a museum. Instead, we believe in reviving these varieties by growing them on our 3.5-acre field, multiplying their number and distributing them to farmers. While we began distributing them for free in the initial years, we now charge nominal rates for the seeds."
Each year, they produce 100 quintals of these indigenous seeds and distribute them across Kerala, Tamil Nadu, Maharashtra, Andhra Pradesh, Uttar Pradesh, Chhattisgarh and Gujarat.
Chapter 3: Recognition and Impact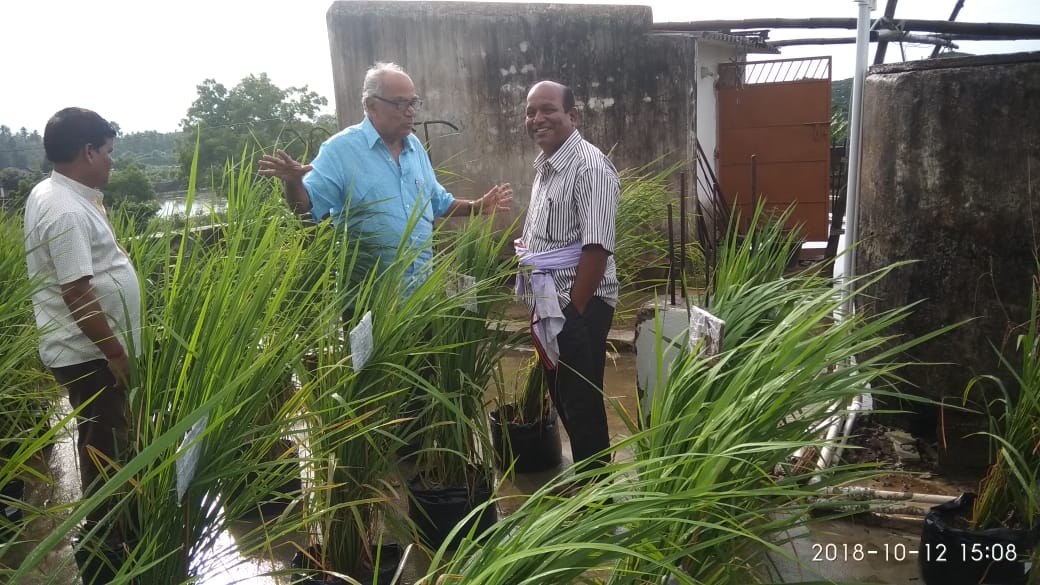 When the veteran began his journey, not many understood his vision. While farmers who heard about his work flocked to his farm and switched to organic manure, a few authorities questioned if organic farming could even manage to serve a big population.
Today, the Odisha Government has tied up with the octogenarian and his research institute Rajendra Desi Chasa Gabesana Kendra to implement its Paramparagata Krishi Vikash Yojana. This is a training programme on organic farming which benefits farmers across the state.
The government pays for the three-day workshops that include theory and practical demonstrations of the best organic practices, and the trainers are mostly elderly farmers who have spent decades toiling in the soil. These sessions have seen a steady flow of farmers, as well as agricultural officers.
"I regard any farmer over 60 as an agricultural scientist. Scientists work in air-conditioned labs, but these veteran farmers, who I call 'agricultural scientists without a degree', work in the fields day in and out. They are much closer to the soil and know it better. We are very thankful to the Odisha project for appreciating our persistent work and declaring us a state resource centre. Through our training sessions, we have been able to turn 1,500 acres of land organic."
How does the centre run?
The Rajendra Desi Chasa Gabesana Kendra has not received any grant from the government or any international agencies. But they are continuing their work, regardless, through training, sales of seeds and donations from well-wishers.
Sarangi says, "Our biggest joy is eating chemical-free organic food."
The centre aims to build a one-of-its-kind agricultural heritage museum in Odisha. While a few intellectuals have extended help, it is presently accepting donations.
---
You May Also Like: Rattled by 7 Cancer Cases, Kerala Villagers Join Hands to Turn 63 Acres Organic!
---
Sarangi ends with a message that encompasses his life and work, "We want to revive traditions and return the former glory of native varieties. Our library has over 500 books on organic farming from different countries. Organic, for us, is not just a method of farming but a way of life. For all those who ask if organic farming can feed our population, I say, not only can it feed our country but also provide surplus produce to export to other countries and boost our economy. Chemical farming has killed our soil over the years. She is in a coma now, it is time to revive her, and there is no better method to do it than organic farming!"
If this story inspired you, write to Natabar Sarangi on saranginatabar@gmail.com or call him on 9937620883.
To further the work of Loka Samabaya Pratisthan, consider donating to:
A/C holder name :- M/S Loka Samabaya Pratisthan
A/C number :- 083810011300919
Branch :- 0838 LEWIS ROAD, Bhubaneswar Andhra Bank
IFSC code :- ANDB0000838
(Edited by Shruti Singhal)
We bring stories straight from the heart of India, to inspire millions and create a wave of impact. Our positive movement is growing bigger everyday, and we would love for you to join it.
Please contribute whatever you can, every little penny helps our team in bringing you more stories that support dreams and spread hope.
Tell Us More