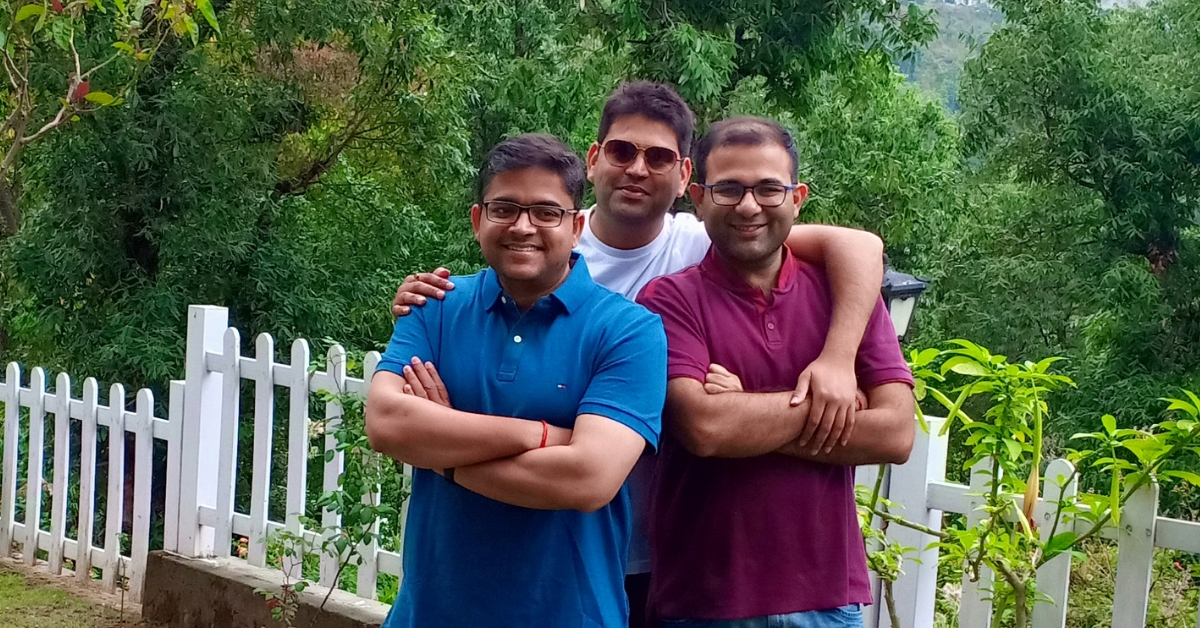 "What would happen if the city had to pay to receive rainfall?" The trio from Gurugram brainstormed over this question while stuck in traffic due to heavy rains. Today, they are helping Siemens, Tata, and the governments of Delhi and Uttarakhand harvest rain by using recycled plastic!
While stuck in heavy rain in Gurugram, Ankit Magan, Neeraj Chauhan and Priyank Jain started a conversation over, "What would happen if the city had to pay to receive rainfall?" And they had ample time and points to build their arguments. The streets were clogged with water, making it impossible for the traffic to move ahead. The trio was stuck there for nearly an hour, and in a situation where anyone would get frustrated with the infrastructure, the unfortunate timing of the rain or of that fact that they did not have proper shelter added to the discussions.
Watching the muddy, stinky water rise above ankle length, the innocuous topic that the three friends had been arguing over came to a sad conclusion.
Gurugram, much like many other cities in India, had such a poor water management system that uncounted litres of water was going waste into the sewage systems, contributing further to the water crisis in India.
Ankit, Neeraj and Priyank started brainstorming on how they could about bring a solution for these grave issues.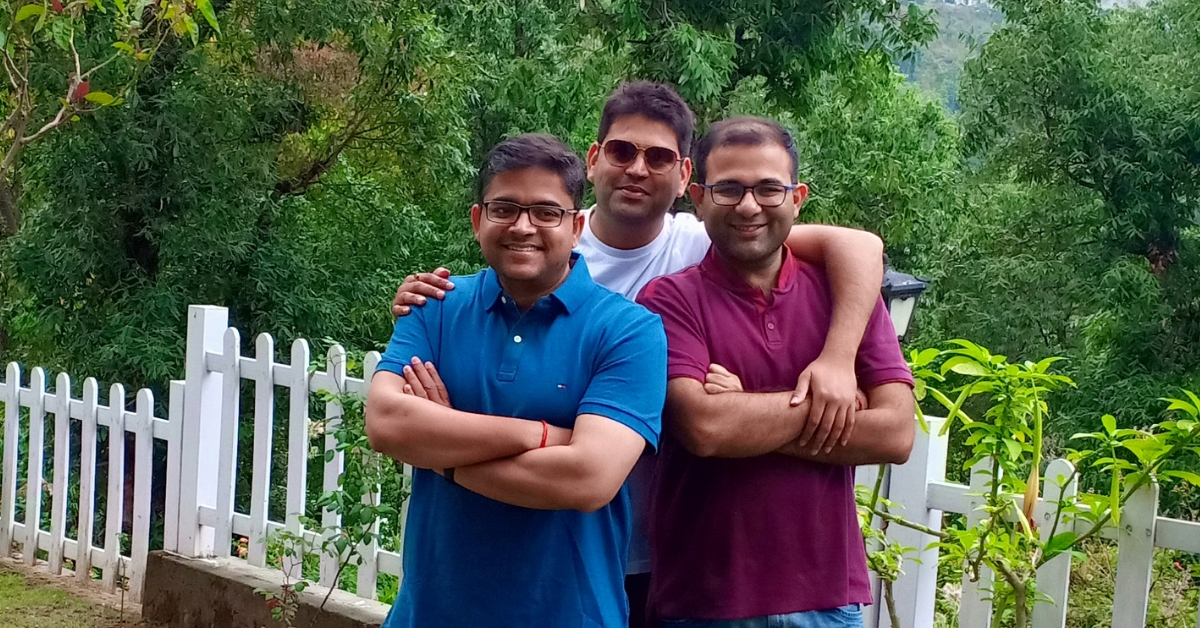 "Around three years ago, the three of us were stuck in an unmoving traffic for 45 minutes. All we could think of was how ironic is it that the streets were flooded because of the poor drainage. And a few months after monsoons, we are struggling to have access to water. That incident was a teaching moment for us, one that would lead us to the path of rainwater harvesting," Ankit tells The Better India (TBI).
Neeraj adds that usually when one faces a personal problem like this, the authorities are put to blame. "But we started thinking about how we take our natural resources for granted. India has an abundance of rain, and so should be the availability of water. We wondered if we'd waste all this water if we had to pay for rainfall and the situation- not too unique and not too serious- inspired us to work towards water conservation," the MBA graduate told TBI.
All three had regular jobs at the time and it was too soon to quit them for a new venture. In any case, quitting one's job comes with many responsibilities- the most basic of them being personal sustenance. And to build a niche business from scratch would have been like jumping into a pit, eyes closed.
So the next six months were invested in intensive research, and saving funds to start a business model that would harvest rainwater, wastewater and undertake watershed management. What they realised during their research is that the main issue does not lie in installation. Rather, it is the maintenance of the harvesting equipment where most people fail. And so, build a system that requires minimum maintenance became the primary aim of the trio.
Recycling plastic to harvest water: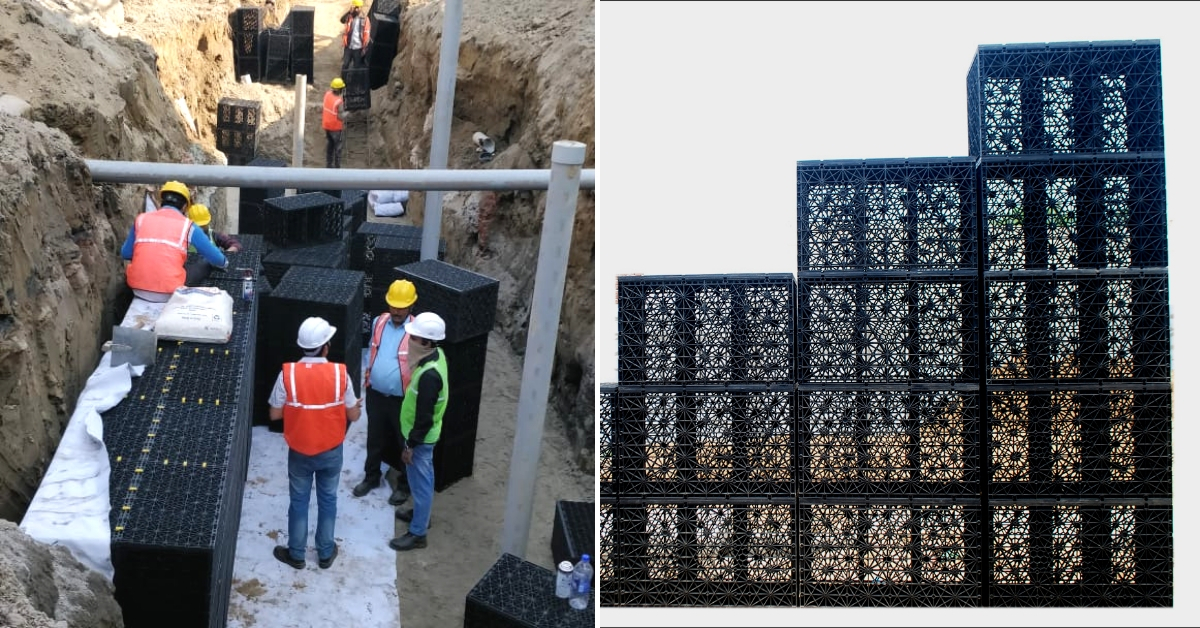 Rainwater harvesting is not new to India. In fact, records suggest that it has been in practice in India since 3000 BC! The three friends found inspiration from the fact that rain water harvesting is ancient, and they named their bootstrapped venture "Retas" which, in Sanskrit, means a stream or flow of rainwater.
"The beginning was not as smooth as we had hoped," Ankit tells TBI. "We had warned our respective partners and parents that they would have to look after the finances of our homes since we wouldn't be able to contribute anything. They were supportive and we got our first client within the first three months of founding Retas."
Retas' approach had to be sustainable, unique and one that could promise the involvement of their clients from the very beginning. Recycling plastic was one potential solution that could have resolved the first approach. High-quality Polypropylene was easily available in the local Gurugram markets. This became their raw material to make geotextile for a rainwater harvesting model that they named Rainmaxxx. Bought from trusted vendors around the city, the plastic is put into in-house moulds to prepare the geotextiles.
"Every building owner is our potential customer and we ensure that they are involved with us right from the designing stage," explains Ankit. "We inspect the space at the site, checking whether our tanks need to be assembled horizontally or vertically. The planning and designing, which involves our clients and experts, take us about 3-4 days and although the assembly depends on the size of the tank, it usually takes another 4-5 days. But within 10 days, the tank is ready."
Considering how important land is to corporates, the Retas tanks are designed in such a way that they can be modified and dismantled as well as expanded easily. So, in case a client decides that they want to increase the capacity of their rainwater harvest, they need not destroy the existing structure. Rather, Retas allows them to dismantle the tiles and expand the land occupied under the harvesting project. "We cover the tank with soil again in a manner that the land above it can be used as a parking spot. That way, the client can make optimum use of their premises," he adds.
How Retas is helping big companies save water: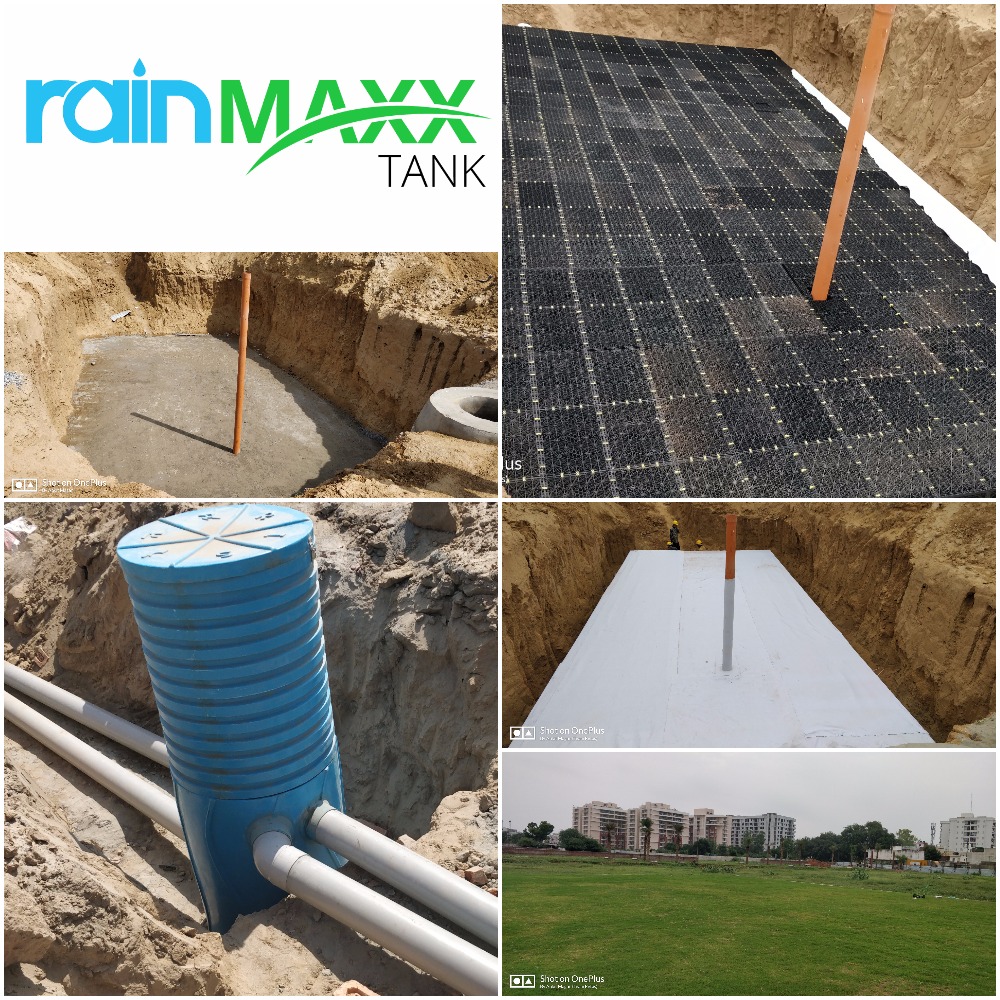 "Everyone is speaking about how many cities in India are going to lose all their groundwater by 2030. But hardly anyone is taking active steps to correct this. Agriculture and big industries demand the most quantities of water and hence, we decided to target them," Priyank, who looks after the installation, told TBI.
From early on, they had realised that industries have a separate budget for water conservation and harvesting rainwater had a huge potential for them to tap into. Approaching them would have been quite lucrative for a business looking for a B2B (Business to Business) approach of sales.
Overcoming the first few fumbles in their journey, the team finalised a base design that they and their clients would be completely satisfied with. The venture, that began in early 2017, has 54 clients today. From MNCs like Siemens, Tata to the Delhi and Uttarakhand government, Retas works closely with each to conserve water on a yearly basis.
---
You may also like: Harvesting Rainwater & Organic Food, This Green Lakeside Home Is a Labour of Love!
---
"We have worked on various projects with the Delhi and the Uttarakhand governments so you can count more projects than the clients we have. Retas gives a 30 years' written warranty to our projects and solutions to which we have received no complaints so far. Unfortunately, I can't tell the exact quantity of water we have harvested or recharged, but you can estimate the magnitude of our work by the number of clients we have catered to in the past two years," Ankit tells us proudly.
The three founders, together with 11 other team members, have skilled nine previously unskilled labourers.
This team has undertaken projects from Jammu in the North and is in the process of finishing another in Kerala. Taking the expertise of irrigation departments, groundwater boards and retired officials as consultants, Retas is working with government bodies, corporations as well as residential buildings to collect their rainwater and reuse it.
---
You may also like: Gurugram Teens Build Robot That Could Solve India's Waste Problem, Win Global Prize!
---
"We've faced challenges in spaces and logistics but those were overcome. In fact, we took six months to finalise our product when we had just begun although our first client was confirmed within 3 months. But those were the days of experiments, pressure and struggle. Today, we are confident of the service we provide and ensure that each of our clients is just as happy with our service as we are with the product," Priyank concludes.
An eco-friendly idea that has helped several MNCs and governments save water in their office premises, Retas is a business worth recognition.
If you wish to reach out to them for your water conservation solutions, give them a call on 20-4500770 or +91-9711074119.
(Edited by Saiqua Sultan)
Like this story? Or have something to share? Write to us: contact@thebetterindia.com, or connect with us on Facebook and Twitter.
Tell Us More
We bring stories straight from the heart of India, to inspire millions and create a wave of impact. Our positive movement is growing bigger everyday, and we would love for you to join it.
Please contribute whatever you can, every little penny helps our team in bringing you more stories that support dreams and spread hope.