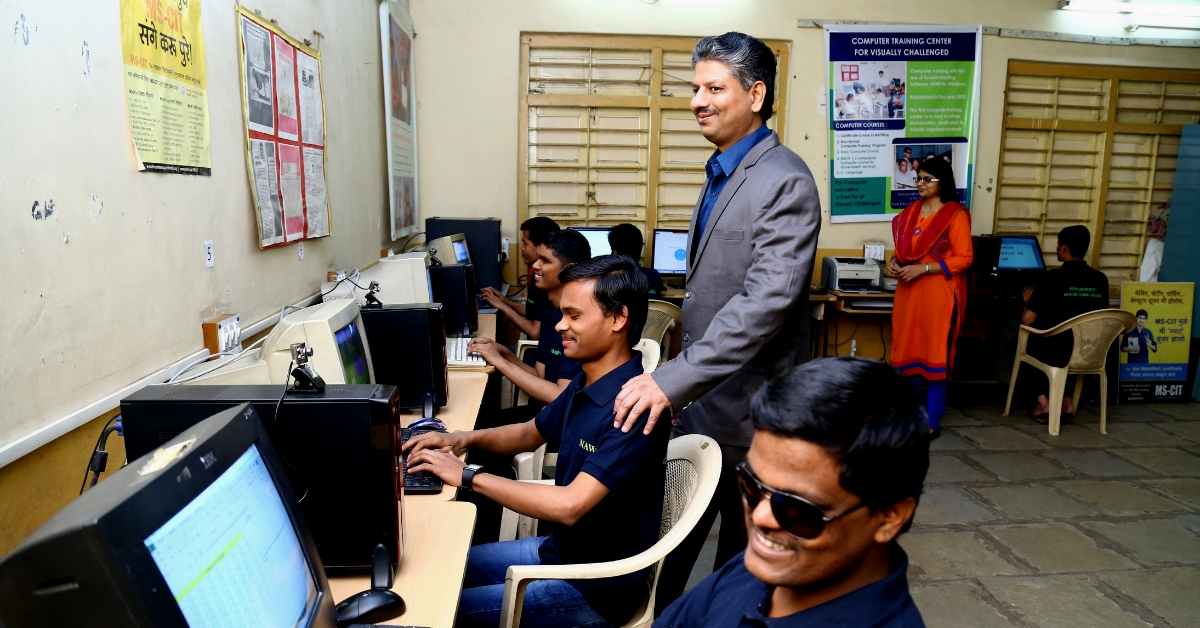 Rejected by hostels for being blind, Rahul Deshmukh has opened digital libraries, computer classes and even a hostel that have benefited thousands of intellectually-challenged and visually-impaired students.
Dusting away the leaves on the platform bench, Rahul Deshmukh placed his bag carefully on one side. It was quite cold that night, but the young student hoped that the police wouldn't drive him away. All he needed was a good night's rest. The hard bench, the dropping temperatures and a tight college schedule the following day could be managed if only he could sleep on the Pune railway station peacefully.
Every night that he spent on the station or the road would send Rahul spiralling down the same regret—if only he reached Pune a day earlier and confirmed his admission in the college hostel—he wouldn't have to sleep on the railway station. The delay in coming from his hometown near Shirdi to Pune was due to a personal conflict.
---
---
Rahul was always ambitious about pursuing higher education, but the financial condition of his family demanded that he stay there and help his father in the field. He was visually-impaired, a further worry to the simple Deshmukh family, who did not want their son to travel far from home alone.
Speaking to The Better India, he says, "I grew up in very tough conditions in Shirdi where my father was a farmer."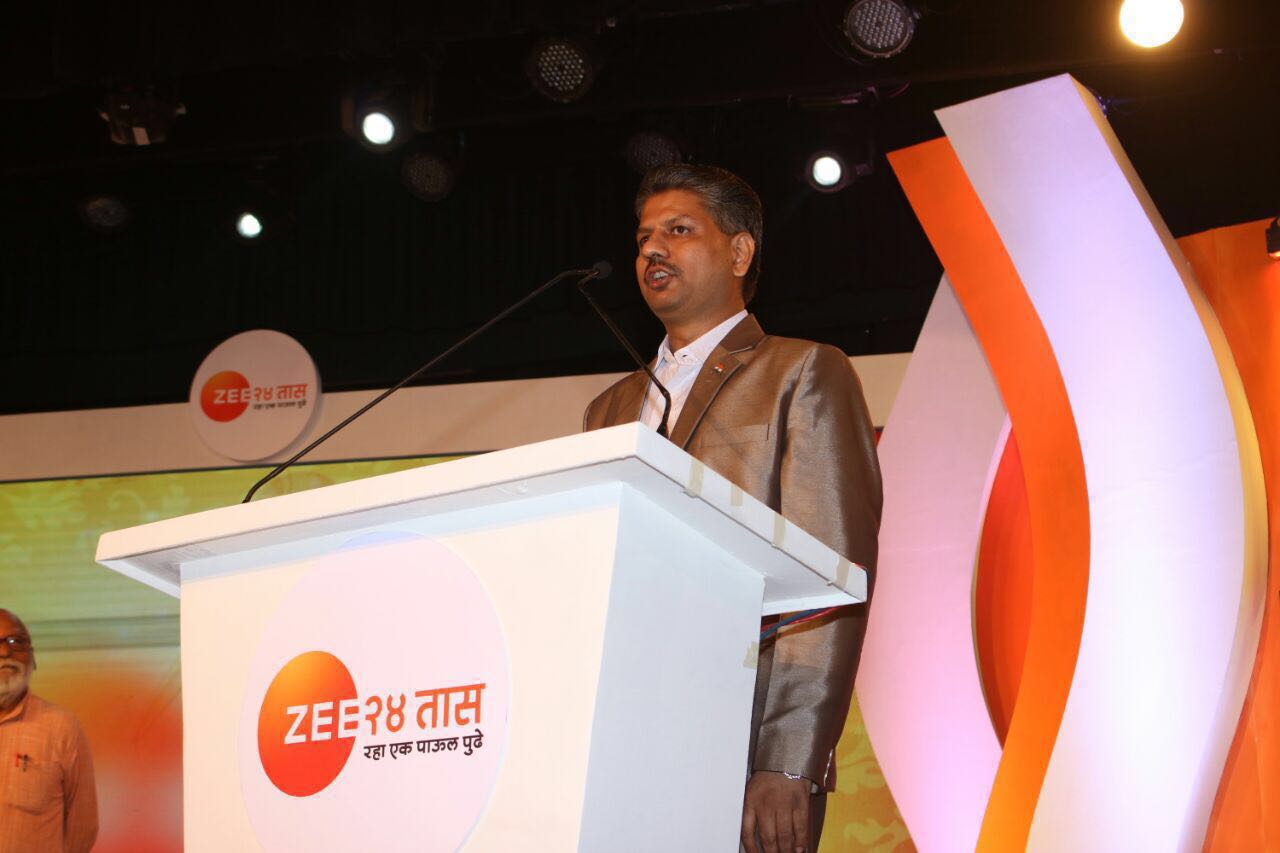 The 42-year-old bank official continues, "I wasn't born visually-impaired, but it would increase the challenges in my path. I was in class 3, studying in the village school, when I realised that the blackboard was looking fainter each day. On medical inspection, I was told that the veins that supply blood to my eyes were getting defunct. It wasn't long before I lost my eyesight completely. But that wouldn't stop me from following my goals."
The next few years were tough, especially with this new disability. Not much was known about blindness or blind schools in that small town in Maharashtra, and the social stigma would bring them down further. Parents asked their children to stop hanging out with Rahul because his disability "would slow their growth too". His friends obliged to their parents' persistence.
Rahul had to enrol in a blind school in Pune, a prospect which scared him as a child.
"Until I got admitted in the school, I thought of it as a jail for children. Of course, my perceptions changed right from the first class. The teachers teaching the visually-impaired were sighted. The school switched on lights even when the students were blind. Small things like these assured me that this was just like any normal school. The difference was only in the kind of challenges we faced," Rahul explains.
Through all this, Rahul was determined to continue studying. Several years later, in the late 1990s, he was at a crossroads. He chose education and stayed in Pune. This time, without a school to take care of his lodgings.
He recalls, "The college hostel had completed their admissions when I had applied, and other hostels in the city would not accommodate a blind student. That did not deter me. But during my stay at the railway station, I realised one thing. That if no one was ready to accommodate a visually-impaired person, someone had to make arrangements for the hundreds of such students who come to Pune for education. I was going to be that person."
The beginning of a journey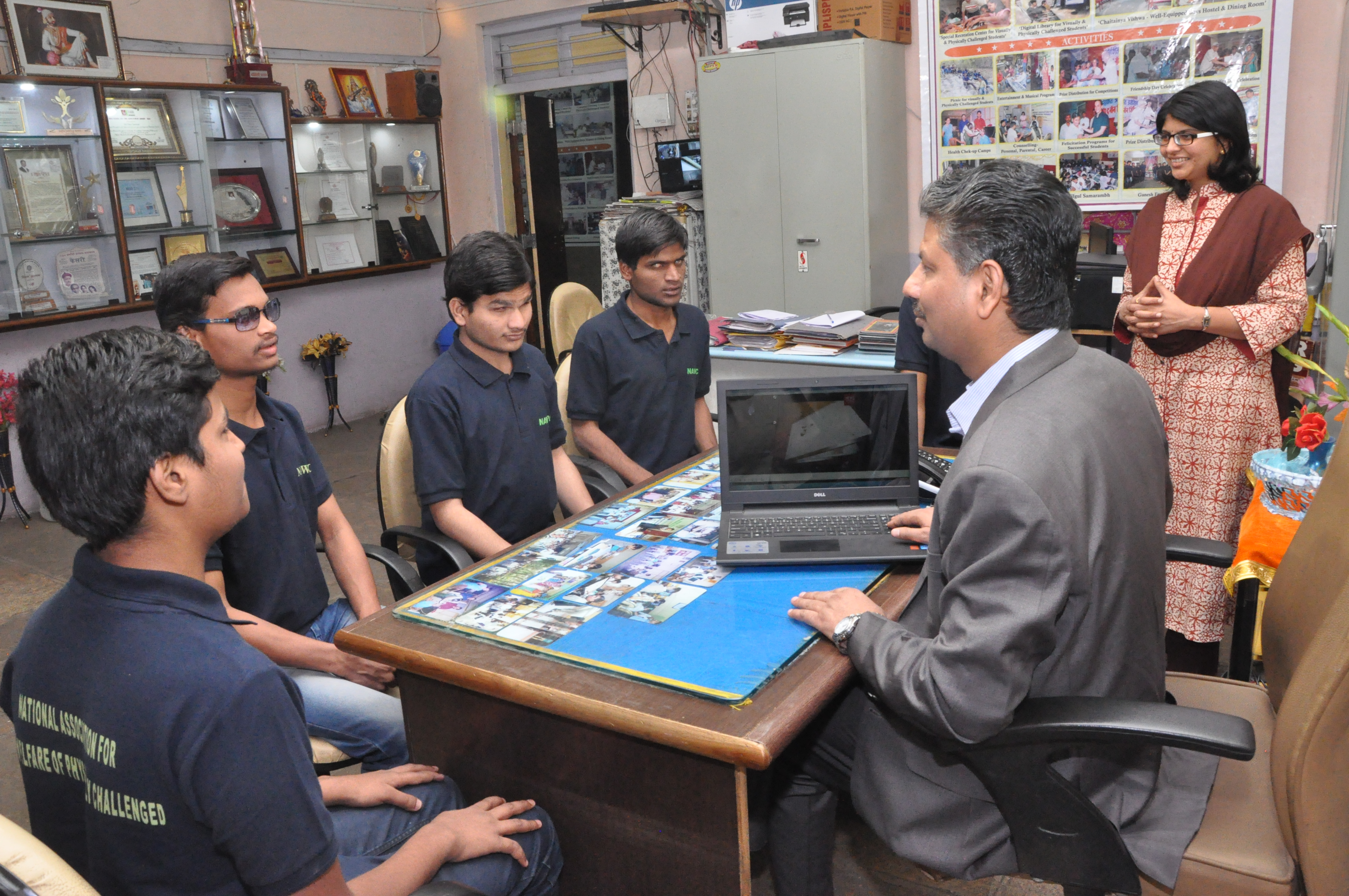 Once he settled into college, Rahul started thinking of ways to improve the lives of his fellow blind students. Some course books were available in the Braille script, but for most reference books, the students had to look for readers.
"Exam time was especially tiring because while the other students were buried neck deep in books, we had to make calls, meet with people, and search for a reader, who could read out the notes and books to us. That made me realise that students like me need a digital library that archives all our textbooks and reference books. Juggling my studies and taking the help of my friends, I set up this library. Books were available online as well as in audio files after scanning the texts," he says, proudly.
This project started around 16 years ago. But it wasn't his first initiative. A couple of years before that, in 1999, he had started a computer library, understanding all too well that he needed to keep up where the era was heading to—the digital age.
And so, in the heart of Pune, Rahul started a computer training programme for the visually-impaired.
This programme, the first-of-its-kind in the state, would enrol students free of cost and teach them how to operate the computer.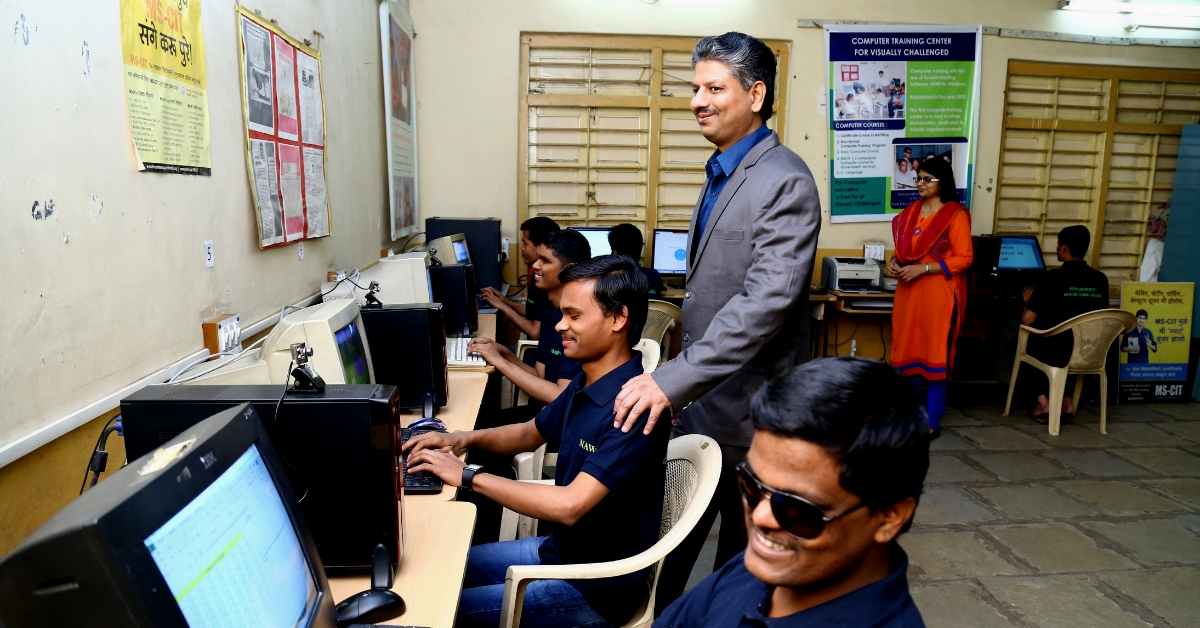 All the initiatives were managed under the umbrella organisation of the National Association for the Welfare of the Physically Challenged (NAWPC).
"It was quite challenging at first—to maintain my grades and keep up the initiatives so that they are useful. But my friends always supported me. One of them was Devata, who was also my classmate. Our projects brought us closer, and 15 years after we first met, we got married! Today, she is working full-time with NAWPC while I attend to the projects after my shift at the Bank of India," he tells us.
From 2000, when the facilities first started, about 3,000 students have availed the opportunities at NAWPC. Eventually, the organisation evolved from computer classes to teaching subjects like finance, music, history, and social science. For this, they hired professors from reputed colleges in Pune on a freelance basis. Whichever field a particular student was interested in, experts in those streams would be invited to guide them.
---
---
33-year-old Vishwanath tells us that the NAWPC's computer classes were his saviour in 2006-2007. Studying in Fergusson College and living in the campus hostel, he was looking for a place that could attend to his special needs. A bank officer today, Vishwanath is thankful for the three-month course he undertook several years ago.
Slowly yet steadily, the projects built up to an initiative that had ignited Rahul's passion for such service in the first place.
It all came down to a place of stay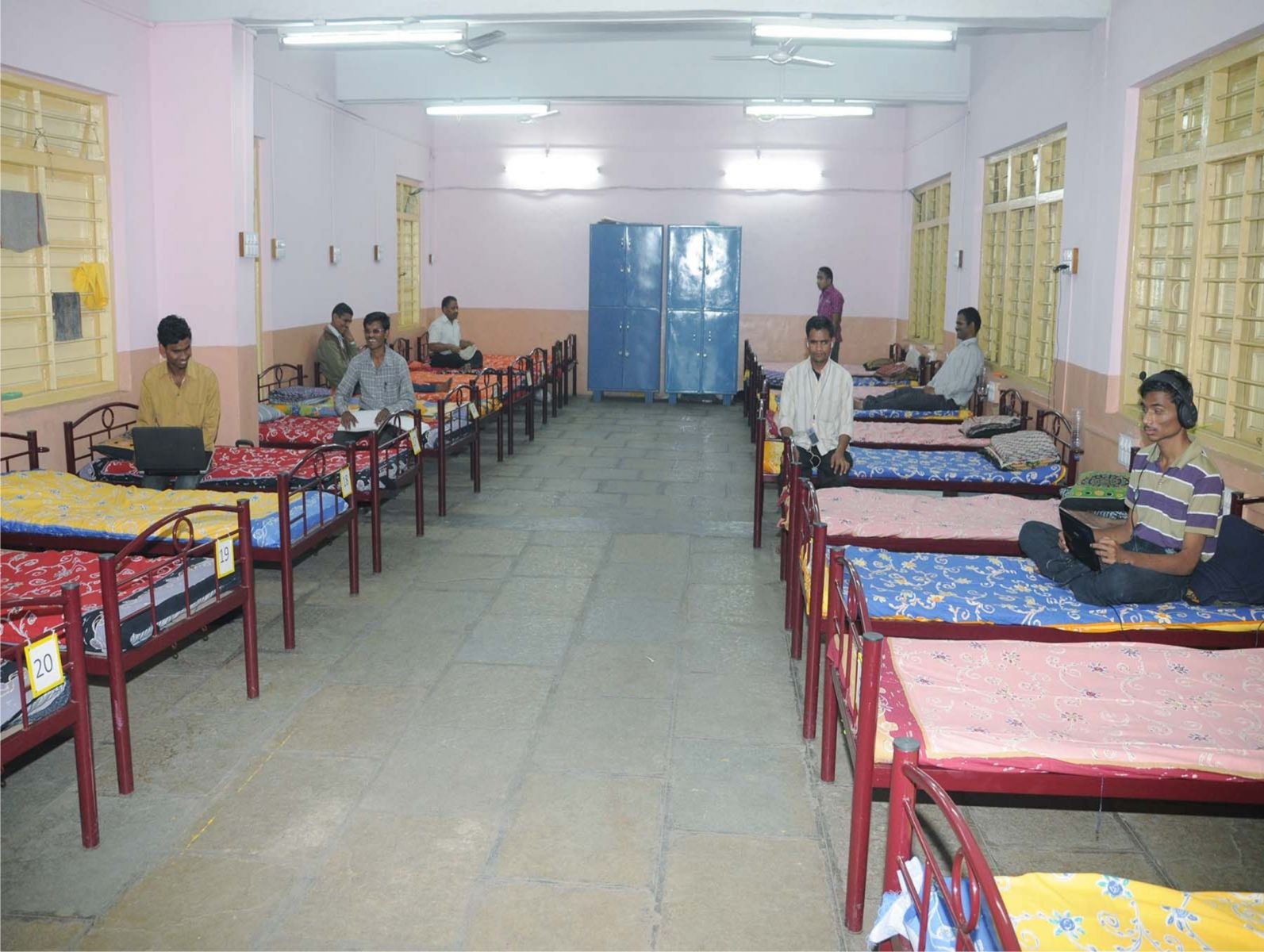 This dream had begun on that railway station because no one would accommodate a blind student. And for this reason, he wished to build a hostel for young students who come to Pune for higher education.
Explaining the work of the hostel, Rahul says, "A hostel requires many more resources to function smoothly. From food to a caretaker, everything requires money. At that time, I didn't have enough resources. Only in 2014, I could start 'Chaitanya Vishwa' in a busy Pune area. 40 students live in the hostel now, and we don't charge them a penny. These students come from disadvantaged backgrounds, and I wouldn't want the hostel to stand in the way of their education. Some of them are visually-impaired, and others are intellectually-challenged. But we ensure that everyone lives together like a family."
Bhupendra Kachhava, who came to Pune in 2011 for junior college, shares fond memories of his time at the hostel. A disadvantaged visually-impaired student from Jalgaon district in Maharashtra, he too was a little scared of the unknown when he reached Pune.
"I wanted to pursue a computer course in the city, and my friends suggested NAWPC. When I approached them for admission in the course, I realised they had a hostel facility. A quick interview and background check got me in the hostel which became my home for the next three years. Today, I work at the Bank of India, but the fond memories with Rahul sir and Devata ma'am will never get stale. The lessons that they taught help me in my job too," he says.
---
---
Next on Rahul's agenda is to open a similar hostel for girls, although that too will require the accumulation of enough resources to function without glitches. If you wish to help NAWPC in their endeavour, write to Rahul on rahulpresidentnawpc@gmail.com.
(Edited by Shruti Singhal)
Images: courtesy Devata Andure
Like this story? Or have something to share? Write to us: contact@thebetterindia.com, or connect with us on Facebook and Twitter.
We bring stories straight from the heart of India, to inspire millions and create a wave of impact. Our positive movement is growing bigger everyday, and we would love for you to join it.
Please contribute whatever you can, every little penny helps our team in bringing you more stories that support dreams and spread hope.