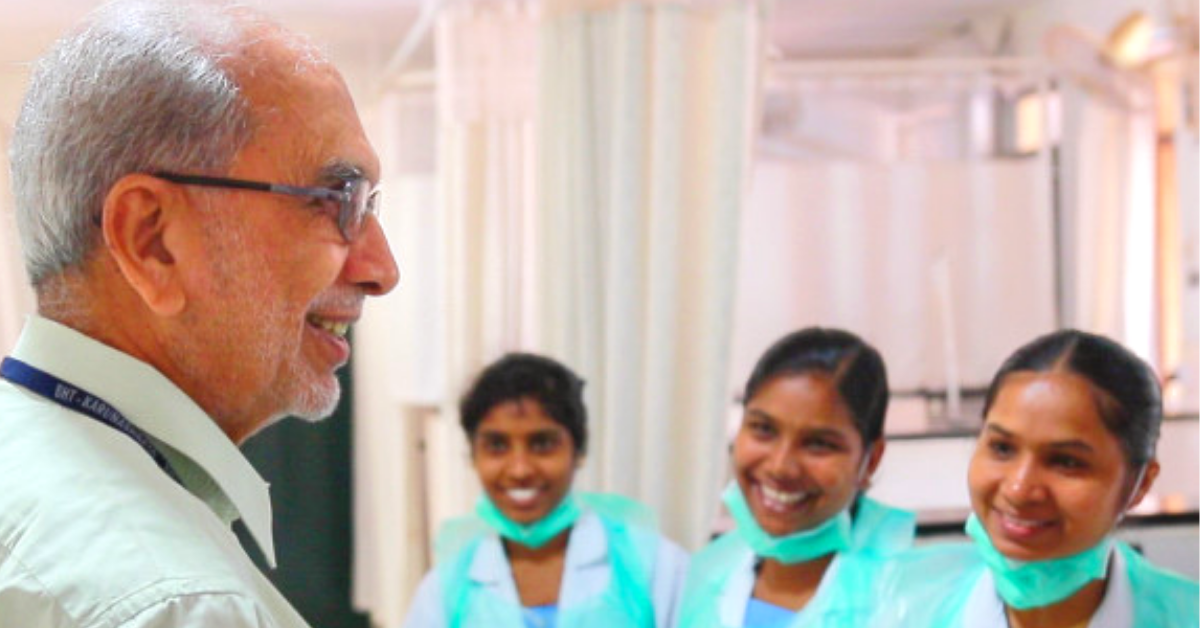 "The help we provide them is completely free of charge. Whether for the bed, medicines, counselling, or the food we provide. Whether rich or poor, belonging to any religion or caste, we accept all patients who come our way," says Rao.
Every once in a while, I get to speak to superheroes; not the kind who wear a cape and fly, but the real heroes who have made it their life's mission to help those in need. 82-year-old Kishore Rao, a resident of Bengaluru, is one such person.
Over the last two decades, he has been instrumental in bringing peace and solace to over 20,000 cancer patients in their final days through Bangalore Hospice Trust – Karunasharaya, possibly, India's first residential palliative care centre for the terminally ill.
In this exclusive interview with The Better India (TBI), Rao speaks about how he started, what his motivations are, the ups and downs he has faced, and an insight into who he is.
The birth of the idea of dealing with death
"The genesis of this entire thing stems from a personal loss – my mother passed away from cancer many years ago, and it stayed somewhere in my head. It was with that intent that I started working towards providing support and palliative care to terminally ill cancer patients."
Rao realised that this was his true calling. Way back in 1986, Rao was instrumental in setting up the Indian Cancer Society (ICS), Karnataka branch, primarily to create awareness about the disease. "This was a very old Society started in 1952 in Bombay, and I worked towards opening the branch in Bangalore," he informs. Whenever Rao could take time off from his corporate job, he not only created awareness about cancer and organised early screening camps, but also helped people who needed care the most.
In 1992, Rao decided to dedicate himself to caring for those ailing with last stage cancer. He took voluntary retirement after three decades of corporate roles.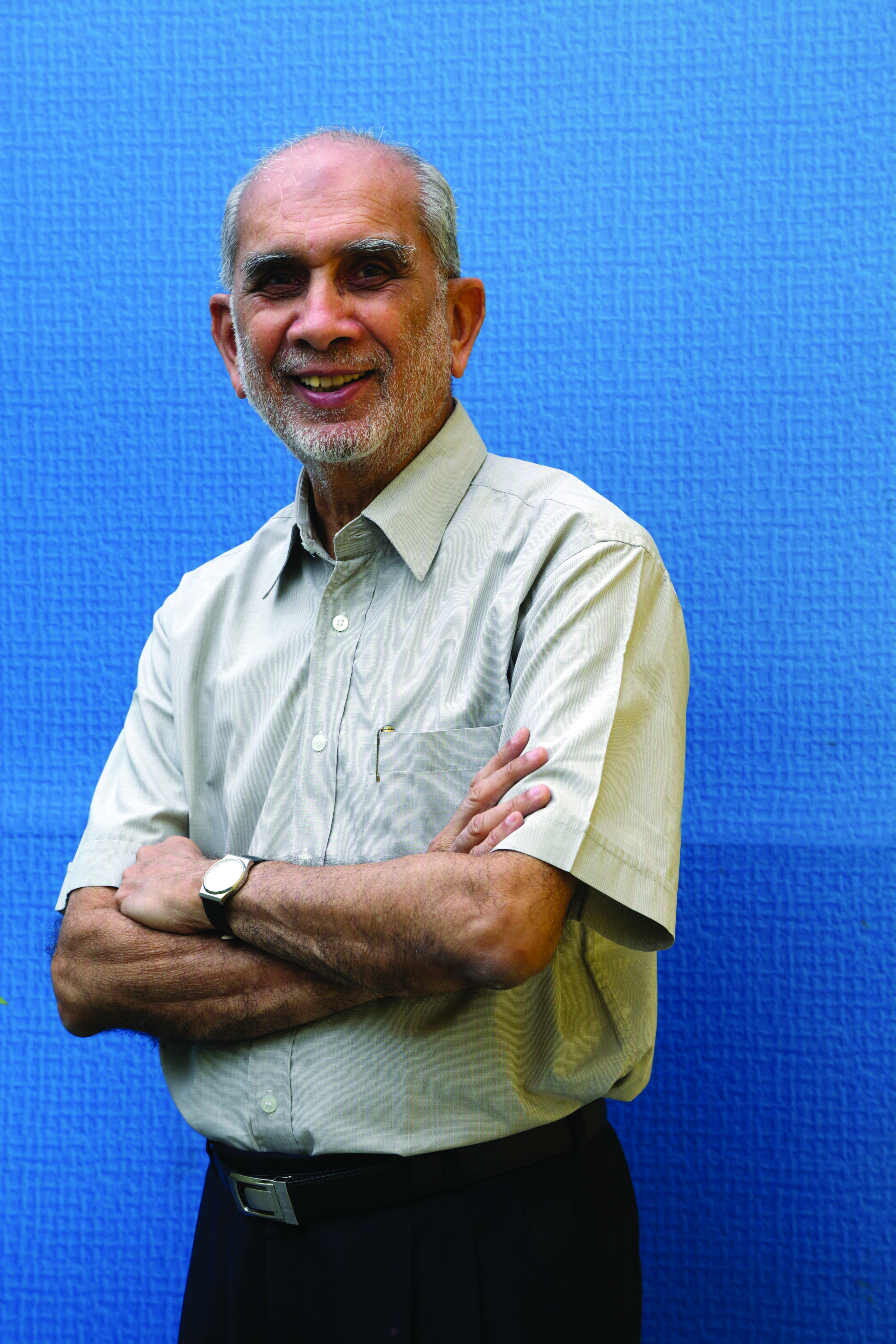 "My full time job commitment at that time did not allow me to devote time and energy to pursue this, and I thought that early retirement was the way forward," he said.
Categorising Cancer
Speaking about categorising the disease he was fighting against, Rao says, "I put cancer into three boxes – the first box is awareness about cancer, in the second box there is treatment, and the third box is when the treatment is completed, and either you are cured of it or medical science has no other curative option for you."
What Rao does, falls in box 1 and 3. Since he has no medical expertise, he does not interfere in the treatment part of the disease but early detection, awareness, and palliative care is what Rao works on.
Palliative care for cancer patients
Even though Rao has been involved with cancer patients for many years, the clarity to focus on palliative care was the result of a long evolutionary process. Rao was part of the Governing Council of the Kidwai Memorial Institute, and says that it was during that time that he got to see the tragedy of patients in their last stages, especially those who were economically backward, uneducated and illiterate.
Not knowing what was happening to the body and having to deal with the pain, left the patients bewildered and devastated.
Slowly his approach towards helping such cancer patients became more concentrated, and he began to work for the terminally ill.
In 1992, there was no organised effort to focus on palliative care, and Rao says that they had no support from the government. "It took me till 1994 to identify people who could help deal with patients in the last stages of cancer."
With the help of the Indian Cancer Society and the Rotary Club of Indira Nagar in Bangalore, Rao floated a public charitable trust, called the Bangalore Hospice Trust which, Rao says, was the first such Trust in India.
Bangalore Hospice Trust
Rao speaks about how, initially, they would do home visits. "Caring for the patients in their own homes was what we thought was the best solution. In less than 6 months we were able to put together a team of a nurse and a counsellor."
Rao and his team hired auto rickshaws to visit the homes of the patients to provide them with help and assistance.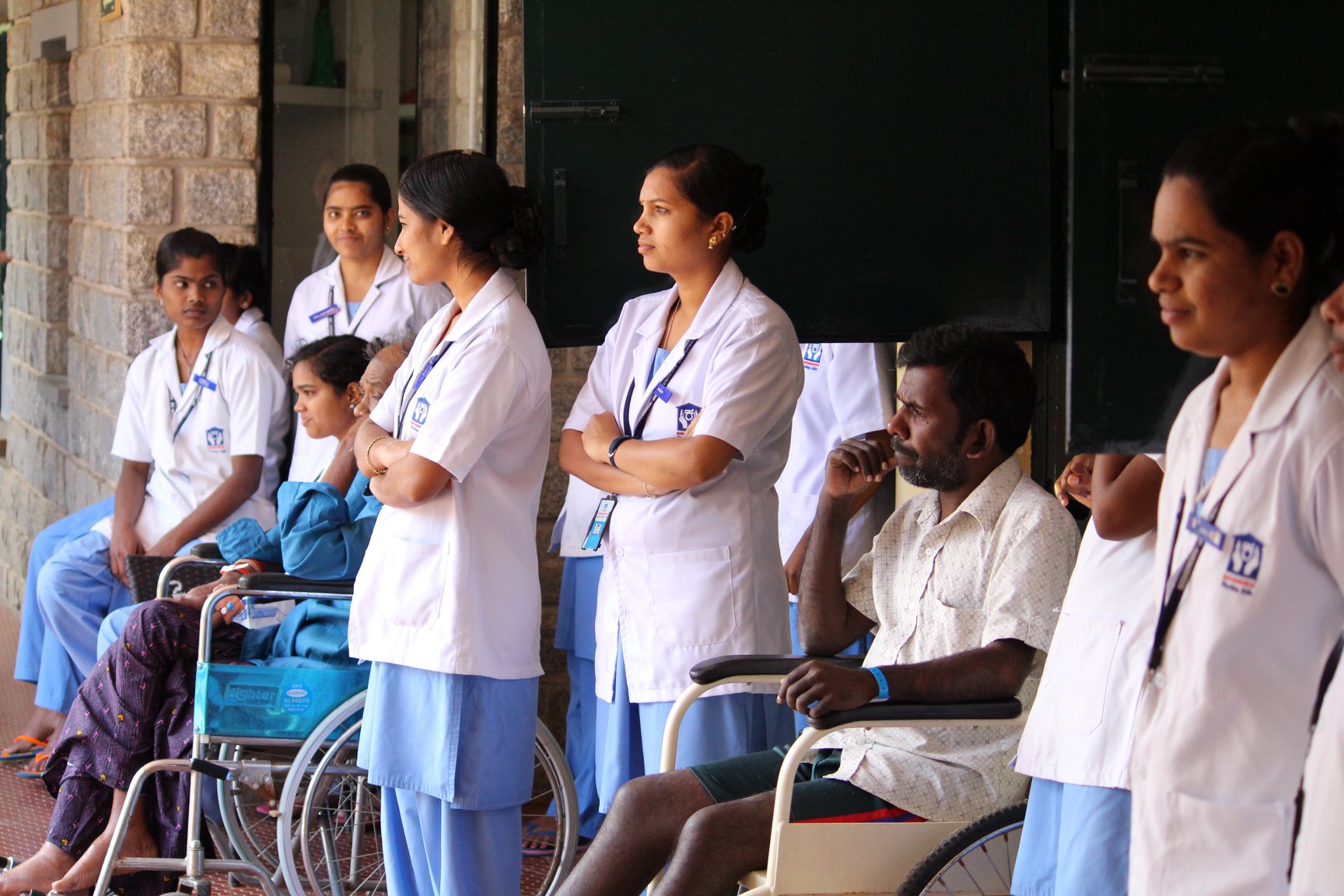 "Hospitals did not make the effort to tell them what to do next, and there was no other facility in the city to look after such patients when we started," he recalls.
First big donation
"I had gone to Mumbai for some work, and was looking for organisations that might come forward and support the vision. I landed up at the Tatas Head office at Bombay House. With no prior appointment I was ready to be turned away but as luck would have it, I was able to speak to the Executive Director and went on to spend a good two hours with him."
Rao left Bombay and "in a week's time we got intimation of the Trust sanctioning Rs 10 lakh towards our cause. For us that was a huge support and gave us a purpose to go on, says Rao.
Birth of Karunashraya
At various stages, Rao says, support has come in from various individuals without whom the organisation would not be where it is. Speaking about the beginning of Karunshraya, he says, "The retired Chief Secretary of Karnataka played an important role in helping us reach the government. Upon his retirement, he joined our Trust and was instrumental in helping us get the government to lease out land on a long lease basis for the hospice to be built upon."
Post the acquisition of land, Rao had the task of building the hospice and getting the infrastructure in place.
"Little did I know that a conversation over a social dinner with the city's then top architect [late Tara Chandavarkar] would result in us having a plan in place for the hospice."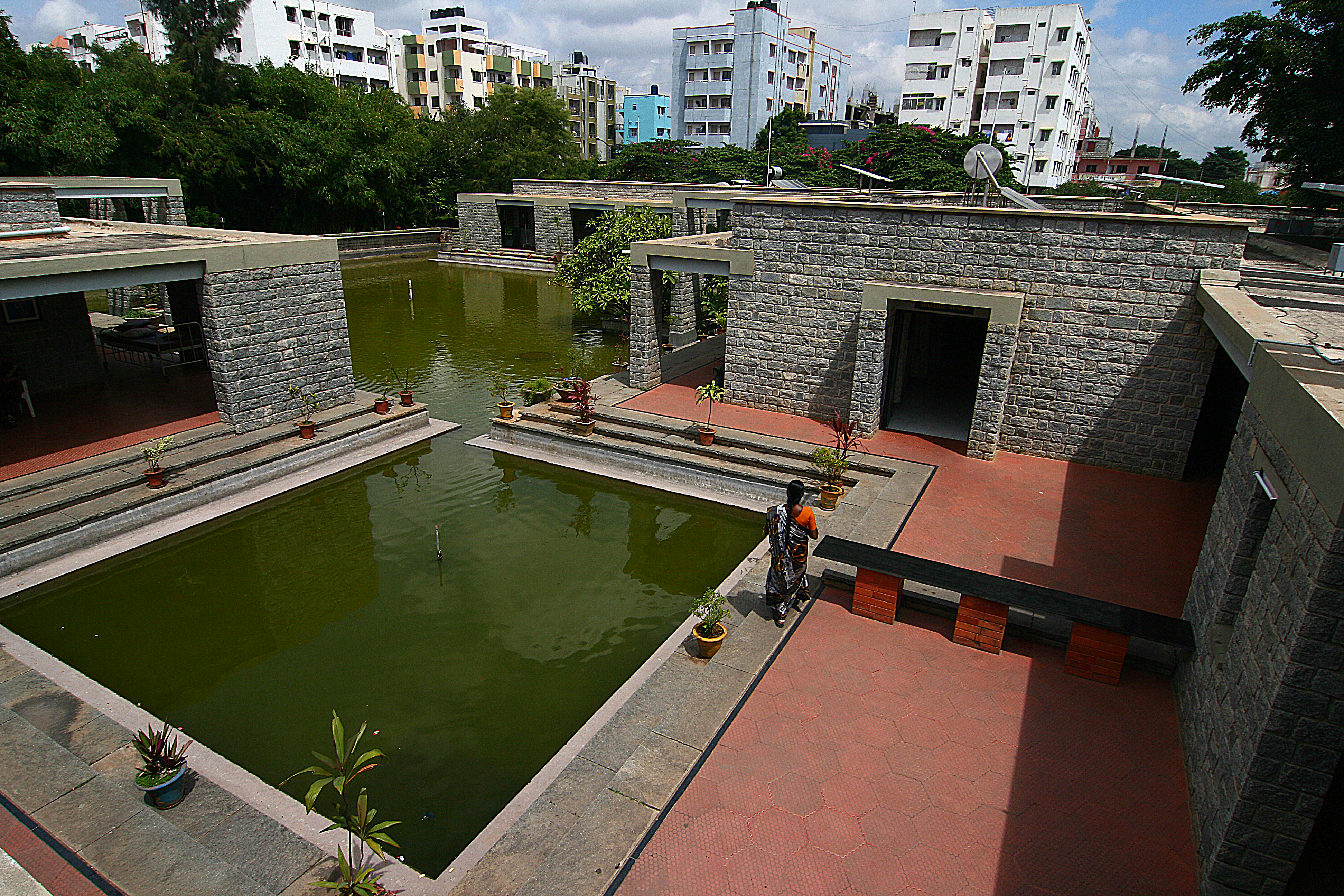 Rao remembers being grilled with questions by Chandavarkar over dinner who asked him everything, his motives, objectives, plans and visions for the hospice. "By the end, she was convinced and said that they would design the place for us."
While Rao was able to save a lot of money as Chandavarkar graciously offered to help for free for the noble cause, having her on board with full faith in the vision gave a boost to the team's morale.
"Her endorsement of what we were doing came at a very crucial point for us," says Rao. "In her own way it was as though she had placed her hands on my back and was pushing me forward towards what I wanted to do," he shares.
What do they do at Karunasharaya
It was on 1 May 1999, that the building was ready and the first patient was brought in, recalls Rao. In the 20 years of its existence the facility has extended a hand of aid to more than 23, 000 such patients.
"The help we provide them is completely free of charge. Whether for the bed, medicines, counselling, or the food we provide. Whether rich or poor, belonging to any religion or caste, we accept all patients who come our way," he says.
Having started in 1999 as a 50-bed in-patient facility, the Hospice added two more wards, three years ago, thus raising the accommodations for 73 patients. "On an average, we sadly lose two patients each day, as they come to us in their final hours."
With Karunasharaya looking after an average of 73 patients each day and the Home Care facility reaching out to another 75 patients, Rao says that the Hospice looks after almost 150 patients daily.
How does one deal with loss?
Narrating an incident, he says, "I remember the day our first patient was wheeled into the facility. The nurse, doctor and I were standing in the foyer. Once we took in the patient, I just broke down and wept."
"It was a feeling that I was finally able to do something for these patients, and the emotions that came with it overwhelmed me."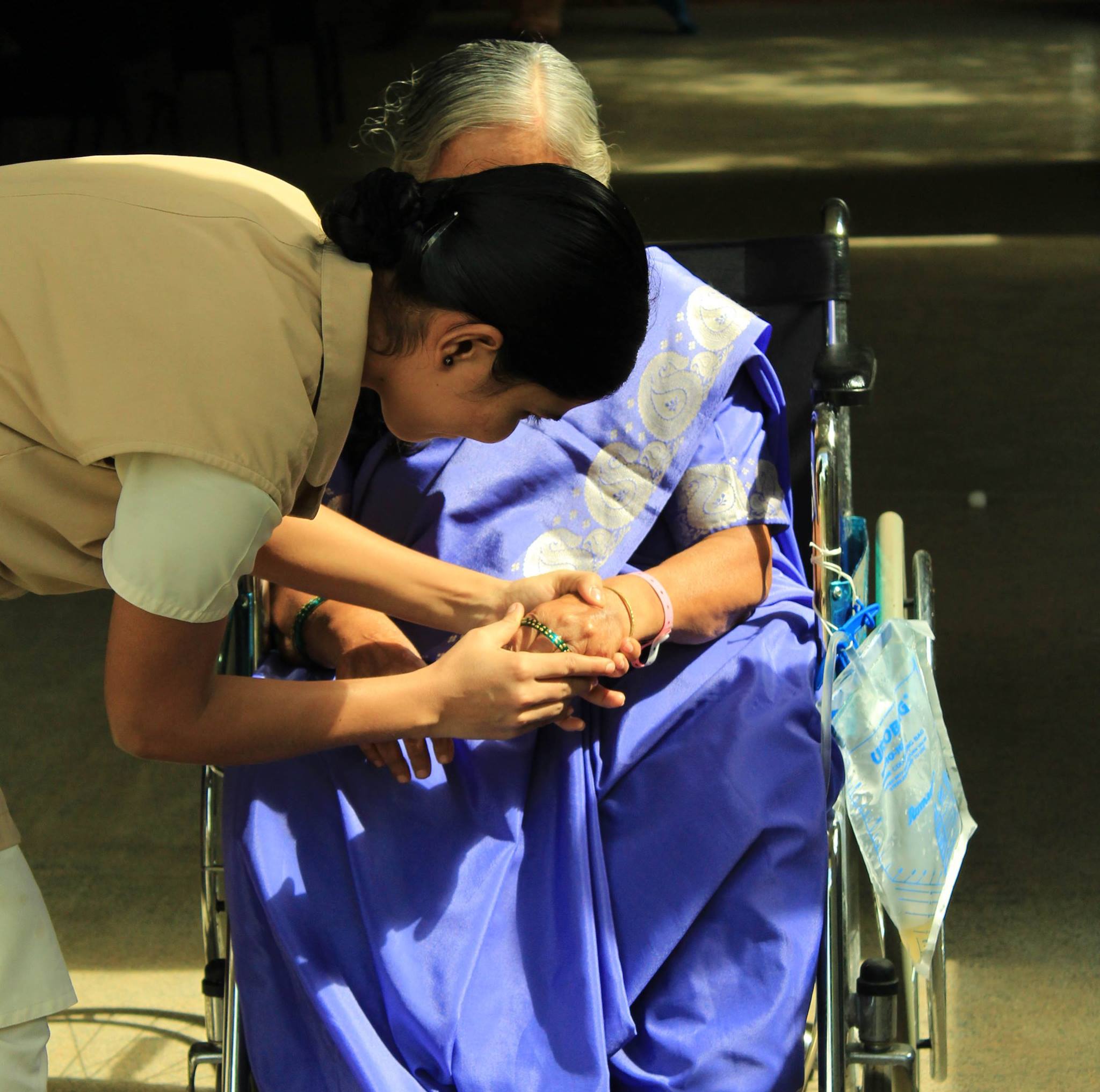 Over the years, however, seeing that he and his team were trying to make the last, painful days of the patients more comfortable, helped ease the sadness that comes with the job. "The fact that they all go with dignity and with immense peace is what I derive my strength from," he says.
Dignity in death
Fulfilling every last wish of the patients who stay with them, is something that is taken very seriously at Karunasharaya. Sharing some of the requests that have been made, Rao says, "We have had people request at night for biryani to be made and served. Given how fragile their condition is, in most cases, we cannot tell them that it will be added to the menu tomorrow. So we ensure that we send someone to get it or have it made and served immediately. It could well be the last meal they have."
On being asked what has stood by him through all his accomplishments, he mentions three clear points:
• Being able to show the impact of the work
• Supporting a cause that is inherently good
• Honesty and transparency in the work
If there is one good deed that you wish to do today, then here is your chance. Donate generously to help Rao and his humane team of community workers to continue the work. You can donate on the Milaap page, here.
Karunashraya is located on Airport-Varthur Main Road, Marthahalli and can be contacted on +91-8476133.
(Edited by Saiqua Sultan)
---
You May Also Like: This Cancer Survivor Left London to Ensure Delhi's Poor Don't Go Thirsty!
---
Like this story? Or have something to share?
Write to us: contact@thebetterindia.com
Connect with us on Facebook and Twitter.
We bring stories straight from the heart of India, to inspire millions and create a wave of impact. Our positive movement is growing bigger everyday, and we would love for you to join it.
Please contribute whatever you can, every little penny helps our team in bringing you more stories that support dreams and spread hope.