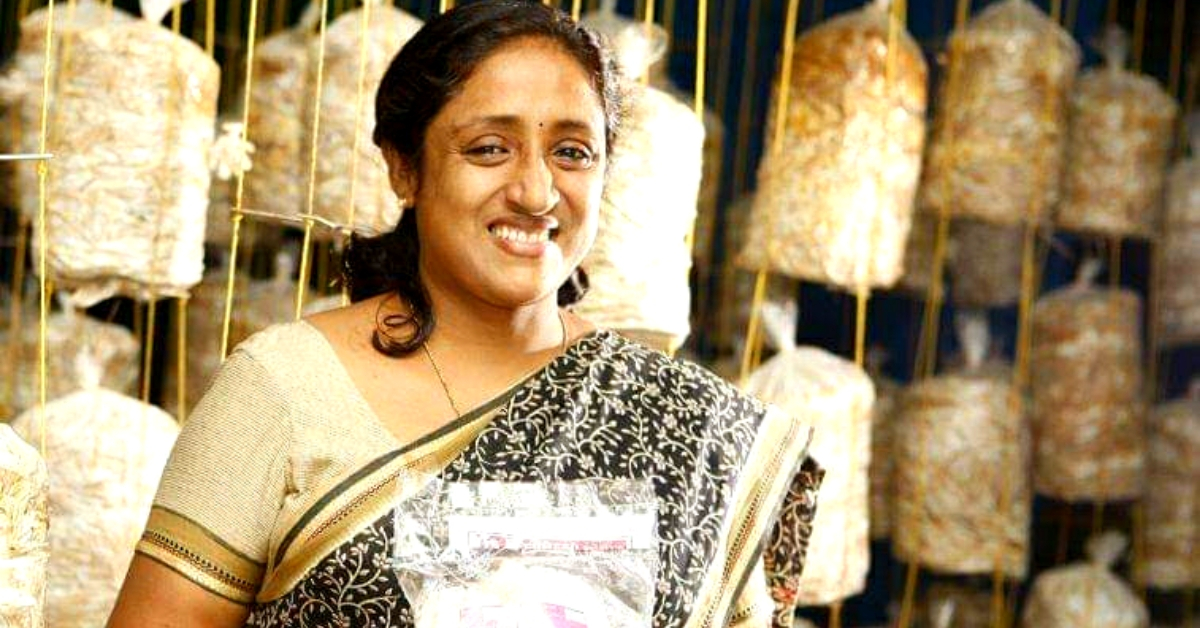 Eramalloor native Shije Varghese has been growing mushrooms since 2007 and has turned it to a fruitful venture.
Despite needing minimal maintenance, cultivating mushrooms is no mean task. But if one is patient and committed enough, even that can be easily mastered, says Shije Varghese from Kerala.
You can blindly take her word for it because this homemaker from the Eramalloor town in Kerala's Alappuzha district has been growing mushrooms since 2007 and has turned it to a fruitful venture.
How fruitful exactly? Well, she earns a minimum of Rs 1 lakh every month!
Mushroom cultivation has become a very lucrative pursuit in recent years, with more and more people turning to it and striking gold. In addition to that, understanding its remunerative potential, the centre and state agricultural departments have also been vociferously endorsing mushroom farming.
Mushrooms or 'coon,' as they are called in Malayalam, are found abundantly, without being cultivated, across Kerala, and Shije's love for them started at an early age.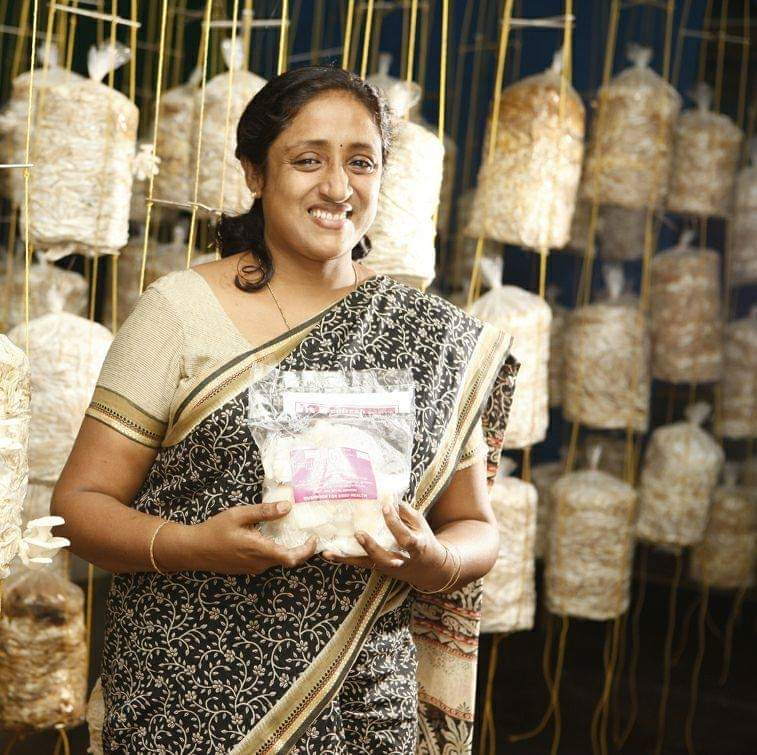 But her decision to cultivate and sell these would take root many years later. "I was a homemaker and had little time for anything other than running the house and taking care of my children. But when they grew up, I realised that I'd lot of time in my hands and didn't know what to do," recalls Shije.
Coincidentally, a session on mushroom cultivation was held in her neighbourhood, and the agricultural officer reached out to Shije. She was initially hesitant, but her husband, TJ Thankachan, motivated her to attend the session.
Thus began Shije's epic entrepreneurial journey.
Starting with two packets and six beds made of sawdust from rubber trees, Shije found success in her initial innings and with much support and encouragement from her husband, she decided to expand her venture.
"I set up a shed with about 300 beds and spent the next six months experimenting with mushroom cultivation. Sadly, it resulted in complete failure, leaving me quite dejected. But my husband was undeterred and motivated me enough to not give up. We then visited mushroom farms across different locations in Kerala and learnt where I went wrong," she says.
Temperature and humidity are central for mushroom growth and given Kerala's climate, maintaining these elements for round-the-year cultivation is imperative. Shije found her solution in bio hi-tech cooling system, which she implemented in her shed.
Bio-hi tech is a multi cooling system that helps attain the desired temperature and humidity required for mushroom cultivation.
"The production of mushrooms is controlled by climate. Since we don't get the temperature range of 25 to 30 C and a humidity range of 80 to 95 every day, the production will be irregular. This system helps in ensuring regular production through a controlled environment," she explains.
Another interesting implementation by Shije was a simple fan and pad mechanism from dried vetiver grass that she developed herself to further amplify the cooling effect.
Shije spent the next two years cultivating mushrooms on an experimental basis. She wanted to be sure of the quality of the produce before she turned into a full-fledged entrepreneur. By then, she also figured a way to culture spawns.
Once she became sure, the couple started selling their home-grown mushrooms under the brand name, Coonfresh. After seeing many ups and downs, Shije finally got to taste success, when the demand for her oyster and milky mushrooms began burgeoning steadily.
So much, so that the agricultural department started visiting her shed for the live demonstration of mushroom cultivation.
Soon, people began reaching out to her to learn, and Shije became a teacher as well!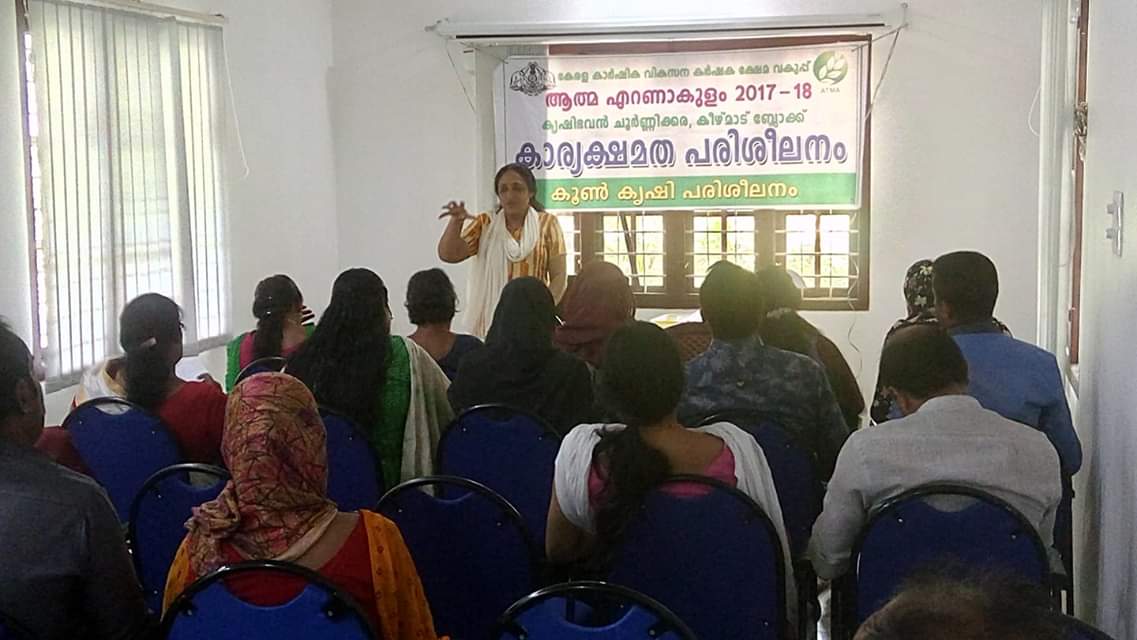 Today, the demand for her mushrooms is such that Shije and her husband also run a courier service for mushrooms as well as spawns and supply these across Kerala. Shije easily earns over a lakh through sales every month.
"It takes about three months to harvest about a kg of mushrooms, which we sell at Rs 300. We also sell packaged mushrooms at Rs 40. Production can go down between March and May, but thanks to the bio-tech system, we can maintain a round-the-year production," she happily adds.
Still modest about her successful entrepreneurial journey, Shije adds that mushroom cultivation can be taken up by anyone, all it takes to turn it successful is patience, interest and commitment.
"One doesn't have to be a homemaker to cultivate mushrooms. I believe it is quite engaging and a fulfilling venture that can be taken up by anyone. Roadblocks are inevitable, but with dedication and interest, nothing is impossible," she concludes.
In the future, Shije intends to start selling value-added products from mushroom under Coonfresh.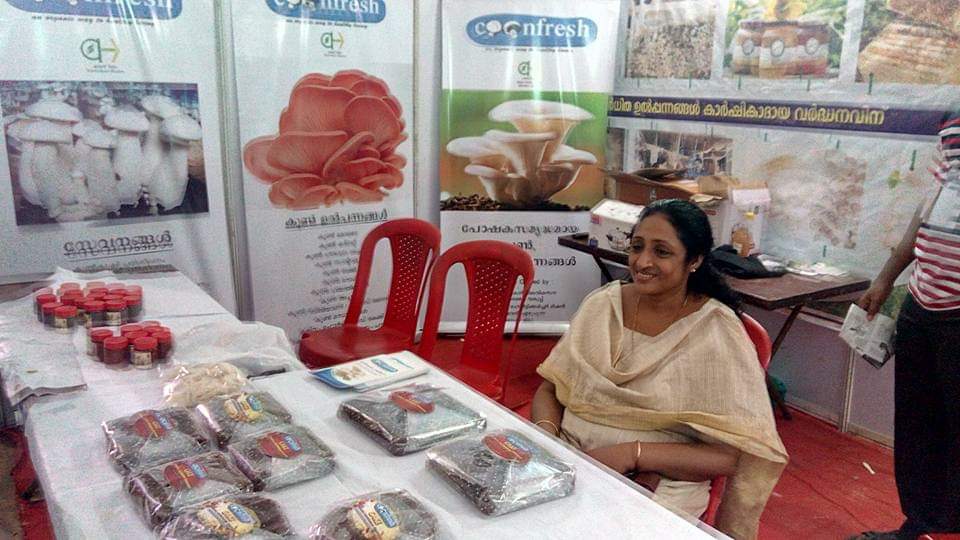 Shije's love for mushrooms and undeterred commitment in its cultivation truly exemplifies the journey of an entrepreneur who never gave up and kept persisting.
---
You may also like: Two Birds with One Stone: Now Use Agro-Waste to Grow Your Own Mushrooms!
---
Her family has also been a pillar of support—her husband has continuously motivated her, while her son, Anto is part of the business and helps Shije with the online and courier support.
We wish them luck and hope their business keeps 'mushrooming'!
(Edited by Gayatri Mishra)