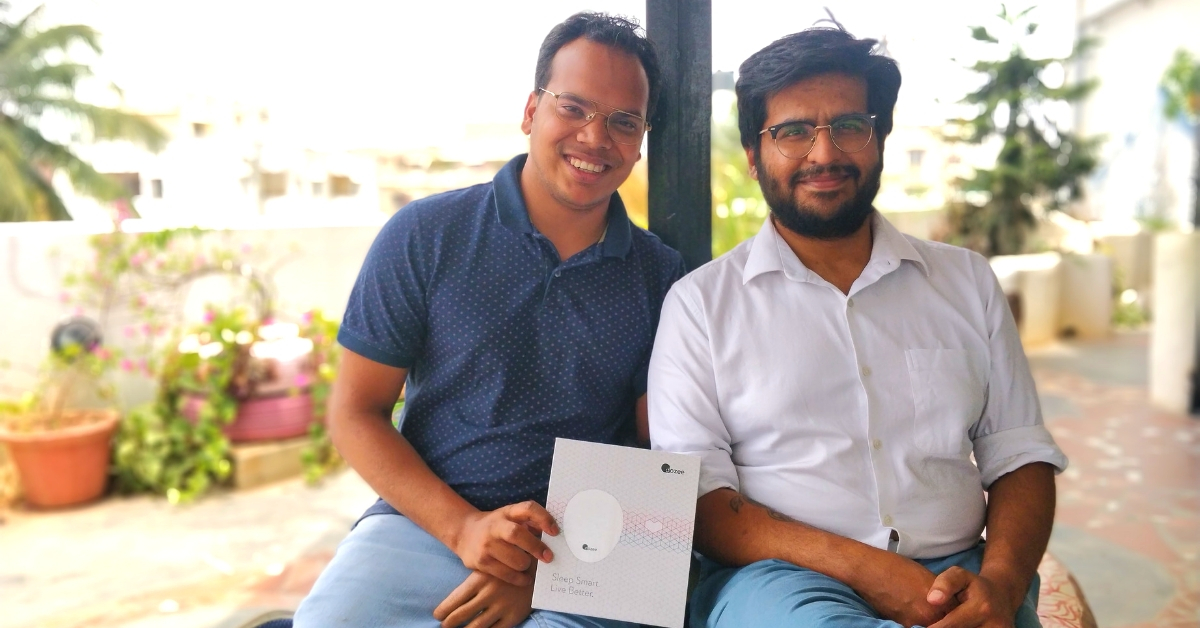 Even when placed under an 18-inch mattress, these tiny monitors allow you to keep track of all vitals—heart rate, respiration rate, stress levels and sleep patterns!
From developing race cars and testing them on the famed Silverstone Formula 1 track to designing an MCC-approved cricket bat that he sold to bat manufacturer Slazenger, Gwalior-born Mudit Dandwate fits the classic mould of engineer-turned-entrepreneur.
Mudit is a mechanical engineering graduate from IIT Bombay, and first met Gaurav Parchani, a fellow mechanical engineer from IIT Indore in the offices of international software leading firm Altair Engineering in 2013.
---
Dozee is a contact-free, smart health monitor that you can simply slip below your mattress and it silently tracks your health. Buy the monitor here.
---
"Gaurav and I worked together at Altair Engineering for two years, but soon, we realised that our work wasn't creating the kind of impact that we wanted on the lives of ordinary Indians. So, we decided to work on something that would be challenging, and at the same time, highly impactful. That's how we zeroed in on the healthcare sector," says Mudit, in a conversation with The Better India.
Both Mudit and Gaurav quit their jobs in October 2015 and began their extensive research in the sector, which led to them founding their company, Turtle Shell Technologies, and eventually, a device, 'Dozee.'
Early days and Inspiration
Their research began with ascertaining different problems in the healthcare sector and the opportunities they present. What they found was a very complex sector, particularly when it came to the technology available for monitoring the fundamental elements of human physiology.
Despite innovations in telemedicine, and the availability of ECG and blood pressure monitors, what the IIT graduates wanted to do was change the entire paradigm of health monitoring, particularly in a time when lifestyle diseases like diabetes, cardiovascular diseases, hypertension are on the rise.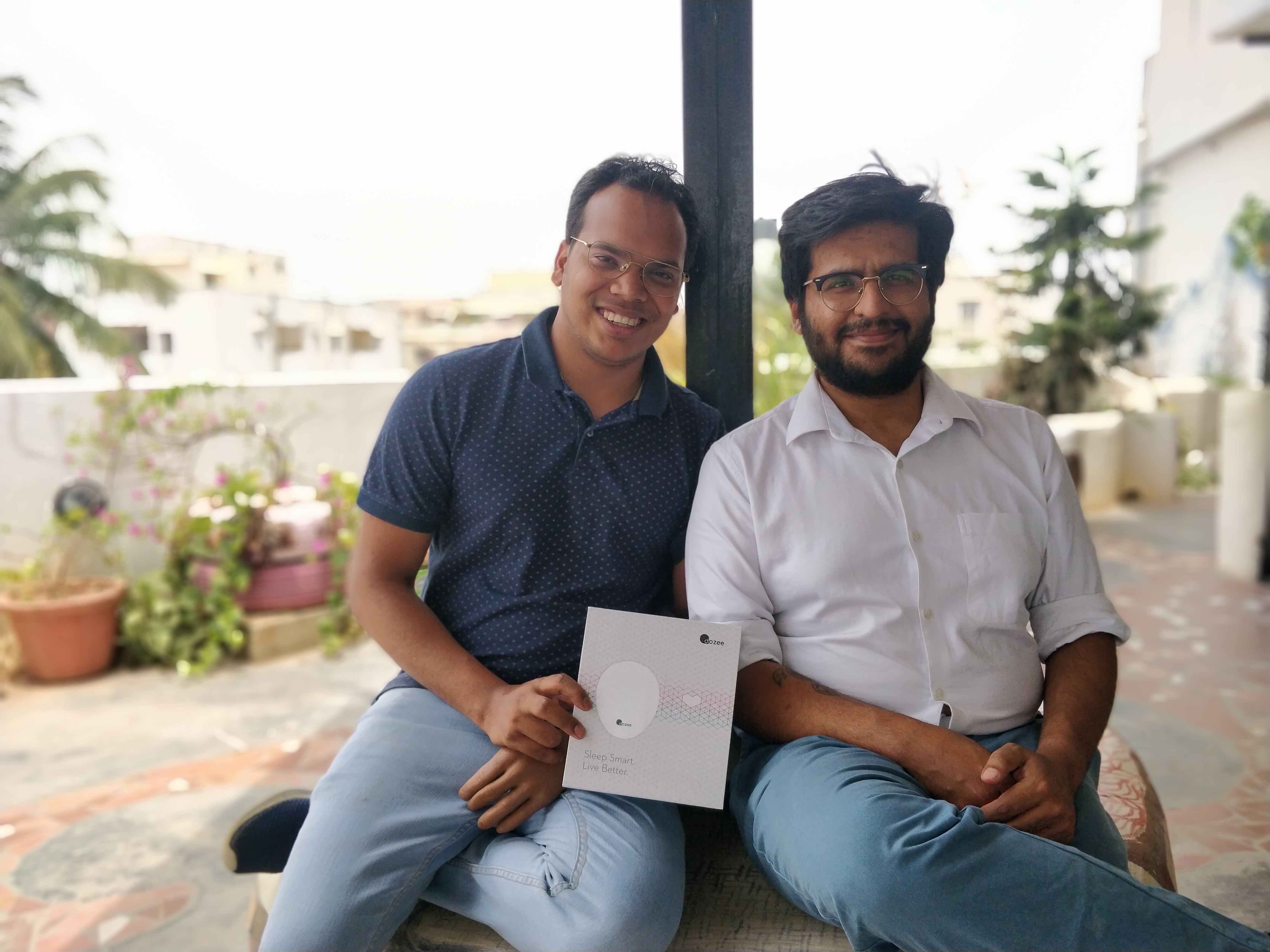 "Our idea of healthcare is straightforward. Why can't we develop a device, situated under your body or mattress that is smart enough to figure out everything about your health—how healthy you are, or if you are developing any disorder like sleep apnea, heart disorders.
This idea was inspired by Big Hero 6, a famous animated film which features a simple health bot that can scan you and find out if you're well or not. Yes, this was an animated film, but what we wanted was a device that made health tracking as simple as that," recalls Mudit.
The inspiration for Dozee Health sensors came from their automobile days, where they used vibration sensors to check the health of cars.
Dozee, a sensor mat, detects the smallest vibrations from the human body like the heartbeat, inhalation, exhalation, muscle twitches, and others.
So, how does this contactless health monitor work?
"It monitors the micro vibrations in your body; even the smallest ones. These vibrations are produced as a consequence of your heart pumping blood, inhalation and exhalation, snoring, body movements. It picks up these vibrations very precisely, even when it's placed under an 18-inch mattress. There, it can even pick up every single heartbeat. That's how frictionless we have made the technology, as simple as sleeping on your bed" informs Mudit.
In terms of usage, Dozee claims to have made it so simple that even grandparents are using it daily, bringing peace of mind to their kids.
There is a small palm-sized module which has microprocessors, a signal processor unit, WiFi chip and Bluetooth chip to transmit the data wirelessly and is placed next to the bed.
The sensing mat is a rectangular-shaped sheet measuring 70 cm by 10 cm, which covers half your bed. It's placed below the chest area or under the mattress. The thickness is less than 15 mm, so you don't even realise that it's under the mattress.
The bedside module collects information from the sensor sheet and sends it to the cloud for all necessary processing. Following which, the Dozee app then gives you insights into your daily, weekly and monthly trends in your sleep quality and health patterns.
The heart of Dozee, however, is the AI algorithm, that detects early signs of health deterioration and generates alerts. The feature has already proved life-saving to many by helping them get medical help in time.
"We have tested our product at NIMHANS and Jayadeva, and proven that device without even touching works as good as ECG. Dozee is proven to be 98.4% as precise as compared to the medical devices," claims Mudit.
The device monitors all the vitals—heart rate, respiration rate, stress levels (measuring heart rate variability, which captures signals from the heart and figures out how stressed you are) and sleep quality (all stages of sleep, restlessness, snoring).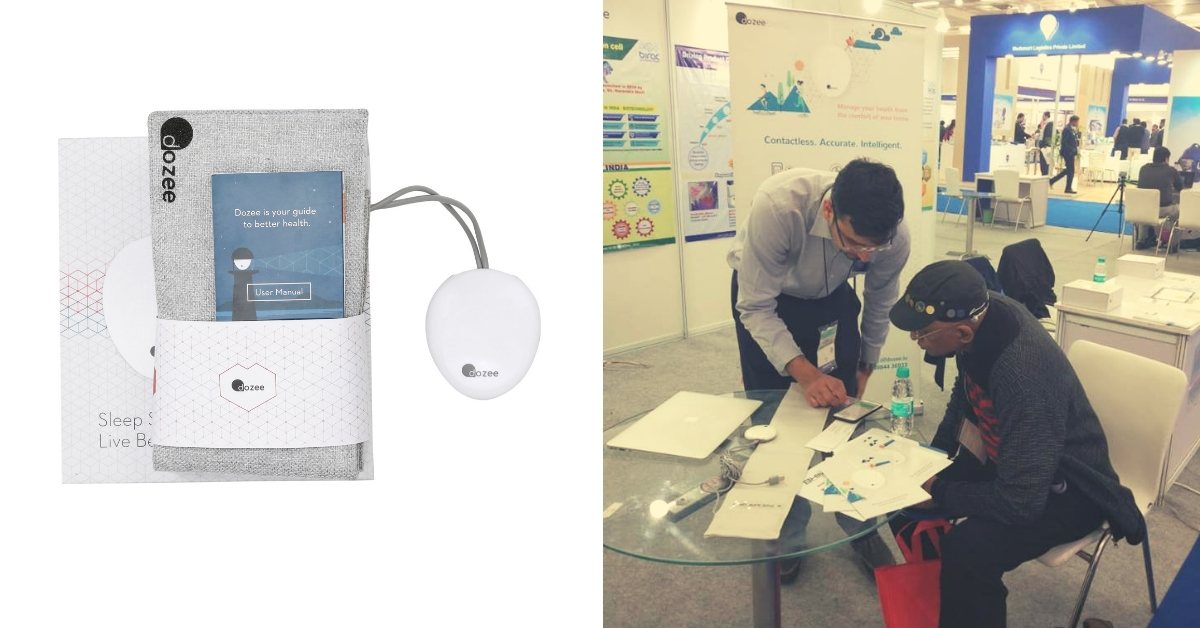 And this is just the first order of capabilities.
It also goes to the next level like detecting irregular heartbeat (arrhythmia), sleep apnea (where many people stop breathing in their sleep), and in collaboration with Sri Jayadeva Institute of Cardiovascular Sciences and Research, they are working on features which go into the finer details of the heart functions.
Even an ECG cannot catch these parameters, so by giving you this information in the comfort of your home, Dozee goes to levels way beyond any medical device.
From October 2015 to November 2018, the team at Dozee worked only on the development of the product, tested it and conducted multiple benchmarking studies.
---
Dozee is a contact-free, smart health monitor that you can simply slip below your mattress and it silently tracks your health. Buy the monitor here.
---
After making their technology market-ready, they brought out the product, six months ago. The price is set at Rs 12,000, they are currently selling it at an introductory price of Rs 9900 to enable remote health monitoring of parents, grandparents and critical care patients in family.
With rising healthcare costs, increasing lifestyle diseases, and a growing elderly population, there is an urgent need for a daily health and wellness checkup device that helps us stay fit. That's what Dozee essentially offers.
(Edited by Gayatri Mishra)
Like this story? Or have something to share? Write to us: contact@thebetterindia.com, or connect with us on Facebook and Twitter.