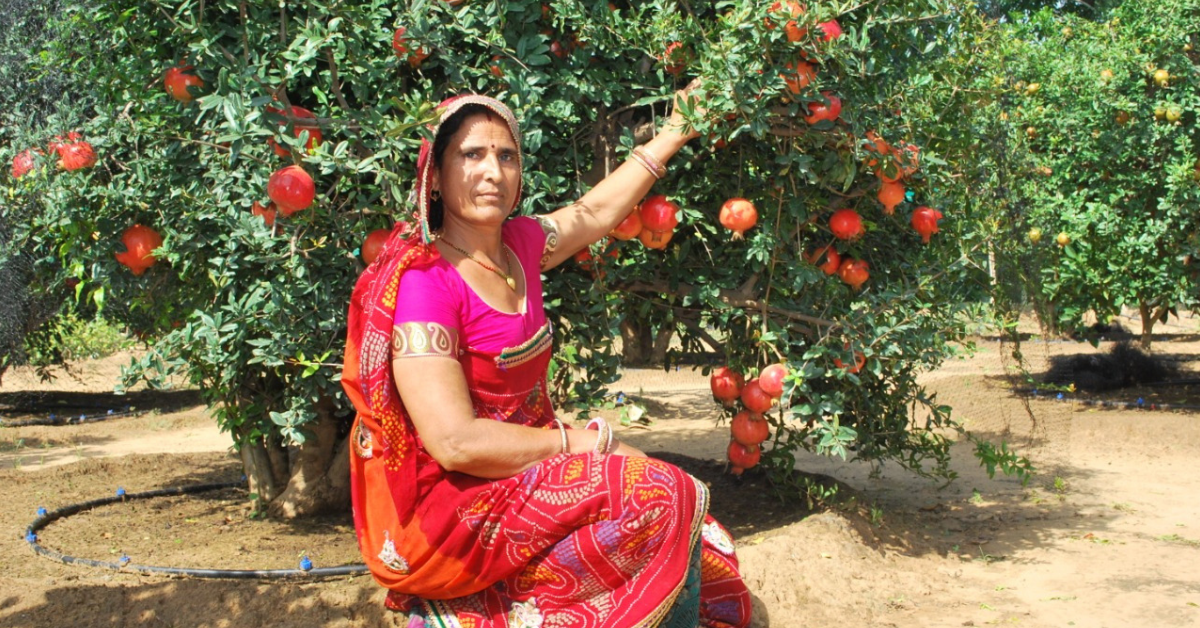 The couple started cutting the grafts from their trees for new saplings and started 'Shekhawati Krishi farm and Nursery' in 2013.
In 2008, a joint family in Beri village of Sikar district, Rajasthan, split. Out of the three brothers, two had good jobs. However, the eldest brother, Ram Karan Khedar, was a home guard and earned a meager salary of Rs 3,000. Though Ram Karan and his wife, Santosh Devi, used to work in the five-acre ancestral farm before the division, yet there was hardly any income from it.
Now left with only 1.25 acre of land, things were dismal.
Santosh Devi Khedar's journey started with this nearly barren 1.25-acre land which produced barely enough to tide over the expenses of the seeds, fertilizers and labour every year. 
But now, her family income is Rs 25 lakhs and all from the same 1.25-acre land!
Santosh Devi Khedar

When we were splitting, someone said that my children could eat only because my brother-in-laws were earning well or else they would starve. That is when I decided to take charge of the farm and show them that farming can be a profitable business, which can provide my children with more than enough, says Santosh Devi.
Born in a farmer's family in Kalasiya village of Jhunjhunu district of Rajasthan, Santosh went with her family when her father got a job in the Delhi-Police department.
However, she longed to go back to the village. Thus, when she was in class 5, she requested her father to take her back to her village.
"My father wanted me to study, but I loved being in the village. Mera mann toh kisani me hi lagta tha tabhi se (My heart has always belonged to farming), she says in  conversation with The Better India (TBI).
In her village, Santosh had always seen their 10-acre farm flourishing and had learnt everything about farming by the time she was 12.
She was married to Ram Karan in 1990 at the age of 15. She loved farming and was always keen to work at the farm at her in-laws too. However, things were really different here.
"Back at my grandfather's farm we never used chemical fertilisers, and still there was always a good yield. But here the farm was almost infertile due to the use of chemicals over the years. There was no source of water around, and only traditional yield like jowar and bajra was grown," shares Santosh.
For many years Santosh continued with the traditional method that Ram Karan was following. But when the family split, and they were taunted for not contributing to the finances of the family, she decided to take things in her own hands.
The Change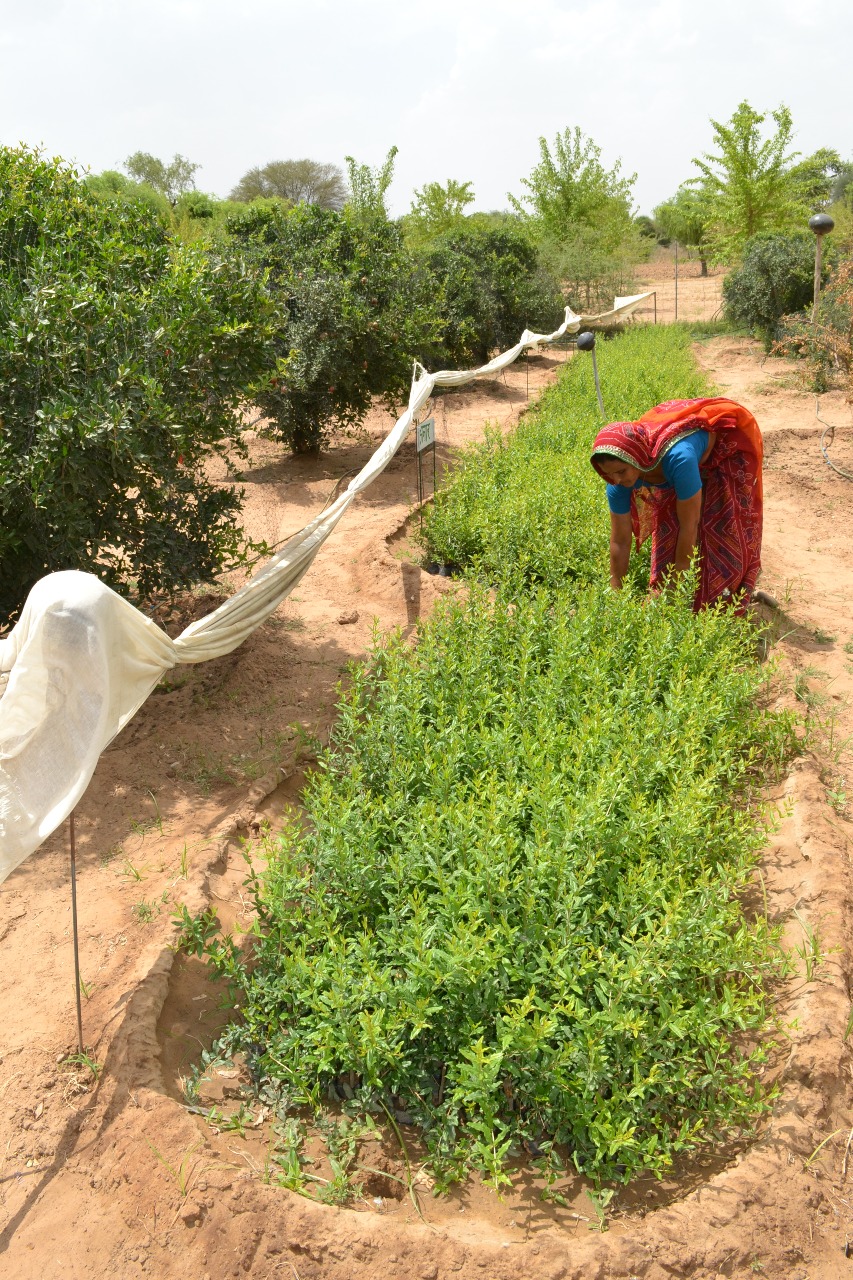 While Ram Karan continued to work as a home guard, Santosh started working harder at the farm. First of all, she cleared the farm of the weeds. She also stopped feeding chemical fertilisers to the soil and replaced them with organic. Ram Karan also contributed to the farm after his job hours. However, their efforts were not enough. The traditional crops did not earn them enough to feed their children.
It was in this dark hour that Santosh remembered an idea that Sikar's Agriculture Officer had suggested to Ram Karan.
The agriculture officer once suggested to my husband to grow pomegranates. He said that planting fruits can help us earn more in the limited land that we have and I decided to give it a try, says Santosh.
Thus, the couple bought 220 plants of pomegranate for Rs 8000. Though they did have the help of a subsidy from Udyan Kendra, they still had to sell their only buffalo to raise the entire amount. The couple also installed a tube-well in the farm with the remaining money. Santosh decided to use drip irrigation method in the water scarce area.
We had very limited resources. We did not want to waste even a drop of water, so drip irrigation was necessary. But there was no electricity in the village in those days. Hence we had to rent a generator. I would borrow a ration card of my neighbours to get kerosene to run the generator. Our kids would work with us after coming back from school, and we constantly looked for ways to make things work. It was a hard time; we did everything possible but never gave up, recalls Santosh.
Santosh used the knowledge of her farming experience along with the tips she had gathered from her fellow farmers and started making organic fertilisers. Every plant was fed 50 kg of this natural fertiliser every six months. Santosh also tried the layer-cutting technique. Once fruiting began, she would cut all the new branches keeping only one foot of it intact. This ensured that the nutrition given to the plant was going to the fruits and not the new branches.
After three years of continuous efforts and hard work, the couple finally got the fruits of it in 2011, when the first yield of their pomegranates earned them a profit of 3 lakhs!
From first year lessons to the present-day success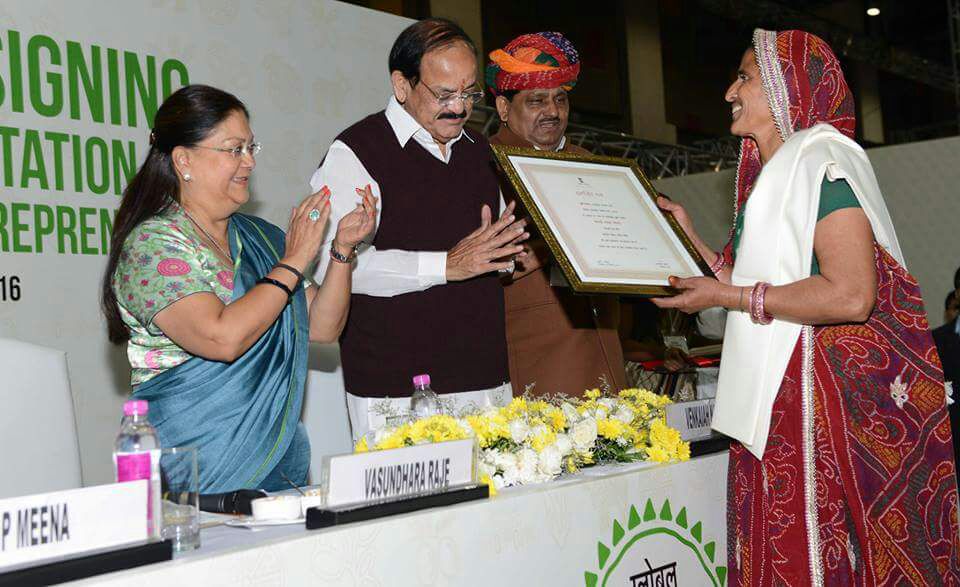 "I realised that the plants which were trimmed regularly bore better and heavier fruits than the ones which were not, so we applied this technique to all the plants in the next season," says Santosh.
She also adds jaggery to organic pesticides. This technique attracts the honeybees to the flowers and thus results in more pollination. Also, the continuous use of organic fertilisers made the soil fertile and invited more earthworms too.
Santosh has also made a five-feet-deep pit in the farm where she dumps all the weeds and fallen leaves for composting.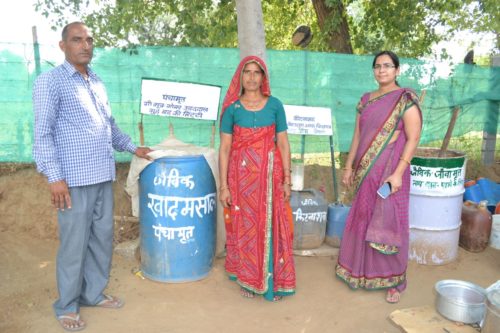 To make organic fertiliser, the couple has bought two indigenous varieties of cows (Gyr and white cow with a hump). While the cow dung and cow urine are used in the fertilisers, the milk helps them make all the milk products at home.
To make the drip technique more effective, the couple forms a boundary of three feet around the plants which keeps the soil moist for a longer time.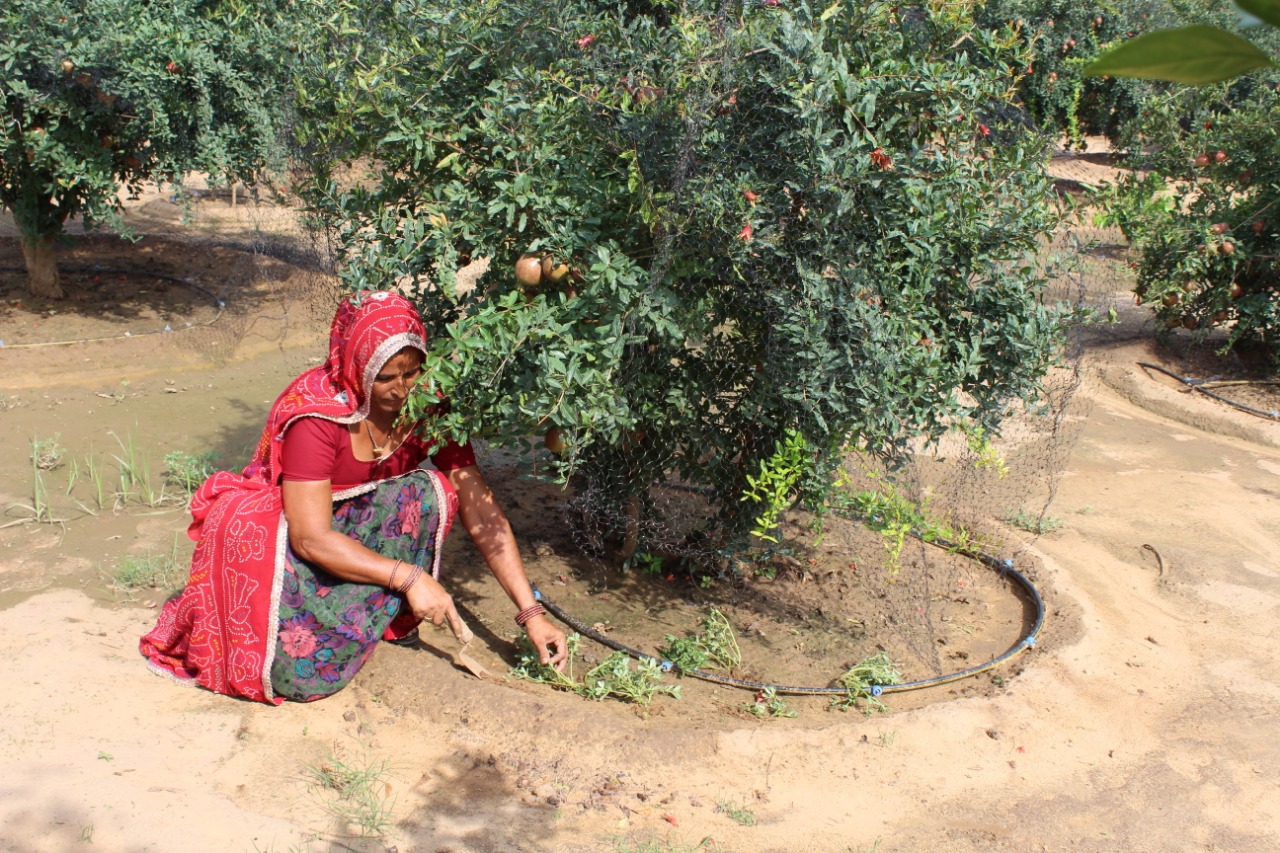 Peach trees surrounded the farm.
According to Santosh, the peach trees do not require much water. The shade of the trees protects the plants from extreme heat and cold. Also, the calcium content in their roots fulfills the calcium requirement of the soil.
All these efforts were successful, and the quantity and size of the fruits started improving.
Now that Santosh had the experience of maintaining an orchard, she started thinking of growing other fruits. But she did not want to go for a massive investment of buying a land for the new venture.
It was only five of us to maintain the farm. We never wanted to depend on other labourers. So, I wanted to do whatever was possible in my 1.25-acre land," she says.
The next fruit in her mind was sweet lime (mosambi), and her watchful eyes found out the place to grow them.
"I noted that there was a gap of 15×15 between two plants of pomegranate and we had to keep the space free of weeds, which was extra labour, so I planted 150 mosambi plants in between those gaps," informs Santosh.
Gradually they also planted lemon, kinnow (mandarin hybrid), Bel (wood apple) among others in the farm.
Though the village got electricity in 2013, the couple decided to do things the sustainable way and installed solar panels on their farm. Now, most of their work on the farm is done with solar power and at reduced additional costs.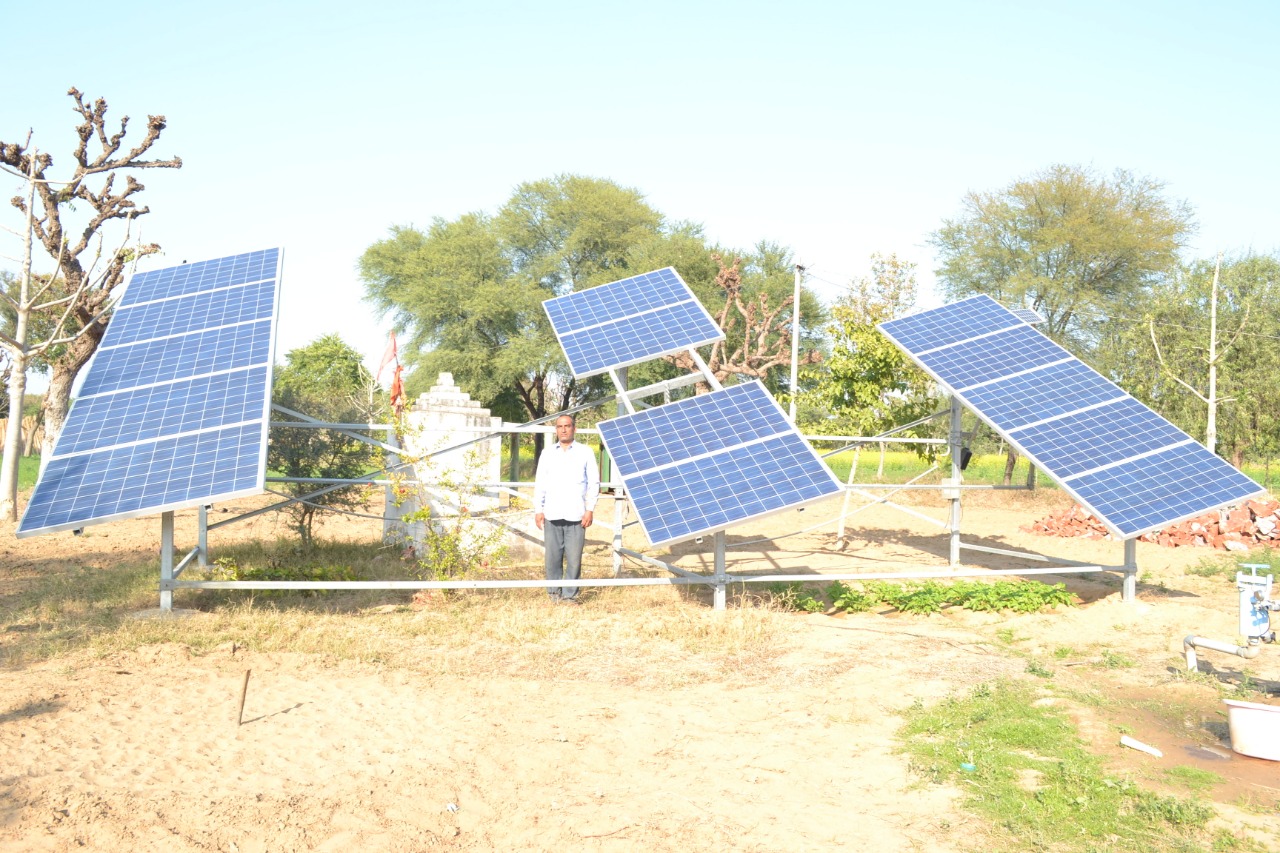 Marketing strategy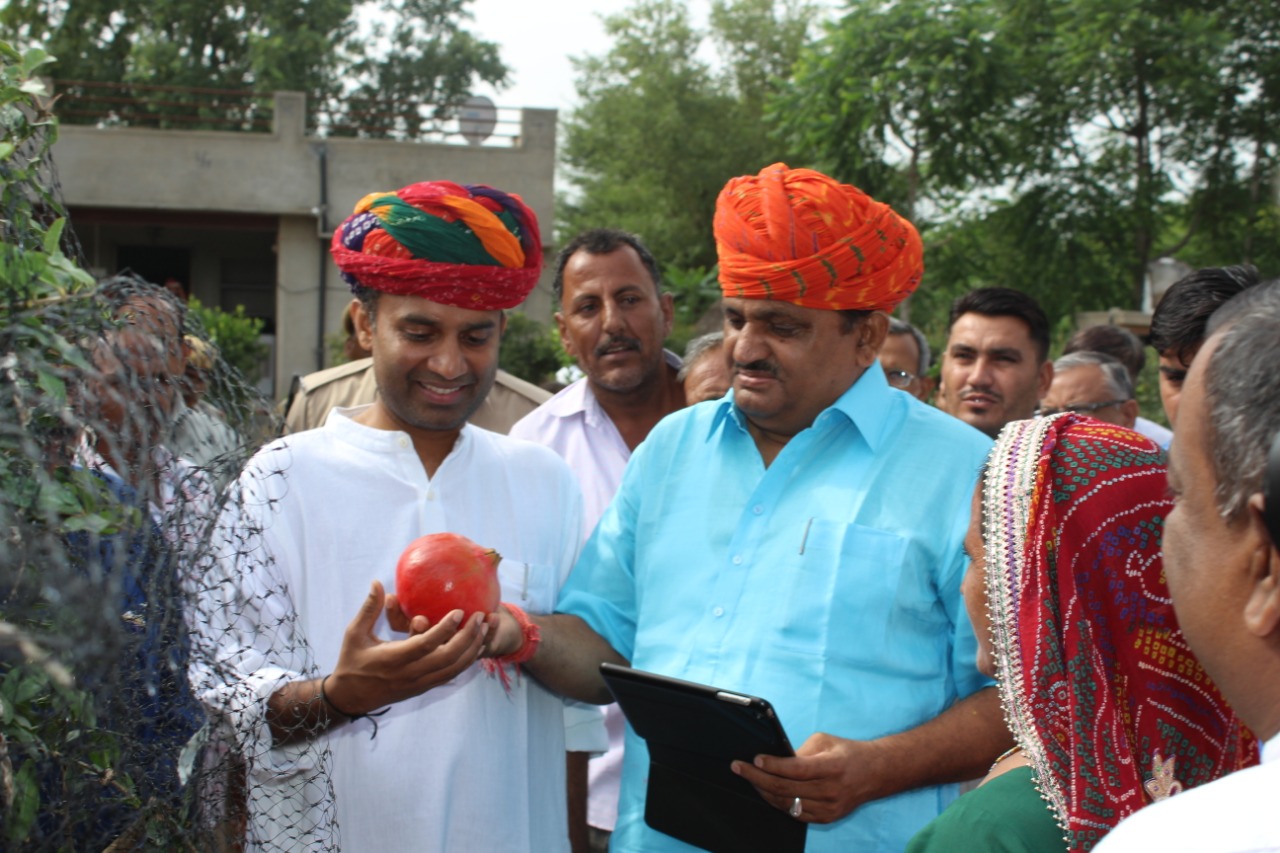 Santosh Devi swears by the marketing policy they have been following. They do not sell even one fruit to the middlemen. All the fruits are sold to the customers directly at the farm, and hence they do not have to share any of their profit. Santosh believes that the reason behind the distress of the farmers in the country is not getting the right price for their produce and the middlemen enjoy all the profit.
During the first fruiting, Ram Karan took the fruits to all the officers, showroom owners and everyone possible for a taste test. The pomegranates grown in their farm were bigger and sweeter than the ones available in the market. Thus, the couple developed a regular clientele with the help of their smart marketing tactics.
"If you notice, you will always find that the fruits grown organically, taste better. Moreover, it is good for your health too. People who taste our pomegranates once become our regular customers, and all our fruits are sold at the farm itself. You can say that our farm is our market," says Ram Karan.
Started nursery in 2013 to help other farmers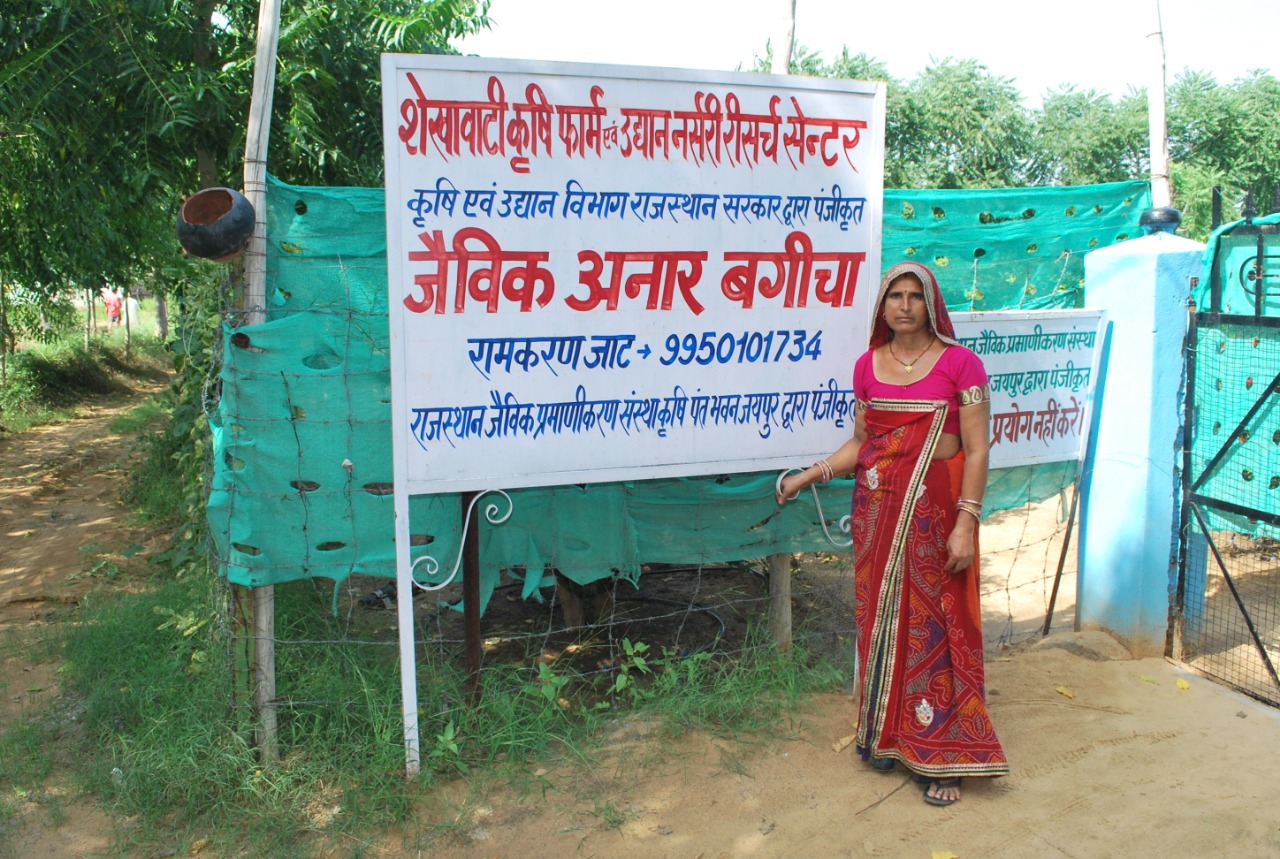 Looking at their success, other farmers in the village also started getting pomegranate saplings to grow; however, most of them failed. These farmers then approached Santosh and Ram Karan for help. The couple figured out that the plants that they had initially bought were of excellent quality, and unfortunately not available anymore.
Thus the couple started cutting the grafts from their trees for new saplings and started 'Shekhawati Krishi farm and Nursery' in 2013.
The farm now produces around 50 kg of pomegranates per plant in the first season—August-September and 30-40 kg per plant in the second season—November-December. While traditionally grown pomegranate weighs 400 gm, each pomegranate of Shekhawati farms weighs nearly 700-800 gm.
The Farm sells the pomegranates at the rate of Rs 100 per kg and earns almost Rs 10 lakh per year for the same. The Mosambi plants have also started fruiting, giving them an annual profit of Rs 1 lakh. The other fruits fetch them Rs 60,000-70,000 every year.
Apart from this, the couple claims to earn an additional profit of Rs 10-15 lakhs from the nursery by selling these fruit saplings.
"This year we have sold around 15,000 saplings of just pomegranate. All this is in the same 1.25 acre and from the same 220 plants. Farmers are not only coming back to buy more saplings but also recommending others to do the same. This may be because of the good quality of the saplings and that we ask them to stay with us and learn our techniques. I feel that every farmer in our country should benefit from our learnings," smiles Santosh.
Another miracle in the farm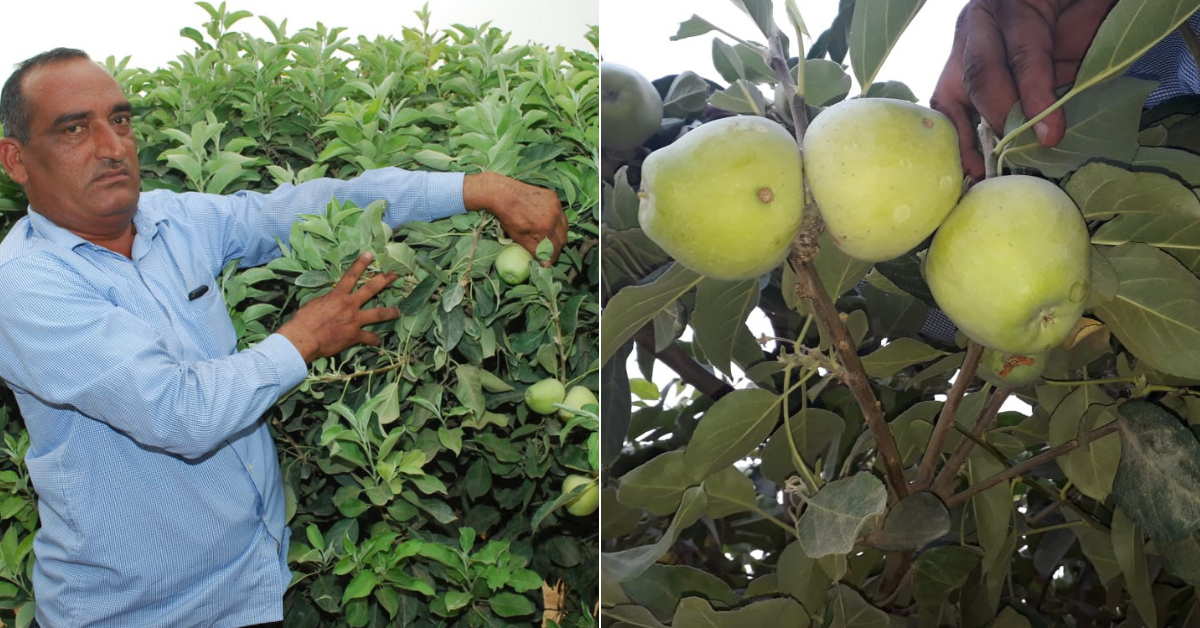 Shekhawati farm is a topic of amazement among other farmers in Rajasthan these days due to a miracle that has happened there. It is an apple tree, which has yielded 132 fruits of 300 gm each this year.
"An innovator farmer from Himachal, Mr Harman Jeet Singh, came to visit our farm in 2016. He gifted us a type of apple plant that he had developed which could be cultivated in hot regions like Rajasthan," informs Santosh.
According to Santosh, she did not give any extra care to this plant. They planted the apple sapling in a poly bag initially, and Santosh would then add the leftover organic fertilisers, pesticides and tonics to the plant. Slowly, the plant prospered under Santosh's able care who also used her cutting technique on it. The plant started fruiting this year.
Looking at this success, Ram Karan has brought ten new apple plants this year.
A powerful message on daughter's wedding

The couple is blessed with two daughters and one son. All of them have graduated in B.Sc agriculture and wish to pursue a career in farming. When their eldest daughter was going to get married in 2017, she expressed the sadness of leaving her farm. That's when her parents decided to give her something that she will always cherish.
They have gifted the newlywed 551 plants. Apart from this, the couple gifted every guest at the wedding function two lemon and one mosambi plant.
"These trees will benefit their coming generations too. Materialistic gifts or money will perish one day, but these plants will always remind them of us," says Santosh Devi.
Rest house with the Award money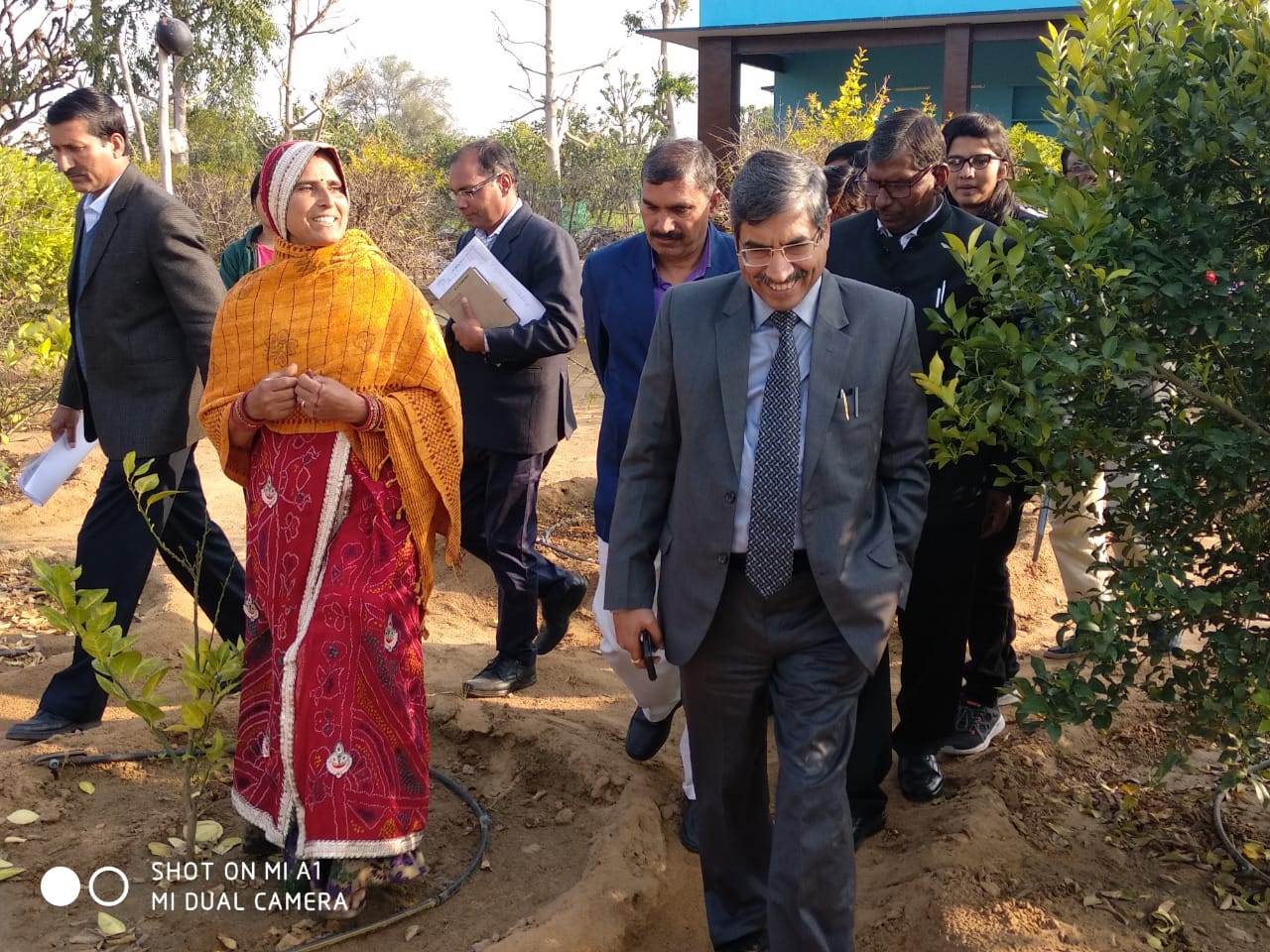 In 2016, Santosh Devi was honoured with the 'Krishi Mantra Award' for her innovative techniques in farming. She also received award money of Rs. 1 lakh with this honour. The family used this money to build a rest house at the farm where farmers across the country can stay for free and learn their techniques.
"Daily, 15-20 farmers come to our farm to learn. However, there wasn't any place to rest for them. They would stay in the scorching sun or freezing nights for days on our farm to learn our techniques. It was our responsibility to make their stay comfortable. Hence we made this rest-house," says Santosh.
Surprisingly, Santosh Devi has not kept any house-help yet. She cooks for these 15-20 visitors every day all alone and cherishes their presence on the farm.
"It is my pleasure to cook for them and help them. I could never imagine that one day we could get an award and the Agriculture Minister will specially visit our farm. With a small farm of just 1.25 acre, this was like a dream. It is all by the grace of God and well-wishers like you. So we are more than happy to invite all the farmers here. Bejhijhak aaye, humse jitna hoga hum aapko sikhayenge (Don't hesitate to come, we will do all we can to help you learn)," she ends the conversation with this encouraging message for all the farmers.
To know more about Santosh Devi and her work you can visit their website.
(Edited by Saiqua Sultan)
Like this story? Or have something to share?
Write to us: contact@thebetterindia.com
Connect with us on Facebook and Twitter.
We bring stories straight from the heart of India, to inspire millions and create a wave of impact. Our positive movement is growing bigger everyday, and we would love for you to join it.
Please contribute whatever you can, every little penny helps our team in bringing you more stories that support dreams and spread hope.