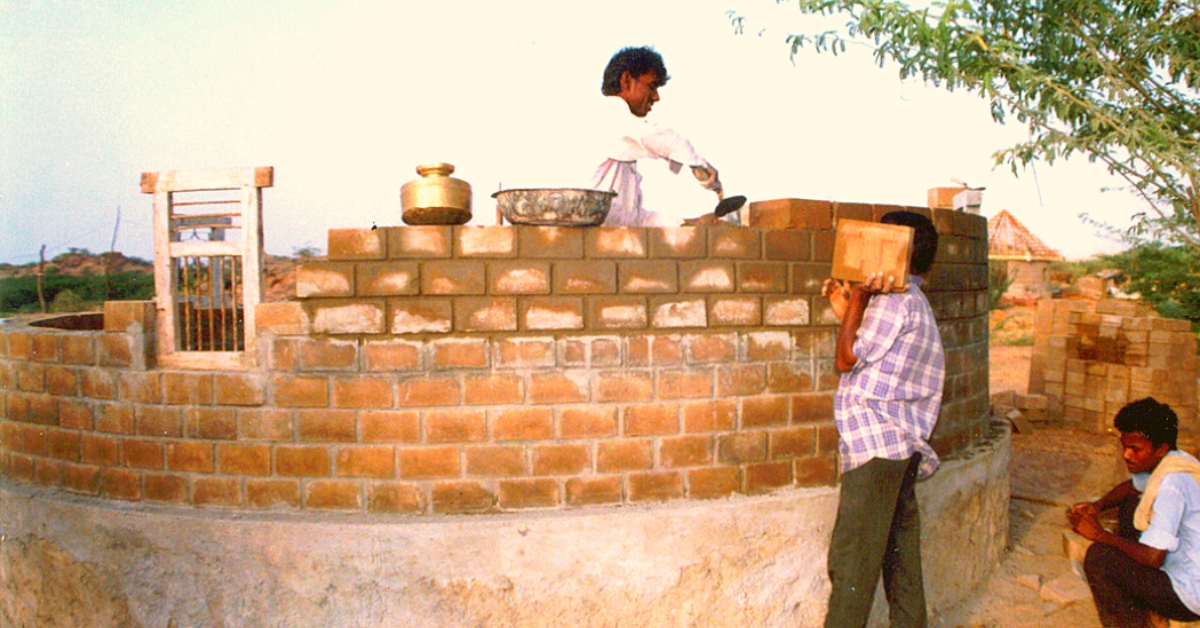 "There is a huge knowledge system that exists in our culture. In fact, local communities make sustainable homes with better facilities than what the contractor can provide them! So we sit down with them and take tradition forward."
On Republic Day in 2001, a major earthquake devastated Gujarat, killing 30,000 people and leaving half a million homeless.
There was considerable damage across the state, but the city of Bhuj bore the brunt of this devastating earthquake. To rebuild it, a group of local architects, engineers and non-profits came together, emphasising community participation, traditional home designs and local knowledge, to rebuild the city.
In 2003, this collective went on to become Hunnarshala.
At a time when disaster relief meant constructing prefab housing, Hunnarshala went along a different path altogether, assisting villagers nearby to build thousands of earthquake-resistant homes with traditional technologies such as rammed earth.
For the pastoral communities living in the Banni grassland area near the Rann of Kutch, they chose to rebuild their homes constructing their traditional 'bhungas' instead of the pucca cement houses found in cities.
As Elizabeth Hauseler writes in a paper titled 'Housing Reconstruction and Retrofitting After the 2001 Kachchh, Gujarat Earthquake':
A bhunga is a traditional, typically circular plan structure made of mud bricks or an interior matrix of tree branches packed with mud. The roof is supported by a vertical post resting on a single wooden beam that sits on the walls. Bhungas performed comparatively well during the earthquake. Shell action of the wide, low circular walls distributes the shear forces. Some bhungas have ring beams or some kind of connection between the roof and the walls.
"So, when we started working with the communities and asked what kind of houses they want to build, the initial reaction was 'we also want to live in a 'pucca' house.' However, on further discussion, they said bhungas are a part of the identity of this region and 'we can't live without them,'" says Mahavir Acharya, an engineer overseeing community empowerment at Hunnarshala, speaking to The Better India (TBI).
However, these earthquake-resistant buildings require a lot of maintenance, and every year they have to be 'finished' with mud plaster on the floor and walls. The women, who had to earn a living, take care of their children and home, did not want to be saddled with yet another task, and asked Hunnarshala for a solution.
"We built demo houses using rammed-earth construction—a technique which allows for round structures to be built easily and quickly—at the offices of the Kutch Mahila Vikas Sangathan, a local women's organisation with links throughout the community.
After designing some round moulds, we trained artisans, who had come from outside and locals as well. Soon, locals built their own houses by using this rammed-earth wall, while we provided them with artisans and mould," says Mahavir.
"Each house required two bhungas per family, so around 1400 houses were built at that time. These structures underwent rigorous testing, and they liked what we gave them," he adds.
Hunnarshala also built the resort Shaam-e-Sarhad at Hodka village in Kutch district, which is a community-based tourism project run by the village, employing traditional bhungas.
In addition to the bhunga houses built in 2002-2003, the Hunnarshala network built houses in other parts of the region as well.
To construct buildings that were right for the region's climate, Hunnarshala works with local artisans whose craft has been shaped by the local traditions.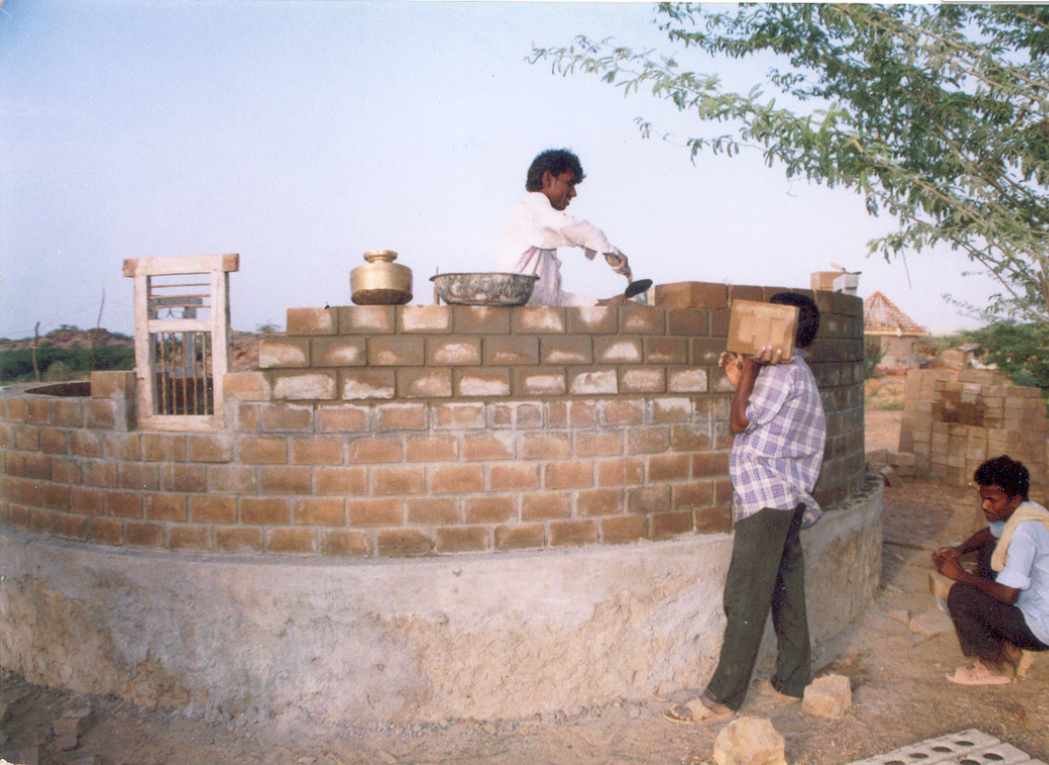 "One workers' canteen built by Hunnarshala uses slided walls for light and ventilation. The structure was built with reclaimed wood by a group of local carpenters. Implementation of these programs are within the hands of the community itself and their artisans, but not contractors and developers. This entire building activity creates new artisans, newer employment opportunities and expresses their cultural sensibilities," says Sandeep Virmani, Executive Vice Chairman of the Hunnarshala Foundation, in a 2013 interview.
Beyond building and activism, the foundation is involved in advocacy work, particularly urban planning and low-income housing development. For example, in Bhuj, they helped about 500 families build their homes, besides developing a master plan of solid waste management and drinking water for the city.
Sustainable architecture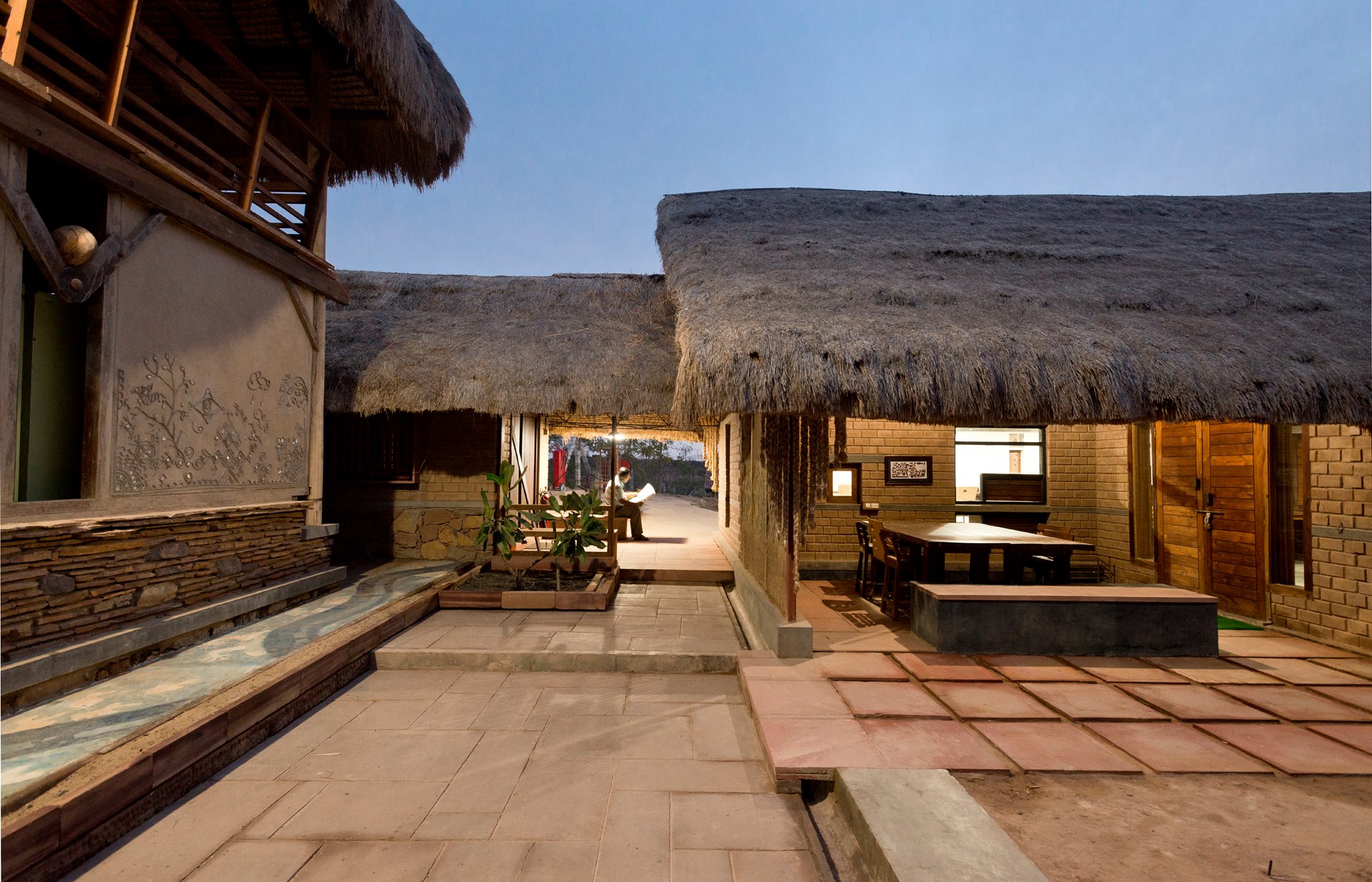 Hunnarshala regularly finds new hybrid and innovative solutions that elevate indigenous building systems using waste and other natural material.
"Across different projects, we have worked with a lot of industrial waste like silica and sand from China clay factories and levigated clay from porcelain factories clogging river systems to construct rammed-earth walls. We also build urban homes out of compressed stabilised earth blocks (CSEB), which are essentially mud blocks. So, apart from rammed-earth we also promoted CSEB block. Overall, as a consequence of our intervention in this regard, around 6,000 houses were built with these earth-based technologies. These industrial waste houses were built in Bhuj, in one of the relocation sites," says Mahavir, speaking to TBI.
"We used materials like earth and bamboo. Even though steel and concrete were favoured, this region has a hot climate and temperatures vary between night and day, resulting in concrete cracking," says Sandeep.
Post-disaster assistance to other states
Besides Bhuj, Hunnarshala has offered assistance to other states as well in their times of desperation. In 2005, when Jammu and Kashmir was struck by a devastating earthquake, Hunnarshala was called upon by the government to build 7000 temporary homes in the Tangdhar Valley. This is because with the arrival of snowfall in winter it would get completely cut off and then no houses could be built.
So, they went there with a big team of 10-15 people, stayed there for a month, and mobilised the community to build the houses without necessarily transporting all that material.
"In the Tangdhar Valley of Kashmir after the 2005 earthquake, the only buildings that stood were those that did not anchor their foundations into the ground. Known as 'floating foundations', they detach the foundation from he superstructure by placing a wooden frame over it. Trained engineers found it difficult to understand how this allows the forces of the quake to dissipate at the foundation thereby restricting them from entering the superstructure. This is the primary difference in the way tradition approaches nature (and life) as opposed to modern thinking; they do fight the forces but respect and use them to their advantage. We helped the community use this 'isolated foundation' to build 7000 interim shelters," writes Sandeep for Think Matter.
Similarly, following the 2008 Kosi floods in Bihar, Hunnarshala helped build 2 model villages, support 15,000 houses directly and formulate a policy that facilitated the reconstruction of 100,000 houses, reaching the most vulnerable families in a cost-effective manner.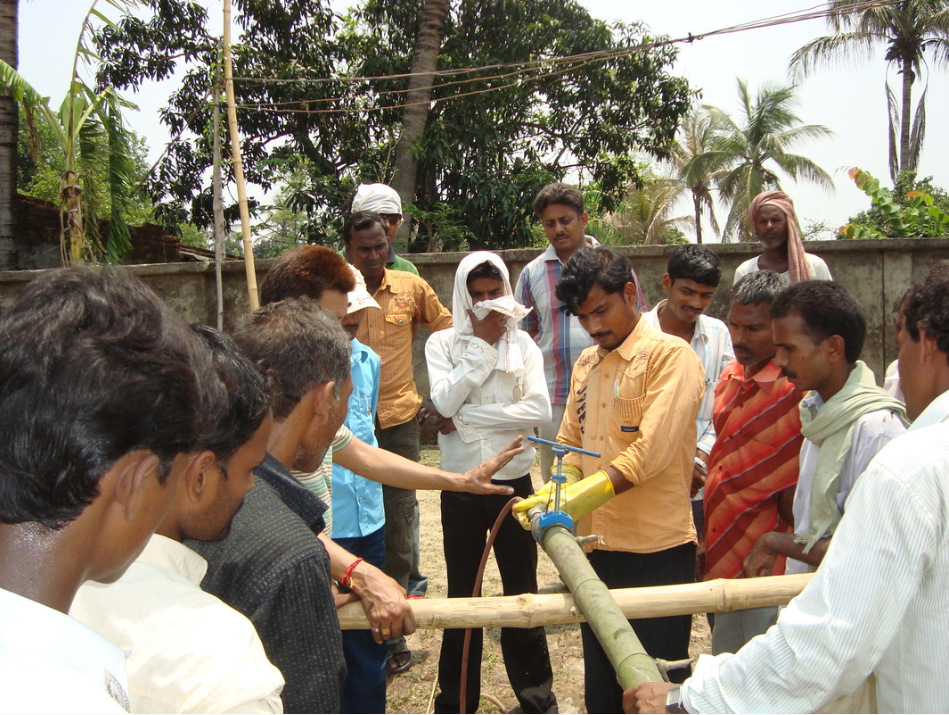 "Out of the two model villages—Orlaha and Puraini—one was built completely with bamboo and the other with bricks because both villages have different kinds of artisanship and material. As a result of the work done in these villages, a whole system was set up on how to proceed with owner-driven housing, from accessing credit to getting the help of engineers and master masons and finishing their houses. So, a system was built because of these villages, which could be replicated by the government. Many bamboo houses were also built, and we helped the government with the reconstruction of brick houses also," says Mahavir.
Some of the innovative techniques introduced by Hunnarshala include:
1) Chemically treating to bamboo to increase the longevity of the structure
2) Rat trap masonry: A method of wall construction, in which bricks are placed in a vertical position to provide better thermal insulation.
3) Ecosan toilets: This is a closed system that does not need water, and thus perfect for water-scarce and post-disaster affected areas.
"The local masons were trained in these techniques and employed by the Bihar government to oversee reconstruction. Hunnarshala demonstrated the technology as well as policy implementation for appropriate construction by building 42 houses in Orlaha village and 89 houses in Puraini village and trained more than 400 people for further implementing the program," says its website.
This is the same playbook followed in Odisha, Uttarakhand and other states. However, the organisation has also gone international, working in disaster-hit nations like Indonesia, Iran and Afghanistan, implementing traditional building techniques from other communities.
Interestingly, it has also brought these techniques back to Gujarat and taught them to local artisans. Additionally, as part of its work to strengthen the economies of local communities, Hunnarshala supports these artisans in starting their businesses like this women's collective specialising in thatched-roof construction called Matha Chhaj.
"When Hunnarshala went to Indonesia, they learned about thatched roof panels and brought this technique to us. We made a thatch for a school in Ahmedabad, and this was a project worth Rs 14 lakh. All of us women got our business card printed, started doing the work, getting more work, and began to benefit. Because of that, our lives have been transformed. As women, we used think we shouldn't go out of the house. But now we think that women are capable of anything," says Naina Maheshwari, Partner, Matha Chhaj, in a 2013 interview.
Karigarshala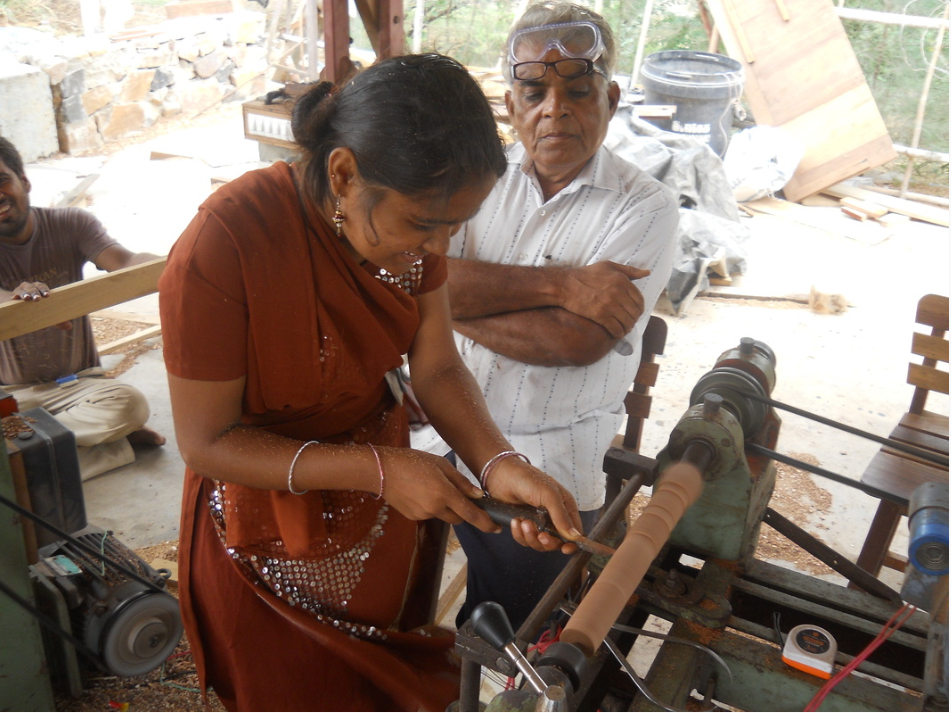 If companies or architects outside need their services, Hunnarshala helps them get in touch with these artisans. Students come from different states like Madhya Pradesh as well. "We connect these companies to artisans so that the client can pay them directly, but we guarantee them that these people will do quality work," he adds.
Alongside reconstruction work, Hunnarshala started Karigarshala, an artisan school which trains school dropouts aged between 16 to 18 in carpentry and masonry.
"We thought of starting this artisan school because we worked with around 100 artisans in Abu Dhabi for four years, helping them restore their forts. After that, we thought why not start a school to train local school dropouts. It is a one year course, where we teach them carpentering and walling. There are two different courses with 15 students each. After one year, we handhold them for another year to help them get work, supervise their projects and ensure they become entrepreneurs," informs Mahavir.
Conclusion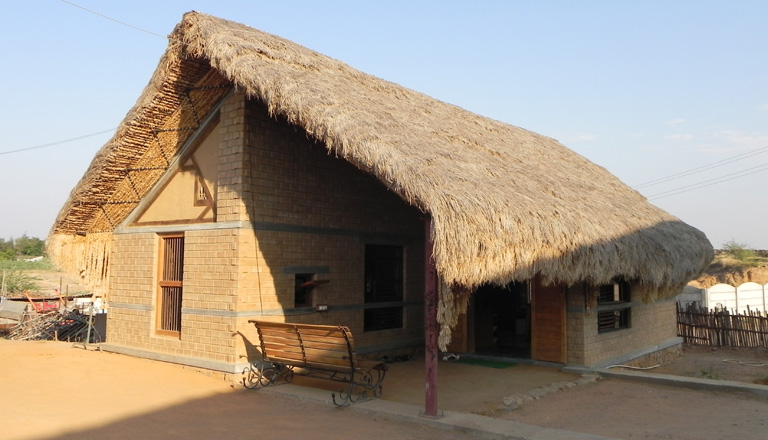 What Hunnarshala does is community-driven housing. Their idea is that people who live in the house have a right to work or have a say on the design. They do community housing where decisions are taken by the community from day one, from design, community mobilisation, supervision of the house to even construction.
"In Bhuj, we are doing a pilot project on slum housing—an owner-driven program. Locals receive money directly into their bank accounts and construct the houses themselves. We provide the format, layout, master plan and design of the house which is also decided by them after offering many options and conducting discussions.
After finalising the design, we share it with them, and they build accordingly. They have the right to do minor changes as they want with the support of our engineers and supervisors. So, it is an entirely owner driven program. With contractors and big developers, there is little local input, besides a maze of corruption and profiteering locals have to walk through.
---
Also Read: Pune Couple Builds Cement-Free Breathable Homes That Don't Need ACs or Fans!
---
Bringing architects and engineers together with building communities of this region gives rise to a lot of creative solutions. There are vast knowledge systems that exist in our cultures. We sit down with them and take tradition forward. That is what the Hunnarshala is all about," he concludes.
(Edited by Gayatri Mishra)
Like this story? Or have something to share? Write to us: contact@thebetterindia.com, or connect with us on Facebook and Twitter.
We bring stories straight from the heart of India, to inspire millions and create a wave of impact. Our positive movement is growing bigger everyday, and we would love for you to join it.
Please contribute whatever you can, every little penny helps our team in bringing you more stories that support dreams and spread hope.