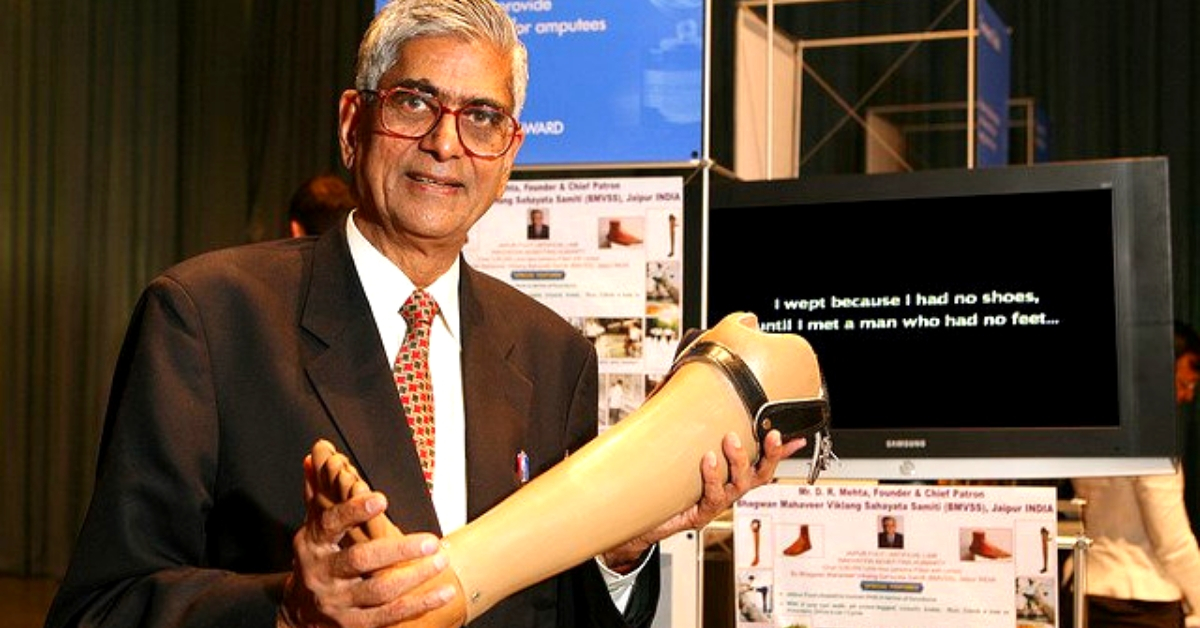 The inspiration to do so stemmed from a near-death experience, the resultant trauma and a life-changing realisation.
Established in in 1975, Jaipur-based non-profit organisation, Bhagwan Mahaveer Viklang Sahayata Samiti (BMVSS) has, in its 44 years of existence, helped about 18 lakh individuals with varying forms of physical disability get access to artificial limbs, callipers and other aids.
The person credited with lending hope to lakhs of amputees and physically-disabled across not just India but the world, is former IAS officer Devendra Raj Mehta, founder of BMVSS.
Mehta conceived the institution with the goal of rehabilitating the poor and hapless amputees in mind. The inspiration to do so stemmed from a near-death experience and the resultant trauma.
The year was 1969, and Mehta was serving as the then District Collector of Jaisalmer, Rajasthan. With severe drought widespread across the State, the officer had been travelling to keep an eye on the ongoing relief operations when he met with an accident near Pokhran that almost took his life.
In conversation with The Better India (TBI), Mehta shares the horrors of that distressing incident.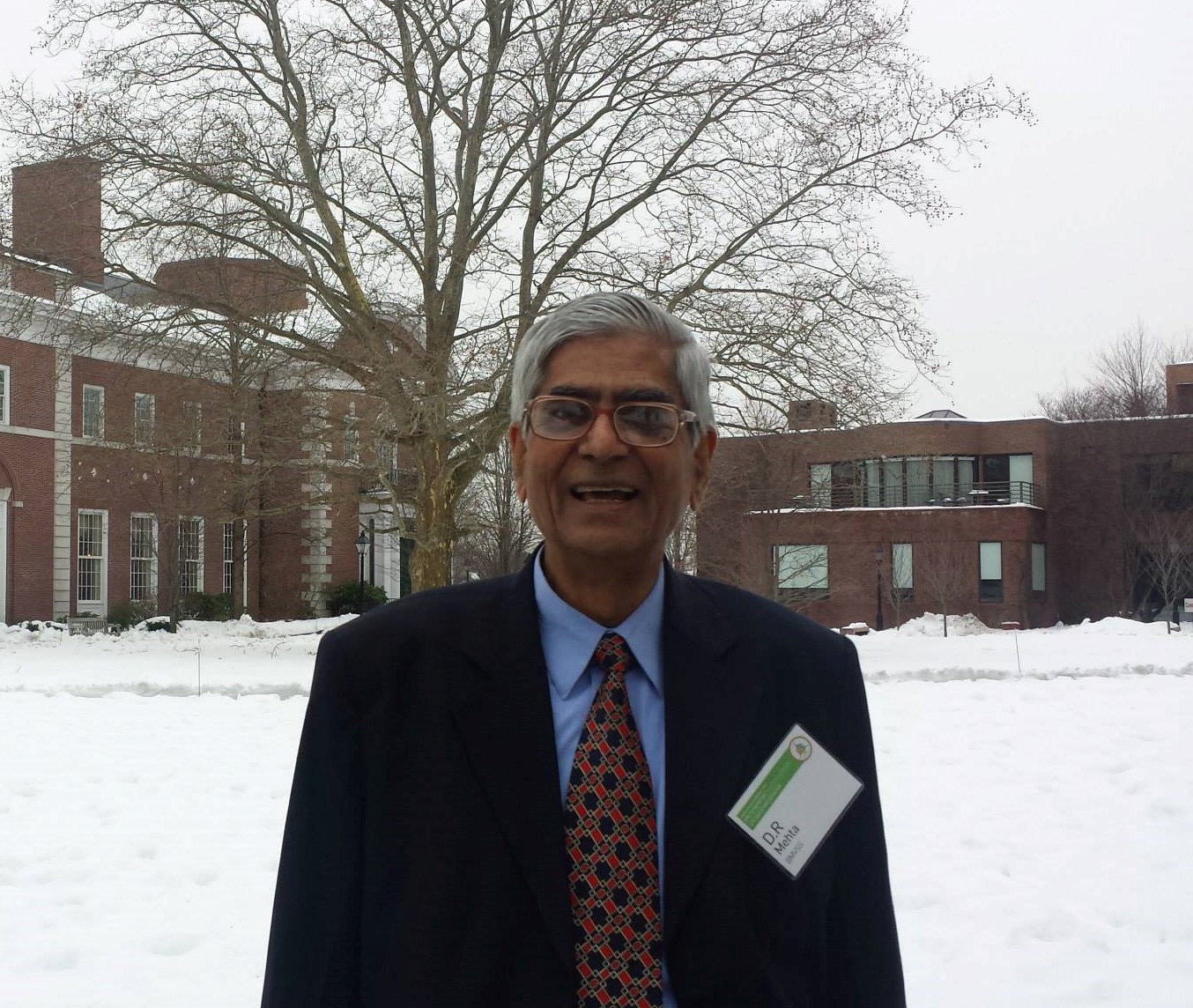 "My right femur had broken in many places. The doctors assumed that I would die. However, I survived, and I was taken to Jodhpur for surgery. There, the doctors initially felt that my leg would have to be amputated, but they managed to save it. After three weeks, I was shifted back to Jaipur Hospital and recuperation period took about five months," he recalls.
It was during this time that Mehta started reflecting over the scenario where he could have lost a limb. "If that had been the case, the government would have sent me to England or America for limb fitment at its own expense. However, if my driver or a poor pedestrian were to lose his or her limb, where would he have gone?" he ponders.
This introspective period along with the teachings of Mahaveer and Mahatma Gandhi greatly inspired Mehta. He particularly shares how the hymn, 'Vaishnava Jana To' had a deep impact on him.
Another major inspiration came in the form of renowned medical missionary, Dr Albert Schweitzer, whose works Mehta read intensively at the time. Calling the former, one of the greatest social activists of the 20th Century, Mehta was moved by one of his quotes: "Let us join the fraternity of those who bear the mark of pain."
"Lastly, it was the support and encouragement of my mother and wife, which helped me actualise the idea of setting up a rehabilitation centre," adds Mehta.
He spent the next few years discussing the idea with like-minded people and organisations and collecting funds to realise his dream. On 30 March 1975, he set up BMVSS as a registered non-profit organisation, with ten social workers, donors and prominent persons as committee members. And thus, began a lifelong crusade to unfetter scores of amputees and people afflicted with physical disabilities.
"The initial objective of BMVSS, in continuum, was to help the Persons with Disabilities (PwDs), with special focus on the poor. Right from the beginning, a decision was made to provide artificial limbs and other aids totally free of charge," shares Mehta.
In its first year of functioning, BMVSS was able to provide artificial limbs to 55 beneficiaries.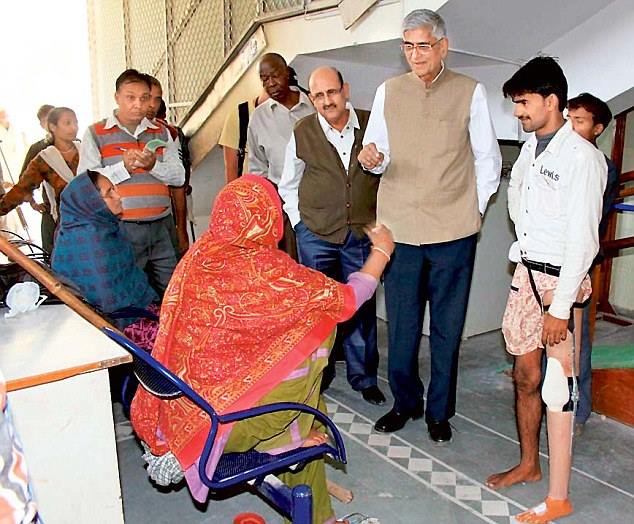 In the next four decades, the organisation reached every part of the country and even overseas. With 24 branches across cities like Delhi, Mumbai, Hyderabad, Bengaluru, Indore, Varanasi as well as in States like Jammu and Kashmir, Kerala, Gujarat and Assam, BMVSS has aided about 18 lakh individuals till date.
In addition to that, BMVSS has organised 73 on-the-spot artificial limb fitment camps and provided prosthetics to around 30,000 beneficiaries from 30 countries in Asia, Africa and Latin America. This makes BMVSS the world's largest organisation working for the rehabilitation of the disabled. In fact, BMVSS has successfully managed to help 87,000 in the period of 2018-19 alone.
To understand how BMVSS functions, we ask Mehta about how beneficiaries are identified and what lengths do they go to ensure their needs are met?
"Because our branches are spread all over India, people in need have always been approaching us on their own from the beginning. We believe that the vast publicity we have received purely out of word of mouth has a lot to do with this. Last year alone, we had patients from 555 districts from a total of 672 total districts in India. Also, whenever BMVSS organises on-the-spot artificial limb fitment outreach camps, we have had numerous people coming here on their own. Till date, not a single person was sent back without help," shares Mehta proudly.
How the Jaipur Foot came into the picture?
For the uninitiated, Jaipur Foot is closest to a human foot, in terms of cosmesis and functions. Fitted with a custom-made socket that is converted into a full artificial limb, Jaipur Foot enables a below-knee amputee to walk, run, trek, swim, squat, sit cross-legged and even walk on uneven terrains. It can be used with or without shoes.
"The original prototype was created by Master Ramchandra Sharma, a craft teacher, who showed it to the doctors at SMS Hospital. Understanding its potential, doctors – Dr P K Sethi, Dr S C Kasliwal and Dr Mahesh Udawat, worked with Sharma and made the Jaipur Foot and its socket in 1968. I got the opportunity to see the Jaipur Foot for the first time when I was getting discharged from the Hospital on 20 May 1969. When BMVSS was set up in 1975, we incorporated the Jaipur Foot technology," Mehta explains.
He adds that overtime the Jaipur Foot has undergone several and sometimes substantial changes under the aegis of BMVSS.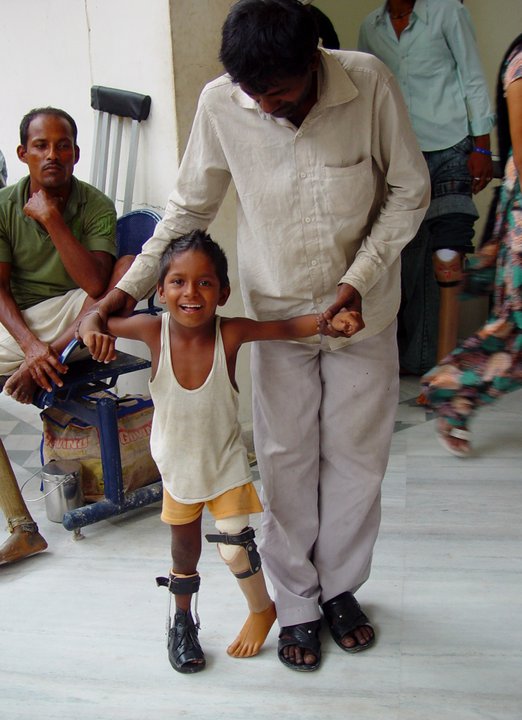 For example, BMVSS had worked with Stanford University in 2009 to develop the Jaipur Knee, a special knee joint for above-knee amputees. The contraption was rightfully hailed by TIME magazine as one of the 50 Best Inventions of the World in the same year.
By now, the organisation has been able to provide more than 15,000 such joints.
Upon being asked about how it feels to see lives being transformed first-hand, Mehta shares that he sees an alchemical change at their Jaipur and other regional facilities of BMVSS where a large number of amputees, polio patients and other people with disabilities come on a daily basis.
"When they arrive to our facilities, you can feel their sadness and how their disability has prevented them from leading normal lives. However, upon receiving the aids that they need, one can see visible changes in the individual, whose departure from BMVSS is with smiling faces. This transformation, or alchemy as I'd like to call it, gives us enormous joy. The point is that outstanding result is not confined to a few but to all. We feel quite blessed to be part of this," says Mehta.
Finally, we ask Mehta about the current initiatives being undertaken by BMVSS and the future plans of the organisation.
"We are constantly trying to upgrade our technology or develop new technologies through outsourcing as well as in-house research. As I mentioned earlier, Jaipur Knee was the result of collaborative work between BMVSS and Stanford University, which has now become world renowned. Similarly, MIT, another great technology institution in the US, is trying to develop a new energy saving foot and a breaking knee joint. We are also trying to develop myo-electric artificial hand in collaboration with the Santa Clara University. On the material side, we are trying to enhance our equipment in quality and our overall objective is to reach a yearly target of rehabilitating 1 lakh beneficiaries in India," Mehta concludes.
For his unparalleled contribution towards the emancipation of people living with disabilities, the former IAS officer was bestowed with the prestigious Padma Bhushan by the President of India in 2008.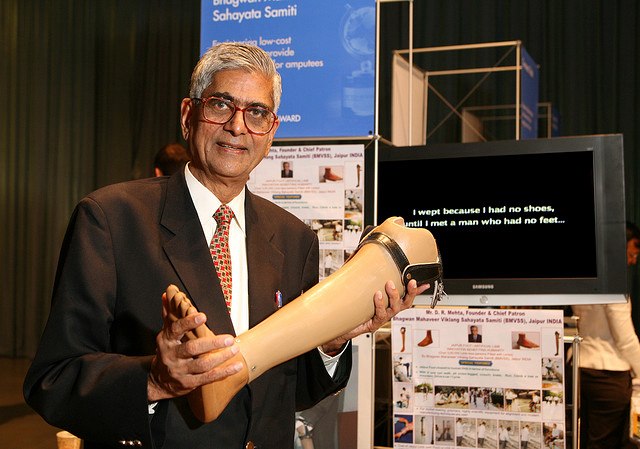 At 82, he continues to steer the BMVSS as its full time honorary volunteer and leads a quiet life in Jaipur.
It is unsung heroes like DR Mehta, whose silent yet impactful contribution has given hope to lakhs of people around the world to live a life unmarred by any disability. We salute his indomitable commitment to social service, especially for the poor and disabled, and hope his story inspires one and all.
---
You may also like: Real Hero: 14-Year-Old Veer Raised Rs 14 Lakh to Help 300 Amputees Walk Again!
---
If you wish to reach out to DR Mehta, you can write to him at drmehta.jaipurfoot@yahoo.com. For more information about Bhagwan Mahaveer Viklang Sahayata Samiti (BMVSS), click here.
(Edited by Saiqua Sultan)
We bring stories straight from the heart of India, to inspire millions and create a wave of impact. Our positive movement is growing bigger everyday, and we would love for you to join it.
Please contribute whatever you can, every little penny helps our team in bringing you more stories that support dreams and spread hope.