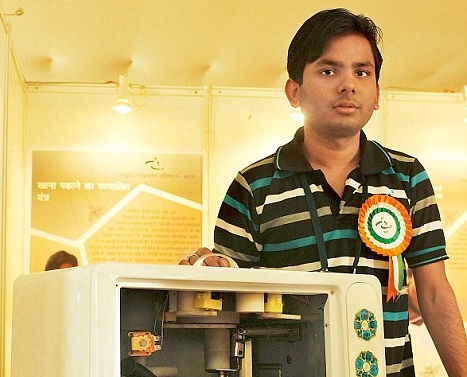 When his mother fell ill, Abhishek Bhagat realized how tedious it was to wait for food to get cooked. So he invented a machine that cooks food automatically. A curious student, his first innovation was a time bomb at an age of 12! Meet this amazing young innovator.
When his mother fell ill, Abhishek Bhagat realized how tedious it was to wait for food to get cooked. So he invented a machine that cooks food automatically. A curious student, his first innovation was a time bomb at an age of 12! Meet this amazing young innovator.
At 12 he made a time bomb. His family and neighbours were so worried about his "destructive" innovations, they sent him to a hostel!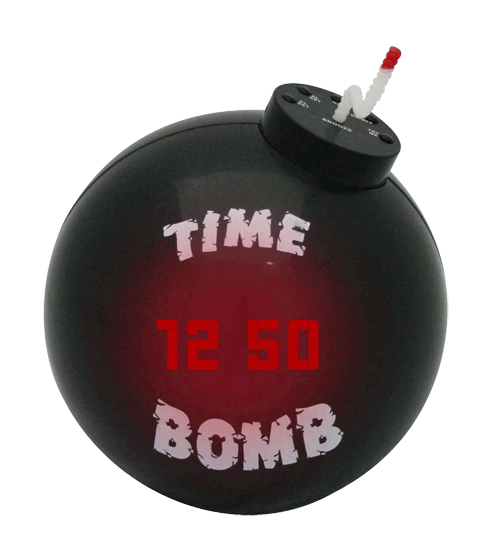 Using a torch, an alarm clock and an explosive firecracker, Abhishek Bhagat was ready with his first innovation – a time bomb, which blasted as soon as the clock struck four. Though small in size, the explosive created a loud noise and brought all his neighbours out of their homes.
"It was just an experiment and I wanted to check how it works. But it was at the time when the World Trade Centre attack had just happened. My family and neighbours thought that I was in wrong company and going on a wrong path. They got so scared that they sent me to a hostel," he remembers.
But this did not bring his curiosity down. Interested in experimenting and innovation, Bhagat always learnt his lessons the practical way. He would always be one to think out-of-the-box and come up with various ideas and innovations. After the much-hyped time bomb, Bhagat made a path-breaking innovation which gave him recognition internationally and brought him to the notice of Dr. Kalam.
He sent a letter to the then President Dr. A P J Abdul Kalam without an address and got a reply from Rashtrapati Bhavan too!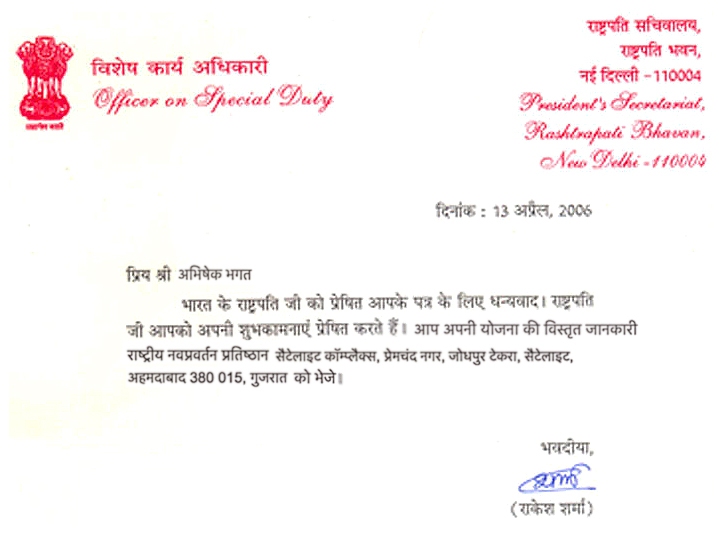 When his mother fell ill, he had to cook for the family and he realized how tedious and time consuming it was. To make cooking simpler without changing the taste, he came up with an interesting idea.
"I first got the idea of creating a tea-making machine, as I would make tea for my parents everyday. I wondered why we had to wait for the water to heat and then the tea leaves to boil, etc. Wouldn't it be great if a timer could take care of everything?" he asks.
Not knowing how to give shape to his idea, he saw Dr. A P J Abdul Kalam on television and found that he encouraged children to be innovative.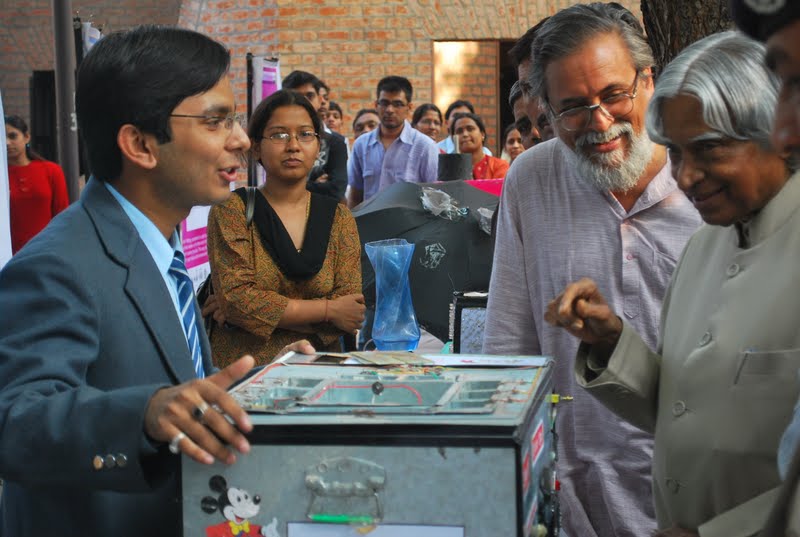 "I thought he was the right person to contact. I sent him a hand written letter explaining about my ideas. I did not even know the address, so I just wrote 'APJ Abdul Kalam, Rashtrapati Bhavan'. I even forgot to paste a stamp on it and posted it," he says.
To his surprises he got a response from Dr. Kalam within a month. He suggested that Bhagat send his ideas to the National Innovation Foundation. "I was so thrilled. I did not expect a reply but it was overwhelming to see a response! I still remember every word of that letter," he recalls.
He sent his automatic food making machine idea to NIF-India but there was yet another twist in his eventful life.
NIF-India offered him financial assistance to design a prototype for his innovation but he refused the money thinking it will put too much pressure on him to succeed.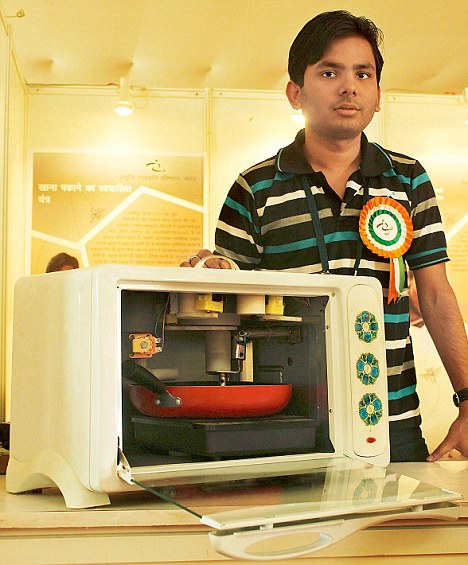 "The NIF guys thought that I was too young to invent something like this and assumed that I was just joking, so they didn't get back to me for two years," he says.
But, this wasn't it. Bhagat's luck was on his side as someone from NIF found his letter and proposal in a dustbin at the NIF office during Diwali cleaning! They gave him a call asking him to design a prototype and offered him some monetary help, which Bhagat refused.
"I just wanted to try things out on my own first. I thought: let me actually design a prototype myself first. It will be too much pressure on me if I used the money offered by them," he says.
He first made a cardboard prototype and gave it to a nearby shop to create a replica of the model from steel. When he was ready with his final model, he sent it to NIF. It was widely appreciated and was even sent for the national level competition, where he grabbed first prize.
At 13, he innovated an amazing food making machine that makes dishes which taste as good as his mother's recipes.
With further research, modifications and NIF's help, he finalized the idea and named it Robocook, an electrically operated automatic food making machine, where ingredients are loaded in boxes and the cooking is completed according to the recipe fed in the system.
"I was just a student. I didn't know programming or anything. So NIF helped me out with that," he says. Robocook can make 25 recipes in the same time that Bhagat's mother takes to cook them. "If you want to reduce or increase the time, the taste will be different. I have used the timings to make the recipe taste exactly like my mother's," he says.
The machine has eight boxes and a central container. Designated boxes are there for different ingredients which fall into the central cooking container as per the pre-defined timing in the recipe card, which is also pre-programmed.
The display on the machine shows which ingredient needs to go into which box. Once you put all the ingredients in the right boxes, you just sit and relax as your delicious meal is getting prepared automatically.
The young innovator is full of ideas, and in the future, he wants to create robots which can perform all tasks that humans can.
By recording human actions and feeding them into a robot's memory, he plans to make it work and act exactly like a human being. "A censor will be attached to the user's cloth which will record every activity. This data will be fed into the robot's memory. And he will behave exactly like the recording. The only constraint is that everything needs to be placed exactly the way it was placed when a human was performing that task," he says.
Full of ideas, Bhagat who is 19 years old now, is currently pursuing an animation course and simultaneously working to support his family and his innovations.
"I don't come from a very financially strong family. So I want to do my best to support my parents and my studies. The major obstacle in scaling up my projects is funding. I want to do much more, but that is possible only if I get some kind of financial support," he says.
An average student in academics, Bhagat always believed in understanding things and not just learning them. A Physics enthusiast, he was often scolded by teachers for asking too many questions.
"I just advise all young students to always understand things and ask your teachers where and how can we use the lessons or syllabus in real life, or what is the use of what we are learning. Education is not only about reading and passing exams. To use what you have learnt to do something new is real study," he says.
To know more about several other amazing innovations by Bhagat, check out his website.
Like this story? Or have something to share? Write to us: contact@thebetterindia.com, or connect with us on Facebook and Twitter (@thebetterindia).
We bring stories straight from the heart of India, to inspire millions and create a wave of impact. Our positive movement is growing bigger everyday, and we would love for you to join it.
Please contribute whatever you can, every little penny helps our team in bringing you more stories that support dreams and spread hope.